It's been 4 years since I wrote my first Dietitian Picks at ALDI post. While I've had the privilege of working with ALDI and even visiting their headquarters, it's my personal passion for the store that brings me to writing this post. I continue to personally shop at ALDI and keep finding more amazing products that become staples in my family's eating.
Get up to date by reading the first posts in my ALDI series:
Over the years I've had many friends ask me what I buy at ALDI and even confess they just can't get into shopping there. Guys, I get this. ALDI does take a little more work in that you bring your own bags and bag your own groceries. It can also be frustrating for new shoppers who don't recognize any of ALDI's store brands. But, and it's a big BUT, you can save so much money, and that's what you have to keep telling yourself.
I don't shop exclusively at ALDI because there are a lot of products that I do like from other grocers. Currently, I'm hitting up ALDI about 2 times a month for my grocery shopping.
Without further ado, here's my latest list of Dietitian Picks at ALDI as of October 2018. I included pictures of each product from the store, exactly how you will find it, the current price, and in the order it appears in ALDI. (Every ALDI store is layed out almost identically.)
Unsalted, Roasted Almonds
ALDI has an awesome selection of nuts but almonds remain one of my favorites. At $4.99 for a 14 oz bag, you can't beat that price. You can also get adventurous and try one of their many variety combinations of nuts or flavored nuts. Either way, you can always count on roasted and unsalted options, perfect for snacking or using in recipes like my Blueberry Coconut Energy Balls.
Reduced Fat Thin Wheat Crackers
Currently, my youngest son is a cracker loving fool. He loves "cheese and crackers" for lunch so these ALDI of Wheat Thins is always on my shopping list.
Wine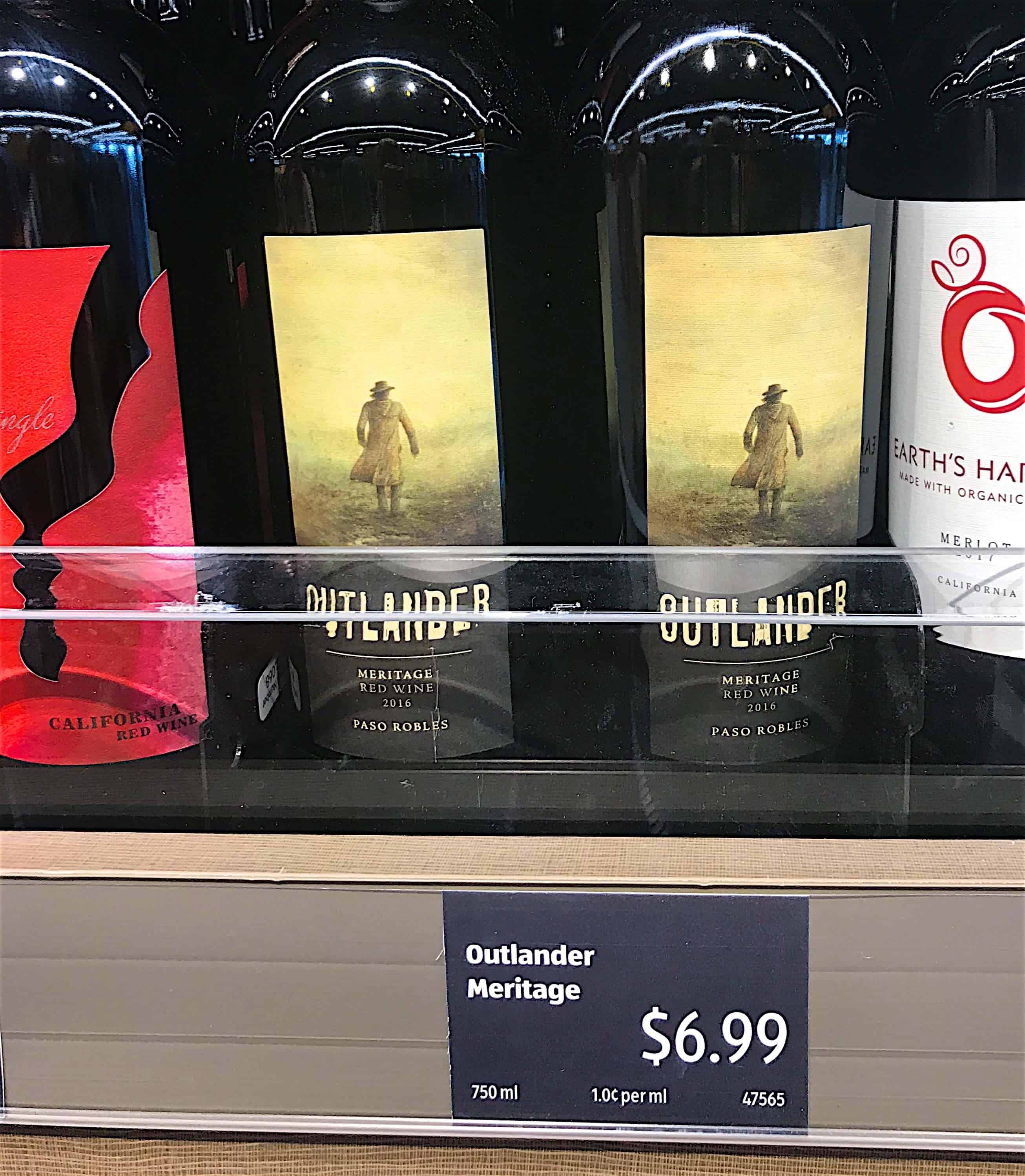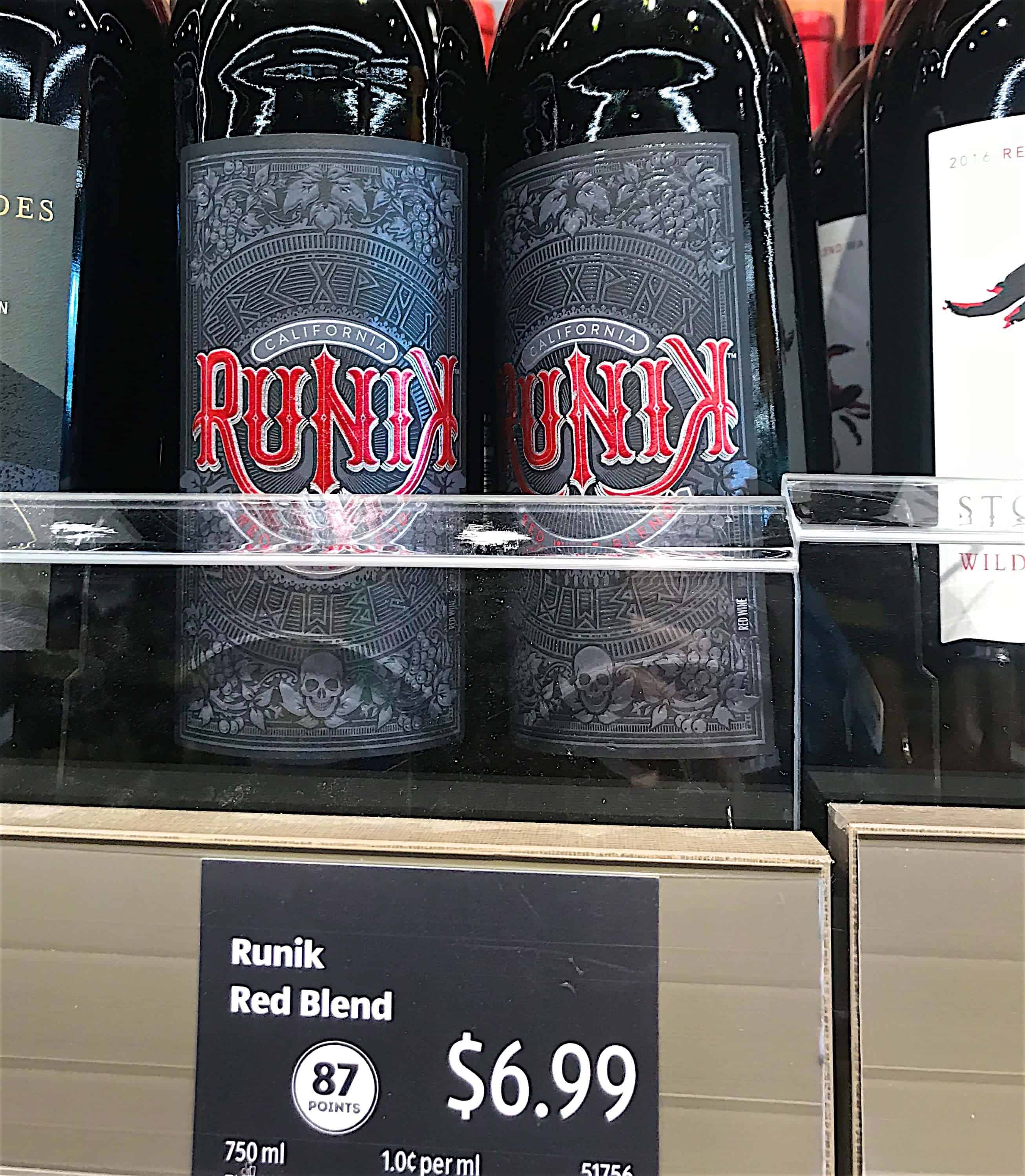 Guys, I am committed red wine drinker. I don't think if I confess that quite enough but it's true. I just love a good glass of red in the evening. Anybody with me? Over the years I have tried many of ALDI's wines and now have regular favorites. The Outlander Meritage Red Wine is a dry, bold red that I buy regularly. I also recently tried the Runik Red Blend and liked that one too. It's one to drink in one sitting (so with friends, obvi) because I didn't think it was as good the next day after being opened. Just trying to help you out friends!
Specially Select 75% Fruit Spread
I have little kids ergo we eat peanut butter and jelly. And let's just get it out in the open: peanut butter and jelly is just so damn delicious sometimes. When it comes to the contents of our PB&J's, I'm a little bit picky. I like jelly that's actually made of a lot of fruit and tastes super fruity naturally. This heavily fruited spread from ALDI has my heart, especially the strawberry, which is the only jelly flavor that matters in my opinion.
Organic Wildflower Honey
Honey may be one of my favorite flavors in all of the food world. I love honey nuances coming from different flavors coming from different flowers. I use honey pretty regularly in baking (like in my Honey Pumpkin Muffins and Whole Wheat Banana Bread) but also use it to crush a clove a garlic in and eat to fight infection. This is the honey that I buy regularly and I absolutely love it and the price of $3.69.
Simply Nature Seedtastic Bread
I take my whole grain bread pretty seriously. I want seedy, grainy bread that also tastes great because the whole fam has to get behind it. When I discovered this ALDI bread, I was sold as it checks all my boxes for seeds, whole grains, fiber, and tasty. The price on this bread does fluctuate so I can sometimes get it for cheaper $4.29.
Whole Pineapple
Due to our daily smoothie consumption and love of Hawaiian pizza, we go through a lot of pineapple. Buying a big ole pineapple is cheaper than buying it frozen anywhere, but ALDI has the cheapest pineapples around at $1.29. I cut this up using this tool and freeze it in chunks or diced for smoothies and pizza.
Organic Greens
The amount of organic produce is constantly growing at ALDI. But while the variety goes up, the price seems to always stay down. This 15 oz box is only $2.49. I particularly like the "Mixed Greens" variety because it doubles as perfect for smoothie or salads. They also carry spinach, baby kale and spring mix on the regular. This mix is also perfect for my Kale Italia Summer Salad.
Mini Sweet Peppers
These sweet peppers are the regular vegetable I put in all of our lunches. They are simple to prep and everyone seems to love them. Once again, ALDI has the best price on a 1lb bag.
3 Pack Green Peppers
I add green peppers to a lot of my recipes (like Vegetarian Cuban Dinner and Vegetarian Rice and Bean Casserole) so I usually buy this 3 pack at ALDI.
Vegetable Noodles
These butternut squash and zucchini noodles were a brand new find for me on my last trip. You can see the sign for the product that says "New at ALDI" so it's new all around. This is one of the cool things about ALDI; they are always adding new products, many of which are healthy foods.
Little Salad Bar Classic Hummus
While I do love making my own hummus (like Honey Drizzled Roasted Garlic Hummus and Roasted Carrot & Ranch Hummus), I most commonly buy premade hummus. ALDI hummus is delicious and a favorite for me and my son.
Happy Farms Goat Cheese
Goat cheese is so yum, but it can be expensive at traditional grocery stores. We use goat cheese in place of cream cheese a lot and even use it in a new recipe coming soon to MHE. We always pick up the plain and honey flavors.
Never Any Lunch Meats
My oldest son is very committed to the ham and cheese sandwich. Very very committed. Since he eats them so often, the quality of the meat is extremely important to me. This ALDI deli meat is free of antibiotics, hormones, nitrates and nitrites so I feel better about Jackson eating it nearly every day.
Specialty Select Smoked Salmon
The day I discovered this smoked salmon, my lunches changed for the better. This smoked salmon is so good and it's often the protein at my lunches. I stock up on it every time I shop at ALDI. It's a great way to meet the heart health recommendation of 2 servings of seafood a week.
House Vinaigrette
This salad dressing is a game changer. It is so yummy and makes eating salad so enjoyable. They don't have it all the time so stock up when you do find it.
Tuscan Garden Large Pitted Olives
My boys and I love eating olives as a snack or with our lunch (Coach is not a fan). Olives are a perfect choice for heart healthy fat and make a fun snack. Sometimes I will snack on them before dinner if I'm hungry and can't totally wait till I'm done cooking.
Simply Nature Organic Apple Cider Vinegar
You cannot beat the price on this ACV. While the research supporting the many health claims of ACV is lacking, I still think it can be a good daily addition to my eating. I like to have a shot of it in a La Croix at lunch. Sounds weird? Just try it.
Avocados
Avocados are THE reason I become an ALDI lover. There was a time where I had accepted that I couldn't afford to buy avocados all the time. Then, I discovered ALDI avos and everything changed! At the time of my shopping avos were $0.99 but I've bought them for even less at certain times of the year. Many days these avocados end up in this Easy Guacamole Recipe.
Simply Nature Organic Yellow Corn Tortilla Chips
I just started buying these chips and I love them. They are absolutely delicious. We are a bit picky when it comes to tortilla chips and these check all the boxes: good flavor, nice crunch and sturdy for dipping. Plus, the price is dreamy for organic chips.
Simply Nature Pasta Sauce
Organic pasta sauce at $2.19 is incredible. Plus, it takes awesome! Sometimes I will pick up one of the fancy, Specialty Select flavors pictured on the left. I will use this sauce when I make my 6 Ingredient Meatballs.
Everything Canned Vegetables
Every trip to ALDI includes picking some canned veggies. I typically buy at least one type bean. I was buying pinto beans out the wazoo when I was working on this Vegan Refried Beans recipe. I also buy all the canned tomato types they offer because I love them for this Healthy Mexican Lasagna.
Flax & Chia Seeds
I use ground flaxseed in everything! It's in my smoothies, muffins and snack bars. In fact, it's a food that I try to eat almost every day for its fiber and phytonutrient benefits. Therefore, I need it in my pantry at all times. Thank you ALDI for adding this to your regular stock. I also keep chia seeds around for these Blueberry Coconut Energy Balls and Raspberry Chia Pudding. Chia seeds are really fun and a good source of plant based omega-3's. You'll find both of these in the baking isle.
100% Pure Avocado Oil
I've been using avocado oil more lately for cooking. It has a higher smoke point and a neutral taste and now ALDI carries it!
Frozen Fruit
If I can't get to Costco for my favorite frozen fruit, ALDI is my next option. I really like these berry mix bags they have and the price is awesome. On this trip they were out of my favorite variety, the Cherry Berry Blend, which I use for smoothies daily. I also like their bags of frozen mango, which I use for this Mango Beet Breakfast Smoothie and their sliced frozen strawberries which I use for Strawberry Vanilla Overnight Oats.
Frozen Riced Cauliflower
I am still too scared to present riced cauliflower as a dinner rice alternative to my family (just being honest) but I do throw it in our morning smoothies. I only put in about a ½ cup so it doesn't affect the flavor and so far, no one has noticed. Thank you ALDI for this convenient option.
Kefir
I don't mean to keep banging the smoothie drum, but kefir is another addition that I use for the probiotics and helpful flavor. Kefir can be pricey at traditional grocery stores, but not at ALDI.
Barissimo Fair Trade Certified Organic Single Origin Coffee
Friends, I am a little bit of a coffee snob. I like a certain type of coffee and prefer to French press when I have the time. Whether you are a coffee snob or not, this coffee from ALDI is awesome. I love the flavor and the fact that it's fair trade and organic. What a price for all that! This is whole bean coffee so you will need a grinder to enjoy. I am a Keurig (actually Cuisinart now) drinker too and recently I discovered their Blond Roast (I'm always partial to a blond roast) single pod coffee and really like that too.
I feel like I could go on and on about my dietitian picks from ALDI but I'll quit here. I hope this was helpful and gives you a little more confidence for shopping at ALDI.
Do you have any favorite products at ALDI that I need to know about? Leave a comment and let me know.
Happy shopping!