If you don't like carrots or hummus, snap out of it and try this insanely good and easy Roasted Carrot & Ranch Hummus.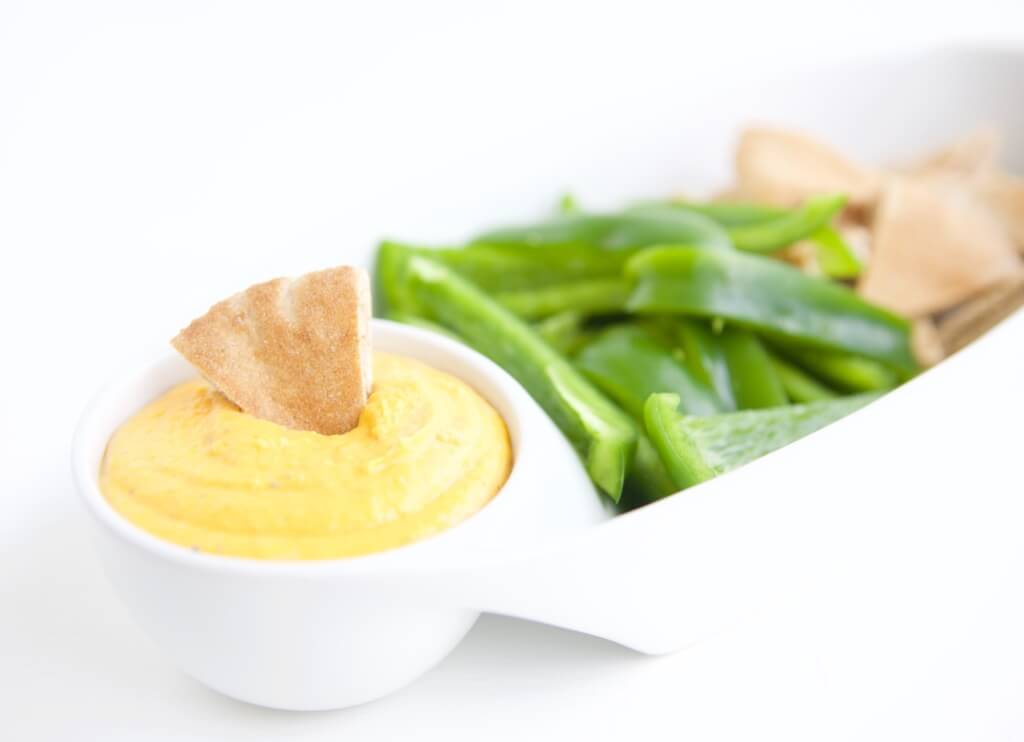 Hey MHE friends! Where is June going?? I thought it was summer and life was supposed to be slower…
While things have been busy, we have been having a lot of fun. I am loving extra time with my boys and Coach.
Let me tell you about a project I worked on this month that was also SO fun. I worked with Litehouse Foods as one of their ambassadors in their #SeetheLite campaign and developed two original recipes, hosted a blogger event at a super cool restaurant and did a TV segment. It was awesome!! (Disclosure: I was paid to create recipes and appear at the events described. I am sharing this blog post simply because I want to.)
When Litehouse approached me about working with them, I thought long and hard about it. Ranch and blue cheese dressings aren't really "superfoods", ya know?! BUT, I sort of had a life changing situation that made me realize that I was the perfect person to work with these ingredients as they can totally be #MakeHealthyEasy foods. Check out my TV segment to hear all about it:

After coming to grips with the fact that almost everyone likes Ranch or Blue Cheese dressings, I went to work creating recipes that combine these familiar flavors with other healthy foods to well, make healthy eating easier and enjoyable. I am really proud of the recipes I created, and today I am sharing my Roasted Carrot & Ranch Hummus.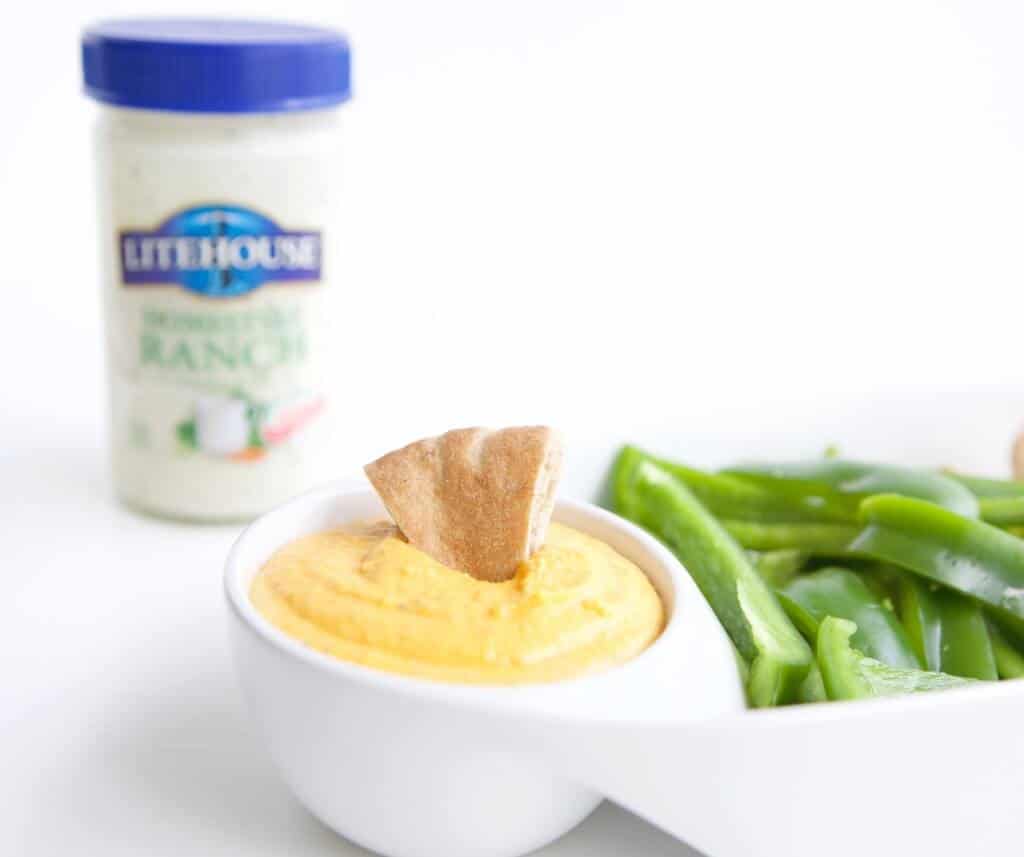 I presented a demo of this recipe at the blogger dinner I helped host at Moxie Kitchen in Jacksonville. The night was so fabulous — Moxie created fantastic drinks and dishes AND we had an amazing group of North Florida bloggers in attendance. Here's some pics of the night including all the bloggers going after my hummus like the paparazzi:
[easy-image-collage id=2091]
I also have to show you the gorgeous dress that my personal stylist, Merlene, at Nordstrom Jacksonville helped me pick out. Did you know they have a FREE styling services with truly no pressure to buy? It's so much fun because you just show up and they have picked out a bunch of stuff for you try on. I've done this once before for another big event and it's a time and fashion saver. I just love this dress!!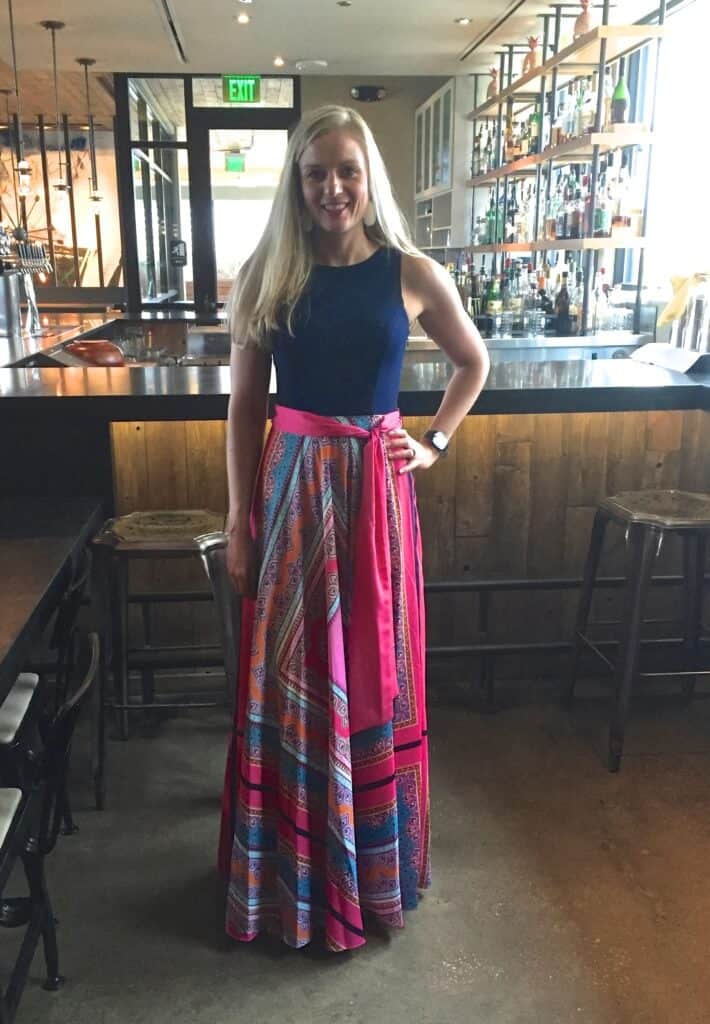 I had two of the bloggers tell me in slightly different versions that they don't like hummus but they liked mine. SCORE for healthy eating! I think the secret is using white beans instead of chickpeas. It gives a super creamy texture. Oh yeah, and the ranch flavor is amazing — not too strong; just right!
Without further ado, I give you my super delicious Roasted Carrot & Ranch Hummus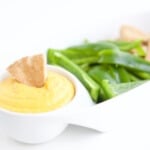 Print Recipe
Roasted Carrot & Ranch Hummus
Ingredients
1 ½

cups

fresh chopped carrots

(shape of chop does not matter)

1

teaspoon

extra virgin olive oil

1

can

white beans (16 oz)

drained and rinsed

½

cup

Litehouse Homestyle Ranch Dressing and Dip

Assorted dippers like cut up veggies

(pita bread, crackers, etc.)
Instructions
Line a baking sheet with foil or parchment paper. Place sliced carrots on baking sheet and drizzle with olive oil. Toss to coat. Arrange carrots in a single layer. Roast in pre-heated oven for 20 minutes. Remove from oven and allow to cool slightly, about 3-5 minutes.

In a powerful blender or food processor add the white beans, cooked carrots, and ranch dressing. Blend or pulse until smooth and creamy, about 3 minutes. Serve immediately with pita and fresh cut veggies or slather on just about anything.
I've been on sort of a hummus-making kick lately and I seriously love this recipe. You can eat it on so many things like sandwiches, wraps, salads, toast, eggs, just try it!!  If you ARE a lover of hummus like me, check out my Honey Drizzled Roasted Garlic Hummus too. It's totally different than what I have going on here in today's recipe but equally yummy!
So there you have it friends. This might be a life-changing hummus recipe that helps you #SeetheLite! 😉 Go ahead, try it!
For the love of hummus (again) and apparently ranch too,
Jenna