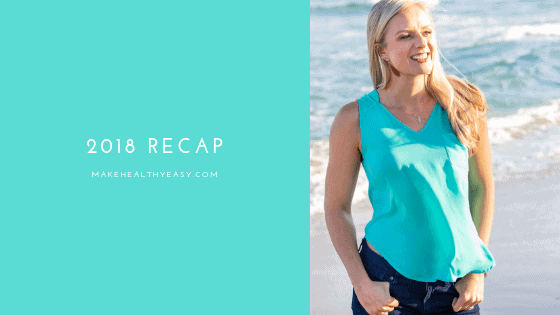 Hindsight is 20/20.
The past couple of weeks I have been mulling over the events of 2018 looking for themes or lessons that would help me process the year. Reflection is really important for gaining clarity from past experiences and creating direction for where you want to go in the future.
It's been good for me to think through the past 12 months and I want to share with you my 2018 recap. I share this partly because I want you to know what some of the currents of my life have been and the lessons I've learned in 2018 that impact my work on Make Healthy Easy, but I also share it because it's just therapeutic to write it and get it out of my head. Perhaps something I've experienced resonates with you or you have something encouraging to share with me.
I chose the words "scars" and "glory" for 2018 because this is what I feel like I was left with after this year. I have experienced some pretty big lows this year as well as some fantastic highs. Interestingly, many happened simultaneously, which is both confusing and pretty cool. When I use the word "glory" I am referring to the definition: magnificence or great beauty. This is something that I am learning through my life: scars and glory often go together. Here's what I mean.
My first "scar" of the year came on my birthday, January 9th, when I found out that one of our favorite former football players and current coach had suddenly passed away. He collapsed during a rec football game, became unconscious, and died on the way to the hospital. He was in his mid 20's. That night literally went from happiness and joy (i.e. "let's eat cake!") to the deepest of sorrows. I remember the moment of finally being home alone after learning the news, kids in bed, and letting it sink in. My heart fully broke and I cried one of those deep, aching cries that takes you to your knees. It brings tears to my eyes to this day, almost a year later, when I think about not having him in our lives.
…