If you've perused the sports drink aisle of the store lately, you might have stopped and just stared at the rows of colorful, fierce bottles that line the shelves. There are so many options and they seem to just keep coming.
Whether you are looking for a sports drink for yourself or your kid, it's hard to know what's the right one for you. BODY ARMOR Lyte is a low calorie sports drink that may be a better choice. Here's what you need to know to decide if BODYARMOR Lyte is healthy for you.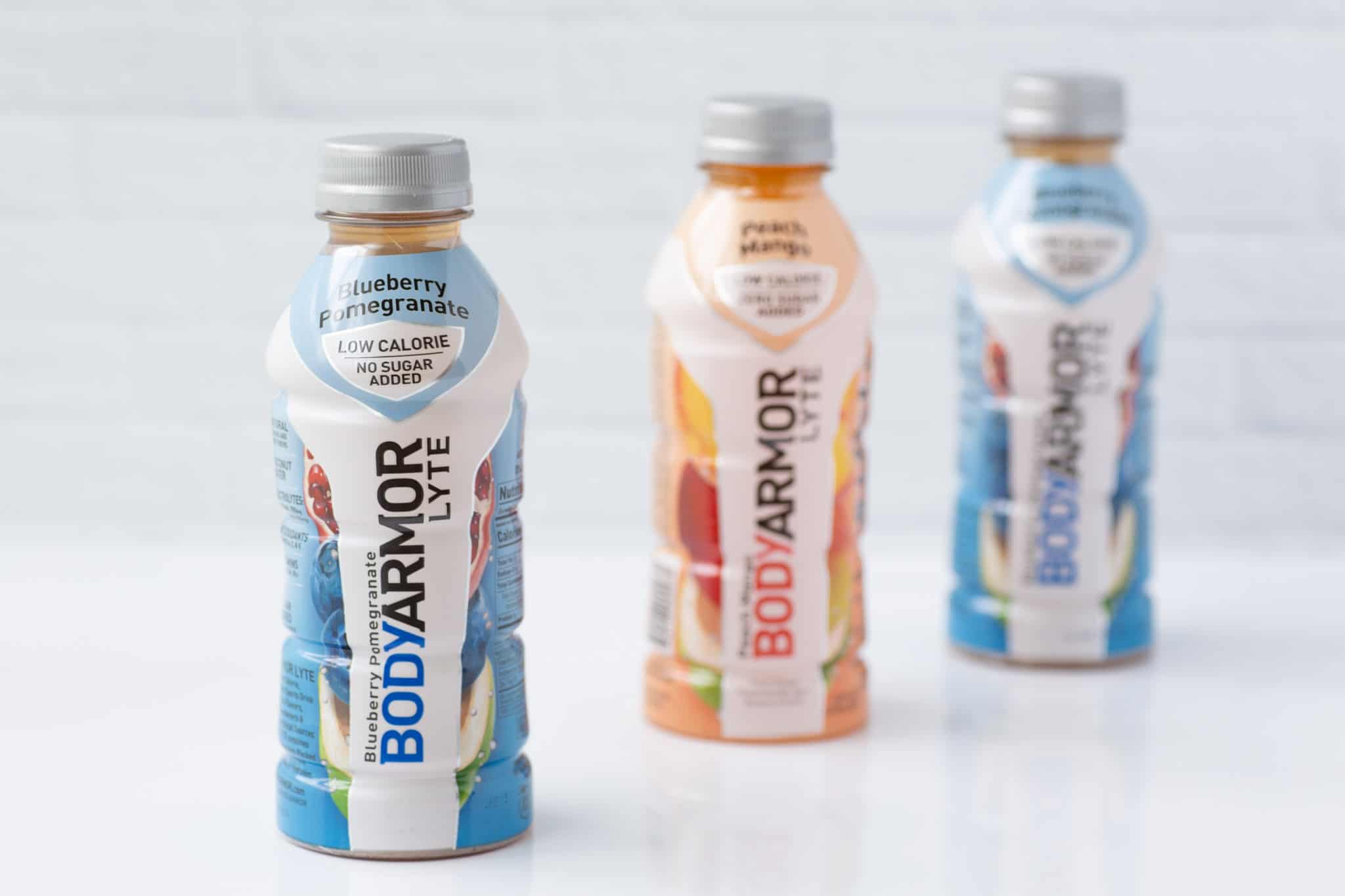 First, let's get on the same page with some terms I'll be using throughout. When I refer to "training", consider this any practice, workout, training session or fitness event. It's just easier to lump it all together in that one word.
The Brand
BODYARMOR is a brand that came on the sports drink scene in 2011 and made a big splash. They are a brand I personally like, use, and have worked with in the past (although this is NOT a sponsored post).
The BODYARMOR sports drink uses natural ingredients and does not include artificial ingredients in their colors, flavors or sweeteners.
Who is BODYARMOR Lyte Best For?
BODYARMOR Lyte is not an energy drink. It is a low calorie electrolyte beverage. It's a good choice for people who don't want or need calories during their workouts (or while sweating) but do like something with flavor and significant electrolytes.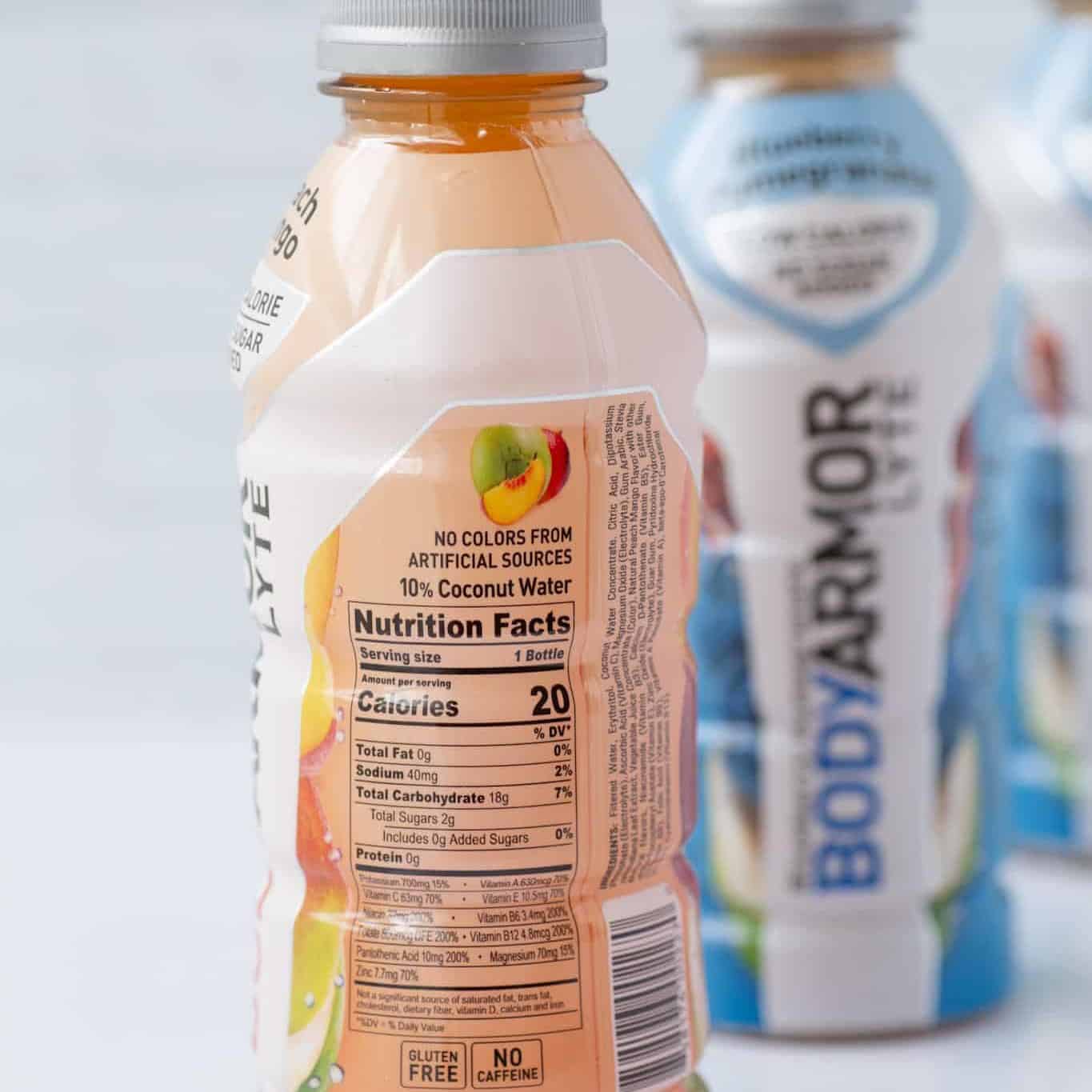 Many traditional sports drinks that are promoted as " energy drinks " are really just caffeine drinks. I think they should be called "stimulant drinks" for a more accurate description. Having caffeine in your drink is certainly not a bad thing, but true energy for the body is calories, not caffeine. BODYARMOR does have a caffeine-containing flavor in their lineup and it contains 100 mg of caffeine.
BODYARMOR Lyte is typically not an ideal choice for high intensity or long duration athletes because it lacks energy/calories to support performance. However, you could find that it works great for you and that is OK.
Calories
BODYARMOR Lyte contains 15 calories in a 16 oz bottle. There are 70 calories in a 16 oz serving of BODYARMOR Original.
Sweeteners
One of the major differences that initially set BODYARMOR apart is how it is sweetened. It doesn't use pure cane sugar and instead uses erythritol and stevia. Neither erythritol or stevia are technically considered "artificial sweeteners" because they are naturally derived compounds.
The sugar content for BODYARMOR Lyte is 2 grams, but does not include any "added sugar". For reference, the amount of sugar for regular BODYARMOR is 21 grams of sugar.
Electrolytes
The electrolytes in BODYARMOR Lyte sports drink also make it unique. Sodium is the most common electrolyte found in sports drinks because it is the one that you lose the most of in your sweat. It's been highly studied and we know that if you lose too much sodium during physical activity and don't replace it, your performance suffers.
BODYARMOR's claim to fame is that it contains "potassium-packed electrolytes", meaning they have a much higher amount of the electrolyte potassium. Both the regular and LYTE contain 530 mg of potassium. Maintaining enough potassium does not have a clear connection to improving performance like sodium does. However, it could still be helpful.
BODYARMOR Lyte may be a better option for people on a low sodium diet or those who already get enough sodium in their daily diets and don't need to worry about replenishing it. It is also more appropriate for those who are not heavy sweaters or are not salty sweaters. You know you are a heavy sweater/salty sweater if you easily soak your clothing during training and/or you can see the salt on your clothing or feel it on your skin after training.
Colors and Flavors
BODYARMOR Lyte is colored using naturally-derived vegetable based colors and contains no artificial colors.
The same is true for how it is flavored. There are no artificial sources of flavors and instead uses fruit and other natural flavors.
Other ingredients include: Coconut water concentrate, Vitamin B, Vitamin A Palmitate, Gum Arabic, and Vitamin E.
Check out my post on the Best Protein Powder for Women and if you should take a Collagen Supplement. And for an all-natural, homemade sports drink that's easy to whip up before a workout try this recipe for a Green Tea Sports Drink.