Raspberry Chia Pudding is an easy, nutritious snack that's super quick to whip up and customizable based on your preferences.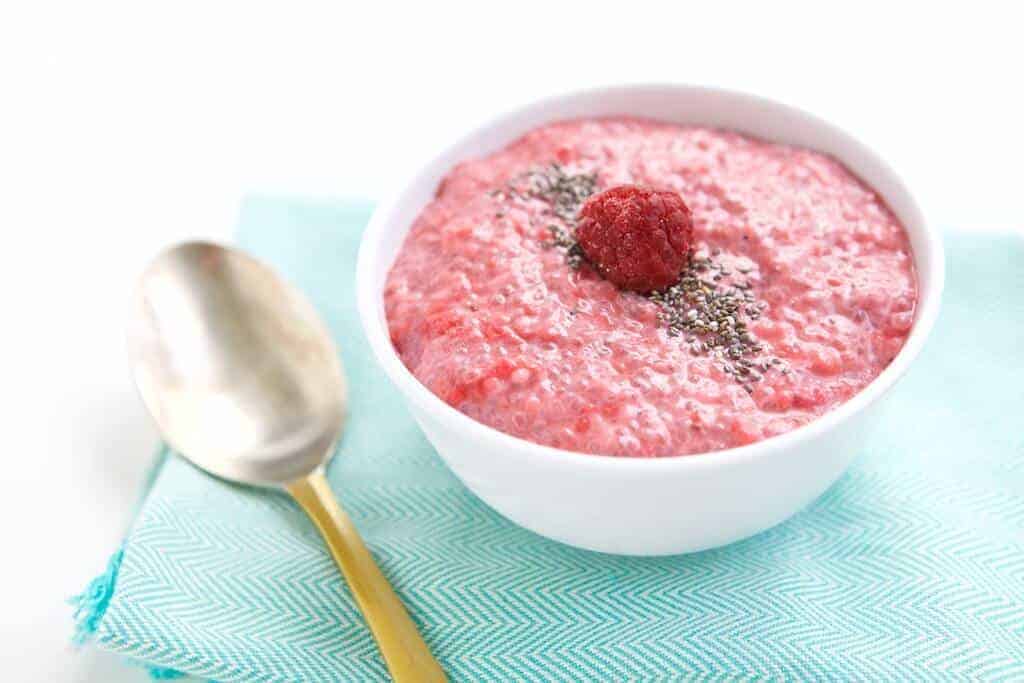 This post is sponsored by The National Processed Raspberry Council.
Jump to:
For many reading this post, you may be asking yourself, what is chia pudding?
That's a great question and one I was asking not so many years ago. I had heard of this health-nut food but never tried it. I knew it involved chia seeds, a nutrient powerhouse, but that was it.
Well, let me educate you on the wonders of this Raspberry Chia Pudding because as far as I'm concerned, this is a food you MUST try.
What is Chia Pudding?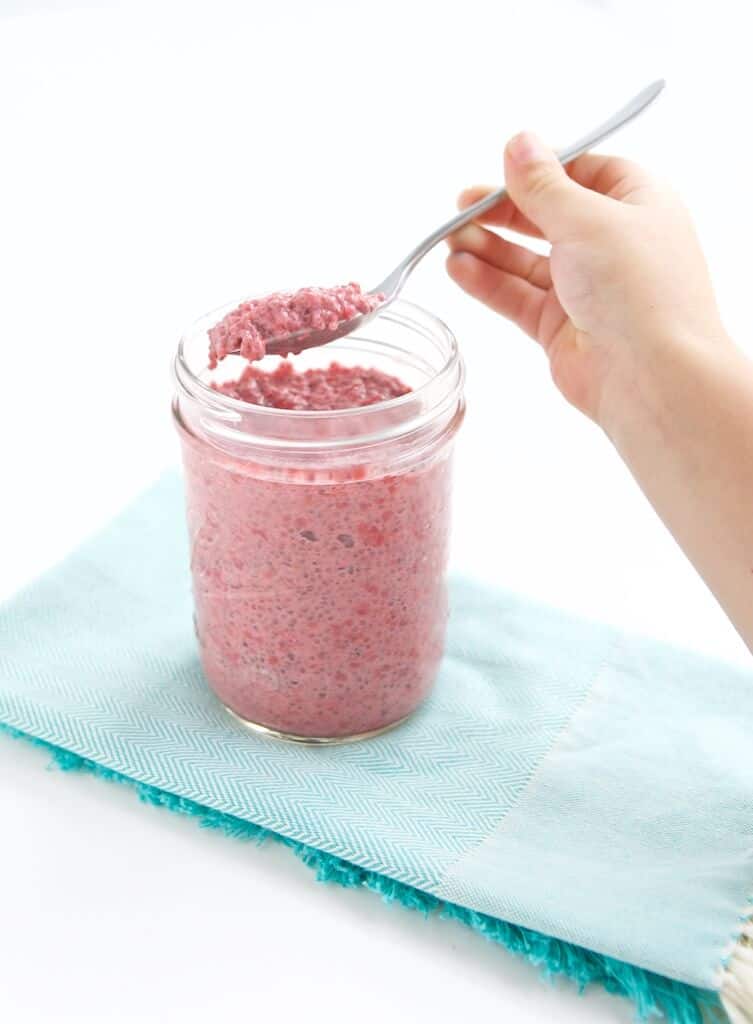 Chia pudding is the result of soaking chia seeds in a liquid for at least 4-6 hours. Chia seeds swell in liquid and take on a gel-like consistency. They thicken and become a pudding-like texture; think tapioca. The beauty of this food is that it is very nutritious, often very tasty, and is super quick to prepare.
Who Should Eat Chia Pudding?
Here are some (certainly not all) examples of reasons for choosing to enjoy chia pudding:
Someone who eats dairy free and wants a yogurt-like alternative.
Someone who needs/wants to add more fiber to their diet to help reduce their cholesterol, reduce disease risk, manage weight, or aid in satiety.
A person who eats a vegetarian diet and wants more plant-based protein options.
Someone just looking to add more plant-based protein to their eating style.
Someone looking to add more omega-3's to their eating style.
Someone who just likes trying new foods! (My son really loves this recipe, which honestly, surprised me. He also loves to wink, which is what he did when I asked him to smile while eating this Raspberry Chia Pudding.)
Chia Nutrition Profile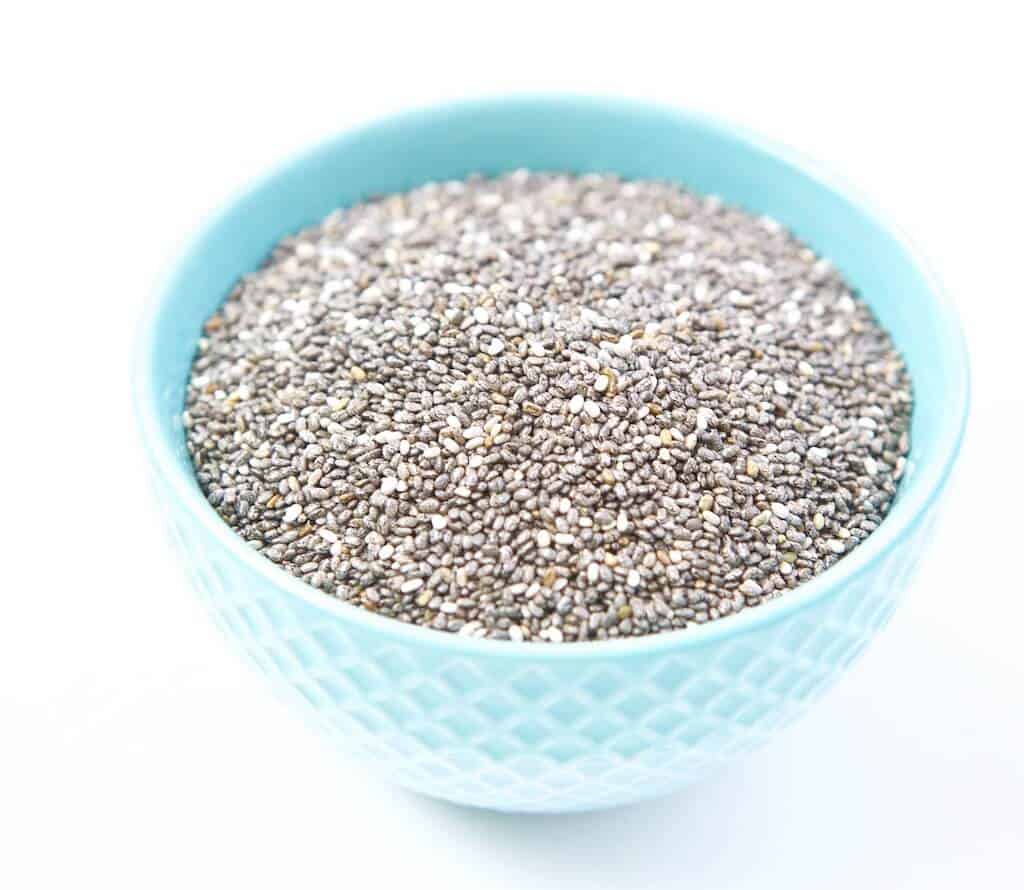 Chia seeds provide a great source of fiber at 5g per tablespoon. They are a moderate source of protein at 3g per tablespoon. However, chia seeds are a complete plant-based protein, meaning they contain all essential amino acids (source). That's great news for those who choose a vegetarian lifestyle.
Perhaps one of chia's most well known claims to fame is being a source of omega-3 fatty acids, the healthy type of fat that fights inflammation, improves cholesterol, and does a whole host of other great stuff for your bod. Many people are not getting enough of this important nutrient in their diet, so chia could really help with that.
Why Use Frozen Raspberries
Frozen raspberries, rather than fresh raspberries, are the perfect choice to pair with chia to create this Raspberry Chia Pudding recipe.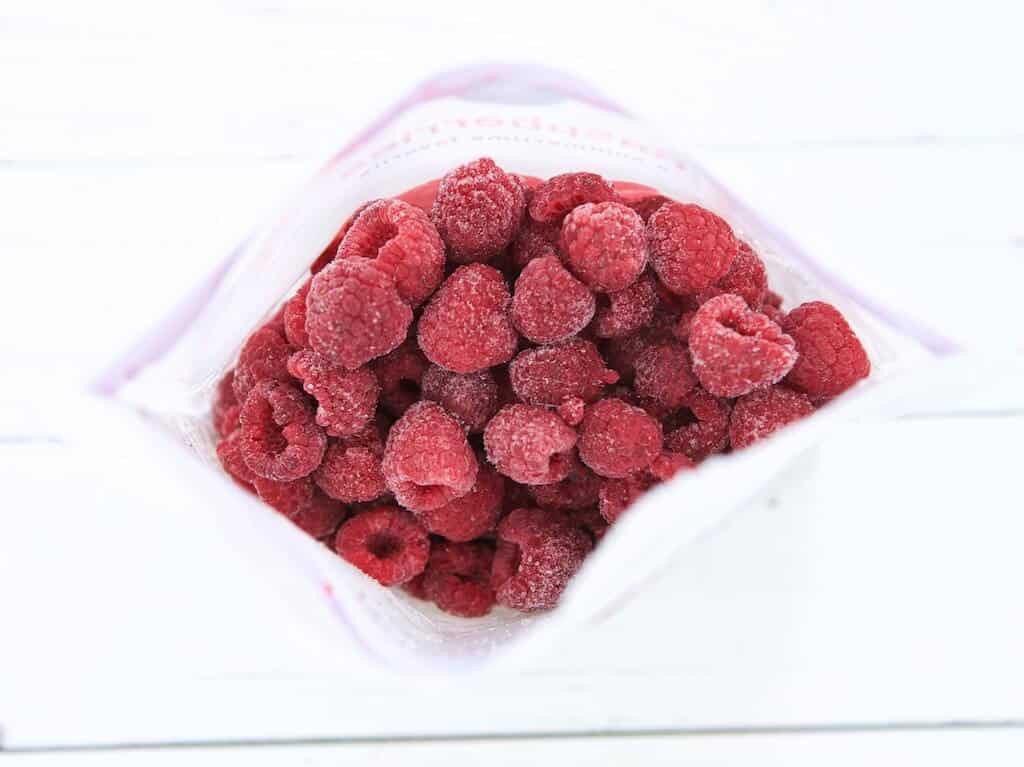 First of all, this recipe calls for Raspberry Crush, which is simply rolling the frozen raspberries with a rolling pin in the bag they come in to crush it.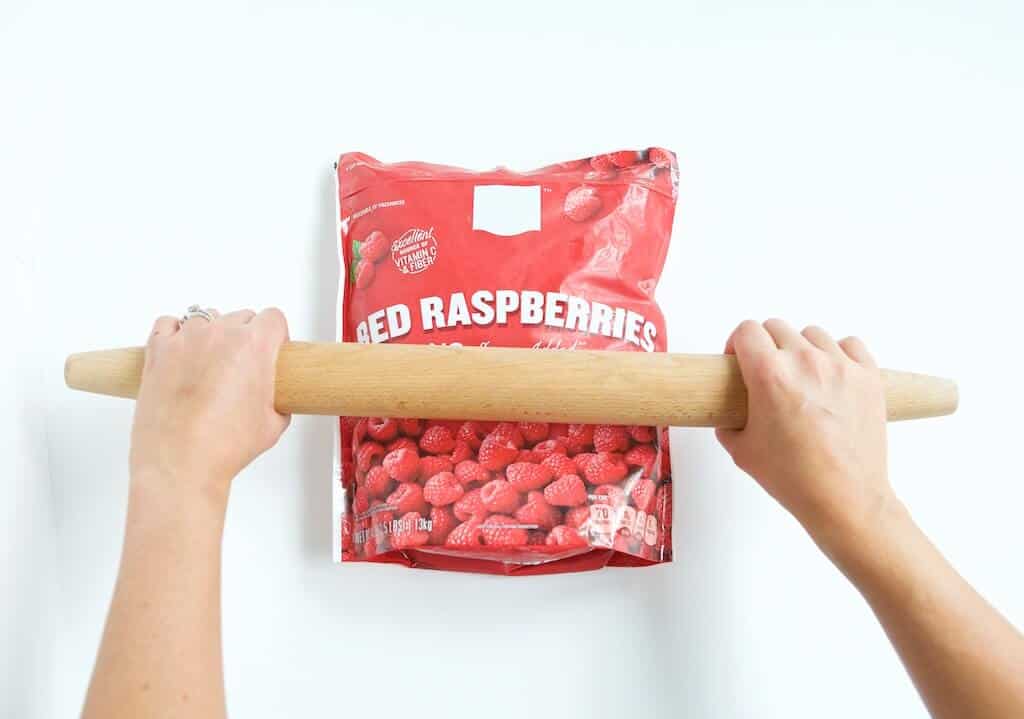 Why is this so great? Well, I think it's awesome because it does the "chopping" of the fruit so it's very evenly disputed in the pudding. I also highly appreciate that this step creates no dirty dishes therefore making this recipe so easy and quick to prepare.
Second, raspberries are a nutritional powerhouse of their own. Raspberries have more fiber than any other berry, a whopping 9 grams per cup. To put that into perspective, it is recommended you eat at least 25 grams of fiber a day. When you add up the fiber from the raspberries and chia in this recipe, you are well on your way to getting almost half of your daily needs. Raspberries also contain a high amount of vitamin C - 60% of the Daily Value in one cup. They contain important phytochemicals too, including the natural pigment anthocyanin, well known for many healthy benefits.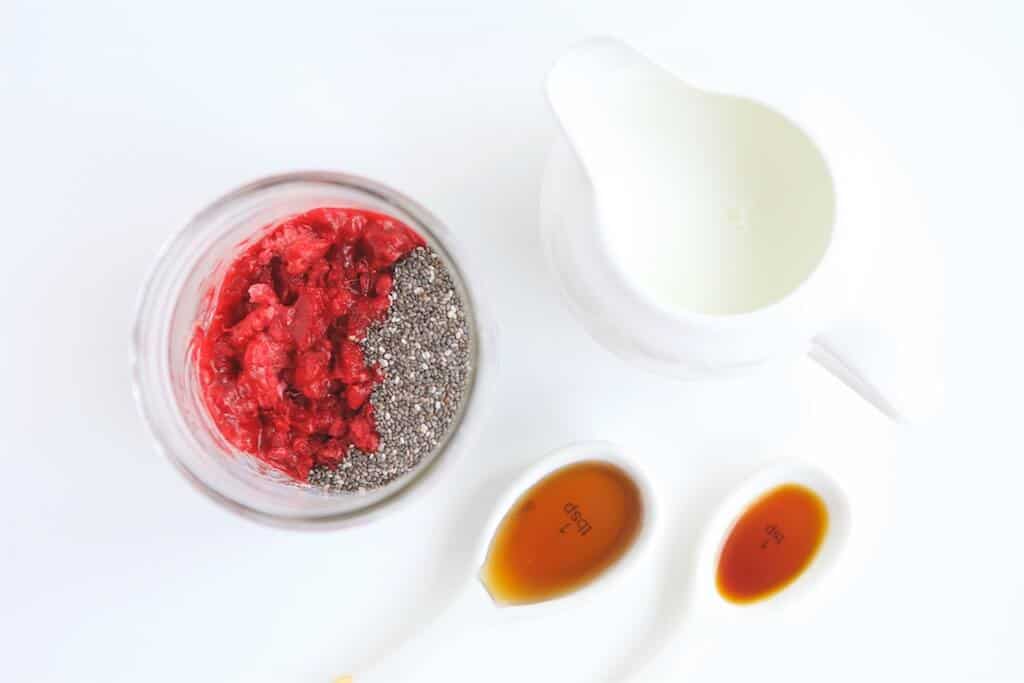 Tips for Success
Maybe you're a chia pudding rookie, or tried it once or twice and it just wasn't that awesome. Here's a few tips to make sure this Raspberry Chia Pudding turns out a home run.
For the best results, stir the chia seeds into the raspberry crush FIRST, making sure to break up any clumps of chia.
Add the milk after the step above and give it a really good stir after.
Make sure you use a leak proof container to make this recipe. I like mason jars and find the wide mouth 16 ounce jars to be perfect!
After about 30 minutes of fridge time, give your pudding jars another really good shake to mix up the seeds. If that's not doing anything, open up the jar and stir it again.
Recipe Notes
Perhaps the best thing about this healthy snack is that it uses only a handful of ingredients. You can customize this recipe using whatever type of milk you want to use.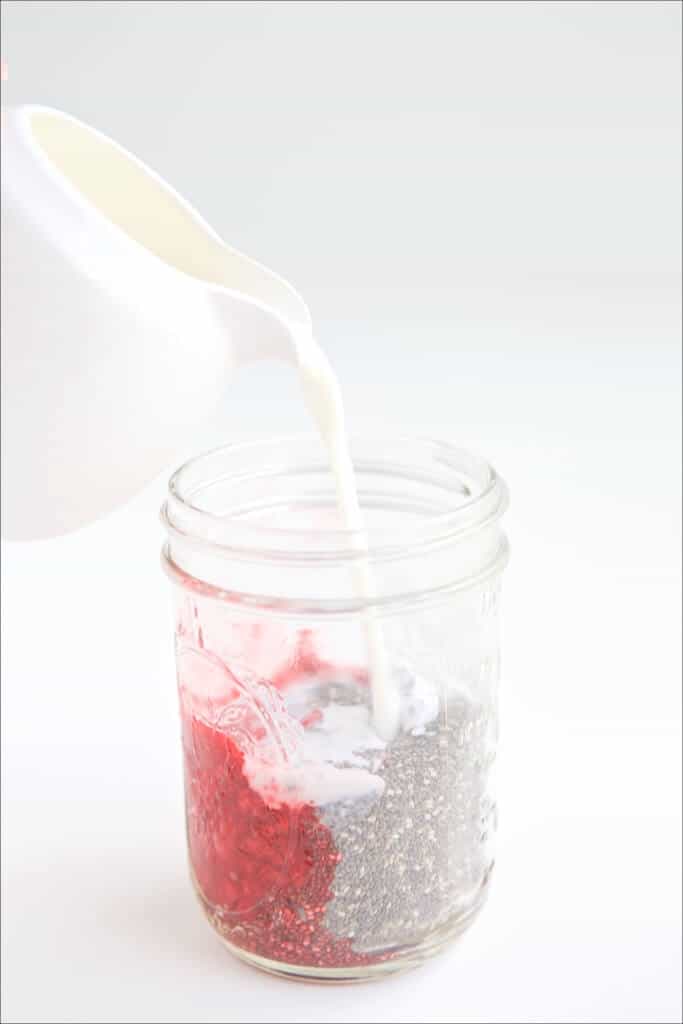 If you are using a thicker milk, like coconut milk or cream, you may want to try adding a tablespoon or two of water to thin it out a little.
This recipe calls for a sweetener, either honey or maple syrup. You do not have to sweeten with these or you can use another sweetener. I personally think a little added sweetness is nice because raspberries can be tart.
This recipe makes a full 16 oz of pudding. I find it's a pretty perfect 2 portions.
Here's how you make it.
Print
Recipe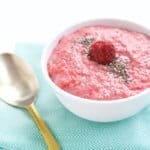 Raspberry Chia Pudding
---
Author:

Total Time:

5 minutes

Yield:

2

1

x
Description
This 5 ingredient, easy Raspberry Chia Pudding is perfect for a high fiber meal or snack.
---
1

cup

Crushed frozen raspberries

⅓

cup

Chia seeds

1

cup

Milk of choice

1 teaspoon

Vanilla extract

1

-

2

tablespoons Honey or maple syrup
---
Instructions
In a 16 ounce mason jar, combine Raspberry Crush and chia seeds. Stir very well to combine, breaking up any clumps of chia seeds.
Pour in milk and stir well again.
Add vanilla and honey or maple syrup. Seal jar tightly. Shake vigorously for about 1 minute to fully blend.
Refrigerate for at least 2 hours and up to overnight. Split between two servings and enjoy!
Notes
This recipe is gluten free and nut free. It can easily be dairy free by choosing a non-dairy milk.
Prep Time:

5 minutes

Cook Time:

2 hours

Category:

Breakfast

Cuisine:

American
Nutrition
Calories:

266

Sugar:

18

Sodium:

61

Fat:

11

Saturated Fat:

2

Carbohydrates:

34

Fiber:

14

Protein:

9

Cholesterol:

9
Keywords: chia pudding, raspberry chia pudding, vegan breakfast
Really, there's no need to get fancy with a pretty bowl. That's more dishes after all. There is no shame in eating this Raspberry Chia Pudding right out of the jar you made it in.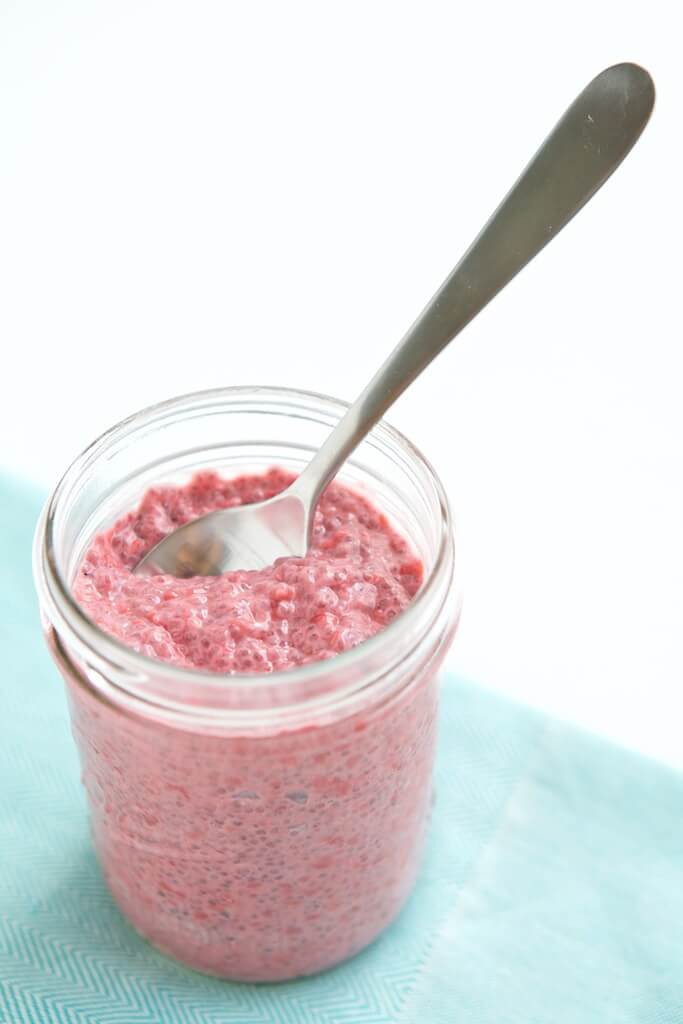 If you're still not sure about this whole chia thing, I guess I can understand. It looks a little funny. But I encourage you to embrace some new, funky health foods and dive right into this delicious Raspberry Chia Pudding. I will brag that I've converted a few people into chia-pudding-loving folks. You could be next. 😉 For another great option to enjoy the benefits of chia seeds, check out the Health Benefits of Overnight Oats with a delicious recipe for Blueberry Vanilla Overnight Oats.
To Red Razz, chia and beyond,
Jenna