Curious about ALDI grocery stores? There's a few things you need to know before you make your first money-saving trip. Start here with your must-read guide on how to shop at ALDI.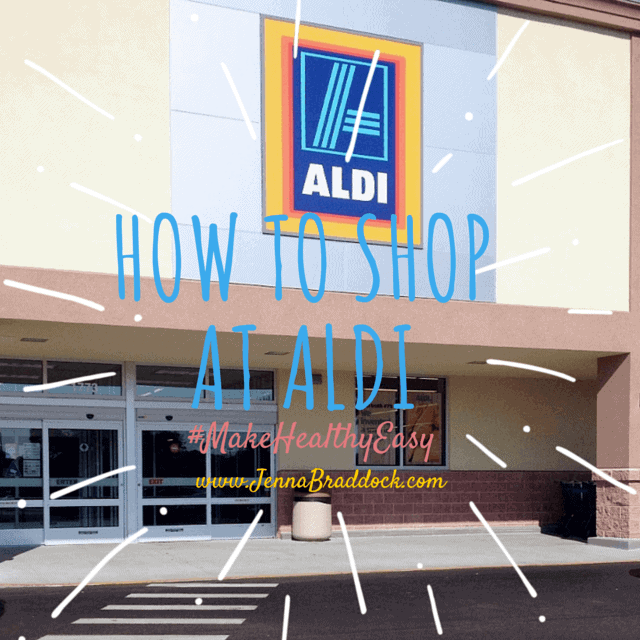 This post is sponsored by ALDI. ALDI invited me on an expenses paid trip to their headquarters. I was also compensated to write this post. I am extremely happy to work with them as ALDI has made a huge impact in my life and ability to eat healthy. All opinions and views are my own. 
Among my close friends and family, it is well known that I love grocery stores. I especially love unique shopping experiences that offer a different approach or product line.
A couple of years ago my sister in law, then living in St. Louis, started telling me about a place called ALDI that she started shopping at. She raved about how she saved so much money there, it was really unique and I just HAD to go. Fast forward a year, and my parents got an ALDI in South Florida. On my next trip to visit, we made sure to take a trip to ALDI.
Fortunately my sister in law had prepared us for what to expect when we shopped and I was immediately enamored by this magical store. The prices were INCREDIBLE and the selection was just right. But alas, there was no ALDI in North Florida so it remained a fun place to shop occasionally when I visited my parents. At that time, I had no idea how important ALDI would become in my life.
Fast forward to the beginning of 2015 I started to get really discouraged about our family's grocery bill. It just seemed to keep going up and up despite me cutting back more and more on products I bought regularly. There were many times either during or after grocery shopping where I was almost moved to tears because I felt so defeated.
It's humiliating and frustrating to feel like you cannot feed your family the healthy food you desire to simply because it costs too much. Anyone else ever feel this way?
But fortunately I did not stay defeated for long as an ALDI store opened up in St. Augustine last fall and I made a point to regularly shop there. My grocery bill started to drop or really, the amount of food I could purchase significantly increased for about the same price I spent at other grocery stores, if not less. I could also buy the foods and products that I really wanted to buy and could even afford some organic and specialty products that I thought I'd have to give up.
My whole attitude toward grocery shopping has now changed. Now, I get a little skip in my step when I walk in to ALDI. I can't wait to see how much food I will be able to get for the incredibly low price. It's almost a game.
The ALDI Way
Last month, the wonderful people at ALDI sponsored a trip for some bloggers where we learned about the ALDI way. We all wanted to know how they are able to get such low prices. Do they sacrifice quality? If the food still good quality?
I know you are probably wondering the same thing because I've seen your questions on Facebook and Instagram.
As I learned through my ALDI education, there are many operational "efficiencies" that they have adopted in order to pass savings on to the customer. A little savings here and there really adds up in the long run to give us amazing prices! So keep this in mind as you shop. ALDI may not have all the sparkles of a big grocer, but it's all to save you big bucks!
How to Shop at ALDI
There are some very important things you need to know before you shop at ALDI. These are the things that my SIL shared with me that made my first trip a success.
Bring a quarter
At ALDI, you "rent" your grocery cart for a quarter. Simply push your quarter into the slot, the lock pops and you go on your way. When you return your cart, lock it back up and your quarter pops back out. This saves you money because they don't need extra staff to man the parking lot and make sure grocery carts return to their store.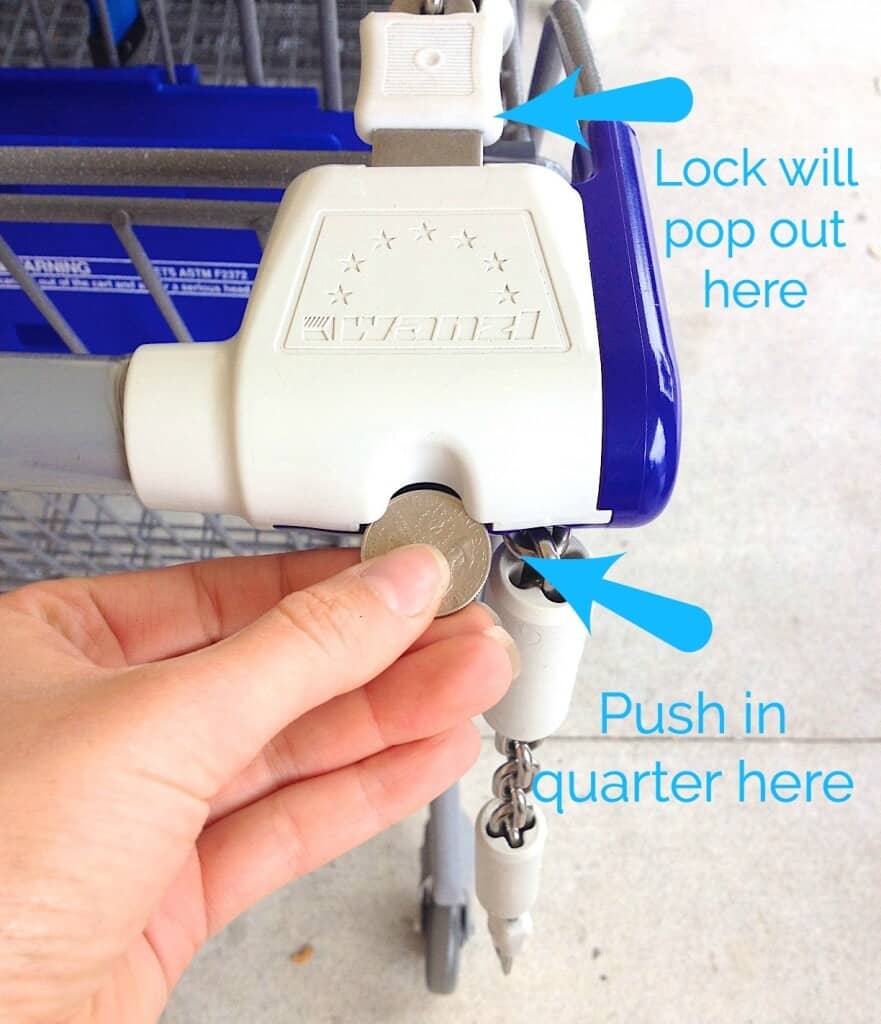 I keep a quarter in my car console just for this purpose. I've also started carrying an extra quarter with me when I shop because there always seems to be a person in need of one who didn't know.
Bring your own bags
This is yet another small way that ALDI saves you money: you use your own bags. And this isn't a new thing. They've been doing this in the US since they opened in the 70's. So bring your reusable shopping bags with you but if you forget they sell 3 kinds of bags at checkout for a matter of cents.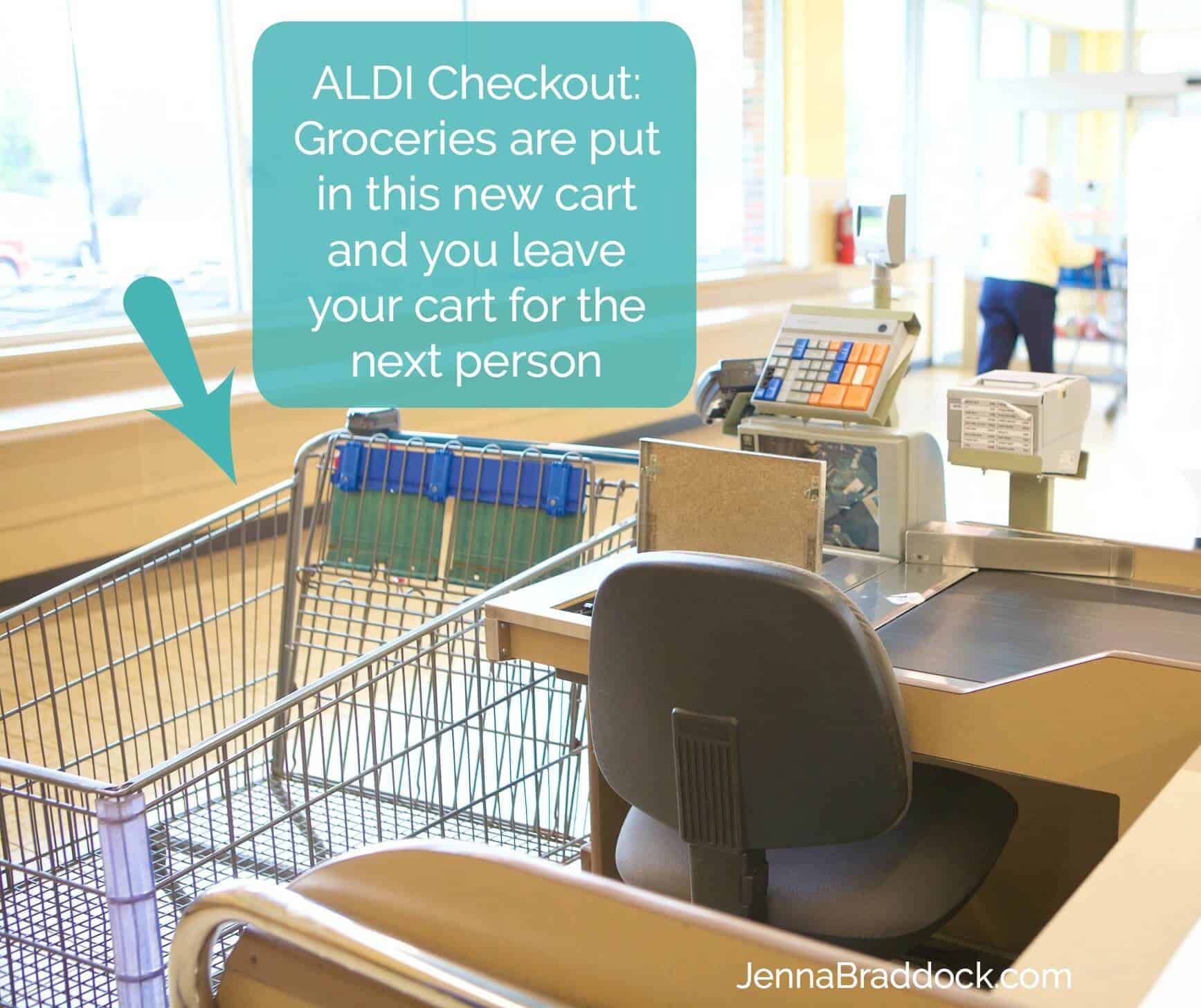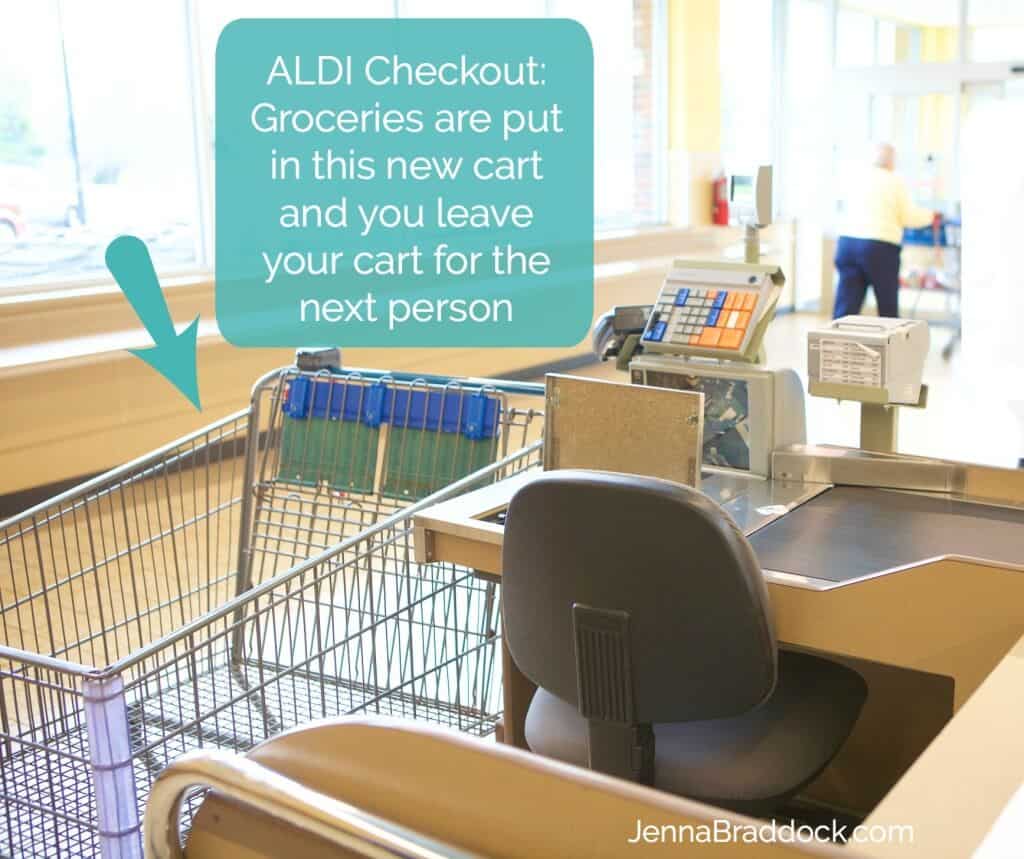 Pack up your own groceries
You also are going to be responsible for bagging your own groceries. When you check out, the cashier will move your items into a new cart at the end of the checkout line and you'll leave your cart for the person behind you. Then you just wheel up to the bagging counter and put your own groceries in exactly how you want them. We have all been unhappy with how someone else bagged our groceries in the past, so consider this a perk more than anything. And most importantly, remember this saves you $$$$!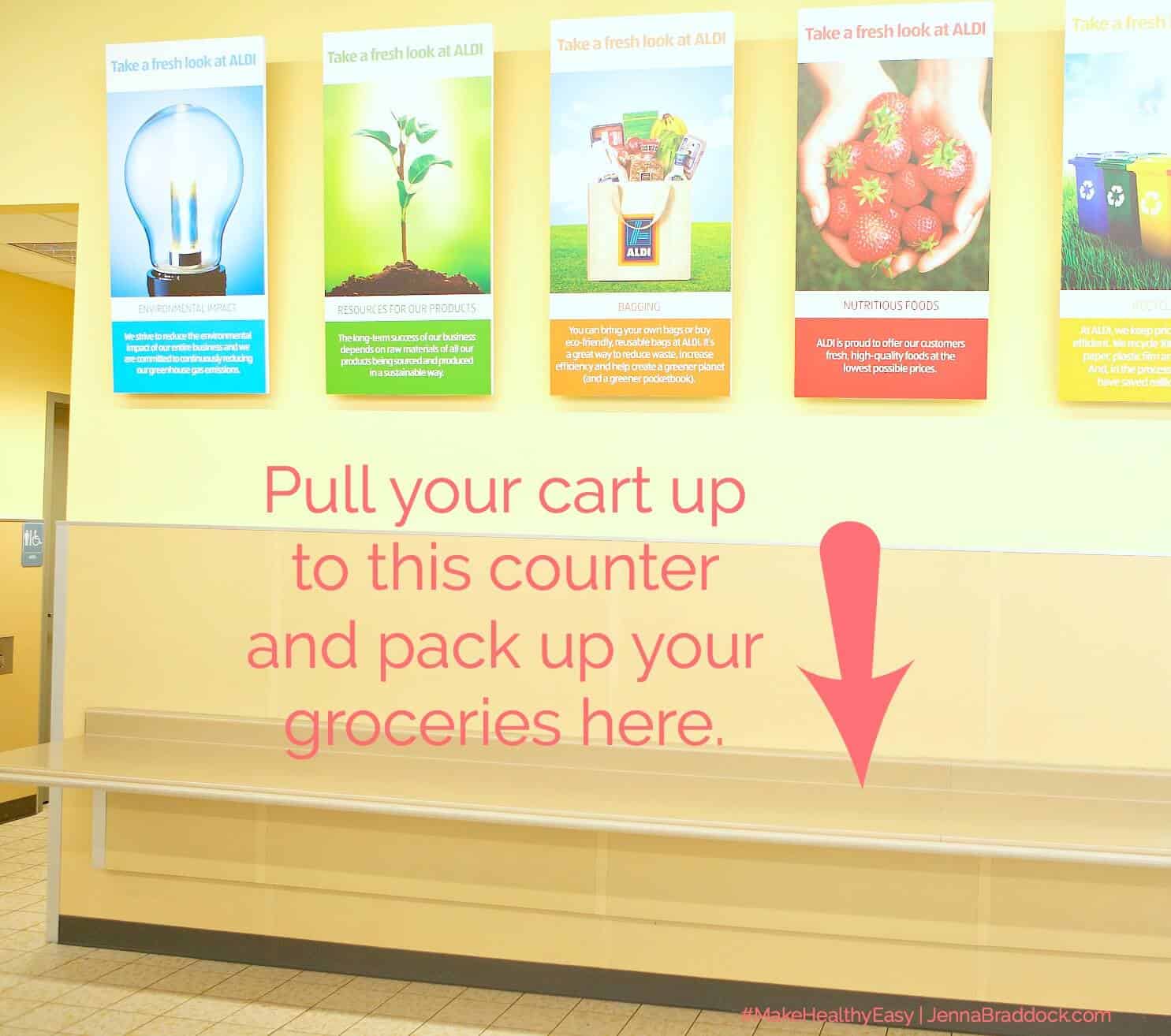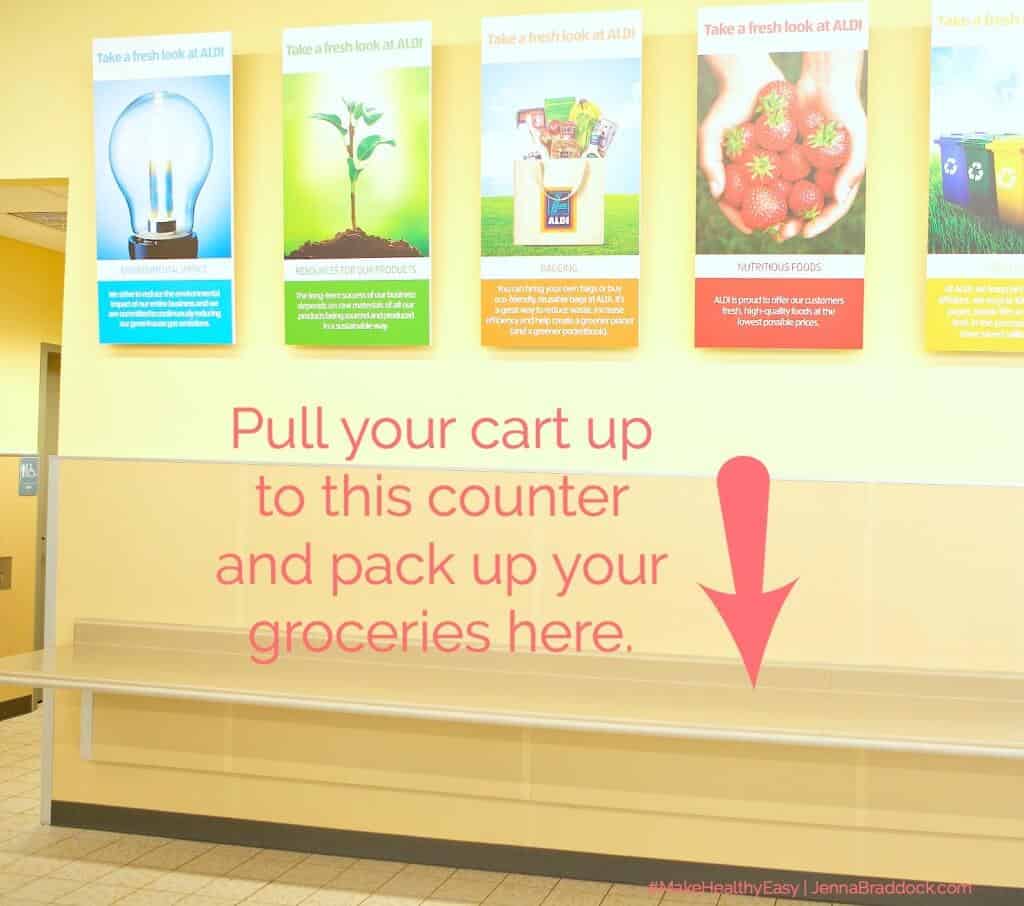 Credit Cards are Excepted!
As of the beginning of 2016, ALDI stores now accept credit cards along with debit cards!!
Store Flow and Stocking
Every ALDI store is set up exactly the same way so you always know what is where once you figure it out. Now, let me just warn you that you the first items you will cross in the store are the chips and snacks. This may give you the wrong impression of the store but it's for a reason. All the cold, frozen and fresh items are in the far back of the store because it's closer to the stockroom and therefore takes less time to restock.
Also, items at ALDI are stacked in specially designed boxes; there are no shelves. It resembles how Costco displays items. To some, it looks cheap but it's all for a reason. ALDI employees do not have to spend time stocking shelves because of this system. That saves us more money!
Products
90% of the products in ALDI are store brand. But this doesn't mean they are cheap. ALDI works with many of the big food producers that produce name brands to package their own line. ALDI strives to meet or exceed industry standards for food quality.
What ALDI Stands For
When I partner with companies and foods, I am looking for ones that have strong core values. While great prices and quality are very important, I really care about what they stand for and their company culture. ALDI is a perfect example of this kind of company.
One interesting fact that I learned was that all executive staff started out working in operations, meaning they've all actually worked in a store. This way they understand how things work in "real life". Store staff are also all cross trained in every area of the store operations. So any ALDI employee can handle any task in the store. I find this empowering to people as well as just smart for business.
When I visited their US headquarters, everyone there seemed rather happy and proud of their workplace. And I can understand why because ALDI treats their employees well. Cashiers are able to sit instead of stand, making it healthier on their body and probably keeping them in a better mood from less fatigue. They also offer full benefits to part time employees working at least 25 hours a week. Yah, I know. That's impressive and wonderful.
When it comes to the customers, they offer the Double Guarantee to give you the best experience. If you are not satisfied with an ALDI brand food product, you will get your money back and a replacement for the product. Sweet! That makes it worth giving ALDI a try, don't you think?
I hope that I've given you some confidence to give ALDI a try this week. It has made a huge difference for Team Braddock and I would love for you to experience that too.
Many of you have asked me what kind of products I buy from ALDI. To find out, click on over to my post on Dietitian Picks at ALDI. 
Here's the saving money and eating healthy!!
Jenna