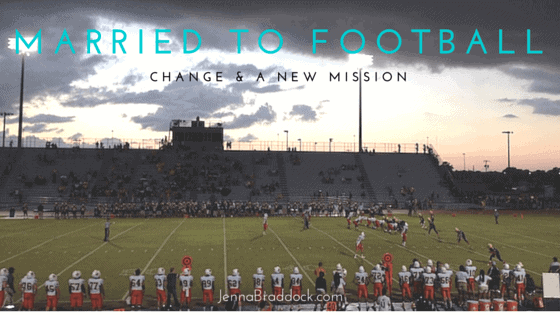 It's been awhile since I've written about football. I assure you it's NOT because that area of our life has been uneventful. In fact, it's been quite the opposite. First, let me back up a bit and fill you in on some important details starting with the last fall.
If you are new here to MHE, please read my other Married to Football posts: Life as a Coach's Wife & How I Survive the Season.
2015 Season Recap
Our season ended the Friday after Thanksgiving, in the regional final game, with our only loss of the season. Our final record was 12-1, an accomplishment that has never been achieved in school history. The regular season record was an amazing 10-0 and you can read about it here.  It truly was a magical season as we continued to win amidst unforeseen challenges that likely should've prevented victory. In many games we had players out for a variety of reasons - illness, injury, and behavior issues. In all these circumstances we somehow achieved the unlikely and pulled off W's.
When December hit, our family exhaled and started recouping from 4 months of nonstop action. I ended up having a pretty eventful December and I enjoyed the chance to get to travel.
The Off Season
January began the focused off-season, and this year it actually felt like it was going to be a smooth one. Since this had been just our third season at our current school, the 2 prior off seasons were pretty nuts with Coach always figuring out some new area of his job. I was excited that this year seemed to bringing a more dependable schedule and afternoons together as a family.
As many football families know though, change can happen anytime and often very quickly. Now we know first hand how true this is. At the beginning of March the head coach at Coach's former school decided to retire. That school has always been special to us as it's Coach's alma mater and he coached there for 9 years prior to our current school. We talked through the opportunity and the challenges it presented, and we began to feel like God may be calling us back there to help.
We weren't looking for a change as we enjoyed our current school. We love the players and their families. The community and the staff have supported us from day one. It was not easy to think about leaving this wonderful community. But as time went on we knew this is what we were supposed to do.
Change
I've always been open to change and I really don't mind it. This is a good mindset to have as a football wife. Interestingly, back in the fall, I believe God spoke to me and let me know that change was coming. I didn't know in what area of our life that would come in or what it would look like, but I truly felt he was preparing me for a different direction somewhere. I had shared this with a few family members and friends, of course including Coach, and we all wondered what it meant. Well, here we are at the beginning of April and we have officially accepted the position of head coach at St. Augustine High School.
If you enjoy reading the articles, here is the story from our local paper. 
The Roller Coaster
It's been a bit of a whirlwind in every way in the 3 weeks since this all went down. I've cried with sadness for leaving our current team and I've cried because I feel so called to our new school. It's going to be a challenging spring for our family as coach is still teaching at his old school and driving down every afternoon to the new school to oversee the workouts with the team. Those 12 hour days that I thought were only for football season have returned. It's what I like to call an "all hands on deck" time of our life where everyone has to do extra to support our work in football and other things get put on the back burner. It's tiring, but it's worth it. So if I'm not as active here on MHE, this is why. My family needs me.
Spring Football
Spring football starts the last week in April and the clock is ticking in Coach's head as the to-do list is super long. Nights are spent watching last year's game films or talking with coaches on his new staff. I will try to get up to the school with the boys as often as we can so we can start developing relationships with the players and staff.
I will most definitely be at the first day of spring practice. That's my personal tradition I started when Coach began as a head coach. The first day of spring tells you a lot about a team and it's amazing to watch the progression from year to year.
We are hosting our annual coaches party in April with our new staff and the rising seniors cook-out in early May. These are events I always look forward to because we open our home and just have fun with our football family.
Join our Journey
For those of you who enjoyed following our team in the past couple of years, I hope you will enjoy following us on a new journey with a new team. I'm looking forward to reconnecting to this community and our our football team, and investing in a new group of young men. It's going to be exciting!!
If you want to follow along with Team Braddock through football, make sure you are subscribed to email updates from Make Healthy Easy and follow me on Instagram and Facebook. I often post pictures from our football life.
Please take a gander through my other Married to Football Posts too:
Thanks for listening to the next chapter of our football life. Many of you have expressed how much you enjoy following our family and team and that means SO much to me.
For the Love of Football,
Jenna