It had been one of those days. One of those days that makes it really feel like football season, but not in the good way.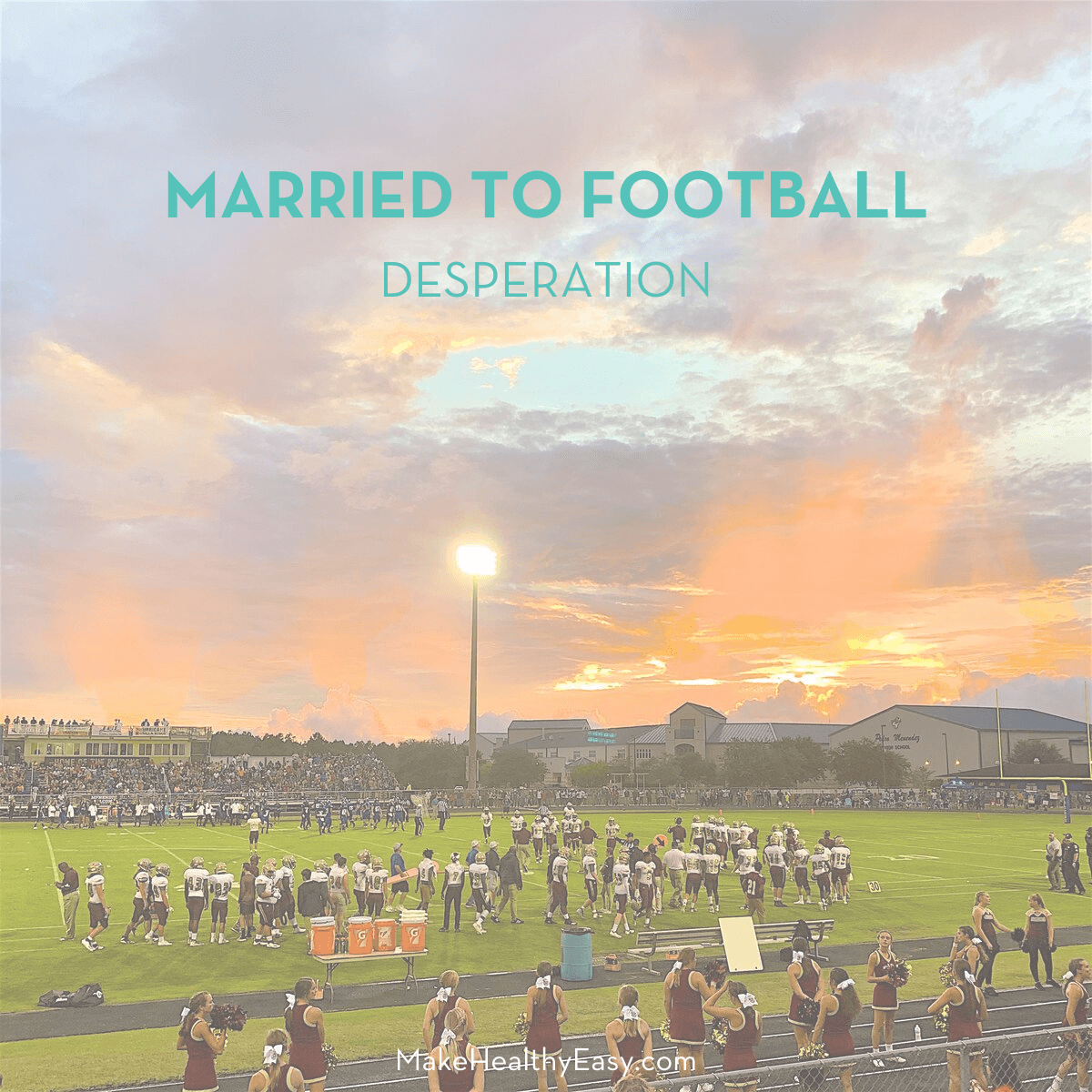 It culminates at the end of the day by me being very grumpy, basically kicking my boys into bed as soon as possible, and dealing with a whirlwind of emotions telling me the most wild ideas. On this day it sounded like:
I'm not cut out to be a mom AT ALL.
I think I want to skip the game this week and just have a movie night like that frozen pizza commercial keeps telling me to do. (FYI I rarely miss games.)
If one more sporting event dictates how I'm going to spend my time I am quitting!
Do I really love my family members??? I'm not sure I like them right now.
It's embarrassing to even type out here; my thoughts can get so ugly.
On many occasions, I use such a day to justify the drinking of a big ole glass of wine as soon as the lights go out in my kids' bedroom. This night, however, I decided to take a hot shower to calm down the tornado of thoughts in my head. This season, I'm really working on responding to my mental chaos with true elements of emotional recovery instead of justifying my vices (wine, shopping, chocolate).
While showering (don't worry, this is a G rated story), the word "desperation" came to my mind and I think God put it there. I realized there under the warm water that I was feeling desperation.
Desperation about parenting mostly alone, which is feeling really challenging right now.
Desperation about feeling locked in to a schedule that's not always fun to me (#Enneagram7 problems).
Desperation that I am so tired at night I don't really want to have a conversation with anyone, but this is the main time to actually talk to my husband's face.
Desperation: a state of despair, typically one which results in rash or extreme behavior.
(I can't believe how accurate this definition is for how I was feeling.)
For some reason, every football season, I forget it's football season. The weeks play out like a groundhog day because every week has the same rhythm. I get so sucked in by this weekly schedule that I rarely take a second to realize how intense our life is. Then, a moment like this happens and I have to gently remind myself "yes, this is hard work - a lot of hard work to keep this family alive and hopefully (fingers crossed) thriving."
There are two versions of me: football season Jenna and off-season Jenna. My family knows this, my friends know this, my therapist knows this. I've had many friends tell me, unsolicited, that they notice a difference in how I am in-season and out of season. It's crazy but true.
This kind of emotional and mental freak out happens at some point every season. I think I can handle everything about football season just fine, then evil thoughts enter my head about people I really love a lot, I break down in one form or another, and crawl to Jesus, begging for more mercy.
Back to my shower scene (ha!). This time, the coolest thing happened after I recognized my current state of desperation: God reminded me that He is, and has been, clearly with me in my football season desperation. When I think back through the past several football seasons I immediately remember my longing for the Lord and how quickly my heart sought Him.
I remember the lessons he taught me and the words he gave me to bring me through. I am desperate for Him during football because I know, without any shadow of a doubt, that I am not going to make it through the season without Him. (By making it through, I mean finishing the season and still loving my husband and kids and not scarring them for life.)
With this tender reminder, my mind quickly (and supernaturally) went from an evil tornado of doom to gratefulness. Can you believe that? I almost can't, and it happened to me!
My heart became soft and grateful that every year I get to walk through football season, where my need for Jesus is on full throttle and I actually realize it! And then, God shows up. Sometimes in big obvious ways that brings me to my knees by His love, but more often it's in small ways. Like today, a good friend who has walked through almost every football season with me, texted me to tell me she missed me (because that's a real thing in season- friends? What friends? Do you go to high school football games on Friday night? If yes, we can have a friendship.). It was such a small gesture, but today I knew this was God reminding me I am loved, because I forget that real quick.
One of the greatest lessons God has taught me through football is that He MUST renew my mind and heart. If I rely on my thoughts and feelings, I will make my own life miserable and miss His incredible work in the mundane moments of life.
Instead, let the Spirit renew your thoughts and attitudes. Put on your new nature, created to be like God—truly righteous and holy.

Ephesians 4:23-24
I also have to be reminded EVERY DAY that He loves me and cares for me like no else can or will.
One thing I ask of the Lord, this is what I seek: that I may dwell in the house of the Lord all the days of my life, to gaze upon the beauty of the Lord and to seek Him in his temple. For in the day of trouble, he will keep me safe in his dwelling; he will hide me in the shelter of his tabernacle and set me high upon a rock.

Psalm 27:4-5
Are you feeling desperation in your season of life right now? You certainly don't have to be a coach's wife to feel that way. I hope this encourages you today and I pray that God comes and meets you in a random place, like the shower, and reminds you He is always with you and loves you so deeply.
If you are a coach's wife, I want to meet you! Please get in touch on Facebook or Instagram or email me at [email protected]. I share these M2F posts because I want other coach's wives to know they are not alone, wherever they are.
Read my other Married to Football posts:
Married to Football: Dealing with Disappointment
Married to Football: How I Survive the Season