Football season starts in exactly one week friends. ONE WEEK.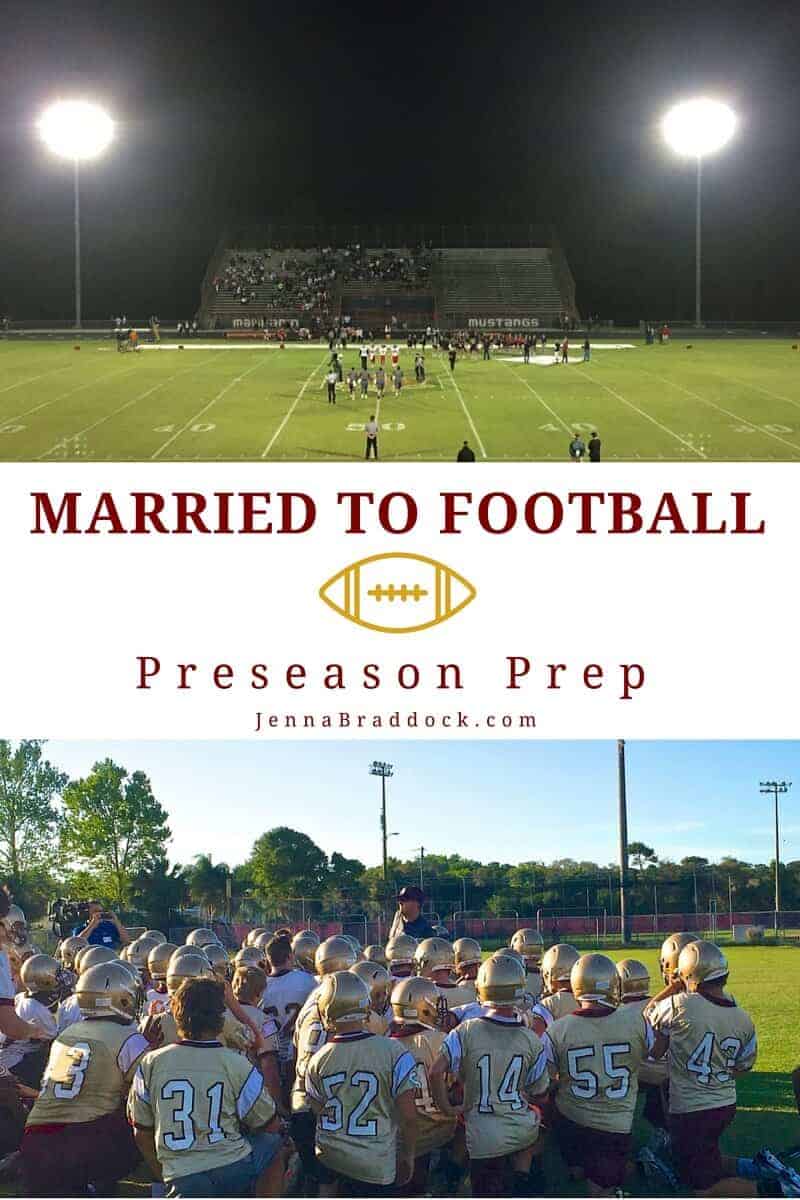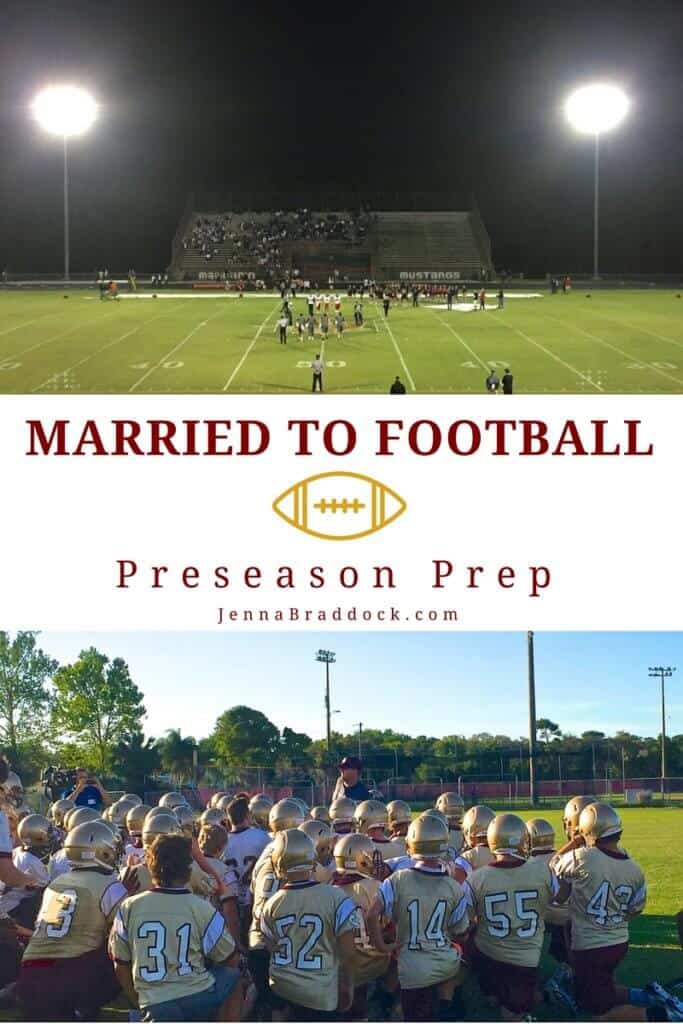 The beginning of the season is a super exciting, high intensity time. We very quickly jump from our summer days to full force long, long days. I'm always excited for the season to begin as I anticipate what the season may hold. I also get a touch sad because our family time changes so dramatically.
Just like Coach prepares for day 1 of practice, I too prep. To help me adjust and prepare for the season I have developed a few rituals to "get my mind right" in the preseason. I find focusing on fun aspects of football ignites my enthusiasm and I focus less on the "other" stuff.
#1 - Watch Sports Shows: For the past couple of years I've watch a sports related show during the summer. Last summer me and Coach finished watching Friday Night Lights for the second time. Nothing gets me more excited for football than that show. In fact, I think I need to watch the series finale one more time this week. It's just so good.
This summer we've been watching Amazon's All of Nothing: A Season with the Arizona Cardinals. I've really enjoyed it because it shows what goes in to preparing each week as well as wonderful personal interest stories, which I love. We also like Coach Arians and what he's about. Definitely add this show to your watch list on Amazon!
The BEST show I've watched is one on our program, the St. Augustine Yellow Jackets. One of our local news channels had a vision to tell the story of a program and happen to have picked St. Aug. When Brian took the head coach position back in March, it added a deeper story line to the history of the Jackets. Action Sports Jax did an amazing job and I really hope you will watch it. It's about 22 minutes long and here it is:
#2 - Home Decor: I decorate my house for football season. Since we are at a new school this year, I have to start over with my decor. Gold is one of our colors and I knew I needed to trend-up some football stuff with a good gold spray paint. This Krylon in Caramel Latte is perfect!  I found super cheap varsity-style letters at Michaels last week and also a big "D" a fence from the Hobby Lobby wood crafts section. You can also find letters on Amazon (God bless Amazon) here.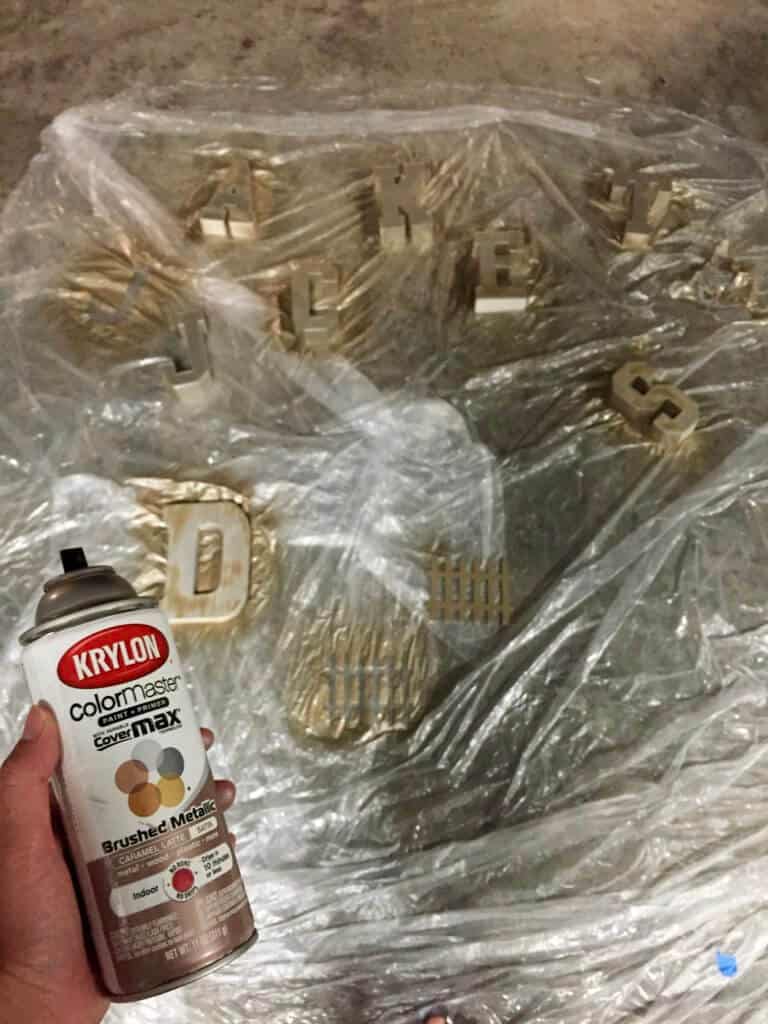 I'm not quite done with my new decorations so I can't show the finished product just yet. Check out my Facebook page in the next week or so to see the final product.
#3 -Game Day Style: For those that followed me last football season, you know that I take my #GameDayStyle very seriously. I'm not a t-shirt girl. I just don't like them. So I search far and wide for a little more stylish fair to wear for my hubby's games. Maroon and gold are not the easiest colors to find but I've had some unexpected success. Target and even my fav, Boden, surprisingly have true maroon in their summer lines. Score! I also have my eye on this dress and this dress.
Having #GameDayStyle helps me make my hubby's big night feel a little more special. It's these little things that really help some weeks.
#4 - The Last Supper: The weekend before football starts I try to get some of our friends together for a "Last Supper" dinner. We were really good about this before we had kids and became a head coaching family. The past couple of years we've fallen behind on this tradition. I'm really hoping to make this happen this upcoming weekend with whoever might be available to enjoy a meal with us before the crazy starts. Some years we've gone out to eat and sometimes we host at our house. It's doesn't really matter. It's my way of saying a little goodbye to our friends (for the meantime) and officially kicking off the season.
So here we go football season...bring it!
I hope sharing these preseason prep rituals might give someone else fun ideas for prepping for football season, or even more, a challenging season in their life. If you know someone who might enjoy reading this, would you please share it with them?
Are you excited for football season? Leave me a comment and let me know who you are rooting for this seasons.
For the Love of the Game,
Jenna