Happy holidays MHE Friends!!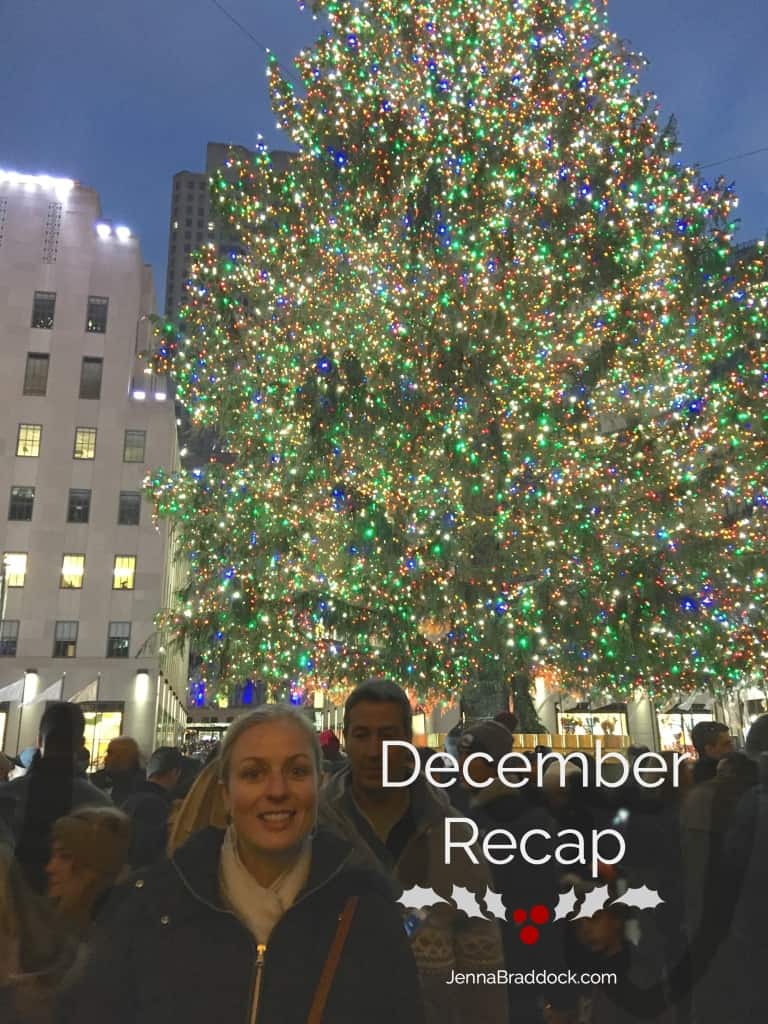 It's been quiet here on MHE this month but it has not been quiet in our life at all. I wanted to give you a little update as to what I've been up in to. In a perfect world, I would've planned my posts a little better before getting caught up in the whirl-wind that was my December. But alas, it is not a perfect world and my priorities pulled me in other directions this month.
In general, it's December, so anyone with families knows what that means. There is lot of little things that need to get to done to buy presents, attend events, and truly just enjoy time with family. Since football season took us all the way to the end of November this year (which is totally wonderful, but tiring) all of Team Braddock was ready for a slower pace and more family time.
Our end of season football banquet was our first big event. It was so awesome to celebrate such an amazing year with our football family. My heart was so full with love and pride for what our team has accomplished in the past 3 (short) years that I begged Coach to let me speak at the banquet for a couple of minutes. I wanted the opportunity to thank everyone for the investment they have made and will continue to make in the lives of these young men. It was a great night!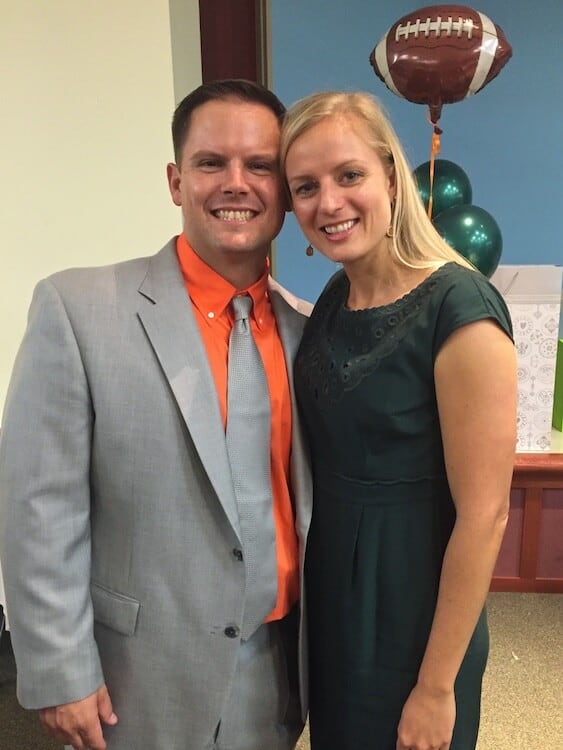 We of course decorated our tree. This was the first year we decided to get a real tree. I've wanted one for our whole marriage ( 10 years) but spending the money (for me) and the mess (for Coach) kept us from going for it. Well, this year I caught an awesome Groupon for a company that delivers your tree to your doorstep. Since we do not have a truck and it meant zero work for us, I went for it! The verdict --- it was awesome. We love our tree and it couldn't have been an easier process. I highly recommend 5 Star Christmas Tree Company.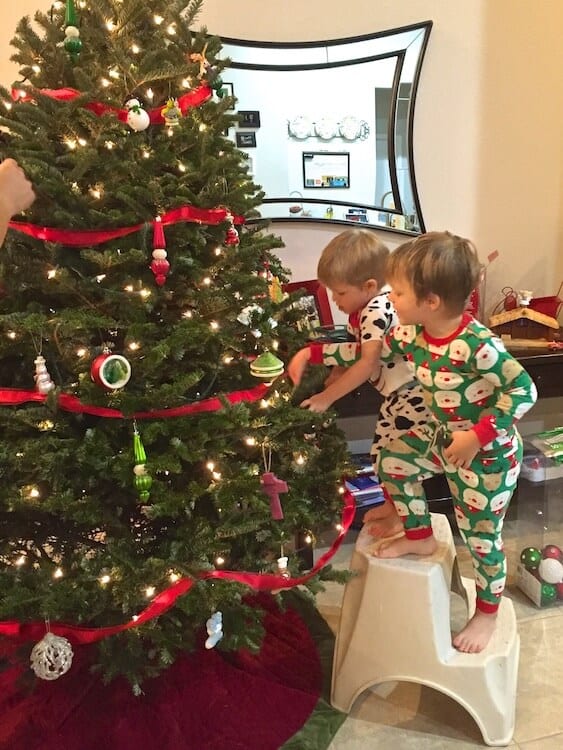 Back in November I somehow got the idea that I wanted to have a backyard Christmas movie night. I really wanted to do something festive that was little kid (specifically little boy) friendly as many holiday events are very crowded and our boys like to run like crazy (aka we are chasing them through crowds of people). Coach was skeptical of my plan, but I am happy to report that we pulled it off and had a lot of fun with another family watching How the Grinch Stole Christmas on the back of our house. It was perfect for little boys because if they got bored, they could just run around our fenced-in back yard.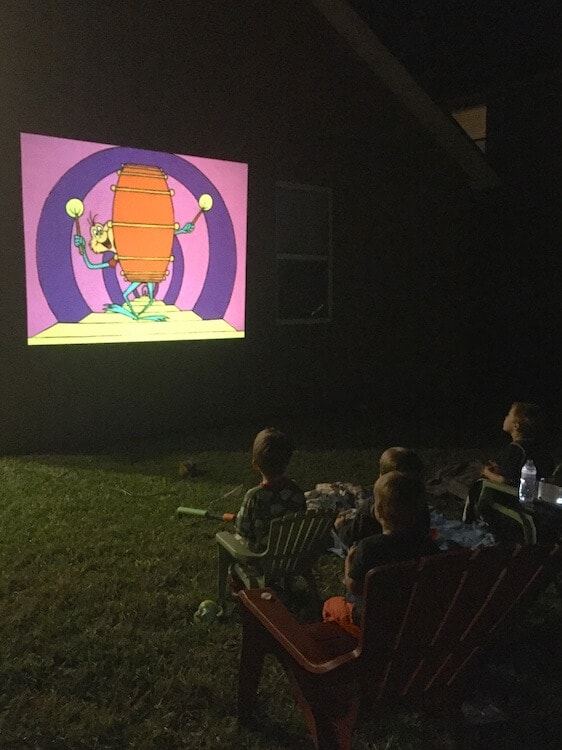 For those interested, we used a normal classroom projector that we own (we are both teachers and it comes in handy quite often) and plugged it into our DVD player and a portable speaker. It was really simple to set up.
Another fun event we attended was "The Santa Train". This is an event put on by the East Coast Railway that sends a retro train down the coast of Florida from Jacksonville and stops at several stations along the way. The president of the company and his wife dressed up as Mr. and Mrs. Clause and set up their shindig along the way. The boys loved watching the train pull into the station and Jackson made sure to tell Santa that he wanted MM's for Christmas. Yes, that is all my 4-year-old wanted for Christmas: candy. =)
[easy-image-collage id=1592]
Professionally, the first 2 weeks of December was all about finishing my semester at UNF, as it always is. I had a ton of grading to do and that became my main focus. If you remember being a student (or are one) you KNOW that you want  your grades ASAP. It's always a good feeling when I submit the last of my students' final grades. But truly, as soon as I push "Submit" on that process I move right on to preparing for my spring semester class.
Next up on my priority list this month was a very important opportunity. I was sort of recruited to audition (yes audition) for the position of Nutrition Coach at the Human Performance Institute and I got it! This is a contract position (so no need to move anywhere) where I will be one of three coaches delivering the Corporate Athlete® training program. I am so incredibly pumped about this opportunity as I will get to help people reach their full energy potential through solid nutrition training. Definitely visit the website (link 2 sentences back) and learn about this super cool facility. I actually attended the training as part of my audition experience and I can truly say it was life changing. I WILL be talking more about this in the coming weeks.
Here I am right before my audition where I presented a portion of the material. I was a little a lot nervous.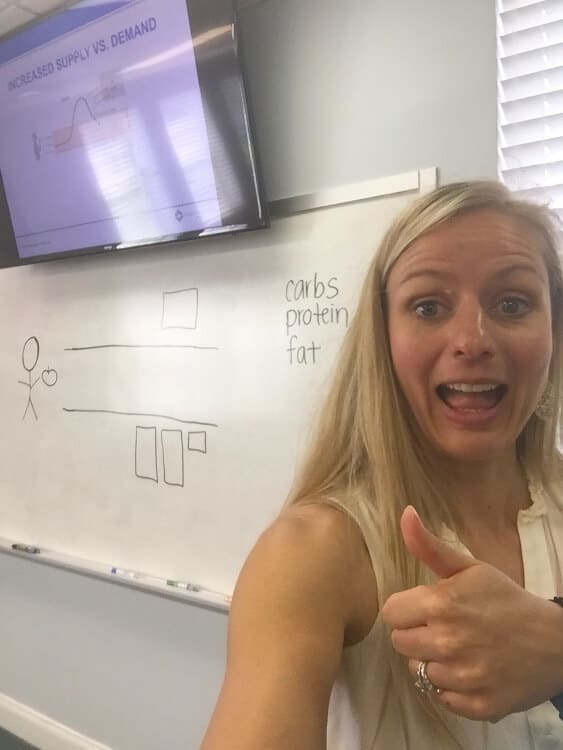 Quickly after returning from HPI, I turned right around and flew to New York City for a girls' weekend with my mom. This is something we have always wanted to do together and it was an amazing experience. I'll be back soon with the deets on this trip so stay tuned.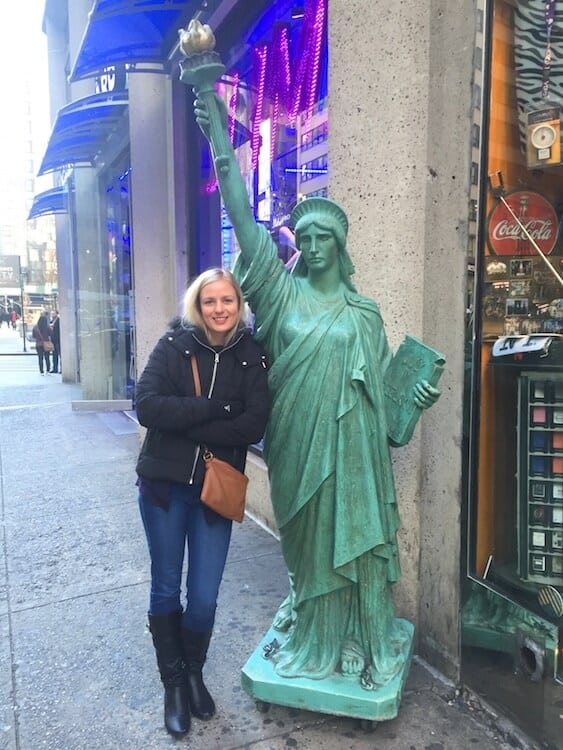 I have to take a moment to give a HUGE THANK YOU to my man, Coach. He was dad of the year this month covering at home while I traveled twice. Thanks babe! I really appreciate you.
Next up on the calendar was Christmas and we spent it in South Florida with my family. My boys loved being with their cousins and grandparents. I finally got to see the new Star Wars with my big brother and both our spouses. We both liked it a lot as it's really well done. We have some critiques that you can ask me about sometime if your interested. I don't want to spoil it for anyone who hasn't seen it yet.
In case you are wondering, I am a big Star Wars fan. My passion has been reignited by this new movie and the fact that Jackson is now old enough to begin learning the ways of the Force.
We visited a church for Christmas Eve that one of my college roommates attends and sings at. It was such a blessing to hear the beautiful Happy Home Fairy sing live for this beautiful service. (We did not capture a picture together so just trust me that it happened. But we did get a great family pic.)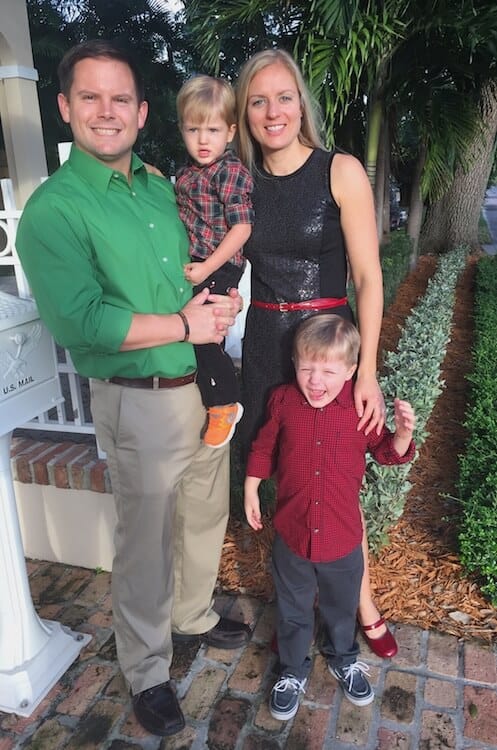 For Christmas Eve dinner we ended up at one of my favorite Mexican restaurants from high school. We had high hopes for a bit fancier experience, BUT.... when you have a hungry 2 and 4 year old, and you forgot to make reservations, and you can get right into La Bamba's, well, that's where you go! We had a great time and certainly enjoyed our chips and salsa.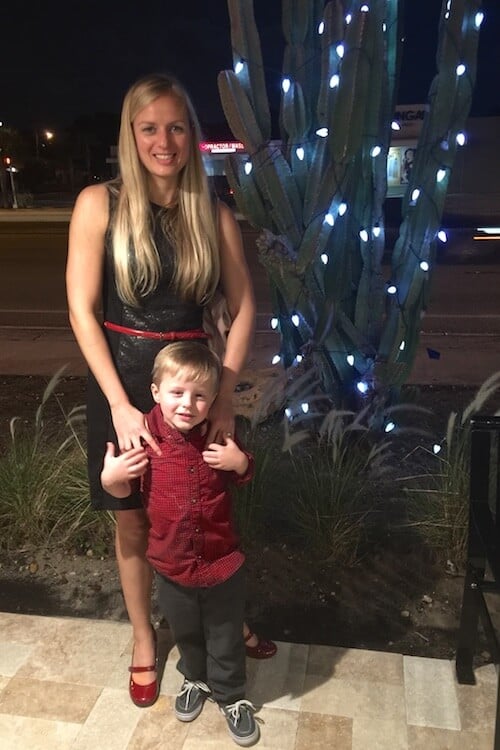 Christmas morning was so fun. Our boys didn't remember much from last Christmas so they had very low expectations. As I said above, all Jackson wanted was MM's. It was so sweet. I think he really would've been happy with just candy, but we certainly got him more. This was the Christmas of Buzz Lightyear as the boys got PJ's and actual Buzz toys. They liked them all but Jackson was most excited about his MM's. Here he is proclaiming his excitement for those MM's.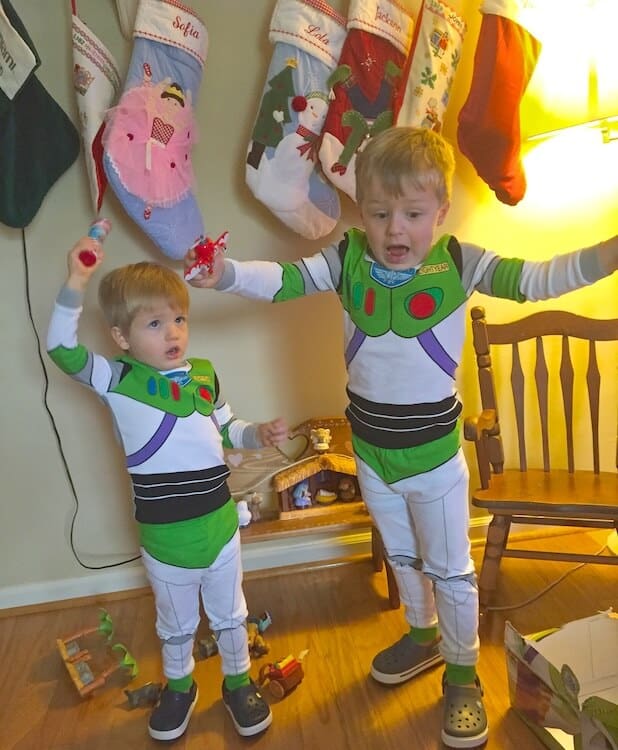 I enjoyed cooking with my mom and sister in law the rest of the day. For breakfast, I contributed my famous Orange Bread and for dinner I roasted the turkey, which is always my job.
Since we got back home from our travels, we have enjoyed doing a whole lot of nothing! I was able to get in my Sunday run this weekend and that felt soooooo very good. I really love running on Sunday mornings.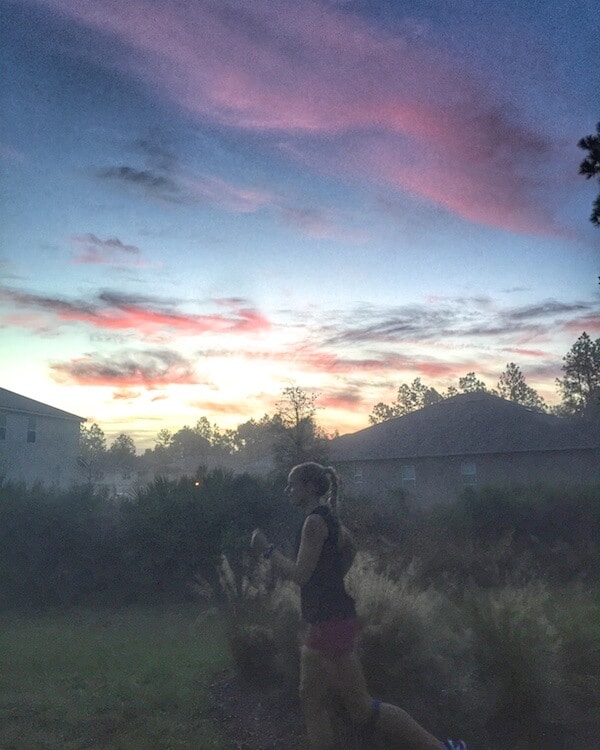 I was thinking about you all during my run. Truly I was. As we get ready to start a new year, I'm sure some of you are thinking about trying something new  to be a better, healthier person. Am I right? I think it's our human nature to evaluate our life as the new year begins. And that's not a bad thing at all. But I want to encourage you to not wait until January 1st or 2nd to do something different - eat more vegetables, exercise, get more sleep, read a book, whatever. Do it now; yeah, right now. There is absolutely nothing magical about January 1st.
Consider 2016 a journey for you -- a year of practice, not perfection.
I don't know why we think that when January 1st rolls around we will all the sudden be experts at a whole new habit. We just don't work that way.
So instead of expecting a whole new life in one area or another in the new year, commit instead to practicing new behaviors. Practice means sometimes you'll knock it out of the park and sometimes you will fail miserably. But no matter what, you get right back to practice.
Can you do that for me? Well, really for yourself?
I'd love to know what you are thinking about this week as you get ready for the new year. Leave me a comment and let me know about your holiday or what's on your mind as we turn a new year leaf.
Oh, and thanks for hanging with me on Make Healthy Easy this year. I know I can be sporadic sometimes but I really love sharing with you.
To a New Year of Being Great at Practicing,
Jenna