With the change of the seasons we all crave comfort food and it's all too easy to find indulgent treats everywhere. You will love these easy healthy fall comfort food recipes in this video from Make Healthy Easy.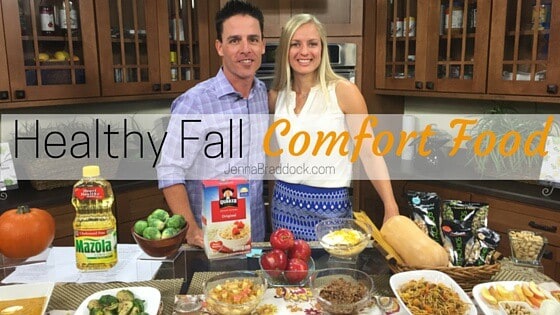 At this time of the year it feels like there is a pumpkin explosion in every grocery store and restaurant. Don't get me wrong, I love pumpkin, but I think it might be getting a little out of hand. (Someone's got to say it!) When you can get pumpkin flavored Pringles, MM's, and Pop-tarts I think we have a problem.
The biggest issue is that at this time of year we crave comforting flavors and foods (not a bad a thing at all) but the opportunities to indulge in those cravings are EVERYWHERE! You can't drive anywhere or watch anything on TV without being reminded that it's pumpkin spice indulgence time. AHHHHHH!!! It's hard enough to eat reasonable already.
Healthy Fall Recipes
I made an appearance on First Coast Living to share some DELICIOUS ideas on how to enjoy healthy fall comfort food. I love the recipes on this segment and I am so pumped to share them with you because they will nourish and comfort your body. Win!
I worked with some great sponsors for this segment. Thanks to Mazola, Quaker and Wonderful Pistachios for partnering with me!
Recipe Links:
Ginger Pumpkin Soup - I used only ½ cup coconut milk and did not sweetened with sugar. Make sure you taste it to see if you prefer more or less of any of the seasoning.
Pumpkin Spice Oatmeal (I need to write this recipe for MHE) - Mix in 2 tablespoons of pumpkin puree, 1 tablespoon honey, 1 teaspoon of pumpkin pie spice and ½ cup fresh chopped apples into 1 serving of instant oats. Top with pumpkin seeds.
Chocolate Oatmeal - Mix in 2 teaspoons of cocoa powder and 1 tablespoon of honey into 1 serving of instant oats.
Egg and Cheese Oat Bowl - Top 1 serving of instant oats with an egg prepared any way and ¼ cup shredded cheese.
Pistachio Pesto Quick Pasta - I added 3 cups of roasted butternut squash cubes and a handful of whole pistachios on top.
Lighter Cheese Plate - Serve in-shell pistachios with apple slices and a goat cheese log drizzled with honey. Spread cheese on apples or serve with a few whole grain crackers.
Other Healthy Fall Comfort Food from MHE
Here's some of my favorite recipes that I crave in the fall and make year after year.
What are your favorite fall flavors and recipes? Leave a comment and let me know.
To enjoying HEALTHY fall comfort food,
Jenna