Delicious roasted chicken can be time consuming to make, but not anymore with this simple preparation in the slow cooker. Cook a whole chicken throughout the day, enjoy it for dinner that night and put the leftovers to use later in the week. This Slow Cooker "Roasted" Chicken is sure to become one of your go-to weekday meals.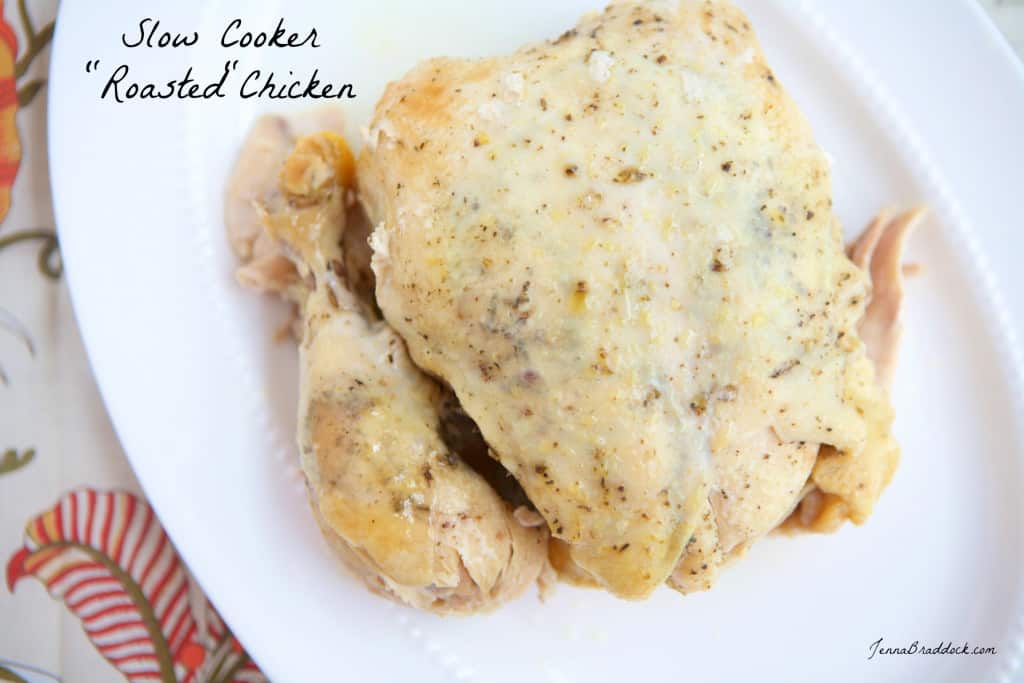 Earlier this week Coach was out of town for a night. It's so tempting to just take the boys out when I'm a one woman show. But I'm really adamant about eating at home as often as possible because it's one of my anchoring healthy habits. So I was trying to think of something easy and no fuss.
Simultaneously, I discovered that this month's Recipe Redux challenge was to share a recipe for "cook once, eat twice" to make meals quick and easy. It's days like the above mentioned when this challenge is exactly what I need to Make Healthy Easy. Do you have days like that too?
So, I wracked my brain for a bit and realized that I HAD to share my easy peezy recipe for Slow Cooker "Roasted" Chicken and I HAD to make this for our dinner.
I love, love, love whole, roasted chicken. It's so super comforting to me and so delicious. But, who has the time to be home for the 2+ hours it usually takes to roast in the oven during the week?! Not this girl.
Cooking a whole chicken in the slow cooker is truly a genius idea that I cannot take credit for. My brilliant sister in law told me about doing this for their family almost weekly. (Thank you!!) Not only do you get at least 2 meals out of the chicken, it's also super cost effective. A whole chicken which feeds 4-6 people usually costs less than 3 chicken breasts. That's a no-brainer. I got mine at Aldi this week for a pretty sweet price.
In the morning I seasoned up our chicken and literally threw it in the slow cooker. 6 hours later, we had delicious chicken ready to eat for dinner.
And since I was feeling low on cooking motivation, I simply boiled up some amazing local sweet corn and served it alongside. While it doesn't look like much of a meal, it was very tasty and all of Team Braddock was happy. (PS I did go back for more chicken. It was so good!)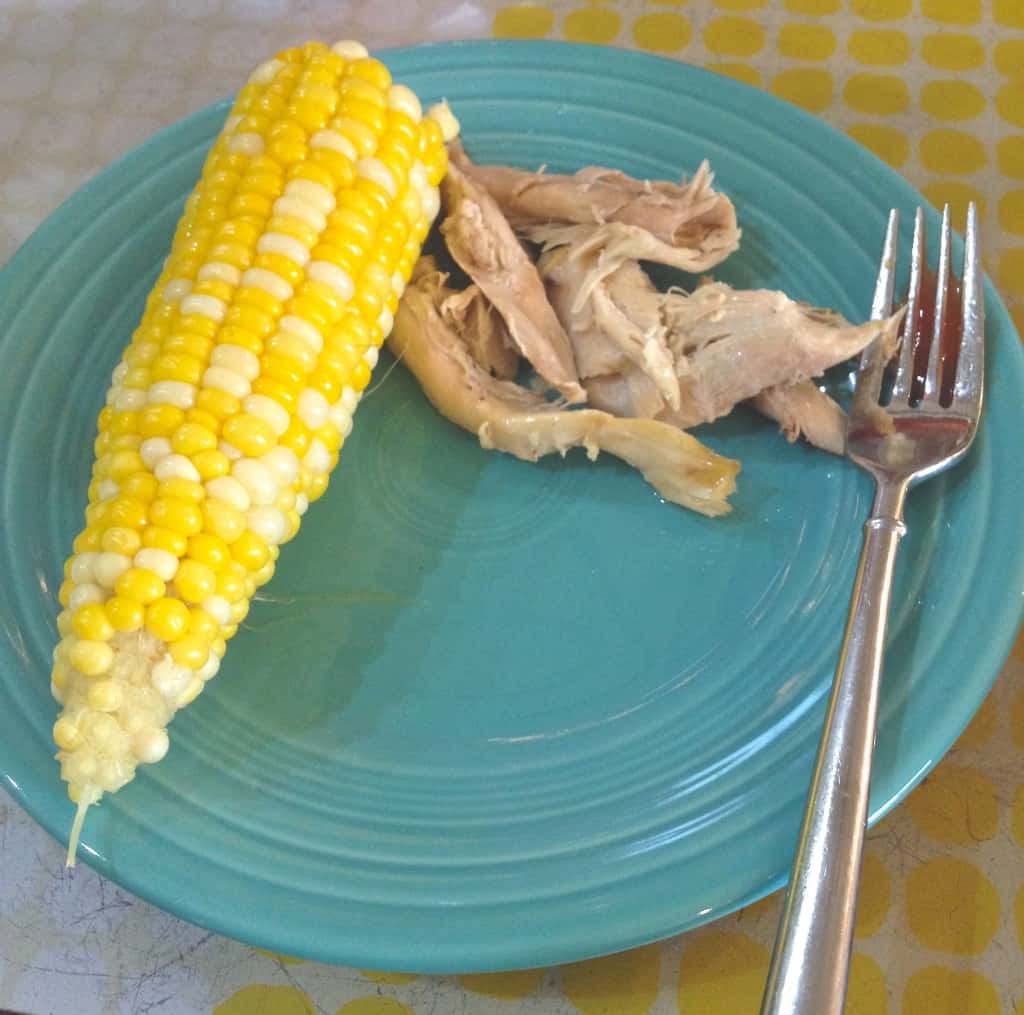 Here's three tips to make this recipe successful:
#1 - Please, by all means, use one of these amazing slow cooker liners. They make clean up so simple. Anyone who has ever scraped and soaked, and scraped and soaked their slow cooker knows how annoying they are to clean after food has caked on for hours and hours. Just help yourself out and by the liners!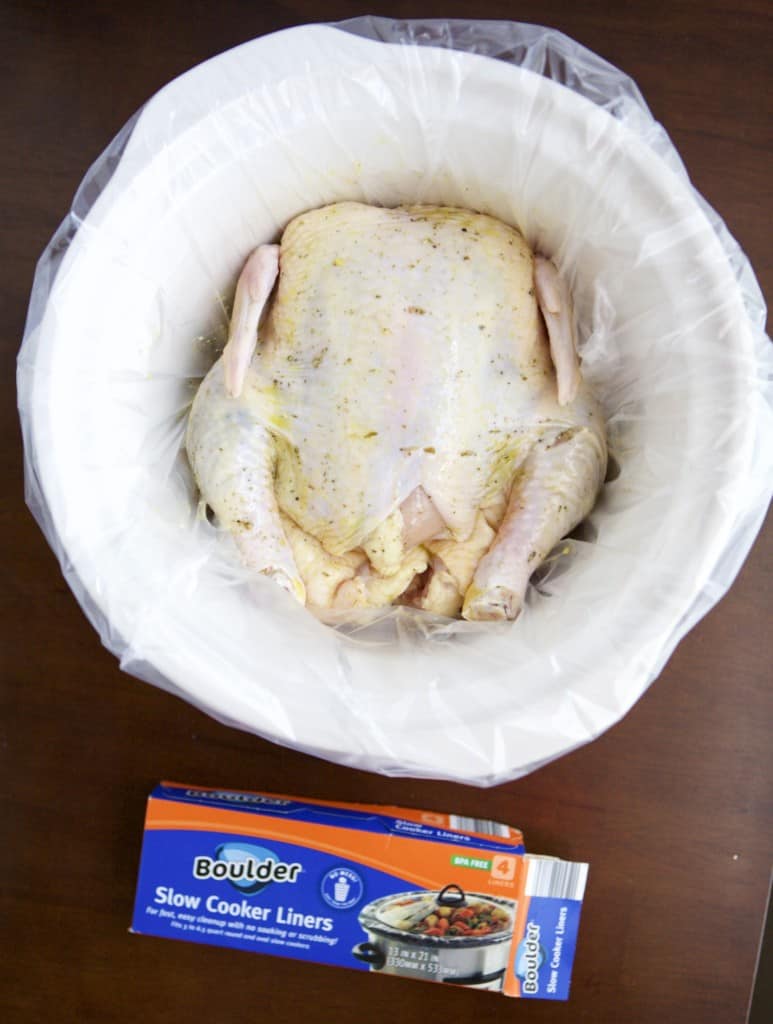 #2 - To get the flavor of your rub into the meat, I have found it's best to run it under the skin. To do this, gently slip your hand under the skin to loosen it over the breast and thigh. Then go back in with your rub and, well, rub it on the meat.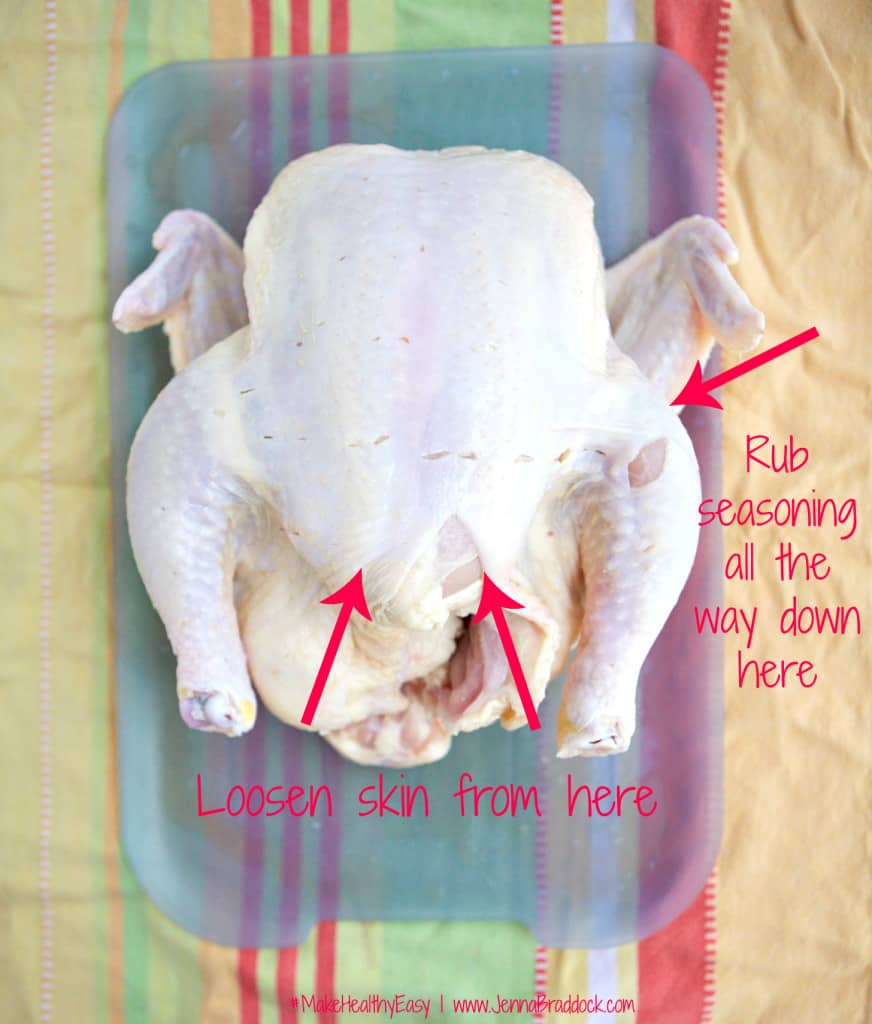 #3 - You can season your chicken any way you like (wet or dry rub) or not at all. Yes, you can just throw a plain Jane bird in your slow cooker and be done with it!
And now for the best news...
There are so many amazing things you can make with this cooked chicken after this initial meal. Serve on top of a salad, put in a quesadilla, through it into a soup like my Super Basil Tomato Soup, or use it in my Quinoa and Cheddar Stuffed Zucchini (instead of the sausage). (Coming soon is my easy All Natural Enchiladas that I like to use this chicken for.) 
If you are not planning to use the extra chicken within a few days, I recommend vacuum sealing it and freezing. The vacuum sealer ensures that the meat does not get freezer burn and lasts a good while.
So, will you plan to cook once and eat twice this eat? I hope you will add this Slow Cooker Roasted Chicken to your meal plan this week and many more to come. It will save your butt a few times when you hangry family and no time to cook (in the evening).
Leave me a comment and let me know if you have any other ideas for how to use this chicken a second time.
Make it a healthy day!
Jenna
Print
Recipe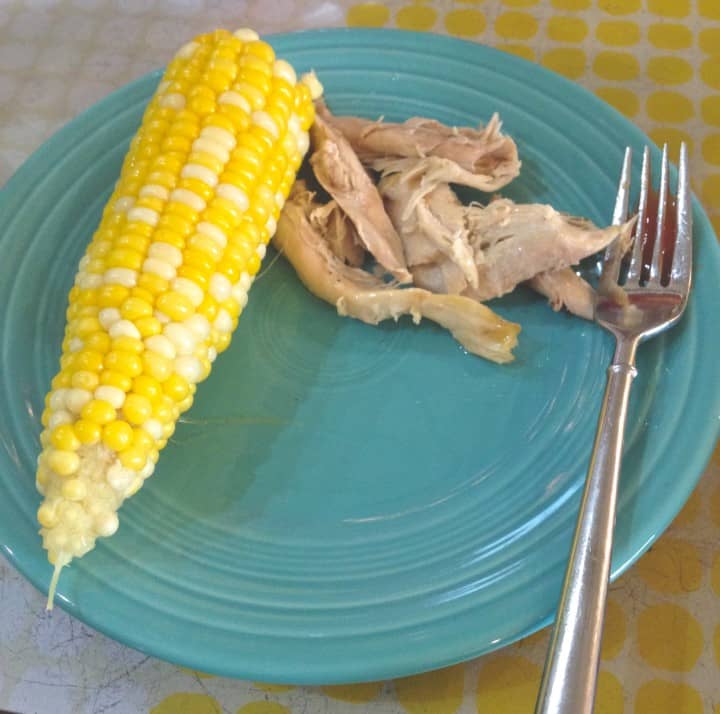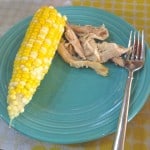 Slow Cooker "Roasted" Chicken
---
Author:

Total Time:

12 minutes

Yield:

6

-8

1

x
1

whole chicken (weighting between

0.8

-

1

lb)

2 tablespoon

extra virgin olive oil

½ teaspoon

Kosher salt

½ teaspoon

fresh ground pepper

1 teaspoon

herbs de provence
---
Instructions
In a small dish, mix the oil, salt, pepper and herbs de provence. Set aside.
Drain any excess fluid off the chicken and remove anything hiding out in the cavity.
Use paper towels and pat dry the skin.
Working from the back of the bird, breast facing up, gently move your hands under the skin to loosen it. Work over the breast and down the sides over the leg and thigh. Work on the right or left side individually, removing your hand in between and reinserting on the other side of the breast bone.
Using a spoon or your hand, spread the oil mixture under the skin. Try to spread around evenly and ensure some gets over the thigh. Reserve a small amount of oil.
Place chicken in the slow cooker, breast side up. Pour any remaining oil over bird and spread around.
Cover and cook on low for 6-7 hours, until meat is cooked through and very tender.
Remove from slow cooker and allow to cool for about 10 minutes. Then slice or pull meat off and serve.
Allow to fully cool before refrigerating or freezing for later use.
Prep Time:

5 minutes

Cook Time:

7 minutes

Category:

Slow Cooker

Cuisine:

American
[inlinkz_linkup id=501538 mode=1]