No matter the time of year, easy recipes for families are a must! Here are 3 easy recipes to make healthy, delicious eating happen for your family using high quality, affordable products from ALDI.
This post is sponsored by ALDI US.
If you're a parent, one of the most daunting tasks you face on a daily basis is feeding your family. Not only do you have to figure out WHAT to feed your family every single day, you also have to figure out how to afford to do so.
Read on to learn my favorite place to shop for groceries and 3 easy recipes for families (1 meal and 2 snacks) to eat well during their busy week.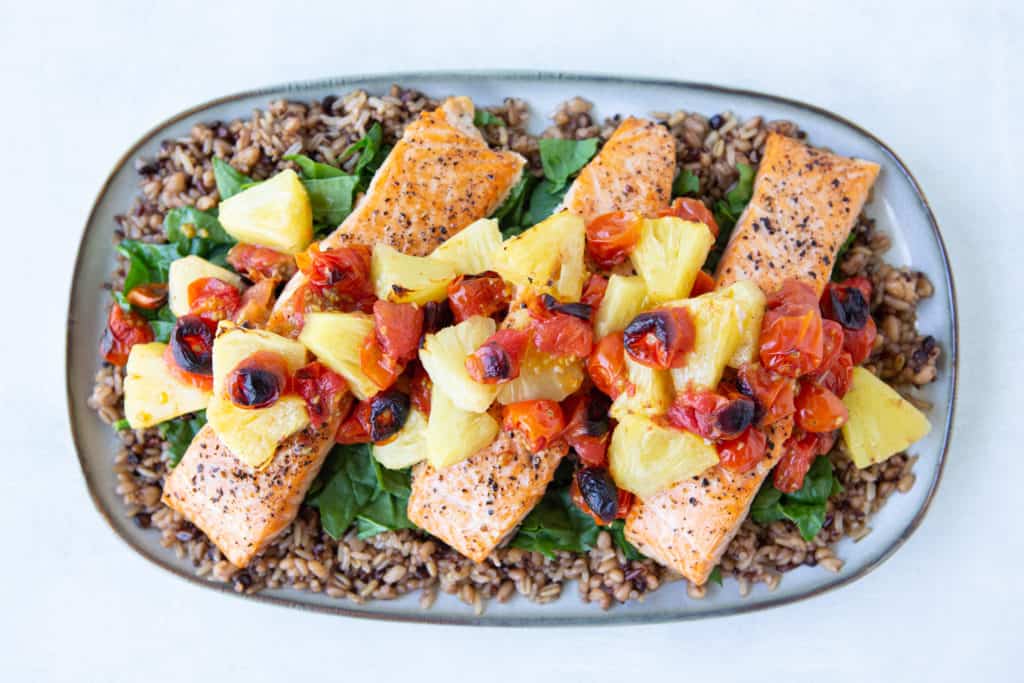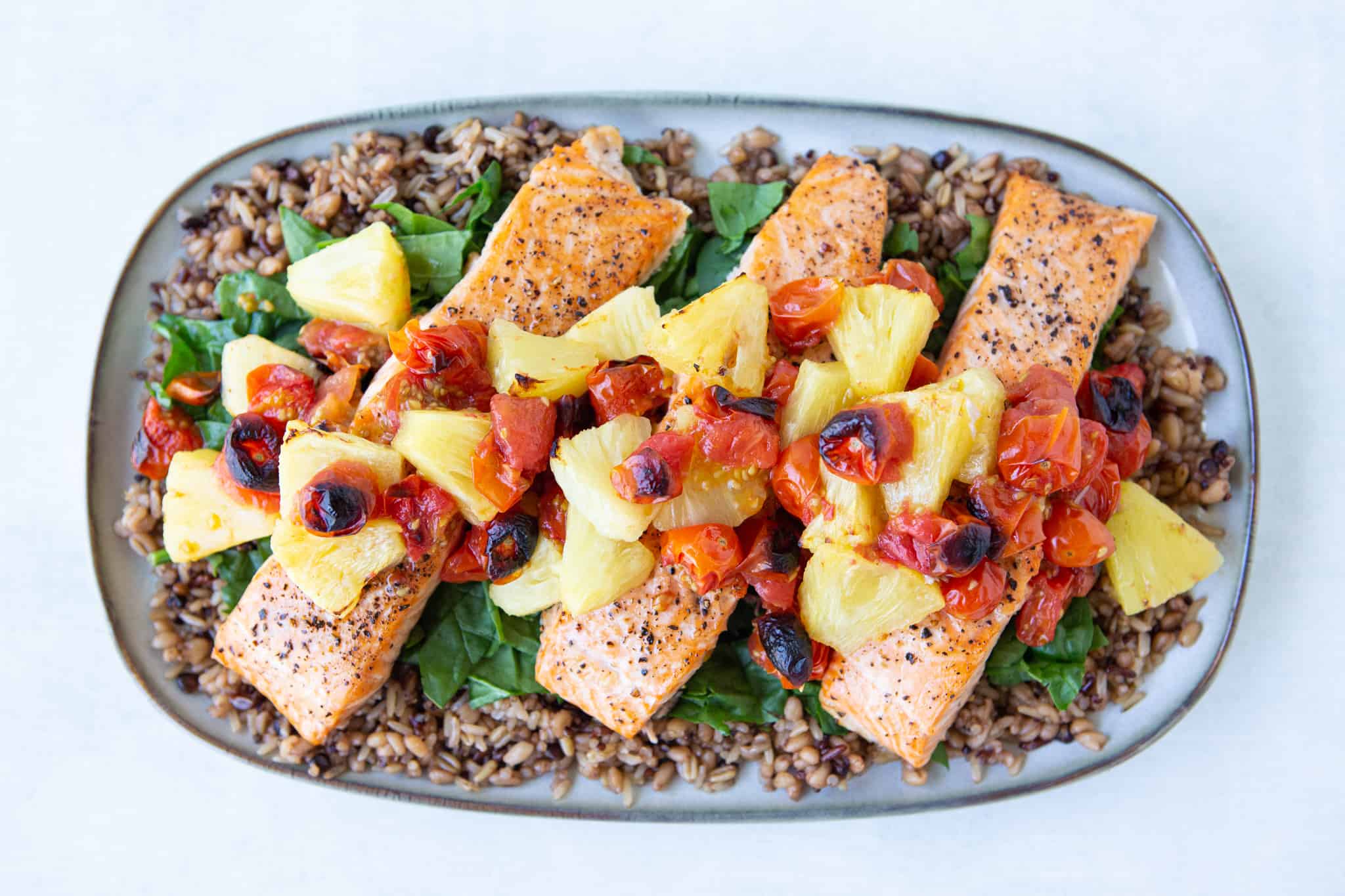 Finding Affordable Food for Your Family
Feeding a family takes a lot of money. No matter how you shake it, the older my boys get, the bigger our grocery bill. Do you feel this too? Fortunately, shopping at ALDI can help take the load of this dilemma by making feeding your family easy thanks to the affordable prices and fun ingredients you will find there. 
You guys, you are not living your best life if you're not shopping at ALDI!
I love ALDI stores because shopping there allows me to stretch my budget and my ingredient list. I can have it all and so can you! It still surprises me when I meet people who have never shopped at ALDI, or tried it once and never went back. ALDI has made such a difference in my life (financially and food-wise), I just can't imagine not shopping there!
If you've never shopped at your local ALDI, make sure you check out my posts on How to Shop at ALDI, Dietitian Picks at ALDI, and Dietitian Picks at ALDI 2. Here you'll find some of my favorite pantry staples like marinara sauce, tortilla chips, and olive oil.
Favorite ALDI Products Featured in these Easy Recipes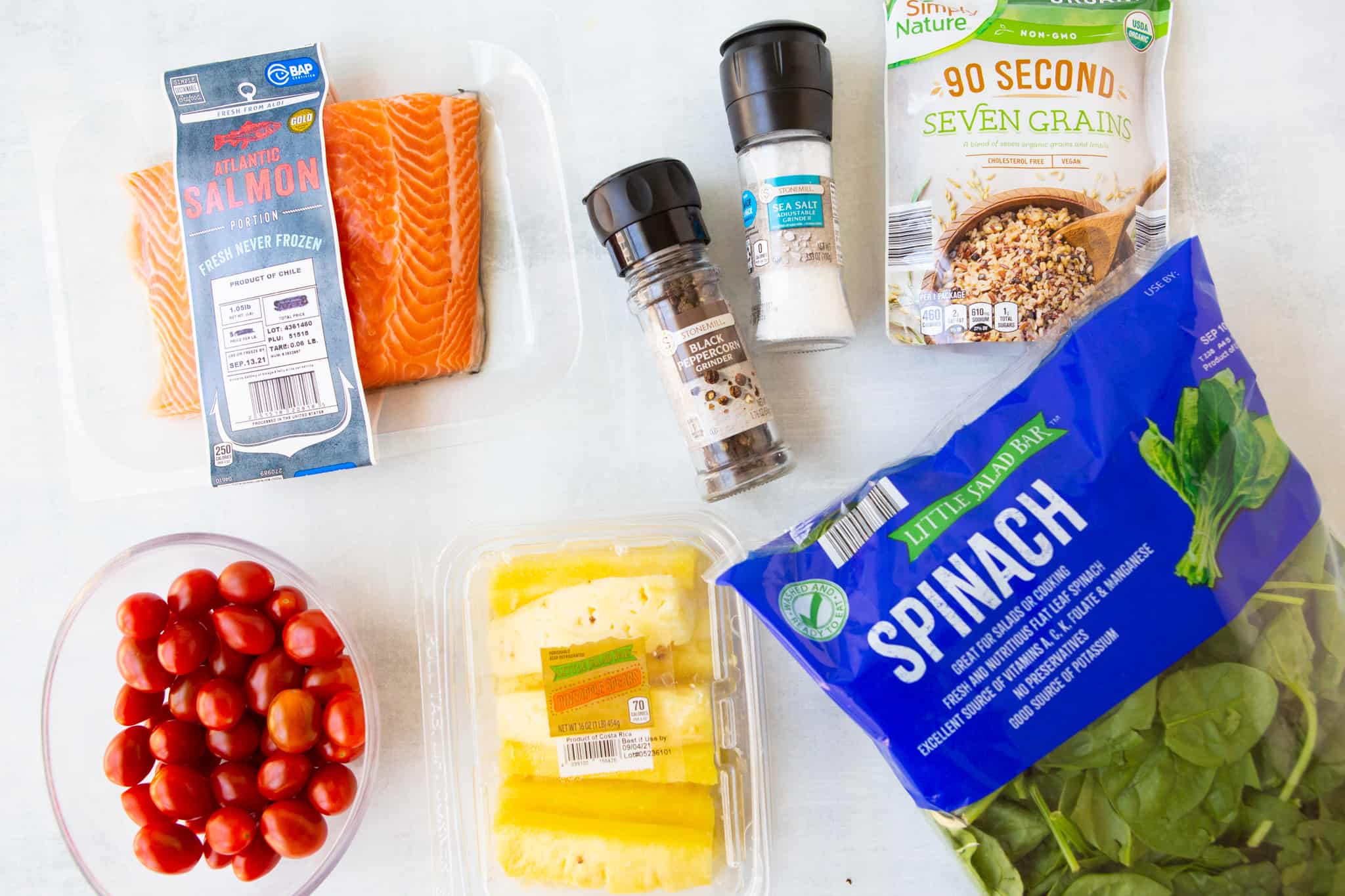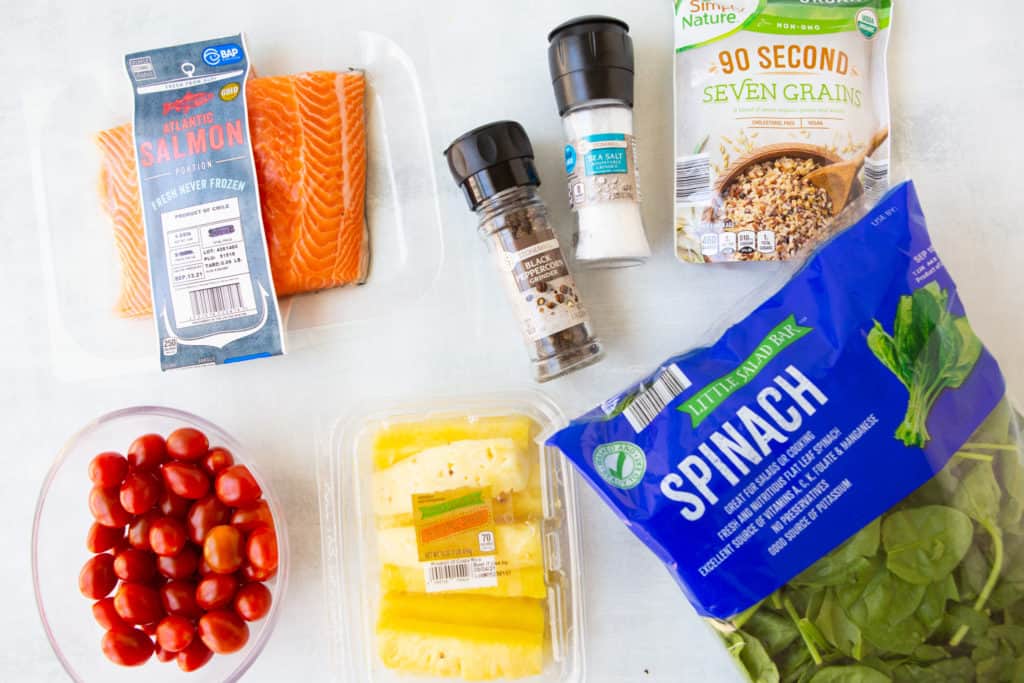 I love that I can afford high quality produce, meats, and organic products from ALDI. I find many products that make cooking a healthy meal super easy thanks to many wholesome, convenience items. Here are some of my favorite ALDI products you'll see in these recipes:
Fresh Atlantic Salmon Filet
Simply Nature 90 Second Seven Grain Pouch
Little Salad Bar Fresh Spinach
Dakota's Pride Garbanzo beans
Simply Nature Creamy Peanut Butter
Millville Rolled Oats
Simply Nature Chia Seeds
Fresh Produce
You'll want to add these to your shopping list!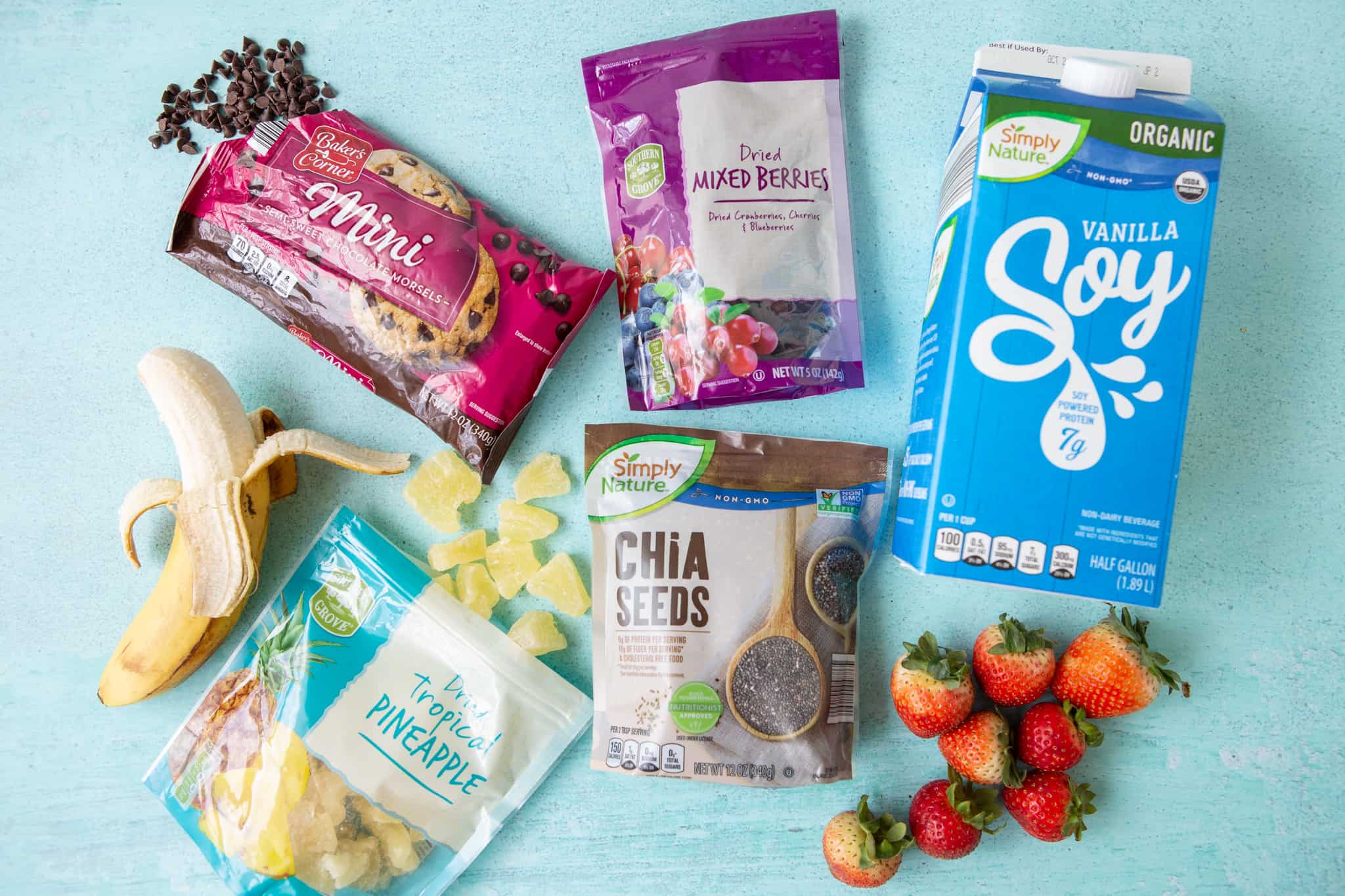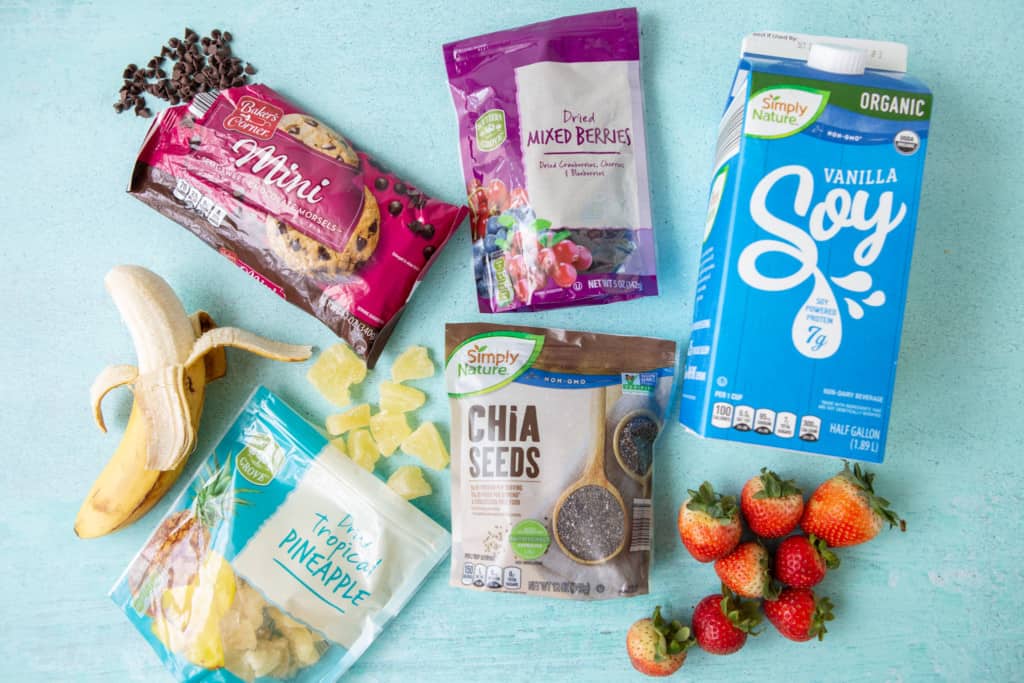 Recipe Substitutions
The great thing about these 3 easy ALDI meal ideas for families is that you can customize the ingredients to fit your preferences or needs. Here's a list of ideas for substitutions should you need them.
Different Fish - If you're not a salmon person, try ALDI's fresh tilapia filets and reduce your cook time by about 2 minutes.
Don't like spinach - You can omit this altogether and have a side salad for your greens or choose ALDI's Simply Nature Kale for a heartier green.
Can't have peanut butter - Try one of ALDI's many other nut and seed butter options.
Don't want to use protein powder - No problem! Just exclude it.
Not a fan of trail mix - Choose a different dried fruit and nut mix or make your own combo to add in. Simply use the 1 cup size and choose your destiny!
You want vegan cookie bites - Choose a different trail mix without chocolate and either exclude the mini chips or use a vegan chocolate chip here.
You don't want soymilk - Choose any milk of choice. You can even use juice. My favorite liquid to use in chia pudding is drinkable yogurt or kefir because it adds probiotics.
Equipment
These easy recipes for families require minimal, but necessary equipment. Here's what you'll need:
Sheet pan Salmon - A rimmed sheet pan, aluminum foil, cutting board, knife
Monster Cookie Bites - Food processor, mixing bowl
Chia Pudding - Mixing bowl, single serve contain with lid
Now, let's get to the part where I help with figuring out WHAT to make. Here are my 3 easy ALDI recipes for families that include one meal and 2 snack ideas.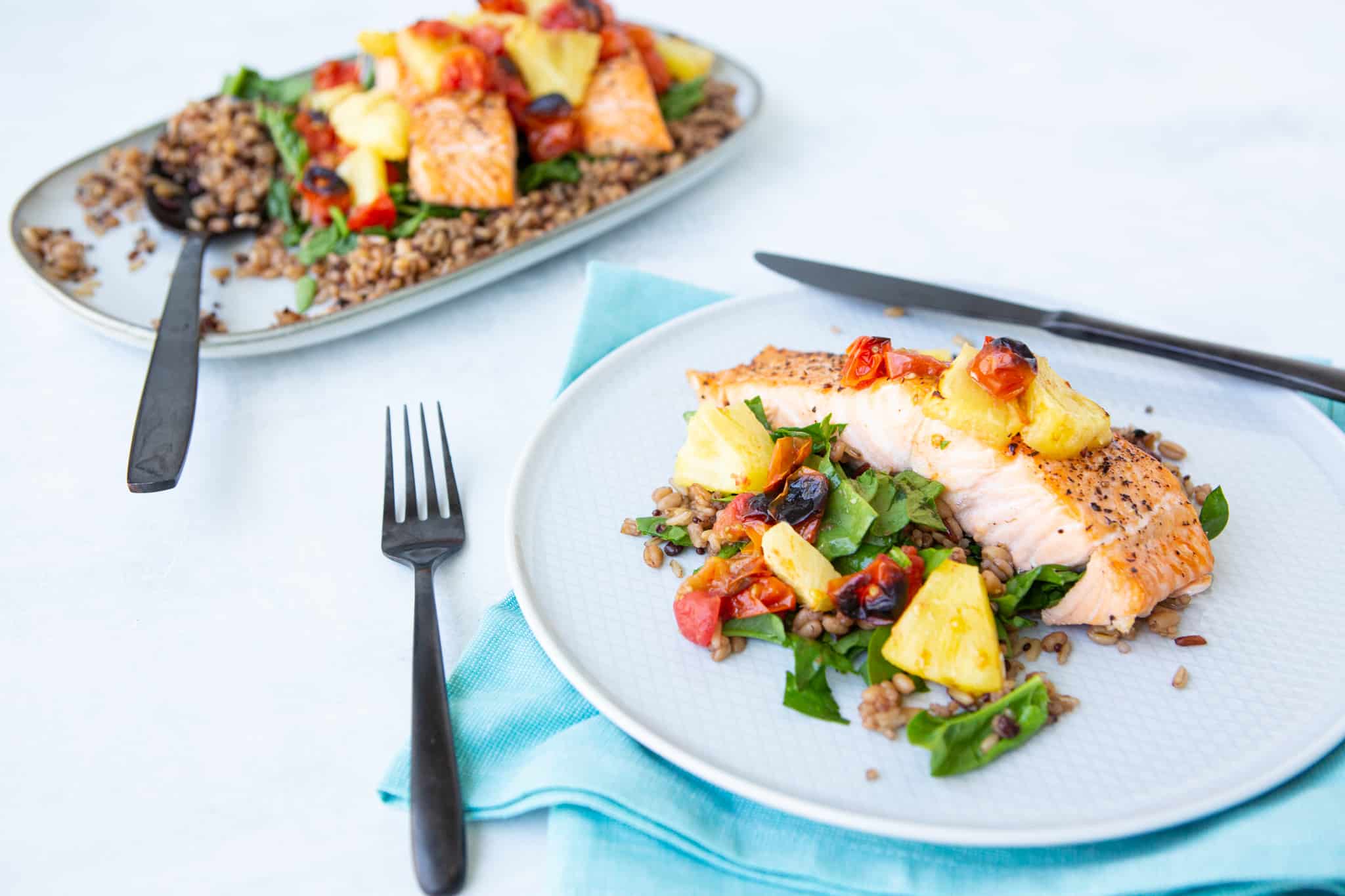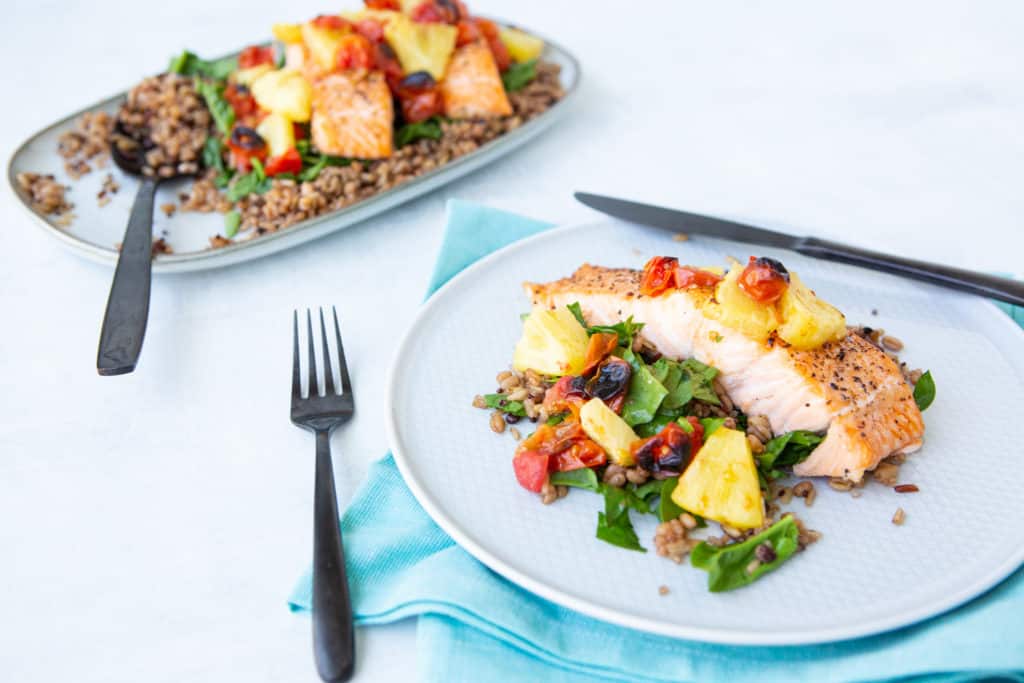 If you need quick dinner ideas, try this quick and easy recipe for Sheet Pan Salmon Dinner- a full, balanced meal that comes together in 12 minutes or less. With such a quick prep time, this is a great meal to add to your weekly meal plans.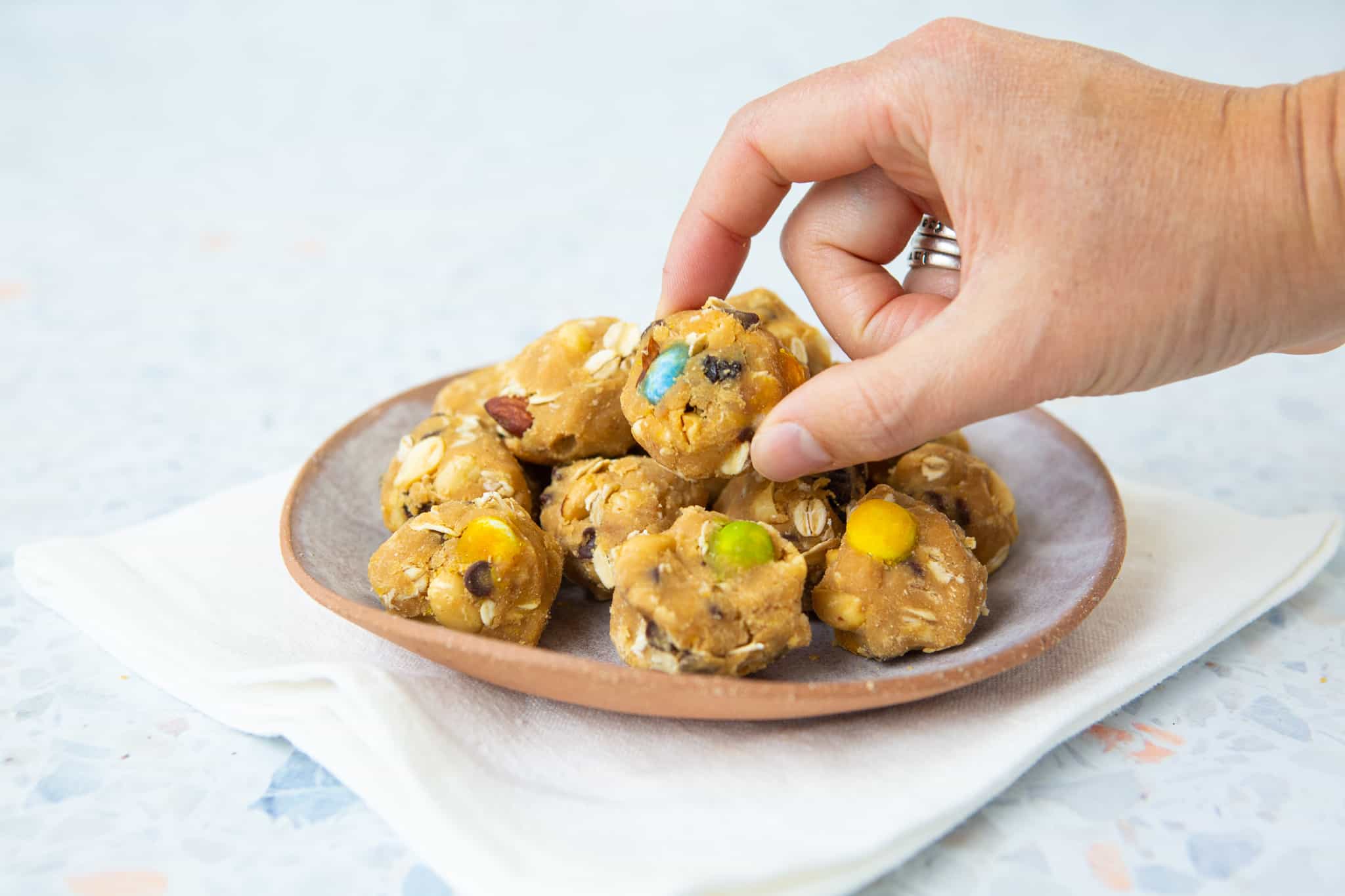 This IS your new afternoon snack that everyone will love! It's just sweet enough to feel like dessert but filled with only wholesome ingredients. It uses some of my favorite organic and on-the-go products from ALDI. You can call them bites or balls depending on your preference. My shapes were more bite-sized pieces since they were a little free form.
Get the full recipe here: Gluten Free Monster Cookie Balls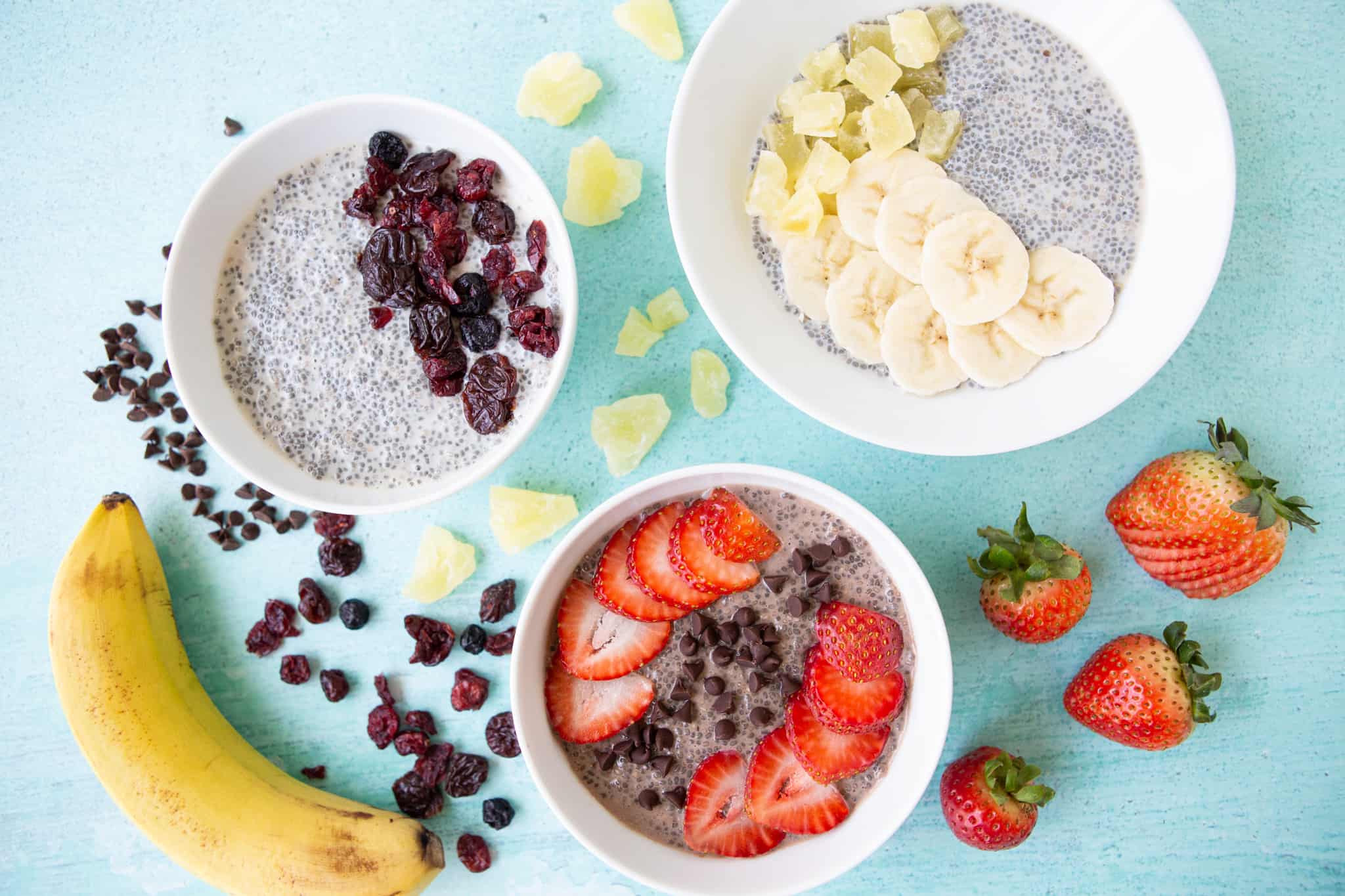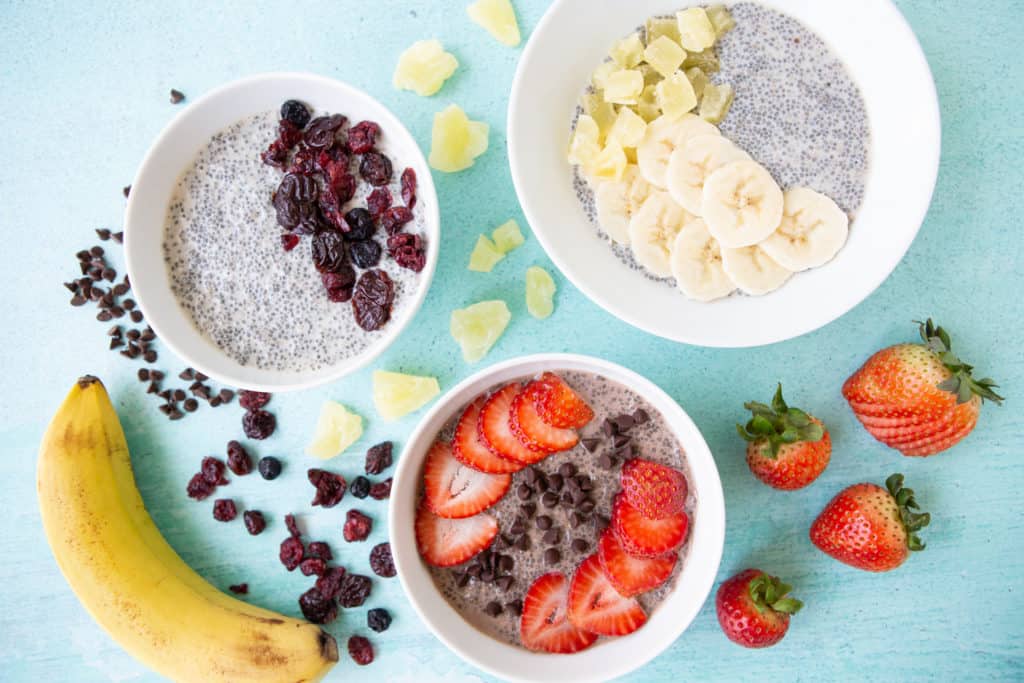 Easy Chia Pudding
If you enjoy meal planning your healthy meals a few days ahead, this delicious recipe is for you. Making multiple jars at once is a great way to meal prep for a busy week. Using only 2 simple ingredients + your favorite toppings, this is one of the easiest ways to get ahead! After just a little prep, it's an easy way to have multiple healthy snacks ready for the week.
Prep Time: 8 minutes
Cook Time: 1 hour
Serves: 1 person
¾ cup Simply Nature Vanilla Soymilk
3 tablespoons Simply Nature Chia Seeds
Toppings: Southern Grove dried fruit, Baker's Corner Mini Semi Sweet Morsels, Fresh or frozen fruit
In a small mixing bowl combine soymilk and chia seeds. Stir vigorously. Let sit for about 5 minutes to begin thickening. Stir again to keep chia seeds from settling at the bottom of the bowl. Pour into a lidded jar or reusable container with a lid.
Refrigerate for at least an hour and up to several days. Top with desired toppings.
Notes: Soymilk can be substituted with dairy milk or other milk alternatives. Drinkable yogurt or kefir also work very well. To make chocolate chia pudding, stir in ¾ teaspoon of Baker's Corner cocoa powder with the milk.
How to Shop in a Pinch
When you are having "a week" or "a day" do not forget about the magical service ALDI offers of Curbside Pickup. All you do is visit ALDI.us, place your order, pick your time, drive up and get your groceries brought to your car. Brilliant! Now everyone can enjoy "concierge" like service. As a busy mom, this has been so helpful to our family.
For more affordable ALDI dinner ideas, check out these Easy Dinner Ideas for Two with ALDI.