In my humble opinion, a good smoothie recipe is one of the BEST ways to quickly, easily and usually deliciously to add more fruits and vegetables to your life.
Jump to: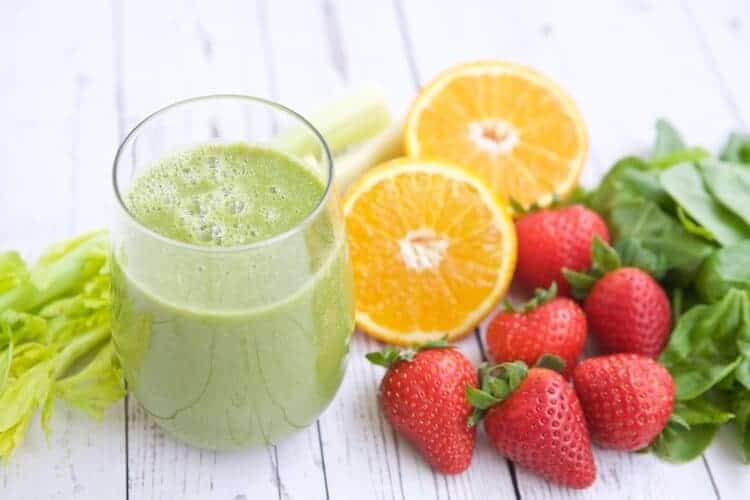 I've heard a lot of reasons of why people don't make smoothies:
I don't like to chew a smoothie so it has to be super smooth.
I only like fruit so I'm afraid it's too high in sugar.
I don't have time to make smoothies in the morning.
My produce goes bad before I get to making the smoothie.
All of these are certainly valid concerns but they don't have to keep you from reaping the benefits a smoothie can offer. Here's my solutions to the challenges above:
This post contains affiliate links. Thank you for supporting MHE.
Smoothie Tip #1
Buy a Good Blender - If you are going to make smoothies on any type of regular basis, it is worth investing in a great blender. I've had this conversation with SO MANY people who just don't want to drop the few hundred dollars but hate their current blender. (This was me. I went through three, yes three, Magic Bullets before breaking down and buying abetter blender.) But the MOMENT they start making their first smoothie in a high power blender they regret not buying it sooner. It's just worth it friends. It's just worth it.
I have actually owned both a Vitamix and a Blendtec. Both work great but I prefer a Blendtec based on it's clever and better (in my opinion) design. (For example: Blendtec has auto turn-off and is waaaaayyyyyy easier to clean.) If either of these are just too pricey for you, start saving (again, I remind you it's worth it) and/or buy a refurbished model. Refurbished models are an excellent option and also come with a warranty when you directly from Blendtec.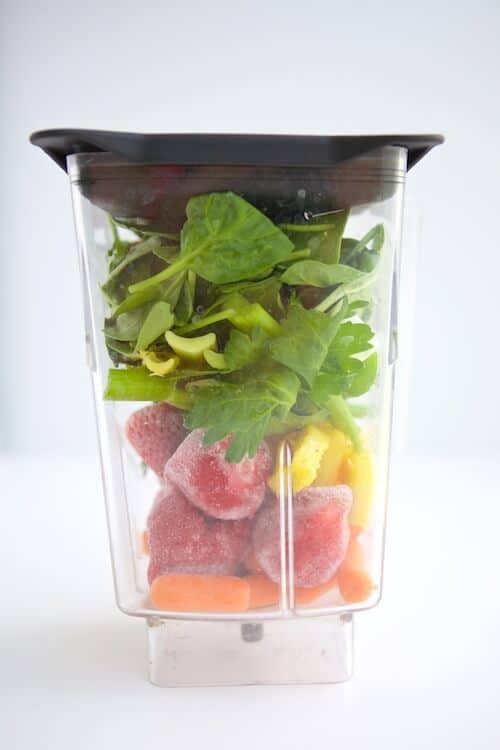 Smoothie Tip #2
Get the Right Ratio - Fruit is wonderful to include in a smoothie but you can overdo it. I prefer a ratio of 2:1 on vegetables to fruit but that may be something to work up to. Start at 1:1 veggies to fruit and use more subtle flavored veggies like spinach or carrots.
Blueberries and spinach is a great combo to start with as the blueberries really cover up the flavor of spinach. Pineapple is a great, naturally sweet fruit to include that will also help cover up the flavor of veggies. With time though, your tastebuds will adjust to homemade smoothies.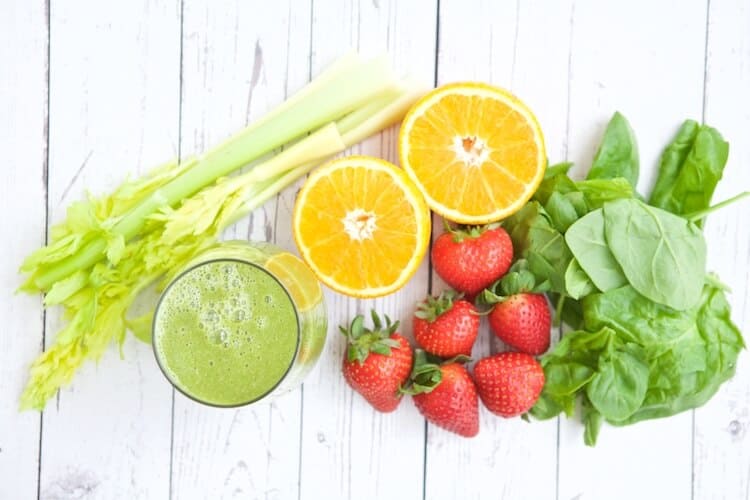 Smoothie Tip #3
Prep Ahead - Making a smoothie can take a lot of time if you leave everything for the morning. It also may take a little more time at the beginning while you are learning how to make them the way you like them and how your blender works best.
My best secret for making smoothies easy in the morning (or anytime of day) is too stuff quart size bags with all my fruits and veggies and keep them in the freezer. Then, I just pull out a bag of produce, let it thaw a few minutes, and dump it in the blender. Easy peasy.
A more sustainable option for making smoothie bags is to use these standing Stasher bag, which I have almost exclusively converted to.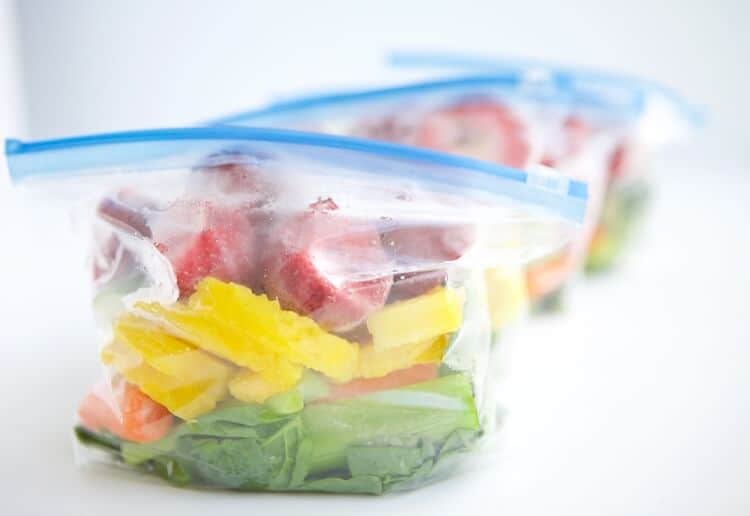 To prevent produce from going bad quickly, try to prep smoothie bags (#3 above) and get them into the freezer the same day, or the day after, you shop for them. You can also try to buy as much as you can already frozen, which easy to do for fruit but I've also seen frozen greens.
Getting your smoothie ingredients into the freezer quickly will help preserve their freshness and nutrient content. It's worth hustling here to make this happen. ANYTIME I wait longer than a day to make my smoothie bags, they end up not happening at all or when I pull out the produce, inevitably, something has gone bad. It's frustrating.
Now that you have a little strategy for making smoothies, you might need a good recipe. Well I have that for you too today. Here is my flagship (humor me) smoothie recipe that I will make 9 out of 10 times. There are a lot of ways to add variety so be sure to read the notes on the recipes for more ideas.
Print
Recipe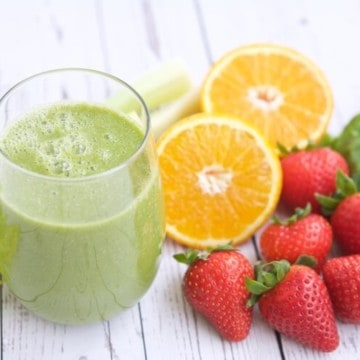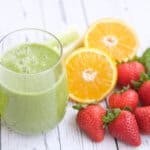 Strawberry Orange Green Smoothie
---
Author:

Total Time:

4 minutes

Yield:

1

1

x
Description
Get your day started on the right foot with this balanced and easy to make smoothie. It's filled with nourishing ingredients and superfoods to keep you going strong.
---
6

-

8

whole strawberries (can be already frozen)

½

peeled orange

2

stalks celery

2

cups

fresh kale or spinach

2 tablespoons

ground flax seed

1 teaspoon

turmeric

1

cup

water or milk of choice (or more if needed to blend smoothly)
---
Instructions
Place ingredients in high powered blender in order of the recipe. Blend until very smooth, about 45 seconds, adding more fluid if needed.
Enjoy!
Notes
To make this recipe for 2 people, simply double the ingredients.
Here are some ideas for variations:
1. Add in a ½" piece of fresh ginger.
2. Use a ¼ cup of 100% juice to add a little more sweetness if needed.
3. Add a handful of chopped beets for an added nutritional boost.
4. Add half a cup of baby carrots or a piece of celery for another, mild flavor veggie.
5. Add a few chunks of fresh or frozen pineapple to add sweetness if needed.
Prep Time:

3 minutes

Cook Time:

1 minute

Category:

Smoothie
Keywords: smoothie, snack, healthy snack
If you haven't been making smoothies, I hope you will now. And if you've been frustrated by the smoothie scene, hopefully some of these ideas will help you.