Look no further than this Chocolate Chip Cookie Recipe to be your go-to cookie from here on out. Two secret tricks make them the best cookies you've ever tasted.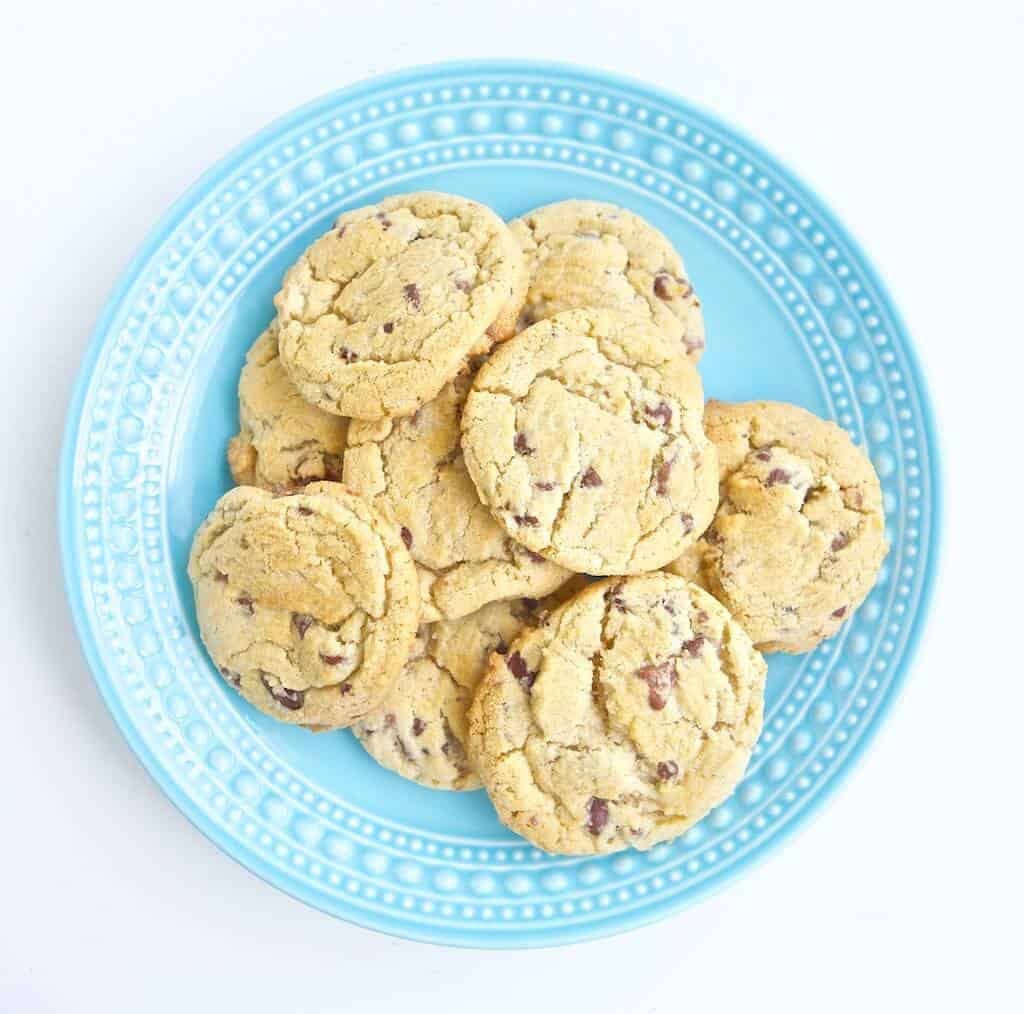 Am I a dietitian?
Yes.
Should you trust me when I tell you that I have the BEST Chocolate Chip Cookie recipe?
YES!
I could really write a dissertation on why I think you should trust me and make THIS Chocolate Chip Cookie recipe. For the sake of brevity and keeping your attention, I will summarize for you in bullet points:
Chocolate chip cookies are my favorite food on the planet! They beat out bell peppers, berries and all the healthy stuff. (Well, maybe not avocados, but you get the point.) I openly confess that if I ever encounter really good CCC's (not stupid packaged ones, but homemade or bakery versions), I will not say no, ever. Because I have this deep, deep love of the CCC, I would not mess with you on what I consider the very best homemade recipe.
I've tried all the special versions of making CCC's. I've melted butter, not softened butter, and browned butter. I messed with how much white sugar verses brown sugar. I've added pudding to the dough. 1 eggs, 2 eggs, tons of eggs! You get the idea. I've tried all the tricks and found the ones that actually are worth the effort and get you the ultimate cookie.
I make these cookies for our football players when they make big plays. I started this 8 years or so ago when my hubby only coached defensive backs. I wanted to do something for our guys when they got an interception and so my weekly cookie making began - and they had to be epic. Nowadays, I make cookies for everyone who does something awesome - touchdowns, sacks, interceptions, kicks, great leadership, etc. My cookies have a reputation and I'd say our players are pretty motivated to earn them. In fact, one of our running backs (who made 1 varsity game appearance last year) asked me this summer, with a longing look, if I was still making my cookies for varsity players. So yeah, trust our players: these cookies are awesome.
You may be wondering why I am even posting this recipe. After all, isn't this a healthy lifestyle blog? Well, if you're thinking that, I am glad. The answer really relates to #1 above. In my eating philosophy all foods are good and are able to be enjoyed. There's nothing necessarily off-limits in the Make Healthy Easy eating style. But, what I do believe is important is to prioritize foods. What I mean is that foods you really really love should become a higher priority or preference than other foods or the lower quality version. So for example, since I really love chocolate chips cookies, I prioritize them by (1) only enjoying really good CCC's like my own or from a special bakery, (2) I pass on ho-hum packaged CCC's or from the grocery store bakery, and (3) I pass on some other types of sweets that are not my favorite, like donuts and cake. And these are just my ways of prioritizing; yours may look different.
Like I said, I could go on, but I think you get my point.
Make these cookies.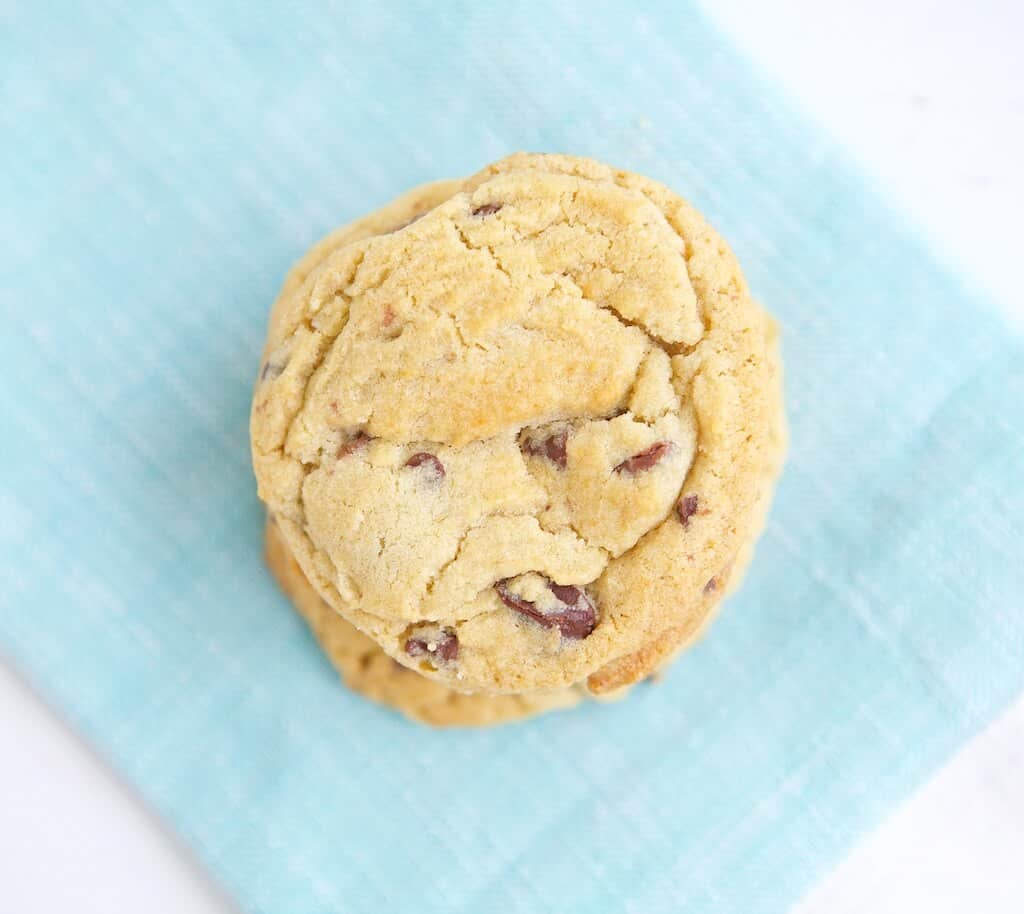 Before I actually give you the recipe, let me give credit where credit is due. The base of this recipe is not something I created. I got it from the beloved magazine, EveryDay Food, which no longer exists. =( Since adopting this recipe as my go-to chocolate chip cookie recipe, I've made some tweaks and discovered some tricks. Want to hear them?
Trick #1
Use AT LEAST 3 kinds of chocolate chips. Preferably, I use 4 types. One of the 4 is ALWAYS mini semi-sweet chips. I think using the mini chips helps the cookie keep its height when baking and makes it thick. I like my cookies thick.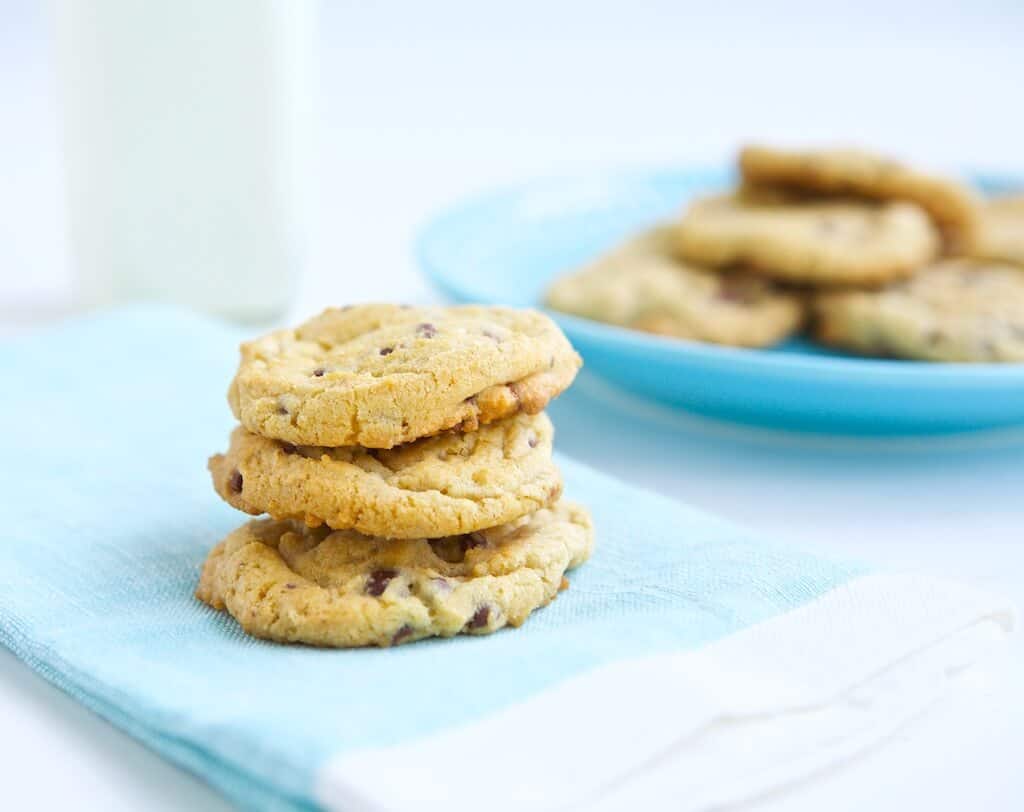 The other types of chocolate I use are dark chocolate chips, semi sweet chips, and milk chocolate chips. I'm also not afraid to throw some MM's in there and neither should you.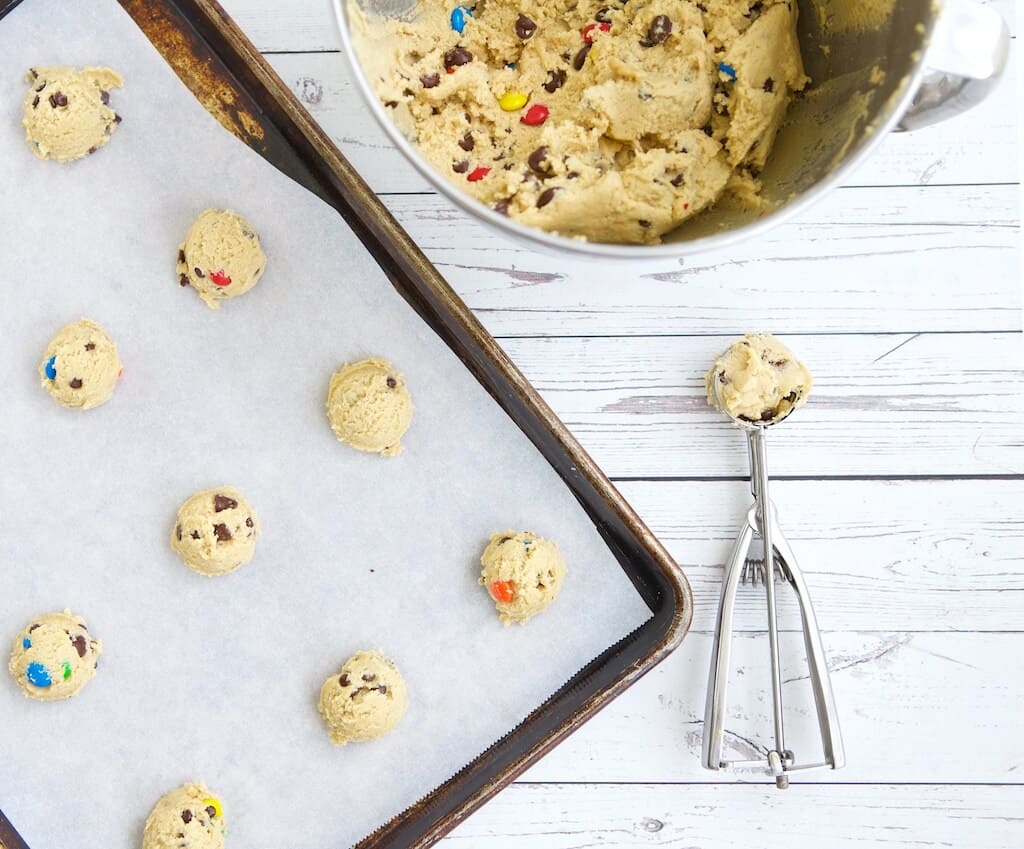 Dark chocolate chips tend to be bigger in size so I like to give them a rough chop before adding them to the dough. This helps streak chocolate through the cookie instead of just having chunks. (You can thank me for that trick after you make these.)
Trick #2
FREEZE the dough in balls before baking. Don't freeze as a big clump, because you will have to defrost it before you scoop it. Instead, scoop the dough into the size you will bake it and freeze them on a parchment lined baking sheet.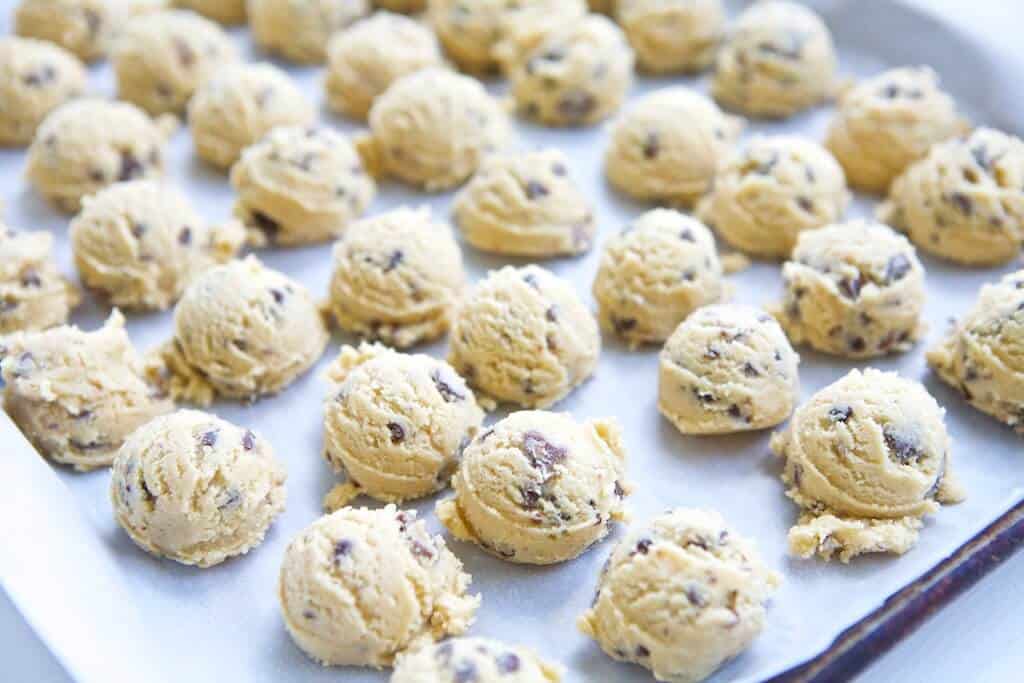 After a few hours, put all the frozen dough balls in a zip lock bag if you aren't going to bake them right away.
Freezing these ahead of time accomplishes two important things:
It helps the inside of the dough stay chewy while the edges just slightly crisp during baking.
It makes it so easy to bake cookies any time you need them AND you can make just a few.
Since I bake cookies every weekend during football season, this method enables me to not have to make the dough weekly and avoid the temptation of eating lots of cookie dough...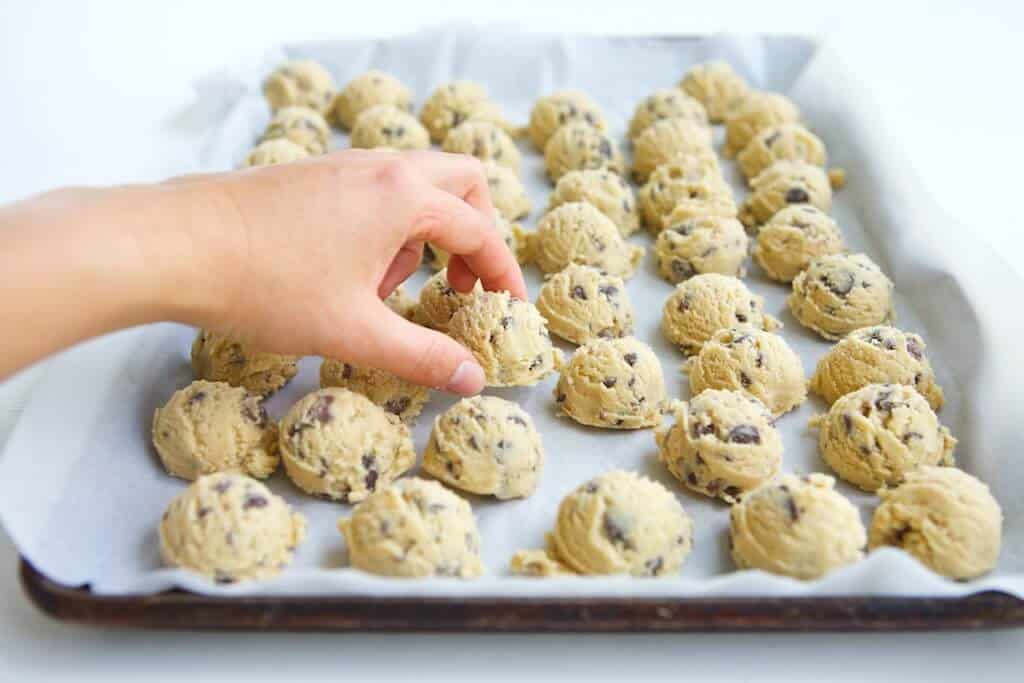 By the way, this cookie scoop is totally worth having. It makes scooping dough easy and ensures all cookies are the same size.
Now that you know all the tricks, here's the best, chewy Chocolate Chip Cookie recipe:
Print
Recipe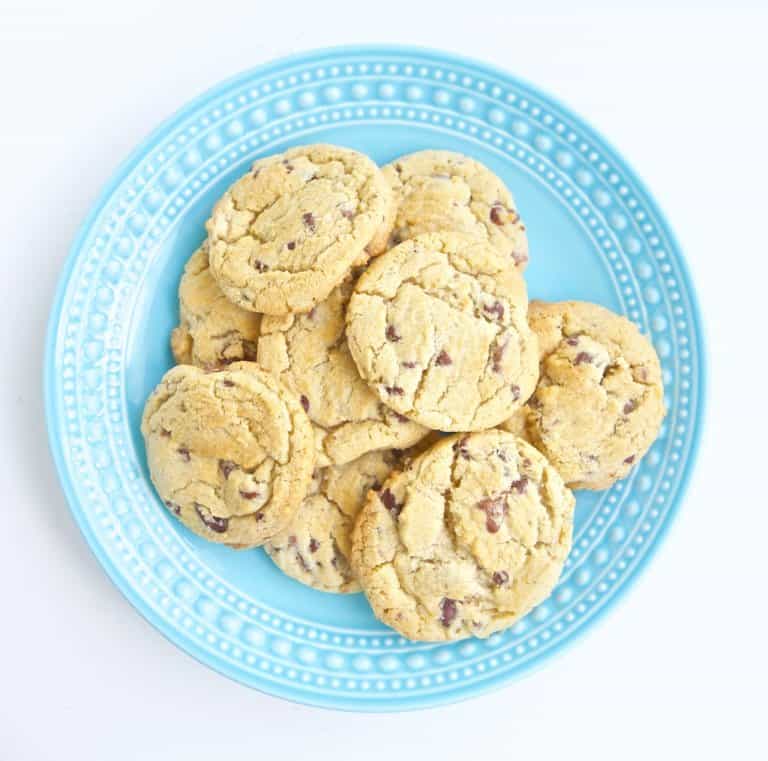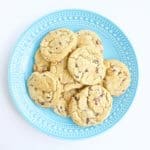 The BEST Chewy Chocolate Chip Cookie Recipe
---
Author:

Total Time:

32 minutes

Yield:

4

8

1

x
2 ½

sticks of butter (softened)

1

cup

sugar

1 ½

cups

packed brown sugar

2

eggs

1 ½ teaspoons

vanilla extract

2 teaspoons

Kosher salt

1 ¼ teaspoons

baking powder

1 ¼ teaspoons

baking soda

3 ½

cups

leveled all purpose flour

½ cup

mini semi-sweet chocolate chips

½

cup

semi-sweet chocolate chips

½

cup

dark chocolate chips (roughly chopped)

½

cup

milk chocolate chips (roughly chopped)
---
Instructions
In a mixing bowl (or stand mixer) beat butter with an electric mixer on medium speed till very creamy, about 4-5 minutes.
Add to the butter both the white and brown sugar. Beat again on medium speed until well incorporated, about 3-4 minutes.
Crack both eggs into the batter and add vanilla extract. Beat on low speed for 1-2 minutes, ensuring eggs are fully incorporated. Scrape the bottom of the bowl with a spatula to ensure batter mixes evenly.
Next add the salt, baking powder and baking soda then beat for 1 minute.
Add the flour in 1 cup increments, mixing on low speed after each addition until just mixed in. Scrape the bottom of the bowl with a spatula throughout.
Pour in all 4 types of chocolate chips and mix on low to blend in.
Prepare a rimmed baking sheet pan by placing a sheet of parchment paper on it. Using a large cookie scoop, scoop out all dough in individual balls onto prepared baking sheet pan. Place baking pan in the freezer for at least 2 hours.
Preheat oven to 350 degrees. Prep a baking sheet pan by lining with parchment paper or silicon mat. Place frozen dough balls on baking pan about 2" apart, likely a 3x4 formation.
Bake for 12-13 minutes, when edges are golden brown. Cookies will not be completely golden brown. Let cool on baking sheet for a few minutes then move to a cooking rack.
Notes
Be sure to turn off the mixer in between steps.
Prep Time:

20 minutes

Cook Time:

12 minutes
Keywords: dessert, chocolate chip cookies, chewy cookies
As I wrap up this Chocolate Chip Cookie recipe manifesto, I truly hope that perhaps this version will make it into your recipe box. And I'm not saying that you should make these cookies erryday, or even erry week. But when you do just need some homemade, amazing, THE BEST, chewy chocolate chip cookies to appear in your life, come here friends. Come here.
Lobbying for only the BEST Chocolate Chip Cookie recipe,