Do you face the challenge of getting more fruits and vegetables into your family's diet? It's easy with this vegan, kid friendly green smoothie recipe that is packed with super foods and a super taste. 
Jump to: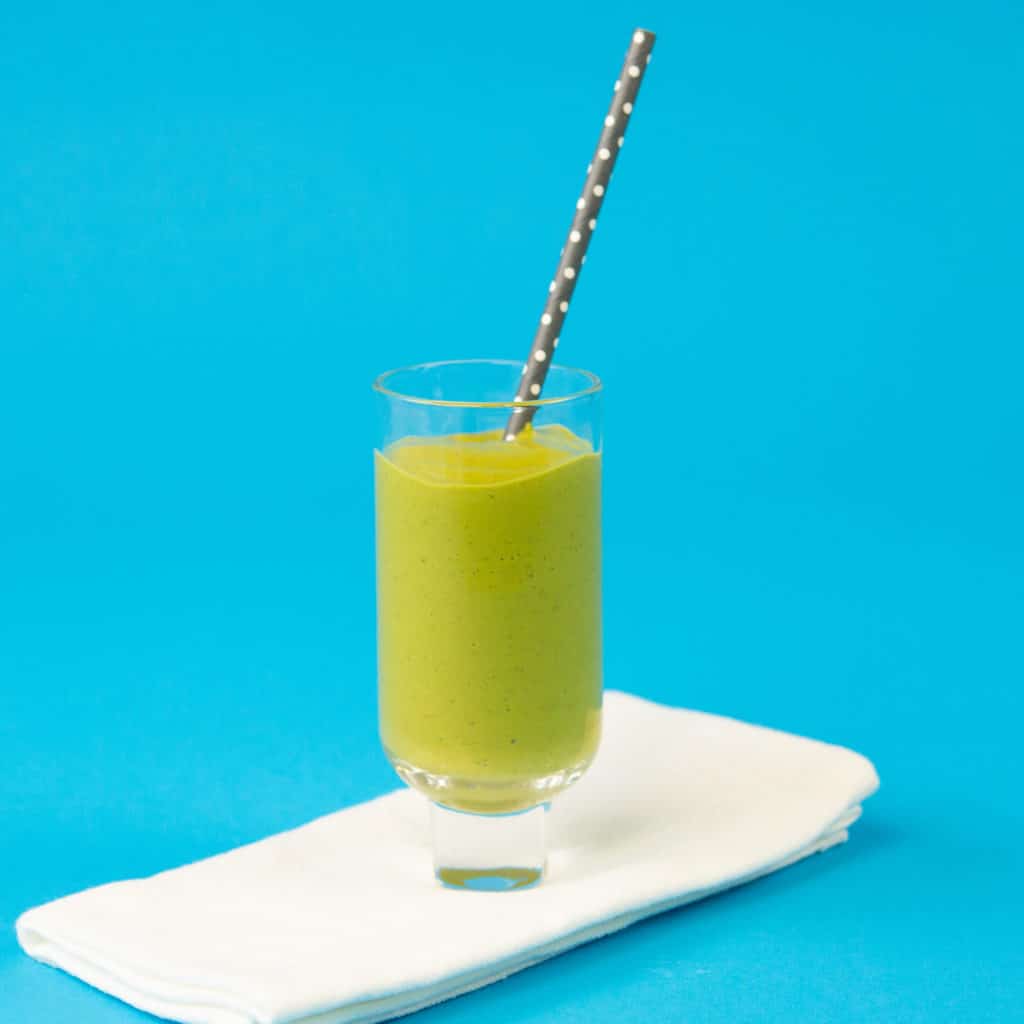 The Challenge for Parents
Let's talk about one of the biggest challenges health-aware parents and caregivers face today:
Getting fruits and vegetables into the bellies of our kids...without forcing it down their throat.
Ugh! It's so hard, right?!
Even if you regularly expose your kiddos to produce, and have for their whole lives, I am CERTAIN each of us has had at least one day when steam was coming out of our ears because our kids would not even eat a bite of a fruit of vegetable.
And even if your kids generally like fruits and veggies, I am also CERTAIN there has been a time when they just decided, with no logically or realistic reason, to stop eating something they literally the day before couldn't get enough of.
Please tell me I am not the Long Ranger here.
I deal with these issues daily with Team Braddock. It takes a lot of patience to continually present healthy foods to our kids who are as fickle as all get-out. But the most important thing to remember is:
Tips for Feedings Kids Healthy Foods
Don't stop presenting healthy foods!
Seriously. Don't stop giving them avocado just because they turn their nose up to it once. Bring back out the salads at dinner every night regardless if they go untouched. I think it's all about creating an environment for kids where fruits and vegetables are the norm. Send the message (more with actions than words) that this is how this family eats and you are a part of this family.
Another important aspect of promoting healthy little eaters is to keep trying new, delicious ways to enjoy fruits and vegetables. There are endless ways to prepare produce so just keep trying till you find one that is at least somewhat acceptable to the fam.
Why Kid-Friendly Smoothies
For us, smoothies have been one of THE BEST ways we all get in more plants to our diet. Me and the boys make one together nearly every day. I appreciate that you can throw almost anything in to my blender and make a healthy concoction.
I have to confess that I have made many a nasty tasting smoothie. These are not my proudest moments in the kitchen but I will gulp it down in the name of health. When it comes to the rest of Team Braddock, however, smoothies need to taste at least decent.
Smoothie Ingredients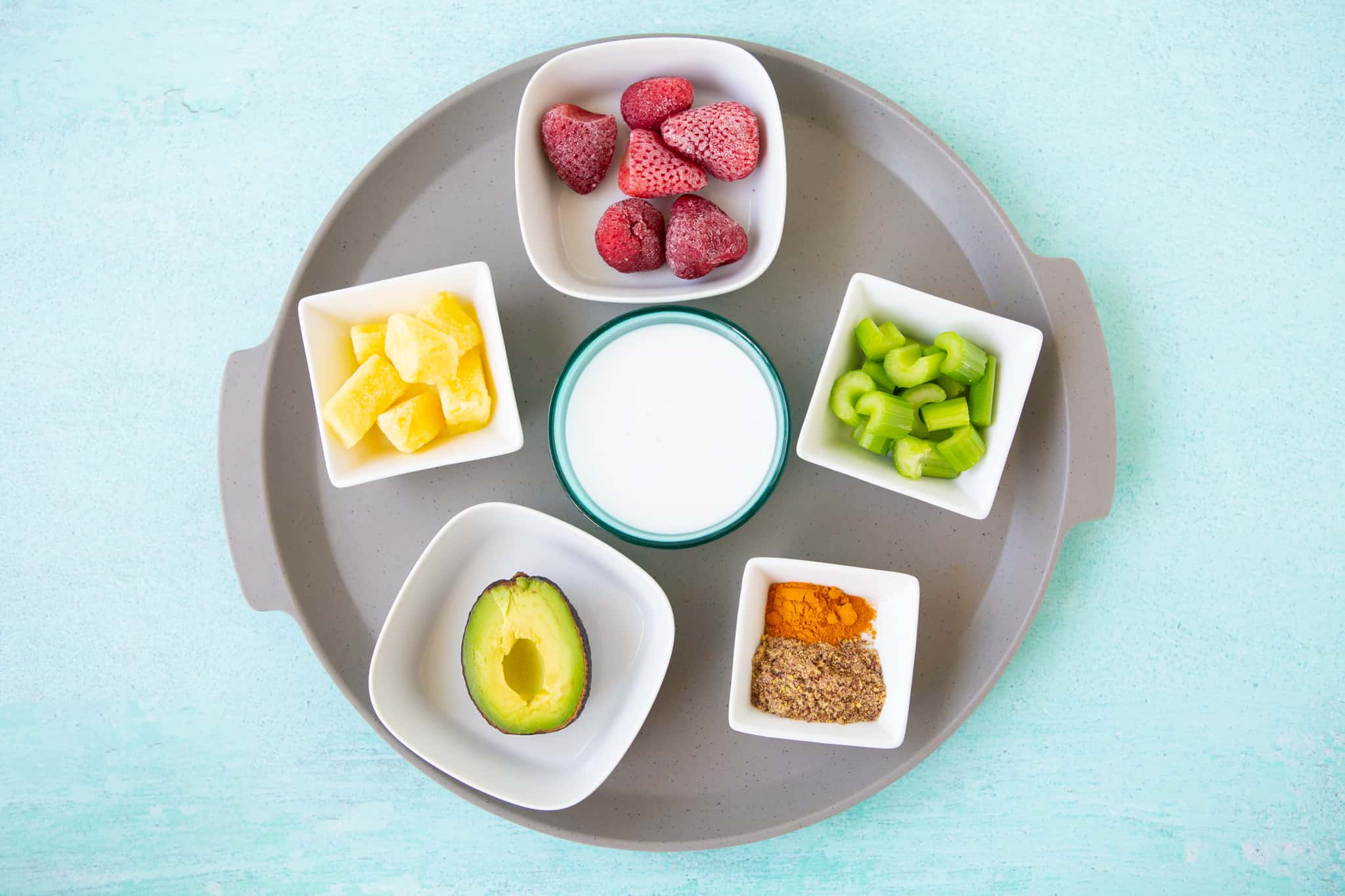 Today I've got a delicious kid friendly green smoothie for you that is packed with super foods. My goal is to get as many plants into our smoothies as possible, and obviously, still taste good.  I also like to add plant based protein when I can and still accomplish the goal of tasting good.
I choose to use soymilk in my smoothies for 2 main reasons:
Soymilk adds creaminess and good flavor without a ton of fat. I find the flavor very enjoyable and is a great base for almost any smoothie.
Soymilk is a good source of plant based protein at 6-8g per cup. I hear lots of people stress about protein powders. Powders can be fine, but this is a great, plant-based source of protein. It's a simple decision.
Another secret weapon in this smoothie is fresh avocado. I have started adding avocados to almost all our smoothies because they add yummy creaminess. Plus, Coach, unfortunately, does not like avocado so this is a way I can get it in him. Avocados are just so darn good for your body that I cannot stand that he isn't eating them.
You'll also see I added turmeric, my favorite inflammation-fighting spice, and ground flaxseed which adds healthy gut fiber and plant based omega-3 fatty acids. Celery adds filling fiber, pineapple gives a wonderful sweetness and important enzymes and lastly spinach, is well, green, which we all know is important for a nutrient-rich diet.
I call this my Green Monster Smoothie because it sounds fun and just tastes like something a healthy Cookie Monster would love. That might be a stretch but I like the name, so I'm going with it. =)
Print
Recipe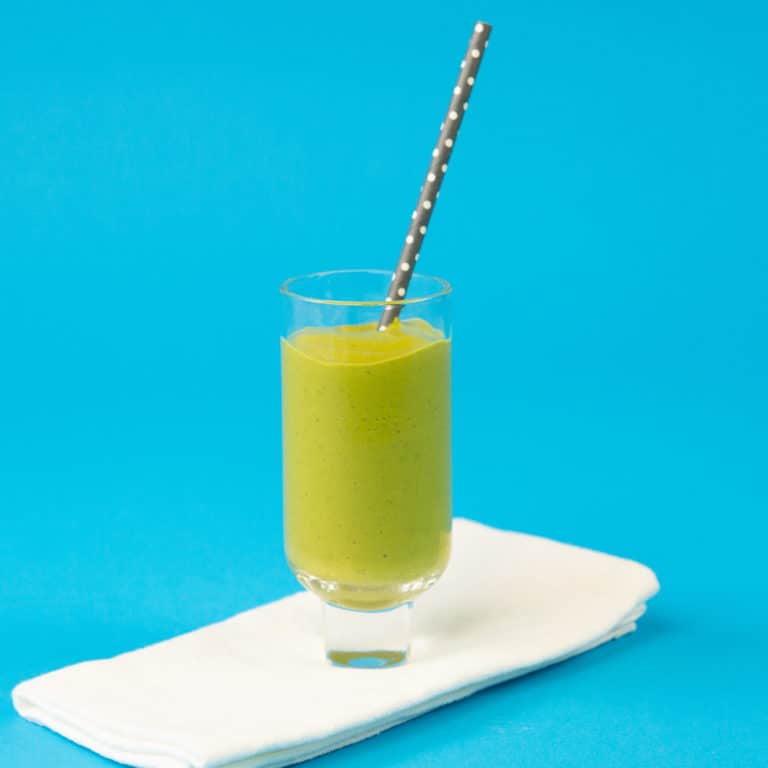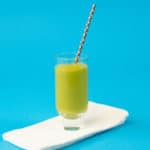 Kid Friendly Green Smoothie
---
Author:

Total Time:

4 minutes

Yield:

2

1

x
Description
Do you face the challenge of getting more fruits and vegetables into your family's diet? It's easy with this vegan, kid friendly green smoothie recipe that is packed with super foods like avocado, celery, spinach, and strawberries all while tasting super too.
---
2

cups

plain or vanilla soymilk

½

cup

frozen strawberries

¼

cup

fresh or frozen pineapple chunks

1

stalk celery

½

Hass avocado

1 teaspoon

turmeric

1 tablespoon

ground flaxseed
---
Instructions
Place ingredients in blender in order of listing.
Blend until smoothie. Enjoy!
Prep Time:

3 minutes

Cook Time:

1 minute

Category:

Smoothie

Cuisine:

Vegetarian
Nutrition
Calories:

231

Sugar:

10

Sodium:

125

Fat:

14

Saturated Fat:

2

Carbohydrates:

20

Fiber:

7

Protein:

9
Keywords: avocado smoothie, celery smoothie, green smoothie, kid friendly, vegan smoothie
So give this kid friendly Green Monster Smoothie a try with your family, or even just yourself. I don't think it will disappoint. Do you know someone else who might enjoy this recipe? If so, please share it with them.
Don't forget, if you love smoothies like I do, or you want to learn more about how to make healthy smoothies, sign up for my e-newsletter to get a FREE copy of my Smoothie Jump Start Guide.