It's easy to run out of school lunch ideas for picky kids, especially healthy options. Here's a list of some new ideas to keep you going all through the new school year, plus my 2 key concepts for packing healthy lunches.
Thank you to Horizon for sponsoring this post.
When a  new school year comes, I get so excited for this next chapter for my guys. I know they're ready to be around other kids every day, be challenged by new things and grow in every way. It's always so cool to see how they change each year. Let me tell you what I do not get excited about though: making school lunches every day.
Does that surprise you? It kind of surprises me too, but I just don't really enjoy the monotony of the daily child's lunch box assembly. It's challenging to find creative school lunch ideas and not get in lunch ruts -- making the same 'ol thing every day.
Challenges
I could start researching on Pinterest, but I'm really not that interested in making elaborate lunches that look like art, especially if it includes all the creative ways to use cookie cutters. At 8 or 9 pm at night, I don't have the energy or creativity for that. Plus, I don't think my boys would even really care (the double edged sword of having boys).
Another common challenge is that certain children prefer consistency. Every day, one of my boys used to ask me for "ham and cheese and mustard" for lunch meaning a ham and cheese sandwich. He would have eaten this favorite food every single day.
There is also the challenging stage of development when children develop strong food preferences. I prefer not to use the word "picky" because I do not want my kids to believe that about themselves. If your children are similarly in a season of being fussy eaters, reluctant to try new foods, my advice is to remind yourself daily that exerting food preferences is a normal part of child development.
Food Preference Changes
Another challenge parents may face in the lunch department is handling children's changing food preferences. For instance, when a child who loves to eat blueberries suddenly decides they no longer like them at all. Food preference changes are part of normal development, but it doesn't make it any less frustrating for parents.
Challenges aside, I want to share some inspiration of my own for easy and healthy school lunches.
Top Tips for Parents of Picky Eaters
I've always been a believer in two key concepts for feeding kids:
#1 - Provide a selection of foods that are all healthy choices for kids and allow the child to choose how much they eat. Exposure to healthy foods is just as important as them eating the healthy foods (from a long term healthy eater perspective). At our family meals, our guiding principle is that everyone takes a taste of all the offerings. You don't have to eat all of it, but you do have to taste it.
#2 - Enjoy a reasonable amount of "fun" foods, trying to find as many fun foods that are also healthy. This could be making creative art from food, serving different foods in fun shapes, or just including an item that lights up their eyes when they open their lunches. I know I look forward to my lunch when I know there's something exciting in there.
Applying these concepts to my child's lunchbox means providing my kids with a few great choices in his lunch that are all healthy and letting him choose what to eat. If it's just his "ham, cheese, and mustard" sandwich, I make sure to always put lettuce and tomato on that sandwich, to incorporate veggies and fruits in every component of his lunch. It also means giving him some "fun" healthy foods that make him excited to eat his lunch.
Horizon Super Squeezes
One great option for fun items that we've been trying lately is Horizon Super Squeezes.
Younger children especially love "squeezies". They are a regular snack for us. Even though I like that they are just fruits and vegetables, I really wished they had some protein in them. My boys need some extra protein for the sheer fact that they need to feel full, and protein helps with that.
These Horizon Super Squeeze blend organic skim milk and real fruit puree to provide 5 g of protein, 2 g of fiber and 20% of the daily value for calcium. For me, these are good reasons to consider throwing one of these puppies in J's school lunch.
Snack Bars
Another food my boys love are "bars". There are an assortment of kinds that they like but come school lunch time, I'll be making a double batch of my Hidden Honey Bars to put in their lunch boxes. I love this recipe because it's whole grains, sweetened only with honey, and has 2 veggies in it. You can also customize the add-ins to whatever you and your kids would like.
Here are a few other examples of healthy lunch ideas that Team Braddock enjoys:
Olives
These are a low calorie, healthy snack that provide good fat and a lot of fun.
Avocado Wraps
Lay out one piece of lunch meat and spread 1 teaspoon of hummus on it. Lay a half of piece of sliced cheese on top of the hummus. Place a slice of avocado at one end of the ham and cheese and roll it up. Leave whole or cut in to pieces. I usually give Jackson 2 of these.
Grapes and Watermelon Cubes
On hot days, including fruit with a high water content is a great way to help keep kids hydrated.
Healthy Lunchable
I'm basically obsessed with lunch bento boxes. I can't help but buy them whenever I see them at a store or online. They are perfect for packing lunches because you just fill the separate compartments and it's easy to determine if you've included healthy foods. I also think kids like to assemble their own lunches.
The picture below is a healthy yogurt parfait "bar" with yogurt, granola and fresh fruit.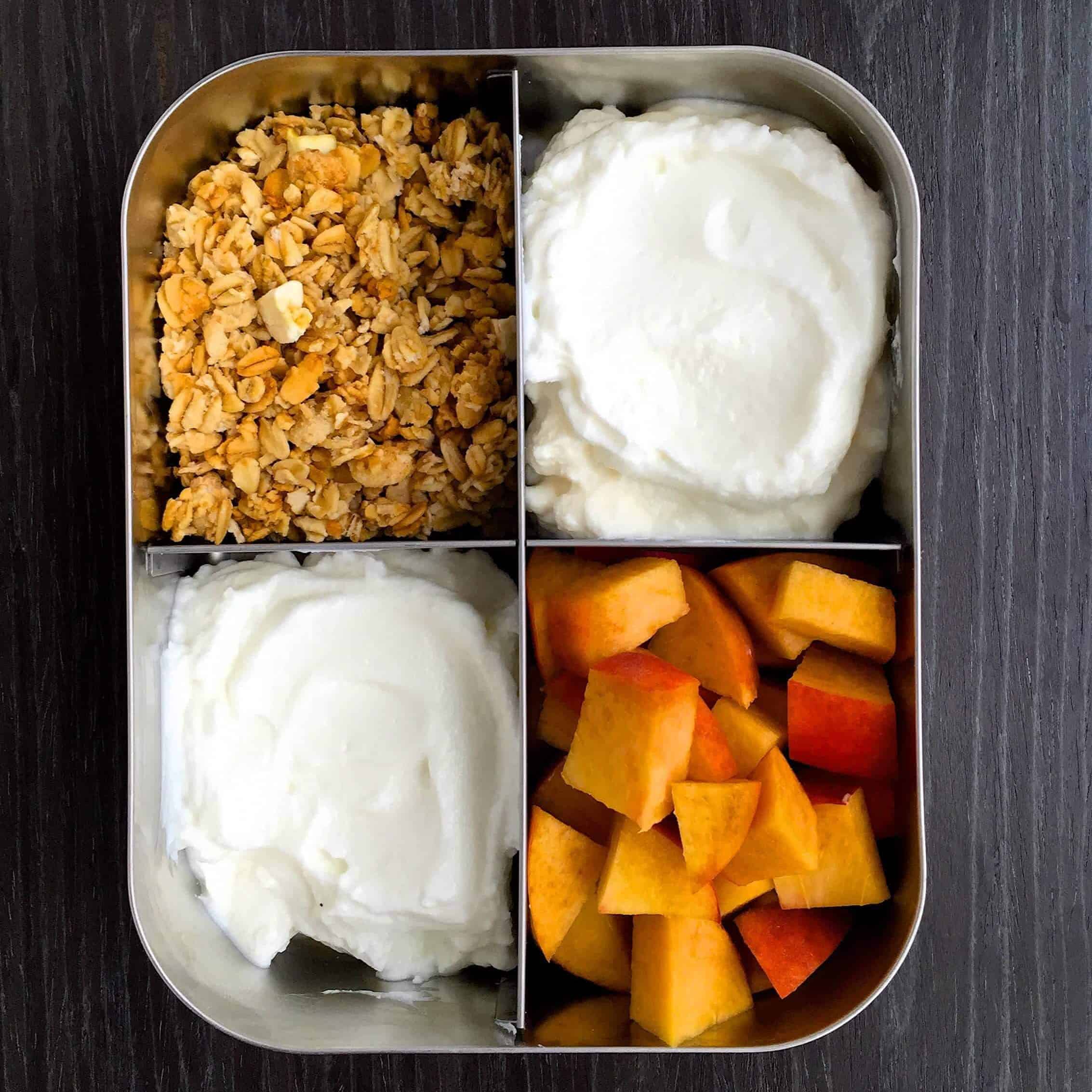 The easy school lunch below contains whole grain crackers, cheese, hummus, avocado slices, and shredded carrots.
I have tried a lot of lunch containers and bento boxes. So far my favorites are this Quad Stainless Steel Food Container, this LunchBlox sets with the ice tray, this sandwich box, and this split snack container. Please leave me a comment and let me know if you like any of those or have another brand I've not discovered.
Hopefully one of these ideas gives you some "new material" this year. I would love to hear what you make for school lunches. The more real-life ideas we share, the better. Leave me a comment or visit my Instagram page to message me your ideas.
Also follow Horizon as they share tons of back to school ideas with the hashtag #HorizonBTS on Twitter, Instagram, and Facebook .
For more healthy school lunch ideas, check out 5 Doable Bento Box Lunches. You may also like these Crunchy Frozen Yogurt Snack Bites as a fun way to change up your typical after school snacks.
To Making a Packed Lunch Our Kids Will Actually Eat,
Jenna
This conversation is sponsored by Horizon. The opinions and text are all mine.