Take your classic beef burgers up a notch with even more flavor and colorful produce with this fresh and flavorful Chimichurri Burger with Grilled Carrots.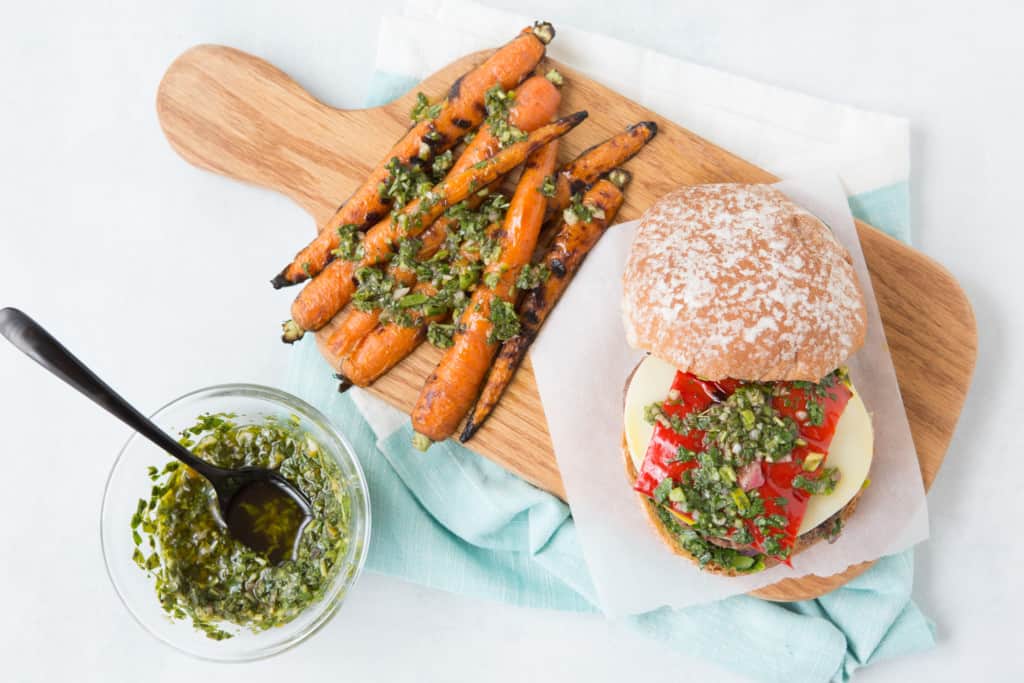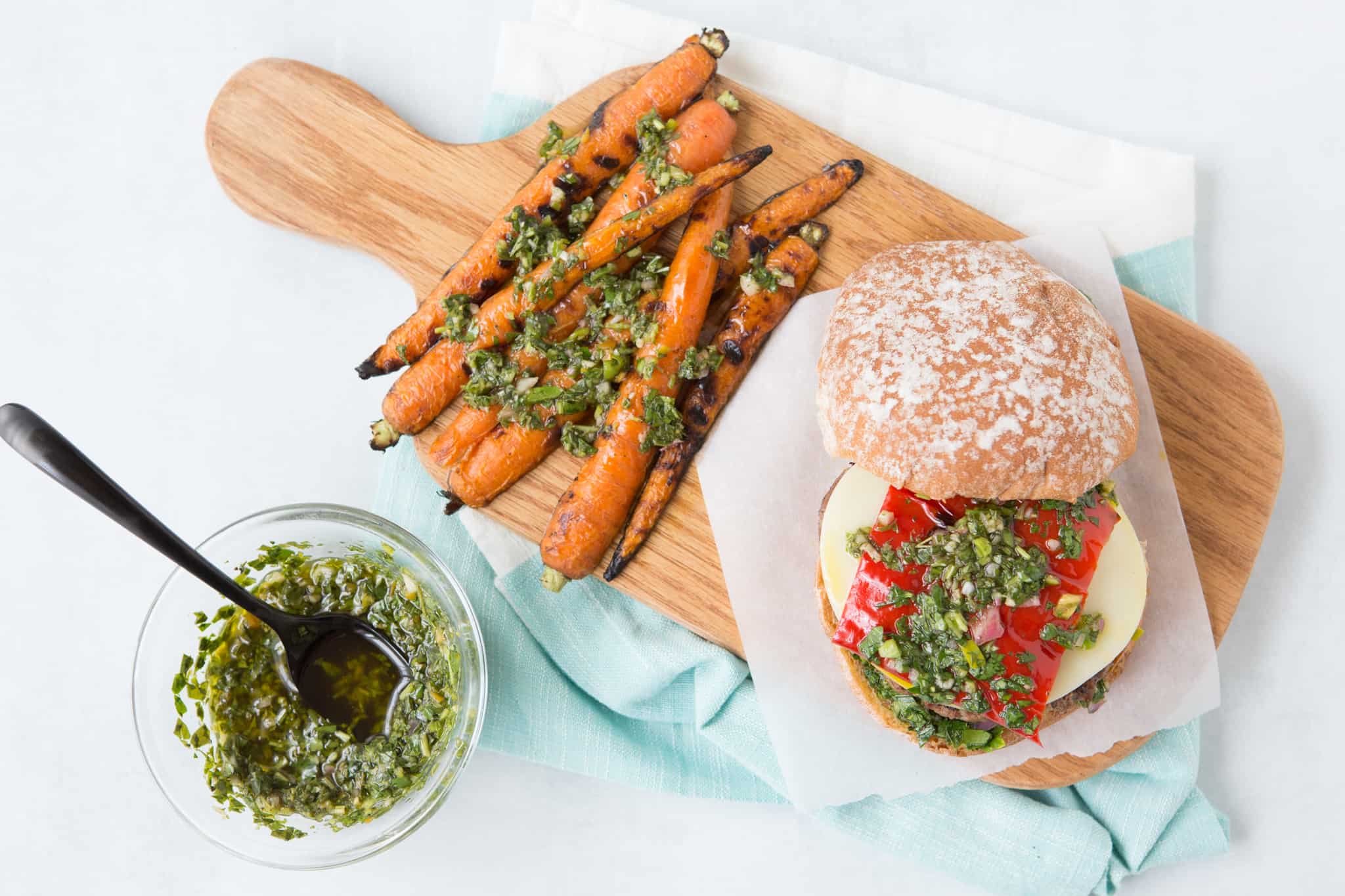 Jump to:
This post is a collaboration with Beef. It's What's for Dinner. managed by NCBA, a contractor to the Beef Checkoff. I received compensation, but all opinions are my own.
Summer and burgers just seem to go together, don't they? We love them in our family and I've been testing out how to make the best beef patty for some time. When the challenge to dress up a classic beef burger with a unique flavor profile and a tasty, produce-packed side dish came my way, I was all in.
Pairing Beef Burgers AND Veggies
The classic beef burger is an American staple and for very good reason. They're delicious and offer endless flavor possibilities. Cheeseburgers are my oldest son's FAVORITE food and therefore we find ourselves either making burgers at home or seeking out the area's best burger often.
Burgers are being recognized as a perfect and practical vehicle for Americans to add colorful produce and even more nutrients to their plates. You read that right. The latest scientific report from the Dietary Guidelines for Americans Advisory Committee states "...burgers and sandwiches could become a major way to increase the consumption of many food components and nutrients that are currently under consumed, such as whole grains (fiber), vegetables..."1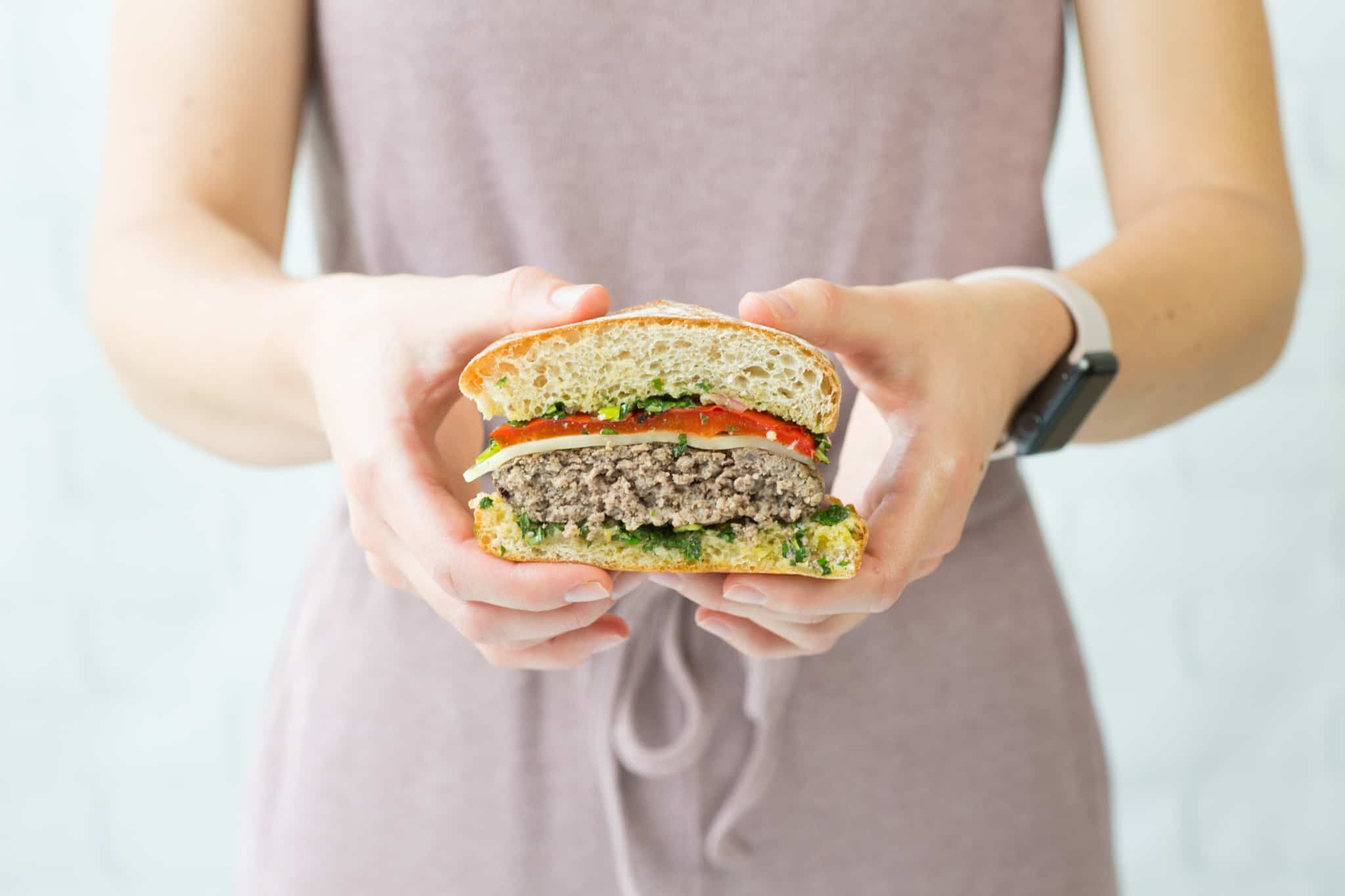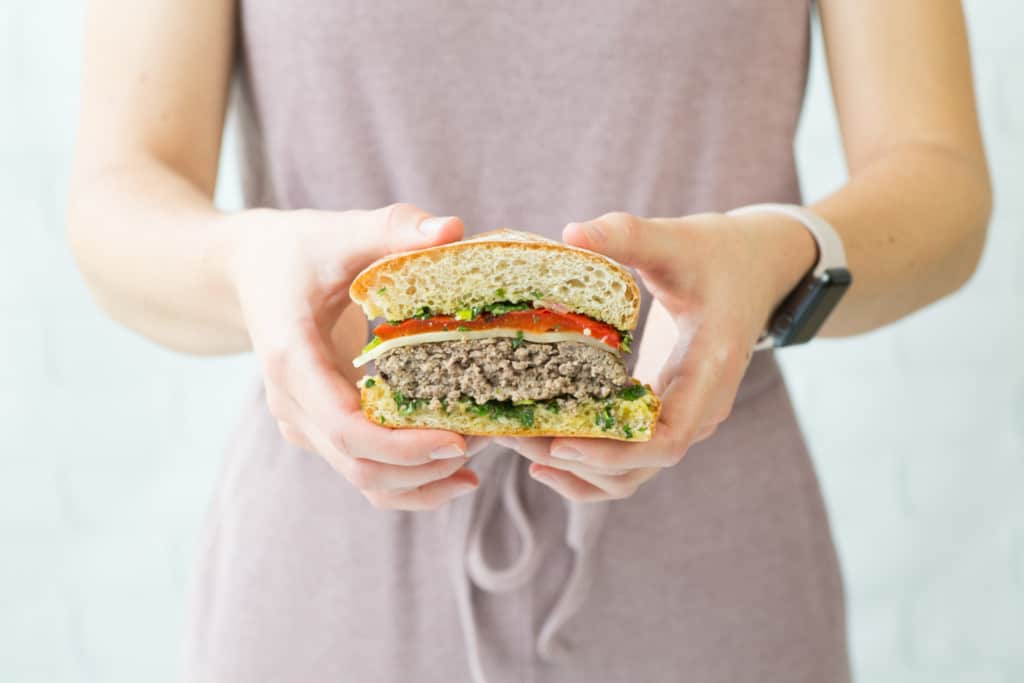 The Produce for Better Health Foundation similarly recommends that "sandwiches, multi-cultural mixed dishes (e.g., Italian, Asian, Mexican), and burgers rise to the top of Americans' intake of vegetable pairings and could be utilized more as a vehicle for increasing vegetable eating occasions.2
It's time to change our thinking about burgers (and how we top them!) and view them as a nutrient-rich foundation for adding other important nutritious foods to our diets, like whole grains and vegetables. Not enough of us are getting the fruits and veggies we need but burgers can truly provide an opportunity to make other healthy foods taste even better.
This is something practical that I think can truly help Make Healthy Easy! Whenever you make beef burgers this summer (and beyond) try to pair them and top them with as much colorful produce as you can. To help get you started on this tasty burger mission, I've got one heck of a burger for you in my Chimichurri Beef Burger with Grilled Carrots.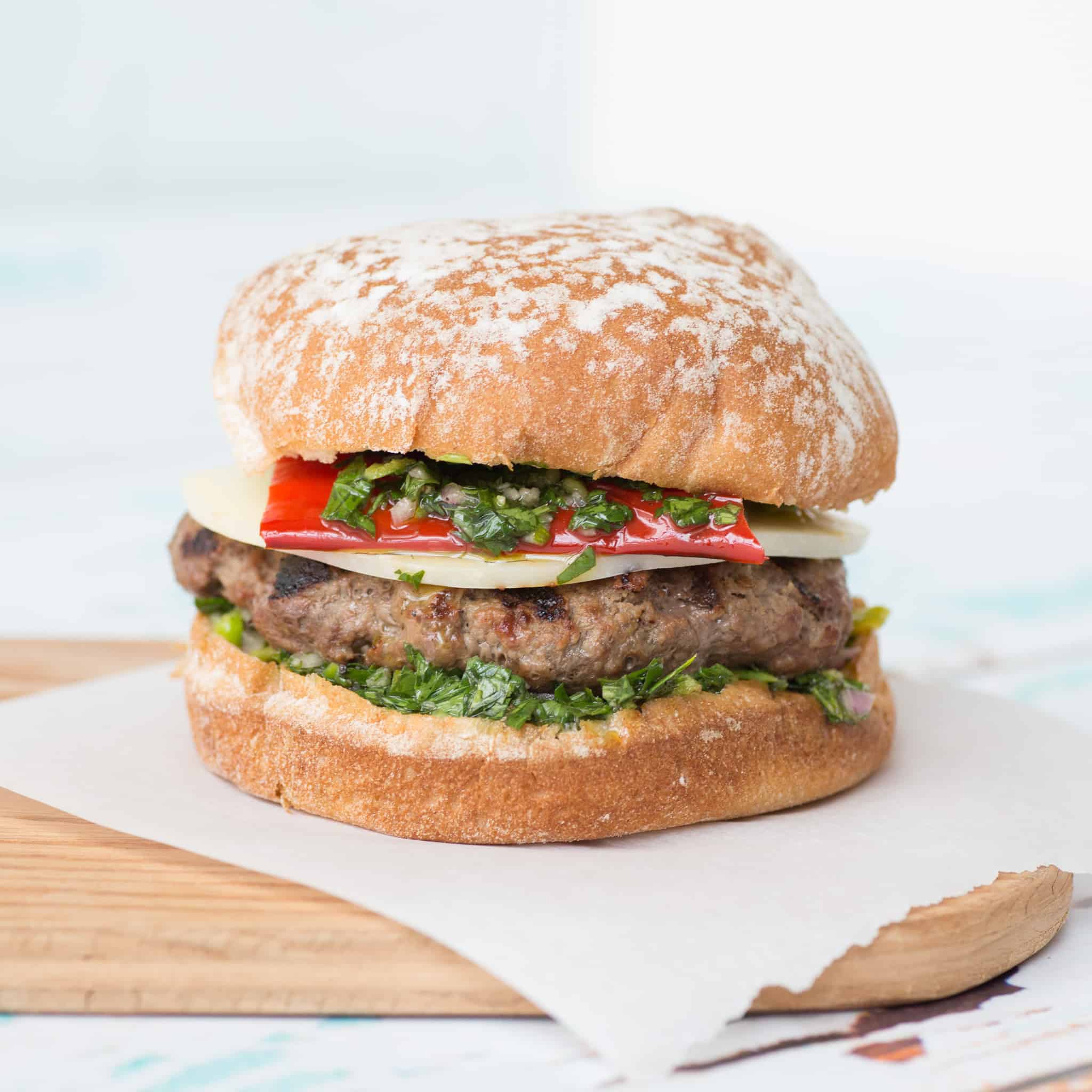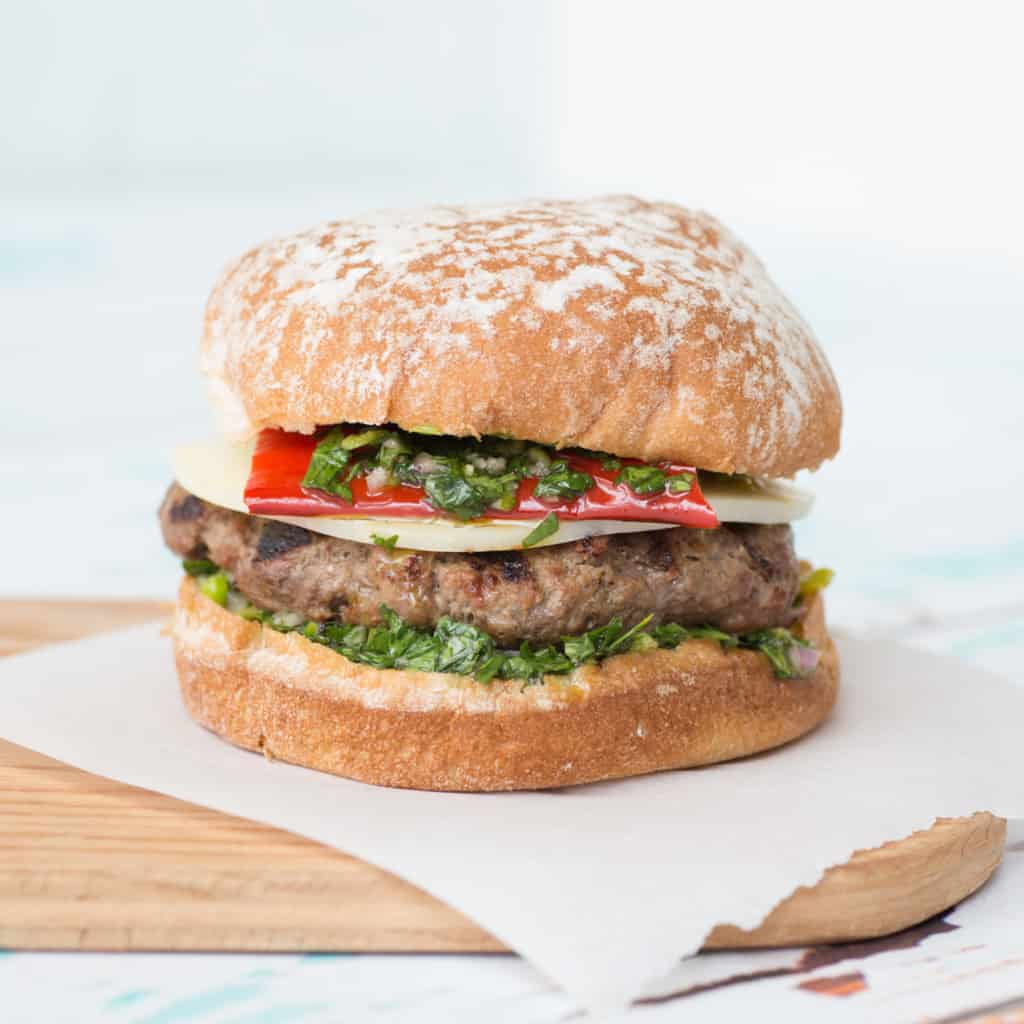 What is Chimichurri?
I might be infatuated with chimichurri sauce. For some reason I dream about it regularly once the warm weather hits and I start wondering just how many dishes I could pair it with.
Pairing beef burgers with vibrant and herby sauces and condiments is one delicious way to add more produce to our plates. Chimichurri is an uncooked sauce that is used on top of cooked meat or on the table as a condiment. It has Argentinian roots and is most commonly made with parsley, oregano, olive oil, garlic, and red wine vinegar.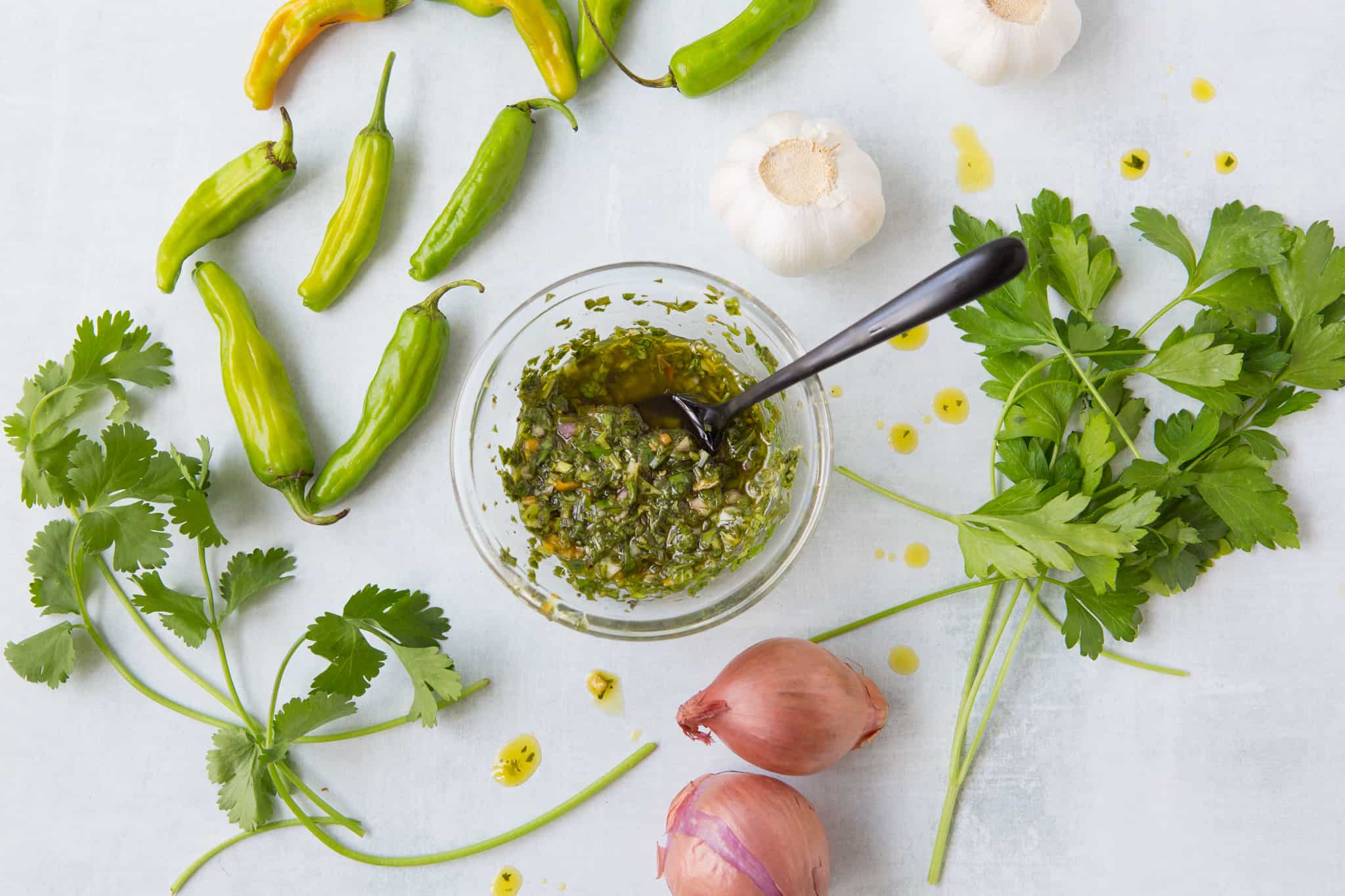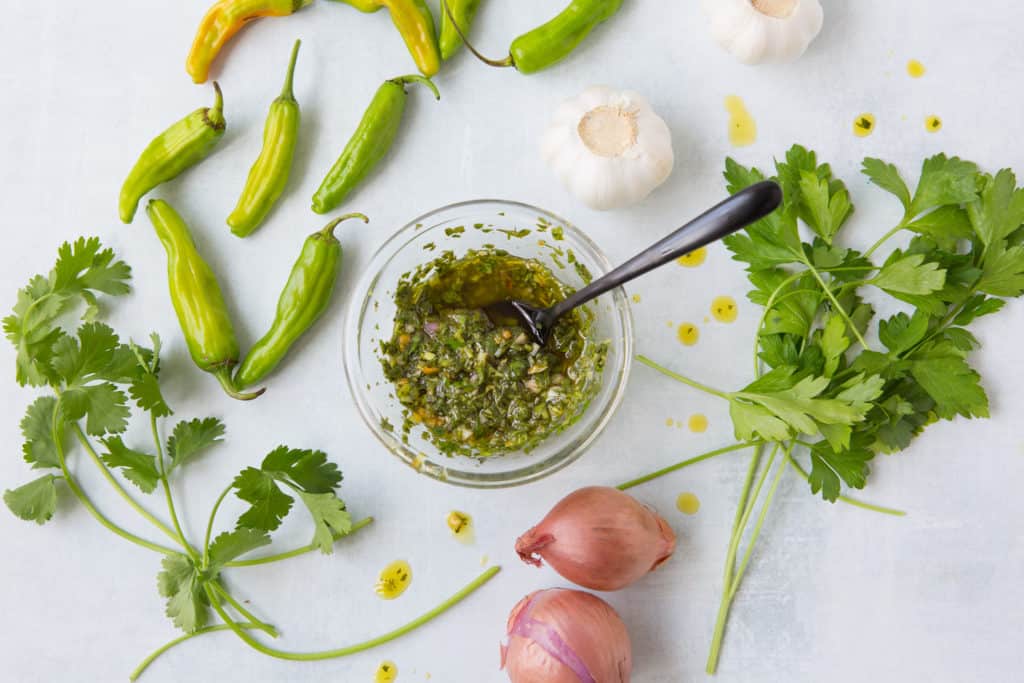 Chimichurri has a bright flavor that pops in your mouth. It pairs great with many cuts of grilled meat and this beef burger is no exception. I put my own twist on chimichurri by using parsley and cilantro as well as adding chopped shishito peppers.
This Chimichurri Beef Burger with Grilled Carrots is a perfect example of pairing beef burgers with delicious produce. I kept the actual beef burger pretty simply seasoned and leaned on the natural deliciousness of combining lean Ground Sirloin and Round.
By adding chimichurri to the whole grain bun and a slice of grilled red pepper, this burger not only tastes fantastic but ups your veggie intake. Paired with simple, grilled carrots (also topped with chimichurri), this meal hits a home run on flavor and nutrition.
Making chimichurri is pretty simple! The only tools you really need to make chimichurri are a sharp chef's knife and a good cutting board. You can use a food processor to chop up everything too. I personally like the rustic, homey nature of hand chopped ingredients in my chimichurri but go with the method that works for you.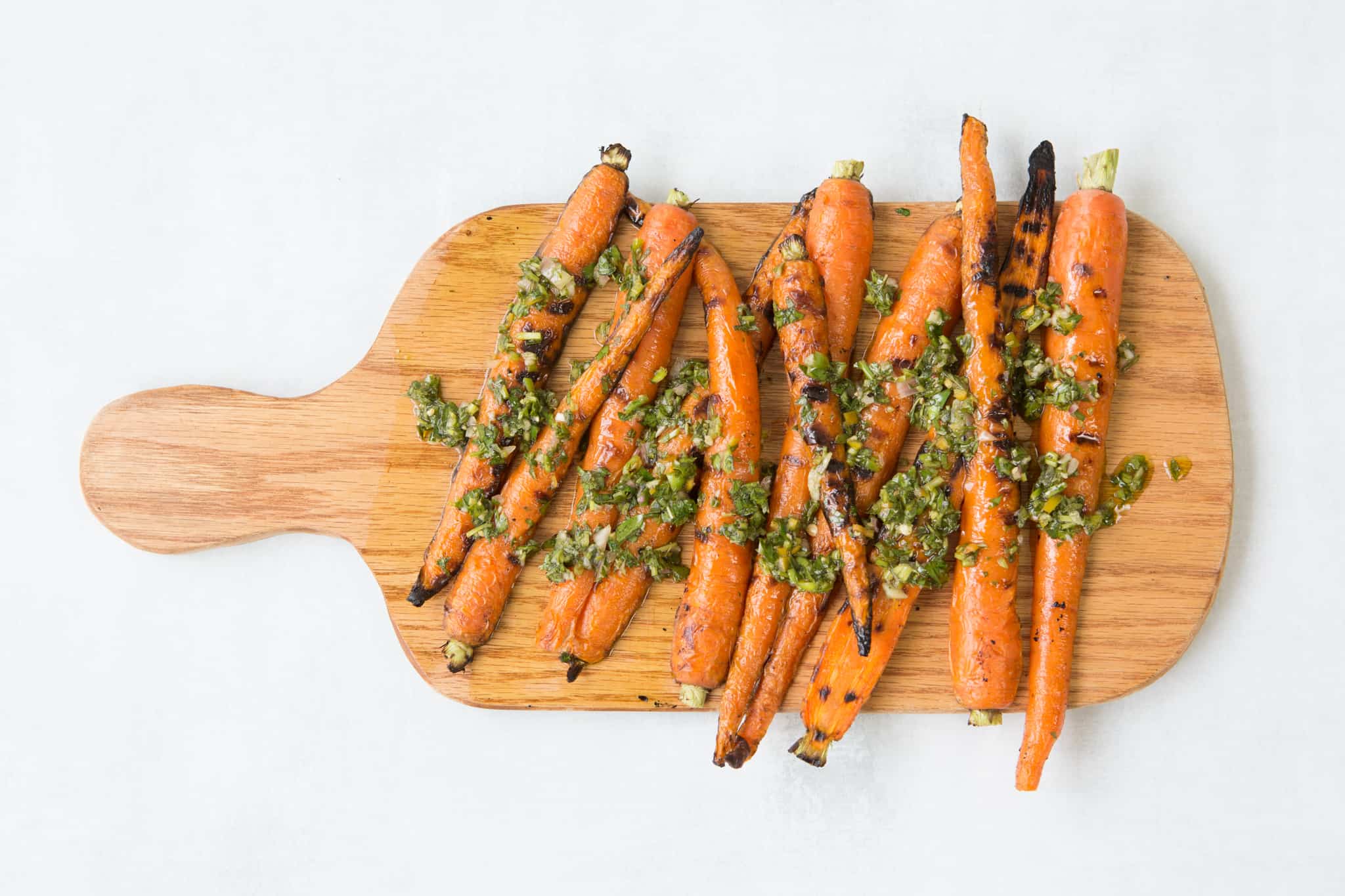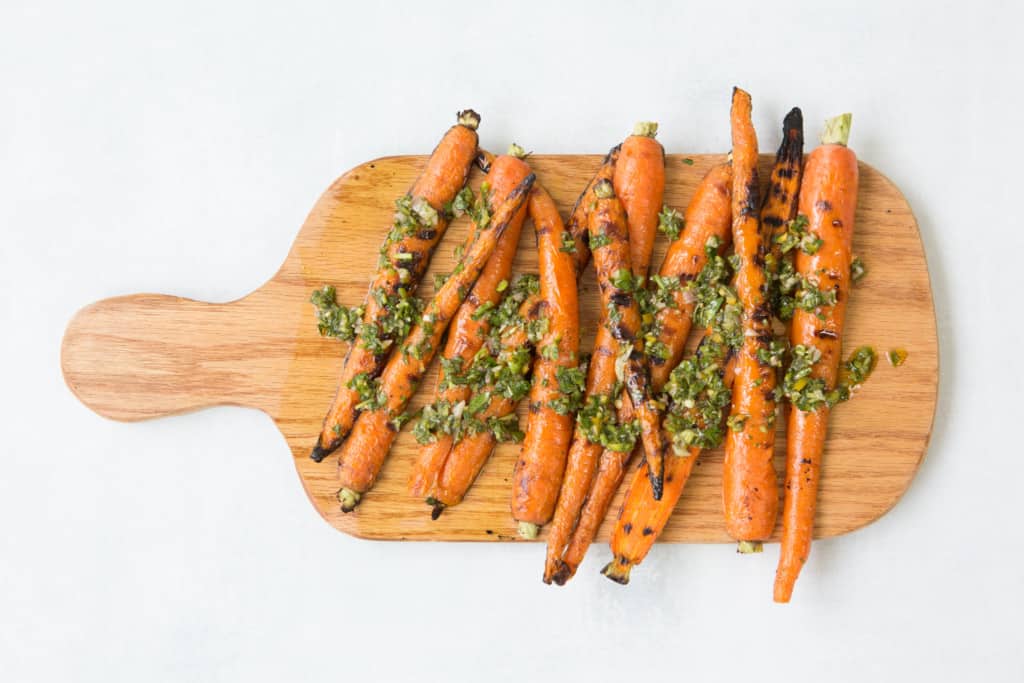 Tips for Success
Use a combination of Ground Beef Sirloin and Round for the burgers as suggested. It works really well together to keep the burger lean and juicy.
Cook your burgers to 160℉, by checking it with a good digital food thermometer. This simple tool ensures you never under- or over cook a burger, or anything, ever again.
Don't be shy about adding a lot of chimichurri to the burger bun but make sure you have enough to top the carrots too.
You can use any type of cheese you like here. I tested 4 different types and landed on provolone as my favorite. I think a mild cheese is really ideal so it doesn't overpower the juicy burger flavor and that herby chimichurri.
Shashito peppers may not be available year round as I have just noticed them in my grocery store during the summer months. If you can't find them, you can replace them with one poblano pepper or jalapeno pepper. Start by adding a small amount and taste as you go to adjust heat. This (traditionally) shouldn't be a hot sauce.
Make your chimichurri sauce ahead of time (up to 24 hours) to save you a little time. I also think the flavor is better the more it sits. Store in the fridge if making more than a couple hours ahead and let come to room temperature before serving.
I used large, grilling red peppers on these burgers because they are big and you get 4 slices per pepper. If you can't find these in the store, substitute red bell peppers and account for 1 pepper per 2 burgers.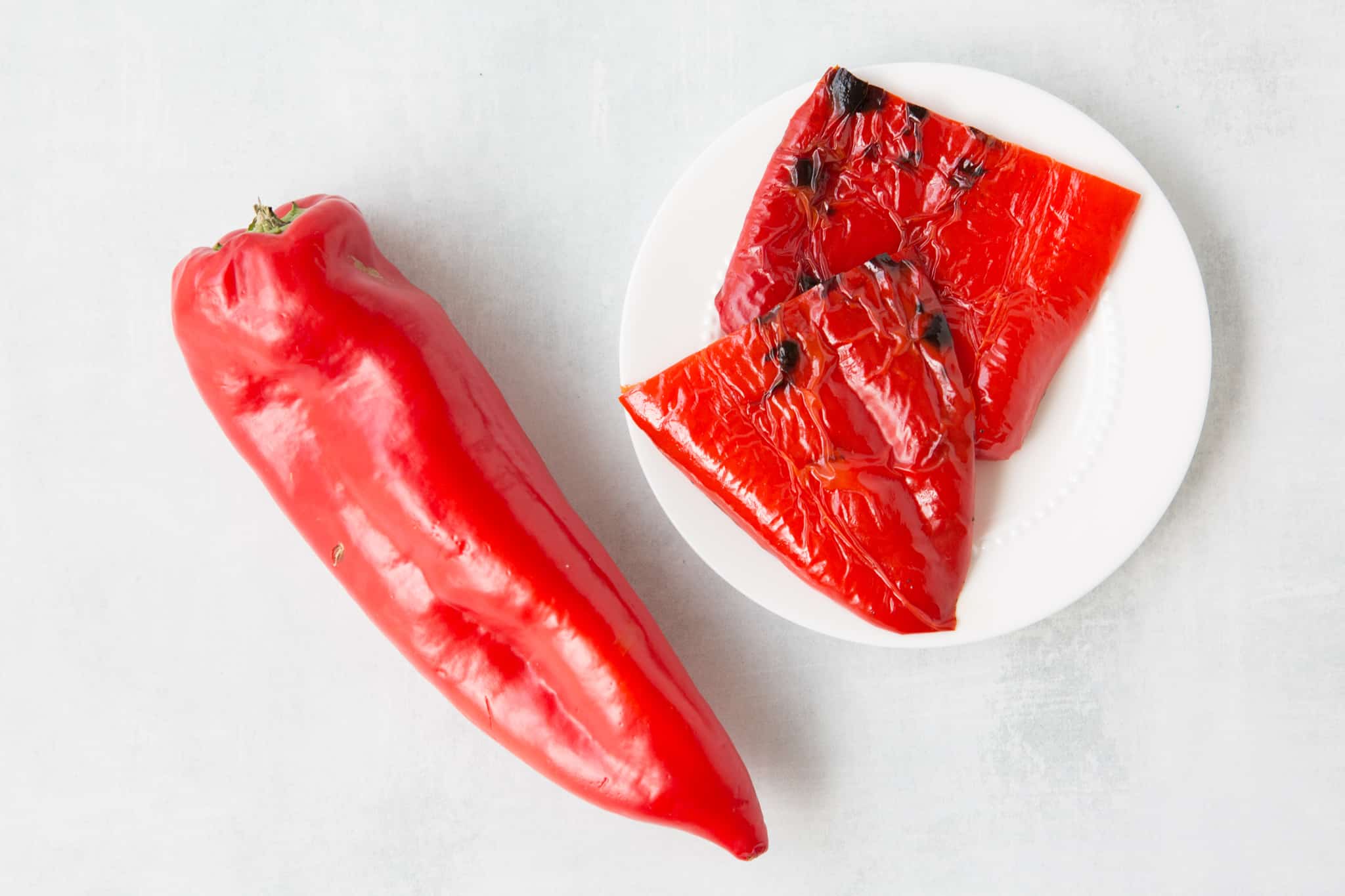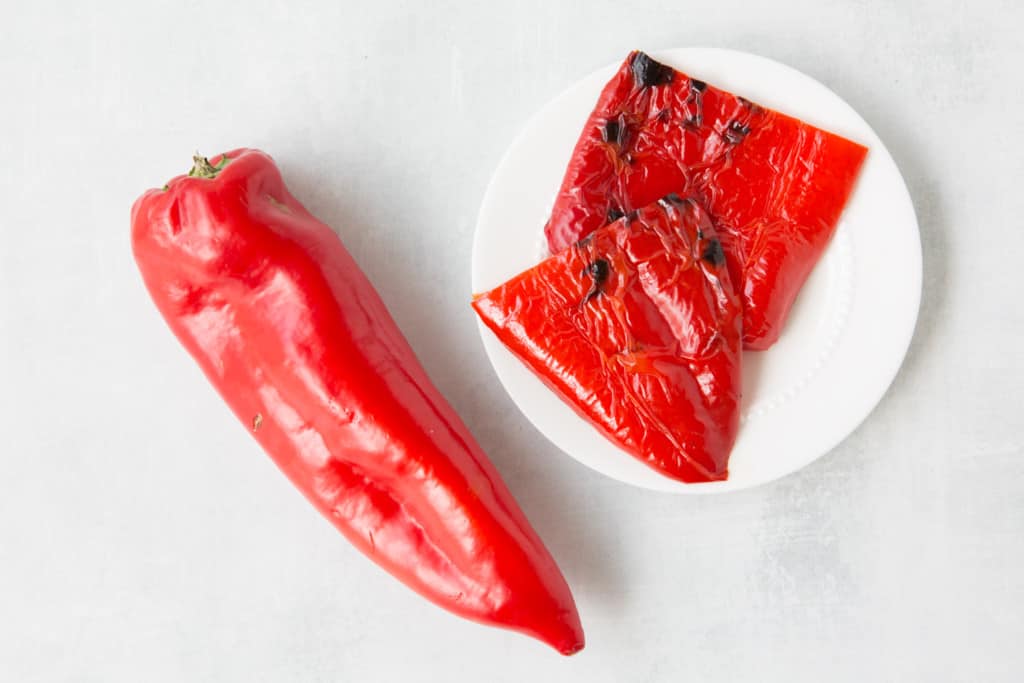 This recipe involves grilling 3 things: the burgers, the carrots and the red peppers. I recommend doing this in this order: put the burgers and carrots on the grill first, but make sure to keep the fresh produce and the protein on separate sides of the grill! Then, when you flip the burgers, add the peppers to your grill for the last 5 minutes of grill time. If you don't have enough room to put all of this on the grill at the same time, cook the peppers last, by themselves, as they only take a few minutes.
Grilling carrots is really easy, but their cook time does vary based on their thickness. Carrots will be done between 6-10 minutes, with thicker ones taking the longest.Ideally, you want grill marks on the carrots that are slightly crispy on the outside and tender on the inside. The carrots shouldn't wilt completely when you remove them from the grill.
Print
Recipe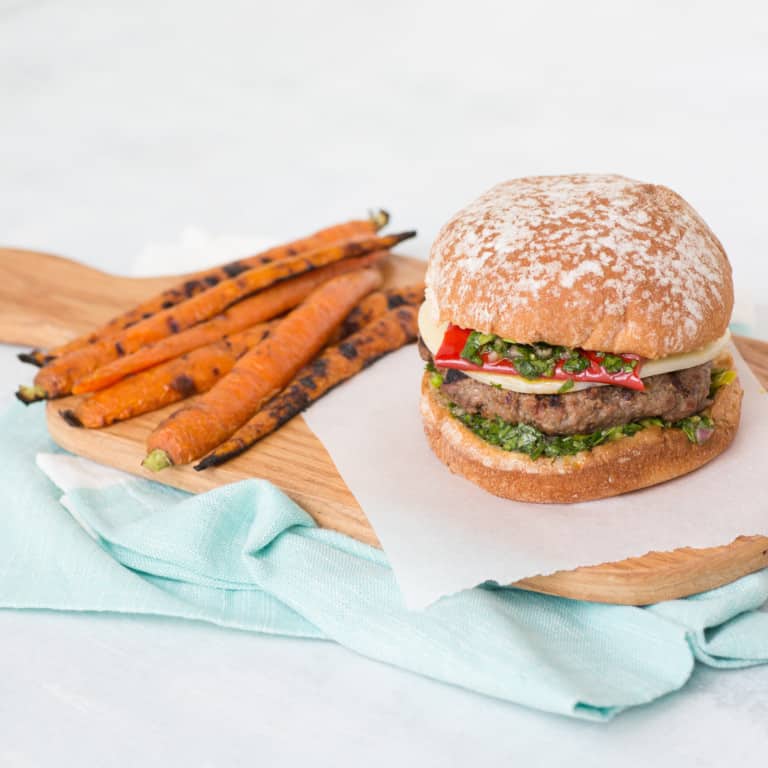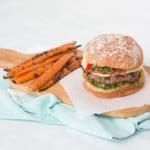 Chimichurri Burger with Grilled Carrots
---
Total Time:

56 minutes

Yield:

8

burgers

1

x
Description
Take your classic beef burgers up a notch with even more flavor and colorful produce with this fresh and flavorful Chimichurri Burger with Grilled Carrots.
---
Chimichurri Sauce
⅔

cup

Olive oil (extra virgin)

¼

cup

Red wine vinegar

4

cloves Garlic, (minced)

1

cup

Finely chopped cilantro ((from a 1 bunch))

8

whole Shishito peppers*, (seeded and minced)

½ teaspoon

Kosher salt

1 ½ teaspoon

Fresh ground pepper
Beef Burgers
1

pound

Ground beef sirloin

1

pound

Ground beef round

2 tablespoons

Worcestershire sauce

1 tablespoon

Montreal Steak Seasoning ((optional))

2

Large, sweet red peppers** (sometimes called Grilling Peppers), (sliced in half and deseeded)
Nonstick grill spray or oil

8

Whole grain burger buns ((like Dave's Killer Bread brand))

8

slices Provolone cheese
Grilled Carrots
8

large Whole carrots (or

16

small, whole carrots)

1 tablespoon

Extra virgin olive oil
---
Instructions
To make the Chimichurri sauce:
Combine all ingredients for chimichurri in a bowl and stir well together. Use in 2-4 hours or cover and store in the fridge for up to 24 hours. 
To make grilled carrots
Wash and dry carrots. You do not need to peel them unless they are still dirty looking after washing. Slice carrots in half from top to bottom and toss in oil. Set aside until time to grill.
To make the burgers:
To make the burgers, preheat grill to medium high heat (around 400℉).
Combine the beef, Worcestershire sauce and steak seasoning in a large bowl. Use clean hands to gently mix all the ingredients together until well combined. Separate meat mixture into 8 even portions. Shape each portion into a roughly 3 ounce ball then slap the ball back and forth in your hands a few times to get out air pockets and tightly pack.
Place the tightly packed ball on a baking sheet or large dish and press it down to a ¾ - 1" thickness, using a flat surface like a pie dish, large spatula, or baking pot/pan. Round out any edges that become too unruly and form the patty slightly larger than the bun to account for shrinkage. 
Grilling instructions:
Oil hot grill grates. 
Place burgers on one side of the hot grill and oiled carrots on the other side. Close grill lid. Grill burgers about 4-5 minutes per side, until internal temperature of burger reads 160℉ on instant read thermometer. Grill carrots for 6-10 minutes total, flipping 2-3 times, until the outsides are slightly charred and crisp.
Grill the red pepper halves for 2 minutes per side, until crisp tender with char marks. Remove from the grill and prepare to assemble burgers. 
Burger assembly:
Slice the cooked pepper halves in half, giving you 8 total pieces. 
Assemble burgers by spreading chimichurri sauce on the inside of both sides of the burger bun. Place cooked patty on the bottom bun, then top with a slice of cheese, a slice of grilled pepper, and the top of the bun. Serve alongside grilled carrots drizzled with chimichurri sauce. 
Notes
*Substitute one jalapeño pepper or poblano pepper for the Shishito peppers but add slowly and taste frequently to get the right heat level for your taste preference. 
**Substitute 4 red bell peppers for long sweet red peppers if you are not able to find them. Use one half per burger. 
Prep Time:

41 minutes

Cook Time:

15 minutes

Category:

Entree

Cuisine:

American
Keywords: Chimichurri, chimichurri burger, grilled carrots, healthy grilling recipes
For more ideas on how to enjoy beef with lots of veggies, check out these delicious recipes: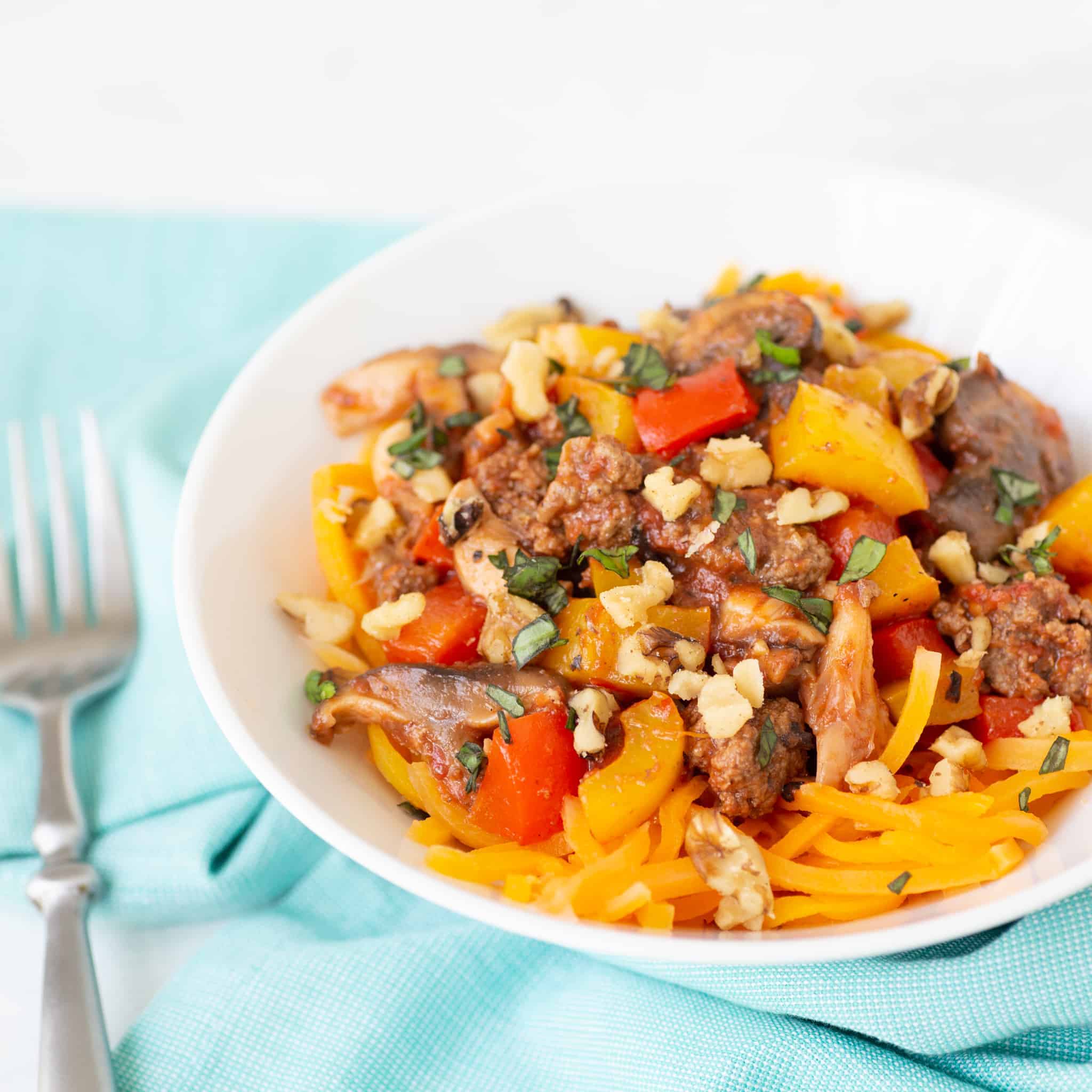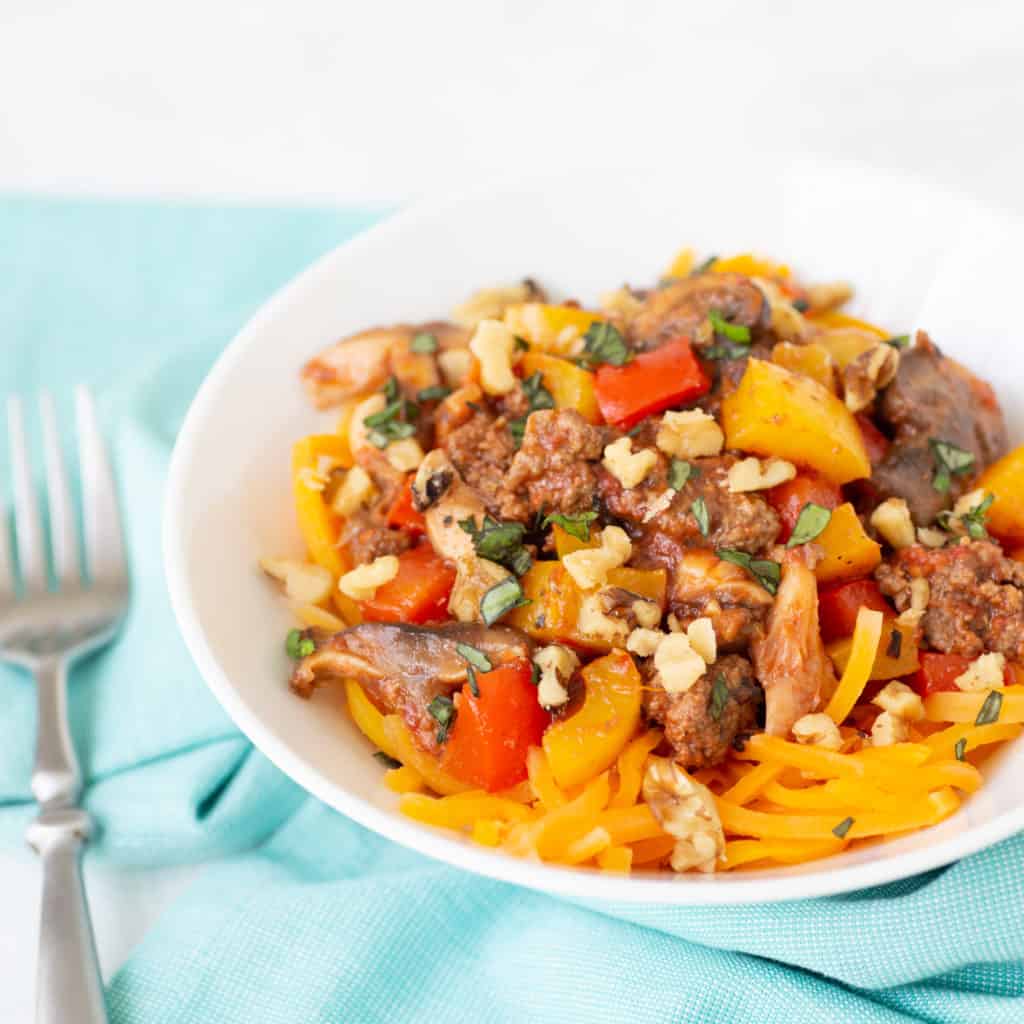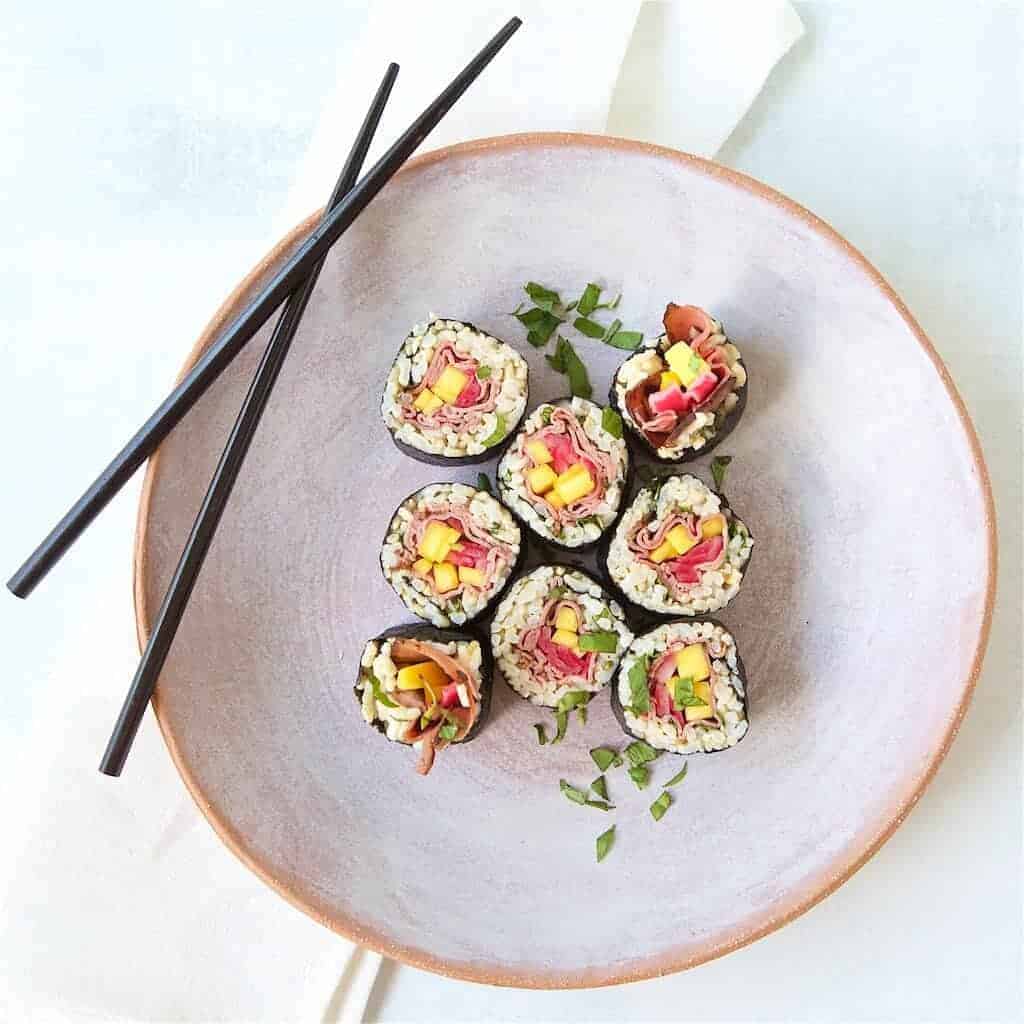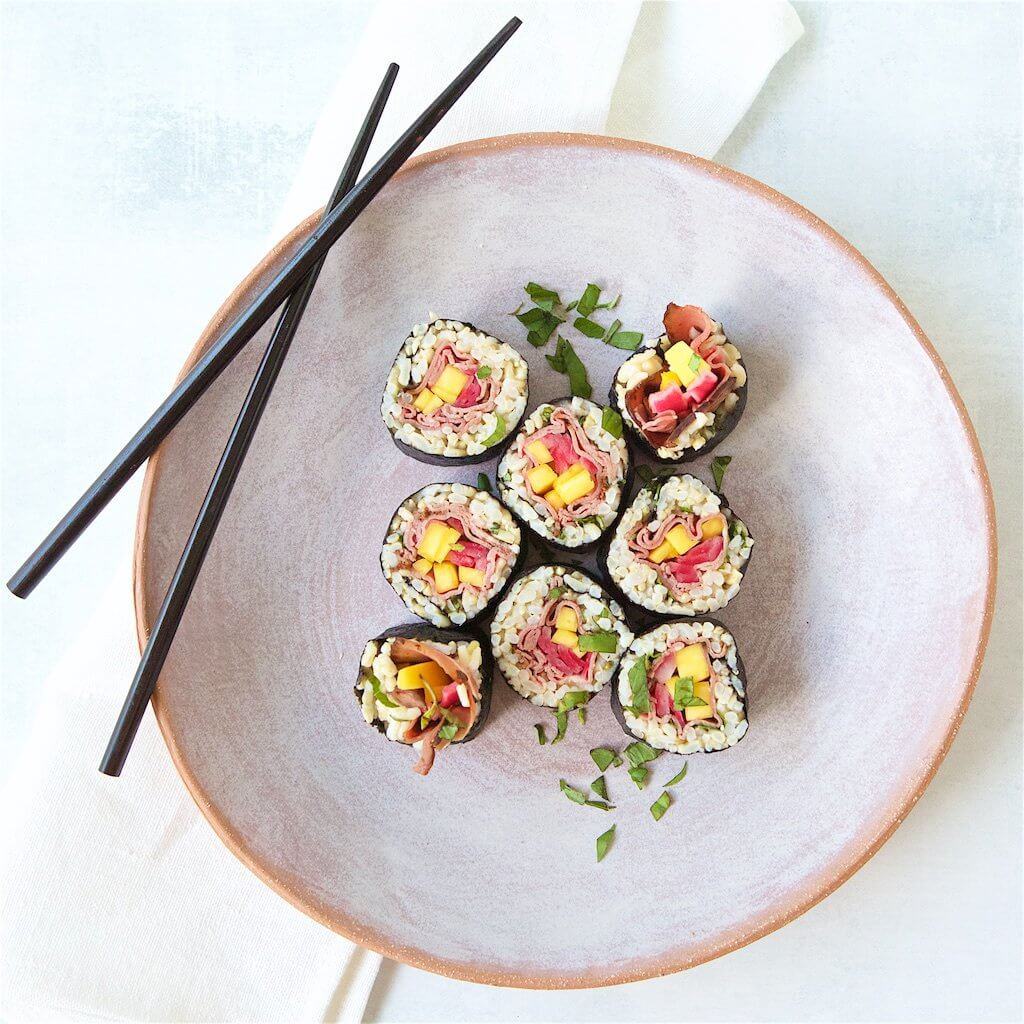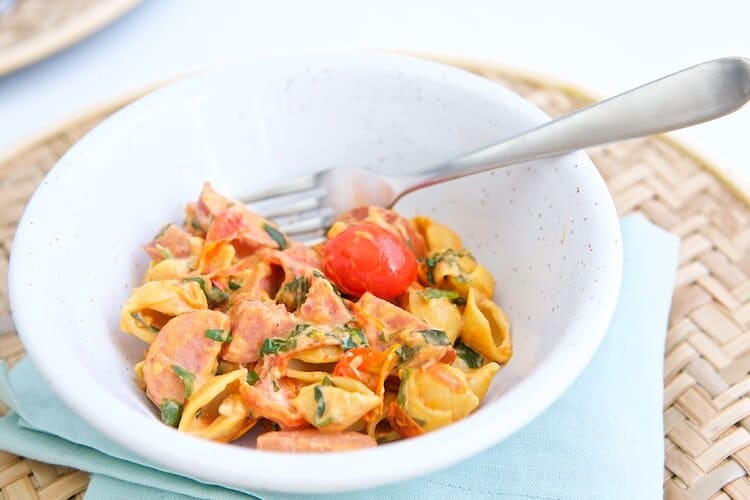 References
Dietary Guidelines Advisory Committee. 2020. Scientific Report of the 2020 Dietary Guidelines Advisory Committee: Advisory Report to the Secretary of Agriculture and the Secretary of Health and Human Services. U.S. Department of Agriculture, Agricultural Research Service, Washington, DC.