Beef Veggie Skillet is a plant forward way to enjoy beef in a quick recipe perfect for lunch or dinner. Plus, the benefits of beef for women.
This post is a collaboration with Beef. It's What's for Dinner. managed by NCBA, a contractor to the Beef Checkoff. I received compensation, but all opinions are my own.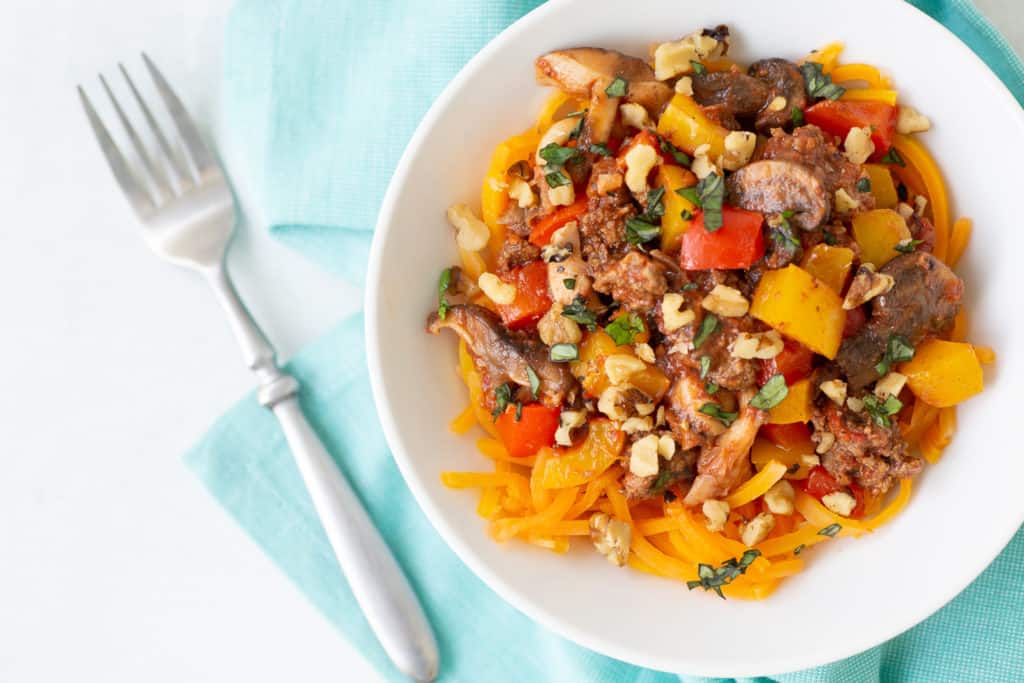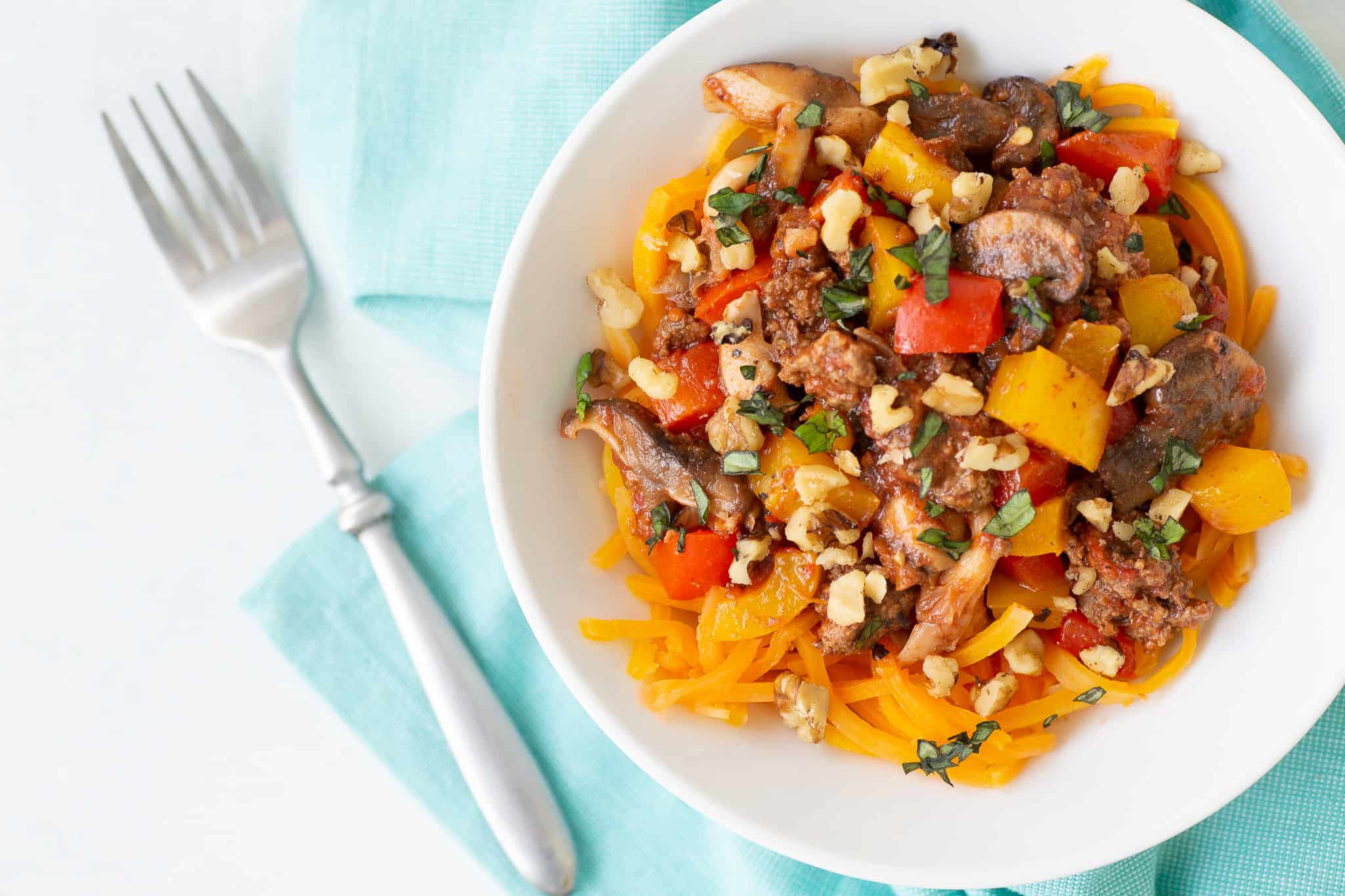 Beef seems to be on the healthy eating hot seat lately so let's talk about the potential benefits of beef for women in a healthy diet. I've also got a DELICIOUS ground beef recipe for you to help you incorporate beef into a plant forward eating style.
Can beef be included in a healthy diet?
The new dietary guidelines chose the tag line, Make Every Bite Count, and it's an excellent foundation for helping to answer the question "can beef be part of a healthy diet"? I don't mean to bring a heaviness on you to scrutinize every little morsel you put in your mouth, but rather offer you a framework for determining the best foods for your body.
Our body needs certain nutrients found in food to thrive, period. Foods that provide significant nutritional value in reasonable portion sizes are certainly making every bite count, in my opinion. This leads us to beef and the potential value it can bring to your body and overall diet.
Lean beef is a tremendous source of high-quality protein. A 3 oz cooked portion provides about 51% of the daily value for protein for a very reasonable amount of energy. Let me put that in perspective.
3 ounces of cooked, lean beef is about 25 grams of protein and 173 calories.
1 ¼ cups of tofu cubes is about 25 grams of protein and 236 calories.
1 2/3 cups of black beans gives you 25 grams of protein at 379 calories.
6 ½ tablespoons of peanut butter gives you around 25 grams of protein but at 613 calories.
Source from Beefitswhatsfordinner.com
From an efficiency standpoint alone, beef just makes sense for getting high-quality protein easily and for a reasonable portion size. Including beef in your diet along with other protein sources, like the ones listed above, can help you easily meet your protein needs. The Beef Veggie Skillet recipe is a great example of this.
The health benefits of beef go way beyond just protein. It is a source of essential nutrients for growth, development, and well-being such as iron, zinc, choline and B-vitamins. All of these nutrients, along with protein, can help support a strong, healthy body and really solidify that no other protein source delivers the same nutrient package as lean beef.
So yes, beef can be included in a healthy diet and can play an important role in you meeting your nutritional needs.
Is Beef a Healthy Choice for Women?
Over my career I've made the observation that beef is one of the main foods women purposely avoid in their diets. Women have shared many of their personal reasons for doing this, so let's look at why the avoidance of beef can be somewhat of a misguided tactic for many women.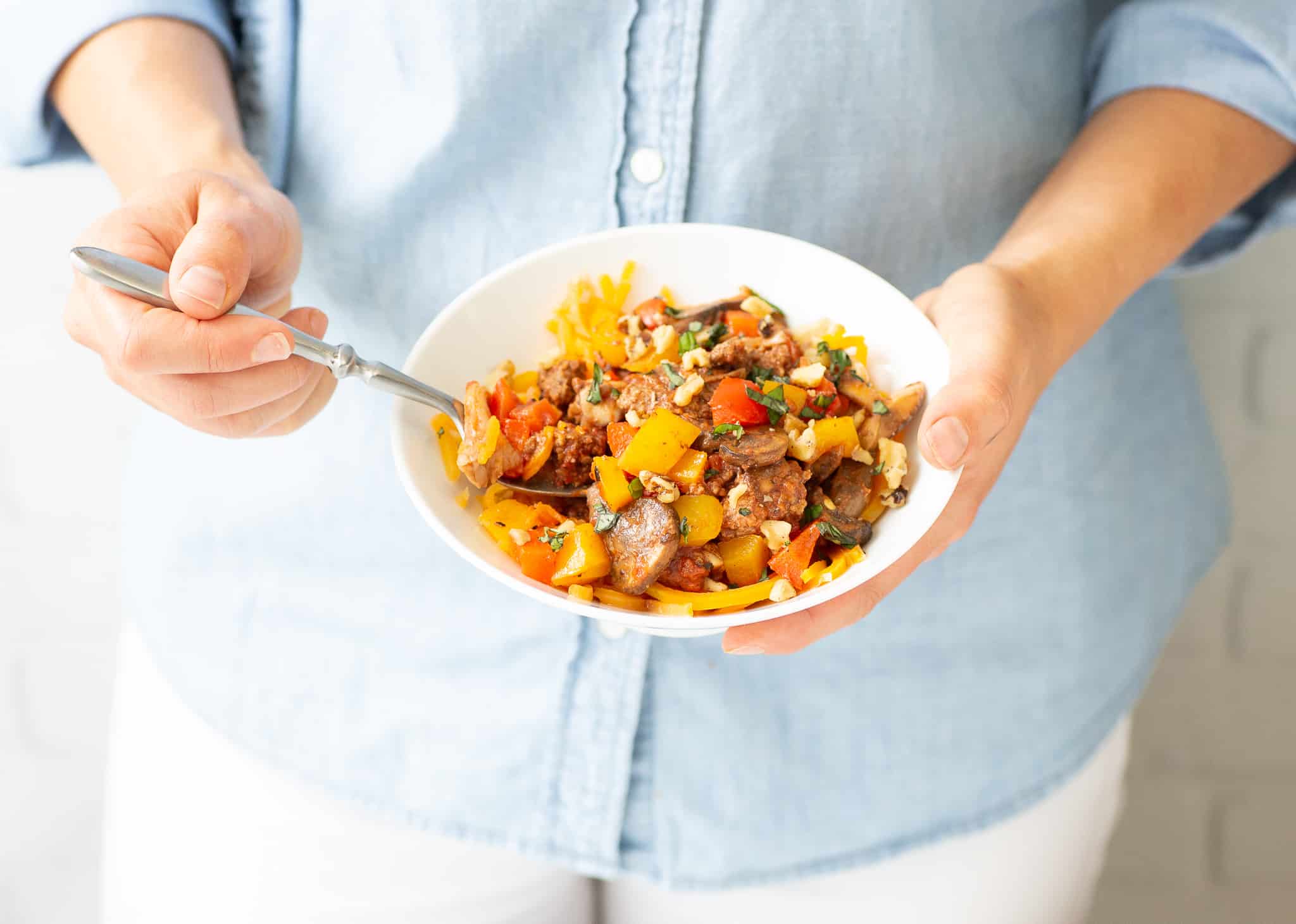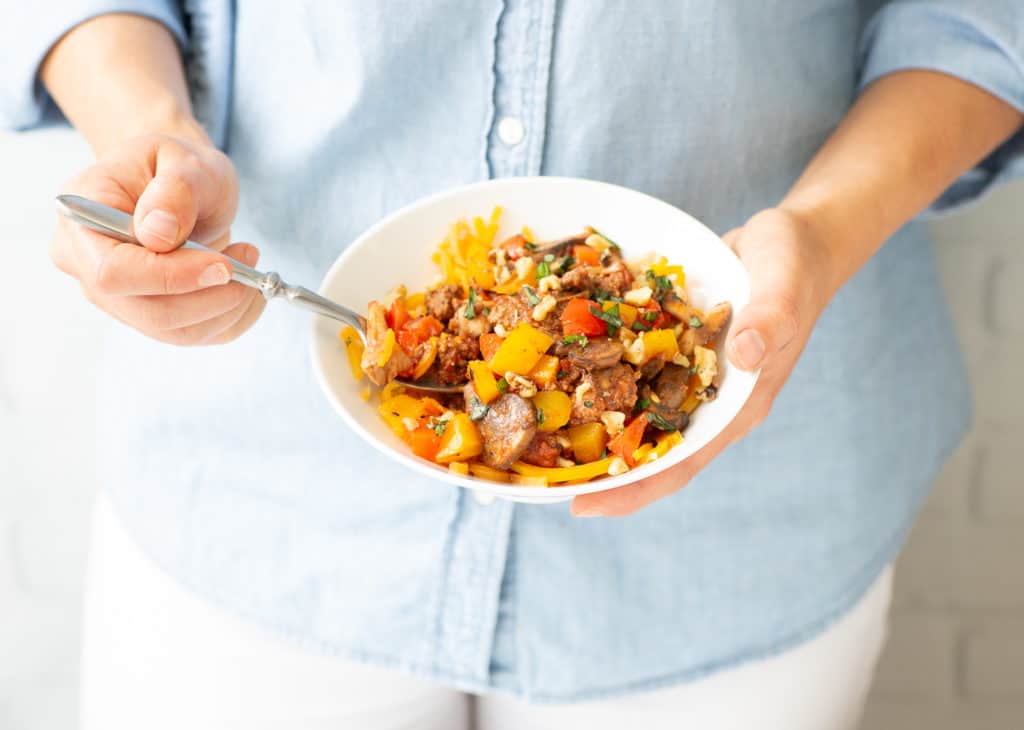 Women go through very unique life cycle stages. If you are a woman, you know what I mean. =)
As teenagers, our bodies COMPLETELY change and begin to menstruate. (Oh the stories we could share, right?!) At this time in our life, iron becomes very important for maintaining a strong body with good energy. For example, iron is essential in the structure and function of red blood cells which transport oxygen to all cells throughout our bodies, and during menstruation, our iron requirements increase given this blood loss. I've worked with many female, teenage athletes with low iron levels and it is very easily resolved by simply including a little lean beef in their weekly eating rhythm. It's so effective it's almost magic.
Later in life (sort of), we enter the ominous "child bearing" years. Basically, our bodies are capable of becoming pregnant, carrying a child for 9 or so months, and delivering a baby. It sounds so simple on paper, but having gone through this process twice, I can attest, it's no cakewalk for your body. This is the time in my life where I actually formed a very strong, positive enjoyment of lean beef. For the first time in my life I experienced iron deficiency and subsequently easily fatigued and felt very low on energy. By enjoying beef once a week during my pregnancy, I immediately felt an improvement in my energy level and visibly saw the improvement in my iron levels.
In addition to iron, the choline and zinc found in beef are crucial nutrients for fetal development. Maternal choline intake has been found to have a significant impact on their baby's brain and neural system. Choline is not found in massive amounts in any food so the fact that 3 oz of cooked lean beef provides 13% of the daily value is significant. Zinc is also imperative for proper growth and strong neurons in the brain and a serving of beef provides about 39% of the daily value.
As women age, once again our bodies go through major changes. Maintaining muscle on our bodies is really important for healthy aging because it helps protect against injury and bone disease. With age, however, it becomes more difficult to build muscle. Research suggests that protein needs actually increase as we age because of this. (Berrazaga) Leaning on beef as a source of protein during this stage of life provides high-quality protein, in a sensible serving size.
In addition, a study by Bradlee et al found that higher intakes of proteins (red meat, poultry, fish, dairy, and soy, nuts, seeds and legumes) were associated with a higher percentage of skeletal muscle over 9 years, particularly among women. Beef in the context of other animal and plant sources of protein can help women maintain muscle mass as they age.
To break this down to a very practical, everyday application, let me put it this way. Many women have asked me if they need a protein supplement (you can read more about that in this post on Best Protein Powders for Women). Perhaps a much more practical, affordable, natural, and heck "cleaner" (or food-forward) way to get more protein is by simply enjoying beef every once in a while.
Beef in a plant forward diet
Now let's talk about plant-based eating and beef. Can these two things actually coexist in the same sentence, much less our eating?? The answer is yes, absolutely yes and I created the Beef Veggie Skillet recipe to prove it.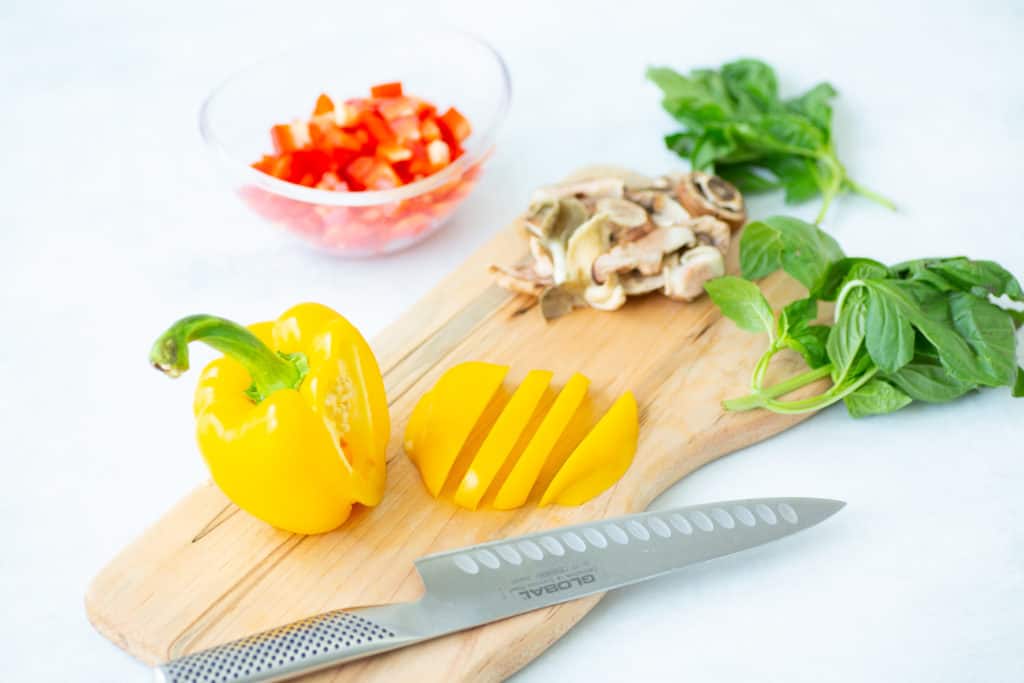 Personal Preference - I've worked with enough people from different walks of life to know that different people have an innate preference toward different styles of eating. Nothing is broken on one person and right on another person. Preferences are formed from a combination of traits, life experiences and personality. Some people simply prefer animal-sourced foods. They enjoy them and eating them brings them joy. This is important to me and I believe people should honor their food preferences and strive for vitality when building their plates.
Flavor and Satisfaction - For many people, animal-sourced foods bring flavor and satisfaction to their meals. It can be both a pleasurable and healthy meal experience! In the Beef Veggie Skillet recipe below, the ground beef brings an umami flavor that is so satisfying to this primarily plant-based dish. Without it, I personally would not feel as satisfied with the meal. #trueconfessions
Animal Proteins are Easy - Recently I talked with a friend who is about 80% plant-based in her eating. She decided to add in some animal proteins because in her words "it's just easier" to get the protein she needs as an active woman. Yes, you can get all the protein you need from plants, but it can be more laborious and definitely takes a lot more thought. You also may need to eat a larger quantity of plant protein to meet your needs, particularly if you are very active. (Berrazaga) Why not simply include some animal protein to easily reach your protein requirements, feel more satisfied and make life simpler?
Plants + Beef = Health - My primary encouragement to you is to absolutely work on eating more plants, but you don't have to give up animal foods in the process. Listen to YOUR body and honor who you are. Plant and animal protein can blend together beautifully to create a way of eating that is both healthy and delicious.
Research has concluded this as well like in the groundbreaking 2012 BOLD study that showed a diet low in overall saturated fat (we could call this a "plant based" eating style in my opinion) that also contained lean beef DAILY still showed improvement in heart health markers. (Rousell) A 2020 study conducted on both men and women at risk for type 2 diabetes by Maki et al. concluded that replacing carbohydrates in the diet with lean beef had either no effect on heart disease risk or shifted LDL cholesterol towards a more positive result.
Recipe Tips
To really hit this idea home, I've created an incredible healthy ground beef recipe that is a perfect meal for lunches during a busy work week, a family meal, or to meal prep ahead. This is relatively easy and quick to whip up for lunch when working from home. It also reheats beautifully making it perfect as a meal prep idea.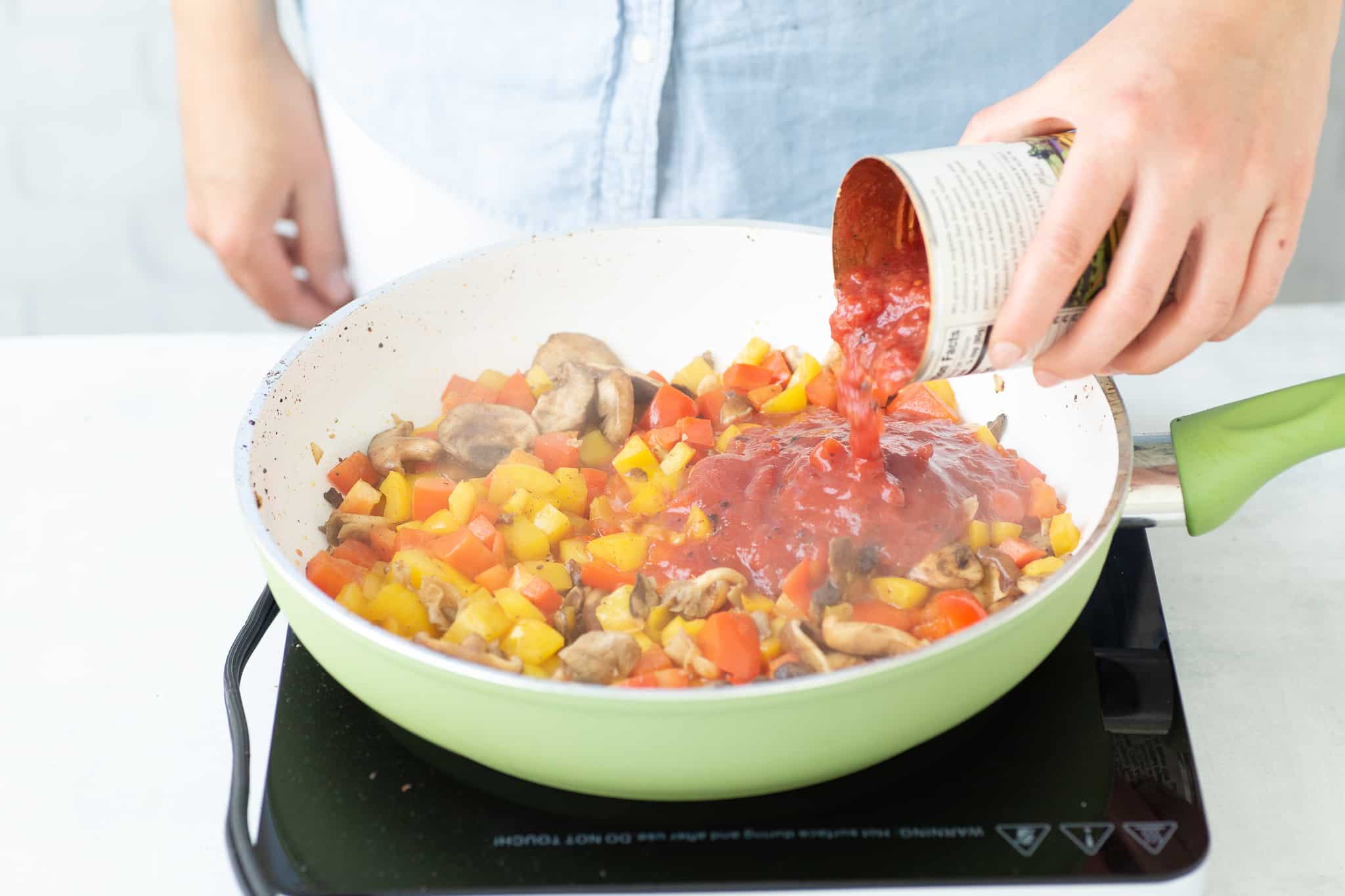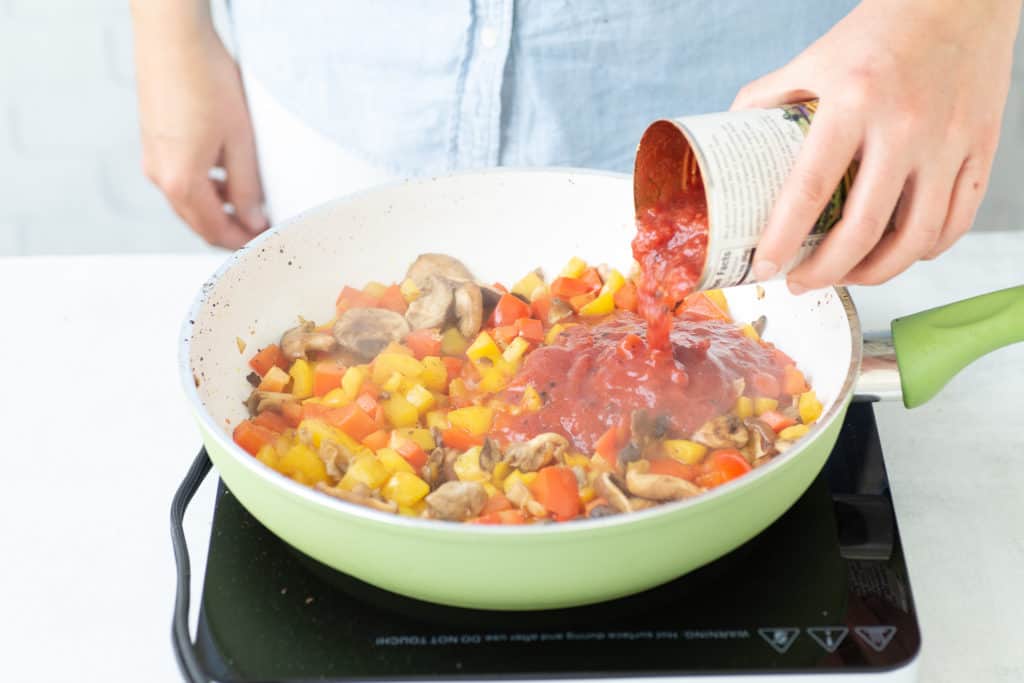 This recipe is topped off with chopped walnuts and grated parmesan cheese. Neither is mandatory to be delicious, but it definitely takes it over the top with more flavor and textures. You can serve this over your choice of ideas: any vegetable noodle (fresh or frozen), spaghetti squash (I love the frozen option), high protein pasta made from beans, regular pasta, bread slices, or anything that suits your fancy! I even ate just the sauce by itself and it was a super satisfying meal.
Print
Recipe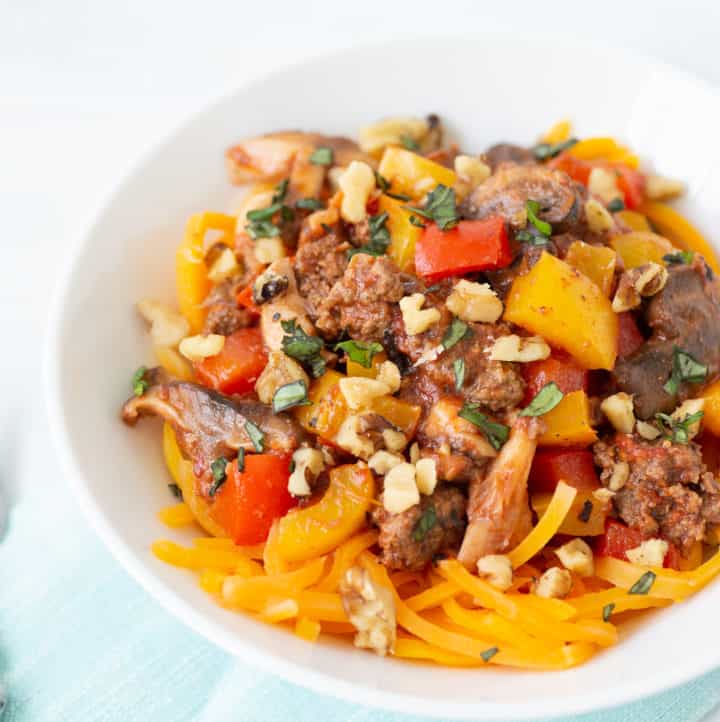 Beef Veggie Skillet
---
Total Time:

25 minutes

Yield:

4

1

x
Description
A plant forward, delicious way to enjoy beef in a quick and easy recipe perfect for lunch or dinner.
---
1

pound

lean ground beef

2

garlic cloves minced

8

oz

mushrooms ((recommend a variety containing portobello and shiitake))

1

large yellow pepper, (diced)

1

large red pepper, (diced)
1

14.5

ounce

can fired roasted crushed tomatoes

1 teaspoon

Kosher salt

½

teaspoon fresh ground black pepper

1

-

2

pinches red pepper flakes ((more if desired))
2

10

ounce

bags frozen spiralized vegetables or spaghetti squash ((butternut squash or zucchini work well))

½

cup

chopped walnuts ((optional))
grated Parmesan cheese ((optional))
---
Instructions
Pre-heat Heat a medium skillet over medium heat.
Brown beef Add the beef and cook thoroughly, breaking it up into crumbles with a spoon or spatula as you go. Remove cooked beef from the pan and set aside on a plate or bowl. *Ground Beef should be cooked to an internal temperature of 160F.
Vegetables If there is a significant amount of grease in the pan, carefully wipe some out with a paper towel. Leave a small amount to saute the vegetables in. Add the garlic to the hot skillet and saute for 1 minute, until fragrant. Add the mushrooms and peppers and cook, stirring frequently for about 3-4 minutes until crisp tender. 
Tomatoes Pour in the can of crushed tomatoes and season with the salt and pepper. Stir and bring to a gentle boil. Then reduce heat and simmer sauce for 3-5 minutes. 
Defrost vegetables Meanwhile, heat frozen vegetables according to package directions. 
Fold Turn off the heat under the skillet and fold in cooked beef crumbles, basil, and red pepper flakes. Season more if desired. 
Plate Layer hot spiralized vegetables into 4 large bowls. Top with a fourth of the tomato beef mixture. Sprinkle each with 2 tablespoons of walnuts and parmesan cheese if using. Enjoy!
Prep Time:

5 minutes

Cook Time:

20 minutes

Category:

Entree, Gluten Free, Skillet Meal

Cuisine:

Gluten Free
Keywords: healthy ground beef recipe
References
Berrazaga I, Micard V, Guegneau M, Walrand S. The Role of the Anabolic Properties of Plant-versus Animal-Based Protein Sources in Supporting Muscle Mass Maintenance: A Critical Review. Nutrients. 2019. 11:1825.
Bradlee ML. Mustafa J, Singer M, Moore L. High-Protein Foods and Physical Activity Protect Against Age-Related Muscle Loss and Functional Decline. J Gerontol A Bio Med Sci. 2017. 11:1-7.
Rousell M et al. Beef in an Optimal Lean Diet Study: effects on lipids, lipoprotein and apolipoproteins. Am J Clin Nutr. 2012; 95:9-16.
Maki K et al. Substituting lean beef for carbohydrate in a healthy dietary pattern does not adversely affect the cardiometabolic risk factor profile in men and women at risk for type 2 diabetes. J Nut. 2020. Available at: https://doi.org/10.1093/jn/nxaa116