Creamy Tomato Kielbasa Pasta is a quick and balanced dinner recipe perfect for busy weeknights. This could become your family's next favorite meal.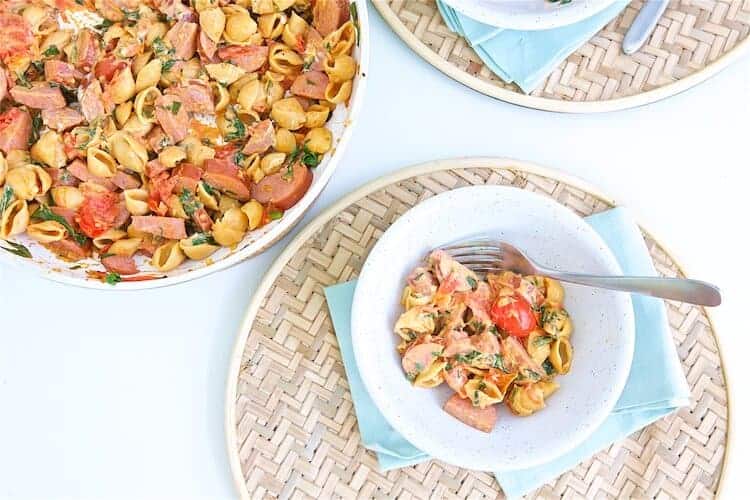 I often get asked by friends and clients about how my family eats. While I believe we walk the walk here at home, it's not without your run-of-the-mill, everyday struggles that everyone else has. Truthfully, I struggle with finding healthy AND delicious dinner ideas that my family actually really enjoys. Sure, they will eat a lot of things I prepare with good attitudes, but it is rare that I hit a dinner home run that includes a lot of vegetables. Many nights, I am totally pumped about what we are eating (think almost like this dinner scene in What About Bob?), but my guys, just aren't there with me, which is awkward.
When I do find a recipe that is truly loved by my family, it's like hitting the jackpot and it earns the very coveted honor of: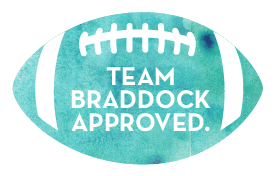 So if you see this logo in a recipe, you know it's good and Team Braddock is very happy.
Today, I am quite proud to offer you another Team Braddock Approved recipe, Creamy Tomato Kielbasa Pasta. (I wish you could see my bowed chest as I type this.) I've been making a version of this pasta for a couple of years and recently perfected it. My guys loved it and now I have another official entry in my "Go-To Recipe" arsenal.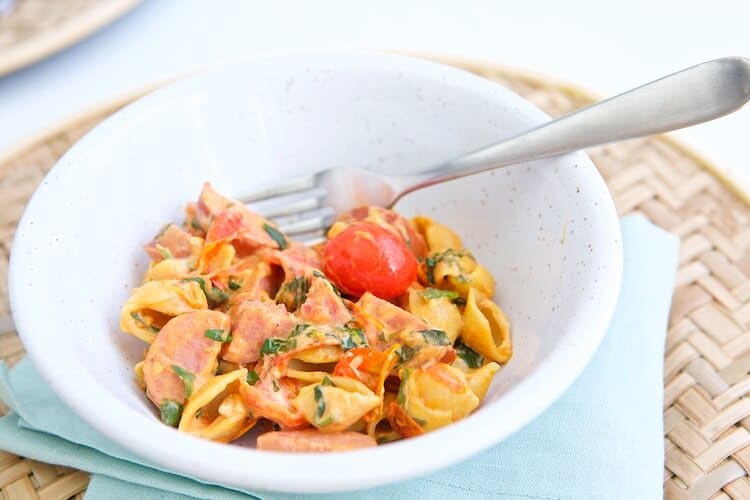 What Makes This Recipe a Winner
This recipe is pretty magical and here's why.
First, it uses a lot of veggies - tomatoes, garlic, spinach, and basil - but in a rather disguised way since the tomatoes turn into the sauce and spinach cooks down so significantly. Plus, you can add even more if you want! The last time I made this I added chopped zucchini too.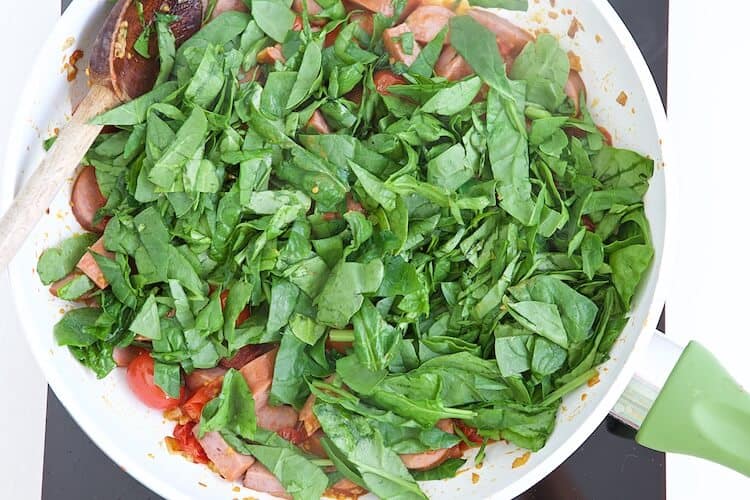 Second, you achieve a wonderful creamy sauce from 2 simple ingredients: juicy cooked tomatoes and a small amount of goat cheese. That's it! No butter or heavy cream needed.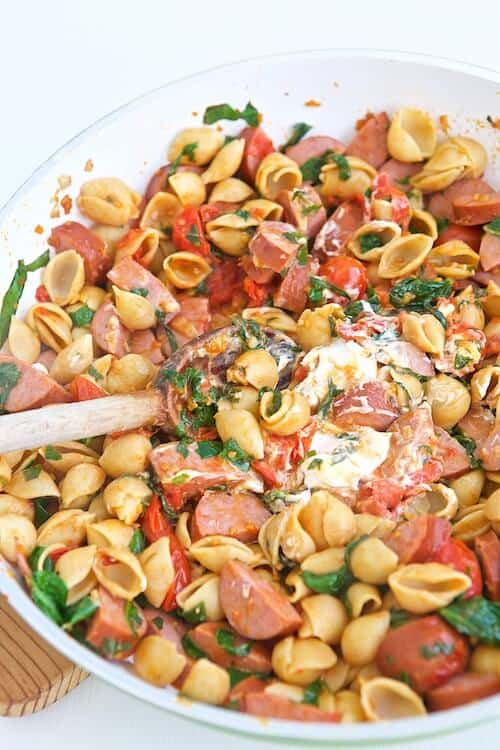 Third, you can use a high protein/high fiber pasta to make this meal really filling and more nutrient dense.
Lastly, I use beef kielbasa as the big ticket flavor item and it magically distracts my boys from noticing the 3 things listed above. "Is that kielbasa??!!!" Poof, the vegetables basically disappear.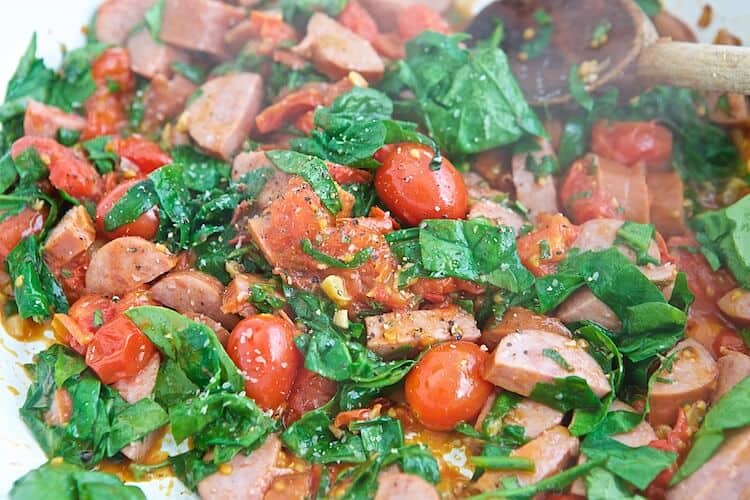 Why Kielbasa?
Kielbasa is a processed meat, but truly that word has been so abused by media. Processed simply means "prepared" and all meat has to be processed in one shape or form before you buy it. Ultimately, the process of making kielbasa involves grinding, seasoning and cooking. These are all things you would have to do at home to make a similar product, just on a smaller scale. Plus, it's a convenient and easy source of protein, vitamins, and minerals. So I personally am not afraid of "processed" meats and use them mindfully in my cooking. (Again, the whole vegetable disappearing act has made me a fan for life.)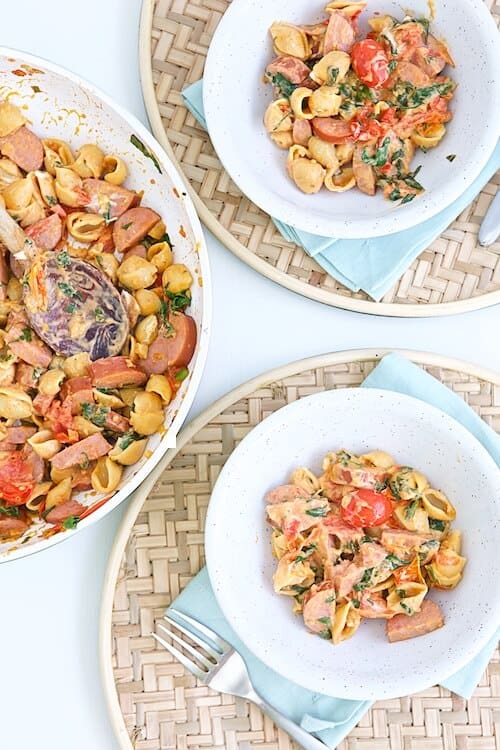 As an added bonus to an already delicious recipe, this cooks up pretty quickly. You can cut the time down even more by slicing the cherry tomatoes in half before cooking. It also reheats beautifully so this is a meal you can make ahead and heat back up at dinner time.
If you happen to live with a "tough crowd" as far as vegetables are concerned, please give this recipe a try. I hope it's a home run for you too, both in deliciousness and for healthy eating. Enjoy!
Print
Recipe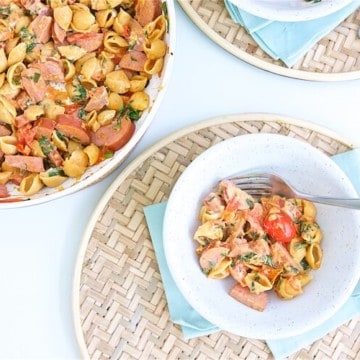 Creamy Tomato Kielbasa Pasta Recipe
---
Author:

Total Time:

26 minutes

Yield:

4

-6

1

x
Description
Creamy Tomato Kielbasa Pasta is a quick and balanced dinner recipe perfect for busy weeknights. This could become your family's next favorite meal.
---
½

box high protein* pasta shells

2 teaspoons

Extra virgin olive oil

4

garlic cloves (finely chopped)

1

pint

of cherry tomatoes (or 6 plum tomatoes, diced)

1

beef kielbasa (cut in half moon shapes)

¼

cup

chiffonade fresh basil

3

cups

of fresh spinach (chiffonade)
Optional:

1

cup

matchstick or shredded carrots

2

oz

fresh goat cheese
Pinch of salt

½ teaspoon

fresh (ground pepper)
---
Instructions
Preheat a large skillet over medium heat.
Cook pasta according to directions on box. Drain pasta, but reserve 1 cup of liquid to use in the sauce if needed. Set cooked pasta aside.
Add oil and garlic to preheated skillet and cook for 30 seconds.
Add all tomatoes, stirring to combine. Turn the heat up one notch. Continue cooking tomatoes until very soft and juices are released, about 10 minutes. If cherry tomatoes do not burst on their own, press on them gently with a cooking spoon.
Add in kielbasa.
Reduce heat to medium low. Fold in basil and spinach, stirring until wilted. (*If including matchstick or shredded carrots, add here as well.)
Add in goat cheese and stir until it is melted and incorporated throughout.
Fold in cooked pasta and coat the pasta in the sauce. Season with salt and pepper as desired.
If the sauce becomes too thick, add pasta water, 1 tablespoon at a time until desired thinness is achieved.
Serve warm.
Prep Time:

6 minutes

Cook Time:

20 minutes

Category:

Skillet Meal

Cuisine:

American
Nutrition
Calories:

597

Sugar:

8

Sodium:

873

Fat:

31

Saturated Fat:

11

Carbohydrates:

56

Fiber:

5

Protein:

25

Cholesterol:

66
Keywords: goat cheese, healthy pasta, kielbasa, pasta, tomatoes