Grapes and cheese are the perfect appetizer for any occasion, no matter the time of year. Here are three cheese platter ideas to meet any need or level of sophistication.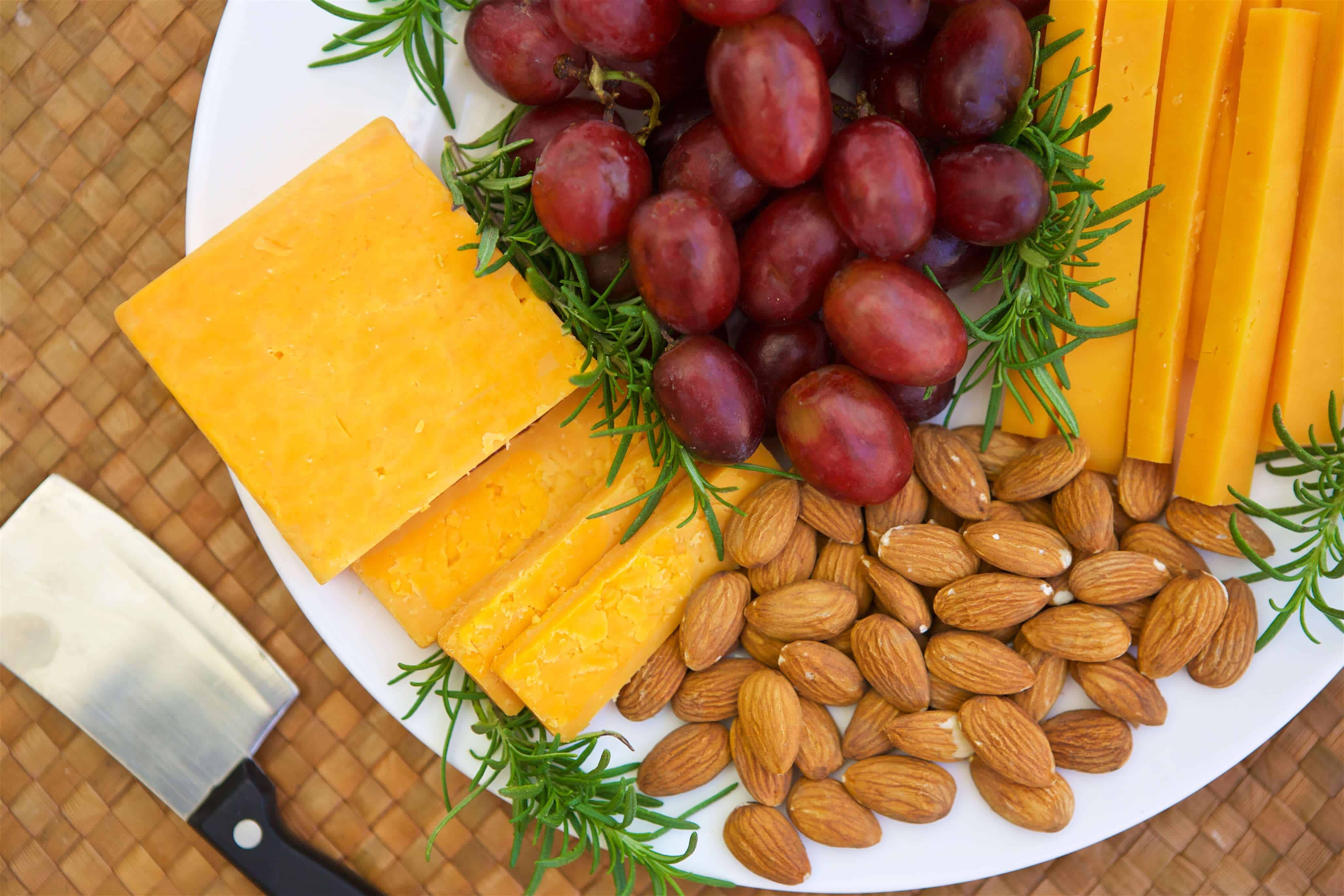 This post is sponsored by the California Table Grape Commission. All opinions are my own.
The holidays are upon us and that usually means holiday parties are happening a lot.
Don't get me wrong, I love parties, especially holiday parties. But in most cases, one of two things can happen. 1) You go to enough parties that you have the opportunity to eat like a king more than what's probably healthy for you to do OR 2) You are going crazy because at each event, you are trying to bring something delicious, festive and maybe a little healthy.
I have certainly found myself in both of these places. Since I love parties, I never want to say no. However, doing so can bring on unneeded stress through too many opportunities to be overindulged or just be overcommitted. Every year I want it to be different and this year I have ideas to make it happen!
Grapes and Cheese to the Rescue
This summer I shared how grapes from California were making summer get-togethers so much easier and now it's time to put them to work for the holidays! Our family loves grapes and I am so glad!
Recently I let my 2 boys pick out their favorite color of grapes and discovered that my youngest prefers red grapes while my oldest prefers green. Very interesting! It's a good thing all colors of California grapes are available from May - January because it makes it easy to get everyone the color they prefer. In fact, 99% of the grapes grown in the US are from California and it's definitely what I look for when purchasing grapes for my family.
When it comes to the holidays, grapes are a perfect, festive choice for any type of gathering. Grape appetizers are a beautiful addition to any holiday spread. They are also a healthy food that is good for your body as a natural source of antioxidants and other polyphenols. Perhaps you like a fancier feel than the casual summer events you hopefully enjoyed. No problem when you pair beautiful grapes with delicious cheeses for a drool-worthy appetizer plate.
Types of Grapes
Grapes come in three color categories: red, green and black, but did you know there are actually over 85 varieties of table grapes grown in California?  Each has its own unique flavor, so get adventurous this holiday season and try one of the many types of grapes paired with a unique cheese.
How to Pair Grapes & Cheese
I recently met a new friend who is a certified cheese professional, and I enlisted her help on gathering recommendations of the best cheeses to pair with the different colors of grapes. This guide should help us all put together a killer holiday grape and cheese plate for any occasion.
To make it easy to remember, we paired red and black grapes with red and blue cheeses. From a flavor perspective, rich cheeses that contain tiny crystals compliment the flavor of red and black grapes. Green grapes tend to pair well with creamy cheese.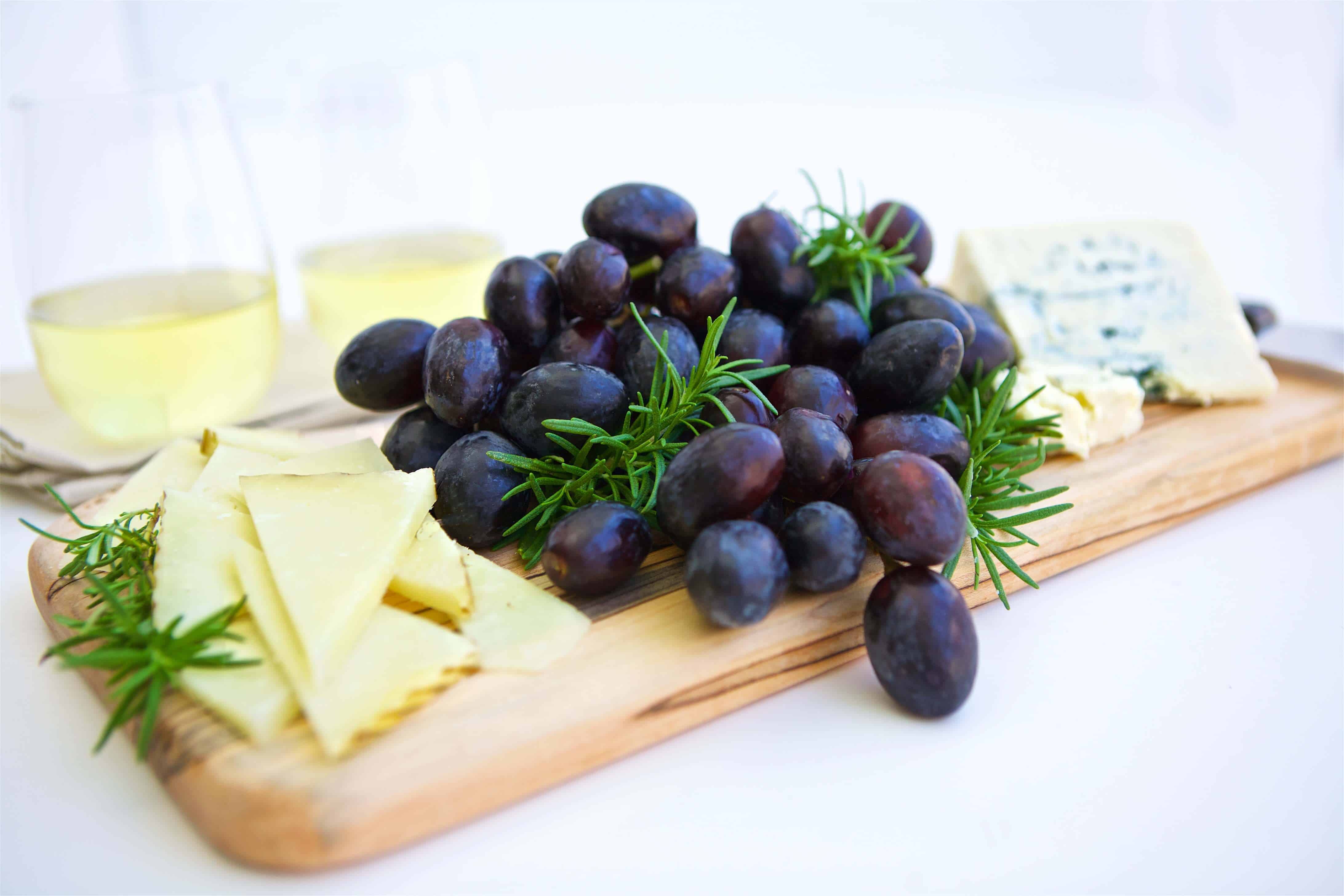 Grape Color: Black
Cheese Category

: Blue Cheese

Domestic Option

: Point Reyes Blue (California)

Imported Option

: Saint Agur (France)

Adventurous Option

: Manchego

Grape Color: Red
Cheese Category

: Red (orange) Cheddar

Domestic Option

: Hoop Cheddar (The South, USA)

Imported Option

: Red Fox (UK)

Adventurous Option

: Maple Leaf Red Wax Gouda, or for a "stinky" option, try Red Hawk

Grape Color: Green
Cheese Category

: Green Hill Camembert

Domestic Option

: Sweet Grass Dairy (Georgia)

Imported Option

: Saint Andre Triple Cream Brie

Adventurous Option

: Humboldt Fog Goat cheese (California)
Tips for Buying Cheese
All of these cheeses are pretty easy to find at any grocery store or fine food market that has a cheese department. Don't be afraid to ask a store employee for a particular type of cheese to see if they can get it in. Most of the time, it's not a problem.
Many stores with cheese counters allow you to sample a cheese before you buy it. So if you are nervous about blindly trying one of these recommendations, see if you can taste it in-store first. Most of these cheeses are pretty user friendly so I wouldn't be too worried.
Enjoy the Season
Now that you have an easy, but still festive, holiday entertaining idea, are you a little more excited for the holiday season? I sure hope so. While this doesn't solve all the problems related to being busy, it can help take some of the stress out.
I really encourage you to approach this season with mindfulness and intention. It's OK to say no to things if it just doesn't feel right. Take every opportunity to enjoy the ones you love and be present with them. And while you're at it, munch on some California grapes and cheese. 😉
For more easy appetizers, try this Ginger Butternut Squash Bread with Balsamic Vinegar or Cabernet Berry Compote.
Tis the season,