This post is sponsored by ALDI but all thoughts and opinions are my own.
The Super Bowl is coming up and no matter where you watch the big game with your fellow football fans, your food situation needs to be epic with the best Super Bowl snacks. Check out these make ahead finger foods for super bowl Sunday featuring game-day essentials from ALDI.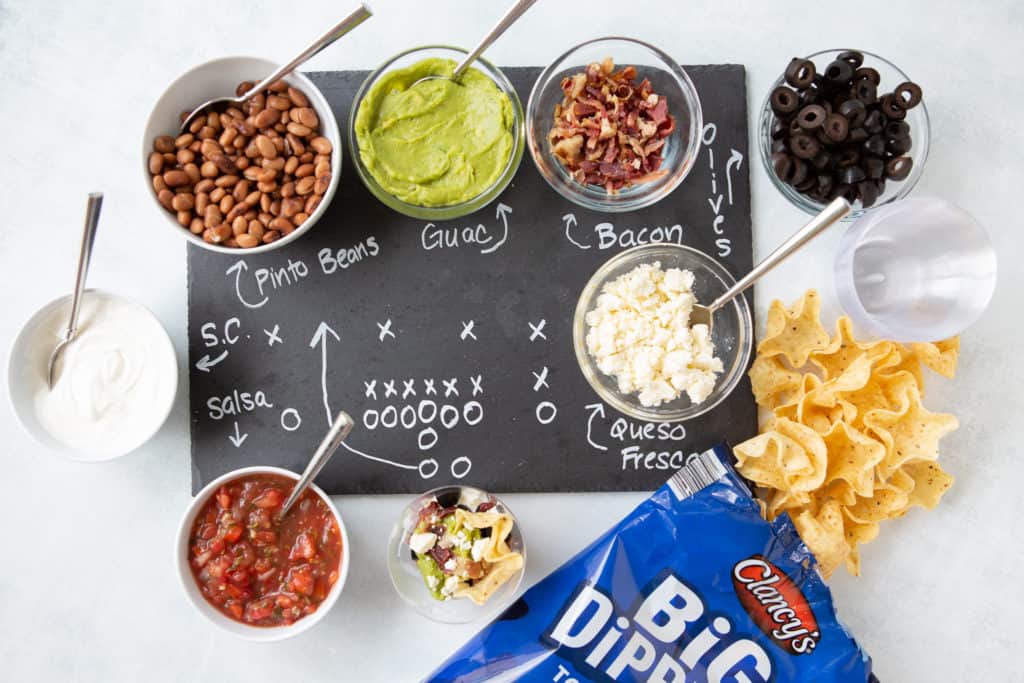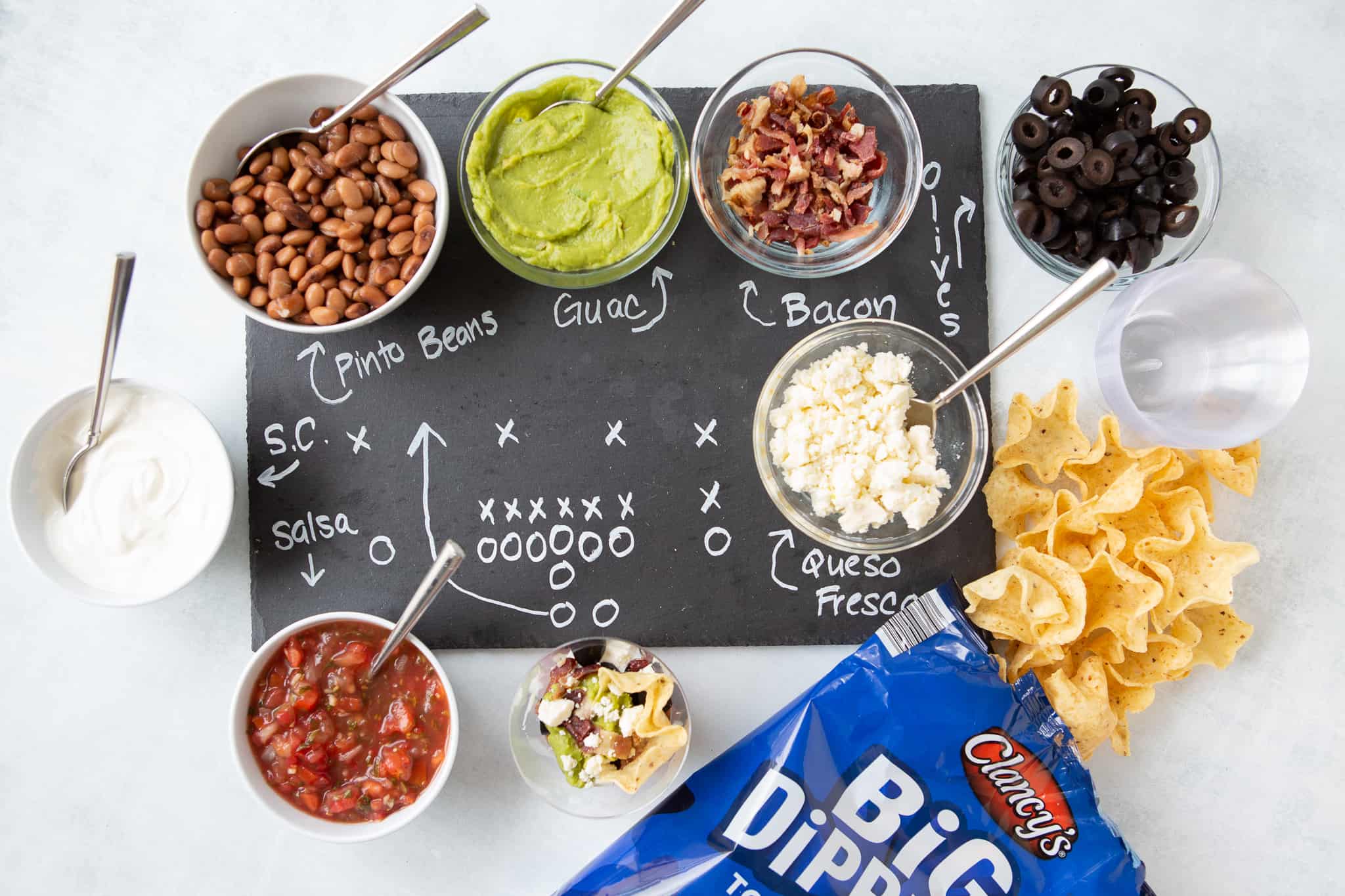 I have never been more ready for the Big Game day. This is partly due to my older son being obsessed with NFL football (and therefore I know EXACTLY what was going on throughout the playoffs) and also thanks to a partnership with ALDI to create fun game day appetizers.
Make ahead easy snack recipes are like gold because who wants to be stuck in the kitchen when the Super Bowl starts? The best part of all of these recipes is that they have elements that can be prepped a day ahead and make pre-game assembly a breeze.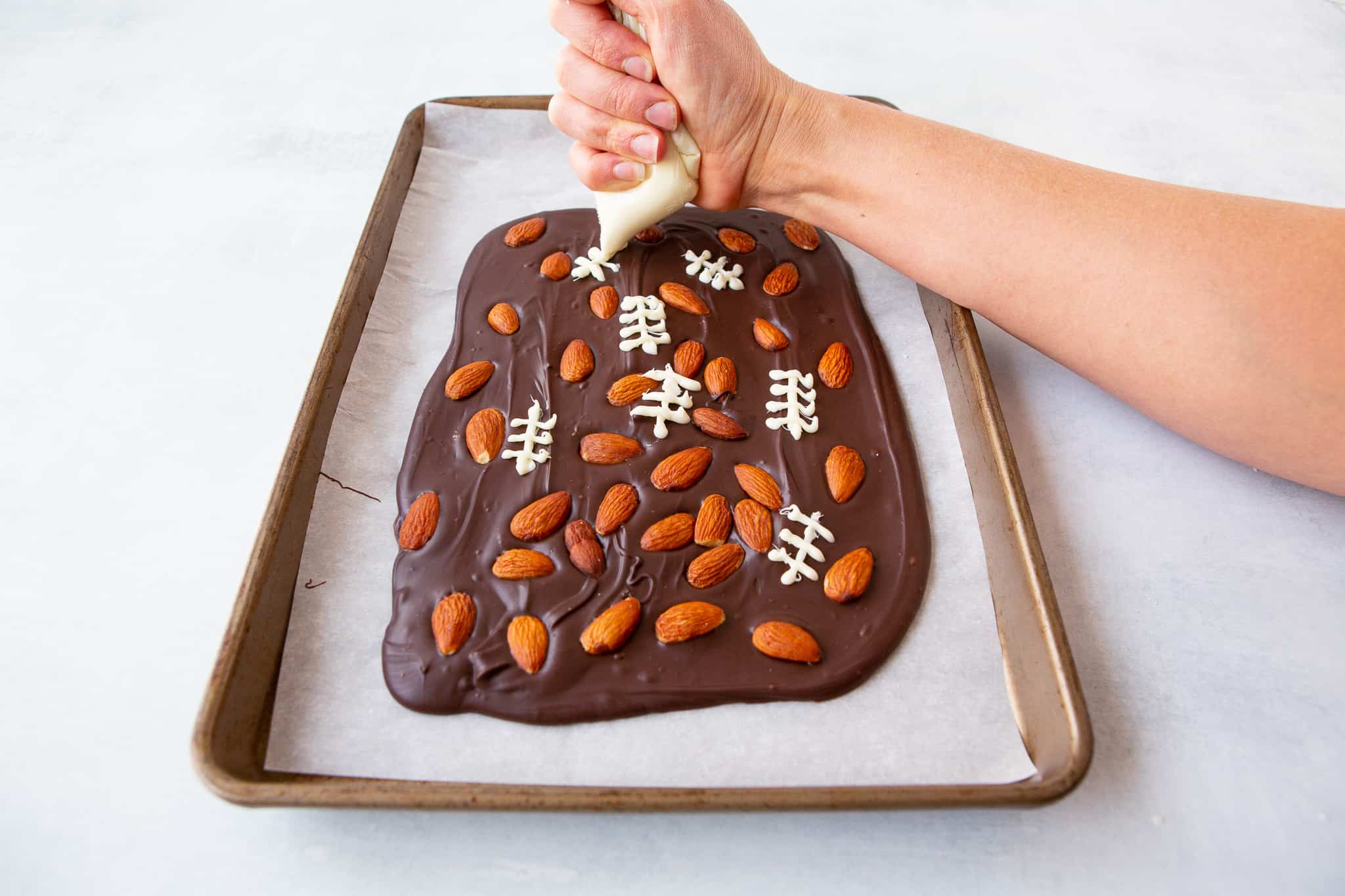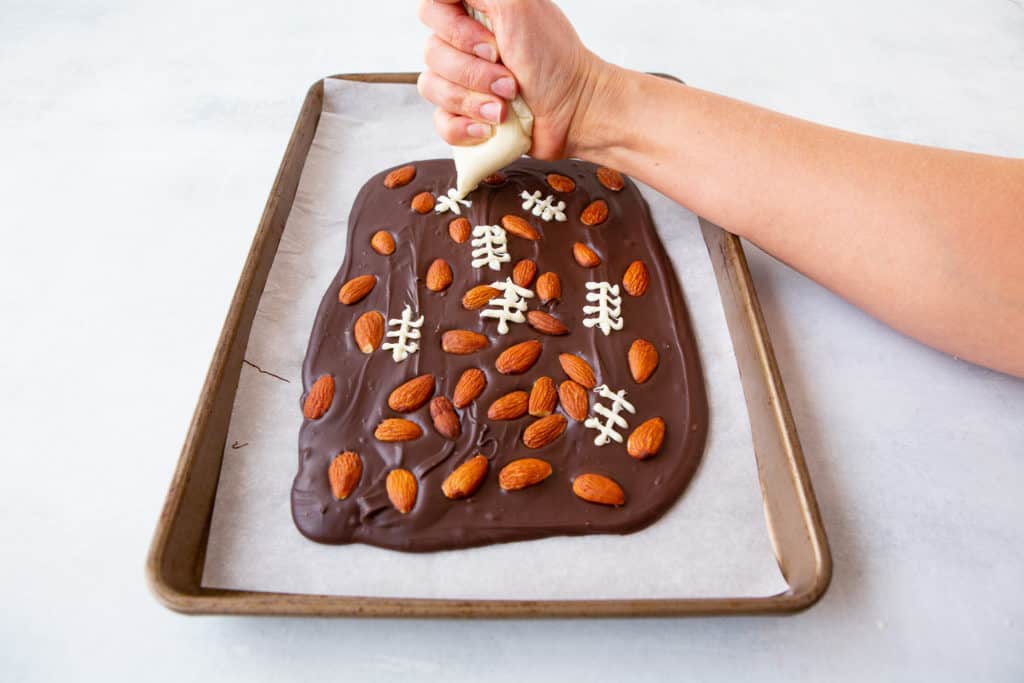 Why I Shop at ALDI
I have been an ALDI fan for a long time now because you can get premium products at an affordable price. ALDI enables me to stretch my budget (and shop safely) and enjoy the food we love. I'm not joking when I say that ALDI changed my life when it comes to being able to afford all the food I want me and my family to eat. You can read more about my love of ALDI, and my favorite products, in my ALDI Archive here on Make Healthy Easy.
My first stop is always ALDI and it was a lot of fun to turn some of our favorite super bowl appetizers from this past fall into formal recipes that are perfect make-ahead appetizers. Let's get started with the Super Bowl recipes!
Build Your Own Layer Dip
Party dips are always a hit at any super bowl party, but I've noticed it's hard to find a one size fits all recipe. Someone doesn't like olives or green onions or sour cream... It's hard to please everyone so why not just let everyone make their own!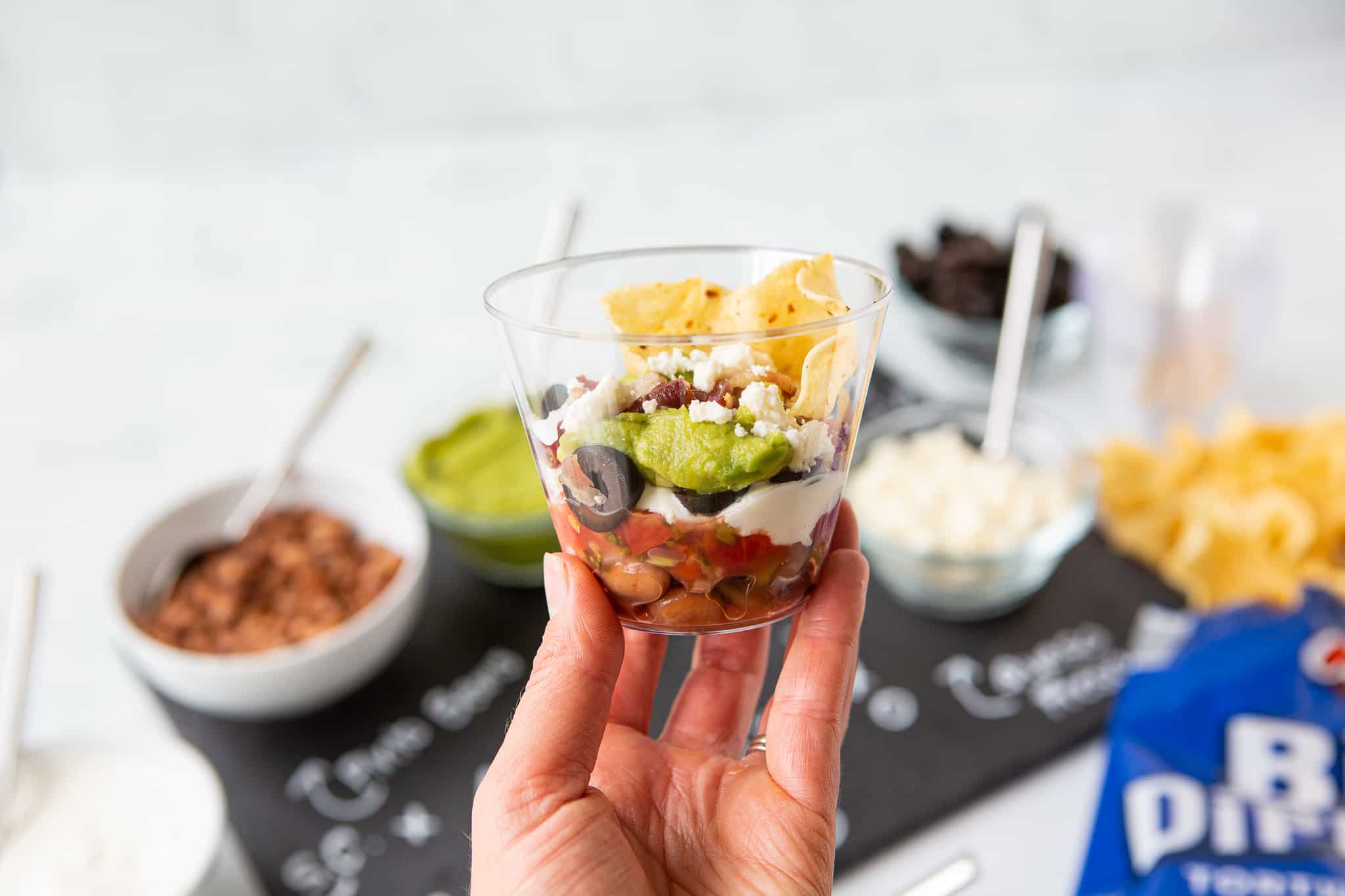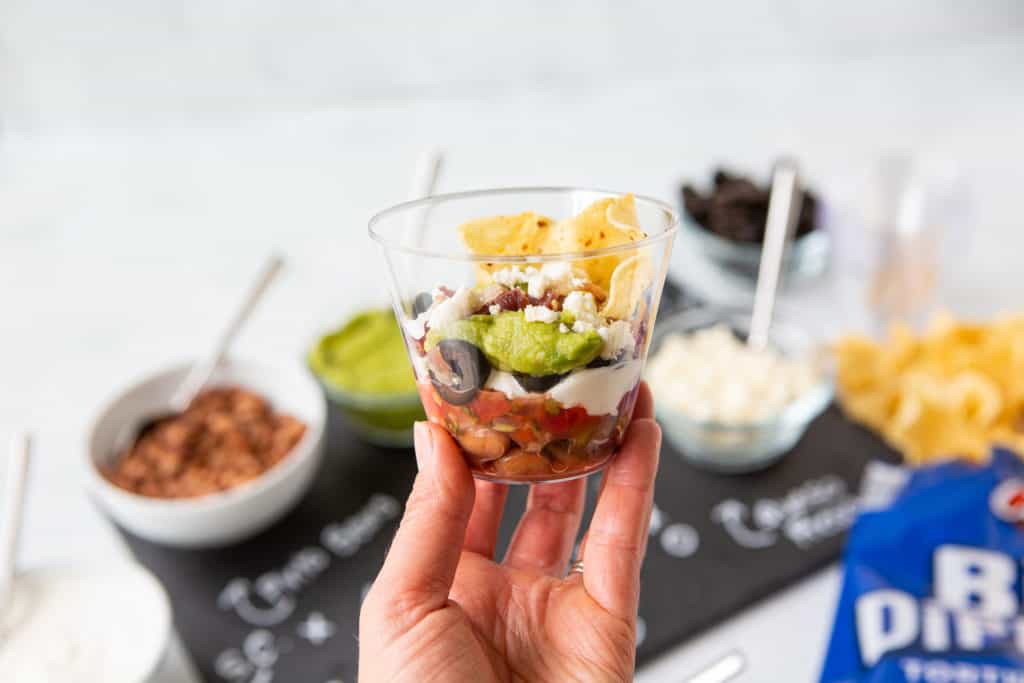 Flavorful dip is obviously one of those great Super Bowl make-ahead easy appetizer recipes and this version is no different. You can prep all the ingredients for this delicious dip ahead of time and set out when your party gets rolling.
To execute this layer dip game plan, simply make available many different options for layers. Here are some ideas:
Simply Nature Pinto or Black Beans
Casa Mamita Refried Beans
Appleton Farms Thick Sliced Bacon
Bulk Mild Italian Sausage
Crumbled or Shredded Cheeses (like cheddar cheese)
Simply Nature Organic Thick & Chunky Medium Salsa Park Street Deli Fresh Guacamole (assorted flavors)
Friendly Farms Sour Cream
Specially Selected Kalamata Olives
Tuscan Garden Canned Banana Peppers
Tuscan Garden Jalapeno Peppers (for a spicy kick)
Fresh Pineapple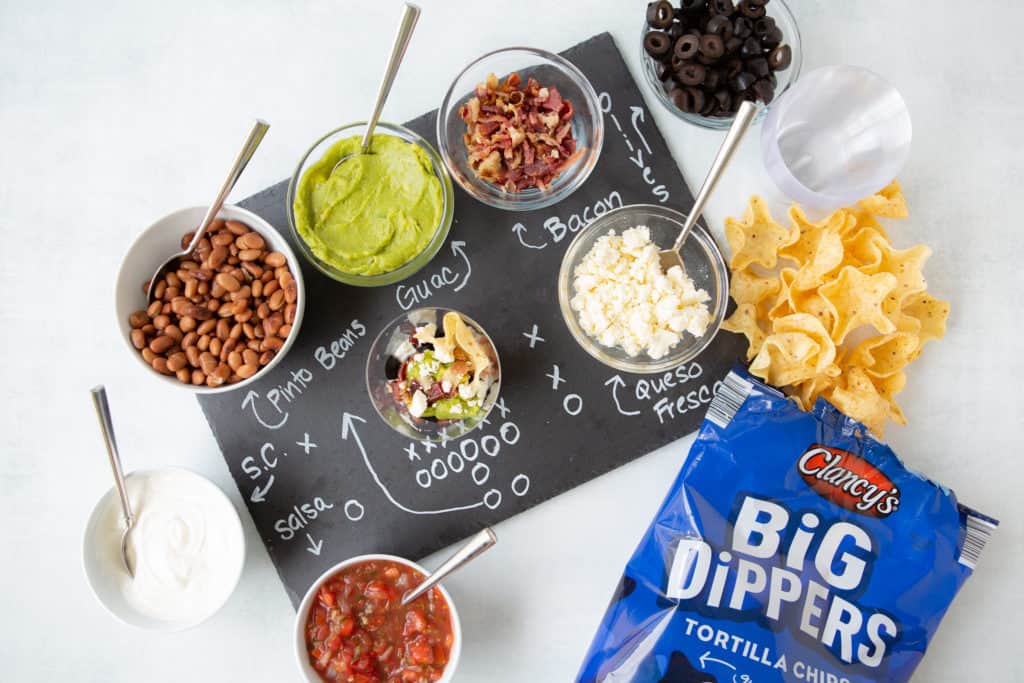 Layer Dip Presentation
I placed everything for these handheld appetizers in bowls on a cheese slate and wrote x's and o's on it with a chalk marker for a little flair. (If you want to look pro and write a real play, check out this cheat sheet.)
Set out crispy tortilla chips and clear 9 oz drink cups so family members can create their own custom layer dip.
All of these items can be prepped ahead and stored right in their serving bowls so that setup requires minimal effort.
Not only is everyone happy with this easy dip, it also keeps people from double dipping and having lots of hands going in and out of a main dip bowl. To keep things extra clean, I recommend keeping a bottle of hand sanitizer right by this dip station so people can sanitize before touching serving spoons.
I'm very excited to share this make-ahead appetizer recipe with you because it's also included in my cookbook available on Amazon. Buffalo wings are nearly impossible to prep ahead of time because IMO they should be fresh and hot to taste best. However, when you take all the same flavors and turn them into a juicy turkey meatball, you can prep them entirely ahead of time and simply reheat before game time.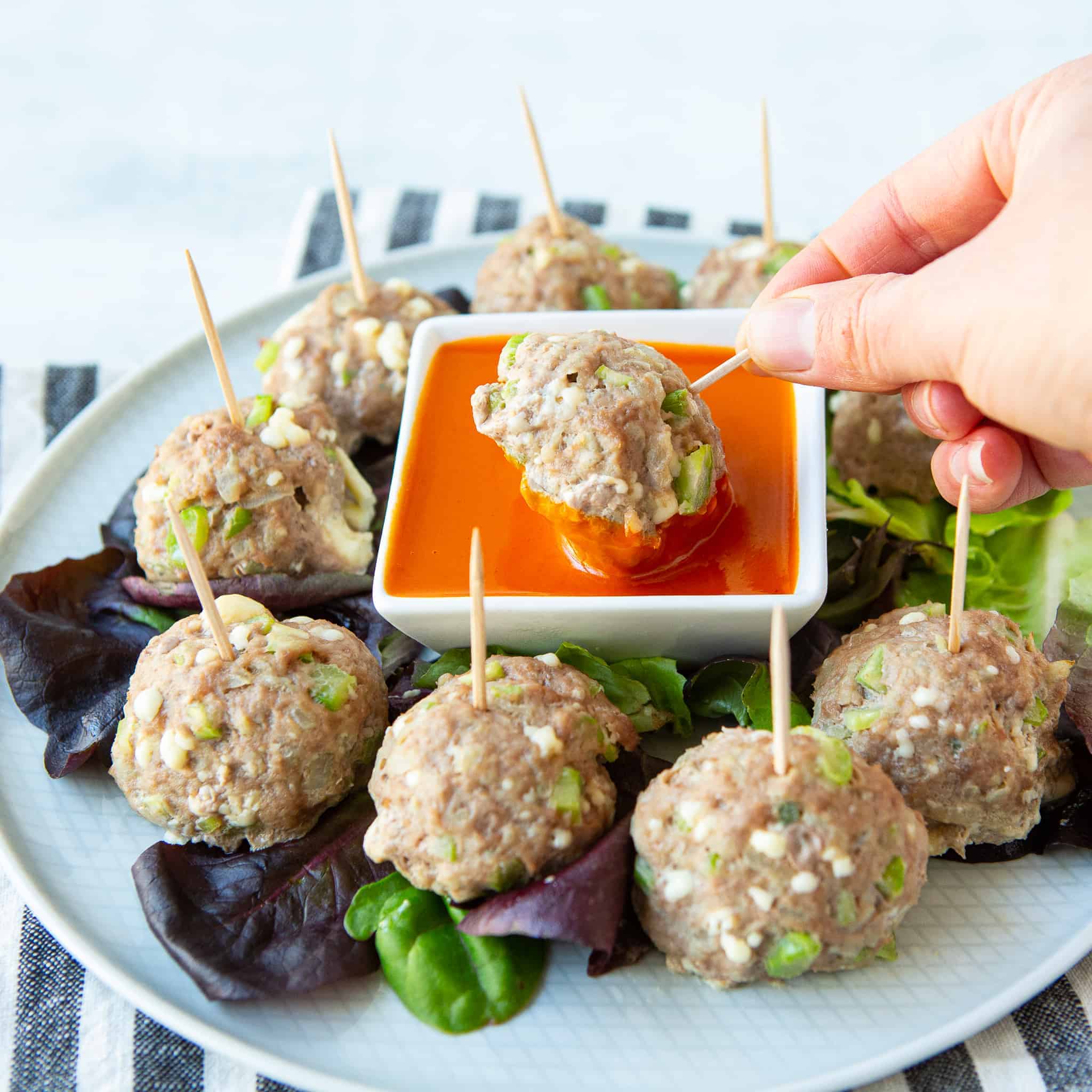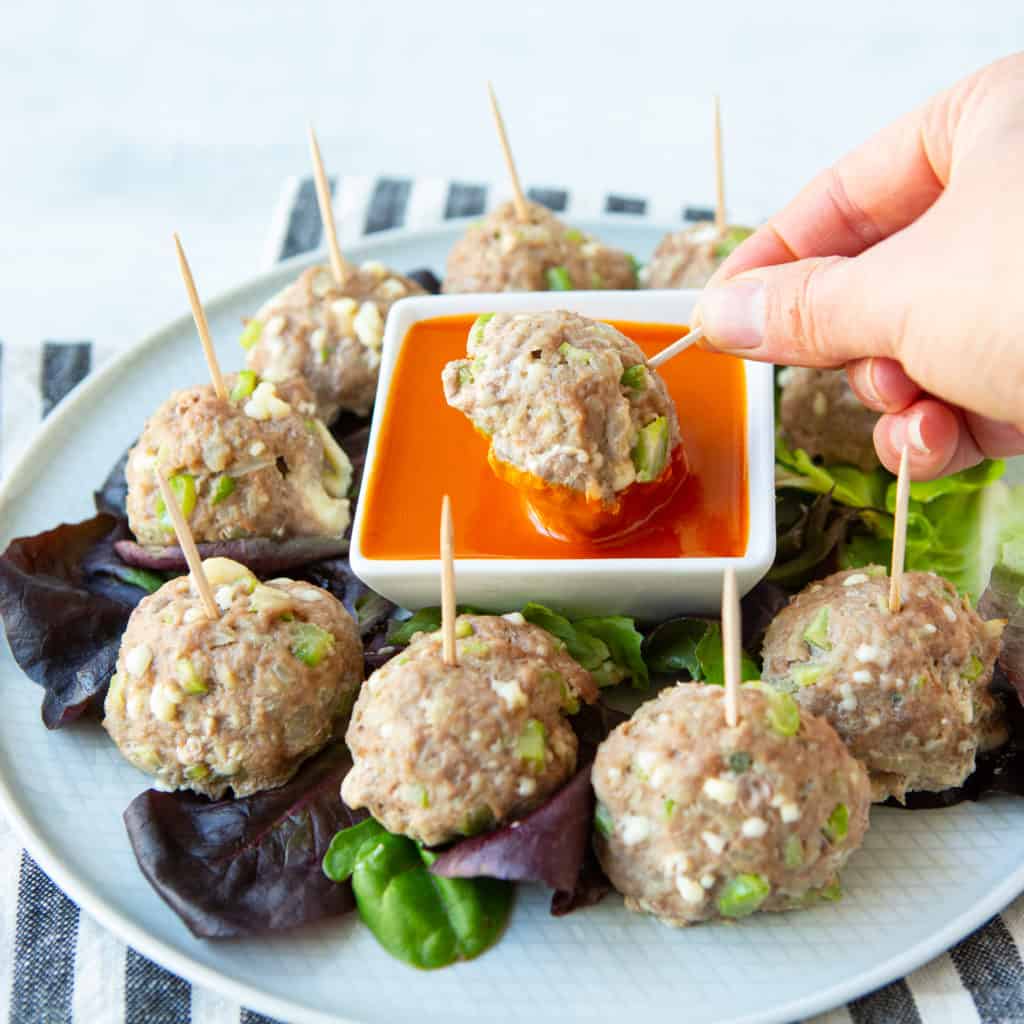 This Buffalo Turkey Meatball recipe uses ridiculously simple ingredients. You can decide if you want to fully cook them ahead of time or just roll them ahead and bake at party time. Either method will work. Serve them with your favorite buffalo dipping sauce. Get the full recipe here: Buffalo Turkey Meatballs
Once again in the spirit of customization, I turn a perfect delicious appetizer into a top-your-own bar situation. A potato skins bar is the perfect way to turn something familiar into something awesome.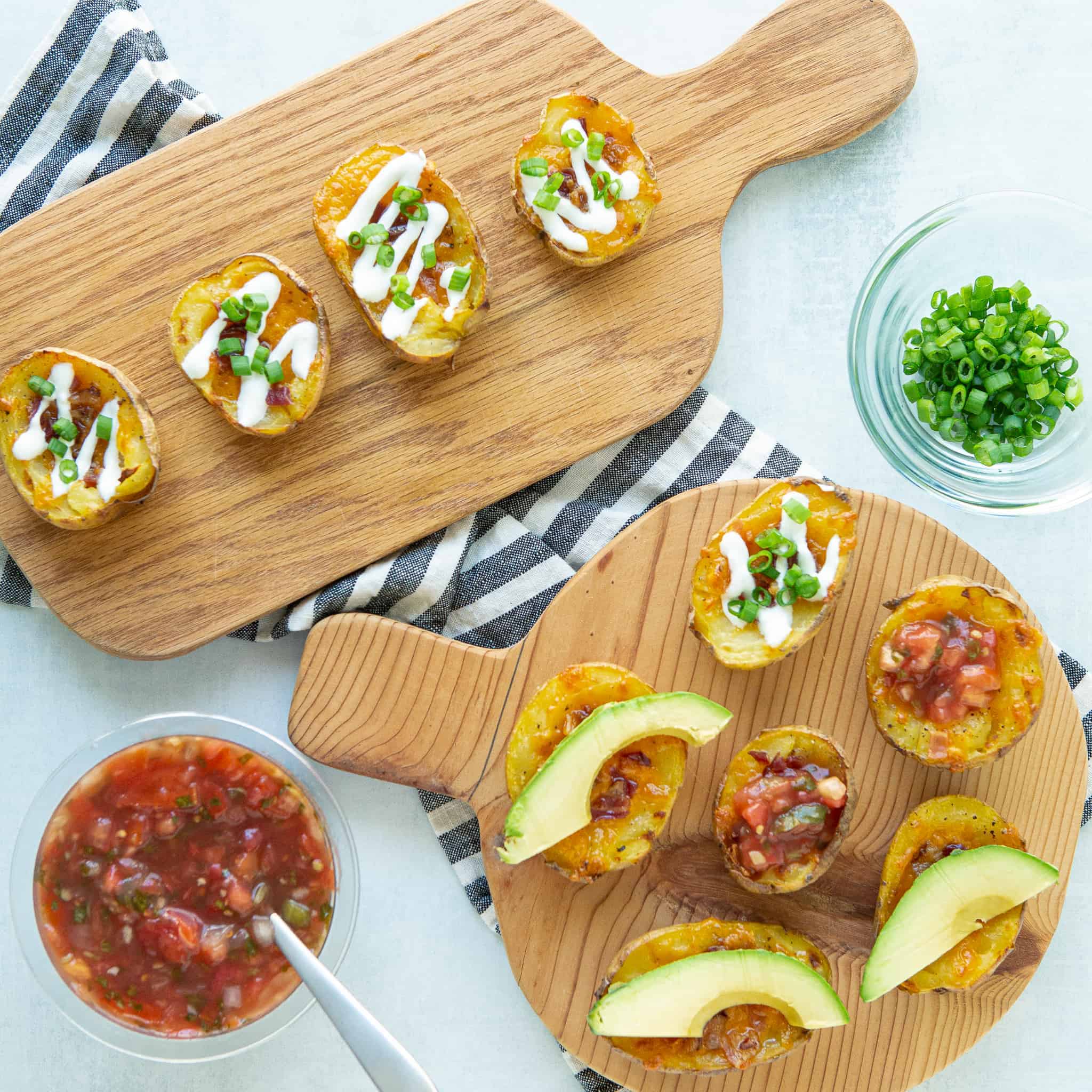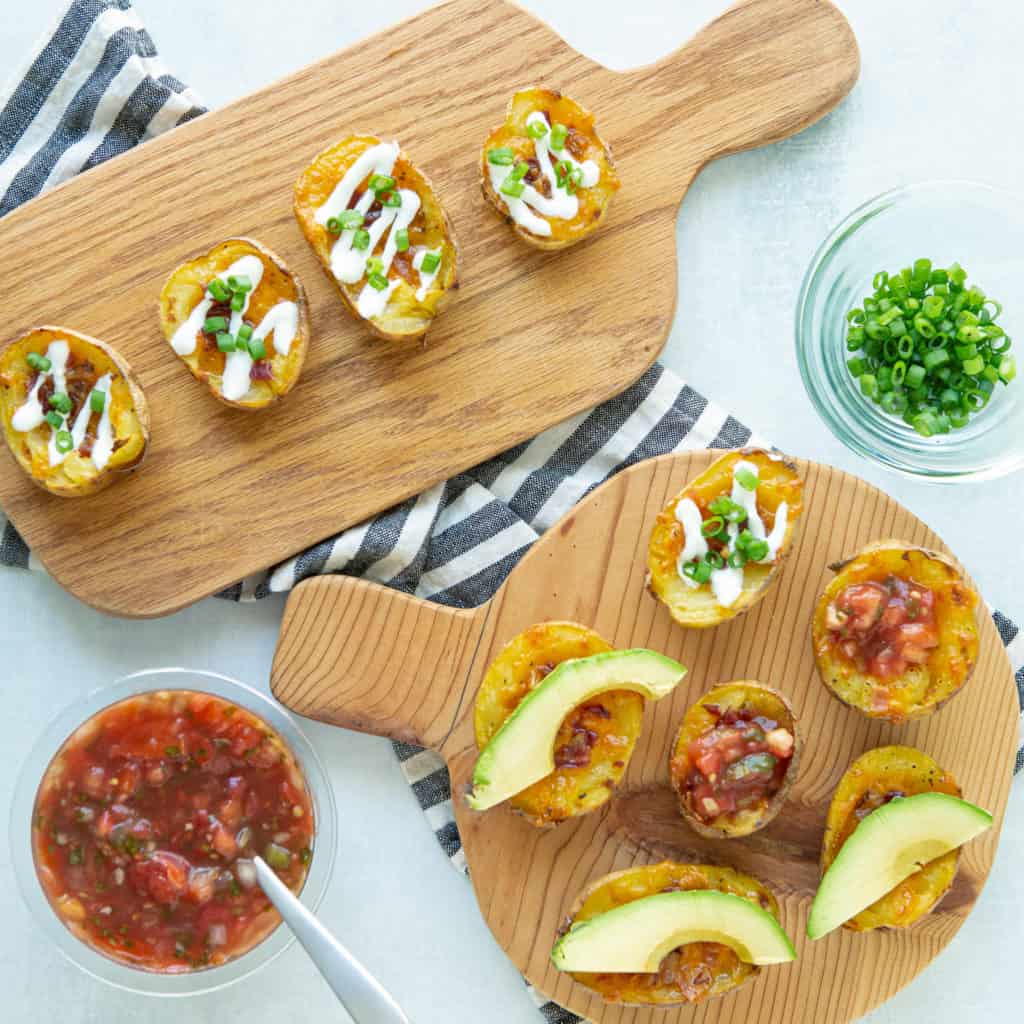 While this may not seem like one of those make-ahead appetizer recipes, the actual potato skins can be made ahead of time and simply reheated or broiled with the cheese for a few minutes right before serving. Then serve them with toppings of choices like traditional chives or green onions, but also salsa, avocado, shrimp, cilantro and more!
Football Chocolate Bark
What better way to celebrate football season than with football bark?! ALDI has an amazing selection of nuts, dried fruits, candy, cookies and CHOCOLATE and all kinds of tasty morsels. I confess, it's always inspiring me.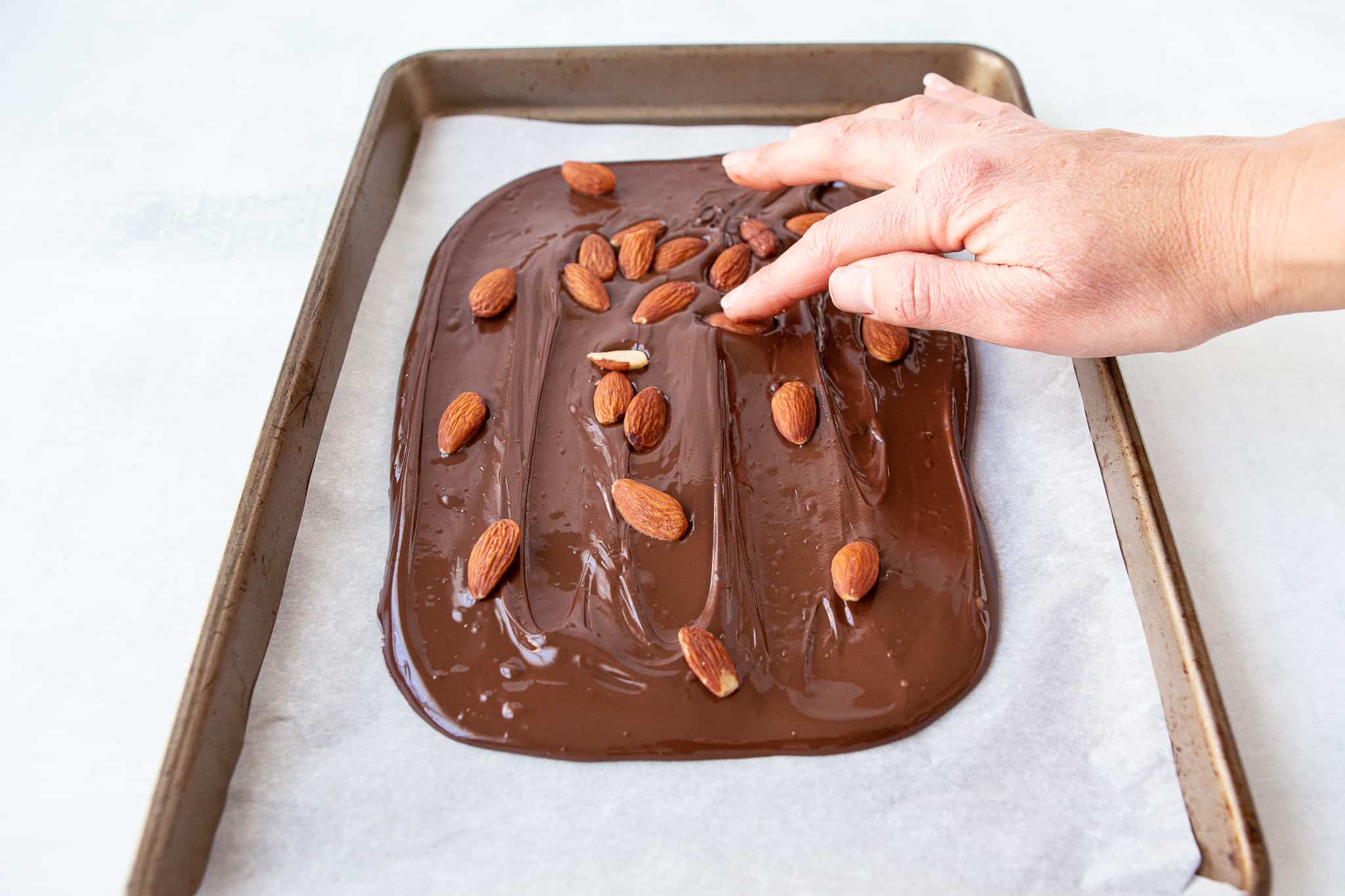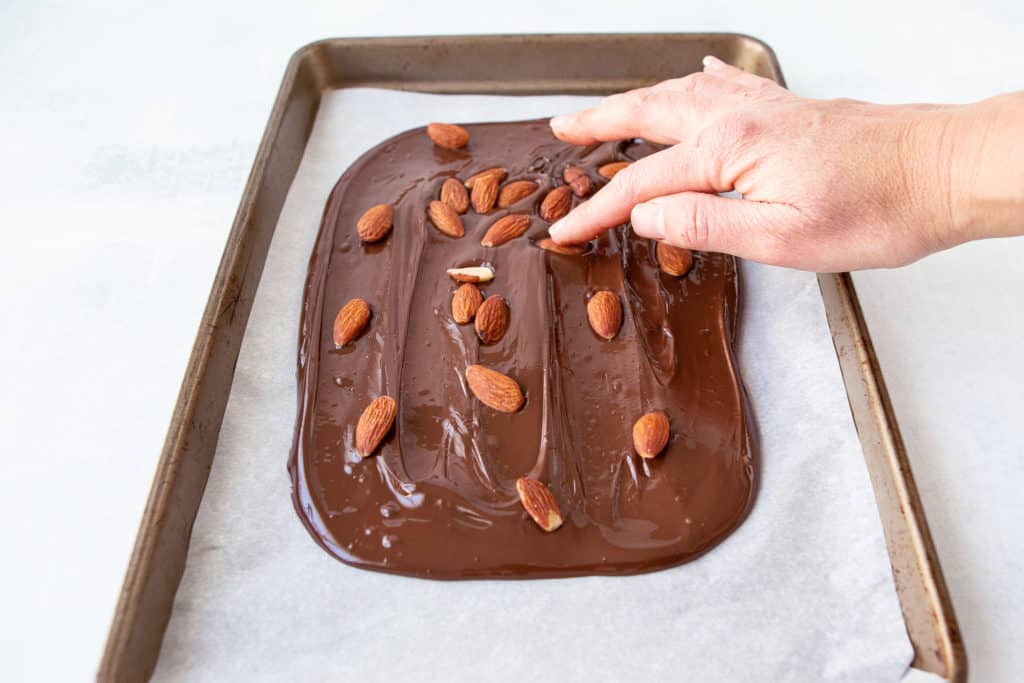 You can use any combination of these goodies to simply press into a slab of melted chocolate. This bark would be perfect to celebrate any football game.
Here's a guide to help you successfully make this crowd favorite chocolate bark:
You can melt both semisweet and white chocolate in the microwave. Only melt one bag at a time and use a glass bowl to do so. Work in the following time scheme: 30 seconds and stir with spatula; 20 seconds and stir with a spatula. Continue at 15 second intervals of heating then stirring. You should only need about 4 cycles of heating max.
Stir well to help the chips melt. You get the lumps out by stirring, not heating more.
When using semisweet chocolate, only melt ¾ of the bag in the bowl at first. Once that amount is melted and smooth, add the other ¼ of the bag of chips and stir until melted in and smooth. Do not heat anymore in the microwave. This helps temper the chocolate and will give you a shiny, breakable finish.
Note that white chocolate sets quickly so work fast after melting.
Layer a baking sheet with parchment paper and pour melted chocolate on top. Use the spatula to smooth out into about a 12" x 6" rectangle. The thickness should be at least ¼" thick, but you can make it thicker if you like.
Quickly press in your toppings. They should be pushed down slightly to help them stay in the chocolate when you cut it later.
Let the chocolate set on the counter until hard.
Place hard chocolate on a cutting board and cut into pieces with a sharp knife. Store in an airtight container if making ahead.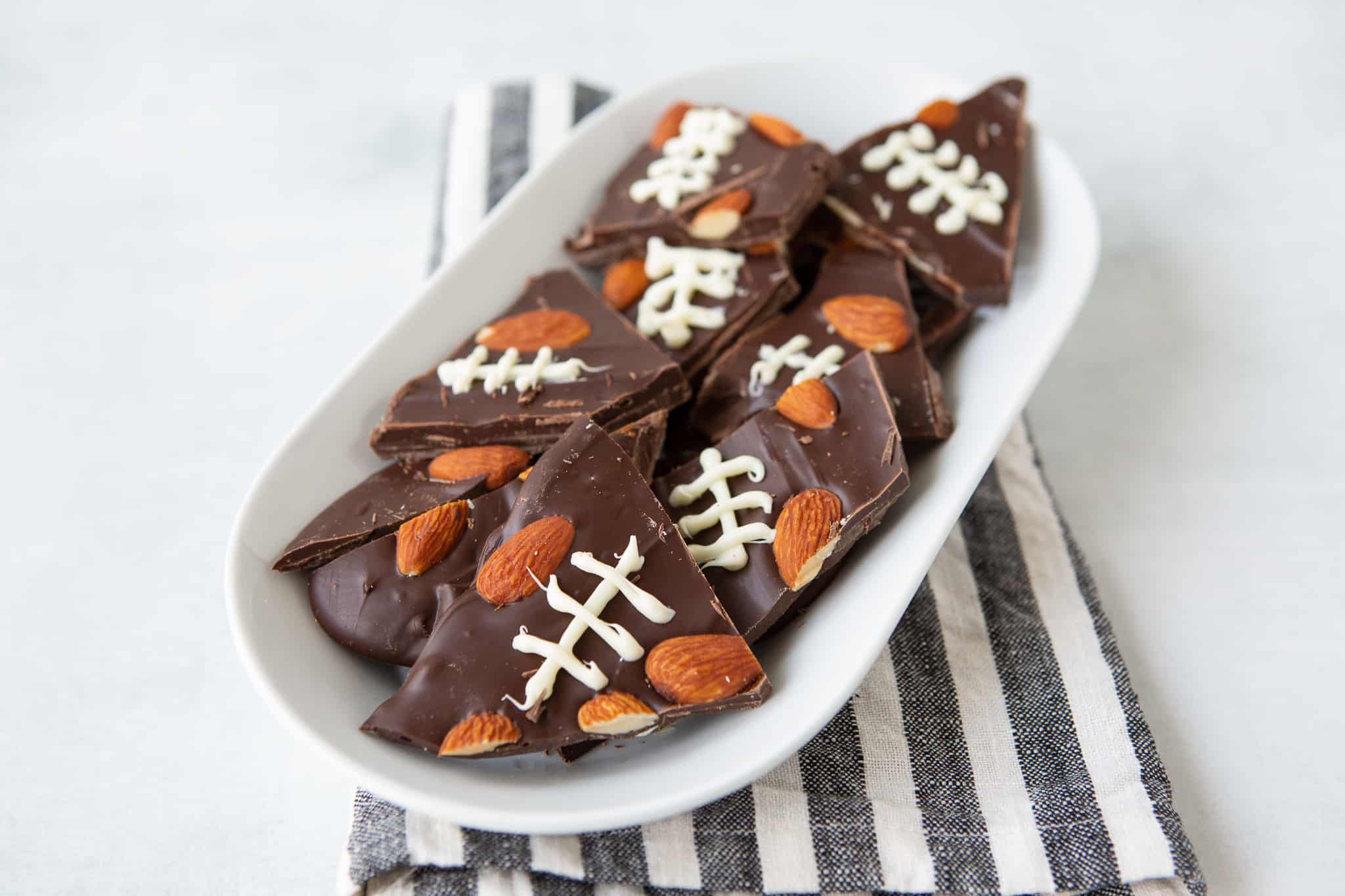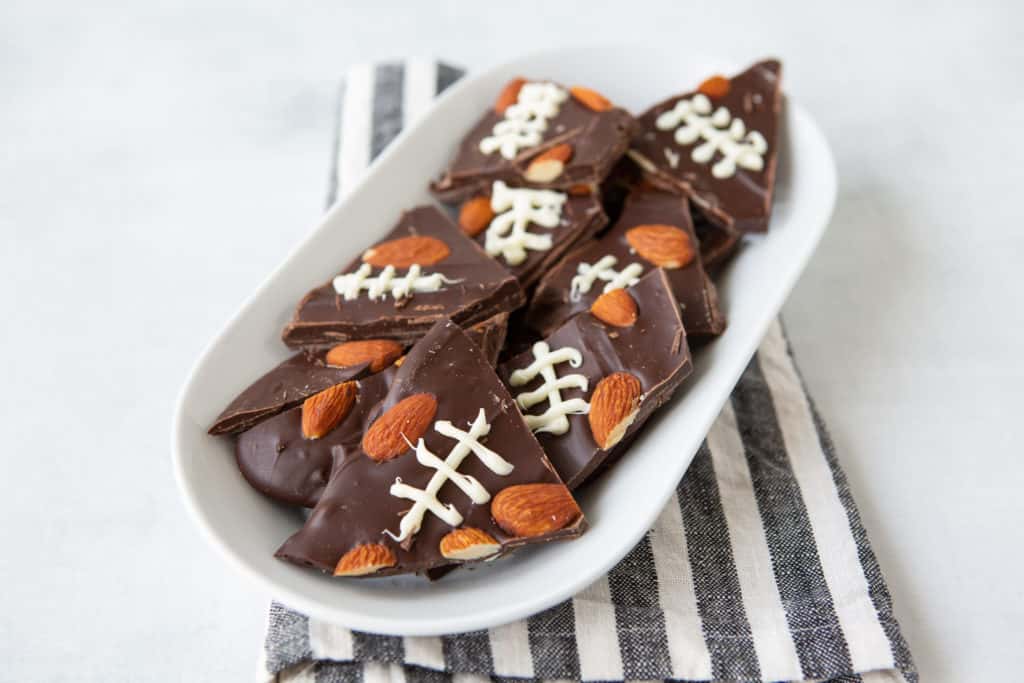 Football Bark Finishing Touches
If you really want to take this delicious recipe over the top for the Super Bowl and make it a real crowd pleaser, here's all you do to add laces:
Wait until the bark is set then melt an additional ¼ of a bag of white chocolate chips (about a heaping ½ cup).
Pour the melted chocolate into the corner of a ziploc bag.
Cut the tip off the corner of the bag and gently squeeze out the chocolate to make the pattern of a long line with 3-5 dashes on it.
Hopefully one of these Super Bowl snacks inspires you for the big day activities. Don't forget to visit ALDI for all your viewing party needs!