This elegant, but easy to execute Ginger Butternut Squash Bread is a beautiful, delicious, and lighter appetizer. Butternut squash can be prepped in advance to make assembly a breeze.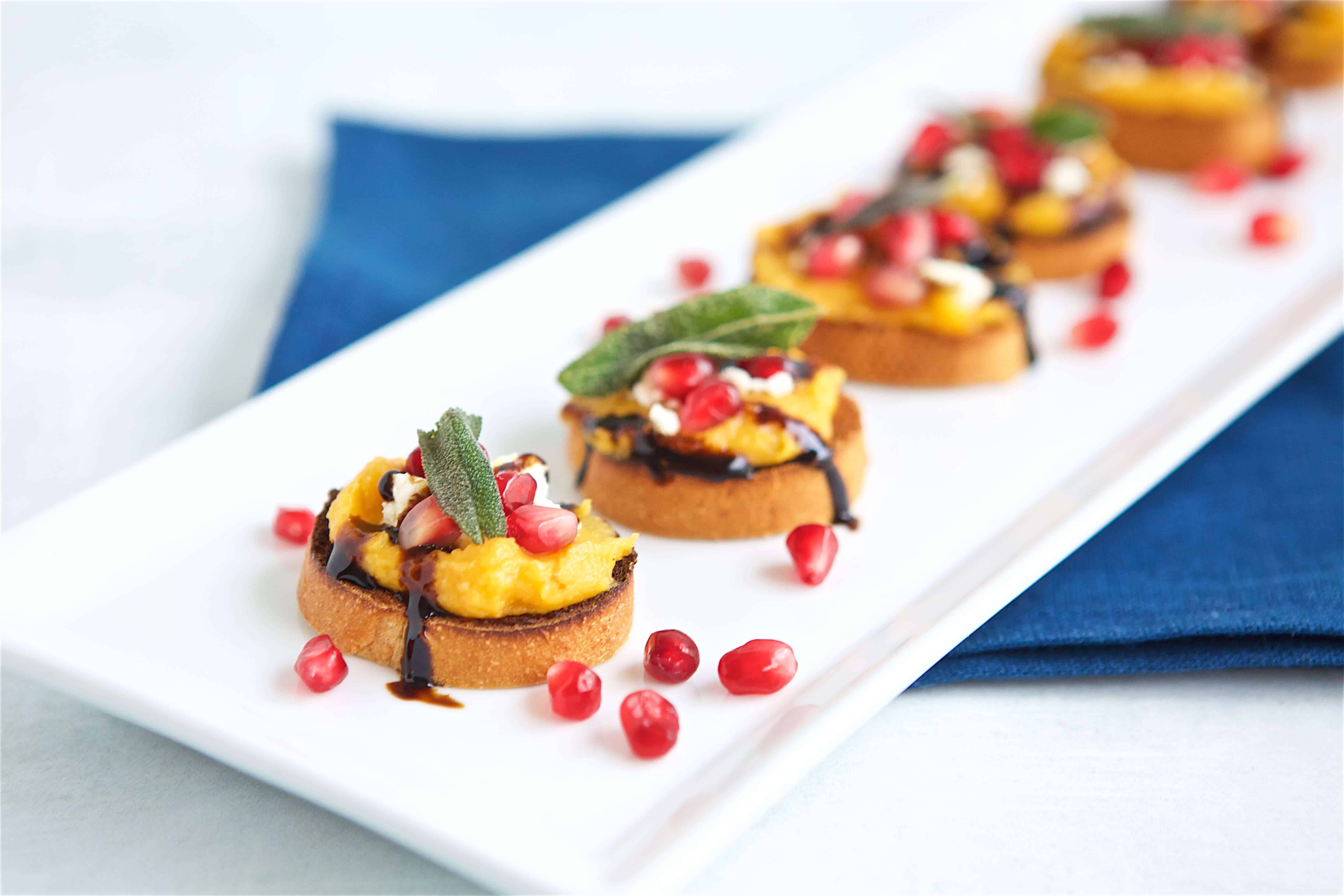 Butternut squash is one of my favorite winter vegetables. It's something that I've really only begun to like as an adult. I can't actually remember eating it as a kid. 
Since discovering this love, each fall when it comes back into season, I look for new healthy butternut squash recipes to enjoy it more often. Last year while going through this process, I thought it would be awesome to find a way to enjoy mashed butternut squash in an appetizer. I  couldn't find much on the ole internet so I  set out to create my own. 
You could call this creation butternut squash bruschetta or butternut squash crostini as it's in all of those zones. Whatever you decide, you will definitely call it delicious.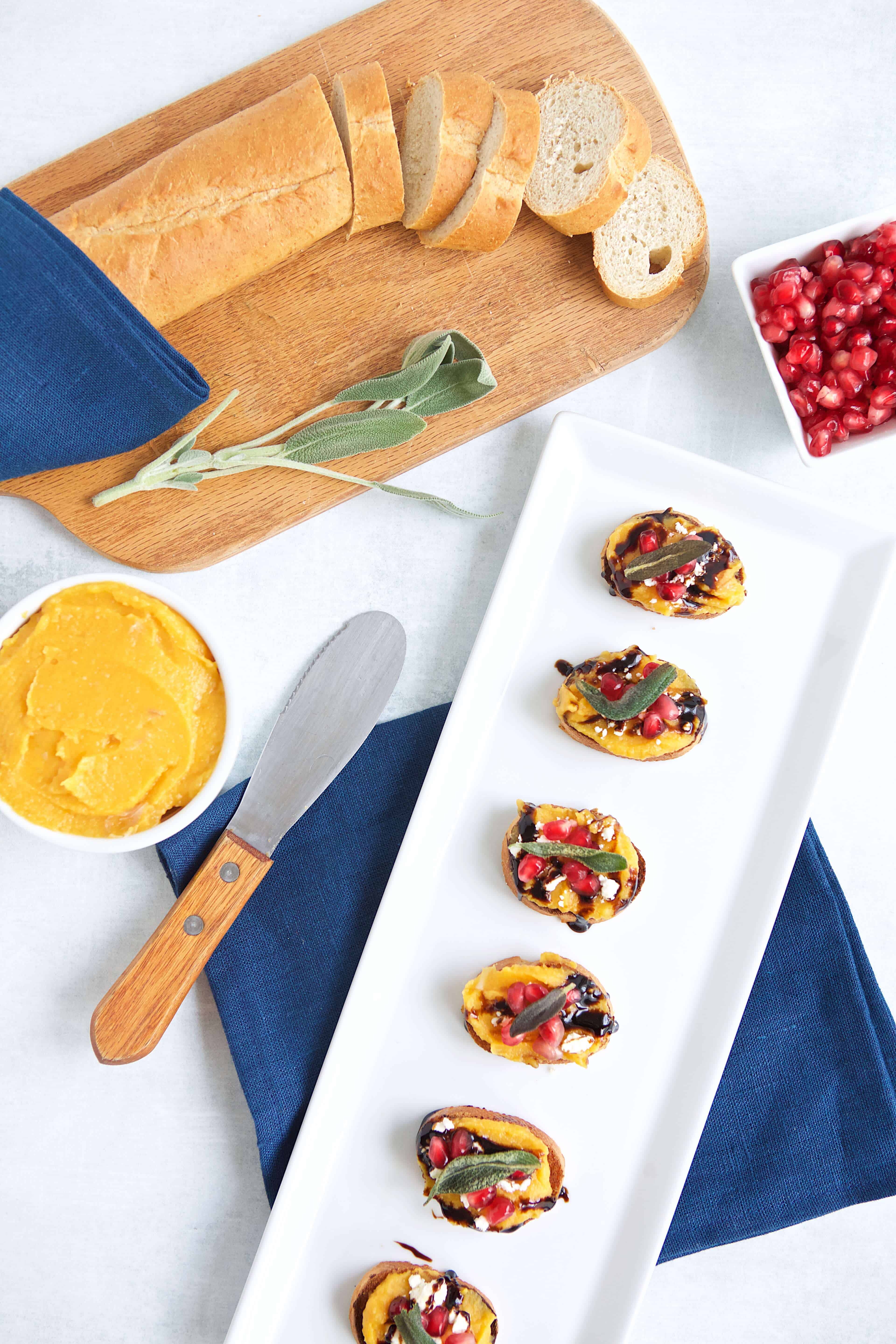 The ingredients are pretty simple: butternut squash, roasted garlic, cannellini beans, ginger, bread, pomegranate arils, feta and sage leaves.  It all comes together so beautifully and makes it perfect for the holidays, I think. 
Prep ahead to save time
Save yourself some time in this recipe by making the mashed butternut squash a day ahead of time. Just warm it up a little before spreading on the bread.
Frying Sage
If you've never fried a sage leaf before (as I had never done), here's some advice. When the recipe says fry for 2 seconds, I literally mean 2 seconds. Sage goes from crisp to burned very quickly. I suggest doing one leaf at a time or throwing a few in together and pulling out together. I used a slotted spoon to retrieve the leaves, but a skimmer is ideal. 
Other Appetizer Ideas
If you are on the hunt for other healthy-ish appetizers, I've got you covered. Here's a few of my favorites.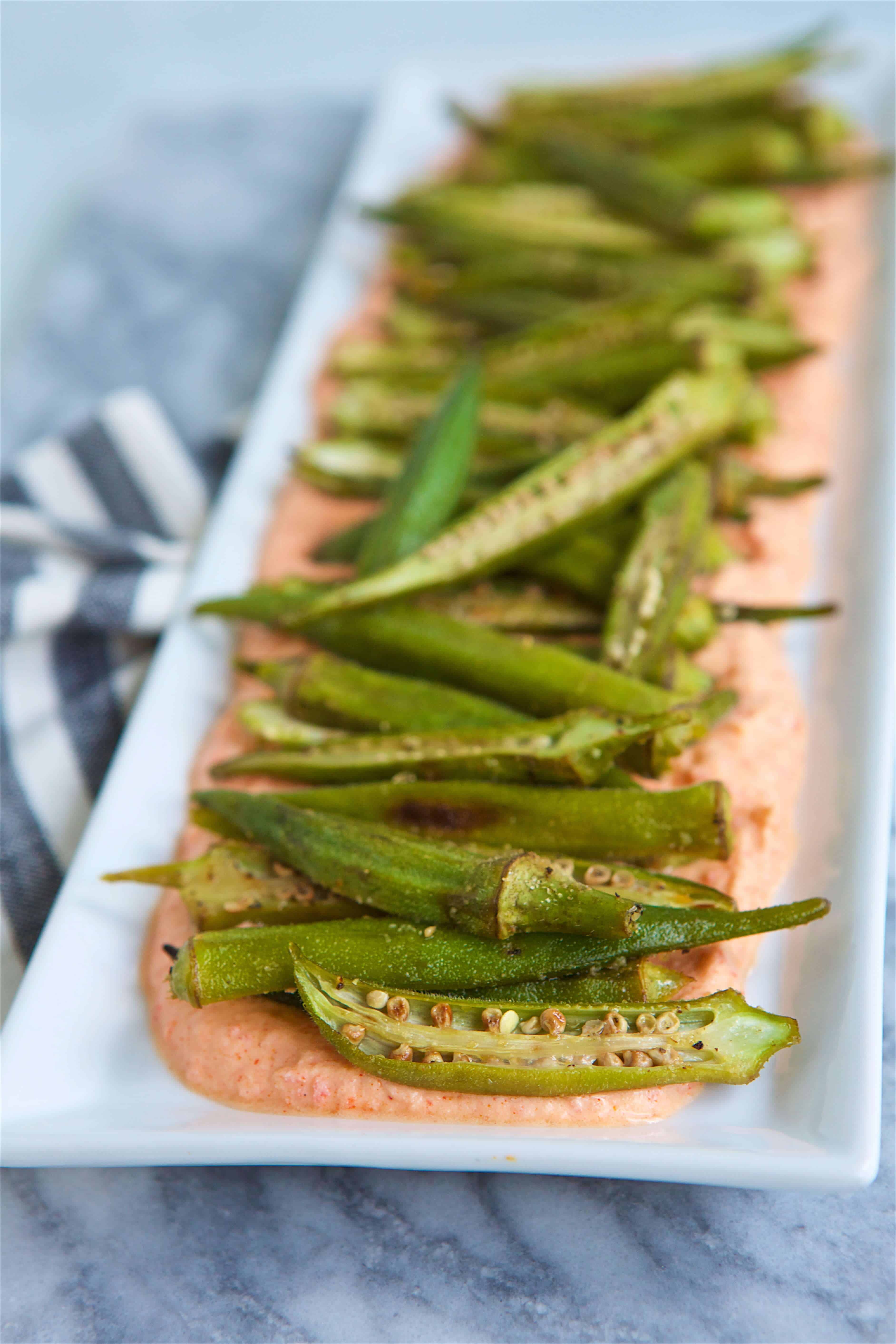 Roasted Okra appetizer with Smoky Red Pepper Ricotta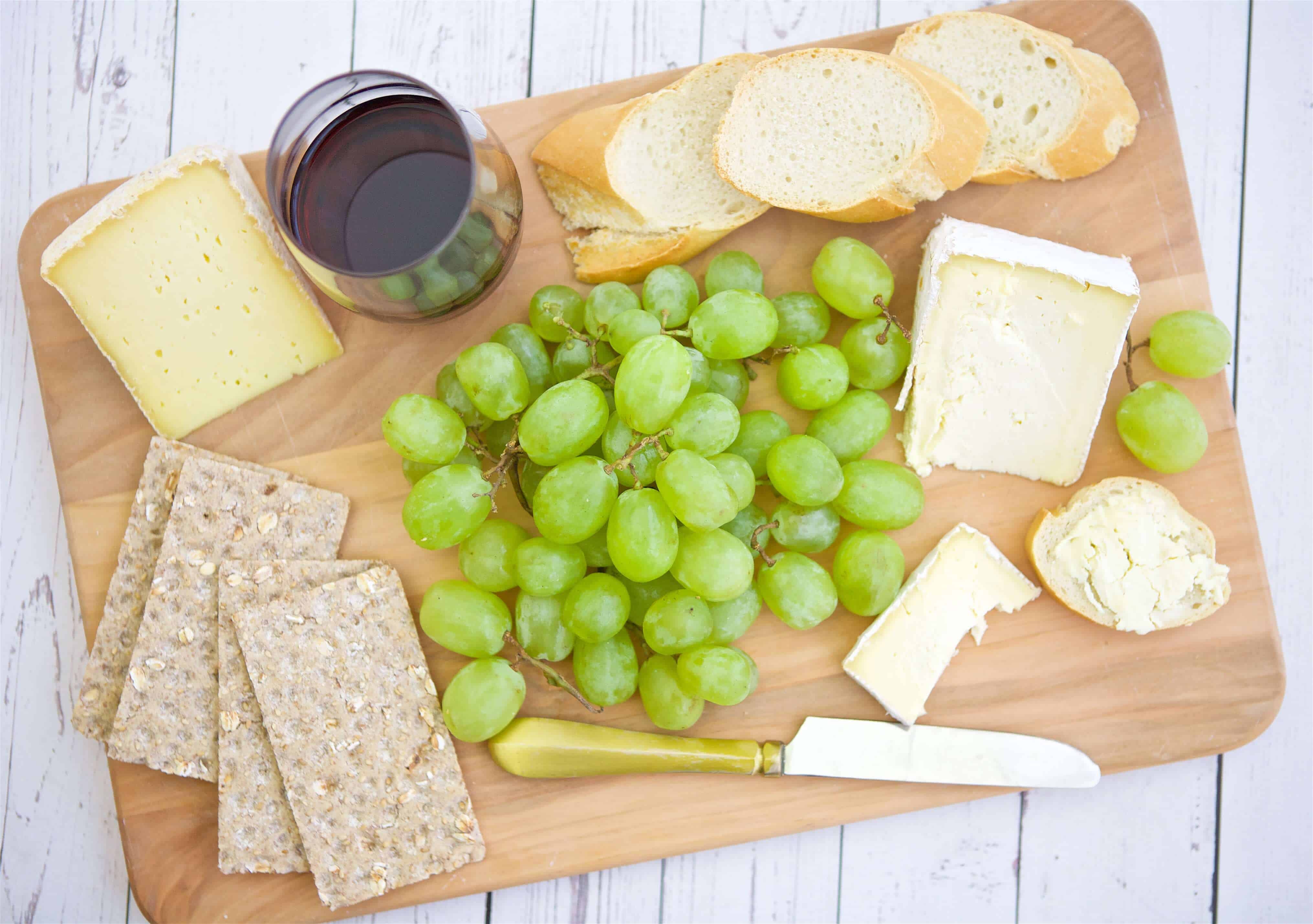 And now, back to the Ginger Butternut Squash Bread. Here's how you make it.
Print
Recipe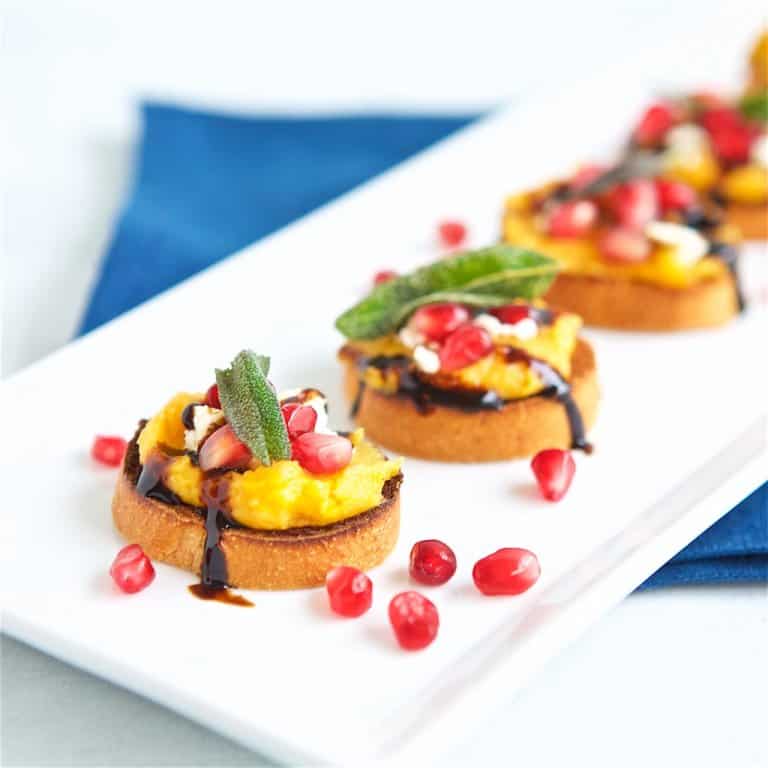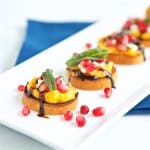 Ginger Butternut Squash Bread
---
Total Time:

1 hour 10 minutes

Yield:

8

1

x
Description
This elegant, but easy to execute Ginger Butternut Squash Bread is a beautiful, delicious, and lighter appetizer. Butternut squash can be prepped in advance to make assembly a breeze.
---
1

small butternut squash

1

head fresh garlic
olive oil

1

can cannellini beans, (drained & rinsed)

¾ tsp

Kosher salt

½

-

1

teaspoon ground ginger ((to taste preference))

1

bunch fresh sage leaves, (leaves removed from stems)

2

cups

high temperature vegetable oil

1

baguette, (sliced in rounds)

½

cup

crumbled feta cheese

1

cup

store bought balsamic vinegar reduction

1

cup

pomegranate arils
---
Instructions
Preheat oven to 350 degrees. 
Cut off the top of the butternut squash. Set flat top down on cutting board and carefully slice squash in half, longways. Scoop out seeds and discard.
Place squash, cut side down, in a 9 x 13 pan and add ½ cup water. Bake for 30-40 minutes, until very tender and fork easily pierces flesh in all areas. 
Slice the tips off the garlic head to expose all the cloves. Set garlic head in a sheet of heavy duty aluminum foil and drizzle with olive oil. Wrap up the foil like a packet, enclosing the garlic and oil so it cannot spill out. Set aluminum packet on a rack in the preheated oven and let bake for the remainder of the time for the butternut squash, at least 25 minutes.
When squash is done, remove it and the garlic from the oven and allow to cool to the point of being able to touch it without burning. Scoop out the flesh from the squash using a spoon and use in the next step. 
In a food processor or high powered blended, puree 1 ½ cups of cooked butternut squash flesh, 1 cup of cannellini beans, 4 cloves of roasted garlic, ¾ teaspoon Kosher salt, and ½ - 1 teaspoon of ground ginger (add more ginger to preference) until very smooth. Set aside. 
Heat vegetable oil in a small rimmed skillet to medium high heat. Also, preheat broiler with oven rack about 10" from top and place bread rounds on a baking sheet. 
When oil is hot and shimmering, fry each sage leaf for about 2 seconds. Remove and lay on a paper towel to cool. Leaves should be crispy.
Broil bread for 1 minute per side or until golden brown and crispy.
Assemble crostini by generously smearing butternut squash puree on top of toasted bread. Sprinkle a pinch of crumbled feta on top then drizzle with balsamic reduction. Lastly, place about 4-6 pomegranate arils on each crostini and place a fried sage leaf on top. Serve immediately. 
Notes
Butternut squash puree can be made in advance, about 1 day ahead of time. You can also make your own balsamic reduction if you prefer. 
Butternut squash puree can be served alone as a dip. If doing this, top with the feta, balsamic drizzle, pomegranate arils and fried sage leaves and serve with toasted bread, pita chips or fresh vegetables. 
Prep Time:

30 minutes

Cook Time:

40 minutes

Category:

Appetizer

Cuisine:

Vegetarian
Keywords: butternut squash bread,, butternut squash crostini, butternut squash puree
If you have made it all the way to the end of this post, thank you for reading! I want to leave you one last link to an encouraging post about navigating tempting foods. Because if you are looking for a party appetizer then you may be throwing a party and you may be thinking about healthy eating in the midst of it.
A few years ago, I wrote a post about How to Not Eat that Brownie in the Break Room, and it applies to this situation as well. Check it out and I hope it's encouraging.