Bone-in turkey breast is delicious and simple to enjoy all year round but especially perfect as a quicker option for your Thanksgiving turkey. Here's an amazing Turkey Breast Brine recipe and how to roast it in the oven.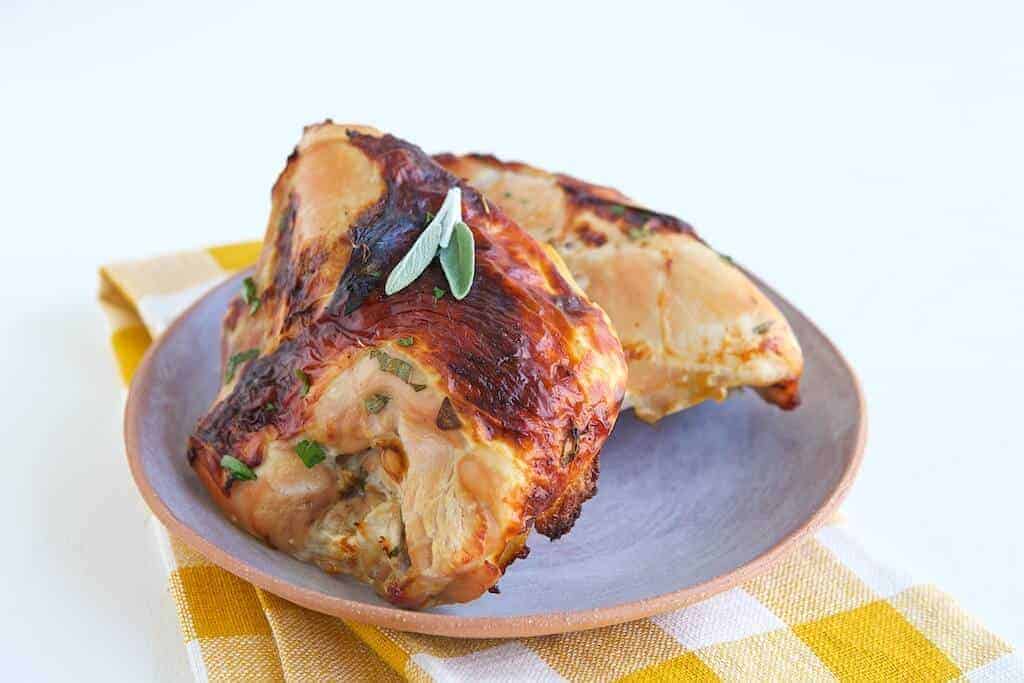 Jump to:
Two summers ago I discovered the magic of brining turkey breasts and grilling them. Why is it magic? Because I really love bone-in turkey and wanted to enjoy it more than just for Thanksgiving dinner and I  figured out how to enjoy it grilled. My Grilled Turkey Breast recipe has since become one of my top recipes on Make Healthy Easy. I  make it multiple times a year because it's just so good. 
For other Thanksgiving recipes check out my Slow Cooker Rosemary Acorn Squash and this Chocolate Chip Pecan Pie made without corn syrup.
How to Brine Turkey Breast
Brining means you submerge/marinate the raw turkey in a seasoned liquid that contains a lot of salt for several hours. This creates a reaction where moisture is drawn into the turkey meat, helping it to be internally flavored and stay juicy through cooking.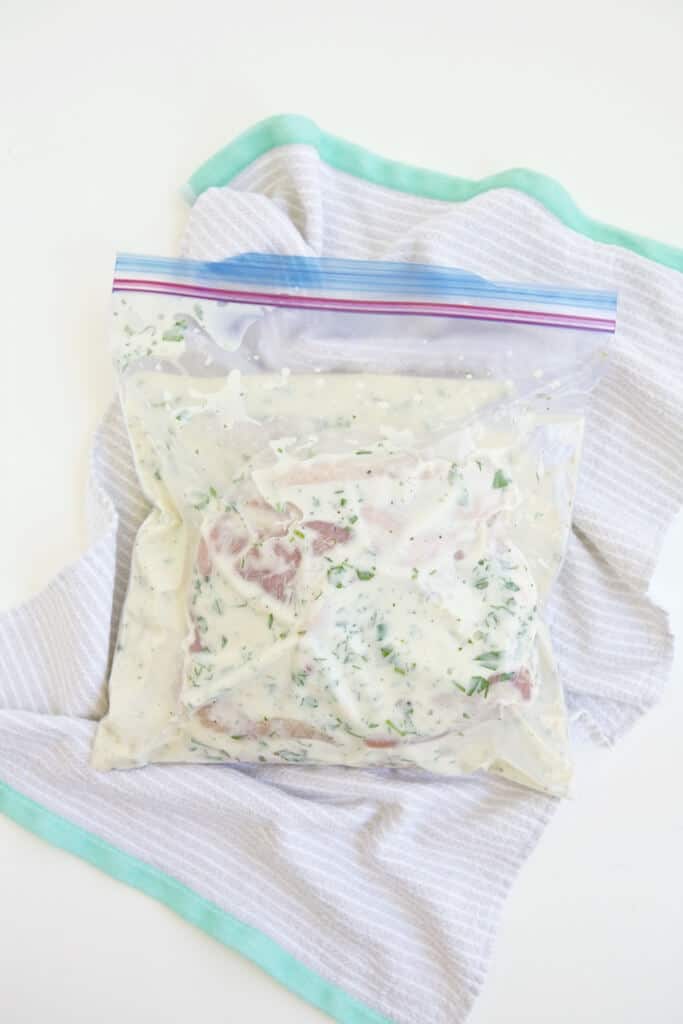 Brining turkey breasts first is ideal if you are going to roast them in the oven because they have to cook for a long time. No one wants dry turkey. Brining prevents them from drying out and enhances the flavor tremendously.
Simple Brine Ingredients
Buttermilk - the secret to getting really juicy meat.
Beer - 12 ounces of your favorite beer. You can choose a flavored beer if you want a little more flavor.
Fresh sage
Fresh parsley
Garlic
Salt
Substitutions
Bone-in turkey breasts - You can use dark meat thighs and wings here too. It will all work. The smaller the pieces, the less time in the brine you need. You can also brine a whole bird in this mix, just double the brine recipe and keep it in the brine for 12 hours.
Buttermilk - If you just can't find buttermilk, you can use 1 cup full fat yogurt and 1 cup milk mixed together. Check out this post on 5 substitutions for buttermilk.
Fresh sage - you can substitute dried sage for the fresh herbs, but it's just not quite the same. Use 2-3 tablespoons and rub it between your fingers before adding it to the brine.
Fresh parsley - again, fresh is best bust you can substitute in 3 tablespoons of dried parsley in a pinch. Rub it between your fingers before adding it to the brine.
Garlic - you can absolutely use pre-peeled or pre minced garlic, or even garlic paste.
Kosher salt - iodize salt or sea salt will work here but Kosher is the best for brining.
How-To Video
If this is your first time to brine meat, don't sweat it. It's a really easy basic brine. Here's a video to help you out:
How to Roast Turkey Breast
Roasting turkey breasts is easier and quicker than roasting a whole turkey. Since the pieces are smaller, they will likely be done within an hour of cooking. That can save a lot of cooking time in the kitchen and space in your oven.
The brine mixture helps ensure that your turkey breast stays moist through the roasting process. It's also important to leave the bone in and the skin on. This all helps create a moist and flavorful turkey.
Use a leave in meat thermometer while the turkey breast is roasting (see "Equipment" section) to help you know exactly how long the turkey needs to roast. My thermometer actually alerts me when the meat reaches a certain temperature.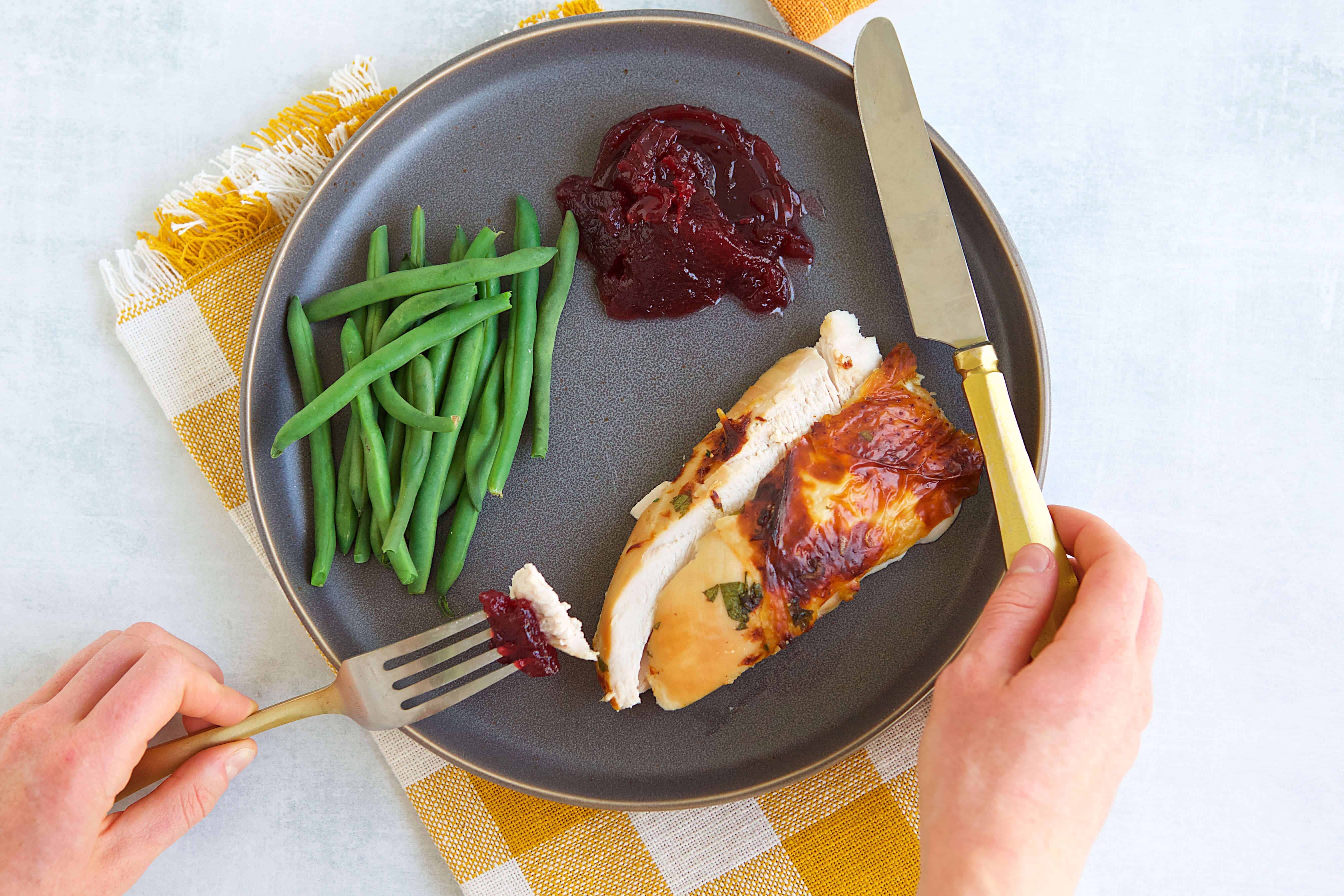 Equipment
One piece of equipment that will ensure success on this recipe is to use a leave-in, high temperature thermometer. I have tried quite a few through the years and landed on this model on Amazon that I absolutely love. It has been on high temp and low temp, on the grill and in the oven. It hasn't broken and continues to perform years after I bought it. I cannot urge you enough to go ahead and buy this for you to cook with over the holidays, as a gift for the cook or grill master in your life and to ensure this Turkey Breast Brine recipe is a home run.
You can roast turkey breasts on any rimmed baking sheet. I prefer these baking sheets. A roasting pan like this with handles or this one for a whole turkey, will also work well.
You'll also need a large, deep dish or a large pot when pouring the wet brine over the turkey.
Without further ado, here's how you make the best turkey brine recipe.
Print
Recipe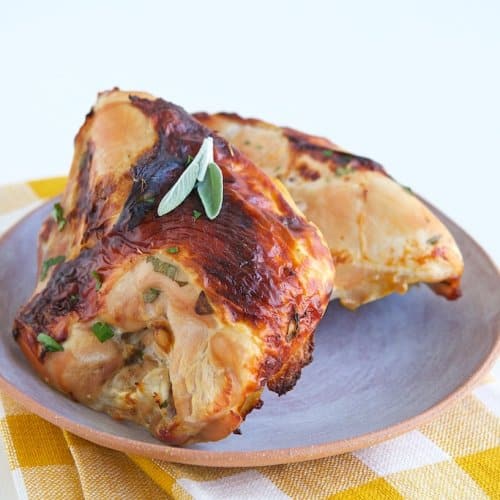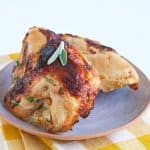 Turkey Breast Brine and How to Roast It
---
Author:

Total Time:

5 hours 15 minutes

Yield:

4

1

x
Description
Bone-in turkey breast is delicious and simple to enjoy all year round but especially perfect for a quicker turkey option for Thanksgiving. Here's an amazing Turkey Breast Brine recipe and how to roast it in the oven. 
---
2

Bone-in turkey breasts (Each is

half of a

whole bird)

2

cups

Buttermilk

1

bottle (12 ounces) your favorite beer (Flavored is OK)

¼

cup

chopped, fresh sage (Can substitute other favorite fresh herb)

½

cup

chopped, fresh parsley

5

garlic cloves, minced

⅓

cup

Kosher salt
---
Instructions
In a large bowl, whisk together buttermilk, beer, sage, parsley, garlic and salt.
Place turkey breasts in a large, deep dish that can be covered. Pour the brine over the turkey. Cover and refrigerate for at least 4 hours and up to 12 hours. Halfway through brining, flip the turkey breasts over.
Remove from brine solution, pat dry with paper towels, and discard excess brine.
Preheat oven to 375 degrees.  Let brined turkey breasts sit at room temperature for about 30 minutes.
Place turkey breast on a rimmed baking sheet covered in aluminum foil. Insert oven safe thermometer into thickest part of the turkey breast being sure to not touch the probe to any bones. Roast for about 60-75 minutes, or until internal temperature reaches 155-160 degrees F.
Remove from oven and cover loosely with aluminum foil. Let sit for 15 minutes and leave in thermometer to ensure turkey temperature reaches 165 degrees F.
Slice off the bone and serve immediately.
Notes
This thermometer is highly recommended for this recipe and many others.
1 turkey breast serves about 2 adults or 3 children.
Prep Time:

4 hours

Cook Time:

1 hour 15 minutes

Category:

Entree

Cuisine:

American
Keywords: turkey breast, turkey breast brine, how to roast turkey breast, how long to cook turkey breast
The next time you are craving juicy turkey breast, I sincerely hope you try this easy turkey brine recipe. And quite honestly, I hope it happens outside of just for a special occasion.
Enjoy!
Jenna