Looking for the perfect holiday pie with natural ingredients? This Chocolate Chip Pecan Pie is a crowd favorite and marries traditional pecan pie with a Tollhouse pie texture. Plus, it's a corn syrup free pecan pie recipe.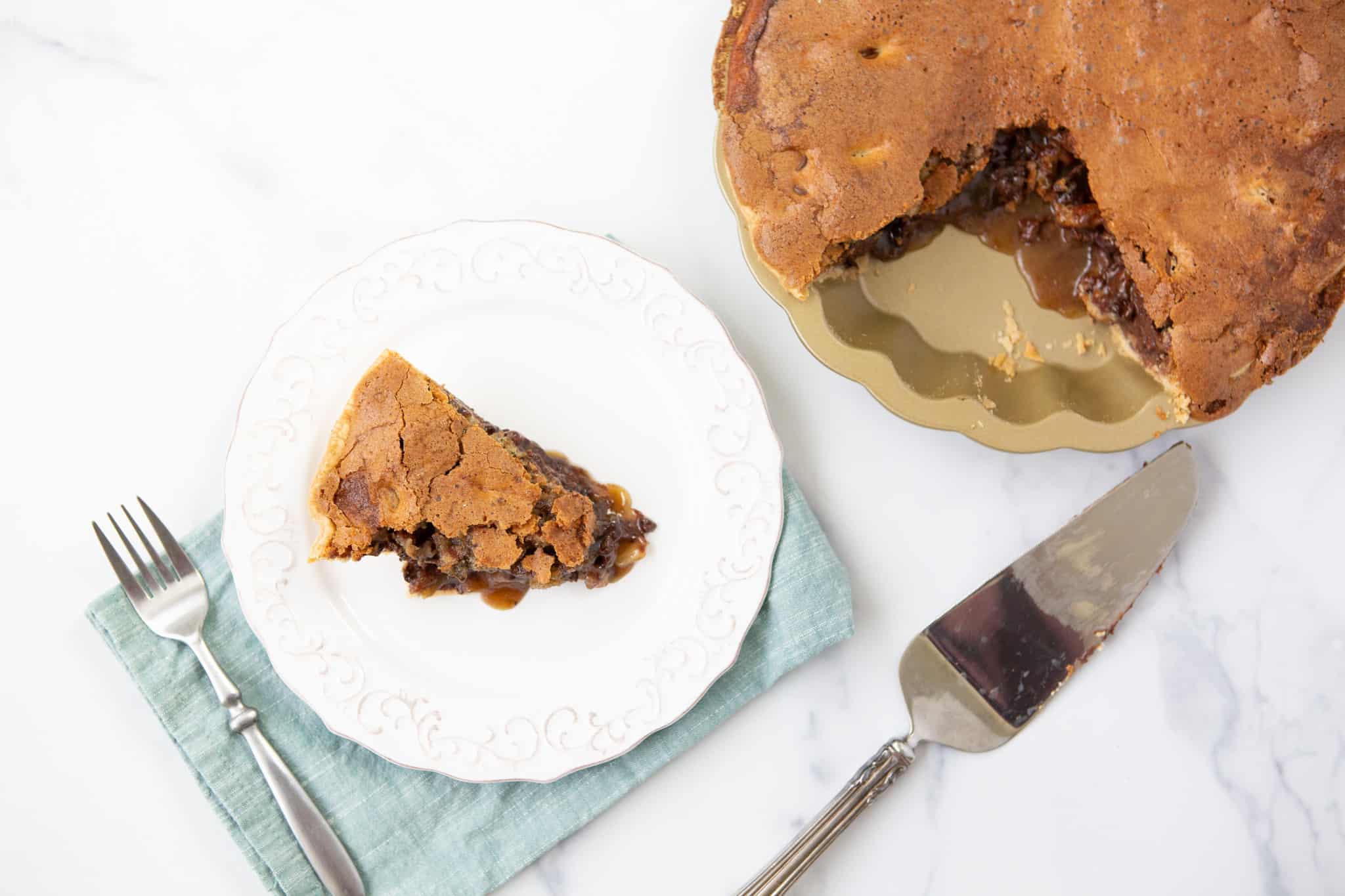 Jump to:
A Little History on This Recipe
I am a believer in a really good dessert. Don't waste your time on treats that really aren't your favorite thing. Wait for the "good stuff", whatever that is for you.
Take pie for example. I'm not a huge pie person. (But I am a chocolate chip cookie person and you should try my favorite chocolate chip cookie recipe.) By this I mean, pie doesn't tempt me most days of the year. I can walk right on by without thinking twice.
At Thanksgiving, however, my pie meter starts going off because, well, pie and Thanksgiving are like best friends. And, I do love to bake a homemade pie.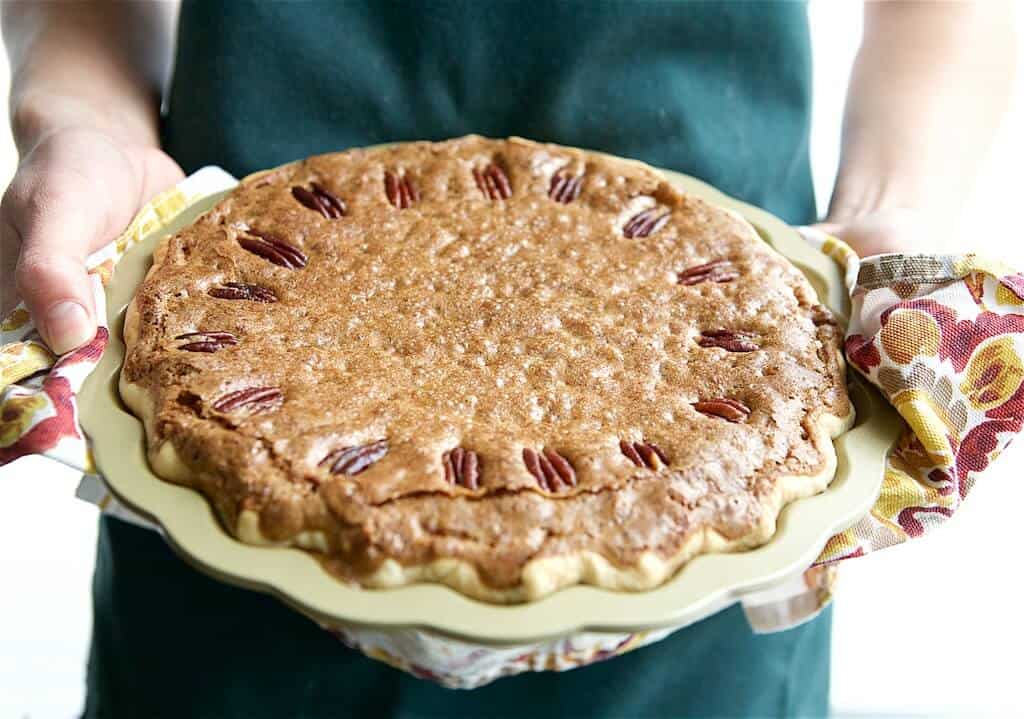 Long ago, I went on the hunt for a corn syrup free pecan pie recipe. I found one on the internet but now only have a printed copy (it was pre-Pinterest people). Through the years, I've made some changes including adding chocolate chips, which has led me to wonder why any pecan pie is made without them.
This Chocolate Chip Pecan Pie has become a family favorite, so much so, that I now have to make 2 to meet the demand. I hope you enjoy making it and of course, eating it. Remember, it is ok to enjoy the Good Stuff. Take your time, make it special, and enjoy every bite.
Ingredients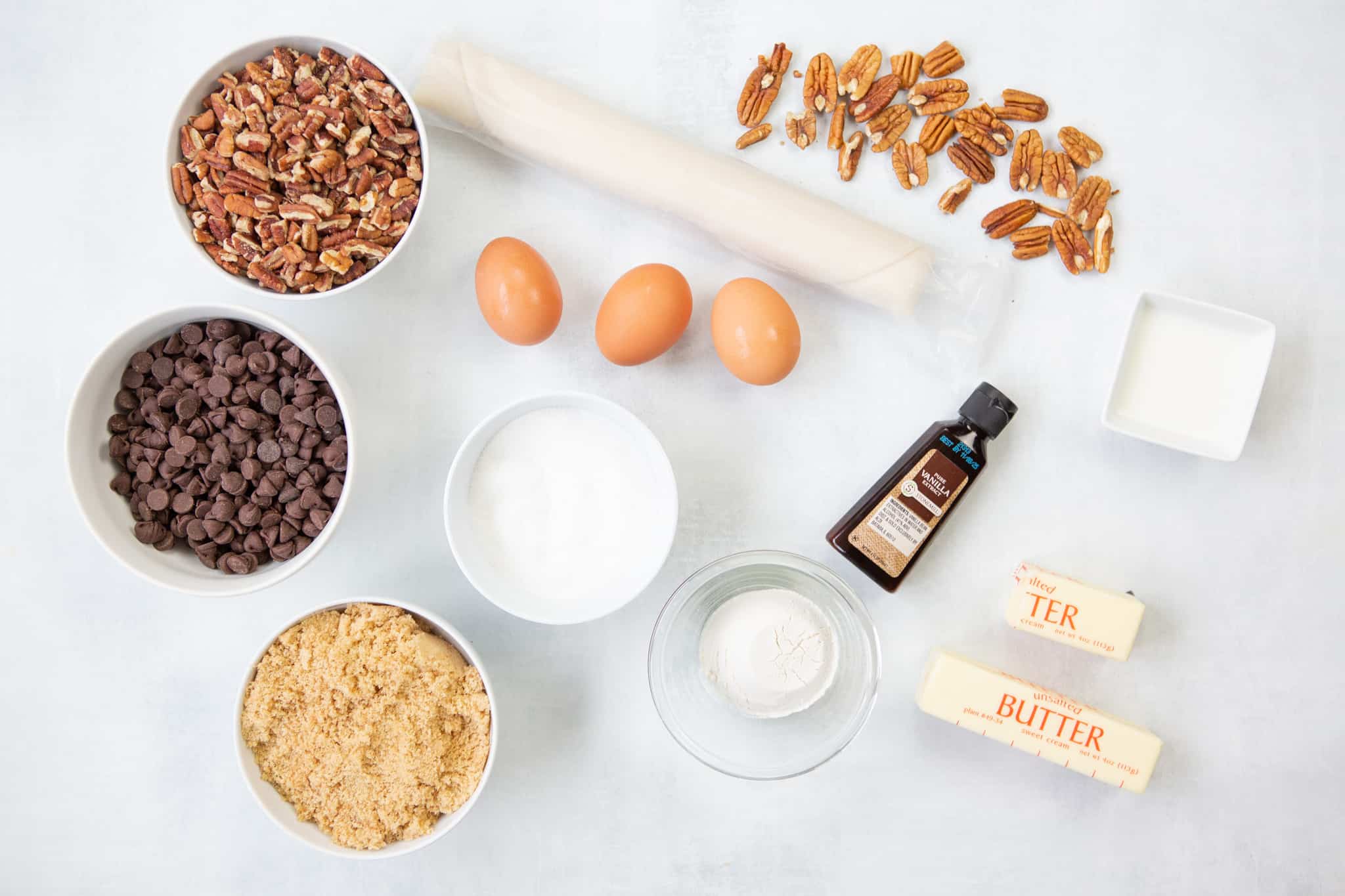 Refrigerated Pie Dough - one roll
Melted Butter
Eggs at Room Temperature
Light Brown Sugar
White Sugar
Flour
Milk
Vanilla Extract or Vanilla Paste
Chopped Pecans
Semi-Sweet Chocolate Chips
See recipe card for amounts.
Instructions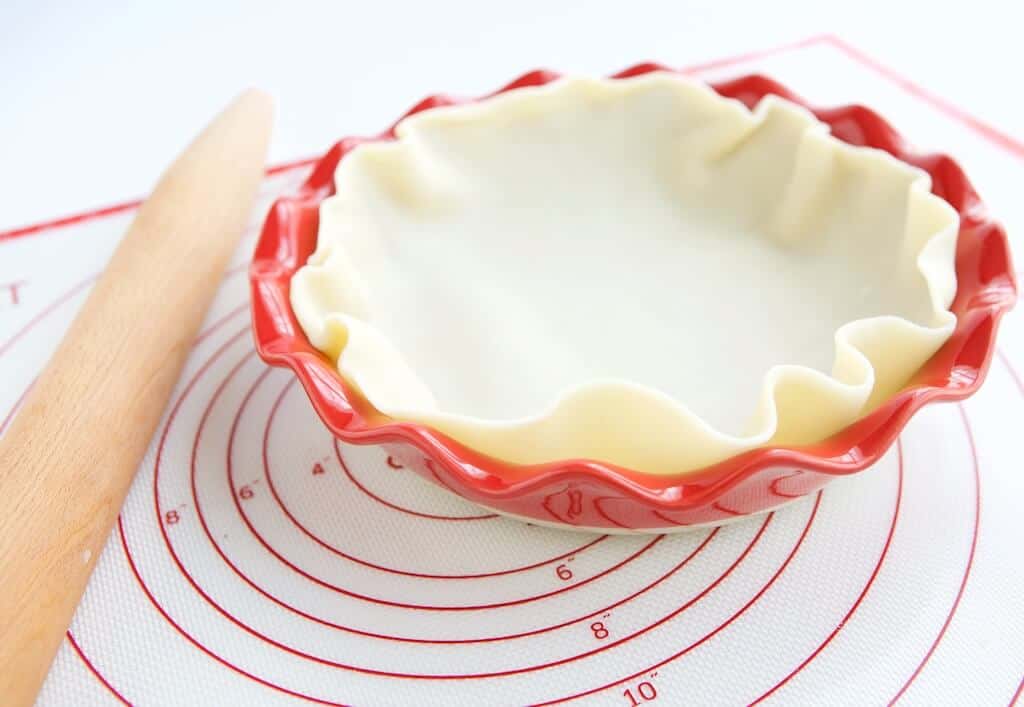 Unroll cold, premade pie dough and gently lay into a pie dish. Even out the dough so it covers all sides. Leave the edges untouched as the batter will fill it up. You can adjust the edges after filling with batter.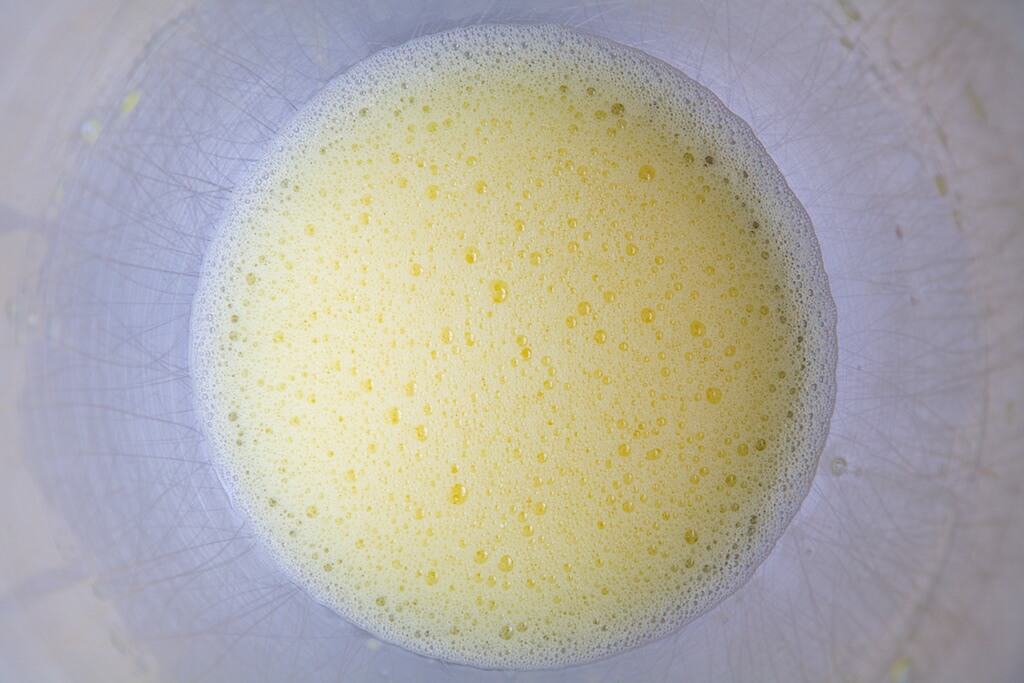 In a large mixing bowl, whisk eggs with an electric mixer until frothy and foamy. This can take up to 5 minutes.
Pour melted butter that is no longer hot into the mixing bowl. Whisk until blended.
Add sugars and flour to the bowl and whisk until incorporated.
Add the milk and vanilla and whisk in.
Fold in the chocolate chips and pecans with a spatula. Consistency will be thick to medium thick. It depends on your eggs how the exact texture will turn out and it's OK if there's variability.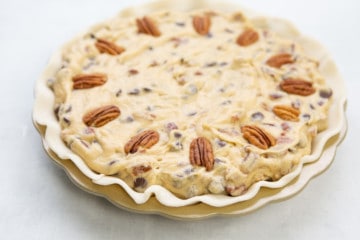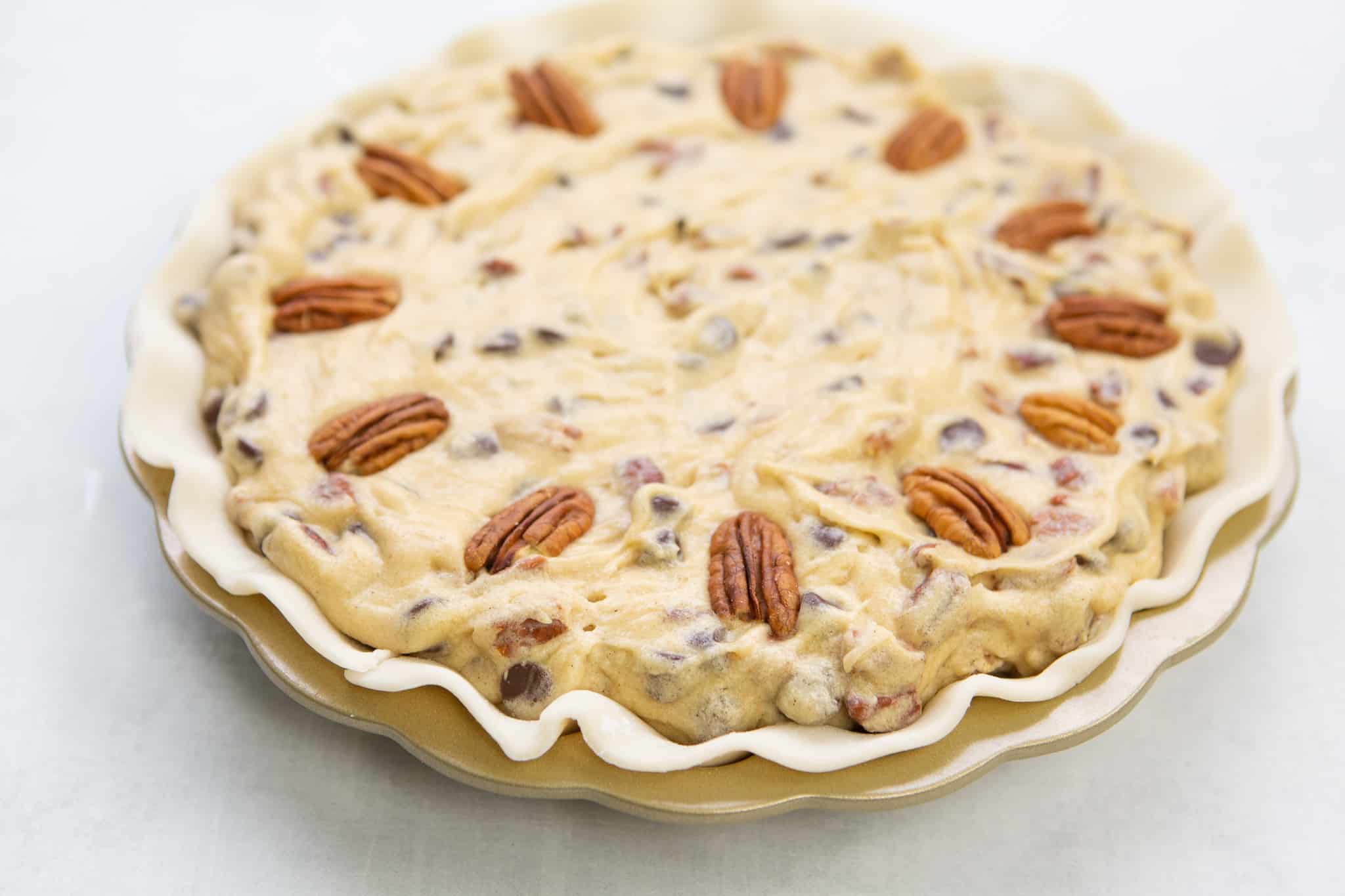 Pour the batter into your prepared pie dish and spread evenly. Decorate with pecan half pieces if desired.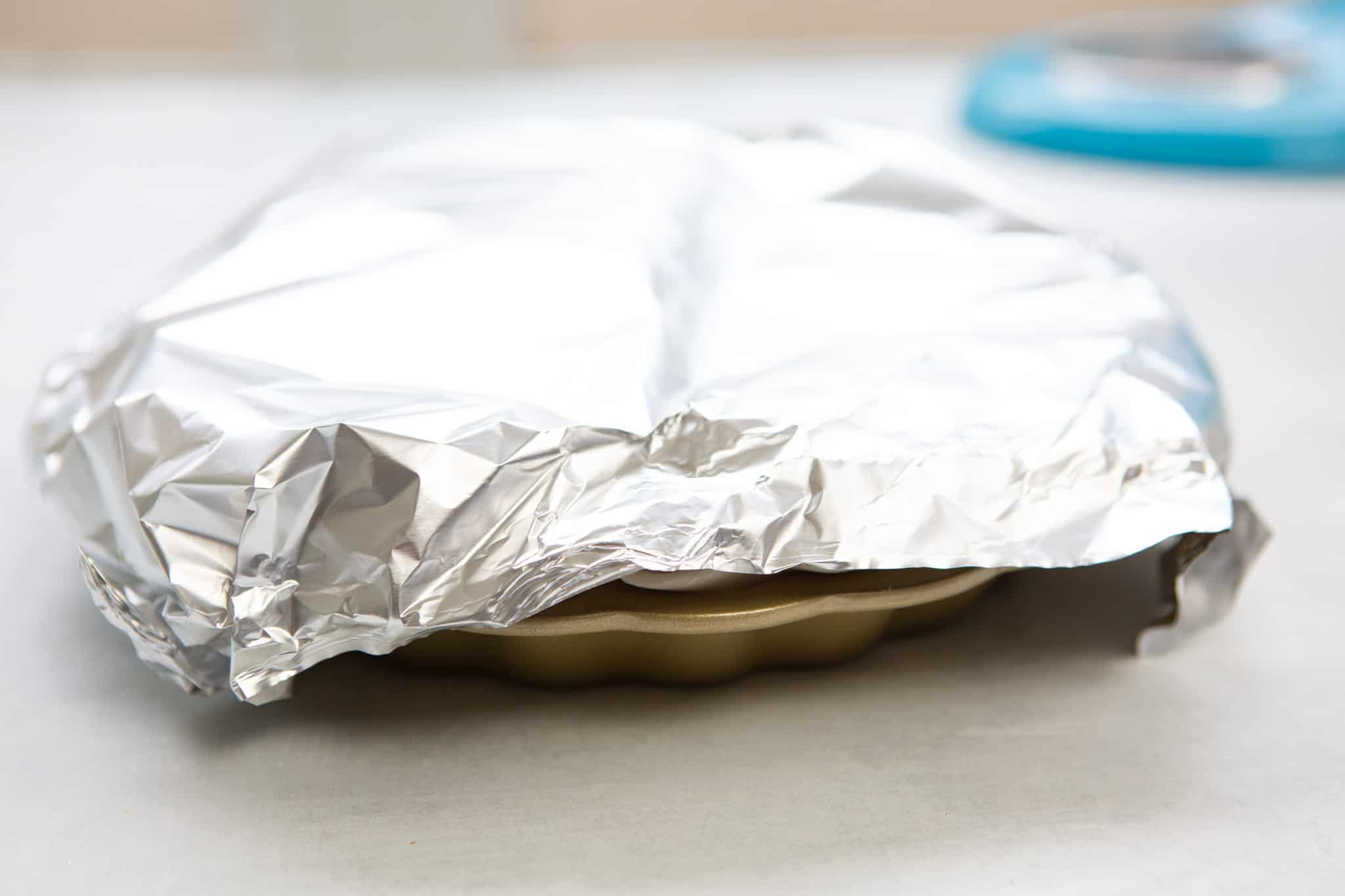 Tear off a piece of aluminum foil large enough to cover the pie. Spray underside with cooking spray. Loosely tent the foil over the pie, keeping space between the greased side and the top of the batter.
Put covered pie onto the center rack of the oven and bake at 350 degrees for 30 minutes.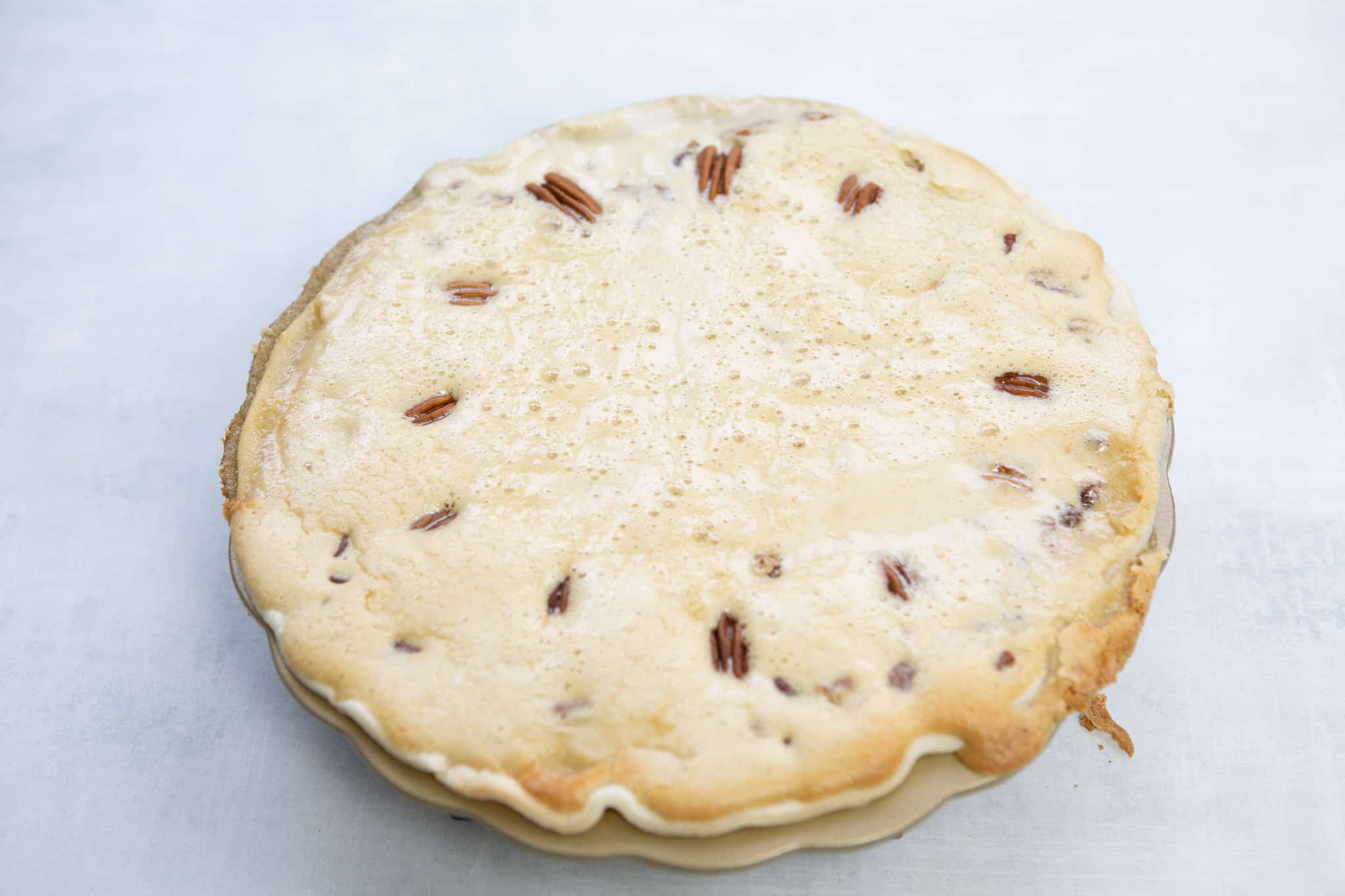 Remove pie from the oven and carefully remove the tin foil. Return the pie to the oven and continue baking for 25-35 minutes, until top is deep brown, but not burned, and the center is set. Baking less time will produce a gooey-er center and baking a longer time will produce a denser, brownie-like texture.
Cool pie for at least 30 minutes before serving. Can bake pie a day ahead.
Substitutions
Walnut Pie - You can absolutely substitute in walnuts, or a mix of chopped nuts, if you'd like.
Frozen Pie Shell - If you'd prefer an even easier assembly, use a frozen pie shell. Do not bake it first, but it should be thawed. You also will have way more filling than you can fit in this size of pie. I don't know for sure, but I think you could probably split this recipe between 2 of these store bought pie crusts. Also, cut the bake time down to 30 minutes plus 15 minutes and watch it that it does not over bake.
Variations
Gooey to dense consistency - This pie can be very gooey or more dense (think brownie texture) depending on how long you bake it. Our family prefers it gooey, so I pull it out of the oven after 20-25 minutes on the second bake. If you would prefer a denser texture, leave it in for the full 30 minutes on the second bake, and possible add 5 more minutes.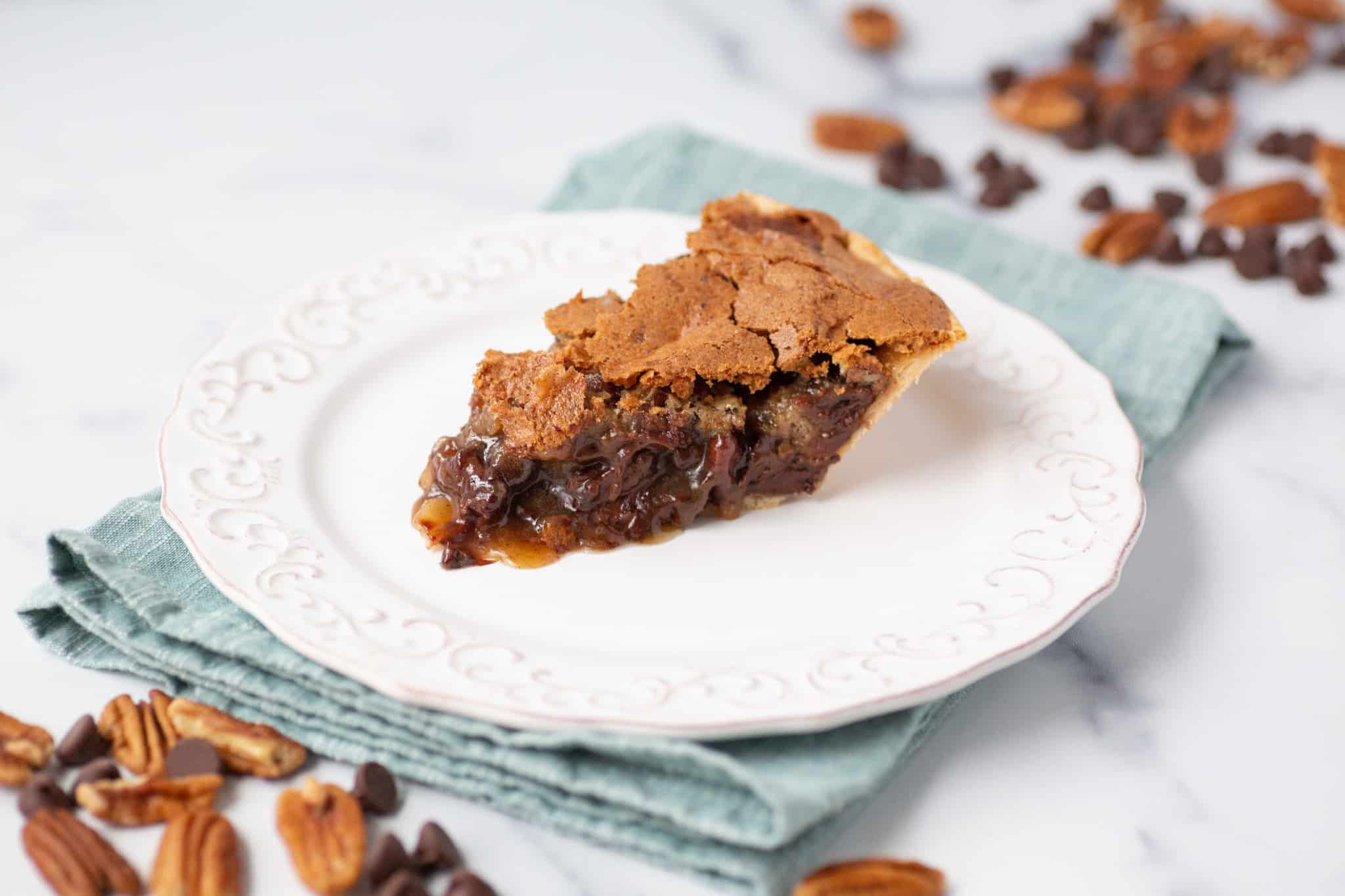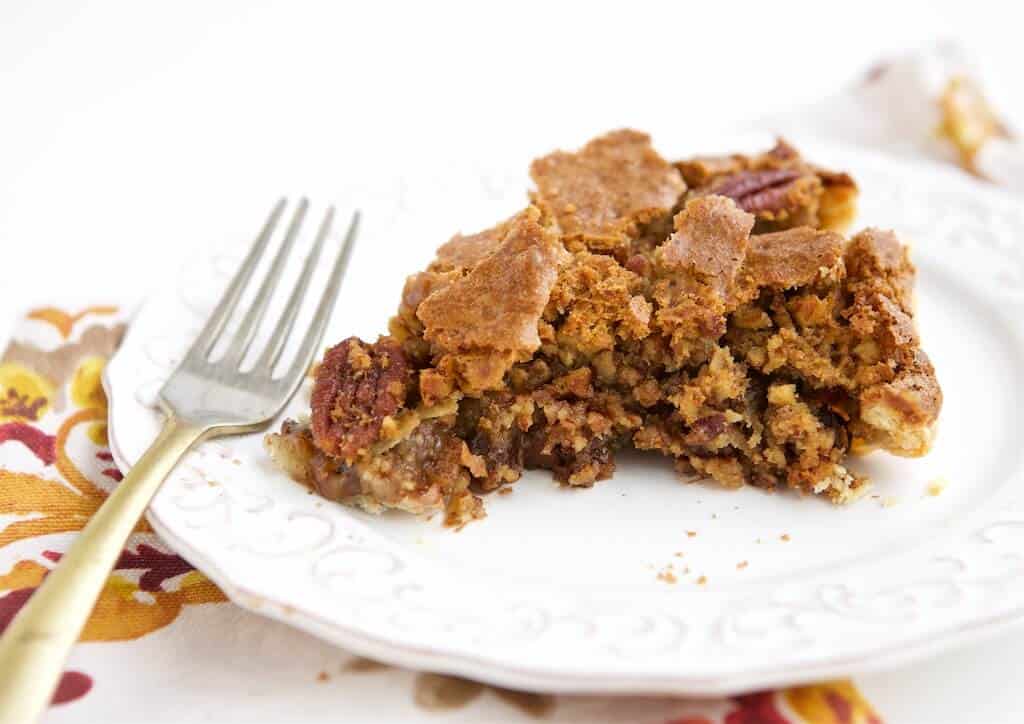 Equipment
This straightforward Chocolate Chip Pecan Pie uses minimal equipment.
Pie Dish - You can use a regular depth pie dish for this recipe, but you may have a little spill over onto the edge. I could care less about this, but if you are looking for the "perfect pie" look, use a deep dish pie plate. I love this white one that's perfect for any occasion.
Electric Mixer - An electric mixer is very helpful in this recipe because you might be whisking eggs for up to 5 minutes to get them frothy.

Storage
This pie will stay fresh for 1-3 days, but rarely does it ever even make it that long in my house. For Thanksgiving, I make this pie a day ahead and it's still perfect the next day.
Store at room temperature and cover with aluminum or plastic wrap (or use reusable wrap or a storage container) to keep air out.
I have not frozen this pie so I am not sure how it holds up.
Top Tip
Make a double batch of this Chocolate Chip Pecan Pie recipe because it's so good. If you like leftovers or second dessert later in the night, then definitely make two!
Print
Recipe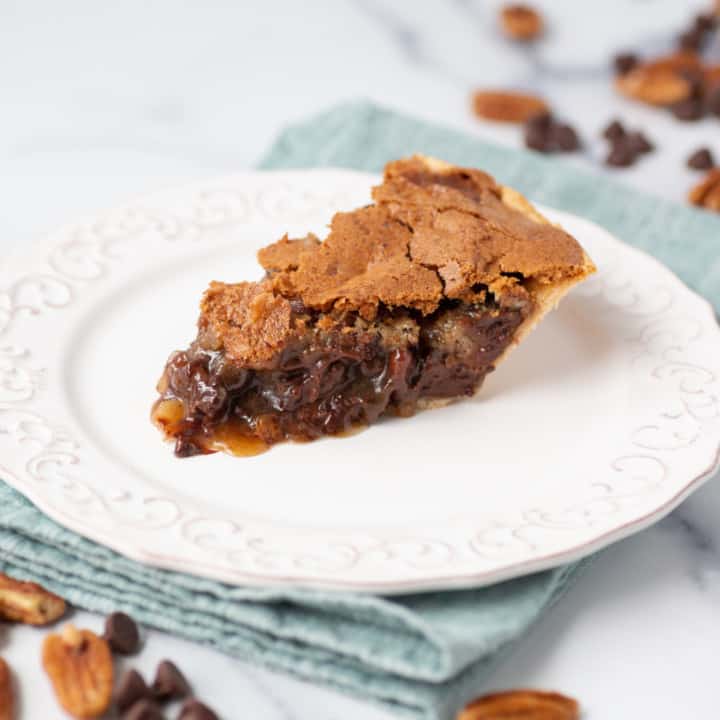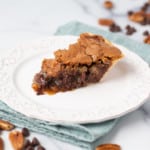 Chocolate Chip Pecan Pie
---
Author:

Total Time:

1 hour 25 minutes

Yield:

1

pie

1

x
Description
This easy holiday pecan pie is a perfect blend between traditional pecan pie and Tollhouse pie. It has a gooey center but is a corn syrup free recipe. You might as well make 2 because everyone will love it.
---
Pie dough for 1 pie (see notes)

¾

cup

butter (melted)

3

eggs

1 ¼

cup

brown sugar

½

cup

sugar

¼

cup

all purpose flour

2 tablespoons

milk

1 teaspoon

vanilla

1 ½

cups

pecans (chopped)

1 ½

cups

semi sweet chocolate chips

½

cup

halved pecans (for decoration)
aluminum foil
---
Instructions
Preheat oven to 350 degrees. Prepare pie dough of choice in pie pan.
With an electric mixer, whisk eggs on medium speed until foamy (see picture below recipe), about 5 minutes.
Pour in butter making sure it is just a little warm, not hot. Mix in on medium low speed. Next whisk in sugars and flours on low speed, until combined.
Whisk in milk and vanilla on low speed.
Fold in chopped pecans and chocolate chips.
Pour into prepared pie crust and decorate with halved pecans in desired pattern. Then, cover loosely with aluminum foil. Bake for 30 minutes.
After 30 minutes, remove foil from the top of the pie. Return to the oven and bake for 25-35 minutes*, until top is deep brown (but not burned) and center of pie is set (it does not jiggle).
Allow to cool completely before serving for the best texture.
Notes
You can easily use refrigerated pie dough or a frozen pie shell. Both work great. My favorite way to make dough is to use the Williams-Sonoma pie crust mix.
*Bake less time to produce a gooey center and bake more time to produce a denser, brownie-like texture.
Prep Time:

25 minutes

Cook Time:

1 hour

Category:

Dessert

Cuisine:

American
Keywords: dessert, pie, chocolate chip
If you are not sure what "foamy" eggs look like, here's a reference: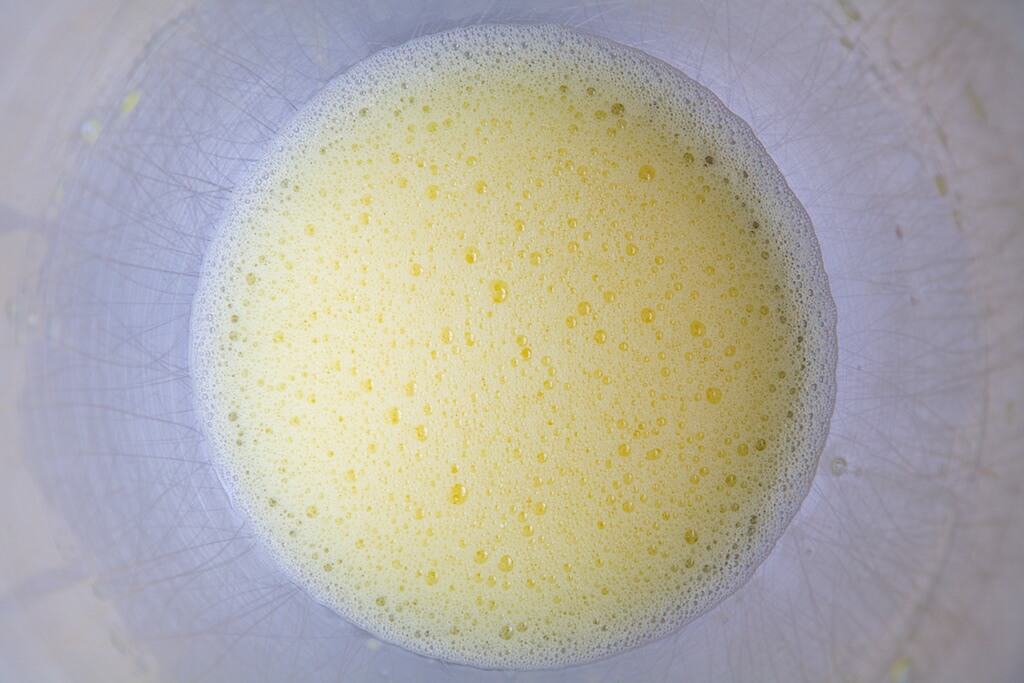 Also, creating the "perfect" looking pie crust edge is stressful. Don't let it be! If you use a fluted pie pan like this one or this one, you can just fold down the crust and mold it along the edge of the pan. Easy peasy!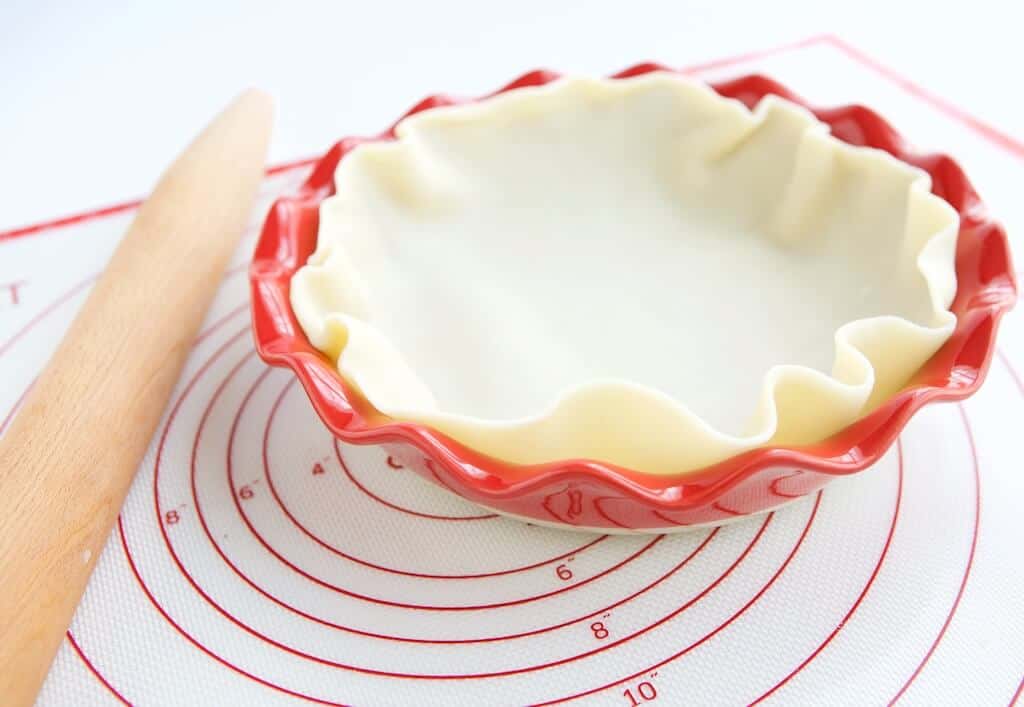 Now, tell me, how do you feel about pie? Do you make something special for Thanksgiving? Leave a comment and let me know.
For the "good stuff",