Taste Test Tuesday is a bi-monthly feature on Make Healthy Easy where I review a new food, product, or service to help you decide if it's worth it. Today I review hemp hearts, the chewy inside of a hemp seed that's packed with flavor, texture and nutrition.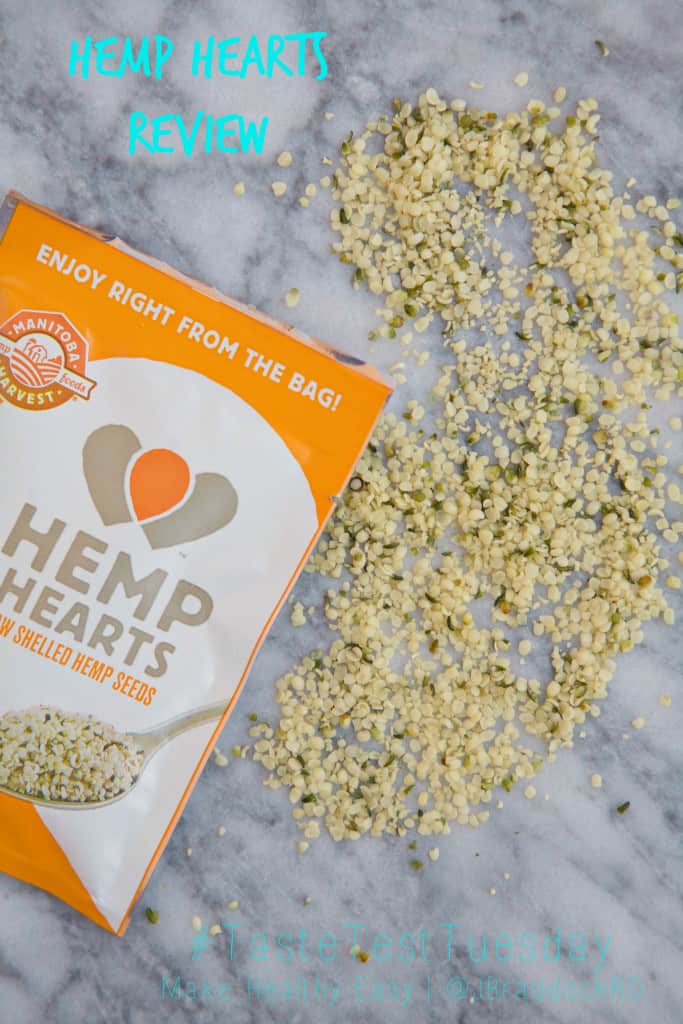 My first memory of hemp was in middle school.
I was just coming out of the friendship bracelet making stage and entering the I'm-so-cool choker (necklace) stage. Growing up at the beaches of South Florida we had a more relaxed surf vibe, and the choker necklaces started to be made from hemp. Remember those? My mom was a little weary of it, which made it all the more appealing as a 12 year old girl trying to be just a touch rebellious.
Now, as a nutrition professional, I've noticed hemp appearing on the food scene in a whole new way for the past handful of years. Fortunately, it's definitely not as scandalous feeling as it was in middle school.
Hemp Hearts vs Hemp Seeds
Hemp hearts are the soft inner part of hemp seeds; what's left after hulling. This heart is packed with nutrition and extremely convenient to enjoy any time of day. And yes, they have a yummy nutty taste too.
I chatted with the folks from Manitoba Harvest at a big conference last October. They kindly sent me a big box of hemp heart samples to enjoy and share. Since they are not well known, I wanted to write about them and share with you all what I think in Taste Test Tuesday.
First let's clear the air on what you may be wondering about.
Hemp is a type of cannabis. From what I can read in the research,there are 2 types of the cannabis plant grown. First, there's the kind that produces psychotropic effects. This type contains between 1-20% of the compound THC (no thank you). Second, there's the variety grown for "industrial" use containing < 0.3% THC and produces no psychotropic impact. It is legal to grow hemp in many countries but not in the United States. Canada is the closest producer that provides the US with hemp.
While I'm not an expert in botany, I accept this and consider hemp to be quite safe to ingest. Now let's move onto a subject that is way more fun to talk about.
Health Benefits
Hemp hearts are a great source of omega 3 and 6 essential fatty acids. I think we all know that these are "healthy fats" but do you know why? When nutrients are labeled as "essential nutrients" this means that the human body can't create it. You have to eat it to get it. Omega 3 and 6 polyunsaturated fatty acids are important for many important functions of our body including brain cell health. (Hello!! Super important.) They also can aid in reducing inflammation on a grand scale and, more specifically, can prevent disease by reducing components of your cholesterol levels.
The benefits of the omegas continue to be discovered so the bottom line is you need to eat them regularly. Fish and nuts are good sources too but they are not always available or enjoyed. Hemp hearts can be an additional source option and they are perfect for those who eat on the vegetarian side of life.
Hemp hearts are a good source of plant based protein. This may be my favorite attribute as I am always on the hunt for convenient protein options. A 0.5 oz serving of hemp hearts has a whopping 10 grams of protein. And even better news is that it is a complete protein source, meaning it has all the essential amino acids. They also contain arginine, a non essential amino acid that has benefits on the cardiovascular system for improving blood flow (essentially).
The Nutrition Facts are similar to that of flax seed, except flax seeds have a higher fiber content and hemp hearts have a higher protein content. 3 tablespoons of hemp hearts have 170 calories, 13 g of fat, 1.5 g saturated fat, 0 g trans fat, 10 g polyunsaturated fat, 1.5 g monounsaturated fat, 0 mg cholesterol, 0 mg sodium, 3 g carbohydrate, 3 g dietary fiber, < 1 g sugar, 10 g of sugar.
So, yes, they are great for your overall health with many nutritional benefits.
How Hemp Hearts Taste
Hemp hearts have a unique flavor, and I don't mean that in the "unique" bad way. I mean that I really can't think of anything else to compare them to flavor-wise. They have an earthy and nutty flavor. I guess they are sort of a cross between what flax seed and pumpkin seeds taste like.  I find them quite pleasant and enjoyable.
But perhaps my favorite feature is their texture, because I'm all about food texture. They are just a little chewy and I love it! Most seeds are crunchy exclusively while hemp hearts offer a slight crunch and then a fun chewy texture. The closest thing I can think of to compare the texture to is a pine nut.
Best Way to Eat Them
There are a lot of fun ways to enjoy the nutritional value of hemp hearts. Most commonly, I sprinkle a handful of hemp hearts on Greek yogurt to add flavor, healthy fat, more protein, and of course, TEXTURE! They're a great addition to your favorite smoothie or into baked goods. I'm thinking about using them in a breading for chicken and in granola too. I will confess that I often just open a single serve pack and eat them straight, so that's always a good idea too. For more plant-based foods, try my 5 Ingredient Raspberry Pudding with Chia Seeds.
Where to Purchase
Hemp hearts are widely available at health food stores and usually your local grocery store. Like I mentioned, I received free samples from Manitoba Harvest so that is the brand that I would probably purchase, but there are a couple of other choices. I've noticed that Costco carries a big bag for a great price too. Just because I like to make things convenient and I love LOVE online retailers like Amazon, here's a quick link for you to order them there.
Conclusion: I think hemp hearts are a healthy, delicious and convenient food to enjoy regularly. Do you have to eat them? No, not necessarily. I love that they are a nutritional powerhouse providing healthy fats, significant plant protein and fun texture to food. Give them a try!
Leave a comment and let me know if you have tried them or would like to try hemp hearts. And, if you have any cool ideas for how you like to eat them, please share!
Have a healthy day!
Jenna
Like what you are reading? Sign up for email updates from MHE and get my FREE Smoothie Jump Start & Buying Guide.
References:
The cardiac and haemostatic effects of dietary hemp. http://www.ncbi.nlm.nih.gov/pmc/articles/PMC2868018/
Omega-3 Fatty Acids: http://www.hsph.harvard.edu/nutritionsource/omega-3/