Jump to:
The holidays are here and I'm so freaking excited!! With our boys now bigger boys, and not toddlers, there are so many fun things we can do together, including staying out just a little later when needed. 😉
This holiday will be unique for us because I am having back surgery on November 30th. I'm not 100% sure what recovery is going to look like yet, but I am planning for a lower key December for sure. Nonetheless, I know I will need, probably like you, some healthy holiday food hacks to help survive the wave of indulgences the holidays crash upon us.
Recently on First Coast Living I worked on behalf of some wonderful clients to share some very helpful healthy holiday eatings hacks.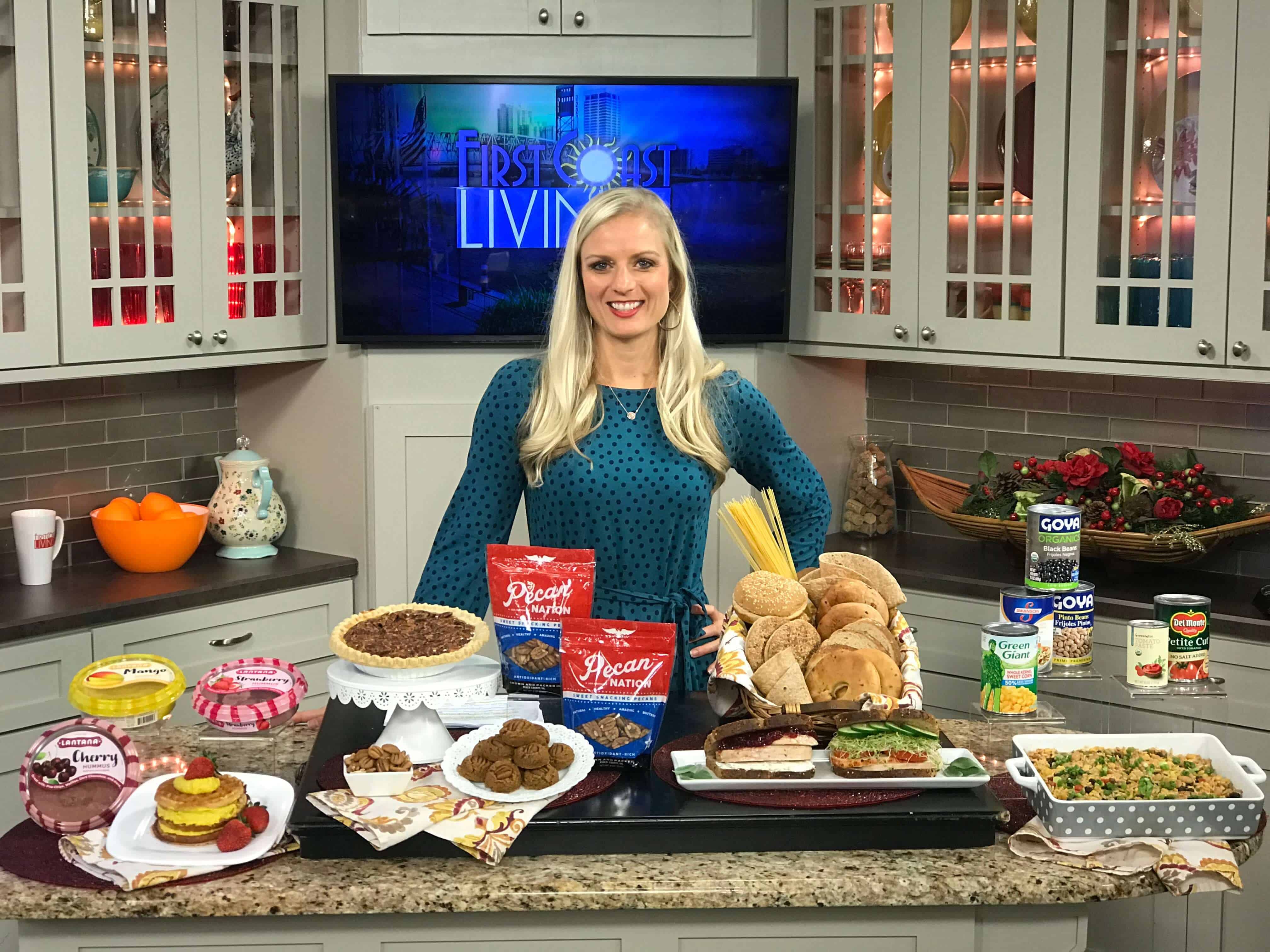 This TV segment is sponsored by Lantana Foods, Pecan Nation, Grain Foods Foundation, and Cans Get You Cooking.
Healthy Holiday Eating Hack #1
Create a festive, delicious, and healthy breakfast spread for guests with Lantana's new Fruit Hummus. I know it sounds a little weird, but they are so tasty! It's a perfect alternative to syrup or jelly on pancakes, waffles, and bagels. My personal favorite is the mango flavor because I love all things mango.
Healthy Holiday Eating Hack #2
Pecans make a great, nutritious snack and you probably already have them on hand for holiday baking and cooking. Pecan Nation pecans are super plump and delicious. They are perfect in these Pumpkin Pecan Cookies or your favorite pecan pie recipe. I highly recommend my Chocolate Chip Pecan Pie.
Healthy Holiday Eating Hack #3
Turn your leftovers into a healthy sandwich using a whole grain bread. Grain foods don't have to be feared and actually provide key nutrients to American diets. Round out your holiday proteins with loads on veggies and you have a balanced meal ready to go! I do love my All-Year-Round Turkey Cranberry Sandwich as a great use of leftovers too.
Healthy Holiday Eating Hack #4
Stock your pantry with canned fruits and vegetables to reduce food waste from a last minute change of plans. Canned fruits and veggies do help contribute to your total intake and don't go bad. Try out my most popular recipe on Make Healthy Easy that heavily uses canned goods: Vegetarian Rice & Bean Casserole.
Do you have a favorite healthy holiday food hack? Leave a comment and let me know!
Happy Holidays friends!