These White Chocolate Dipped Pretzel Rods are so easy that you will never need to buy a sweet treat for a party or special gift again. Serve them open in a mason jar or individually wrapped for a reasonable, beautiful dessert.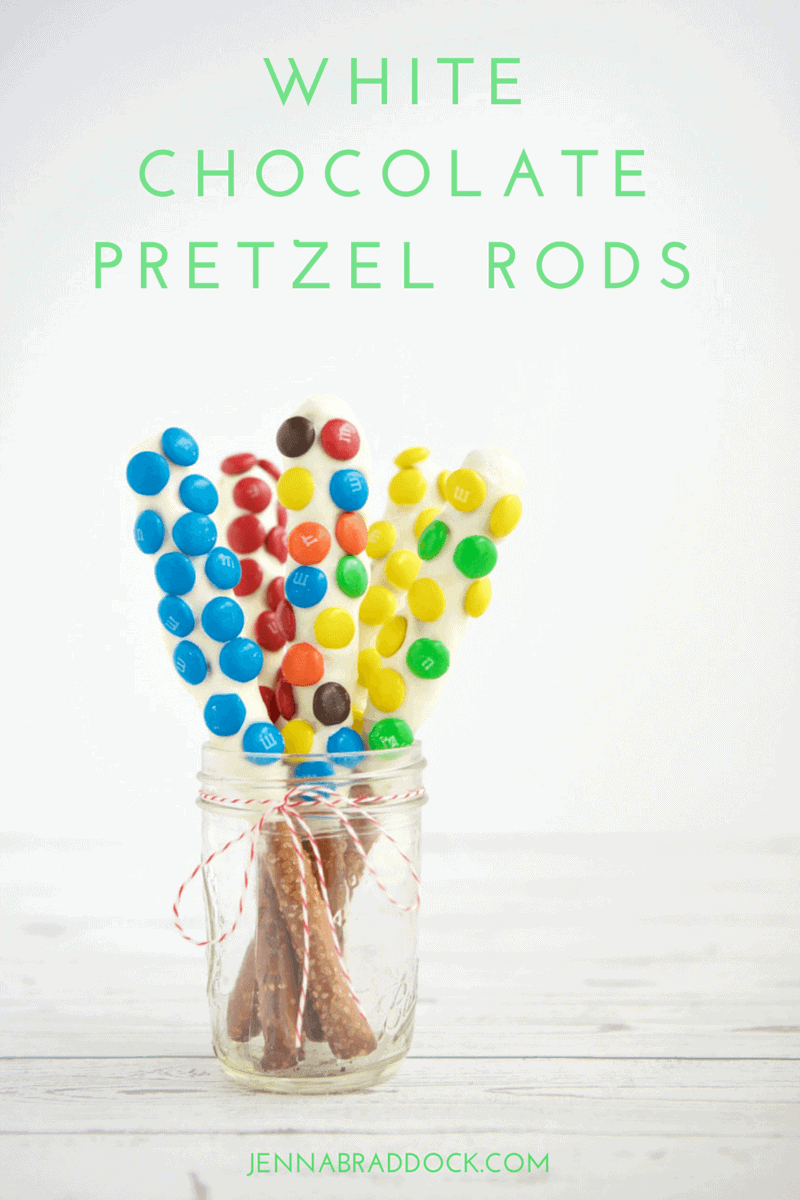 Jump to:
Perhaps you are a little startled by the title of this post. I can understand that. I mean, what do white chocolate dipped pretzel rods have to do with Make Healthy Easy? Is it opposite day or something?
Well, we all have seasons of our lives when we don't have a lot of energy to make everything from scratch. For instance, I know I could make enchilada sauce easily from scratch (like The Lean Green Bean's recipe), but instead I just stick to my All Natural Easy Chicken Enchiladas with canned sauce. It works right now. And maybe one day down the not-to-distant road, I'll have the energy to make more from scratch.
This super easy treat is something we can make even during a busier season of life. I love to give friends and family a little special treat, especially at different holidays. I've bought candy before, which is expensive, and it seems kind of cheap to just give one small piece. So last year I made these homemade treats at Christmas time for work colleagues and neighbors.
How These Help Make Healthy Easy
These M&M pretzel treats are the PERFECT little gift that's a welcome treat but not does not go over the top with tons of calories or a huge portion size. One pretzel really is satisfying. M&M pretzel treats meet all the requirements: it's an easy recipe that doesn't require a lot of time, and they look incredibly festive and delicious.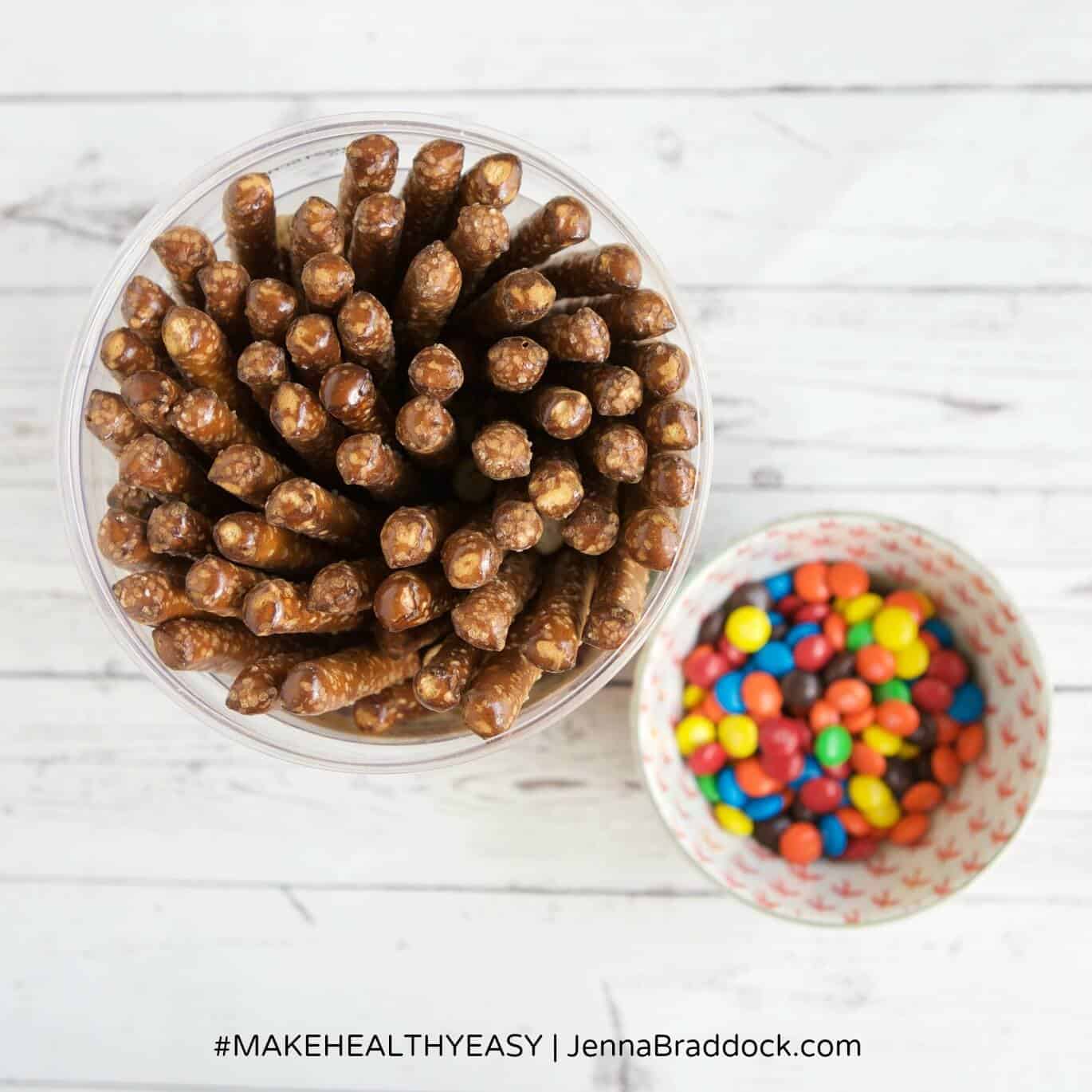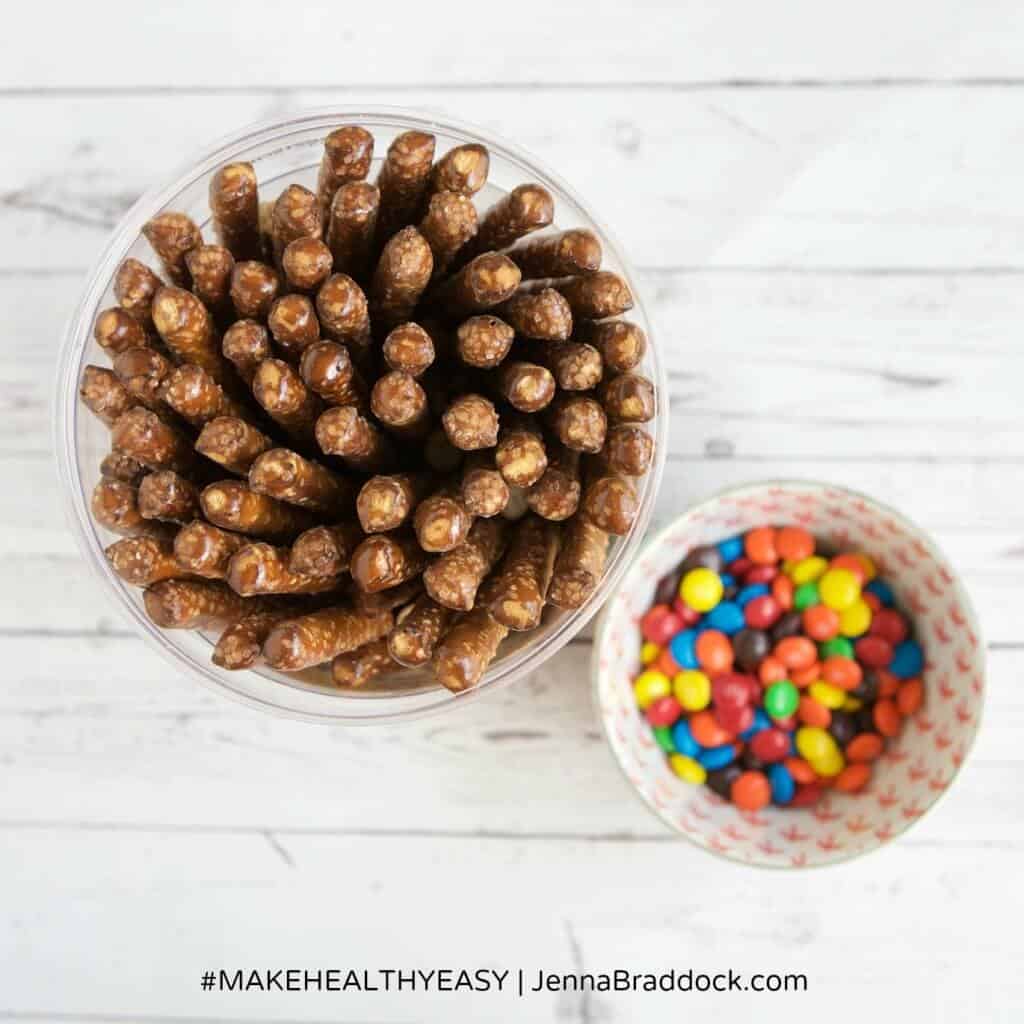 Simple Ingredients
Here's what you'll need to make this sweet and salty combo:
Pretzel rods (I buy the big ol' tub of pretzel rods from ALDI for about $3.)
White chocolate chips
M&M candy (ALDI also sells M&M's for a fabulous price.)
Wax or parchment paper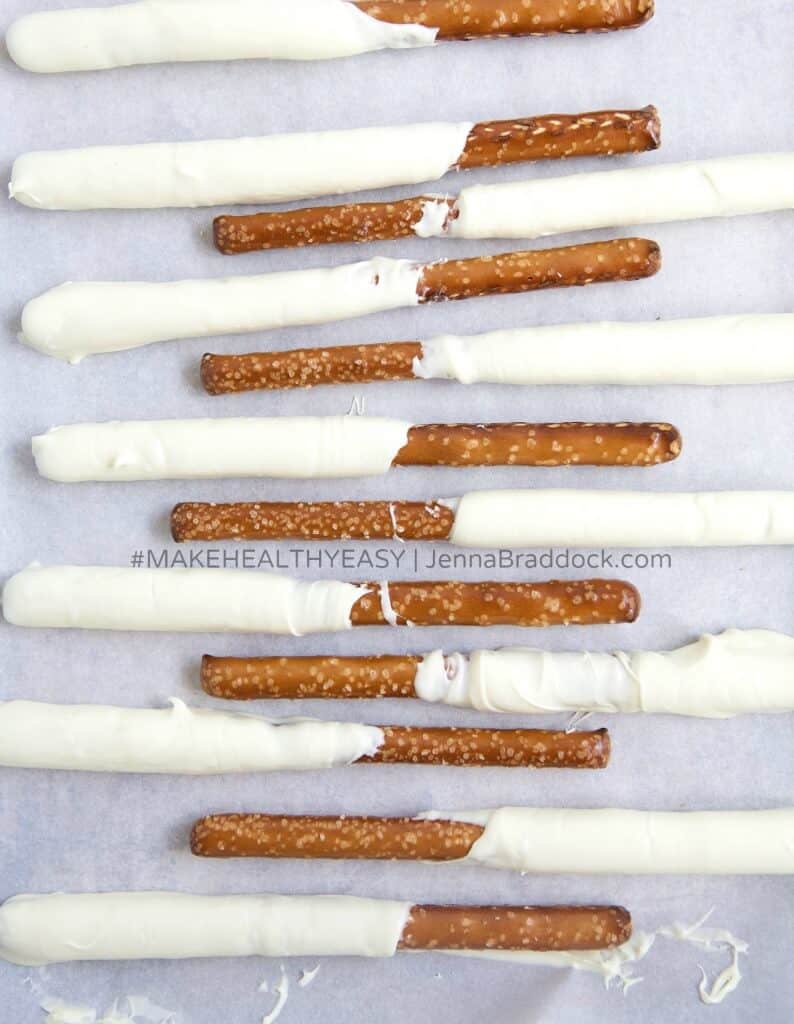 Top Tip
To melt the white chocolate chips, I use my trusty microwave and have found a very tall mug, like this Fiesta Latte mug  (which is also just my favorite mug, period), works the best. Be sure to microwave in 30-second increments only, as it's very easy to overcook white chocolate. Once melted, use a small spatula to keep the melted chocolate up along one wall of the mug and then roll the pretzel along that one area.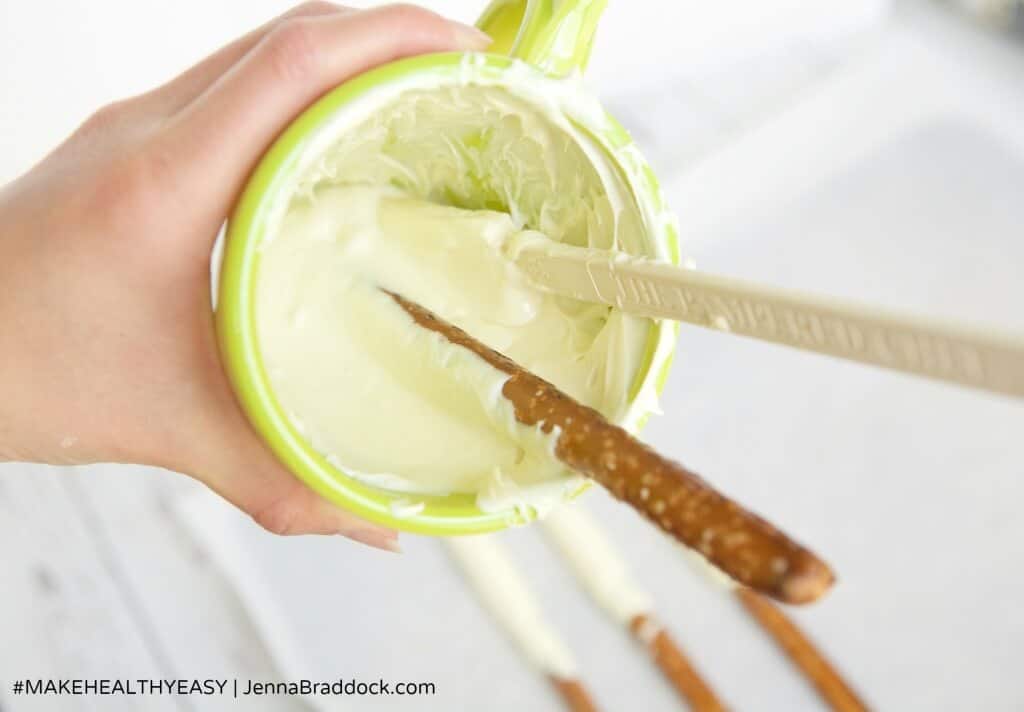 Holiday Gifts
When gifting these, I put them each in cellophane bags like this Wilton pretzel bag and tie it off with some ribbon. Sometimes I'll add a little gift tag, but truly it's not needed. You'll get a big smile from the recipient regardless. I promise.
Special thanks to my mom who invented this recipe, as far as I'm concerned, and taught me how to make them. These always make me think of you, Mom! You are the best at making them.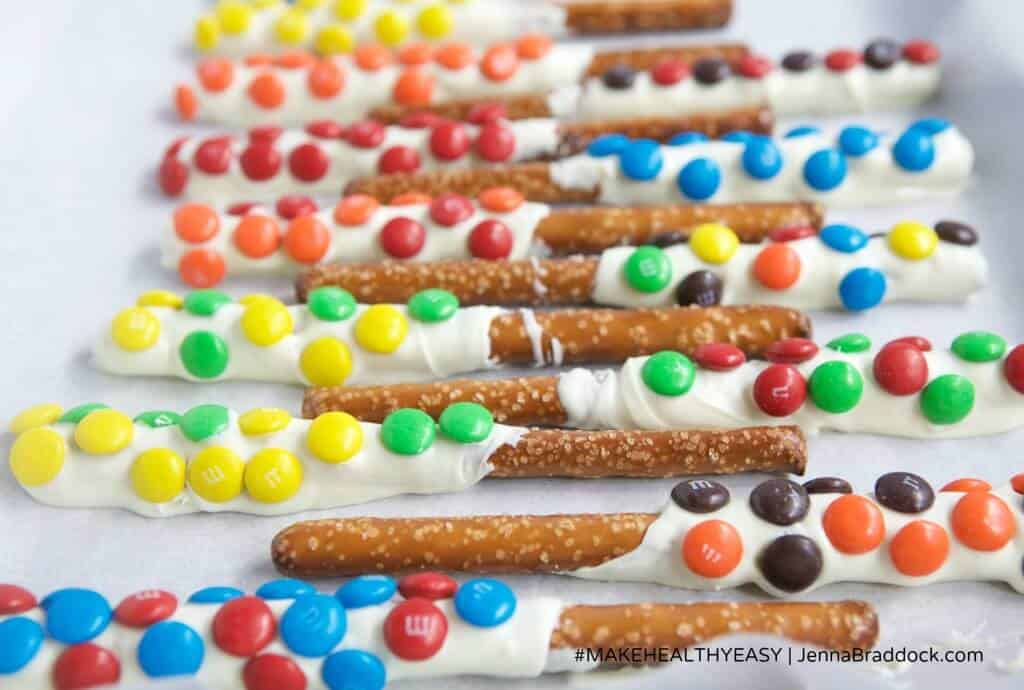 Variations
You can customize the M&M's on these yummy treats to fit whatever holiday season or event you are celebrating.
Graduation party- decorate with the graduate's school colors
Memorial Day or July 4th- red, white, and blue
Christmas- red and green M&M candies, or red and white to look like candy canes
Valentine's Day- red and white
Easter dinner- use the seasonal pastel M&Ms
These are just some ideas, but the sky is the limit!
Save this recipe for things like a school bake sale, a cookie exchange, or even family movie night. It's such a versatile and festive treat! I hope you love this sweet and salty combination and that White Chocolate Dipped Pretzel Rods will become something you share with those you love.
Enjoy!
Jenna
Print
Recipe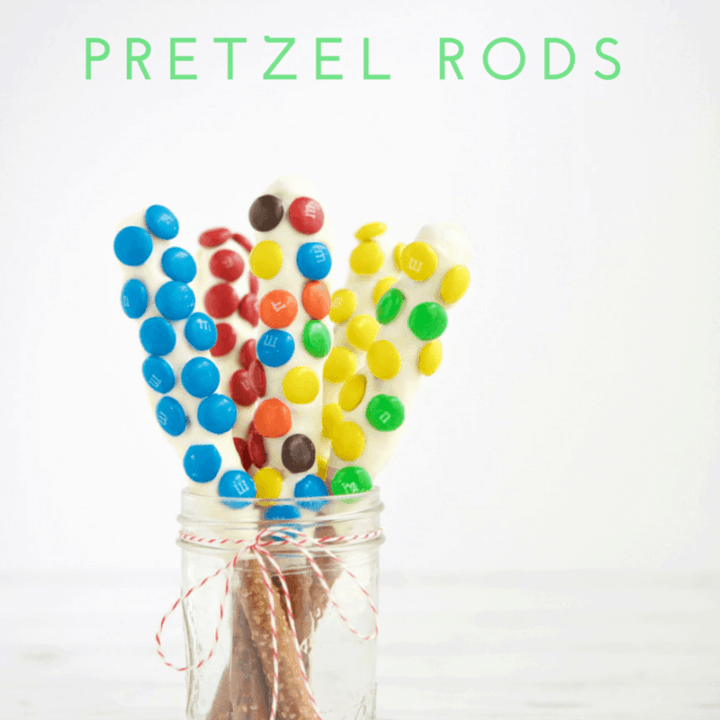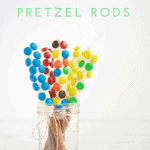 White Chocolate Dipped Pretzel Rods
---
Author:

Total Time:

2 hours 10 minutes

Yield:

13

-

1

5

1

x
Description
These White Chocolate Dipped Pretzel Rods are so easy that you will never need to buy a sweet treat for a party or special gift again. Serve them open in a mason jar or individually wrapped for a reasonable, beautiful dessert.
---
15

-

20

pretzel rods

1

bag white chocolate chips (Ghirardelli is recommended)

1

bag M&M's candy
Wax or parchment paper
---
Instructions
Lay out a large piece of parchment or wax paper on your counter or on a large baking sheet. Pour M&M's into a bowl and set next to parchment paper.
In a tall mug, pour in all of the white chocolate chips. Microwave on high for 45 seconds. Remove and gently stir with a think spatula.
Return mug to microwave and heat on high for seconds. Remove and stir again. Repeat this process until chips are ALMOST fully melted, about 3-4 total cycles. Stir well until chocolate is smooth and chips are completely melted.
Tip the mug to the side and use the spatula to collect the chocolate along one wall of the mug. Insert a pretzel rod in to the chocolate and twist to coat, trying to cover as much of the rod as you prefer. Continue to twist pretzel as you remove it from the chocolate, allowing the excess to fall back in to the mug. Place dipped pretzel on parchment paper in a single layer.
Repeat dipping with all pretzels. Once chocolate has set slightly, about 5 minutes, cover each pretzel with M&M's to preference. (I think the more the better.)
Allow pretzels to harden completely at room temperature, about 2 hours. Make sure it is a cool area without direct sunlight or close proximity to heat source.
Store in airtight container or individual gift bags. Pretzels stay fresh for 1 week and possibly up to 2 weeks with a good climate.
Prep Time:

10 minutes

Cook Time:

2 hours

Category:

Dessert

Method:

Microwave
Keywords: dessert, diy gift, holiday, easy recipe