What does cantaloupe have to offer? Well, quite a lot actually. Learn about the health benefits of eating cantaloupe and get a tasty recipe for a cantaloupe ginger lime smoothie.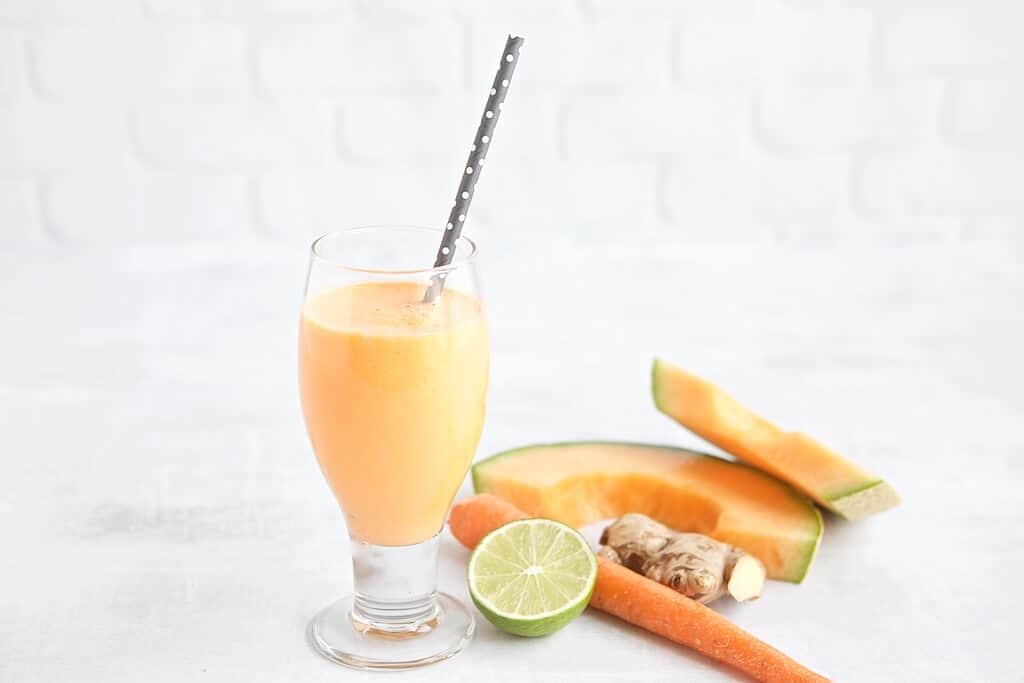 Underneath the mound of strawberries, grapes, and watermelon in a fruit salad, you'll find a lowly fruit that never seems to get the recognition that the other fruits do. Despite being beautiful in color, it's often passed over. You know what I'm talking about: cantaloupe.
I confess I too pass on the cantaloupe in a fruit salad because it's just not as enticing as berries, oranges, and watermelon. Recently, however, I wanted to redeem this humble fruit, discover it's benefits and turn it into a smoothie recipe. Why? Because cantaloupe deserves a chance!
I created this smoothie recipe for a TV segment on seasonal produce. Check it out below!
Jump to:
Nutritional Profile of Cantaloupe
Cantaloupe has two big claims to fame when it comes to vitamins as 1 cup provides 78% of the Daily Value for vitamin C and 30 % of the Daily Value for vitamin A. Wowsers! That's good stuff.
After that the numbers do drop but still help contribute to overall needs. I cup provides 9% of the Daily Value for potassium and 8% of the Daily Value for folate, amongst many other things (source).
The vitamin A found in cantaloupe is from carotenoids (alpha and beta-carotene), which boast a whole host of potential health benefits related to their derivatives. Perhaps you have heard of lutein and zeaxanthin, which are carotenoids? Regardless, these nutrients have been well studied for their benefits in eye, such as in preventing macular degeneration, but are also powerful antioxidants with a host of benefits (source).
Health Benefits
Unfortunately, there is not a lot of research done on cantaloupes and even less that's actually done on humans. One study found that people who ate more fruit, including cantaloupe, had a lower risk for metabolic syndrome, specifically in women. In this study, Iranian women who ate 12 ounces of fruit a day (consisting mostly of apples, grapes, cantaloupe, watermelon, and bananas) had the lowest risk and the best levels of C-Reative Protein (CRP), a marker of inflammation in the body. Not only does this get me excited about how important eating fruit is for health, it also highlights cantaloupe as a champion of lowering disease risk. This could be explained by the anti-inflammatory and anti-oxidant properties of the nutrients it contains.
Some animal research provides other exciting possibilities for the power of cantaloupe specifically in the area of diabetes. Cantaloupe compounds were found to improve insulin and glucose metabolism and even improved insulin resistance.
Cantaloupe is economical
Perhaps the reason you see big ole chunks of cantaloupe at the bottom of the fruit salad is because you get a lot of it for a pretty good price. This is especially true when they are in season, typically in the spring. If you need your grocery dollars to stretch, consider buying a whole cantaloupe.
If you did buy cantaloupe, and it looks like it might go bad in the very near future, simply cut it up and freeze it for the Cantaloupe Ginger Smoothie I share below.
How much to eat
Based on the nutrient profile, I recommend enjoying a cup of cantaloupe in your day. The MyPlate guidelines suggest 1 ½- 2 cups of fruit a day for adults, so this would get you halfway there.
Another thing to keep in mind is if you or your child don't like to eat carrots. In this case, making cantaloupe a part of your regular routine would be very helpful. You need those carotenoids from orange foods!
Ways to enjoy
I'll be honest with you, sometimes the flavor of cantaloupe just doesn't do it for me. This is probably because it is out of season and not the sweetest it could be. But have no fear, I have a couple of ideas to help you (and me) enjoy cantaloupe outside the fruit bowl.
#1 - Grill It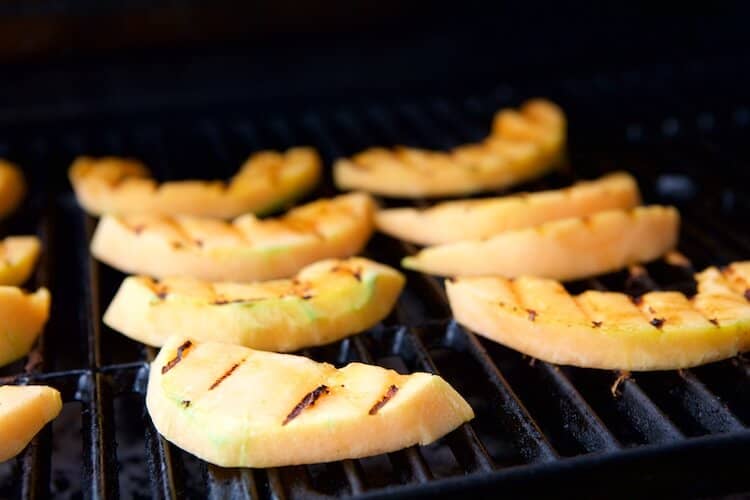 Grilling cantaloup is easy and quick and really brings out the natural sweetness of the fruit. Caramelization occurs where the fruit touches the grill and that, my friends, is pure magic.
If you've never grilled cantaloupe before, check out this Grilled Cantaloupe Salad recipe which not only shows you how to grill it, but also how to cut and peel one of those bad boys.
#2 - Throw it in a smoothie
If you don't know, I love smoothies. They are an Anchor Habit for me and my family in our lifestyle. But… I've never tried a cantaloupe smoothie, until now.
I created perhaps one of my most beautiful smoothies (rivaled only by this Beet Mango Smoothie) with this Cantaloupe Ginger Smoothie. I mean, isn't it just lovely?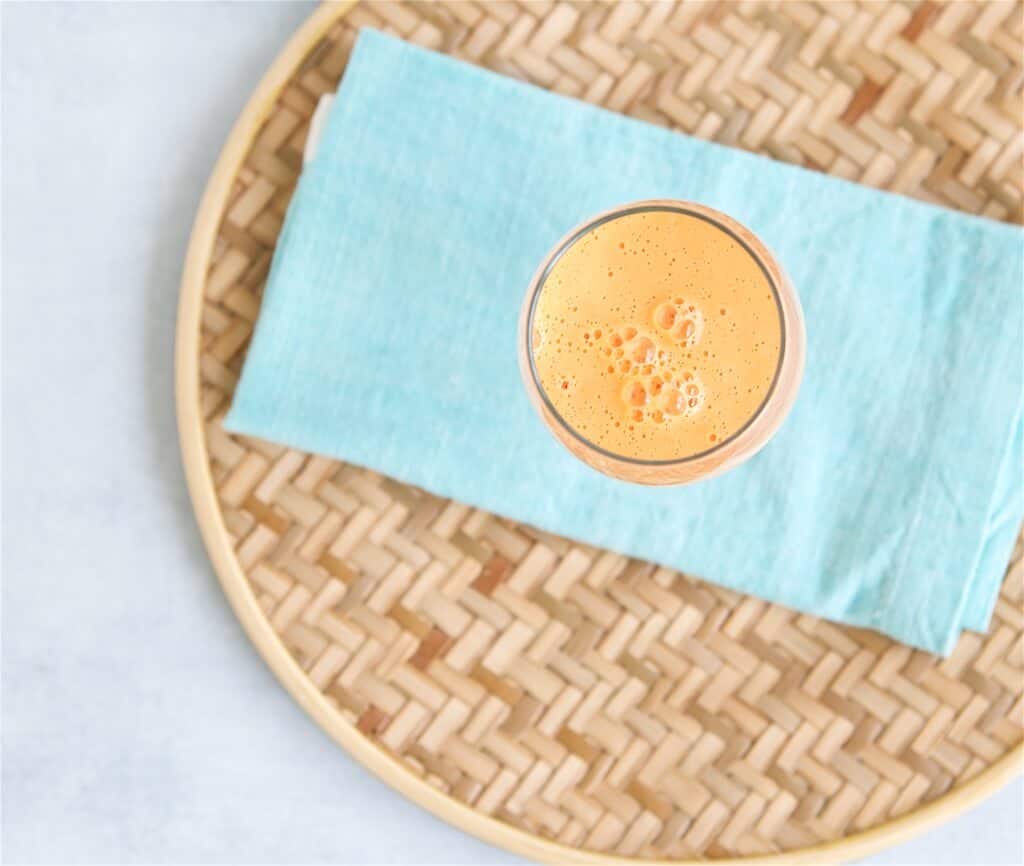 I chose ginger and lime to pair with the cantaloupe because well, they just go together pretty nicely. Plus, I'm always trying to get more ginger in me. Vanilla Greek yogurt adds a little sweetness, delightful creaminess, and protein. Then why not just throw a carrot in their too to take it up a notch??!!
You can use fresh or frozen in this recipe, but if you use frozen, you'll likely need more water.
Cantaloupe Ginger Lime Smoothie Recipe

: Print
Recipe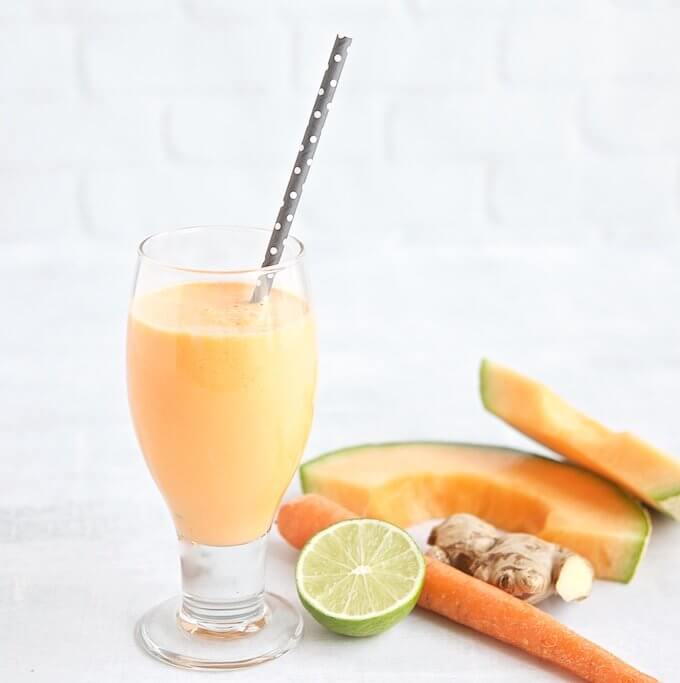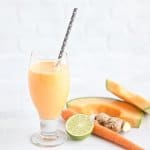 Cantaloupe Ginger Lime Smoothie
---
Author:

Total Time:

5 minutes

Yield:

2

1

x
Description
What does cantaloupe have to offer? Well, quite a lot actually. Learn about the health benefits of eating cantaloupe and get a tasty recipe for a cantaloupe ginger lime smoothie.
---
1

heaping

cup

of fresh* cantaloupe cubes

½

" piece of fresh ginger

1

small to medium carrot (cut into large chunks)

½

fresh lime (peel removed)

½

cup

vanilla Greek yogurt

¼

cup

water
---
Instructions
Add ingredients to blender as listed.
Blend until smoothie, about 1-2 minutes.
Add more water if needed to blend smoothly.
Notes
*Can substitute fresh cantaloupe for frozen. Add more water if using frozen to blend smoothly.
Prep Time:

3 minutes

Cook Time:

2 minutes

Category:

Smoothie
Keywords: smoothie, cantaloupe, healthy snack
I hope you'll give this humble fruit a second chance as the health benefits of cantaloupe have big potential! I'd also love to hear what you think about this smoothie. Leave a comment and let me know.