March is National Nutrition Month folks and the theme is Savor the Flavor of Eating Right!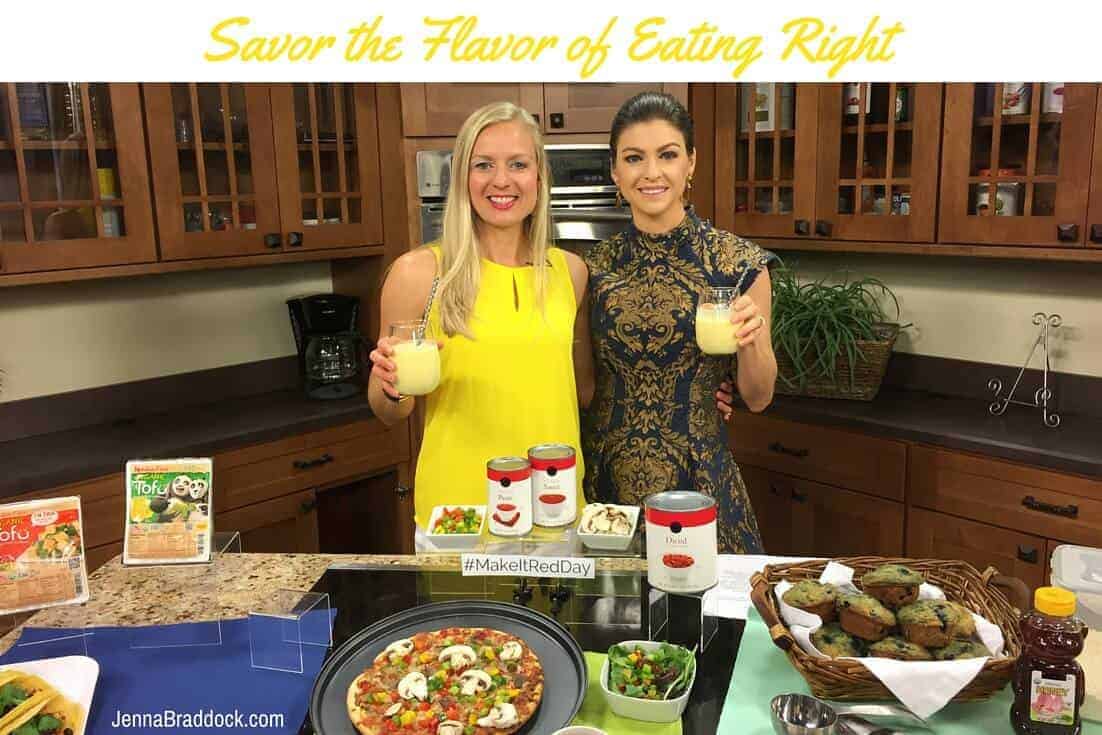 I know you are just as excited as I am. 😉
It's kind of a big deal in the dietitian world as we all get very excited about healthy food for a whole month. We take any chance we can get to spread the message of healthy eating.
I am no exception.
Last week I had the pleasure of talking about National Nutrition Month on my local TV station. I partnered with House Foods and the Tomato Wellness Council to share ideas to help "Savor the Flavor of Eating Right".
Savoring the flavor of healthy eating is all about enjoying the experience of food, not just the fact that it's healthy. I LOVE this theme because it helps connect us to food and the story behind it. When I think about what I'd like my boys to take into their adult life, it's the stories and experience around healthy food in our home, not just the knowledge of healthy eating.
For this TV segment, I put together some recipe ideas that are easy to make as a family and pull together a meal or snack quickly. Take a look…
Cook together with the ones you love. Share experiences around food to strengthen relationships and encourage life-long healthy eating.
Tofu is a quick and healthy option for dinners. Try these super easy tofu tacos using whole grain or corn tortillas. Cooking tofu for these tacos is a GREAT way for young cooks to learn how to cook on the stove. I like that tofu does not have major food safety concerns, like raw meat, so it's totally cool if little hands touch it. It also cooks really quick so you won't lose the interest of short attention spans.
Smoothies are a great way to get kids involved in food prep. Involve them in choosing the fruits and veggies. Using silken tofu for the protein source is easy, affordable and all-natural.
Pizza is an awesome idea for a fun, family meal everyone can help prepare and yes, it CAN be healthy. (We have homemade pizza almost once a week.) Start with lots of tomato sauce on your pie and on the side for dipping. I make my own from this

easy recipe

, but it's fine to buy it from the store. Tomato products are packed with great nutrition and the flavor never dissapoints. Next, pile on the veggies. Most traditional pizza toppings are fruits and veggies: olives, tomatoes, onion, peppers, mushrooms, pineapple, basil and more!

Baking as a family teaches so many wonderful skills. Plus, I think kids are usually pretty interested in baking; I know mine are! Baking doesn't have to be all about indulgences. I have so many healthy baking recipes on this blog like my Whole Wheat Blueberry Muffins, Chocolate Strawberry Breakfast Muffins, Honey Pumpkin Whole Wheat Muffins, and Lemon Ricotta Gluten Free Muffins.
Here's the recap of my ideas and recipes:
Cook together with the ones you love. Share experiences around food to strengthen relationships and encourage life-long healthy eating.
I hope these ideas and recipes give you some comfort in knowing that healthy eating does not need to be complicated in any sense! Just getting family together to prep any kind of food can sow the seeds of health.
So get out there (aka your kitchen) and throw some food together with people you love. You can do it!
To savoring food and family,
Jenna
Thank you House Foods and Tomato Wellness Council for sponsoring my TV segment. They did not sponsor this blog post but I wanted to share the good news!