Thanks to these Lemon Ricotta Gluten Free Muffins, gluten free baking is easy and delicious! You probably have all the ingredients you need in your pantry already thanks to using gluten free quick 1-minute oats as the flour. Oh, and they're high in fiber too!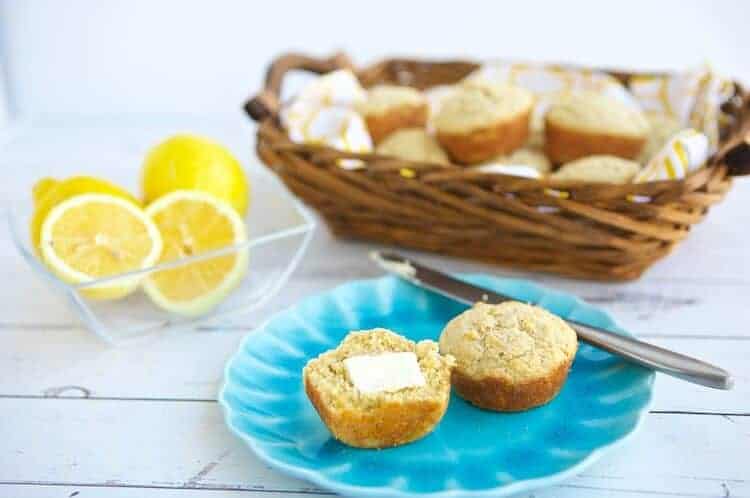 Jump to:
It is my pleasure to work with Quaker Oats to present you with this important conversation and delicious recipe. I was compensated for my time. All opinions are my own.
It's no secret that I love muffins. If you didn't know that, then please check out my muffin recipes and learn of my passion for this splendid baked good.
One of the things I love about muffins is that it seems that there are endless flavor combinations and add-ins. It's always a fun challenge to find new delicious and healthy muffin combinations to enjoy.
Team Braddock loves them some muffins too. We usually have them with our breakfast along with an egg and a smoothie. I just love to eat a warm muffin with my coffee early in the morning before the boys wake up. It's such a lovely way to start the day.
How I Make Muffins Healthier
Since we like to eat muffins for breakfast, I make every effort to create nutritious recipes. My rules for muffin-baking are:
Made with whole grain flours.

Be lower in sugar or made with a natural sweetener.

Include healthy add-ins to boost protein or overall nutritional quality.
Lately I've realized that my muffin recipe repertoire is missing something really important: a Make Healthy Easy gluten free recipe. While I am not personally gluten free, I know a lot of people and readers that are. Earlier this week I posted on What is Gluten and Should I Eat It? Make sure you check that out if you want to learn more about gluten and gluten-free diets.
Gluten free friends, you should not be excluded from the muffin love on this site!
But here's the catch, as with almost all of my recipes on this site: I don't want to use super expensive, hard to find ingredients! That's just not my Make Healthy Easy style.
Well this month I am super pumped to be partnering with Quaker Oats on the launch of their new gluten free quick 1-minute oats to help solve this MHE muffin dilemma. This is what I used for the flour for these Lemon Ricotta Gluten Free Muffins.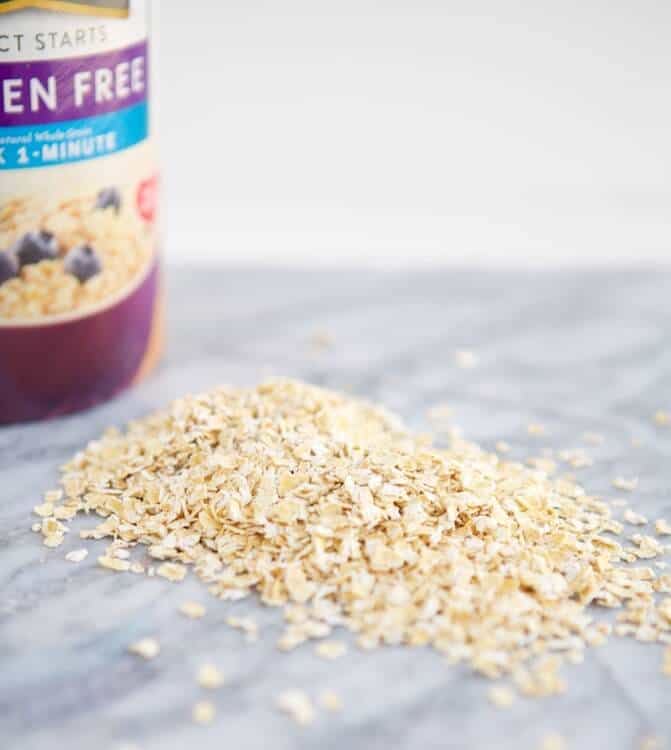 Gluten Free Oats
Oats, generally are a gluten free grain. However, oats can easily be contaminated by gluten during harvest and processing. For someone living with celiac disease or gluten sensitivity, even the smallest amount of gluten in their food can cause a really bad reaction. So finding safe gluten free oats is really important, or safe gluten free anything for that matter!
Before Quaker got in on the gluten free oats scene, they were sometimes hard to find and often pricey. In fact, just last month I had a GF client tell me he had been buying his gluten free oats online and they were expensive. But not anymore!
Quaker has instituted a unique in-house process that goes through rigorous sorting and cleaning to ensure their oats are not contaminated. Any batch, at any time, that does not meet the strict guidelines is removed from the gluten free line. Those living a gluten free life can rest assured that this oatmeal is A-OK for you. I love that. There's nothing better than when healthy, easy to understand food becomes more available to everyone.
If you're wondering at all about how different these "new" oats are from Quaker's tried and true oats, you're not alone. I wondered the same thing! The good news is that these oats are exactly the same high-quality, delicious and versatile oats Quaker has always been using. Their new system allows them to sort and clean out any stray gluten-containing grains that may make their way into the oats that will be used for gluten free products, and test carefully to ensure the oats meet FDA standards for gluten free.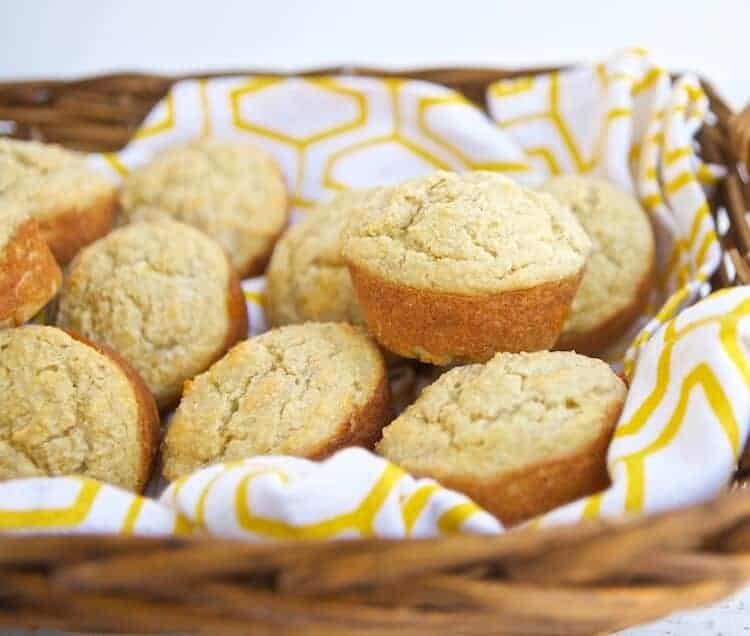 DIY Gluten Free Oat Flour
It's important to me to use ingredients in my recipes that are easy to access and affordable. There are now a lot of awesome gluten free mixes and flours at the store, but they can be pricey and tend to sit on my shelf unused if there's any leftover.
This led me to come up with the idea of blending up the Quaker oats into a flour to use in this muffin. That way, a gluten free, delicious and nutrient-rich muffin could easily be made from ingredients found at any 'ol grocery store. And, if you have any oats leftover, there's so many things you can make and do with them. Nothing wasted!
All you have to do is through the oats into a blender and process until it looks like flour consistency.
Here is what the oat flour looks like after grinding it up: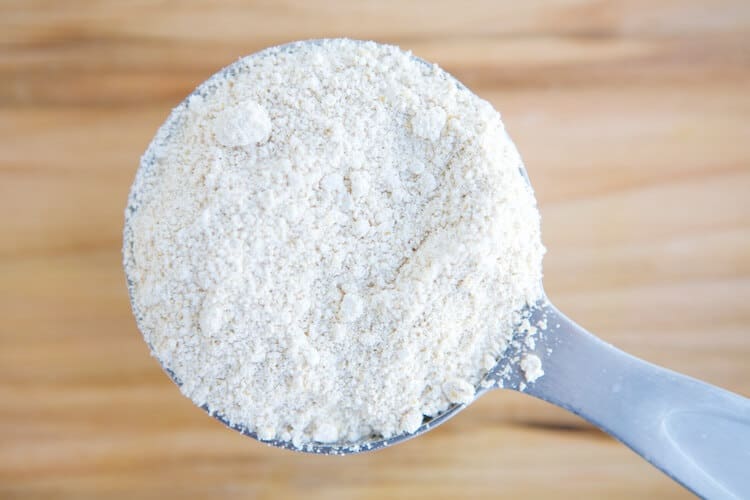 Lemon + Ricotta = Joy
I chose lemon ricotta for the flavor because #1 - it's delicious and #2 - it sounds kind of fancy. That way if you ever need to make gluten free muffins, say for family or to bring to a special brunch, you don't have to say "I made gluten free muffins", which translates to most people as "I made muffins from tree bark." You can actually just leave out the gluten free part, if you want, and share these delicious muffins without worry.
Print
Recipe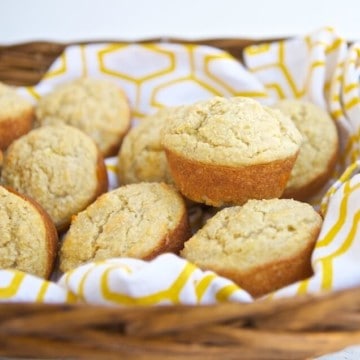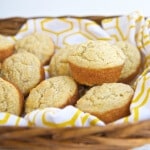 Lemon Ricotta Gluten Free Muffins
---
Author:

Total Time:

45 minutes

Yield:

12

-

1

3

1

x
Description
Thanks to these Lemon Ricotta Gluten Free Muffins, gluten free baking is easy and delicious! You probably have all the ingredients you need in your pantry already thanks to using gluten free quick 1-minute oats as the flour. Oh, and they're high in fiber too!
---
2 ½

cups

Quaker Gluten Free Quick 1-Minute Oats

5 tablespoons

unsalted butter (softened to room temperature)

½

cup

sugar

1

egg

¾ cup

part skim ricotta

2 tablespoons

lemon zest (from

2

large lemons)

½ teaspoon

almond extract (optional)

⅓

cup

low fat milk

½

cup

fresh squeezed lemon juice (from about 1 ½ large lemons)

½ teaspoon

gluten free baking powder

1 ½ teaspoons

baking soda

½ teaspoon

Kosher salt
---
Instructions
Add the oats to either a food processor or powerful blender. Pulse oats until a fine flour is formed. Set aside.
Preheat oven to 350 °F.
In a large mixing bowl, cream the butter with an electric mixer on medium speed for 2 minutes. Pour in the sugar and continue mixing until fully incorporated and stopping once to scrape down the sides of the bowl with a spatula, about 2 more minutes.
Add the egg to the butter and sugar and mix well.
Next, add the ricotta, almond extract, and lemon zest continuing to mix until well incorporated.
Combine the milk and lemon juice and pour into batter. Mix on medium low speed until incorporated. Stop to scraped down the sides and bottom of the bowl if needed.
Pour oat flour, baking powder, baking soda and salt into mixing bowl. Mix on low speed, just until incorporated. Batter will be sticky and fluffy. Let stand for 5 minutes.
Meanwhile, prepare a muffin tin by spraying with nonstick cooking spray.
Scoop 2 oz, or about ½ cup of batter into each muffin tin. Bake muffins for about 20-22 minutes, when edges are golden brown and toothpick inserted into the middle comes out clean.
When baking is complete, let stand for 5 minutes. Then remove muffins and cool completely on a wire rack.
Notes
These muffins will not turn golden brown all over. This is mostly due to having less butter and sugar than a typical muffin.
 All of the ingredients in this recipe either have an officially Gluten-Free version or are generally considered gluten free. Always double check ingredient lists to make sure there are not any sneaky gluten containing ingredients.
Prep Time:

25 minutes

Cook Time:

20 minutes

Category:

Muffin
Keywords: muffins, breakfast
This really is a great recipe for ANYONE! Because it's made with oats, it's high in soluble fiber which is known for promoting a healthy heart and cholesterol levels. It's also great if you have a hankering for muffins, are out of flour, but DO have that big canister of oats sitting in the pantry.
PLEASE try this Lemon Ricotta Gluten Free Muffin recipe and most definitely share it with a gluten-free friend, or two. I think this may become one of your go-to recipes for just about any occasion.
Other Gluten Free Recipes
Check out these other gluten free recipes on Make Healthy Easy.
Gluten Free Sweet Potato, Kale & Egg Stacks