A great dressing transforms bland greens into an amazing salad. This Jalapeño Cilantro Caesar Dressing is the magical dressing you didn't know you needed. It's easy to make, has a classic Caesar flavor and will wow you with a subtle kick.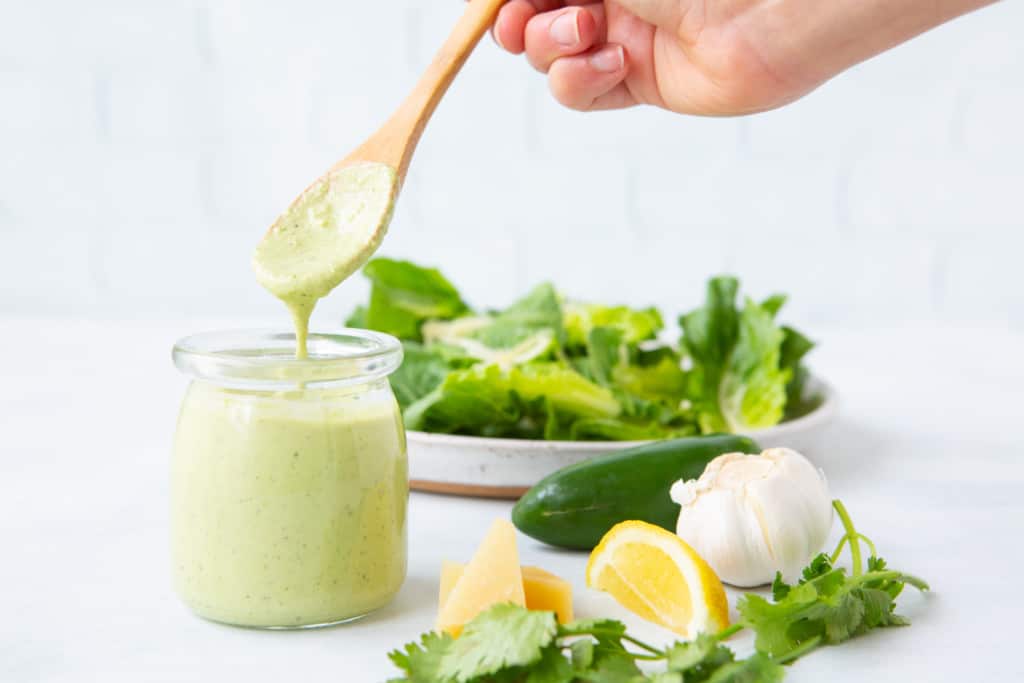 Making your own caesar dressing is a great idea any day of the week. It might seem like something fancy for just "special" meals, but it's really all about dumping ingredients in a blender and turning it on.
For those that care, the idea for this Jalapeño Cilantro Caesar Dressing came as a challenge from some good friends. They had tried a dressing like this some years earlier, but could no longer find the recipe on the internet. I accepted the challenge and I'm really glad I did.
I believe in the power of delicious salads and salad dressings. Check out these recipes for other delicious salads and salad dressings on MHE:
Grilled Cantaloupe Salad with Blueberry Ginger Vinaigrette
Jump to:
Ingredients
It may seem like making your own dressing, especially Caesar dressing, is too complicated to bother with, but this is NOT the case. This delicious dressing uses really normal ingredients that once you have, you'll probably want to make it from scratch forever more.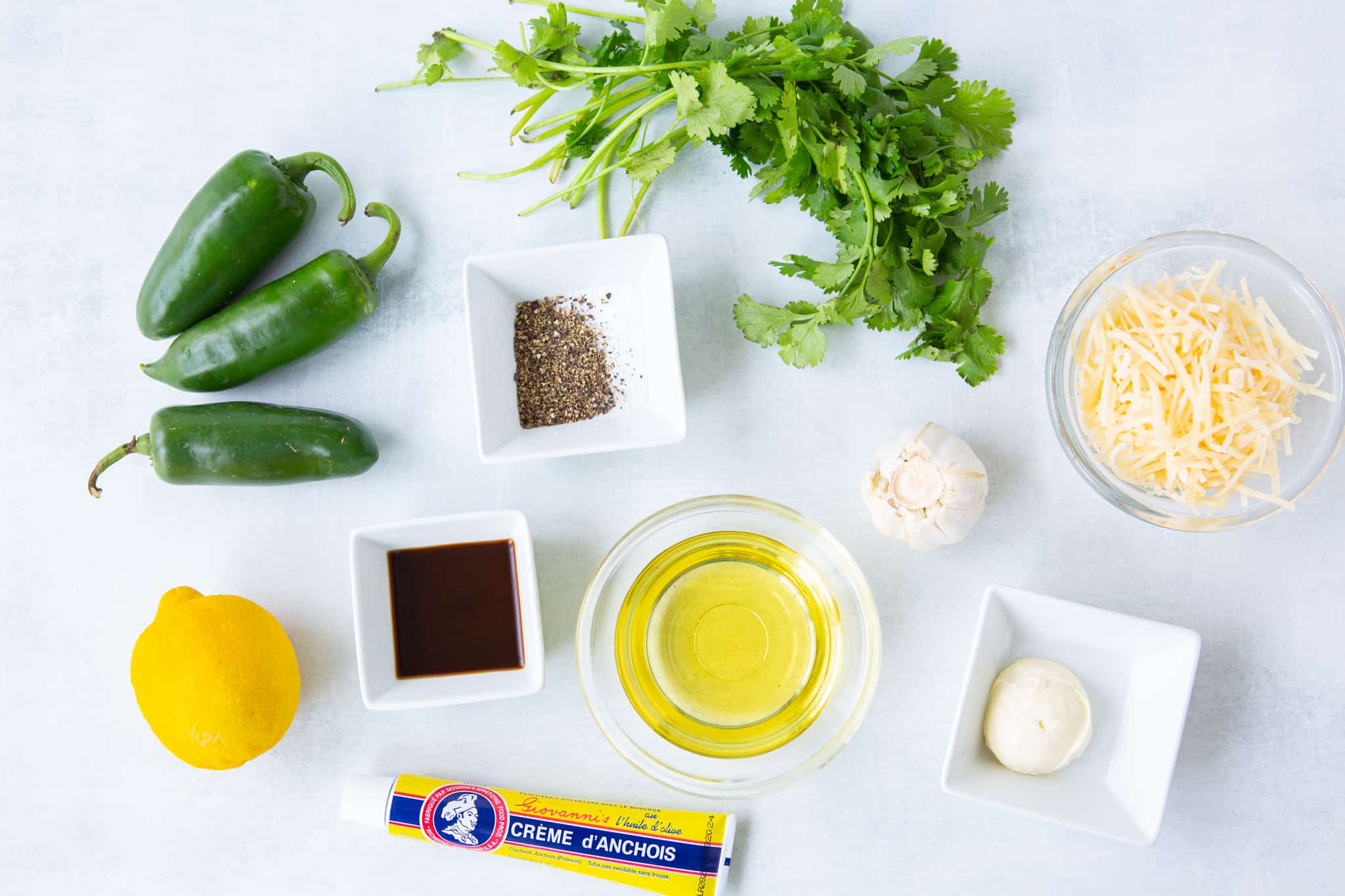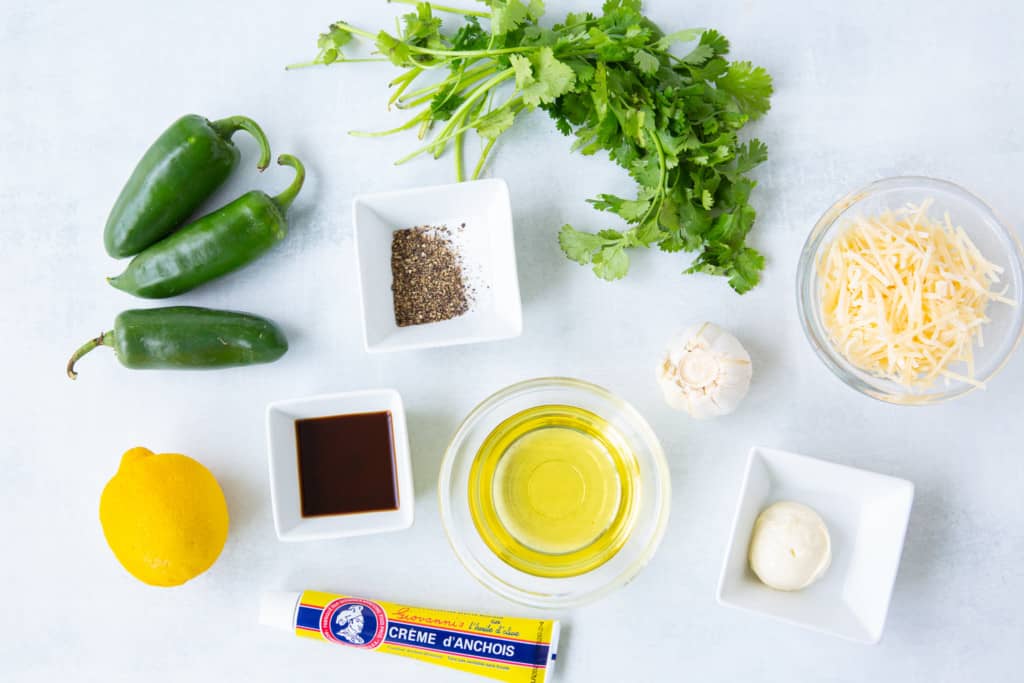 Anchovy Paste - Let's talk about the elephant in the room of caesar dressing recipes: the anchovies. If you want to have a true caesar dressing flavor, it's irreplaceable. Accept it. Fortunately, you can buy anchovy paste in a tube that enables you to not have to touch or mess withe the fish filets. It's too easy to not use and it's available in most grocery stores. Keep it in the fridge for the next time you want to make this Jalapeño Cilantro Caesar Dressing. And there will be a next time.
Mayonnaise - A small amount of mayo is used in this dressing to make it creamy and hold it together. You could leave this out but you'll end up with more of a vinaigrette than a creamy caesar. I personally love this mayo but you can use any type you have in your fridge.
Jalapeños - Fresh jalapeños are a crucial ingredient in this recipe. I use 2 whole jalapeños, and while that may seem like a lot, it's the perfect amount to add a little heat in the background without being too hot. You can certainly add more than two if you really want a bigger kick of heat.
Fresh Cilantro - Fresh cilantro is usually available year round in the produce section of most grocery stores.
Grated Parmesan Cheese - Freshly grated is ideal, whether that's pre-grated or you grate it yourself. I would not recommend the parmesan that's grated super fine, sold in a green shaker container, and used on pasta.
Worcestershire Sauce - This is a crucial ingredient and irreplaceable. Hopefully you keep it in your fridge door at all times too.
Fresh Garlic
Lemon Juice - Freshly squeezed is best. One lemon should do the trick.
Salt and Pepper
See recipe card for quantities.
Instructions
To make this Jalapeño Cilantro Caesar Dressing recipe, simply combine all ingredients in the jar of a blender. Blend until very smooth. That's it!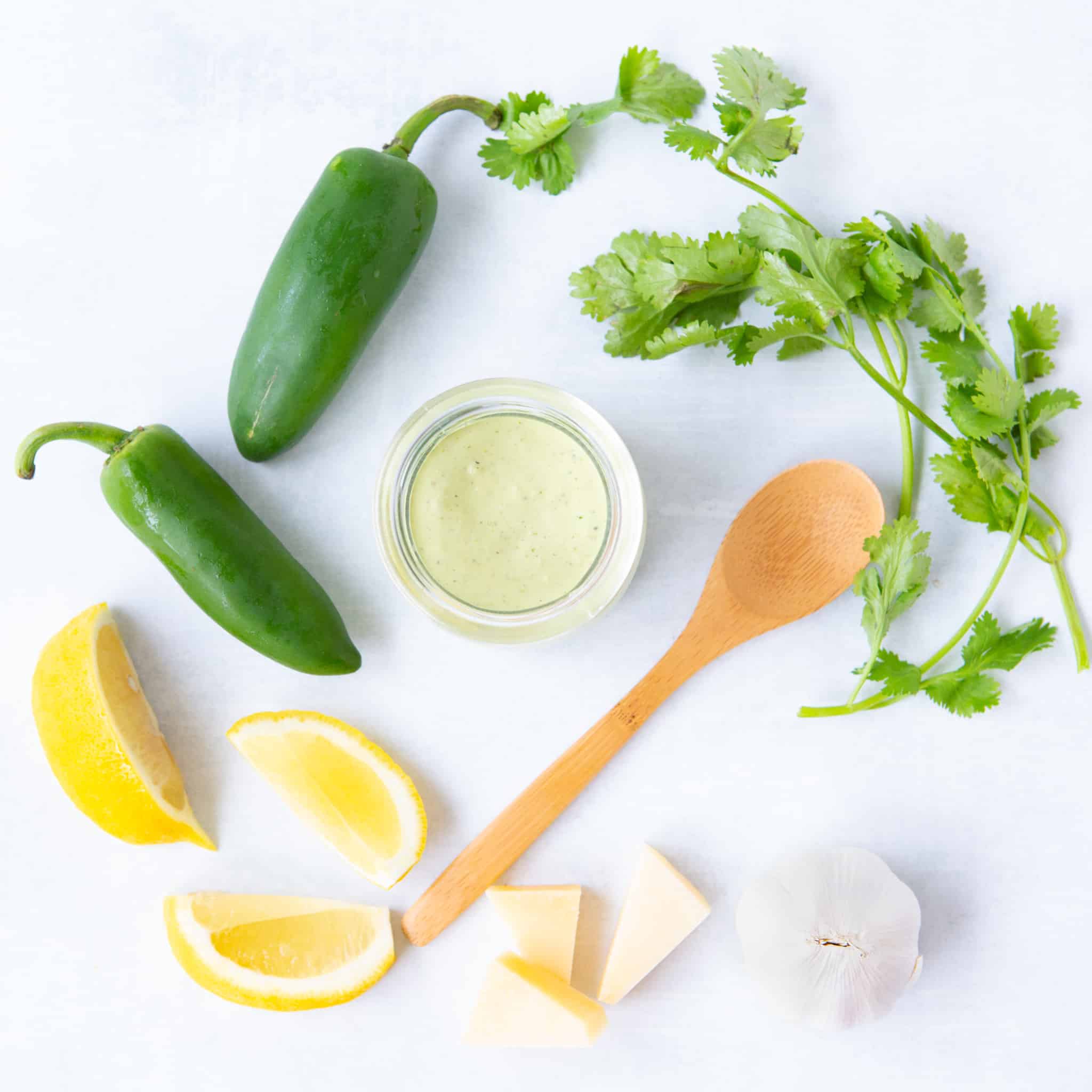 Hint: Continue to blend until you achieve a creamy, very smooth texture. Every blender is different so it might take a minute or more to get the right texture. If it's too thick, you can add a little more oil or mayo.
Substitutions
The caesar dressing recipe is not vegan or gluten free (because of the Worcestershire sauce). I don't think you will get the same results by using vegan alternatives to the parmesan cheese and anchovies but you could certainly try. To make this recipe gluten free, eliminate the Worcestershire sauce.
Substituting any ingredients in this recipe will likely change the outcome but here are some ideas that will work.
Mayo - any traditional mayo will work here but I would not recommend Miracle Whip or similar. A vegan mayo should work too.
Worcestershire Sauce - to find a gluten free option, check out this guide of gluten free Worcestershire sauce from Celiac.com.
Fresh Garlic - you can use garlic from a tube or jar. The garlic flavor may be less intense, which you may prefer. I think fresh garlic is the best, but these substitutions will do in a pinch.
Lemon Juice - bottle lemon juice will work if that's what you have. Taste the dressing at the end and see if you need a little more lemon juice to taste the acid flavor.
Variations
Here's a couple of ways you can vary this Jalapeño Cilantro Dressing to make it perfect for you.
Spicy - use 3+ jalapeños in this recipe. You can also leave the seeds in.
Cilantro Heavy - add more cilantro to your liking.
Garlic - add more garlic if you love garlic flavor.
Peppery - add more fresh ground pepper if you like the kick.
Equipment
A blender is the ideal piece of equipment to use to make this Jalapeño Cilantro Caesar Dressing super smooth. Any blender should work, but you may have to chop some of the ingredients up to a finer texture if your blender isn't a high powered one.
I can't speak enough praise about my Blendtec Blender. I absolutely love it and the smaller Twister jar option, perfect for making this Caesar dressing recipe.
A good food processor will likely work here too but may leave your Caesar dressing on the chunkier side.
Storage
Store the Jalapeño Cilantro Caesar Dressing in an airtight container for up to 1 week. I really like these containers for this dressing, and for storing a lot of other foods too.
These ingredients do not stand up to freezing and I would not freeze the dressing after being made.
Top tip
If the dressing seems runny or more like a vinaigrette, add more mayo a tablespoon at a time.
Print
Recipe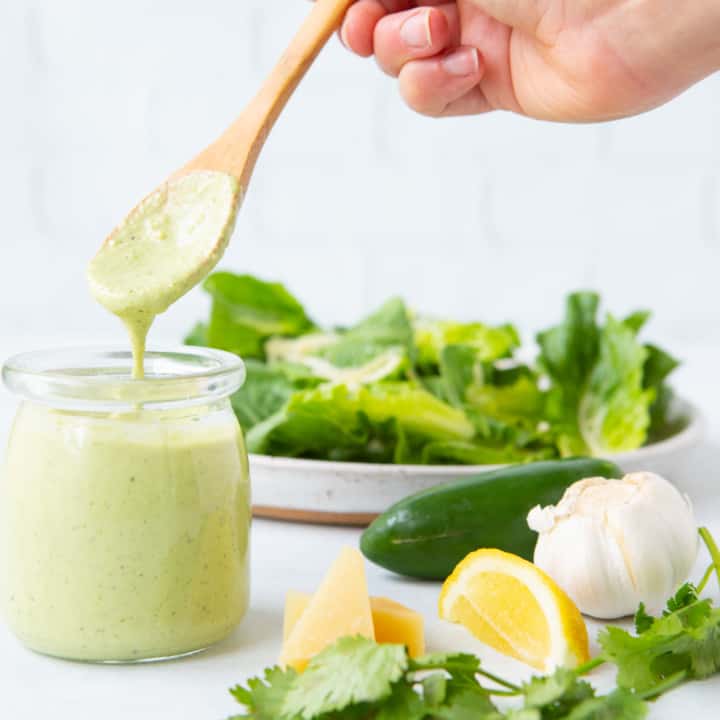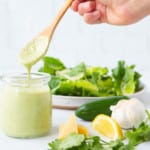 Jalapeno Cilantro Caesar Dressing
---
Total Time:

10 minutes

Yield:

2 cups

1

x
Description
This is the Caesar dressing you didn't know you needed. It's got a mild kick that blends the familiar Caesar flavor with a little something special. Use it as a dip, sauce or dressing.
---
2 tsp

Anchovy paste

3 Tbsp

Lemon juice

3

cloves Fresh garlic

½ tsp

Salt

½ tsp

Fresh ground pepper (more if desired)

5 Tbsp

Mayonnaise

1 Tbsp

Worcestershire Sauce

2

Jalapeños, de-seeded (more if desired)

½

cup

Fresh cilantro, roughly chopped

¾

cup

Shredded parmesean
---
Instructions
In the jar of a blender, combine all ingredients. Blend until very smooth, at least 1 minute. Use a spatula to scrape down the sides as needed for even blending.
Serve immediately or store in fridge for up to 5 days.
Notes
Can be made ahead and stored in an airtight container for up to 5 days.
Recommend letting come to room temperature before serving. 
Prep Time:

10 minutes

Category:

Salad Dressing

Cuisine:

American
Keywords: Caesar Dressing Recipe, Cilantro Salad Dressing, Dip Recipe, Jalapeno Cilantro Dressing
Food safety
If you make this dressing ahead, store in the fridge until 30 minutes before ready to serve.
Thoroughly wash and dry all produce before using.