This Kale Apple Carrot Salad with Apple Cider Vinegar Honey Dressing is super simple to make and kid friendly. It is a tasty way to help your family enjoy raw veggies and receive the benefits of raw apple cider vinegar.
One of the eating principles I try to follow as often as possible is to serve a raw and cooked veggie at dinner every night. I'm not saying I'm perfect at this, but I try. The cooked veggies are usually just simple roasted veggies or incorporated into the main dish like tomato sauce in my Simple & Sweet Marinara or peppers in my Vegetarian Rice & Bean Casserole.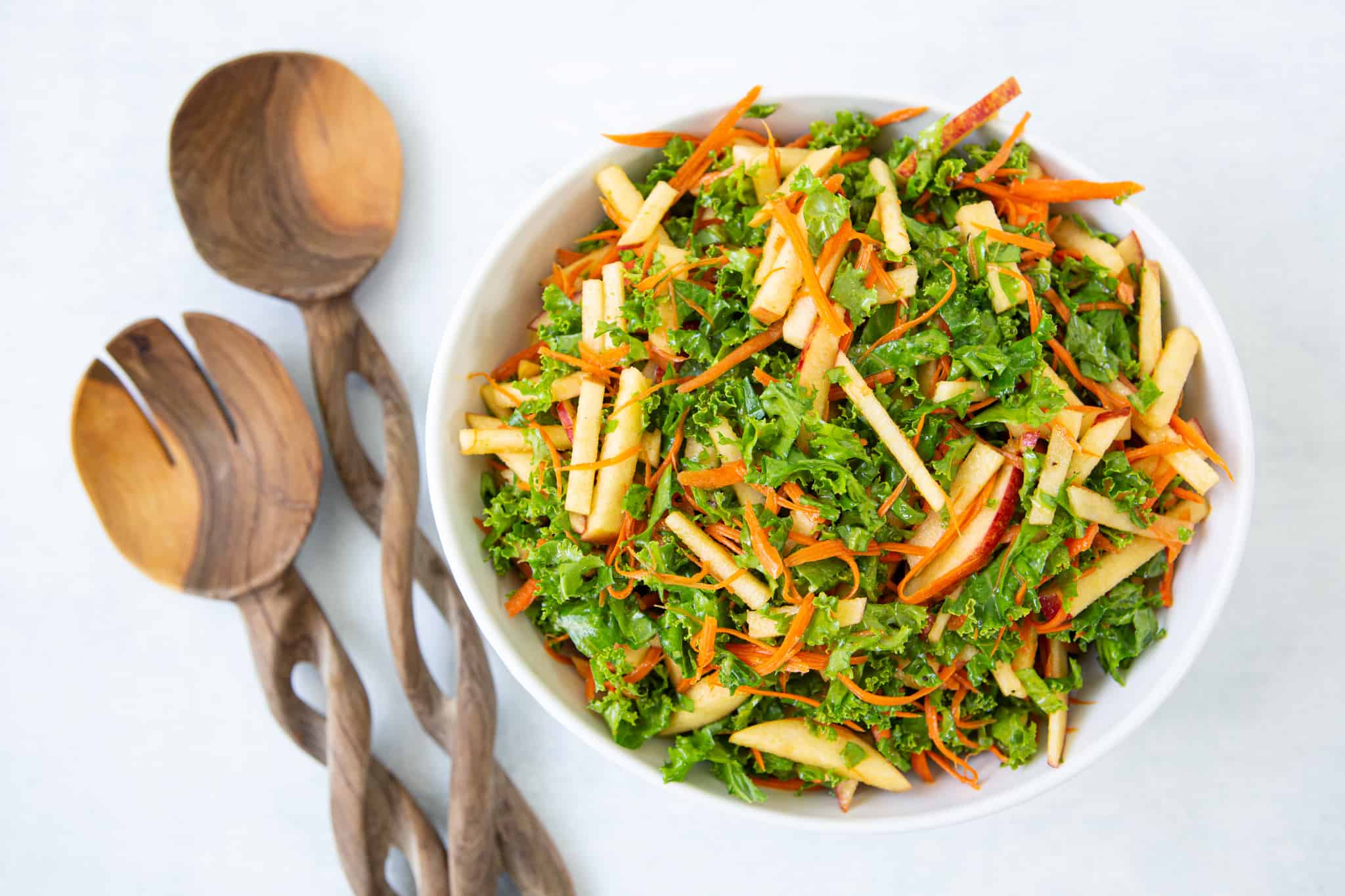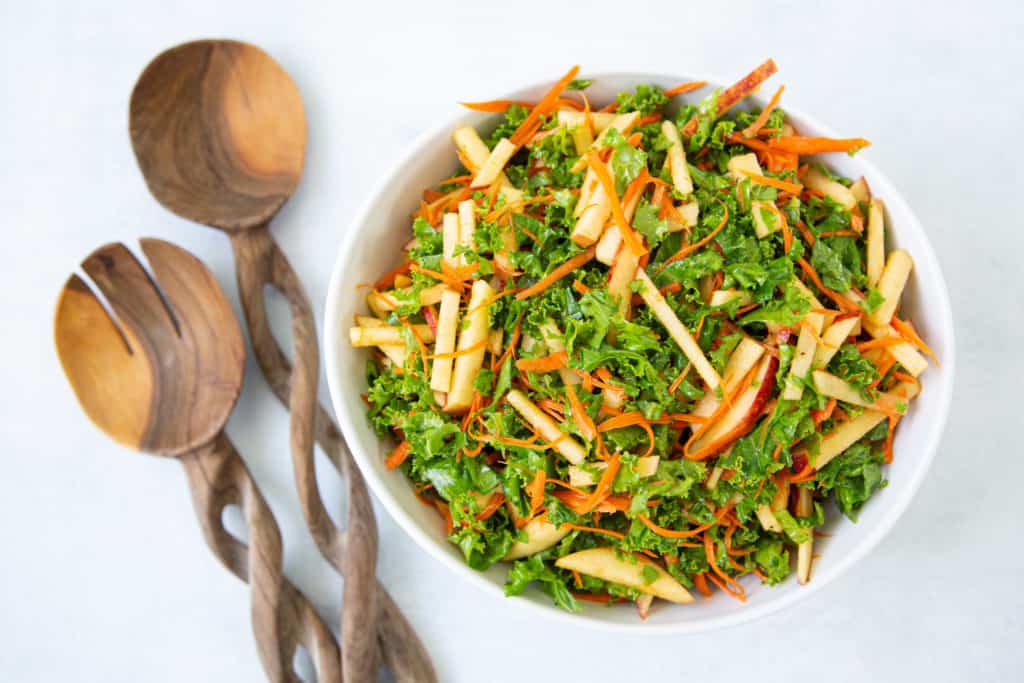 When it comes to the raw veggie part, I struggle with creativity and usually just make a salad consisting of lettuce, tomatoes, olive oil and balsamic vinegar. Pretty boring.
Truthfully I need to try more exciting and tasty veggie options as some of the youngest members of Team Braddock are starting to voice their disapproval more often. (Jackson's line these days is "Mommy, this is not yummy.")
The ingredient I chose to experiment with is apple cider vinegar, which I'd like to eat/drink/consume more of this year but not so much in the drink-it-straight form. Apple cider vinegar is one of those mysterious, voo-doo health foods, at least to me. It's believed to help or fix almost any ailment but doesn't honestly have a lot of research to support those claims. Anytime I hear that kind of message, I'm skeptical, but in-and-of-itself it's a fine food with likely health benefits.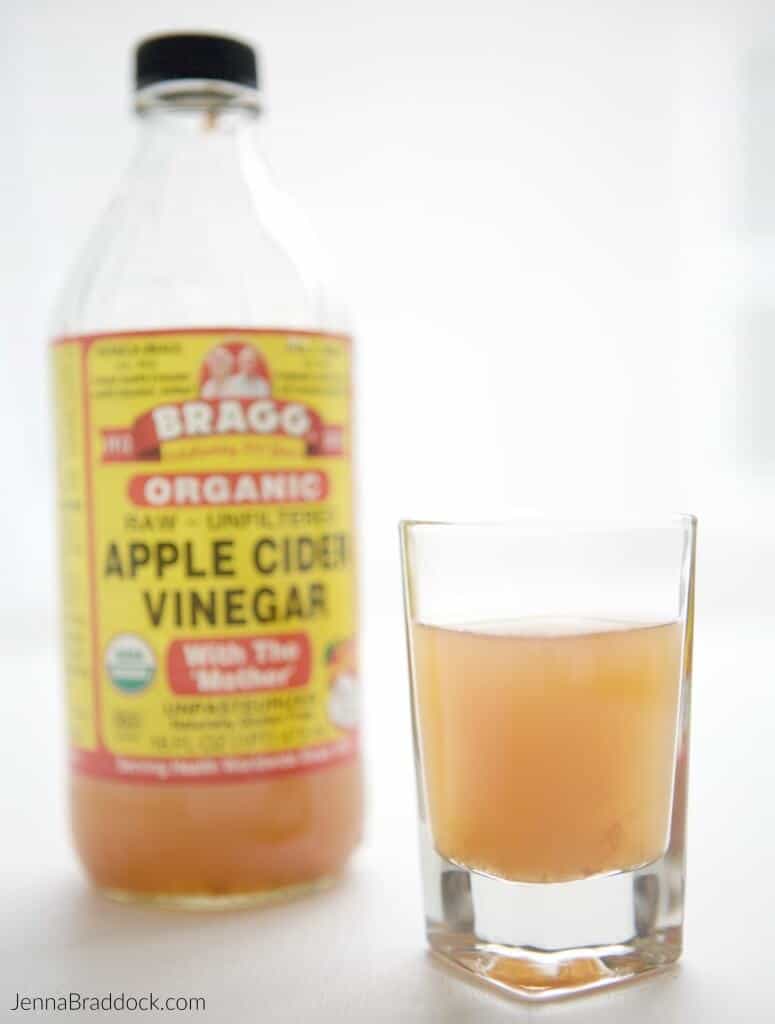 Health Benefits of Vinegar
I've been digging around the research to what is actually true about the powers of apple cider vinegar. There's only a few benefits of vinegar that are supported by science and a couple of scholarly hunches, but they are significant in my opinion. Here's a brief summary:
Consuming vinegar right before a meal can help reduce blood sugar levels after a meal. That's pretty cool and could be really helpful for those living with diabetes, or at risk for diabetes. (Source)
The benefit of vinegar

may

be due to it's ability slow stomach emptying, enable insulin secretion, and increase muscle usage of glucose. (Source)
All vinegars seem to work as vasodilators. This means that they help open up your blood vessels which allows blood to flow more easily and in general keeps them healthy. It also may contribute to to improving the work of insulin. (Source)

One of my "secrets" is to eat a salad with vinegar and olive oil dressing whenever I have a high fat meal, like pizza or burgers. Foods high in saturated fat can have a short-term negative impact on blood vessels, constricting them and potentially inviting damage. But hey, I love pizza once in a while so I try to counteract this with my salad and vinegar strategy to open up my blood vessels.

Raw vinegars (meaning not pasteurized) may contain naturally occurring compounds created by the fermentation process, similar to what happens with kombucha. Conventional vinegars found in most stores are pasteurized, which certainly makes them safe and shelf stable, but it also removes these potentially beneficial compounds. Raw apple cider vinegar is usually an easy find at grocery stores, whereas it's difficult to find raw vinegar in other flavors.
So while there's not strong science to support that apple cider vinegar will keep me from ever getting sick again, these are good reasons why I would like to get more of it in my life. Anyone else interested?
Now back to how this all fits in with boring dinner salads… One night a couple of weeks ago, I had a light bulb moment while preparing dinner and realized that I could maybe get Team Braddock to eat a raw kale salad if I (1) cut everything up very small and (2) included apples and apple flavor (thus the vinegar) which everyone likes.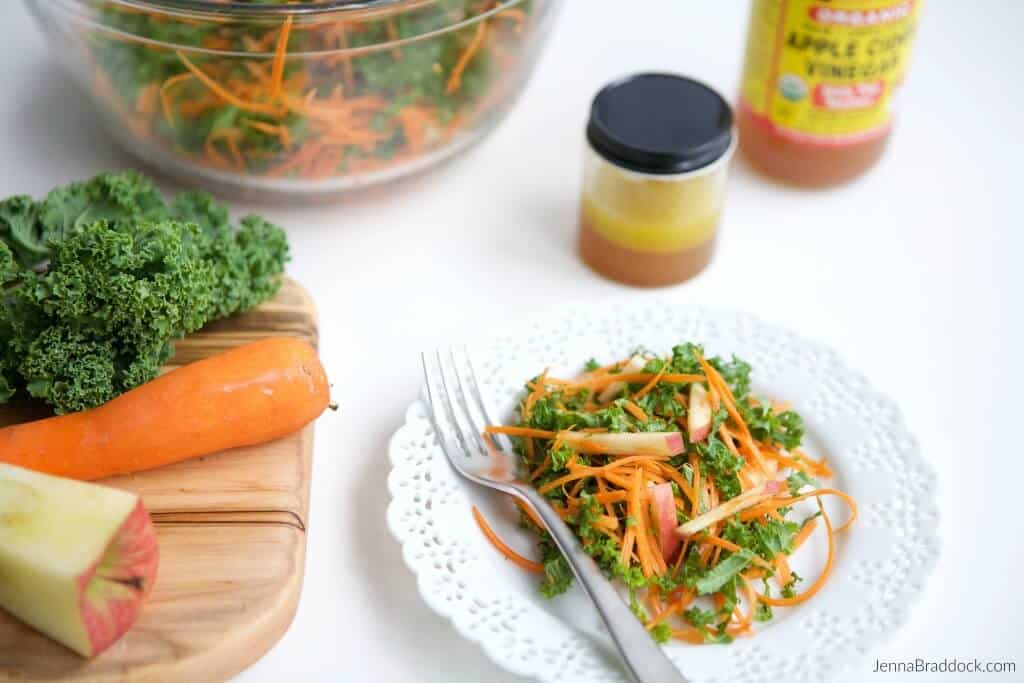 Good news, it worked! I am pleased to present you a salad that is:

Tips for Success
This a great recipe to practice your knife skills friends. If you don't already, you need (and I do mean NEED) a good, sharp knife and a nice wood cutting board. Don't be intimidated by a big, sharp knife. Once you get comfortable, it will make chopping so much easier. And a wood board helps your knife move more smoothly than other surfaces.
Kale
In this salad, chopping the kale into small ribbons, technically called chifonnade, helps to meld all the flavors together better and ensure no one will get a big, bitter bite of kale. This would not go over well with Team Braddock. To accomplish this, roll up the kale leaves and make narrow cuts.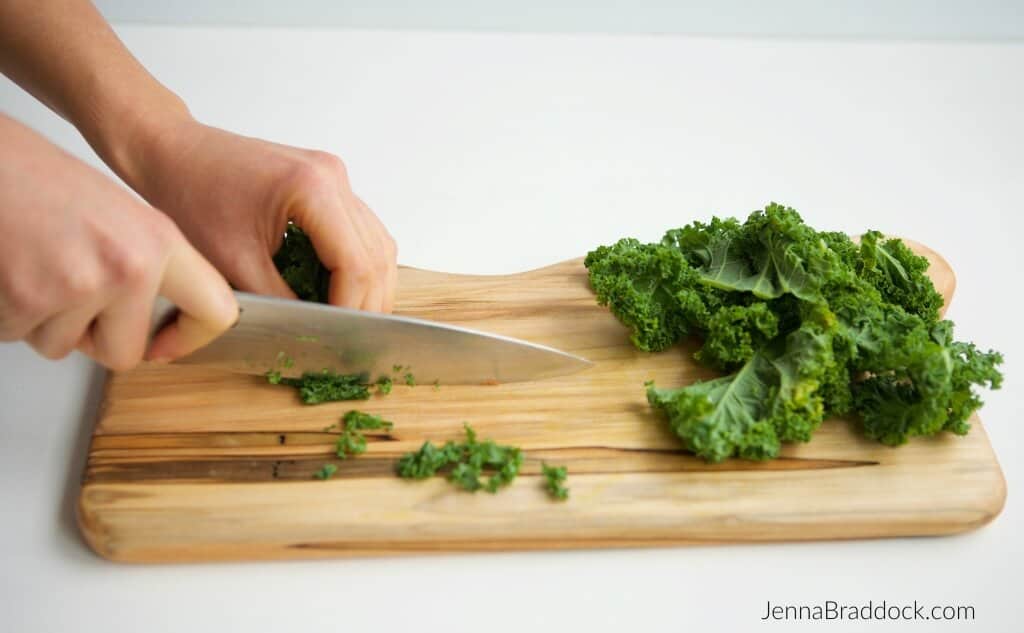 Apples
I cut the apples into matchstick size pieces, or a julienne cut, but you could easily do cubes if you prefer. Slice the sides off of the apple in about ¼" size planks. Each side should yield about 2-3 planks, maybe more if it's a big apple. Then slice each plank into matchsticks.
Carrots
You can use this apple technique above to also cut the carrots but I prefer this really cool julienne peeler to do the job. It makes quick work of carrots and I just LOVE kitchen tools and gadgets. =) (Sorry for the blurry pic. I'm a one-woman show and this one was tricky to stage and shoot in motion.)
Apple Cider Vinegar Dressing
I made a very simple dressing for this salad of raw apple cider vinegar, honey, olive oil, and salt and pepper. I poured it all in a little jar and gave it a good shake. You can keep the jar in the fridge for up to a week and just shake it up again before using. Pour the dressing over your salad and toss or gently massage it into the salad, my preferred method because it tenderizes the kale.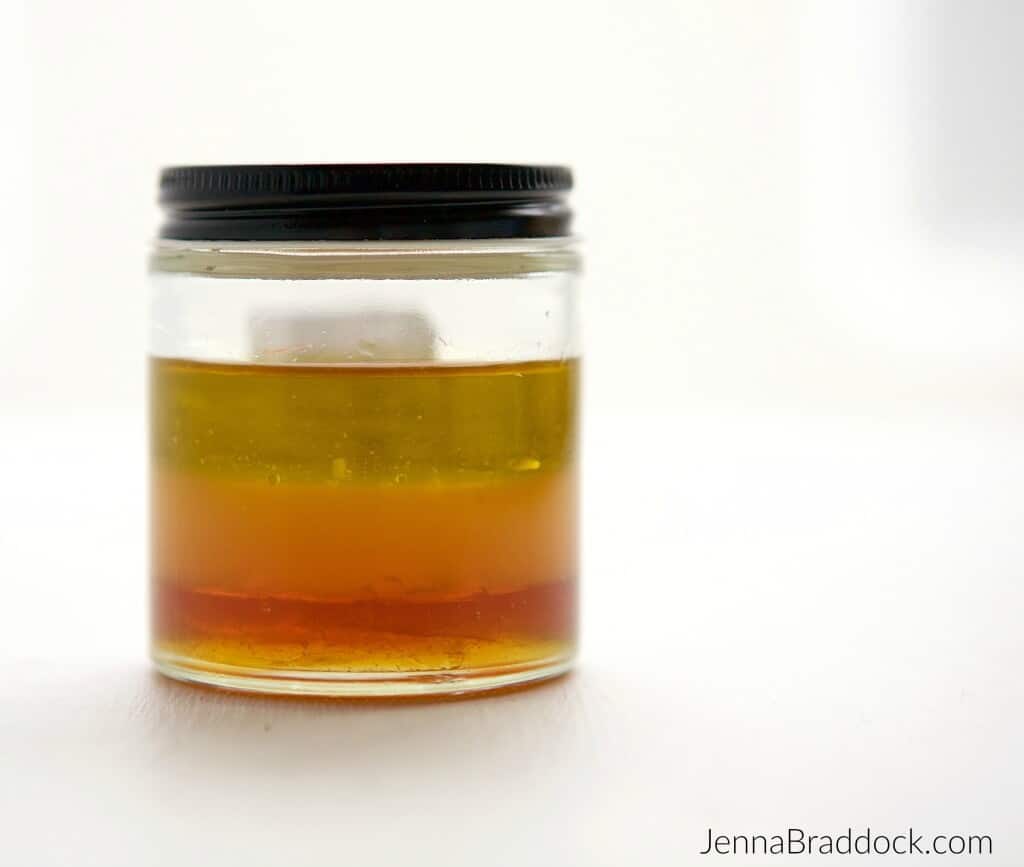 Print
Recipe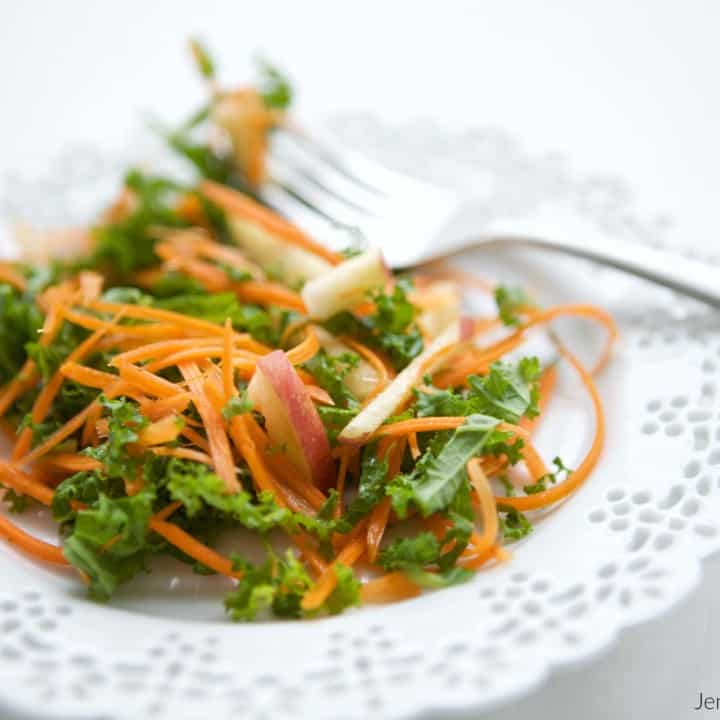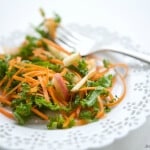 Kale, Apple & Carrot Salad
---
Author:

Total Time:

11 minutes

Yield:

5

-

6

cups

1

x
Description
This Kale, Apple & Carrot Salad with Apple Cider Vinegar Honey Dressing is super simple to make and kid friendly. It is a tasty way to help your family enjoy raw veggies and receive the benefits of raw apple cider vinegar.
---
2

cups

finely chopped raw kale (cut into fine ribbons)

2

sweet apples (julienned)

2

heaping

cups

carrots (juilienned)

3 tablespoons

raw apple cider vinegar

2 tablespoons

extra virgin olive oil

1 tablespoon

honey

¼ teaspoon

sea salt
Pinch of pepper (or to taste)
---
Instructions
In a mixing bowl, toss kale, apples and carrots together. Set aside.
In a small jar pour vinegar, oil, honey and salt and pepper. Seal lid on the jar and shake vigorously to combine.
Pour dressing on top of salad and either gently toss or massage into mixture with hands.
Serve immediately.
Notes
If making salad ahead of time, do not combine with dressing until ready to serve.
Prep Time:

11 minutes

Category:

Salad
The beauty of this salad is not only does it taste great, you can add all kinds of ingredients to suite your need. For instance, add cooked brown rice to create an all-in-one side dish. Or, mix in cooked, ground meet or grilled chicken strips for a full meal. If you'd like to keep it vegetarian, toss in drained and rinsed chickpeas or kidney beans. You can also make this just for 1-2 people by cutting the quantity of ingredients in half. There's a lot of flexibility with this recipe.
This Kale Apple Carrot Salad will certainly be appearing more on my weekly menus to help avoid the boring dinner salad crisis. I hope it will bring more variety, and smiles, to your table as well.