Considering taking a collagen supplement? Here's what you need to know to decide if it's right for you.
Jump to: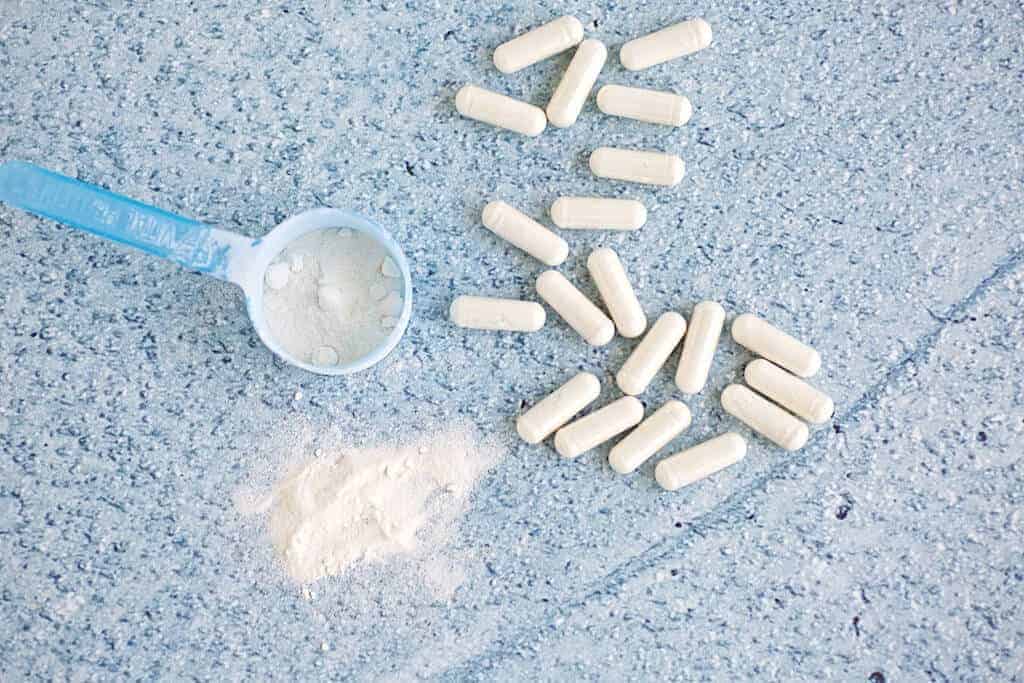 What is Collagen?
Collagen is a protein. In fact, it is the most abundant "extracellular matrix protein" in animal tissues (yes, humans count as animals). Our bodies are made up of trillions of tiny cells, and collagen lives in the spaces between to help hold them all together. Animals (and humans) create collagen in their cells out of amino acids. Our body can make some amino acids, but others we have to get from eating protein. Collagen is mostly made of the amino acids glycine, proline, hydroxyproline, and alanine, which are all amino acids that our body can make. We're pretty awesome, I know. Despite our awesome collagen-making skills, many people wonder if they should eat foods high in collagen or take collagen supplements too.
Digestion and Absorption
This might get a little geeky, but I'll do my best to explain. Maybe we should break this up into "food" and "supplements".
Collagen in Food
Remember, amino acids are the building blocks of protein. All of the proteins that we eat have to be digested into amino acids (or little chains of amino acids) before our body can absorb them. This digestion process begins in the stomach thanks to our stomach acid. After that, the protein gets broken down little by little as it travels through your digestive system until all that is left is amino acids (or little chains of amino acids). Collagen is broken down into glycine, proline, and hydroxyproline, like we said before. Our bodies absorb these amino acids (or little chains) into our blood, and we can use them for several different things in the body. Remember, they're building blocks so they don't have to be used to make collagen.
Examples of collagen containing foods:
| | |
| --- | --- |
| Food | Collagen Content (mg/g) |
| Broiled eel | 55.3 |
| Beef tendon | 49.8 |
| Chicken sternum cartilage | 40 |
| Pork chitterlings | 30.8 |
| Salmon (with skin) | 24.1 |
| Chicken gizzard | 23.2 |
| Chicken drumstick | 19.9 |
| Boiled and dried baby sardines | 19.2 |
| Yellowtail fish (with skin) | 16.2 |
| Chicken thigh | 15.6 |
| Chicken wing tip | 15.5 |
| Squid | 13.8 |
| Sierra (with skin) | 12.8 |
| Shrimp | 11.5 |
| Ham | 11.2 |
| Short-neck clam | 11 |
| Chicken liver | 8.6 |
| Tuna | 5.7 |
Bone broth is a popular collagen-containing food. Bone broth is made by soaking bone in boiling water, which extracts the collagen from the bone. Due to the heat, collagen is converted into gelatin. The gelatin is what makes the broth slightly thicker than water. The gelatin content of bone broths may vary depending on the type of bone use and the length of time soaked in the water. Bone broths may be popular among collagen consumers because they are concentrated sources of gelatin that are easy to consume.
Collagen Supplements
Collagen supplements are basically "predigested collagen". The little amino acids (glycine, proline, and hydroxyproline) are encapsulated in a pill or powder and your body doesn't have to go through the same protein digestion process. There are a few different types of collagen supplements on the market.
Collagen peptides - These supplements contain those powerful amino acid chains (peptides) that are found in collagen.
Hydrolyzed collagen - Hydrolyzed collagen is basically the same as collagen peptides. The word "hydrolyzed" means broken down by a chemical reaction with water.
Gelatin - Remember, gelatin is derived from collagen by adding heat.
Multi-collagen - You might see collagen supplements that contain a combination of type I, type II, and type III collagen. There are actually 16 types of collagen, but most of the collagen in the body consists of type I, II, and III, which might be whythey are sold as supplements. Type I, II, and III are also the most fibrous. Type I are found in tendons, type II are found in in cartilage, and type III are found in connective tissues.
You'll find collagen supplements in a scoopable powder, capsules and single serve pouches. These are just a matter of what type you prefer to ingest. If you go the capsule route, you will likely need to take a bunch to get a similar amount to the scoopable version.
What does the research say?
It seems like researchers have been studying the health effects of collagen consumption a lot in the past few years. Several positive outcomes have been identified that I will summarize below.
Skin
There appears to be a connection between collagen consumption and skin health, and this is probably the most well known reason for taking it. In fact, most of the research I have found on collagen published in the last few years relates to skin health.
In one study, specific collagen peptides (little amino acid groups we talked about) improved skin moisture, facial skin conditions, elasticity, wrinkles, roughness, and even prevented collagen breakdown in the skin (Asserin)(Inoue)(Koizumi). These improvements are likely linked to an increased synthesis of collagen, hyaluronic acid, and other related components in the skin. (Asserin) (Feng)(Haratake)(Hongdong). Some research has also found that collagen peptides may have sun-related anti-aging properties, and may improve skin tightness of aged skin (Fujii) (Hongdong). Collagen has also shown to be beneficial for dermatitis by inhibiting allergic inflammation (Hakuta). Lastly, low doses of collagen peptides have shown to increase skin hydration and reduce water loss on damaged skin (Jimbo).
Pressure Ulcers
Collagen peptide consumption, even in small doses, has helped facilitate pressure ulcer and scald wound healing. (Hideharu, Sugihara, Zhang) This supports its role in skin health and certainly in skin healing.
Bones and Joints
There is a body of weak, animal research suggesting collagen intake positively benefits joints and cartilage, and reduces inflammation in osteoarthritis. All of this research has been conducted on mice, so it's not solid enough to completely translate over to humans.
However, some human studies have shown some promising results. One study found that athletic young adults with knee pain that took a specific collagen supplement experienced significant improvement of joint-pain compared to those who did not. (Zdzieblik). Overall, the evidence is not strong enough to make a solid recommendation on collagen for joint or bone issues, but it seems to be safe to test it out and see what happens.
Should I take collagen?
Here comes the big question that even I still have questions about. After reading about all of that great things that collagen has to offer, you might be thinking "yes, yes, and yes". However, if you haven't already started to look up some collagen supplements, I will tell you that these potential benefits come with a substantial price tag. The stuff is not cheap and you should consider if those dollars are best spent on this supplement or other whole food.
There is currently no recommended daily intake of collagen, which makes it hard to know if we are currently consuming too little, too much, or just enough. We know that our body makes collagen out of amino acids. We also know that collagen is only found naturally in animal products, and we can only get it in our diet from eating animal-based foods. Therefore, if you are a vegetarian, beginning a collagen supplement may be more important to you than a meat-eater since you consume less in your diet. Unfortunately, collagen is not vegan and therefore those following that eating style would want to avoid it altogether. There are collagen supplements marketed for vegans, but they do not actually contain collagen, rather ingredients that may support collagen synthesis in the body.
If you are someone who struggles to meet your general protein needs, a collagen supplement may be a helpful tool. Collagen supplements are often flavorless, dissolve easily and therefore easy to add to coffee or other foods and beverages for extra protein. This could also be helpful for individuals undergoing cancer treatment, or maybe even children that are picky eaters that often struggle to meet their protein goals.
Lastly, if you are struggling with a skin condition or joint pain and nothing else has worked, ask your healthcare provider about a collagen supplement. While research has not made firm conclusions about them on skin and joint health in humans, it may not hurt to try.
I have personally been experimenting with this collagen for the past 4-5 months and think it may be helping my knees have less discomfort when running. I add it to my coffee in the morning and like that I get a protein boost so easily. I have not seen a big difference in my skin or hair however, which I would really like. I also take breaks from buying it because of the price.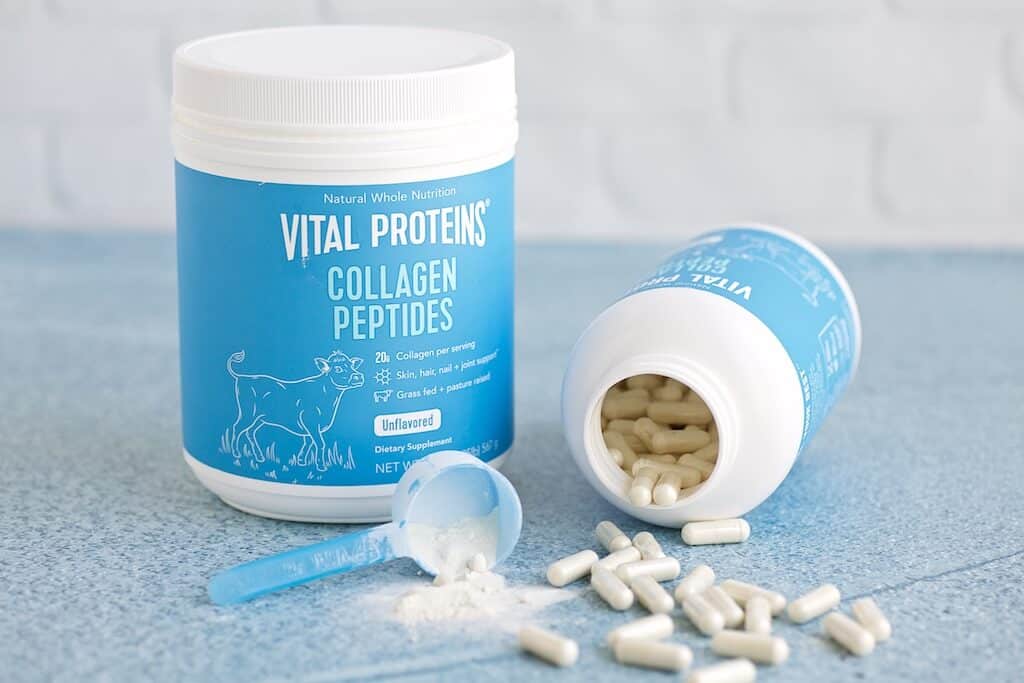 The brand of collagen that I take and recommend is Vital Proteins (affiliate link). I have been very happy with this product and think it's a good one to start with if you want to give it a try.
Have you tried collagen or have a specific question about collagen? Leave a comment or question below and let me know.
Special thanks go to my fabulous dietetic intern, Alyssa Fernandez, who worked very hard on this article.