Jump to:
I often get asked my opinion on protein powders, mostly in the form of, "which one is the best ?" I thought I'd tackle specifically the best protein powder for women. If you're interested in protein powder for teen athletes, check out Protein Supplements and Young Athletes. You can also read this post on collagen supplements to learn about that specific protein.
Like many answers that I give to nutrition specific questions, I respond, "it depends". I know I know -- that's not a helpful answer. I hear ya.
Since I don't fully know you, your situation and your eating preferences, I can't simply say THIS is the best protein powder for women everywhere. Each has different advantages. Once you understand the options, you can select the best option for you. This post will guide you in that process.
First, Eat Food
When you are considering your protein intake and maybe needing more, it's first important to evaluate if you are eating high-quality, food sources of protein. No supplement should fully take the place of nutrient dense food. Both animal and plant based sources of protein can adequately meet your needs. However, protein supplements can be a helpful addition to your eating rhythm and may even assist in reaching specific body and health goals.

Why Use a Protein Supplement
Busy schedules can make it hard to eat balanced. We all feel this challenge. Sometimes a protein supplement or shake can make it easy to get the nutrition needed on the go. It's easy to drink in the car, at your desk or at a kid's practice. This doesn't mean that shakes should replace food all the time, but it can be a strategy in your nutrition toolbox.
Women who are looking to build muscle could benefit from a protein supplement if they struggle to eat 20+ grams of protein in one meal or snack. Eating protein pre and/or post strength training workouts can help trigger the body to build more muscle. However, eating a piece of chicken (or whatever) right after a workout may sound gross or just not doable. In these cases, a protein shake might be a convenient way to flood your body with the nutrients it needs to respond the most from your workout. This is the most common situation that I personally will use a protein supplement.
A protein supplement may be very beneficial for women after the age of 50. Unfortunately, as women age, their muscle tissue is not as capable as it once was. It becomes less responsive to the stimulation of amino acids (the building blocks of protein) and insulin creating a situation called "anabolic resistance". This means it becomes harder for women to build muscle as they age. It also means that older women may need more than the RDA for protein to stimulate muscle growth, or at the very least, maintain muscle they already have. (Source) In this kind of situation, using a concentrated protein supplement might be very helpful to meet higher needs without eating a larger quantity of food.

Safety
It's important to pause and comment specifically on protein powders for female athletes. It's very important to consider contamination when looking for the best protein powder for women. Unfortunately, contamination in supplements is always going to be a concern. There are companies I trust and those are the ones listed below. Outside of that, you're playing roulette, and it's possible to find a banned substance in a product without it being on the label. Therefore, as an athlete who could undergo drug testing it's crucial to choose a protein supplement that has been verified as NSF sport for Informed Choice. These are 3rd party agencies that verify ingredients and certify a product to be free of banned substances.

There are so many protein options available it can be confusing to select the best protein powder for women . Here are the best protein protein powders for women based on the common reasons why women might want one, along with my suggestions of brands I know and trust.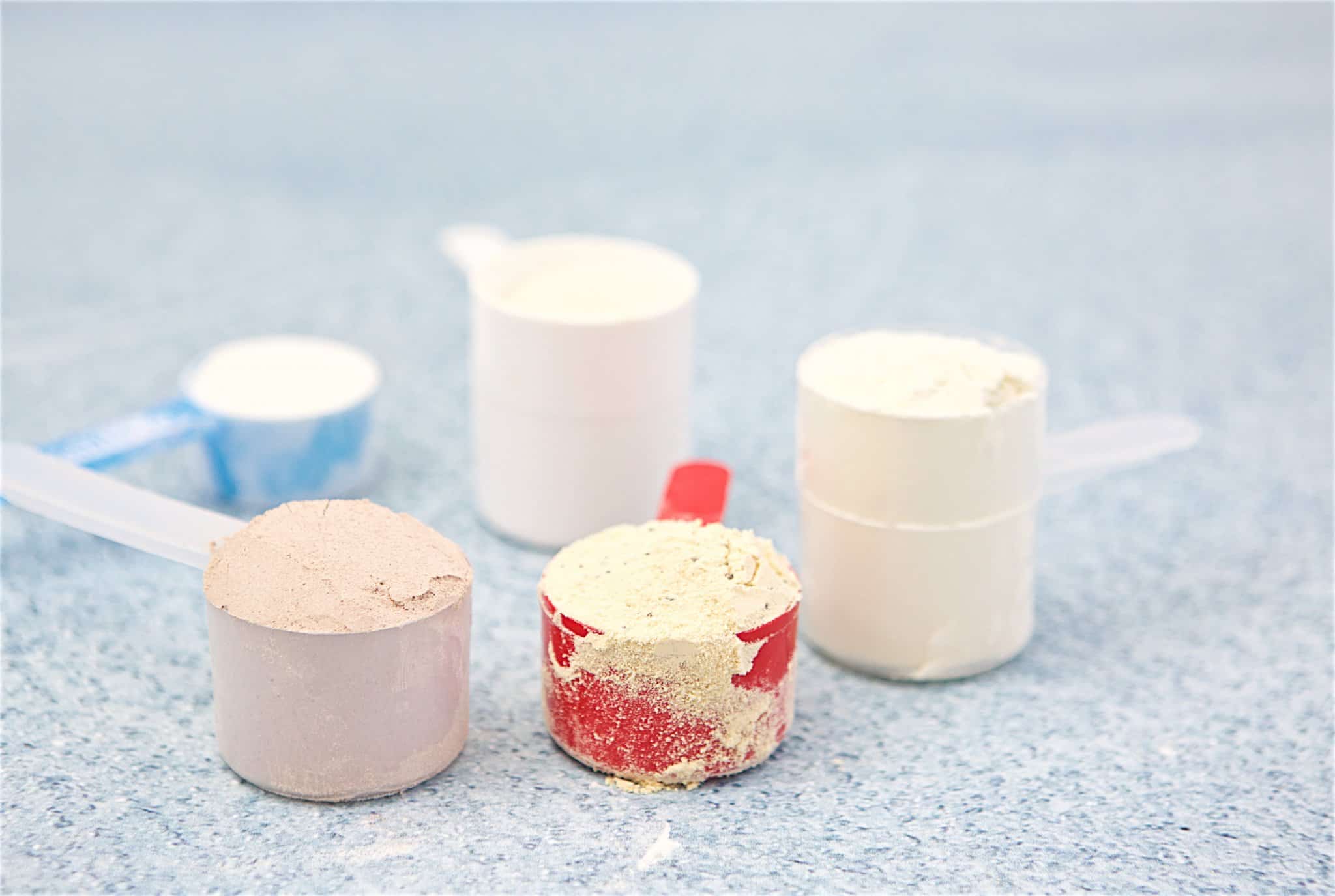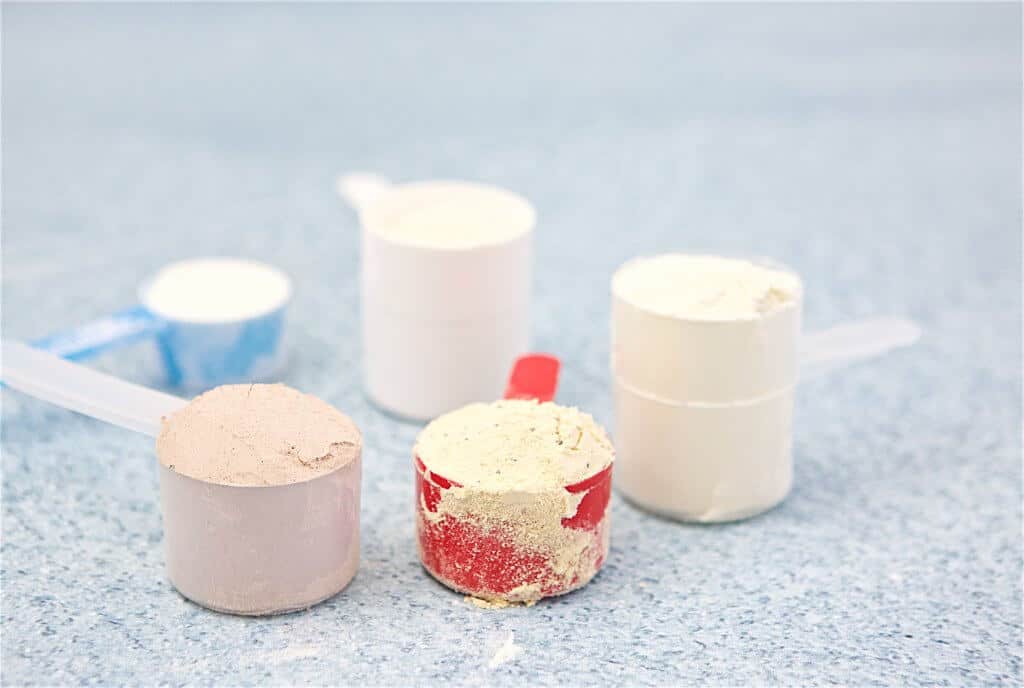 Best Protein Powder for Building Muscle
If your goal is to gain muscle through weight training, whey protein is probably your best bet. Whey seems to be the most studied of the protein supplements. There is strong evidence to support whey's role in promoting muscle synthesis post-workout, meaning it helps you build muscle tissue and ultimately, strength. This is thought to be due to the fact that it contains a high amount of leucine, an amino acid that strongly promotes muscle synthesis. (Source)
Whey can be purchased all by itself, in the form of concentrates (>70% protein), isolates (>90% protein) and hydrolysates (varies, but usually > 80% protein). Whey protein isolates are the most concentrated type and usually what I recommend. The suggested amount is 20-30 grams post-exercise to best initiate the muscle building impact. (Karpinski)
Whey protein contains low to no carbohydrates so this would be a good option for those on a lower carbohydrate diet.
Favorite Brands:
Best Protein Powder for Night Time Use
If you work out in the evening or need an easy protein dose in the evening, a mix of proteins is ideal. Casein is considered a slow-digesting protein and is therefore best to consume at night before going to sleep. Since it takes longer to digest, it provides amino acids through the night time fast and helps promote a positive balance needed for muscle building. Mixing casein and whey provides both quick-digesting proteins from whey along with the slower digesting casein. (Karpinski)
Milk is a natural source of both whey and casein so you can just choose a whole food dairy option like cottage cheese and milk. This Night Time High Protein Smoothie Recipe is a perfect blend of casein and whey.
Favorite Brand:
Best Protein Powder for Vegans
There are now a variety of protein options for those choosing a vegetarian and vegan eating style. Soy protein has been found to digest similar to whey and produce performance benefits compared to a placebo. (Shenoy) Soy gets a bad rap due to concerns over the estrogen-like isoflavones and being GMO. Research has shown mixed results on soy's impact on hormones and development, but there is adequate evidence to support it does not have a significant impact but rather overall health benefits. (Duitama)
Favorite Brand:
Pea protein is another great option that has taken the vegetarian protein scene by storm. It's appealing to many because it is not a common allergen and contains essential amino acids like leucine. A study of male adults found that pea protein produced similar effects as whey in increasing muscle thickness and strength. (Babault)
Favorite Brands:
Best Protein Powder for Weight Management
Protein in general is considered a very satiating macronutrient which means it can help you feel full and satisfied on less. Therefore, incorporating more protein from any source into your meals and snacks could promote greater satiety on less total calories. It's also important to mention that when a person is losing weight, they are also likely losing muscle. Incorporating a little more protein into their eating style may help protect muscle from being lost.
Whey has been studied frequently on its impact on weight loss with many favorable results. Including whey at breakfast may be particularly beneficial for managing blood sugar, improving satiety and promoting weight loss. (Jakubowicz) This doesn't mean that other types of protein wouldn't do the same thing, just that there is not evidence to support it yet.
Favorite Brands:

Best Protein Powder for Sensitive Stomachs
In those with sensitive stomachs, choosing a plant based protein mix with probiotics could contribute to better digestion. A mixture of different proteins facilitates, in essence, not overloading one system of digestion. This theoretically could mean it digests with less GI discomfort.
Also look to see if there is an added fiber in the product. These can sometimes cause painful gas, but tolerance can be built up with gradually increasing to the full serving over about a 2 week period. It's truly a matter of trial and error though to determine if one product works well for you or not.
Favorite Brands:
Best Protein Powder for Meal Replacement
Protein powders can be more than just protein, they can also be nutrition shakes, filling in for a full meal or snack when needed. This category of shakes not only provides good protein but carbs, fiber, perhaps fat, vitamins, minerals, and a variety of other interesting ingredients. It's also important to taste good.
Now, some shakes can stuff their product full of a ton of vitamins, minerals or exotic ingredients. This doesn't necessarily make it a good choice. In fact, sometimes these ingredients are actually low quality and just make the nutrition label look good.
In the macronutrient department, I like to look for 10-20 grams of protein, 3-6 grams of fiber, and a small amount of monounsaturated or polyunsaturated fat. Beyond that, I like to see helpful ingredients like superfoods (greens, seeds, hard to find fruits, botanicals or herbals) and probiotics. I'm not really looking for a lot of straight up vitamin and minerals added in because there are a lot of better sources for those.
Favorite Brands for Meal Replacement:
Collagen
Collagen is a popular protein powder option with all kinds of health and beauty claims. I consider it a slightly different genre of protein powders. I didn't include it in this post because I wrote a whole post just about collagen. Check out Should You Take a Collagen Supplement? for all the deets on collagen.
Favorite Brand:
How to pick the best protein powder for women (that's you):
References:
Karpinski, C. Rosenbloom C. Sports Nutrition: A Handbook for Professionals, 6th Edition. Academy of Nutrition and Dietetics. 2017.
Shenoy, S., Dhawan, M., & Sandhu, J. S. (2016). Four weeks of supplementation with isolated soy protein attenuates exercise-induced muscle damage and enhances muscle recovery in well trained athletes: a randomized trial. Asian Journal of Sports Medicine (AsJSM), 7(3).
Duitama, S. M., Zurita, J., Cordoba, D., Duran, P., Ilag, L., & Mejia, W. (2018). Soy protein supplement intake for 12 months has no effect on sexual maturation and may improve nutritional status in pre-pubertal children. Journal of Paediatrics and Child Health, 54(9), 997.
Babault, N., Paizis, C., Deley, G., Gunrin-Deremaux, L., Saniez, M.-H., Lefranc-Millot, C., & Allaert, F. A. (2015). Pea proteins oral supplementation promotes muscle thickness gains during resistance training: a double-blind, randomized, Placebo-controlled clinical trial vs. Whey protein. Journal of the International Society of Sports Nutrition, 12(1).
Jakubowicz D1, Wainstein J2, Landau Z2, Ahren B3, Barnea M4, Bar-Dayan Y2, Froy O5. High-energy breakfast based on whey protein reduces body weight, postprandial glycemia and HbA1C in Type 2 diabetes. J Nutr Biochem. 2017 Nov;49:1-7
Protein supplements and weight loss. https://www.ncbi.nlm.nih.gov/pubmed/29687650
Whey, MCFA, and oxidation https://www.ncbi.nlm.nih.gov/pubmed/28949074