As women age it can feel like an uphill battle to maintain the health of their youth. While there is no silver bullet to fix all of the challenges women face, there are many creatine benefits for women that many are not aware of.
This article will help inform you on why women should consider taking creatine and cover the beneficial and positive effects, potential side effects and the best creatine supplements for women.
If you are interested in creatine for teen athletes, please see my post on Benefits of Creatine for Teen Athletes.
Jump to: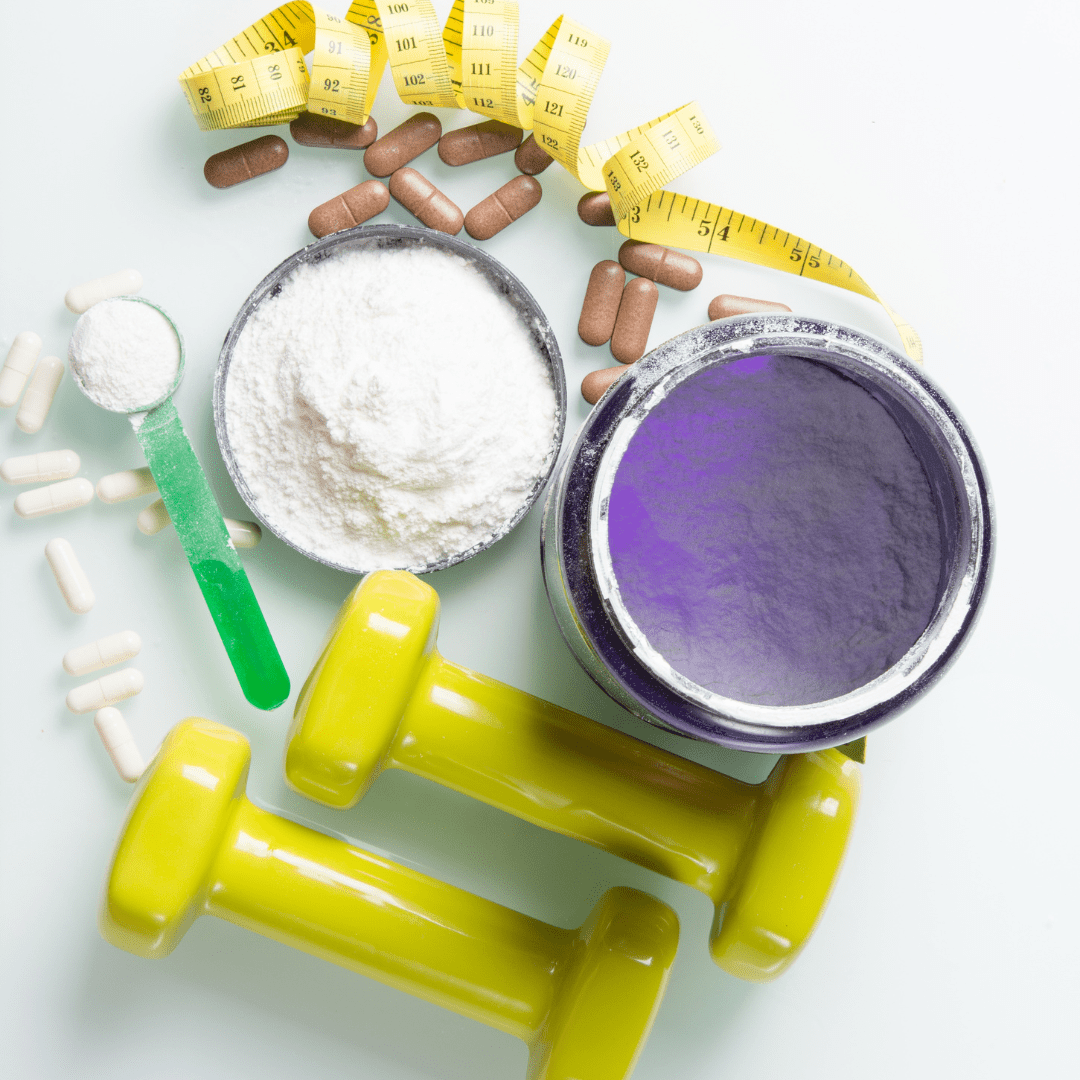 This post is sponsored by NOW Foods. All opinions are my own.
This article is not intended to diagnose any condition or prescribe any supplement treatment plan. Please talk to your health care provider before starting any new supplement routine.
What is Creatine?
Creatine is a substance that is a naturally occurring "non-protein amino acid compound". This means it contains amino acids but it isn't incorporated into proteins in the body.3
Creatine is found in the body and located predominantly in our muscles, but also a small amount in the brain.1 Our body stores creatine in the muscle in a form called phosphocreatine, which plays a role in resynthesizing adenosine triphosphate (ATP), a critical fuel source for working muscles.* This is where the "magic" of creatine is found - it supports the availability of ATP to working muscle cells, especially in high intensity exercise.*3
This helps clear up a major misconception about creatine. In and of itself, creatine does not make you more muscular. Instead, it helps provide your muscles with the energy to do more work, which can translate into greater strength, power, or endurance.*
Creatine is found naturally in food, primarily meats . Dietary intake of creatine absolutely contributes to your overall nutritional needs.
Why Creatine for Women?
Beyond athletic performance creatine provides a number of other beneficial health effects, particularly for women as they age.* This is not an area that has been widely discussed in the general public until more recently.
I relied heavily on this review article and this position paper from the Journal of the International Society of Sports Nutrition that specifically pulled out the benefits of creatine for women. This is important because historically, this kind of research is conducted on men, and women are very different from men.
In addition, females store 70–80% less creatine in muscles compared to males and this has led to looking at how supplementation could be beneficial for women.*3 I personally believe there are many researched-based reasons why women should consider taking creatine.
As you are reading this article, you may wonder if creatine will be beneficial to you if you are not a regular or extensive exerciser. As a practitioner, my leaning is that it possesses potential benefit for all types of women, regardless of their exercise/fitness/sport routine. I also hope you will consider adding strength training to your weekly rhythm to get even more potential benefits coupled with creatine.
Is Creatine Supplementation Safe for Women?
Creatine is one of the most popular and widely researched dietary supplements (this is NOT hyperbole). According to the International Society of Sports Nutrition, creatine monohydrate is the most studied form, is considered safe and is reported to have a number of benefits.3
Studies on women also confirm that creatine is safe and effective, showing benefits beyond just athletic performance.*2
Creatine and Athletic Performance*
Creatine is widely accepted as a safe and effective ergogenic aid, meaning it benefits athletic performance.* While it's been widely studied in male athletes, research has been conducted on female athletes specifically, with results confirming many positive outcomes.
The mechanism for the benefit of creatine is related to energy metabolism occurring in muscle cells during activity.* Creatine is converted to phosphocreatine which plays a role in adenosine triphosphate (ATP) production, the cell's source of energy.* Without getting too technical, creatine supplementation can support more rapid ATP production and help buffer, or reduce so-to-speak, acid that causes muscle to fatigue.* This ultimately means that it helps muscles do more work and fatigue less quickly.*2,3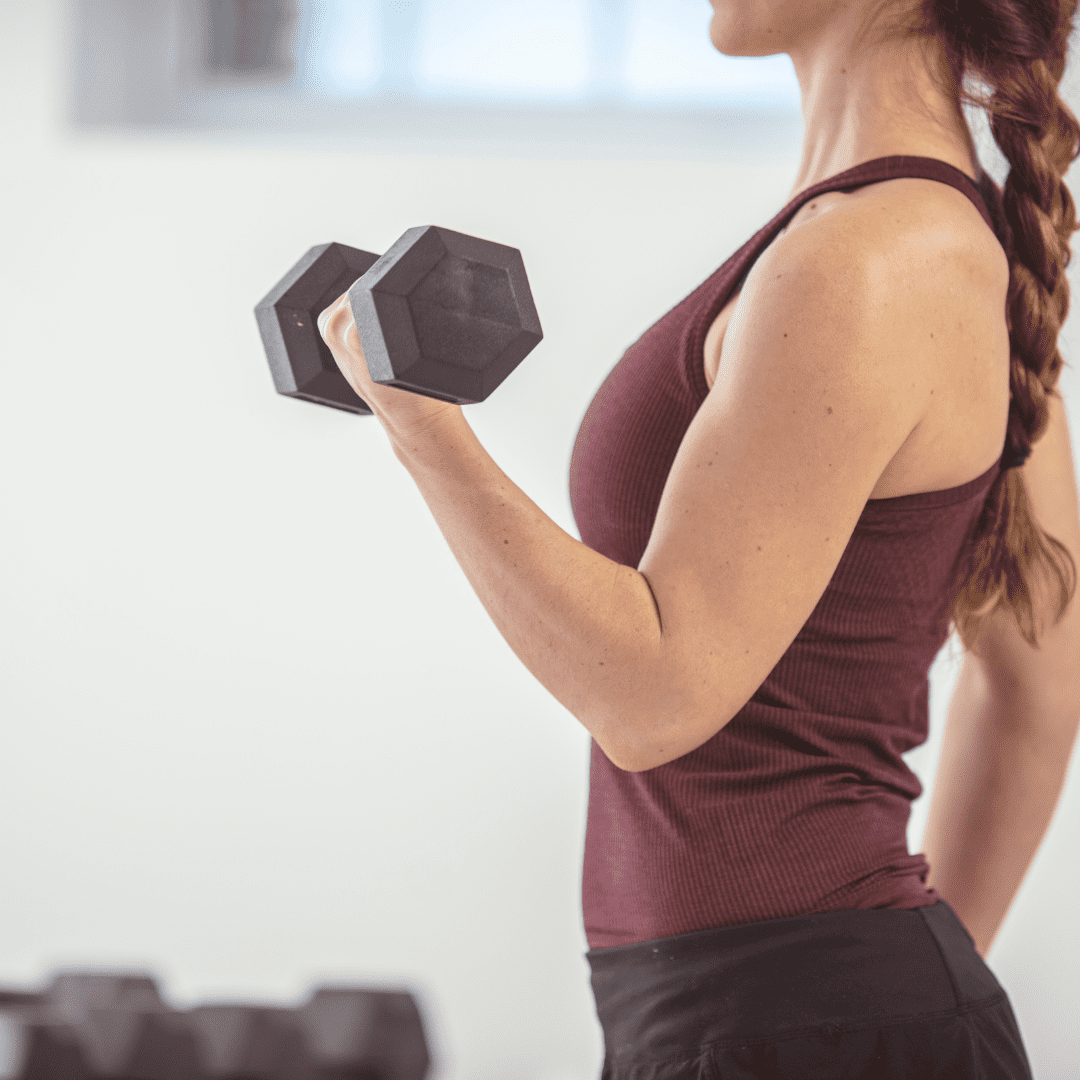 Practically, this could translate to being able to do more reps, lift more weight, sprint a little longer, recover faster, go a little longer or fatigue less quickly.* That sounds really good to me.
For those who like specifics, here's a list of outcomes that creatine supplementation research has demonstrated:
It may increase the amount of lean muscle mass gained by females during a strength training program compared to those who do not supplement;*2
It is effective for increases strength performance in females in weight lifting;*2
It can increase muscle power in females;*2
It can improve anaerobic fitness capacity in females, meaning you can work at higher heart rate intensities;*2
It may enhance recovery time and function between workouts in females;*2
It can improve VO2max in females;*2
It can delay neuromuscular fatigue;*2
It is correlated with a reduced incidence of muscle cramping, muscle tightness, and muscle strains;*3
It can enhance hydration levels and heat tolerance during activity.*3
To sum this all up into practical terms, creatine supplementation has the potential to improve your performance in strength training, power related sports, and cardiovascular or endurance activities.* This kind of sums up almost anything you would do in the world of fitness.
We will talk about aging below, but as we age, some of the sports or activities we enjoy can feel harder on our bodies, making them less enjoyable. Creatine supplementation should be considered as a possibility for lessening this impact.*
Creatine Use During Pregnancy
The idea that creatine supplementation could be beneficial for pregnant women stems from the discovery that during the gestational period creatine stores are notably reduced.2 The fetus relies on their mother's creatine throughout most of the pregnancy and it seems to play an important role in development.* Reduced maternal creatine stores have been associated with outcomes like low birth weight and preterm birth.2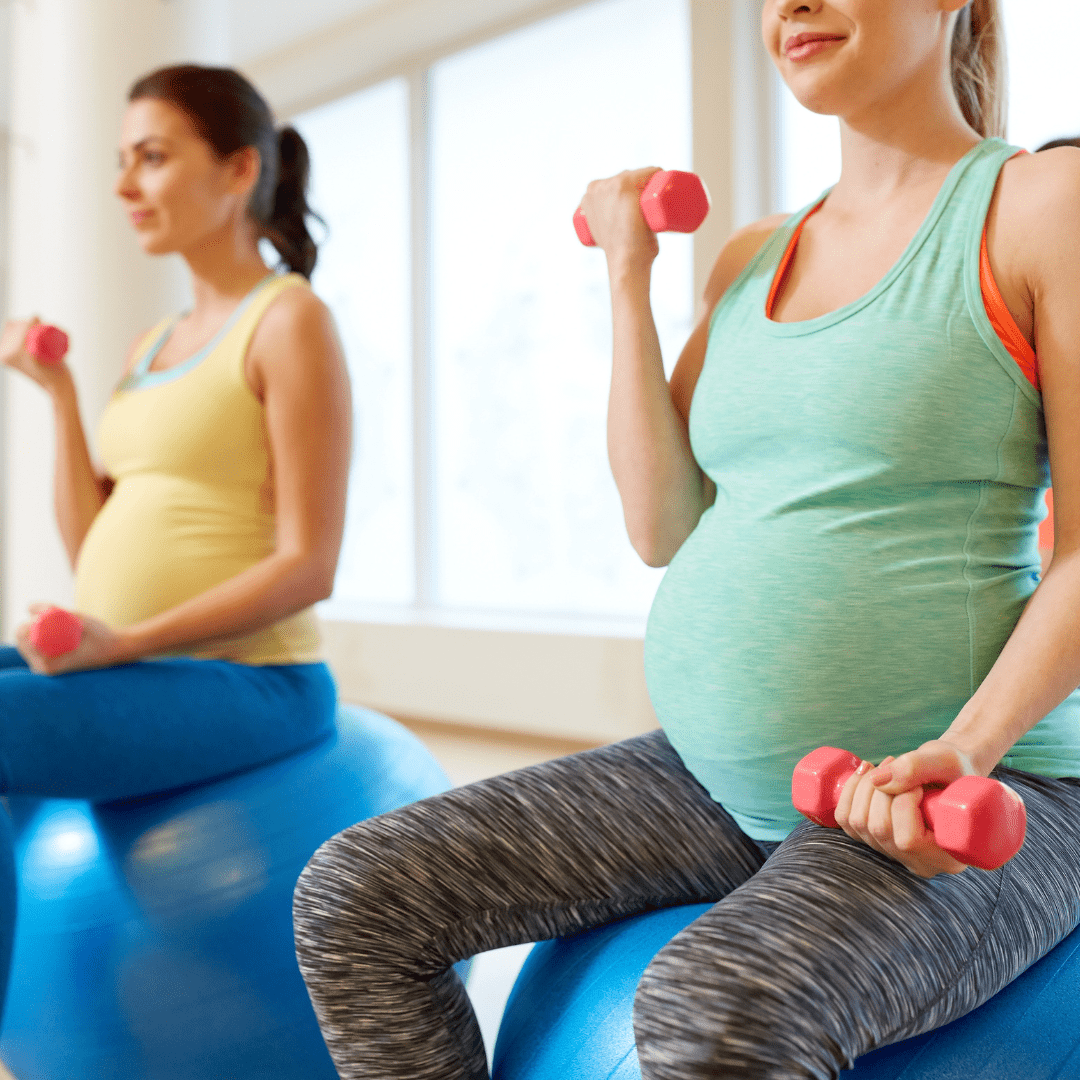 At this time we don't have evidence from human studies on pregnancy, but animal studies are showing promising results in offspring's brain development and cell integrity.*2 However, due to the safety and acceptance of creatine supplementation, it is definitely something to consider, especially if a mother is a vegetarian.
Creatine and Menopause/Aging
Menopause is a challenging time for women and their bodies. With estrogen levels at an all-time low, it can be difficult for women to build or maintain muscle as well as keep strong bones.2
Creatine is a viable option for menopausal women because it could have a positive impact on muscle, bones, strength and immune system balance.*2
I cannot help but also take this opportunity to emphasize how important resistance training is for women as they age. It helps you navigate the changes you face with a little more ease and strength.* Creatine will be most beneficial to you as you age when it is coupled with a solid, consistent strength training program.* In fact, studies have found that whole-body resistance training in combination with creatine supplementation in postmenopausal women helped to maintain healthy bone mass and increased strength.*2
Since the studies on postmenopausal women show no adverse effects, I think it's definitely something to strongly consider.
Creatine for Mental Health and Mood*
Women suffer from depression at a rate 2 times higher than men. This has been attributed to the fluctuations in hormones, particularly estrogen throughout the lifespan and even in the context of their monthly cycle.2
It is so intriguing to me that there is now an established relationship between mood (or self-reported symptoms) and the role and presence of adequate creatine in the brain.2 Since it plays a role in energy metabolism, there seems to be a connection between creatine and how well the brain is firing (my interpretation here of the science).*
Typical psychological stress can lead to negative effects on mood. Given that creatine metabolism depends on mitochondrial function, it is suggested that stress causes changes in creatine, phosphocreatine, or creatine kinase in certain brain areas.2 In this case, those who have stress-related mental effects may benefit from creatine supplementation in order to stimulate creatine kinase to support normal mitochondrial function.*7
There is considerable evidence to suggest creatine may be beneficial for women with low mood.* However, more studies need to be conducted to determine if creatine has a beneficial effect on tension and nervousness.*13
If you struggle with fluctuations in your mood, talk to your health care provider about the options of trying creatine.
Creatine and Cognition*
Beyond mood and mental health, creatine may be beneficial for overall cognition and mental performance.* Supplementation may help to reduce mental fatigue and support normal memory functions, especially when under stress.*2,3
Studies have also shown creatine has a positive effect in cognitive function involving temporary conditions that reduce brain creatine, such as sleep deprivation, mild exercise, and stressful mathematical tasks.*7
An interesting point to note here is that creatine supplementation seemed to help promote normal cognition in vegetarians, who typically have lower creatine levels than omnivores.*2
Creatine and Sleep*
The most benefit from creatine on cognition and sleep is seen during periods of stress and sleep deprivation.*2 Females often process stress differently and are more frequent multitaskers which can impact sleep quality. This along with pregnancy and menstrual cycles make females more susceptible for sleep deprivation. Sleep deprivation lowers cognition and impacts females more significantly than males, so women may experience greater improvements in these areas from creatine supplementation.*2
Will Creatine Cause Me to Gain Weight or Be "Bulky"?
This is likely the most common concern for women who are thinking about taking creatine. Let me put you at ease here that creatine does not create an increase in your body fat. Avoiding creatine supplementation for fear of weight gain alone is not supported by the research.2
It is true that some people experience an increase in weight, especially at the onset of loading with creatine (more on that shortly). However, this is more often experienced in men and is related to a temporary increase in body water, or water retention. Creatine does increase your cellular hydration, but this is considered a positive side effect.* You are actually better hydrated as a result.*2
Beyond your hydration level changing, women may experience an increase in skeletal muscle when using creatine in combination with resistance training.* This means you're experiencing muscle gains and this is AWESOME!* Some people may experience weight loss as a result of muscle growth.* You could see the scale go up, down or stay the same; there's no guarantees. I hope that you can learn to value your body composition more than a number on the scale.
Can you Get Creatine from Food?
The highest food sources of creatine come from fish, chicken, red meat (beef, pork), and dairy providing about 1-2 g creatine/pound uncooked meat.1 Additionally, only small amounts of creatine can be obtained from legumes, quinoa, nuts, seeds, grains, and tofu. Therefore, it is especially important for vegans to supplement with a creatine powder to receive a sufficient amount in the diet.
Creatine Dosing
There are two ways to go about taking creatine: a loading phase + maintenance phase or a daily consistent dose. Both methods are effective at increasing creatine levels in your body, the latter approach just takes longer to experience benefits.2
My personal preference is to put clients on a creatine loading dose as this more quickly increases creatine saturation in your cells (including your brain!).
Here are the recommendations for taking creatine either utilizing the loading dose + maintenance or a routine-consistent dose.2
Loading Phase: 0.3 g/kg/day spread out over 4 doses for 5 days
Maintenance Phase: 0.03 g/kg/day daily in one dose, or 3-5 grams a day
Consistent Dose (no loading phase): 5 g a day in one dose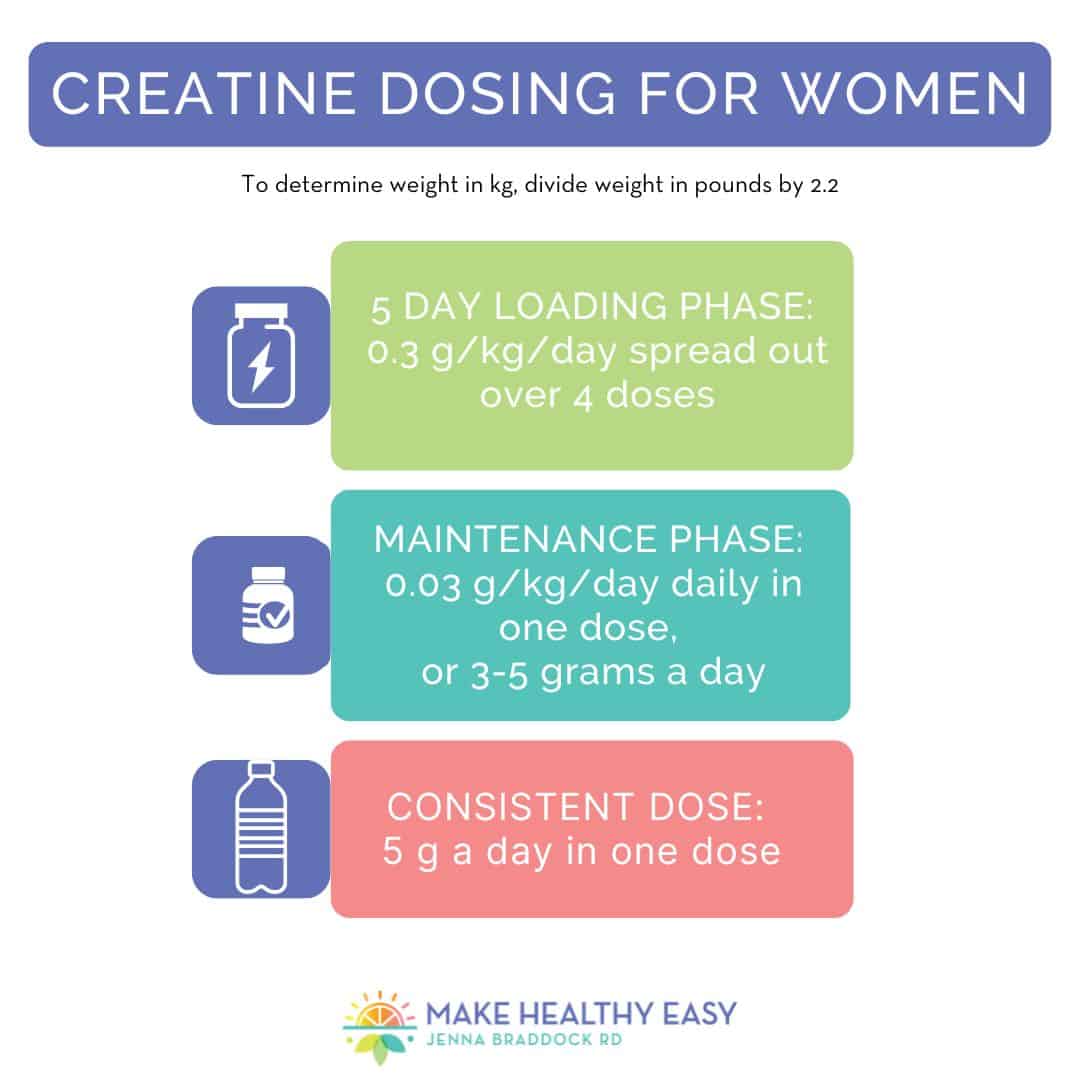 Any brand of creatine I have used includes a scoop that is the serving size of 5 grams of creatine. When you are taking the maintenance dose of 3-5 grams a day, you may choose to use about ⅔ of a scoop or a full scoop.
When to Take Creatine
Creatine levels typically peak in the blood about 60 minutes after taking it orally.5 This means that if you want to feel the benefits in your workout, taking creatine pre-workout is the ideal time.
However, if you are not working out on a particular day, or forget to take it pre-workout, you should still take it. Remember, there are many benefits beyond just athletic performance.
How to Take Creatine
Creatine in a fine, white powder that is easy to mix into a variety of options. It should be taken with liquid and not eaten as a straight powder. It doesn't fully dissolve in water alone but using a blender or powered whisk will help it incorporate better.
You can also buy creatine in a capsule form which is a fine option, especially if you prefer to swallow capsules.
Here are ideas for how to take creatine: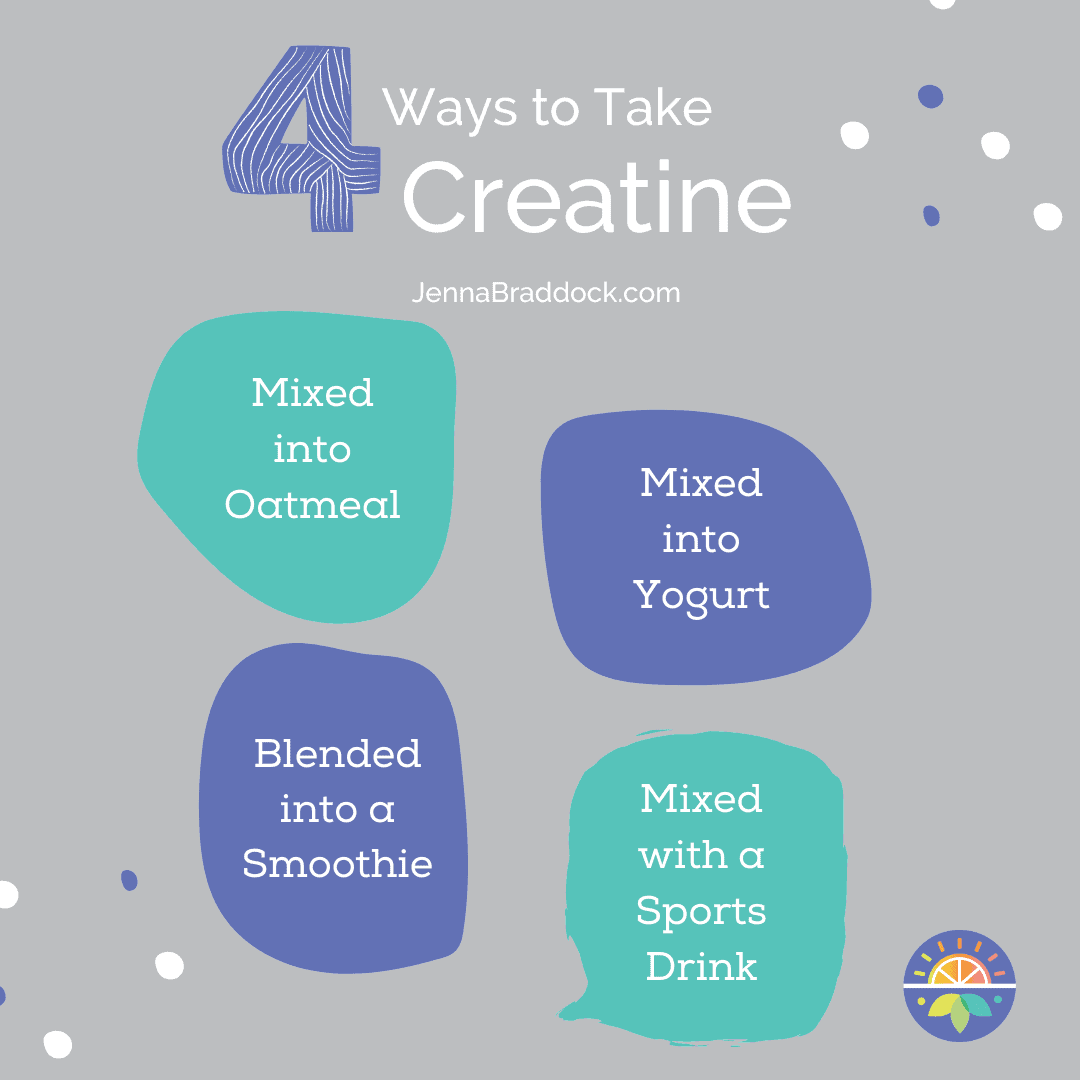 The two ways I take my creatine most frequently are mixed into my morning smoothie or mixed into my water bottle pre-workout along with NOW® Sports Effer-Energy Tablets and NOW® Sports BCAA Big 6 powder.
Best Creatine Supplements for Women
There are a lot of dietary supplements out there marketed for women. Many of these products are overstuffed with ingredients that may or may not be helpful and usually just drive up the price.
When it comes to picking a creatine product, simple and straightforward is the way to go. All you need here is "Creatine Monohydrate" powder, nothing more. This is the version that is the most studied and universally considered safe for all populations.
In addition, it is very important to choose supplements that are third party tested for purity. Sadly there is a lot of contamination in dietary supplements and choosing a certified product is imperative in this case. Look for certifications by Informed Choice, USP or NSF for Sport.
My favorite brand of creatine is NOW® Sports Creatine Monohydrate powder or micronized powder or capsules. Micronized creatine monohydrate powder simply means the particles are smaller and therefore dissolve more easily.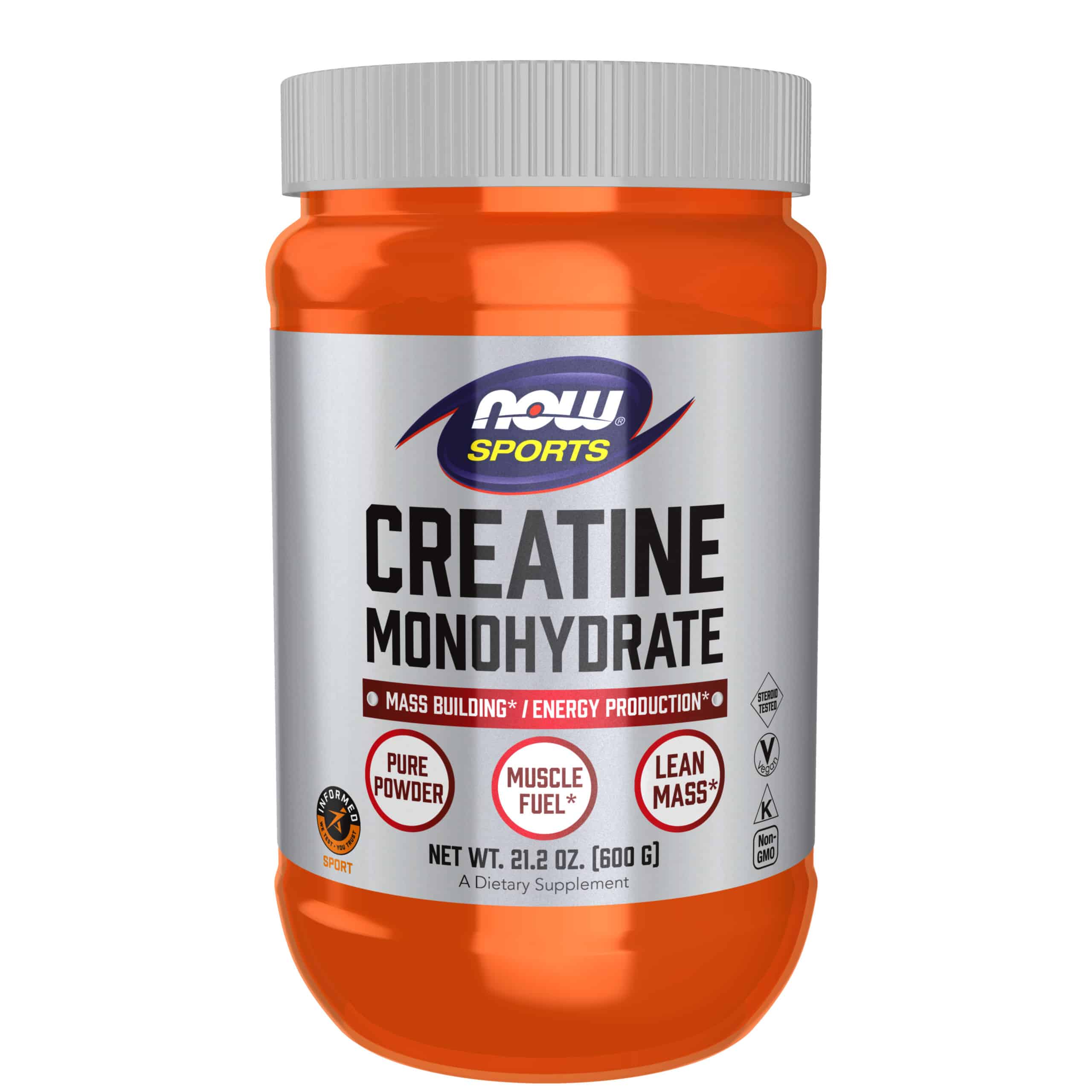 NOW is a company I know well and deeply trust as they do extensive quality and purity testing. I know this because I have visited their plant and seen their quality first hand. When it comes to their NOW® Sports line, they seek additional third party testing and every product is Informed Choice certified. This means you can have confidence knowing their products are pure, uncontaminated, and contain the ingredients listed on the bottle.
If you shop at NOWfoods.com be sure to use promo code: MHE for 20% off.
I hope this information has been a helpful guide for you to learn more about creatine for women. If you're unsure about if it's right for you, or any supplement you are taking, consider booking a nutrition consultation with me to take a closer look at your health.
You can also read about Should you Take a Collagen Supplement, Best Supplements for Stress, and Best Protein Powder for Women.
*These statements have not been evaluated by the Food and Drug Administration. These products are not intended to diagnose, treat, cure or prevent any disease.
References
Cooper, R., Naclerio, F., Allgrove, J., & Jimenez, A. (2012, July 20). Creatine supplementation with specific view to exercise/sports performance: An update. Journal of the International Society of Sports Nutrition. Retrieved March 16, 2022, from https://www.ncbi.nlm.nih.gov/pmc/articles/PMC3407788/
Smith-Ryan, A. E., Cabre, H. E., Eckerson, J. M., & Candow, D. G. (2021, March 8). Creatine supplementation in women's Health: A Lifespan Perspective. Nutrients. Retrieved March 16, 2022, from https://www.ncbi.nlm.nih.gov/pmc/articles/PMC7998865/
Kreider, R. B., Kalman, D. S., et al., (2017). International Society of Sports Nutrition Position Stand: Safety and efficacy of creatine supplementation in exercise, sport, and medicine. Journal of the International Society of Sports Nutrition, 14(1). https://doi.org/10.1186/s12970-017-0173-z
Bredahl , E. C. (2021, February 26). The role of creatine in the development and activation of immune responses. Nutrients. Retrieved March 16, 2022, from https://pubmed.ncbi.nlm.nih.gov/33652752/
Balestrino, M. (2021, April 7). Nutrients. Retrieved March 16, 2022, from https://www.ncbi.nlm.nih.gov/pmc/articles/PMC8067763/
Muccini, A. M. (2021, February 2). Creatine metabolism in female Reproduction, Pregnancy, and Newborn Health. MDPI. Retrieved March 17, 2022, from https://dro.deakin.edu.au/eserv/DU:30148043/dellagatta-creatinemetabolism-2021.pdf
Allen, P. J. (2012, May). Neuroscience and biobehavioral reviews. Retrieved March 16, 2022, from https://www.ncbi.nlm.nih.gov/pmc/articles/PMC3340488/#R238