In June I had the pleasure of traveling to San Luis Obispo California with the California Strawberry Commission where I got a first hand look into large scale strawberry farming.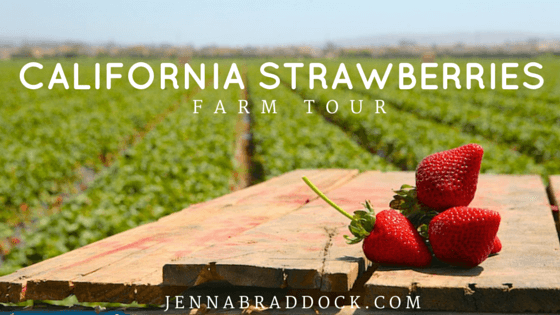 This trip was fully sponsored by the California Strawberry Commission. They have also compensated me to write this blog post about my experience.
While I'm anxious to share the details of my trip, I want to first tell you why I choose to attend sponsored trips.  In my 7 years of formal higher education I learned everything about the science of nutrition but not a whole lot about agriculture. I now believe that agriculture and nutrition are interdependent on each other. Therefore, I have sought out opportunities to learn whatever I can about this industry. In addition, with the popularity of food documentaries that vilify many aspects of food (thus leaving us all paralyzed in our eating decisions) I want to get the truth about what's really going on "out there."
I am so incredibly grateful that organizations like the California Strawberry Commission give me opportunities to do just this and then report back to you what I see with me own two eyes. It is an honor to be this kind of ambassador and I take it very seriously.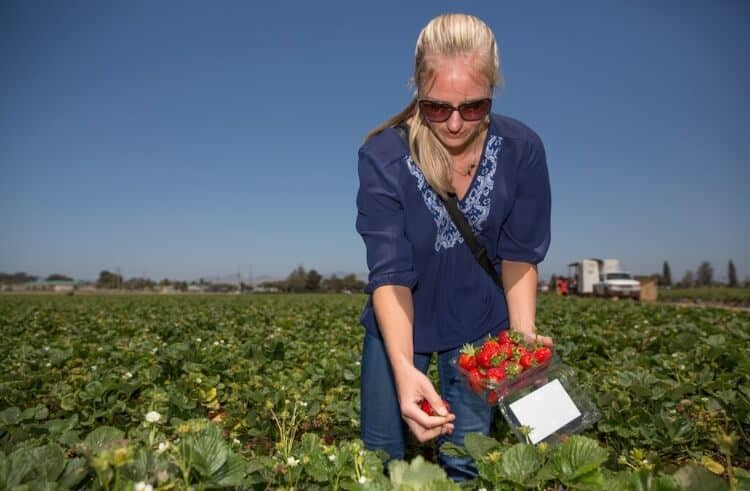 Photo courtesy of the California Strawberry Commission
On this wonderful trip, I joined 11 other bloggers and visited two different family-run strawberry farms. We spoke with trainers and researchers working for the Strawberry Commission and feasted on delicious food.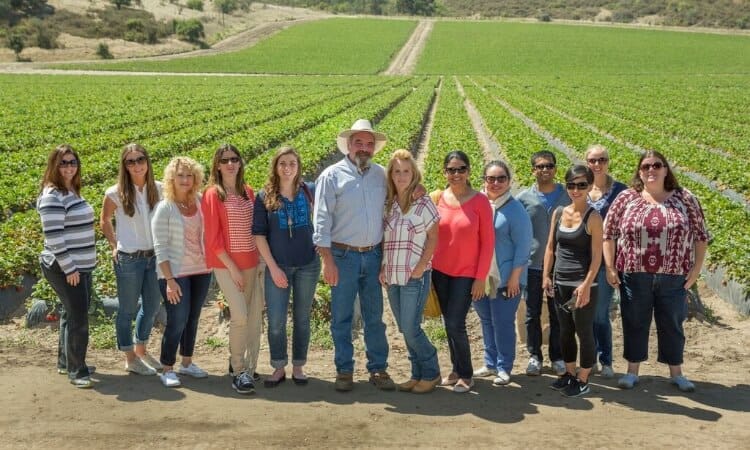 Photo courtesy of the California Strawberry Commission
We stayed at The Dolphin Bay Resort & Spa, a heavenly resort on the coast of Pismo Beach. The staff was friendly and the suites were spacious. My first morning at the resort I took full advantage of the scenery and enjoyed a run/walk along the coast, a quick workout at the onsite gym, and borrowed a bike to explore local neighborhoods.
I really enjoyed some time for R&R before our event began. It has been a tough summer for our family personally, and my heart was so blessed by the beautiful scenery and time to myself. But, since California is a special place for me and Coach, I missed him and really wished we were together.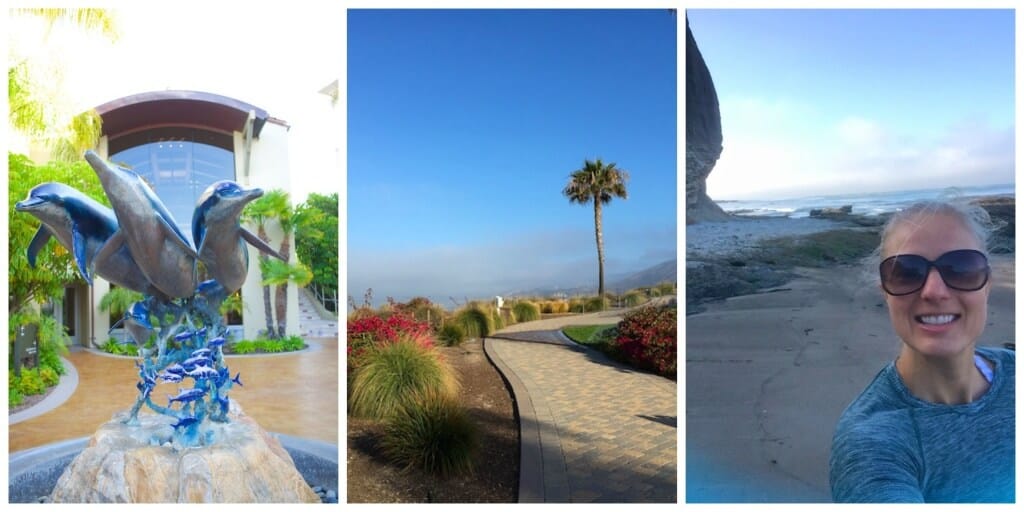 One of the best parts about trips like this is the networking. I love seeing dietitian friends, new and old. I especially enjoyed getting to know Kylie of Imma Eat That. We met last September and she has since become a Registered Dietitian Nutritionist. Way to go Kylie!!
I also spent some time with Toby Amidor of the Food Network's Healthy Eats blog and Robin Plotkin of Robin's Bite. Both of these dietitians inspire and encourage me as a working mom.
[easy-image-collage id=902]
Each time we dined, we enjoyed beautiful food with strawberries as the star of the show. I'm amazed by how versatile a fruit it is.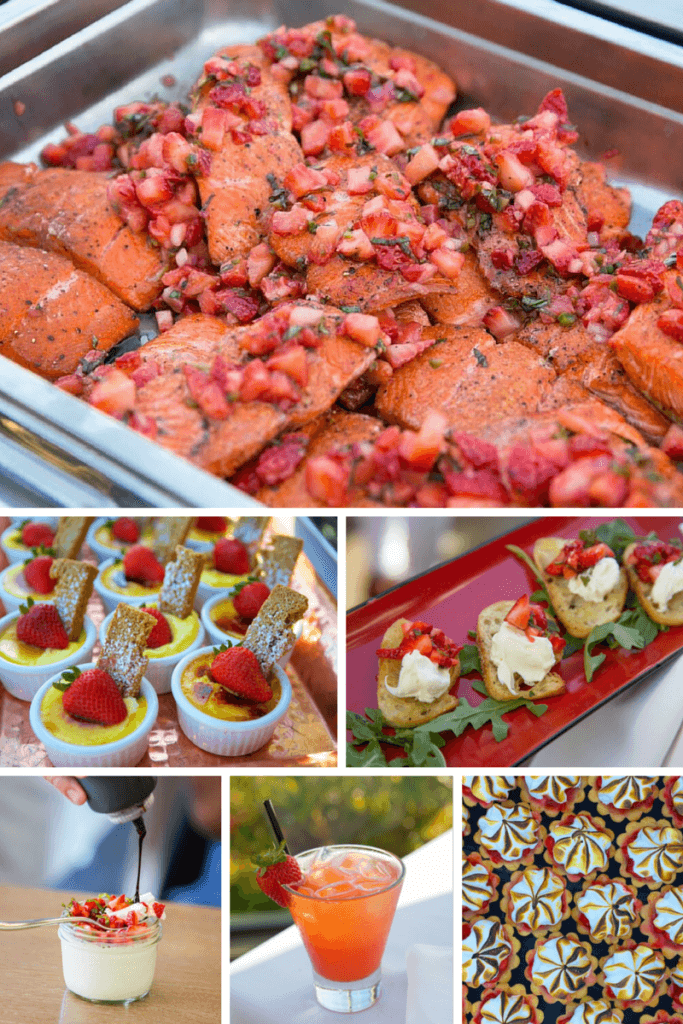 Salmon with Strawberry Salsa, Vanilla Creme Brûlée, Strawberry and Mascarpone Bruschetta, Vanilla Panna Cotta with Strawberry Basil Chutney and Balsamic Reduction, Strawberry Summer Breeze Cocktail, and Strawberry S'mores Tarts
The two farms we visited in Santa Maria were Providence Farms, owned by Tom and Ruth Jones and L&G Farms, owned by the Chavez family.
[easy-image-collage id=906]
Each farm opened their fields to us and we had freedom to roam, touch, pick, eat and take pictures of anything we wanted. It was truly an extraordinary experience. There is NOTHING like eating a strawberry off the plant, warmed from the sun.
[easy-image-collage id=916]
Photo courtesy of the California Strawberry Commission
So now, let me share with you the cool stuff I learned about strawberries from the extraordinary professionals we met.
Research
The California Strawberry Commission has a strong tie to California Polytechnic State University in San Luis Obispo and supports their strawberry research there. A research from the University spoke to us about their research on improving strawberry farming practices. They are working on ways to reduce the use of fumigants, improve management of soil born disease and lygus bugs (a major pest to strawberries), and improve water quality. In addition they are studying alternative methods for "soil cleaning", a process that must be done between crops.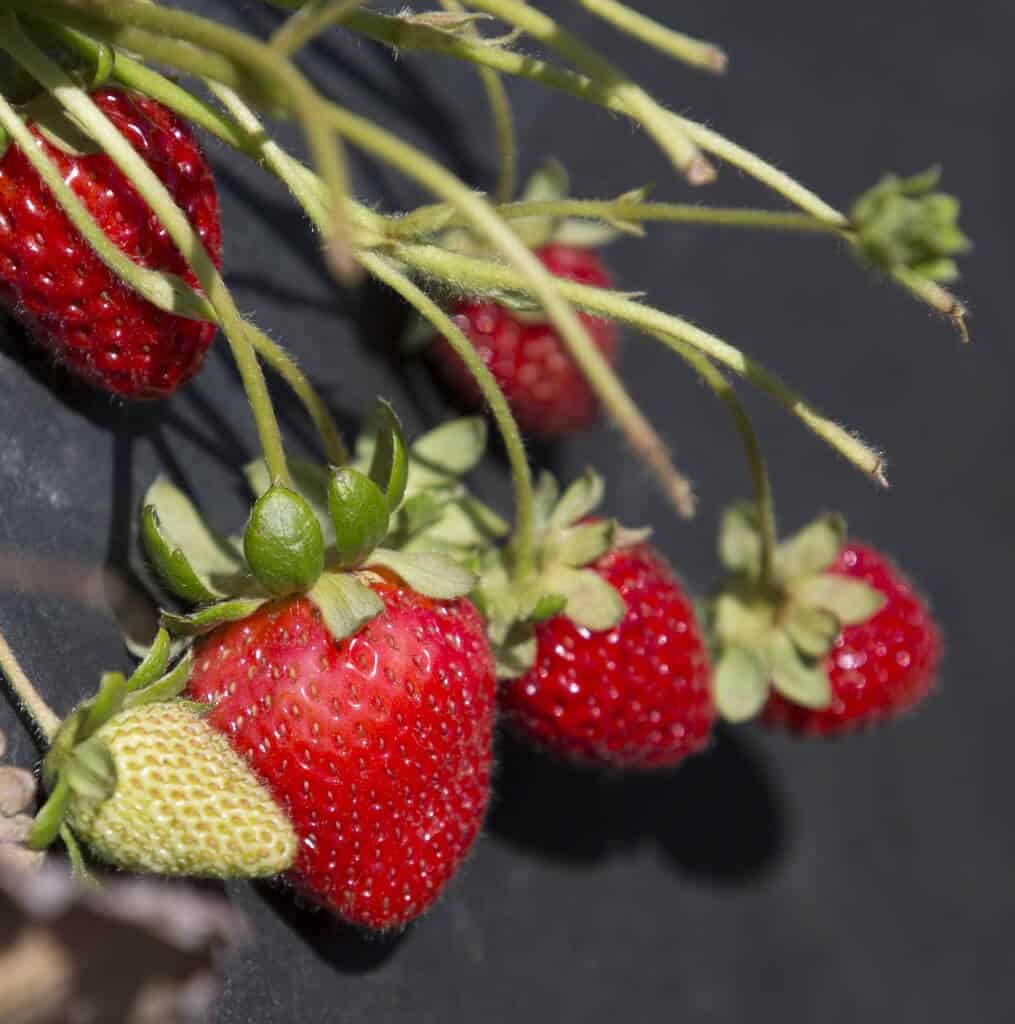 Photo courtesy of the California Strawberry Commission
Organic Farming
We had a very interesting discussion about organic farming with some people who really know what they are talking about. (Again, this is why I go on trips like this-- to talk to the people who are ACTUALLY organic or conventionally farming.)
An interesting point was brought up that I think is important for us to grasp:
organic farming ≠ no pesticide use
Did you catch that? If organic farmers never used any type of pest management, there would be no organic strawberries because they would be destroyed by pests. So, please be informed that organic farming does use organic pesticides. I know it's semantics but I still think it's important.
We also discussed the elusive "Dirty Dozen", the produce identified by the Environmental Working Group as having the highest level of pesticide residues. What I did not know is that this list is created from (non-peer reviewed) data about the produce from the USDA and not from actual tests of the produce. This is pretty significant because it's not an accurate picture of the actual amounts of pesticides in produce and is not a solid tool for determining the best foods to eat organic. (Read about it HERE)
So, as I have believed for a while now, this helps support my philosophy that
It is more important to eat more fruits and vegetables of any kind than it is to eat only organic.

I'm not saying that I don't support organic farming. But, I don't think it's a straight forward, blanket-statement kind of an issue. The bottom line is EAT MORE FRUITS AND VEGETABLES.
Interestingly, many "conventional" farms (in some cases simply just not certified) use organic methods. For instance, one technique is spreading predator mites in the fields to eat the bad bugs that ruin strawberries.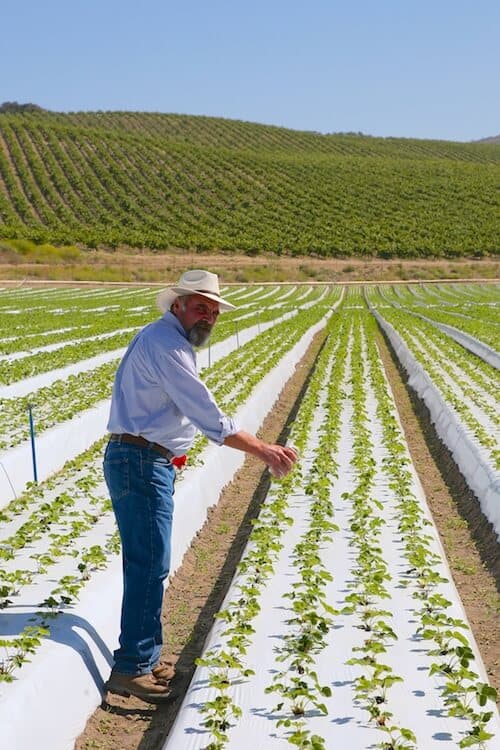 Spreading predator mites on strawberry plants
Another example (which unfortunately I did not get to see) is the use of a bug vacuum -- it actually sucks off bad bugs.
Work Force
The California Strawberry Commission offers training to "anyone who wants it." In fact, they pride themselves on being the only commodity board that offers on-going worker training.
Why is this such a big deal? Well, strawberries are a very labor intensive crop. Each acre of farmland requires 1 ½ employees to hand harvest strawberries. That's right, each strawberry is hand picked and placed directly in to the plastic clam shells you buy in the store. A worker's hands are their most valuable and important tool.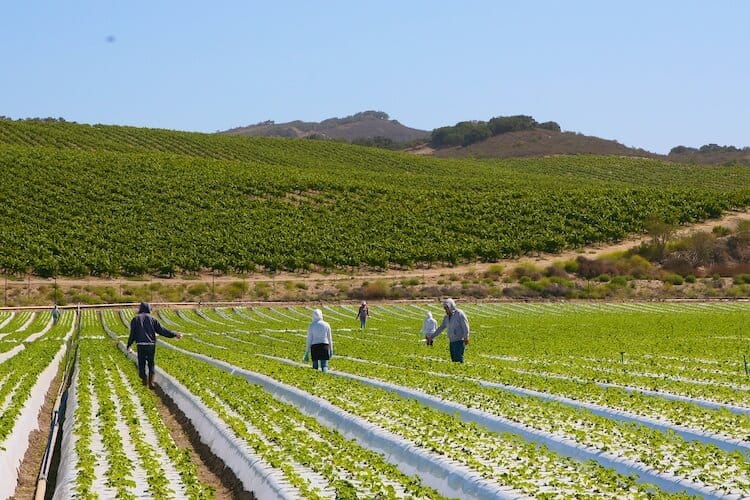 Are you starting to get why training is so important?
The Commission offers training on food safety, personal health, personal hygiene, bio-security, communication, and leadership. All of these help ensure that strawberries are safely picked and delivered to your grocery store. It also produces a sense of pride in those who work for the industry, which is always a good thing. The trainer who spoke to us said they want to produce a product that people want to be a part of. This is one of the main reasons why I can get behind this industry.
Draught Management
The strawberry industry has been practicing innovative farming since the 1960's. All California strawberries are grown using a drip system that delivers water directly to the roots. They also cover the ground with plastic to prevent evaporation.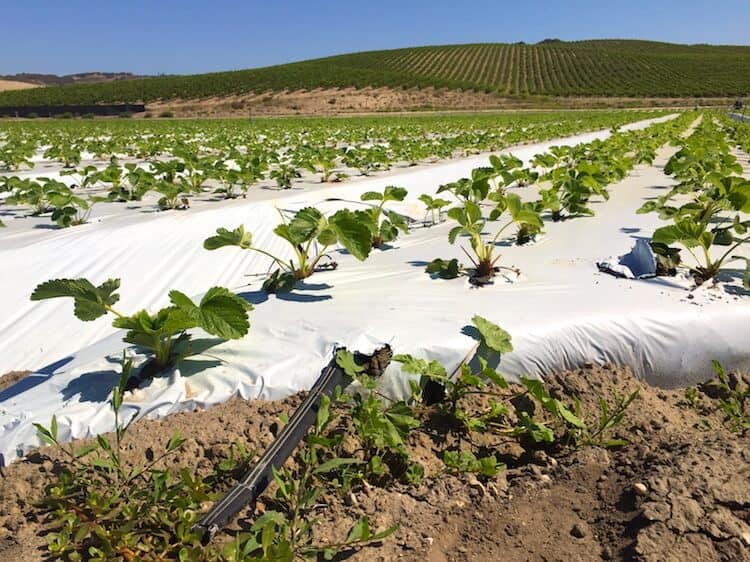 On our tour we visited Providence Farms, and met the owner Tom Jones. He gave a quote that I will always remember: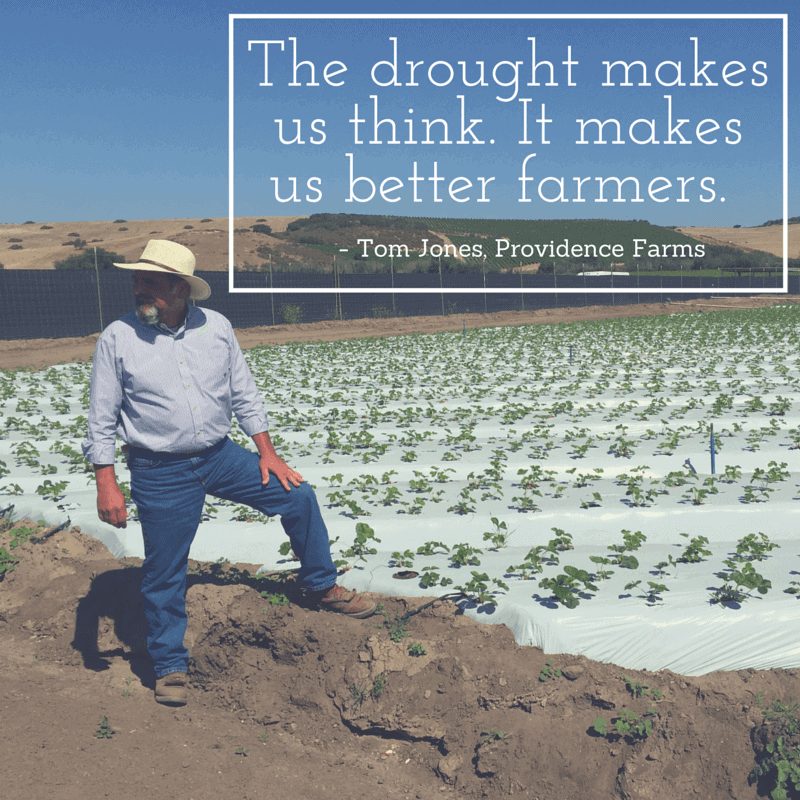 This is the best mindset to have in ANY situation when facing challenge. I was just so impressed by his wisdom.
GMO
There are no GMO (genetically modified organism) strawberries, so you don't have to worry about that, if you were worried at all.
Interestingly, strawberry plants are NOT grown from seeds. This is because each strawberry has about 200 seeds on it that are all genetically different. It would therefore be pretty near impossible to breed a plant that was identical to the parent.
Instead, new plants are made from the runners that grow from parent plants.
Nutrition
While this particular area is my expertise, it's always nice to be reminded of the health benefits of one of my favorite fruits. Toby Amidor, a super awesome Registered Dietitian Nutritionist from NYC, shared with our group some of her favorite benefits of strawberries like:
One serving has more vitamin C than an orange.
Strawberries may reduce the risk for heart disease.
Low in sugar and only 45 calories per cup.
So I  hope you, like me, feel very motivated to eat some strawberries this summer!
Photo courtesy of the California Strawberry Commission
Thank you to the California Strawberry Commission for this opportunity to visit my second (only to Florida) favorite state and learn so much!
Leave me a comment with any questions you have about my trip and I will be happy to answer them.
Jenna