Have you ever wondered if the food companies you love and buy from are really as great as you want you them to be?
I do.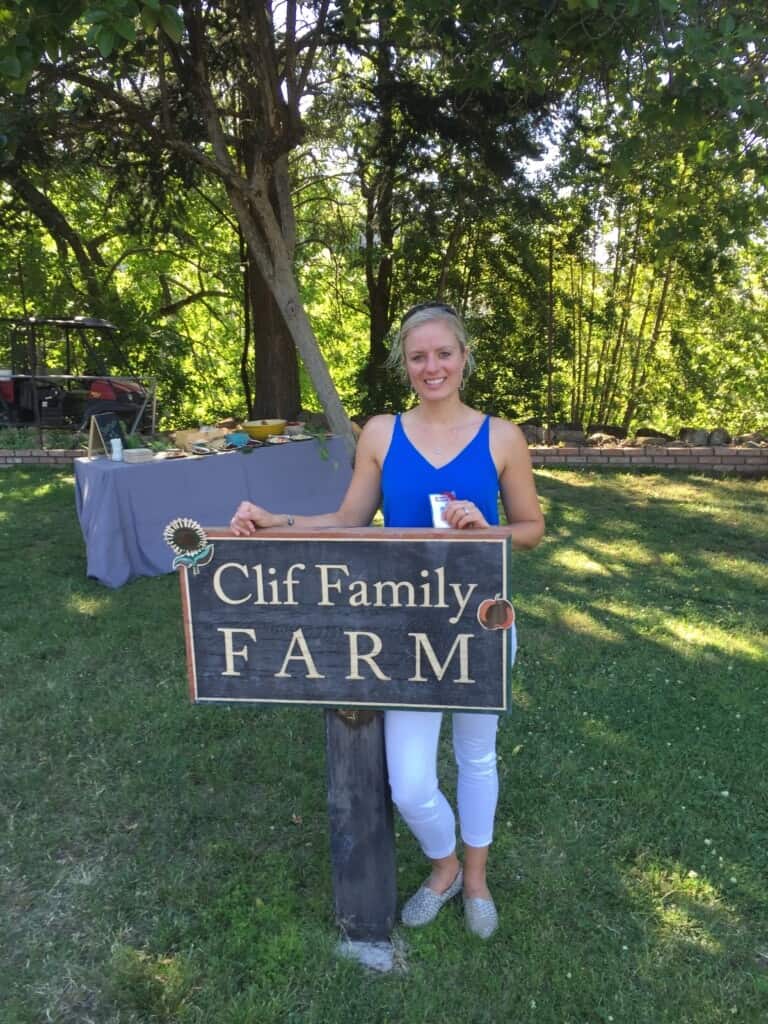 I'm actually really passionate about finding the truth about food companies and commodities. There is SO MUCH sensationalism in the media, internet, and blog world about food and I like to see things with my own eyes so I can determine the truth for both you and me.
Last month I had the opportunity to get know the Clif Bar company by visiting their headquarters. Just so you know how this worked, this trip was sponsored by Clif Bar for a group of registered dietitians. That means they paid for my expenses to participate. I wasn't paid to go on the trip nor paid to write this post. I just gotta share!
I confess that I was gushing with excited about this trip because I have loved Clif and used their products since the early 2000's. I've casually watched their company and product line grow from afar and always wondered if the people behind it were as wonderful as they seemed to be.
They were.
Many friends have asked me about this trip so I have been working on a blog post about it for a week or so. I first started writing a post with a lengthy description of everything we did on this 24 hour trip and I nearly bored myself to tears.  So I decided a more enjoyable way to share my trip with you was through my photo album. I took my fancy pants camera and ended up with some beautiful shots (or so I think).
So here we go...
[easy-image-collage id=2177]
The Clif headquarters is located in Emeryville, CA, just across the bay from San Fransisco.
Descriptions from top left and going clockwise:
[easy-image-collage id=2178]
Our next stop was the Clif organic farm. It's a small farm that they use to source food for their food truck, internal events and their line of gourmet foods. Clif is extremely committed to organic farming.
The farmers took us on a tour and shared their passion for organic farming and seed saving. It was easy to see the pride they had in their work.
We learned how they have created new varieties of peppers through hybrid crossing.
We were given pails and encouraged to pick and eat throughout the tour. I tasted some wonderful, sun-warmed blueberries.
[easy-image-collage id=2179]
A stop in the seed house to learn about seed saving.
Beautiful apples growing in the warm, summer sun.
We experienced a food tasting of healthy foods that was really interesting and learned about some of the ingredients used in Clif bars.
Onions whose tops had been snapped to prepare them for harvest.
[easy-image-collage id=2193]
After the farm tour, we were served a true farm to table dinner at another Clif farm location. Experiencing food and the story behind it was an integral part of this trip. I loved trying all the different Clif wines and learning about them.
Walking through a vineyard is a little piece of heaven.
Clif Winemaker, Laura Barrett, joined our dinner and described the science and process of winemaking. I LOVED meeting her as there are not many female winemakers and winemaking is sooooo interesting.
Tiny grapes on the vine. These will be ready for harvest in the fall.
[easy-image-collage id=2194]
Day 2 of the trip was spent at the Clif headquarters in Emeryville, CA. It's a beautiful facility that is eco-friendly, dog friendly, fitness friendly, and kid friendly. That's a lot of friendly!
We ate breakfast in the cafe, where they feed the whole staff breakfast once a week. It was delicious and included food from their farm.
Once a week all employees gather together for a meeting. It was really cool to be included in this time. You can tell every person is considered valuable and being on the same page as a company is important. We heard about new, exciting news and also saw co-founder Kit Clif give away farm fresh eggs to staff.
Beautiful artwork filled the facility and further described the foundational principles of Clif.
[easy-image-collage id=2195]
We were given a tour of the facility by a staff member who has been with the company since the beginning. We learned that many years ago, the owners nearly sold the company in order to stay afloat in the competitive market of nutrition bars. However, they change their minds and stayed committed to their vision and Clif remains a private, family owned company today. They are guided by their 5 aspirations: Sustaining their business, brands, people, community, and the planet.
Outdoor sporting equipment is used everywhere as artwork. Here are bikes hanging from the ceiling donated by employees. Elsewhere, local artists created show-stopping pieces from surfboards, kite boards, and snow boards.
All of the RDs had the opportunity to make our own Clif bar. Here's my team which included the very cool Megan Roosevelt of Healthy Grocery Girl and Crystal Higgins of The Flexitarian Dietitian.
Our blueberry, coconut, pretzel Clif Bar ready for the oven.
[easy-image-collage id=2196]
Perhaps one of my favorite educational pieces of this trip was meeting Clif sponsored athletes Kimmy Fasani, Maghalie Rochette, and Lakey Peterson. They shared their challenges as pro athletes and how they use nutrition to fuel them to success.
The Clif event ended in the afternoon but a few of us had red eye flights that night back to the east coast. With some time to kill, we enjoyed a beautiful dinner outside at the Ferry Building Marketplace.
So there you have it: my super quick, 24 hours trip to Cali and Clif Bar headquarters. Here's my main take-aways from my experience:
Clif always has been, and will continue to be, fully committed to wholesome, sustainable, energy-giving food.
Clif invests in the people of their company. I have so much respect for this.
Clif continues to develop awesome fueling options for active people. I'm sticking with them!
I hope this gives you a glimpse into one company in our food system and perhaps instills a little trust in what they are doing. Clif is one of many companies that I believe in, use and recommend.
Now tell me, what's your favorite Clif product?
Representing you,
Jenna