Looking for a dessert recipe to accommodate different eating styles? Try this easy Vegan Chocolate Fondue.  EVERYONE at your party will love it. Using cashew milk helps lighten the calories and fat without sacrificing taste.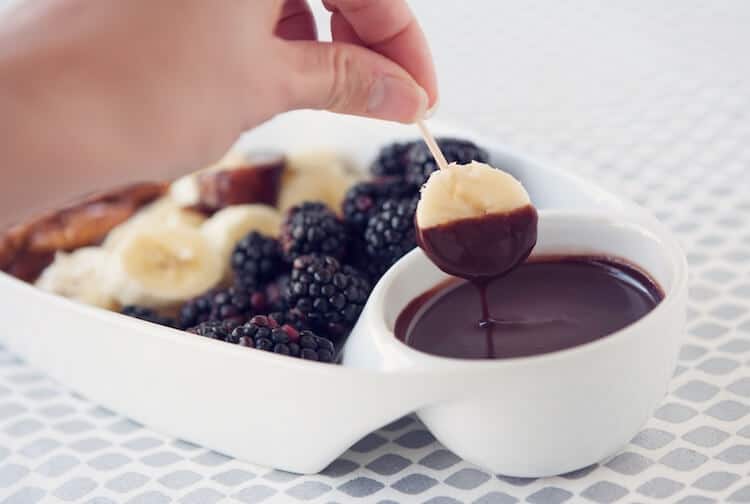 So I am not a vegan. You may have picked up on that already, but I'll just go ahead and get it out there in the open.
I don't like to label myself as any particular type of eater to be honest. Why? Because I like to keep an open heart/mind/mouth to all types of eating. I enjoy eating in different styles on a daily/weekly/monthly basis depending on what makes my body feel good or what I may be enjoying more at that time.
Sure I have principles that guide my day to day eating (which I will discuss here in due time), but I try to avoid saying "never" to any food. It's just how I've chosen to be a healthy eater, or more specifically how I like to call it, an "open eater." There are so many styles of healthy eating and I have fun enjoying many of them.
Today I bring you a vegan chocolate fondue dessert recipe that I am really excited about because it tastes so good. Let me tell you how it came about.
A couple of months ago my sister-in-law had a baby shower and I was in charge of bringing a dessert. My wonderful SIL is a vegan, and I really enjoy making very typical recipes for her that she can enjoy without worry. Plus, I know she loves some chocolate.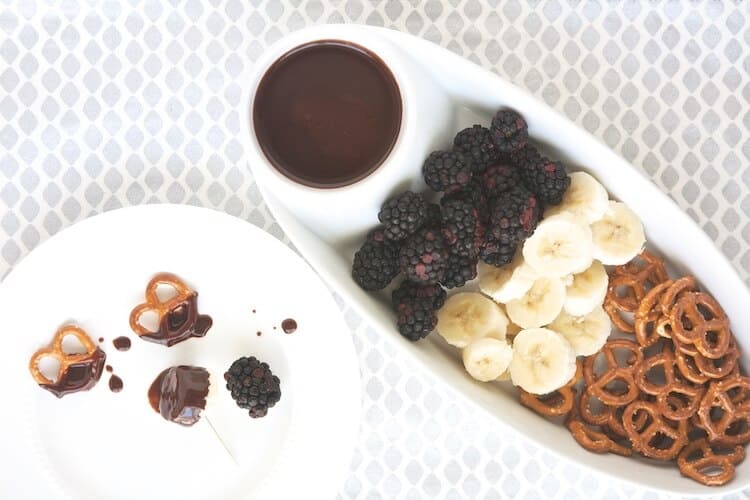 Now not many people think of chocolate fondue, but I do. Why? Because I grew up on the stuff. My mom happened to love fondue and I have many fun memories going to The Melting Pot for special dinners growing up. She passed on the love to me and I actually had not one, but two, fondue themed birthday parties in high school.
During the time of my SIL's shower, I was working with Silk cashew milk and I started to wonder if it would work in some of my favorite desserts. (I guess I have chocolate and fondue on the brain.) Well wouldn't you know cashew milk happens to make a PERFECT chocolate fondue. And I mean perfect.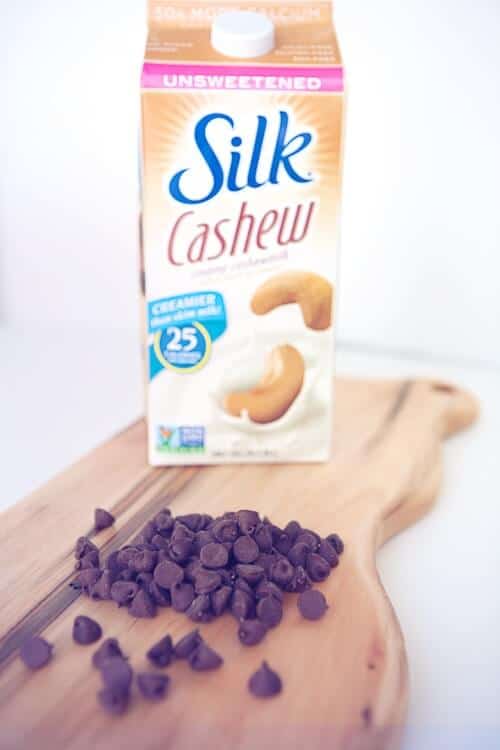 The awesome thing about this recipe is that BECAUSE it uses cashew milk it significantly cuts down on the fat and calories that regular fondue contains. So that means you can have a little bit more (virtual high-5). Then you can really make things awesome by serving this with your favorite "dippers" like a beautiful fruit platter, pretzels, graham crackers and really anything that would taste good covered in chocolate.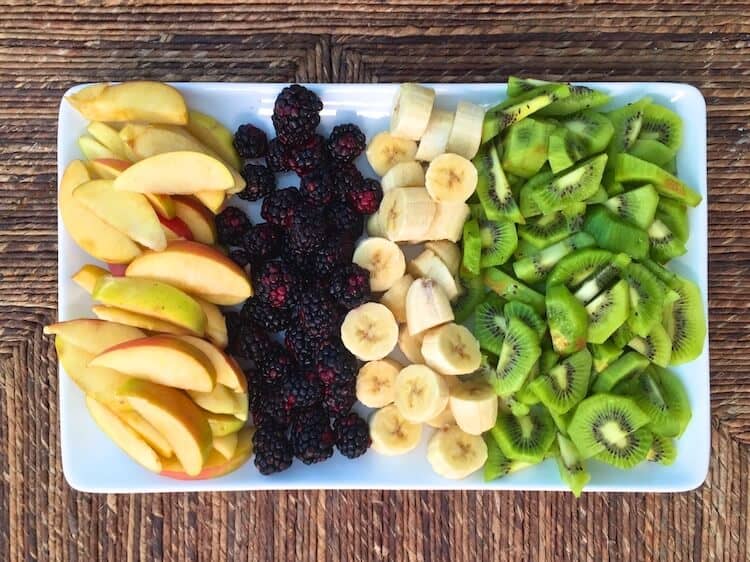 The other awesome thing about this recipe is that you can make it ahead of time. Simply refrigerate the cooled chocolate fondue, then reheat before serving (see the recipe for reheating instuctions).
To ensure your fondue is truly vegan, check the ingredients of your chocolate chips. You don't want to see any milk products in there such as milkfat or nonfat milk. Usually the ingredients will go as far to say "CONTAINS MILK INGREDIENTS". Choosing a dark chocolate, like 65% or more cocoa, helps. I used Trader Joe's chocolate chips for this recipe and they are dairy free.
I am certainly keeping this recipe on hand for when I have to make a dessert for a party again. I love knowing that it can accommodate many styles of eating and encourage folks to enjoy their fruit.
Print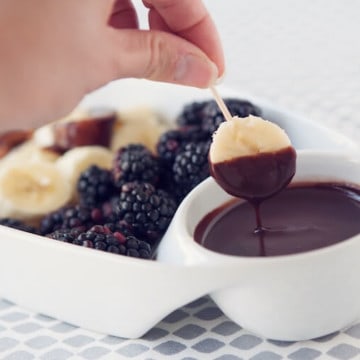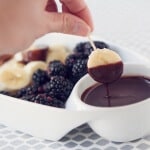 Vegan Chocolate Review
---
Author:

Total Time:

20 minutes

Yield:

2 cups

1

x
1

cup

unsweetened cashew milk

1 tablespoon

coconut oil

1 teaspoon

vanilla
Pinch fine sea salt

12

oz

Chocolate chips (about 1 ¾ cup)
---
Instructions
In a small saucepan, heat cashew milk over medium low heat. Do not allow to come to a boil. Milk should just be very warm.
Add coconut oil, vanilla, salt, & chocolate chips. Let warm, then whisk together. Continue to whisk until chocolate is fully melted.
Remove from heat when chocolate is fully melted & smooth. Serve immediately if desired. Help keep fondue warm by serving in a fondue pot see over a small flame.
Notes
Store in the refrigerator if not using right away. Reheat in 30 second increments in the microwave or in a small sauce pan over low heat.
Prep Time:

5 minutes

Cook Time:

15 minutes
Give this easy peasy recipe a try and let me know what you think!
Do you love to fondue?? Leave me a comment and let me know. #FondueLoversUnite
For the Love of Fondue,
Jenna