Sun-dried tomatoes, lean sausage and cheddar jazz up the quinoa based filling for this delicious stuffed zucchini dish. It will have even quinoa-haters thinking twice.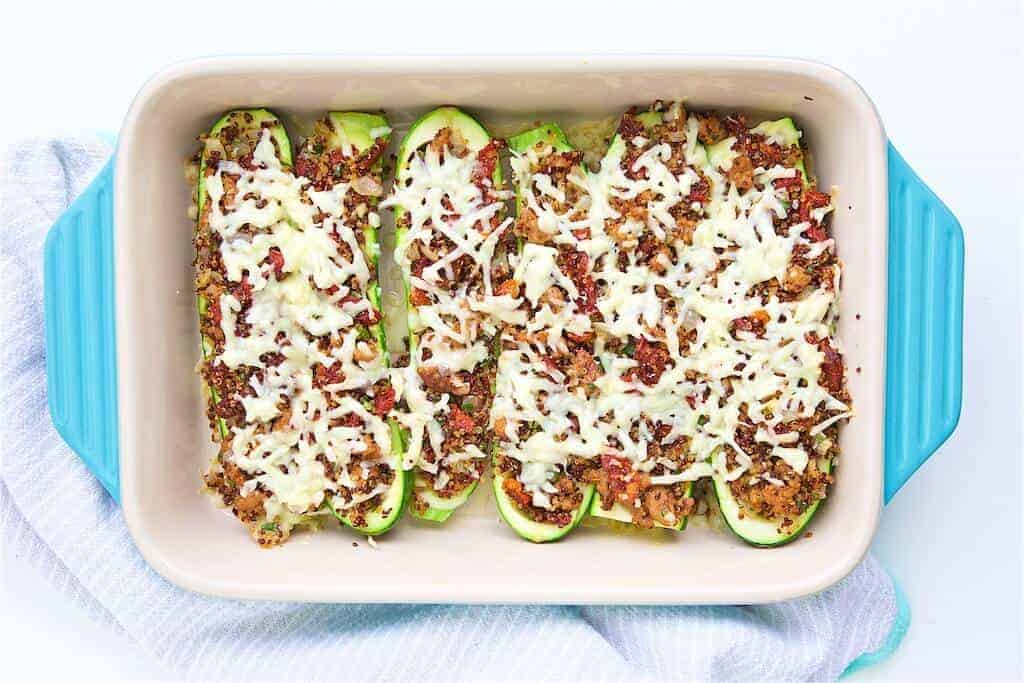 This stuffed zucchini recipe has been a favorite of mine for a long time. Why? See, I love quinoa, and my boys will sort of eat it too. But Coach, he just doesn't care for it. (sniff sniff) So we have a conversation from time to time that involves me going through a list of quinoa options with him to see if he's interested.
"Would you eat it like this? What about with this?" etc. etc. But it never really gets us anywhere.
Fortunately, I am not faint of heart and I have persevered through many years of quinoa attempts. Today, I am proud to report that this is THE recipe that has him saying, "now, I'll eat quinoa like that."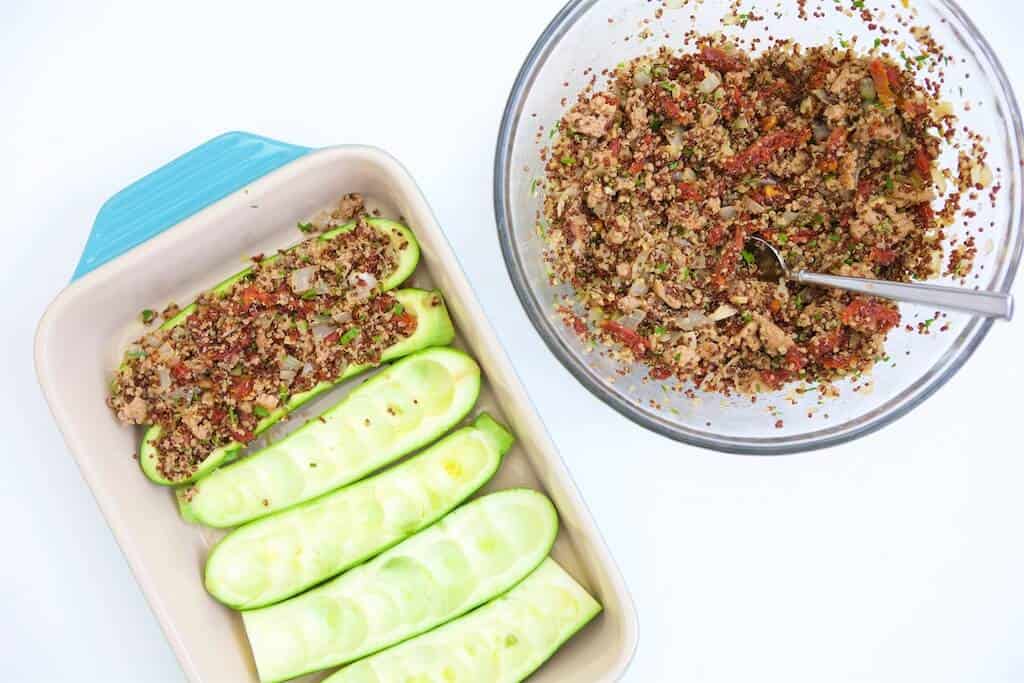 SCORE!
When I create recipes for my family (i.e. we actually eat it on a regular basis), I try to bring in an ingredient that everyone likes, all while sneaking in as many veggies as possible. This dish brings together bold flavor by using Cabot Legacy Cheddar, sun dried tomatoes, and lean sausage. (We've been blessed with a good friend who hunts and provides us with an ample stash of venison sausage.) It's then all stuffed into a vegetable, upping the nutrition factor.
The filling for this stuffed zucchini recipe can be made ahead of time and frozen, making it quick to assemble for a weeknight dinner. It's also delicious enough to be the highlight of your Sunday supper.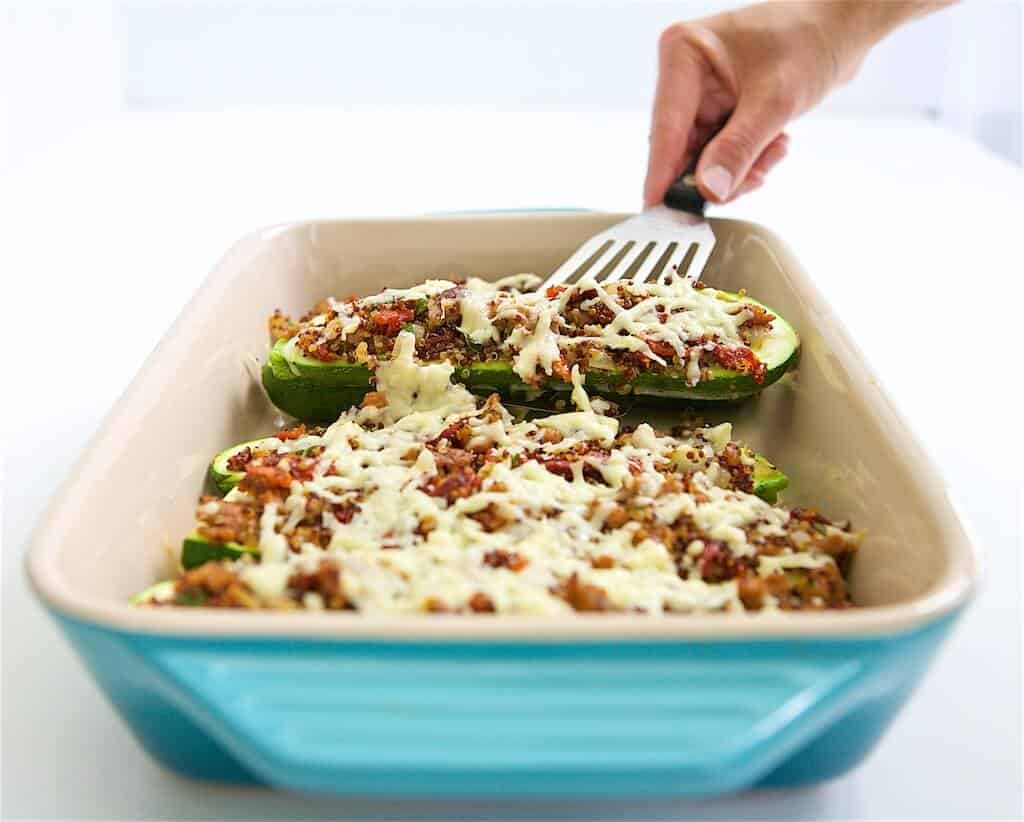 Cabot cheddar cheese is one of my favorites. If you haven't tried their Legacy Cheddars, you are missing out. They are seriously THE MOST delicious cheeses.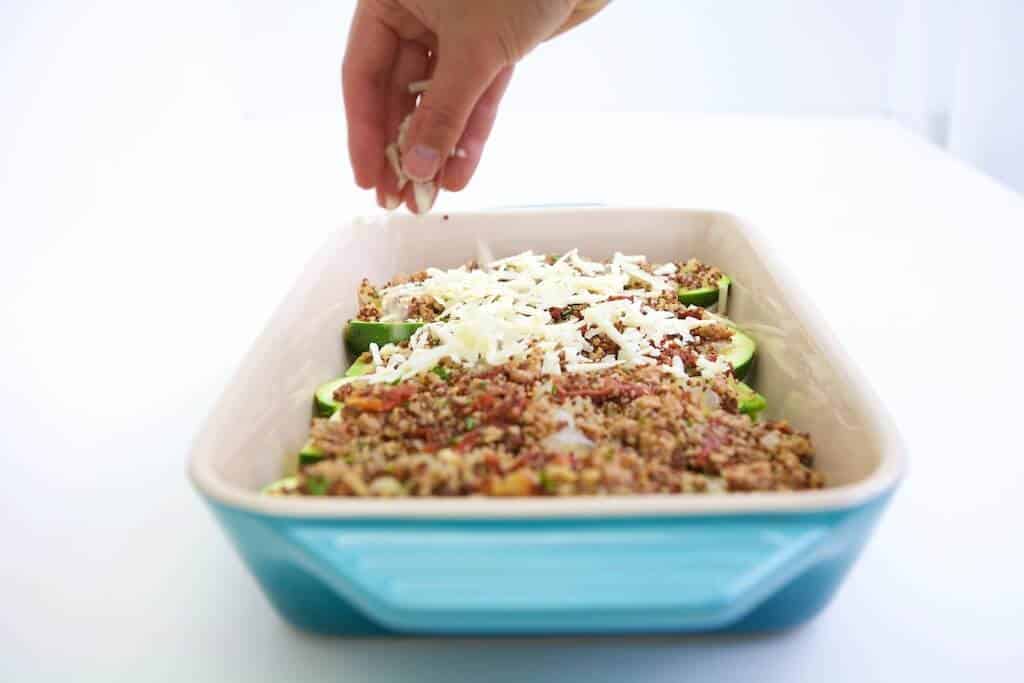 For my vegetarian friends, it's easy to adapt this recipe by omitting the sausage. For vegan friends, also omit the cheese (and maybe add nutritional yeast). It will still be delicious.
A helpful tool for this recipe is a melon baller to scoop out the zucchini. Do this gently as it's easy to cut through the bottom of your boats.
I hope you enjoy this recipe. Please pin it or leave me a comment about what you think and if you plan to try it.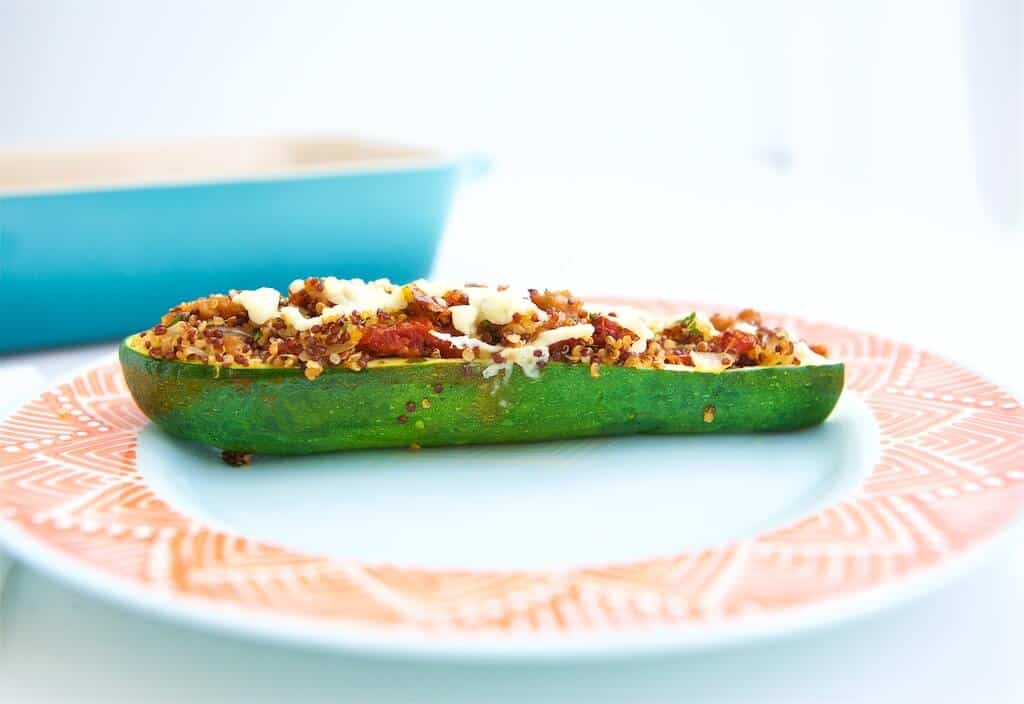 Print
Recipe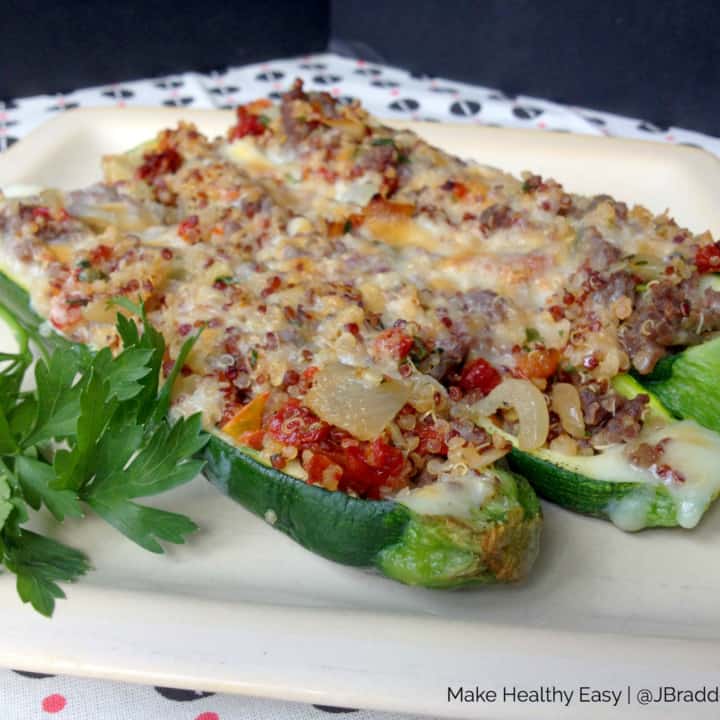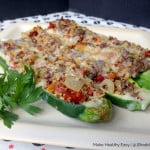 Sausage & Quinoa Stuffed Zucchini Recipe
---
Author:

Total Time:

37 minutes

Yield:

6

1

x
Description
Sun-dried tomatoes, lean sausage and Cabot cheddar jazz up the quinoa based filling for this delicious stuffed zucchini dish. It will have even quinoa-haters thinking twice.
---
4

large zucchini

1

cup

cooked ground mild sausage (crumbled)

2

cups

cooked quinoa

1

small yellow onion (diced)

1

cup

julienned sun dried tomatoes in oil (drained and chopped)

4

garlic cloves (minced)

1 ½

cups

shredded Cabot Legacy Collection White Oak Cheddar (about ¾ of a bar)

¼

cup

parsley (finely chopped)

½ teaspoon

salt

1 tablespoon

olive oil
---
Instructions
Heat large skillet over medium heat. Preheat oven to 375 degrees.
Cook sausage in skillet. Remove from pan and place on a paper towel lined plate. Wipe out skillet.
Meanwhile, with a sharp knife, cut zucchini in half length-wise from stem to end. Using a spoon or melon baller, scoop out center flesh of zucchini leaving it hollow. Reserve ½ cup of the flesh and chop it into small pieces. (The rest of it is great for stir fries, juicing or smoothies.)
Heat 1 tablespoon of olive oil in the skillet, then add the onion and chopped zucchini. Sautee for 3 minutes, then add the garlic and chopped sun-dried tomatoes. Continue cooking and stirring occasionally for 2 more minutes. Remove from heat and pour contents into a heat safe bowl.
Add the cooked sausage crumbles and cooked quinoa to the bowl of cooked veggies. Add ½ teaspoon of salt and the chopped parsley. Gently fold in all ingredients until combined. Once mixture has cooled slightly, fold in 1 cup shredded Cabot cheese.
Coat a baking pan (9 x 13 or two 9 x 9) with cooking oil or spray. Arrange hollowed zucchinis in a single layer. Generously scoop quinoa mixture into each zucchini filling till almost overflowing.
Bake, in the center of oven, for 15 minutes. Remove from oven and turn on broiler. Sprinkle remaining ½ cup of shredded Cabot cheese on top of zucchinis. Broil for 2 minutes, watching carefully to not burn (it may take you slightly less than 2 minutes). Remove from oven and serve.
Notes
I suggest cooking the sausage and quinoa ahead of time for faster prepping. Both freeze well and can be thrown in to the mixture frozen. It will defrost while cooking.
Adapted from Eating Well.
Prep Time:

20 minutes

Cook Time:

17 minutes

Category:

Entree
Keywords: main dish, zucchini, healthy dinner, family dinners