Fashion...duh duh duh.
It's not my best skill and it actually feels pretty daunting sometimes. I'd be totally happy with wearing either workout clothes or jeans every day. This past year I decided to give Stitch Fix a chance to help me out and I'm so glad I did. Here's my official Stitch Fix review...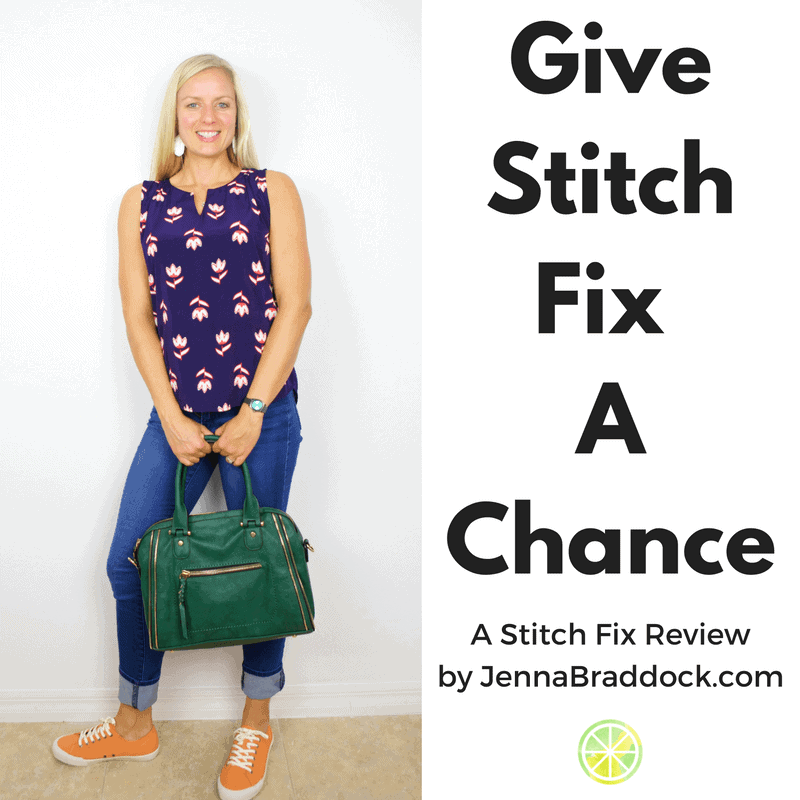 This post contains affiliate links and I may becompensated. I do pay for my own Stitch Fix clothes and am sharing my true experience. All opinions are my own. Thank you for supporting MHE.
I'm one of those shoppers who, when I find something I really like and fits great, wonders if I should just go ahead and buy it in multiple colors. I also tend to look at what's hanging in my closet and think, this all looks like the same, which is probably due to what I just mentioned about myself.
Through the years I've had a few friends with awesome fashion sense who have helped me in the past pick out clothes. I've even tried the personal styling services at Nordstrom, which was a very positive experience, but as you can image, the clothing can be expensive. I've known that getting some help in my wardrobe is a good thing but I'm not really able to pay someone to be a stylist and buy me clothes.
Enter Stitch Fix.
What is Stitch Fix?
By now you've probably at least heard of Stitch Fix. It's an online personal styling service that ships you 5 items (clothes, accessories, and/or shoes) at any interval you choose. They assess your fit and style preferences and pick out items to meet your needs. It's fantastic for anyone who does not have time to shop, doesn't really enjoy shopping, or needs a freshening up of their wardrobe. And when I say fantastic, I mean FANTASTIC!
One of my favorite features of Stitch Fix is that they send me things I wouldn't necessarily pick out for myself but end up really loving. It pushes me outside of my typical clothes box, errr closet.
How does it work?
You sign up through the Stitch Fix website for free and set up your style profile by answering a lot of questions about yourself (it's worth it). Then you choose how often you want to receive shipments. You can set them to auto send at any frequency or just manually select dates as you want them, which is what I do.
When you have a stitch scheduled in the calendar (for example you chose to have one sent to you on November 30th), you will be charged a $20 styling fee. That $20 is applied to your final purchase though so it's not wasted money. You will be sent 5 items based on your requests (you can ask for certain items or describe an event you need clothes for). After you try them on at home you have 3 days to make your selection, purchase what you want and return the items you don't want. Included in your shipment is a return shipping bag with a label so there is no charge to you to return items.
How much does it cost?
As I mentioned, you will be charged a $20 styling fee which is applied to whatever you purchase. In your style profile you can select how much you are willing to pay for certain items. In my experience, items are typically from the $30's - the $80's. If you choose to purchase all 5 items you get a 25% discount which usually is equivalent to getting one item for free.
Tips for Success
Learning from my experience and a few others, here's some tips to ensure you get a good Fix:
Ask for no jewelry in your Fix. I've not been real impressed with their jewelry nor has anyone else I talked to. If you are in need of jewelry, I highly recommend Rocksbox (use the code jennabbff255 at check out for a free box).
Request pieces you really want like a dress or pants but don't get too specific. I have found that being open to your stylist's interpretation is better than giving really specific requests like "black work pants".
Let them know if you want shoes or accessories. They will likely pick out at least one accessory for you unless you tell them otherwise.
Don't get them too often. While I think this is an awesome option for shopping, I don't think it should be your only one. Getting fixes less frequently will make it more fun for you and I think helps you get more pieces you actually keep.
My experience
I've been a Stitch Fix customer for over a year and have received 3 total fixes (a delivery of clothes). Each one has gotten better and this past delivery was the best one yet. I actually kept all the clothes. Here's what I got...
[easy-image-collage id=2476]
Faux wrap dress - This dress is so perfect. Because it is a "faux" wrap, it doesn't fly open anywhere and it's not too low cut, problems I always have with wraps.
Rouched blazer - For this Fix I requested a "trendy blazer" and was so happy with this piece. It's comfortable, cute and versatile.
[easy-image-collage id=2477]
Sleeveless top - This shirt is so perfectly my style and I love the pattern. I've already worn it a lot and received compliments from Coach.
Green satchel - This was my first purse from Stitch Fix and I love it!! It's full of great pockets, the perfect size and a great price at $56. I will use this purse till it falls apart, which I hope is never.
Orange sneakers - This is one of the things that I probably wouldn't pick out on my own but love. They are comfy and cute and perfect for my lifestyle. Originally, my stylist sent me these because I had in my profile our team colors were orange and green. I changed that moving forward but I still find this color pretty versatile to wear.
[easy-image-collage id=2592]
Here are 2 items I've received in previous fixes:
Blue top - Such a beautiful tulip top that I get tons of compliments on.
Grey and black tunic - This is very comfortable and convertible between casual and work professional.
I've also received two pairs of pants that I wear all of the time - grey skinny pants and dark denim boot cut jeans. I don't have pictures of these but I can assure you I love them.
All in all, my experience with Stitch Fix has been wonderful. I've really enjoyed the pieces I received and wear them all the time. If you're looking for something special for the holidays, need a freshening up of your wardrobe, or just want something different for a change, you need to give Stitch Fix a chance. FYI -- you can also buy gift cards which I think would be an amazing gift for any holiday or special occasion. I hope this Stitch Fix review was helpful and gives you the confidence to try it.
If you decide to sign up I would really love it if you used my referral link, which is also used throughout this post. Leave me a comment and let me know if you have tried Stitch Fix or are going to now.
Thankful for fashion help,