If you think you don't like okra, think again. This easy Roasted Okra & Tomatoes recipe transforms the humble southern vegetable into a non-slimy vegetable treat.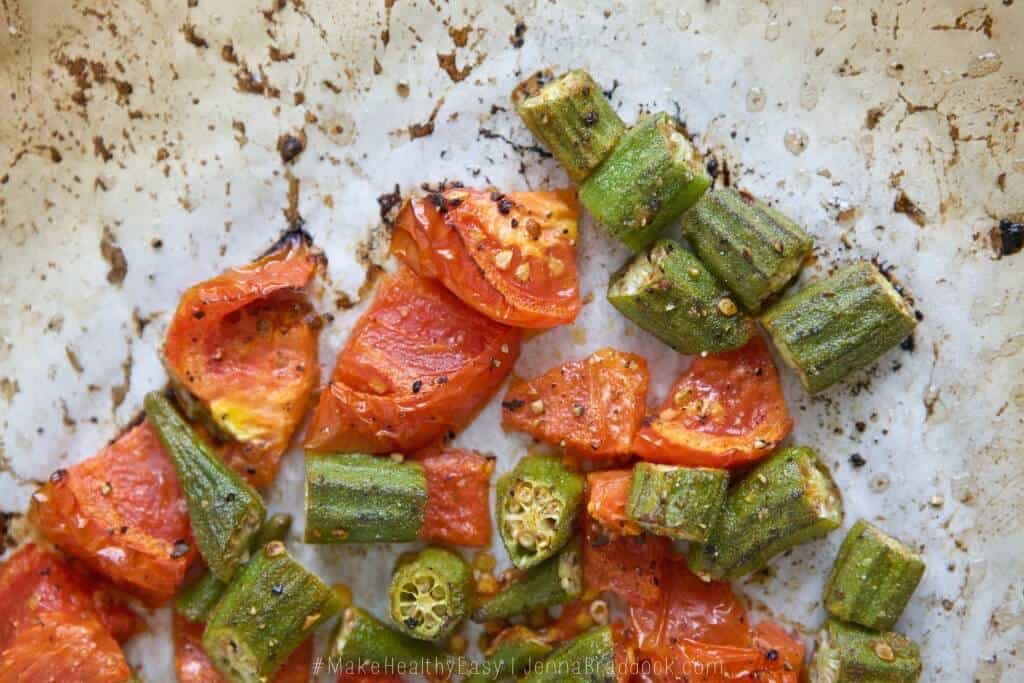 Say the word "okra" to a group of people and you will likely hear people smacking their lips OR screaming over the grossness of a slimy vegetable. (I know this from experience.) What do you do when you hear okra? I use to scream but now my mouth waters. Here's why.
While I live in "The South" (North Florida), I don't consider myself Southern. I grew up in South Florida, which is absolutely nothing like the rest of "The South" at all. They drink unsweet tropical tea (pretty much a sin to most Southerners), have every type of cuisine available at your fingertips, and certainly don't do a whole lot of Southern vegetables.
Since living in North Florida for about a decade I have participated in farm deliveries of fresh produce. It's been a fun way to enjoy a wide variety of fruits and vegetables native to my region. Often times I am challenged by what I receive in deliveries and have to try a few different preparations to figure out how we like a vegetable.
When okra started showing up one summer in my farm deliveries, I was perplexed. I knew I wasn't going to fry them but what the heck was I suppose to do with them? I admit, the first couple of times I just let them go bad in my fridge. Ugh, hate when that happens.
In a bare minimum effort to not waste money, I committed to finding some way to cook okra that was palatable and healthy. I've now realized that when all else fails with a vegetable, ROAST IT!
Remember this: Roasting transforms vegetables into deliciousness!!
Roasted is a basically baking something at a high temperature. The object (at least for me) is to get tenderness in some areas and charred tips. This gives you variety in texture on your food. It also helps sweetens flavors tremendously due to a fancy reaction that occurs. SWEETEN A VEGETABLE??!! Yes, it can help lighten and slightly sweeten the flavors of even the most bitter vegetables.
After a few attempts and deciding that adding fresh tomatoes was a game changer, I came up with this easy Roasted Okra & Tomatoes recipe. It's seriously so easy - chop, olive oil, salt and pepper, roast. Boom. That's it.
Nutritional Benefits
Okra, like all vegetables, is low in calories and high in fiber. This means that it will fill you up without breaking the calorie bank. Okra also boasts a great nutritional profile of folate, vitamin A, vitamin C, and vitamin K as well as antioxidants like beta carotene and lutein.
So feel free to enjoy a big 'ol bowl of this Roasted Okra & Tomatoes recipe, as I did, as soon as this photo shoot was over.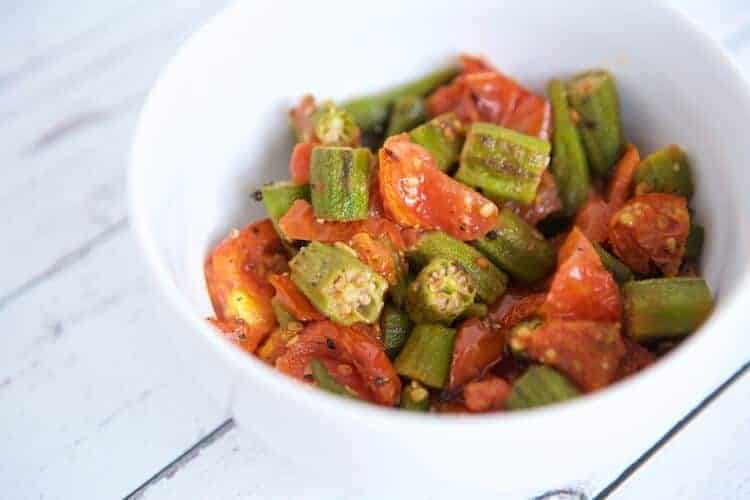 To eating healthy Southern food,
Jenna
Print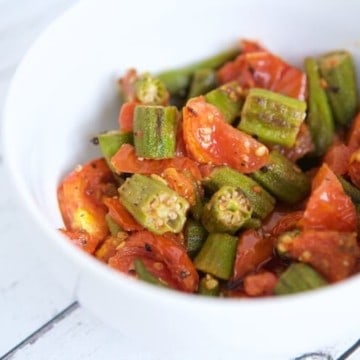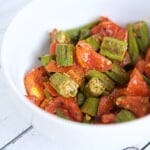 Roasted Okra & Tomatoes
---
Author:

Total Time:

25 minutes

Yield:

4

1

x
4

cups

okra pods (sliced in ½" pieces, tops disgarded)

2

large tomatoes (sliced in ½" chunks)

1 tablespoons

extra virgin olive oil

1 teaspoon

Kosher salt
Pepper to taste
---
Instructions
Preheat oven to 450° F.
Line a rimmed baking sheet with either parchment paper or aluminum foil. If using aluminum foil, spray with a non-stick cooking spray.
Pile vegetables in the center of baking sheet. Drizzle over oil, salt and pepper. Toss gently to coat.
Spread out the vegetable in a single layer on the baking sheet.
Bake for 18-20 minutes, until okra is tender with charred tips.
Enjoy!
Prep Time:

5 minutes

Cook Time:

20 minutes

Category:

Vegetable

Cuisine:

Southern