This Pumpkin Spice Scone Recipe post is sponsored by Cans Get You Cooking.
Scones are the perfect complement to a cup of coffee and a good conversation. Enjoy this slightly sweet Pumpkin Spice Scone recipe made with whole wheat flour and a spice glaze any time of the year you need some "warm fuzzies" happening.
Jump to: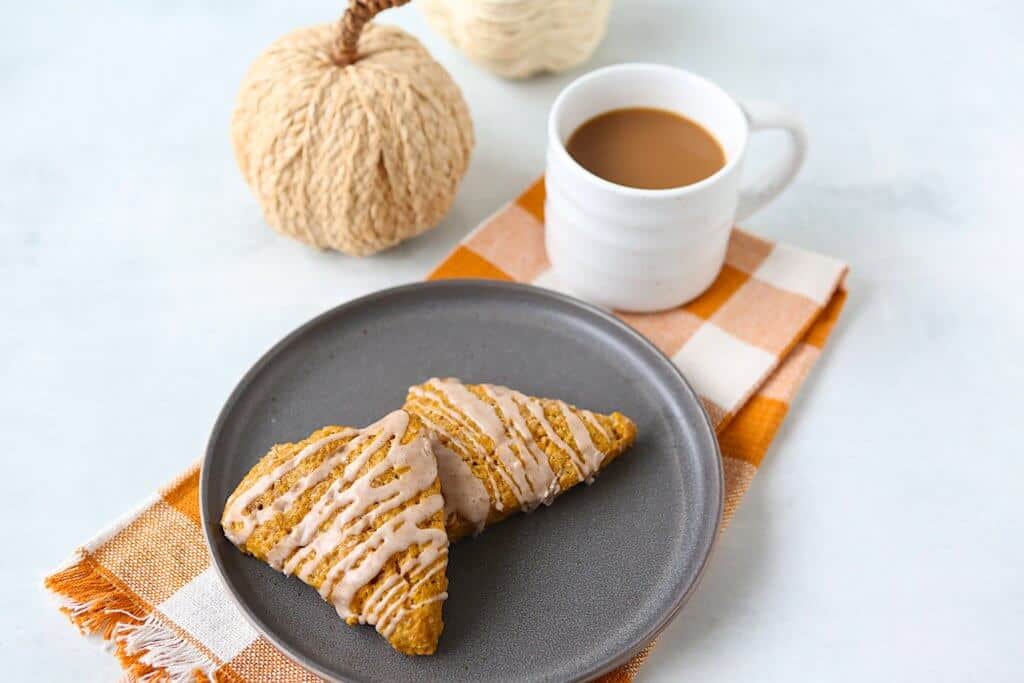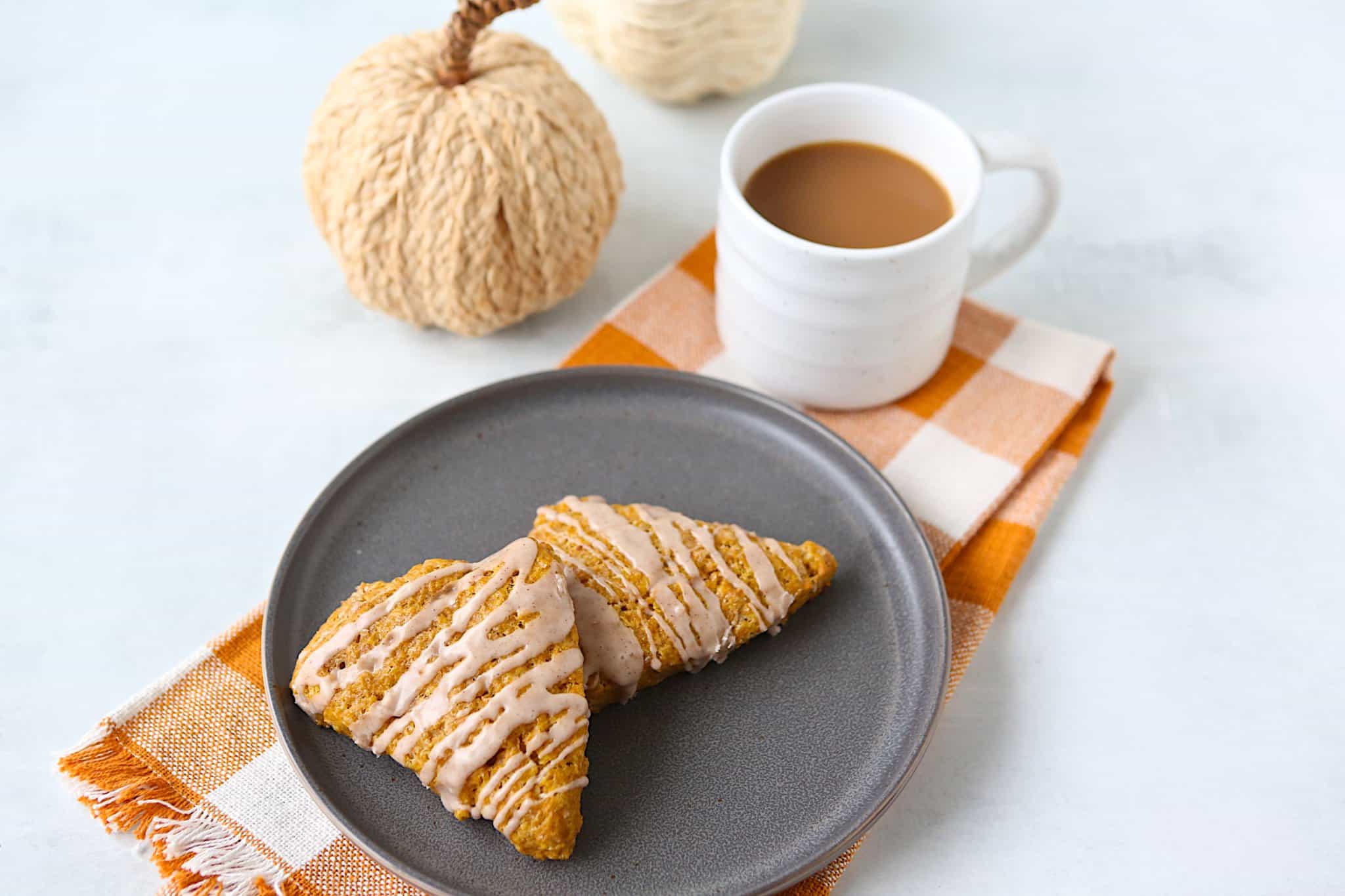 In July of 2020 life was heavy for a lot of us. And while the air was hot and humid for me in Florida, I remember clearly thinking one day mid-July - we need some pumpkin spice to show up early this year! I thought we could've all used a dose of the warm fuzzies that only pumpkin spice offers.
Fortunately for all of us, canned pumpkin is available all year long so it's easy to tap into the magic of pumpkin spice and everything nice with this Pumpkin Spice Scone recipe.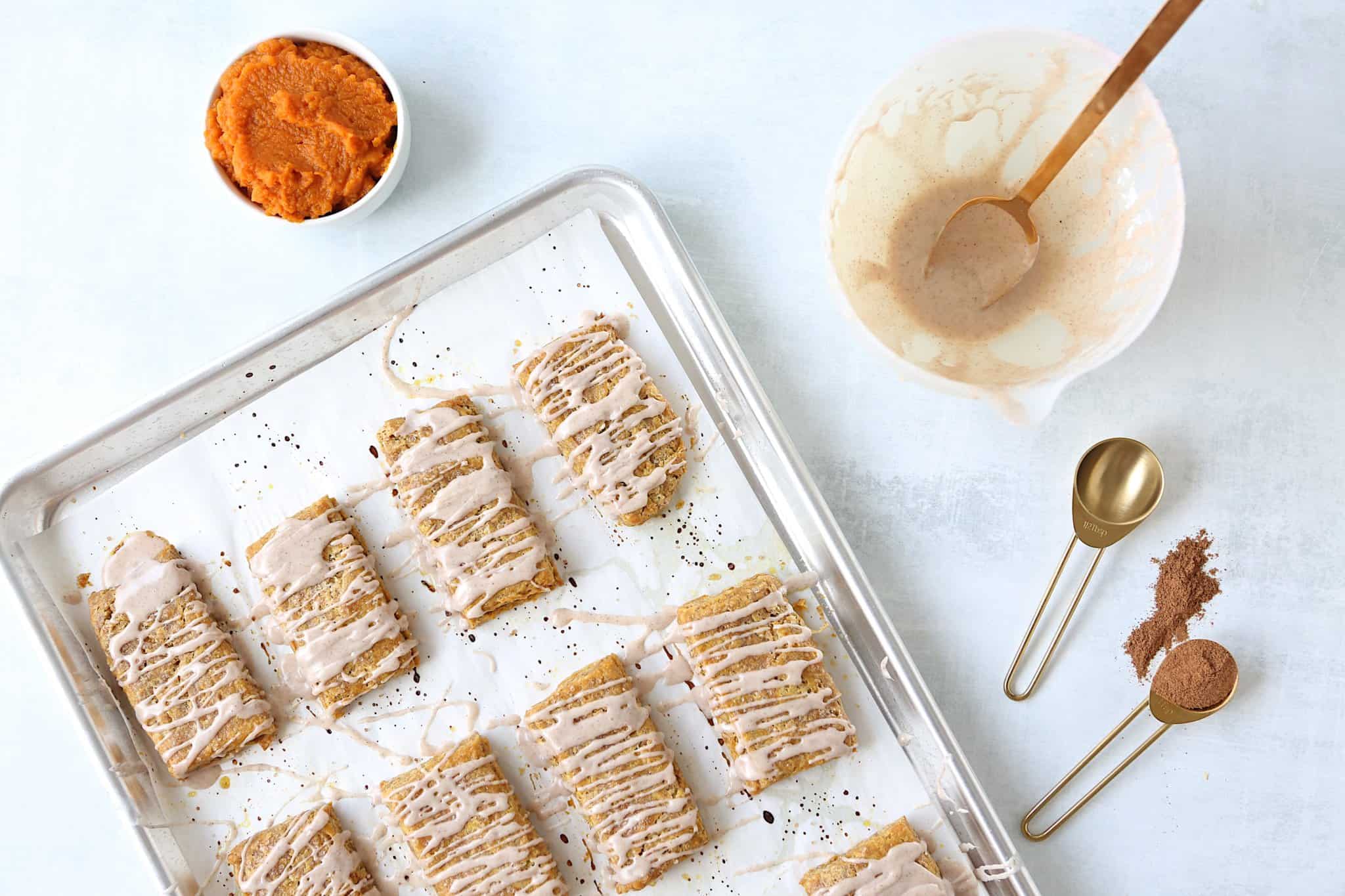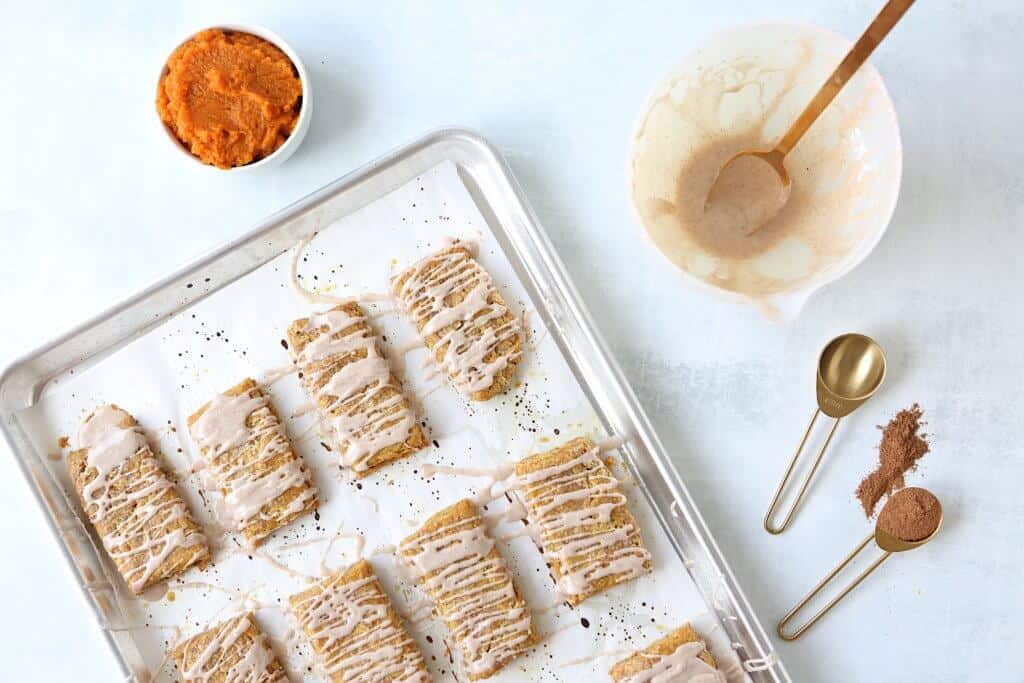 Why Canned Foods Are A Good Choice
I like to keep a can of pumpkin in my pantry at all times in addition to a variety of other canned foods too. This is because canned goods are always fresh with locked-in nutrients making healthy cooking and baking super convenient.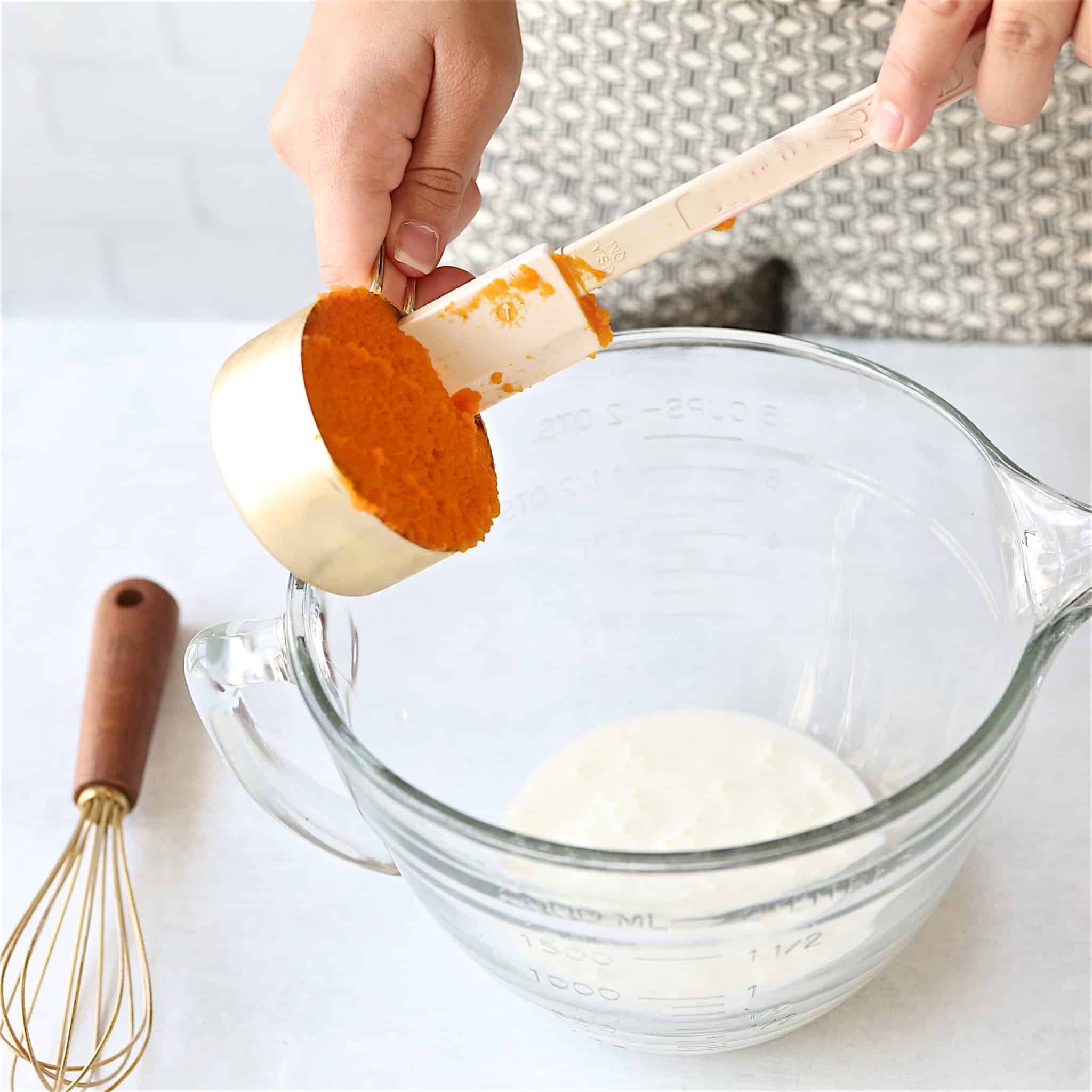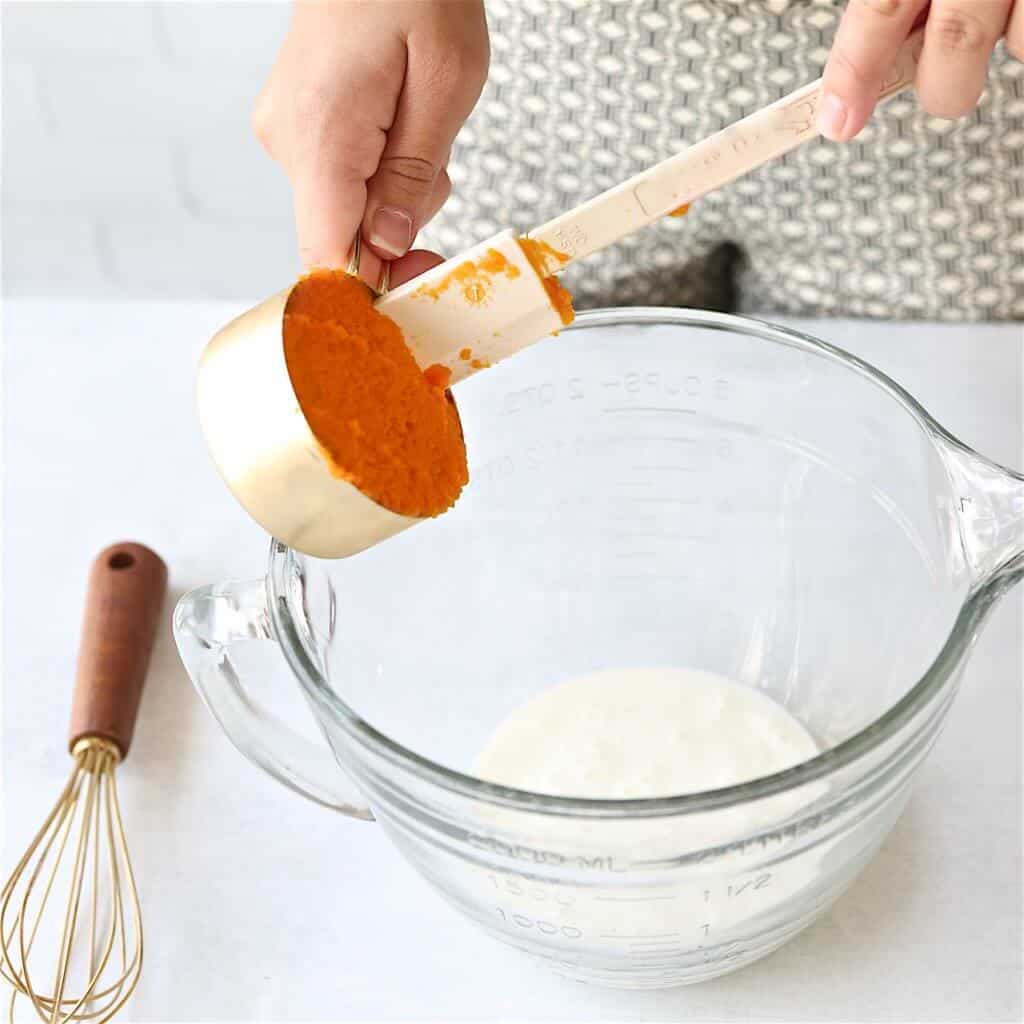 In the past few months, I've had conversations with friends about canned goods, since we're all using them more. I've realized most people appreciate them for being safe, convenient and shelf-stable, but they often overlook their health benefits.
My friends, if you're looking for an easy way to make more healthy food choices, please embrace the wonders of canned foods. They absolutely contribute to your intake of fruits and vegetables and help you reach nutrient goals!
Did you know that kids and adults who use 6+ canned foods per week were more likely to have diets higher in 17 essential nutrients, including potassium, calcium and fiber? 1,2
The other big reason I stock my pantry with canned foods is that they help reduce food waste. Canned foods last a long time and lock in freshness and nutritional value. We all know the dreadful feeling that comes with throwing out fresh produce that has gone bad. That pains me and I'm trying to improve our food waste situation in my house.
Check out these other Make Healthy Easy pumpkin recipes:
Pumpkin Overnight Oats Recipe, Pumpkin Apple Mini Muffins, Pumpkin Chocolate Muffins and Honey Pumpkin Whole Wheat Muffins
Why Scones?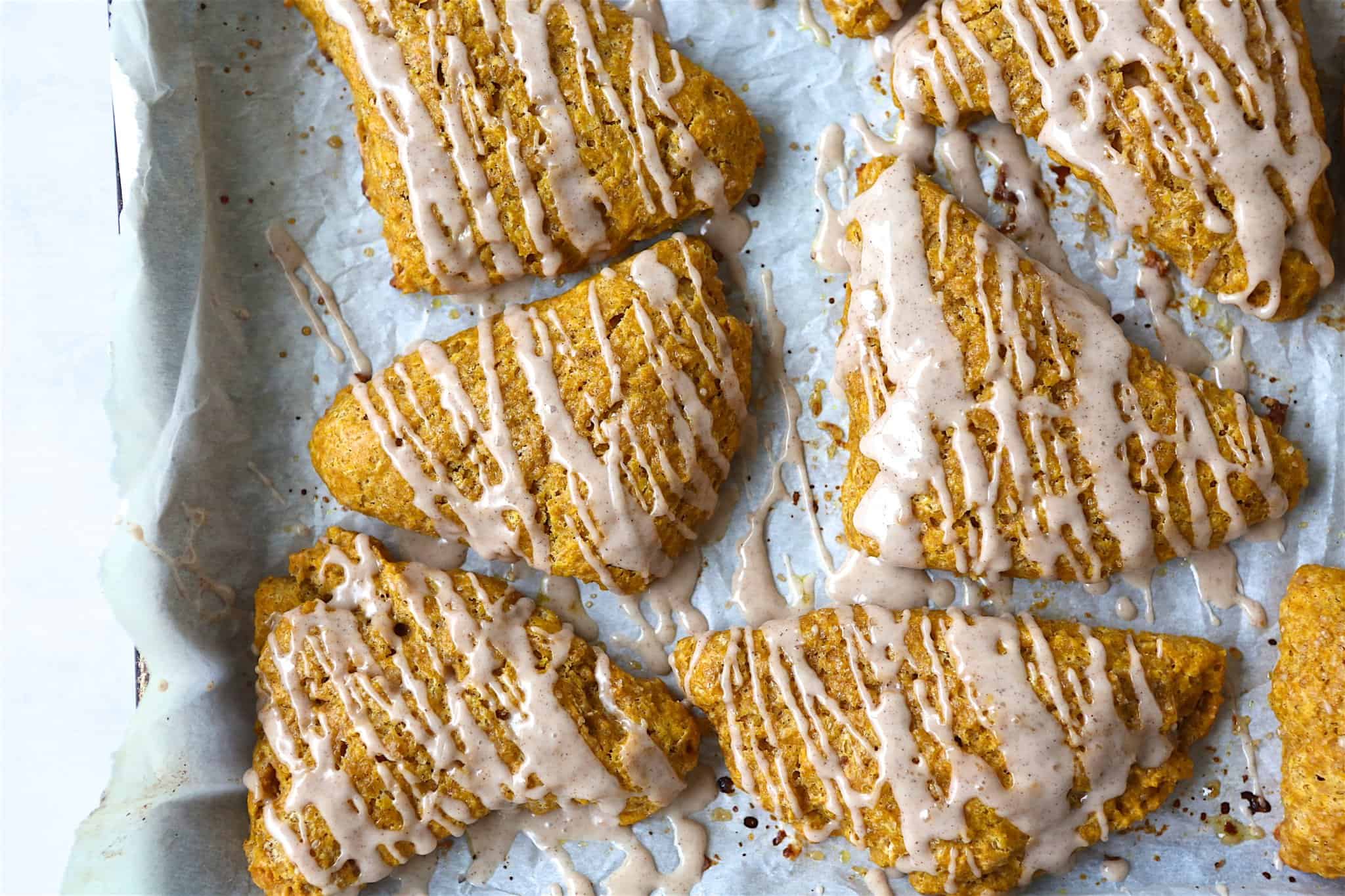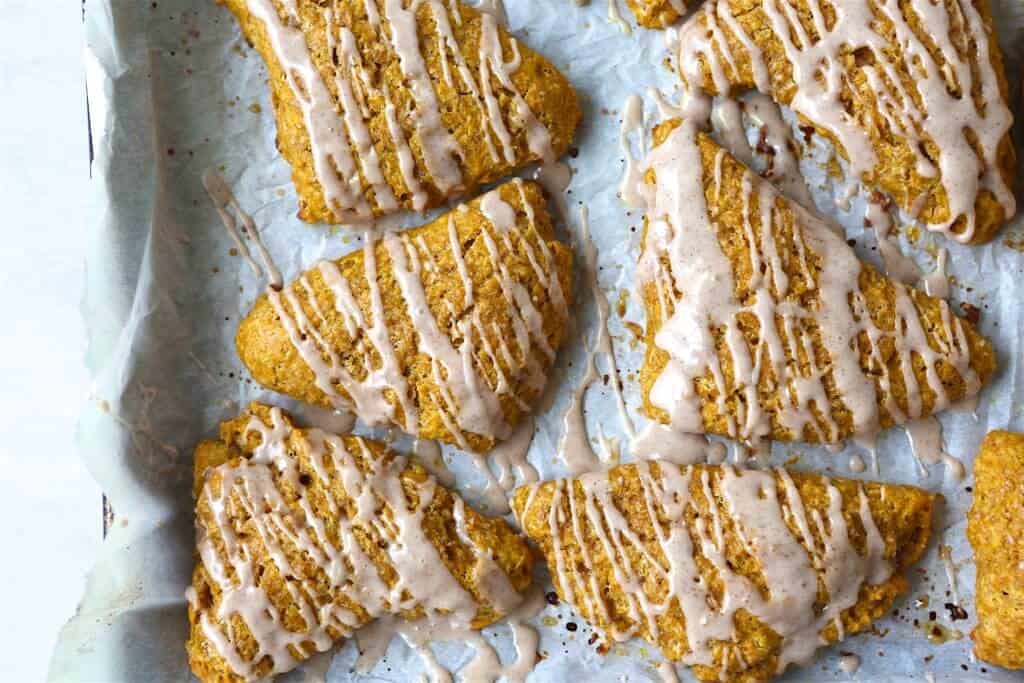 First, let me confess that I love scones. I know they are not the typical direction to go with pumpkin spice, but in my mind, this is a match made in heaven.
Scones are a not super sweet and are like a cross between a biscuit and a muffin. This seems brilliant to me. You don't have to cut scones or pull them apart, so they are the perfect finger food.
Scones can be dry and too crumbly so adding canned pumpkin solves this problem completely. Lastly, it's a great way to enjoy pumpkin spice flavor without feeling like you are getting hit by a mack truck of flavor – and NOT in a good way. (I'm looking at you, pumpkin spice lattes.) This flavor is subtle but satisfying. Also, if you don't have a good basic buttermilk scones recipe, or if this is your first time making scones, this is a great easy recipe for you!
Ingredients
Dry Ingredients:
whole wheat flour
all-purpose flour
sugar
baking powder
pumpkin pie spice
cinnamon
salt
Wet Ingredients
buttermilk
canned pumpkin puree
egg
vanilla extract
unsalted butter
coarse sugar
For the Glaze:
powdered sugar
milk (2% or whole milk)
Find exact measurements in the recipe card below.
Top Tips for Making Scones
I've made my fair share of scones, including 5 iterations of this here Pumpkin Spice Scone recipe, so I've learned some tips to achieve the best results.
Keep ingredients and batter cold.
You want COLD dairy ingredients in your dough, not room temperature. When it melts during baking, it creates a wonderful texture. Leave the butter in the freezer until the time you are ready to grate it so that you will have very cold butter. You'll also want to keep your buttermilk chilled in the fridge until the recipe calls for it. Notice there are 2 periods of dough chilling.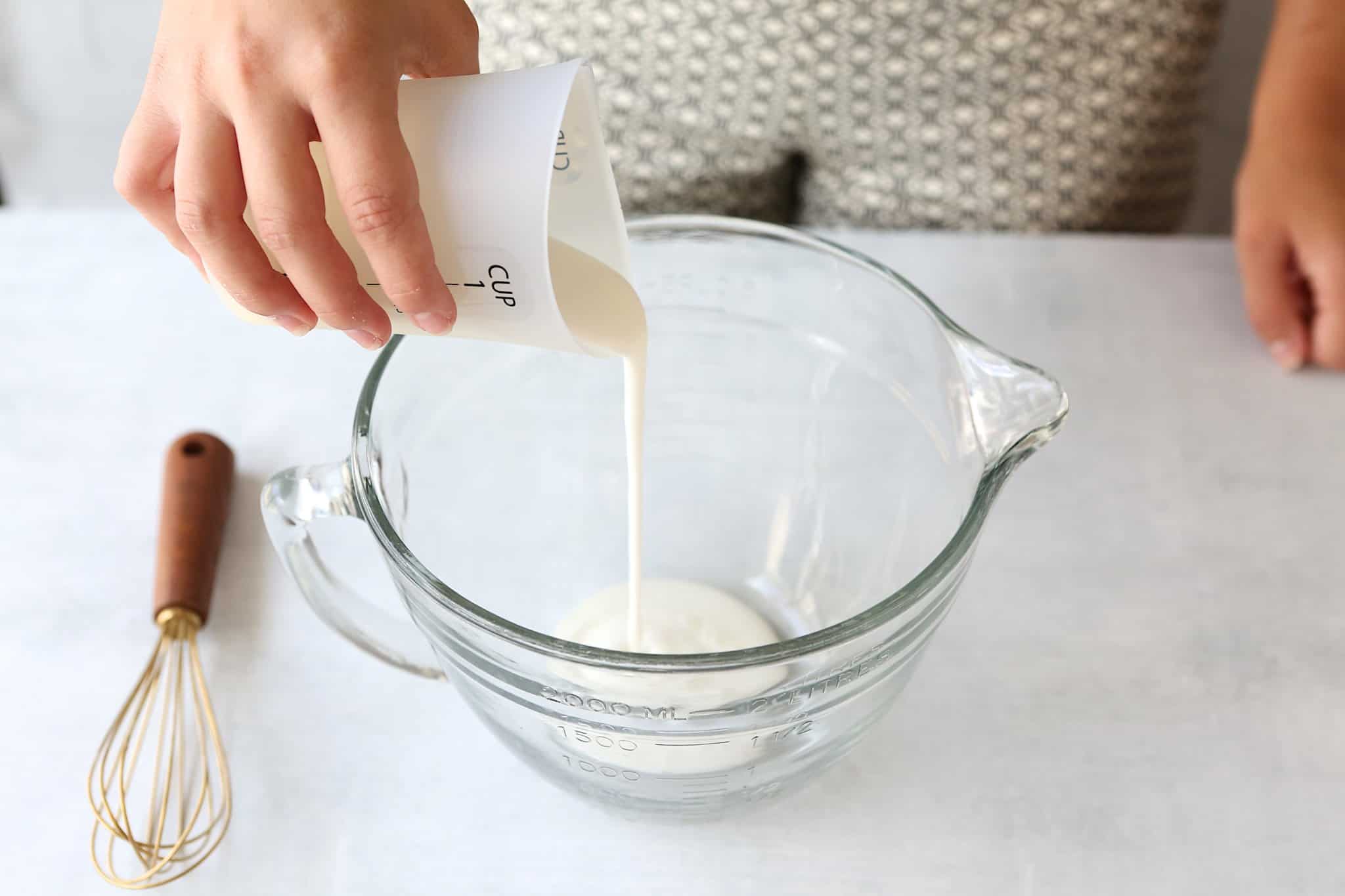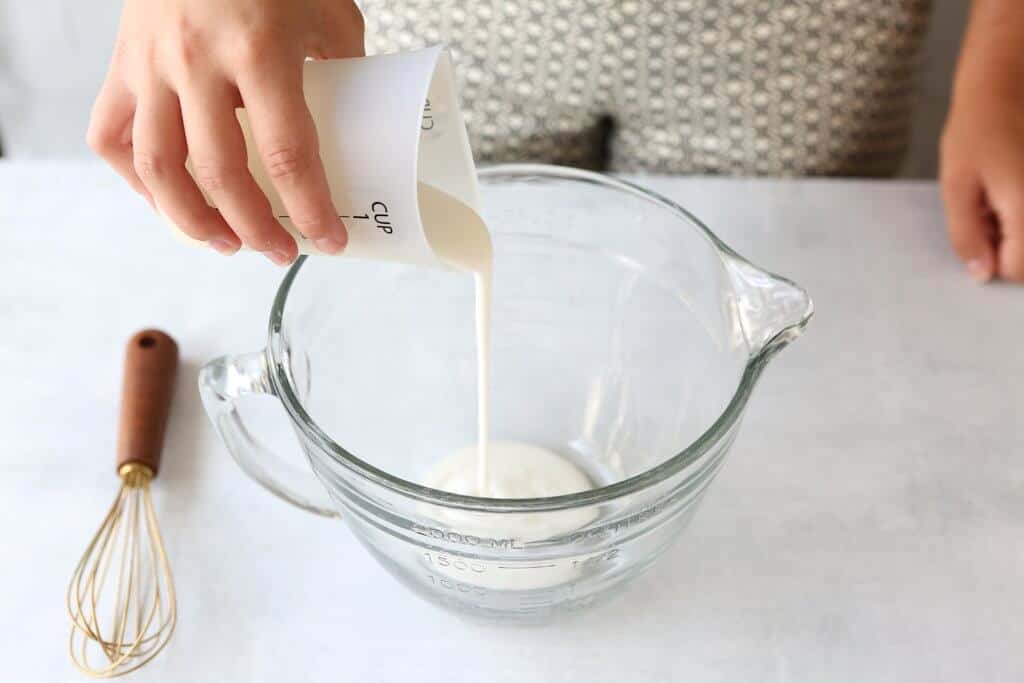 Grate the butter.
Many biscuit and scones recipes will tell you to cut in the butter in small pieces. This works, but grating the butter gives the perfect, uniform pieces to create coarse crumbs without needing to mess with it much in the batter. Again, we want that butter to stay cold. I like using a box grater like this one for the job.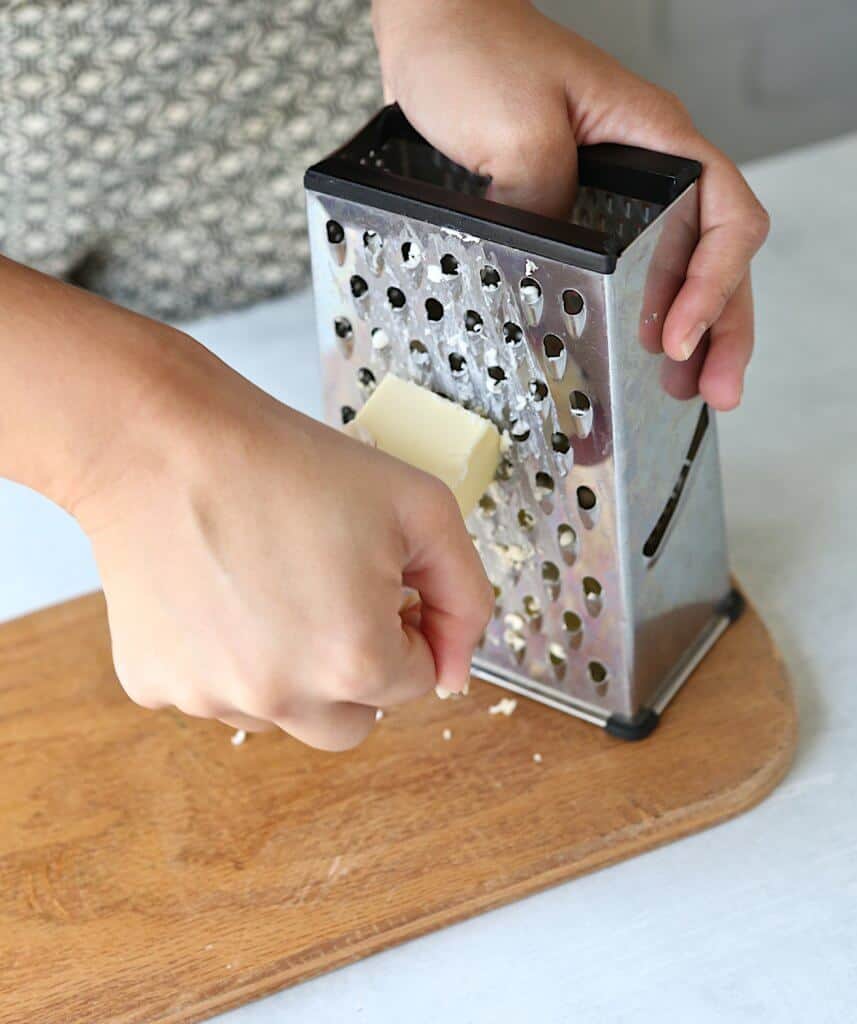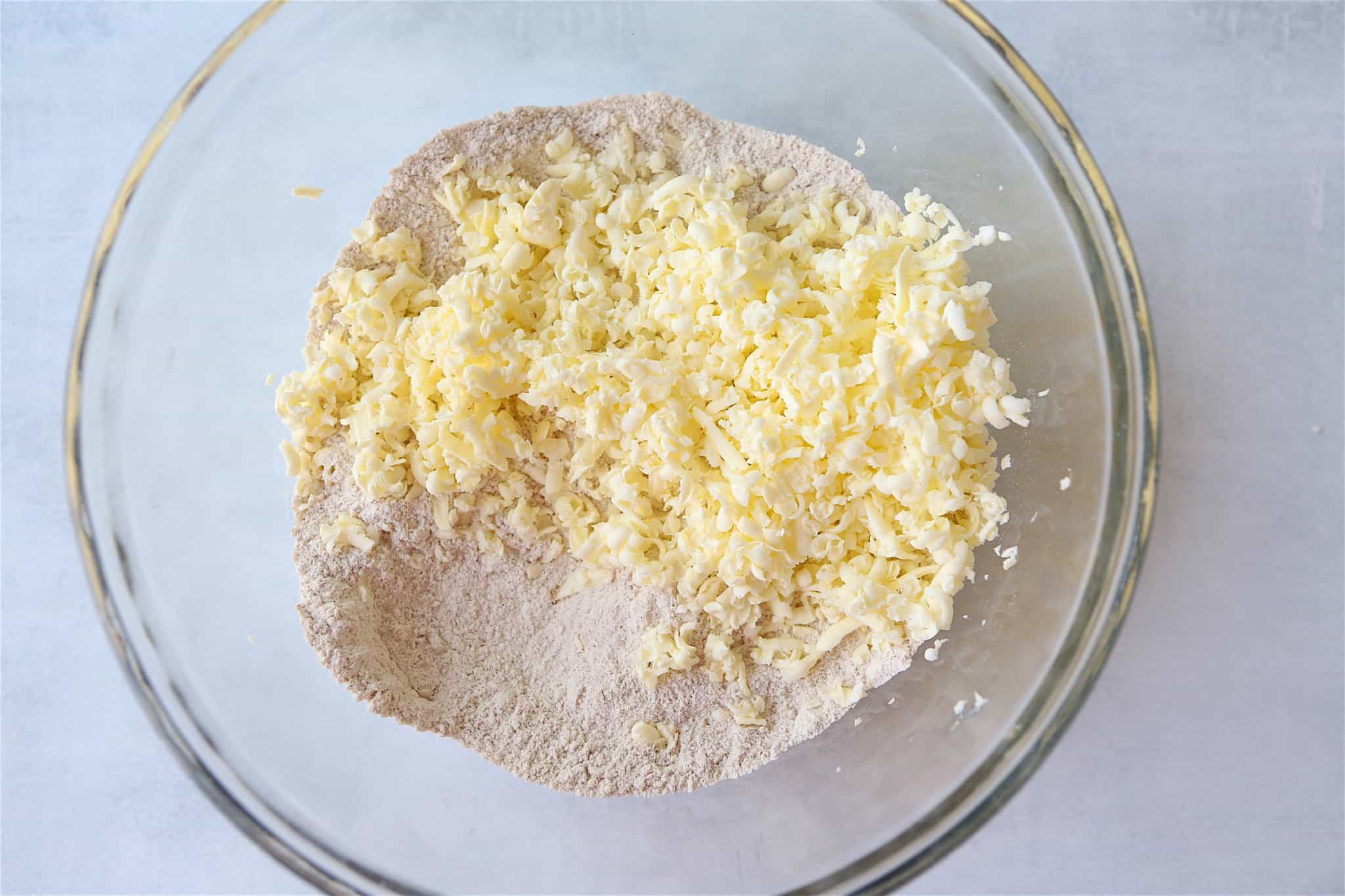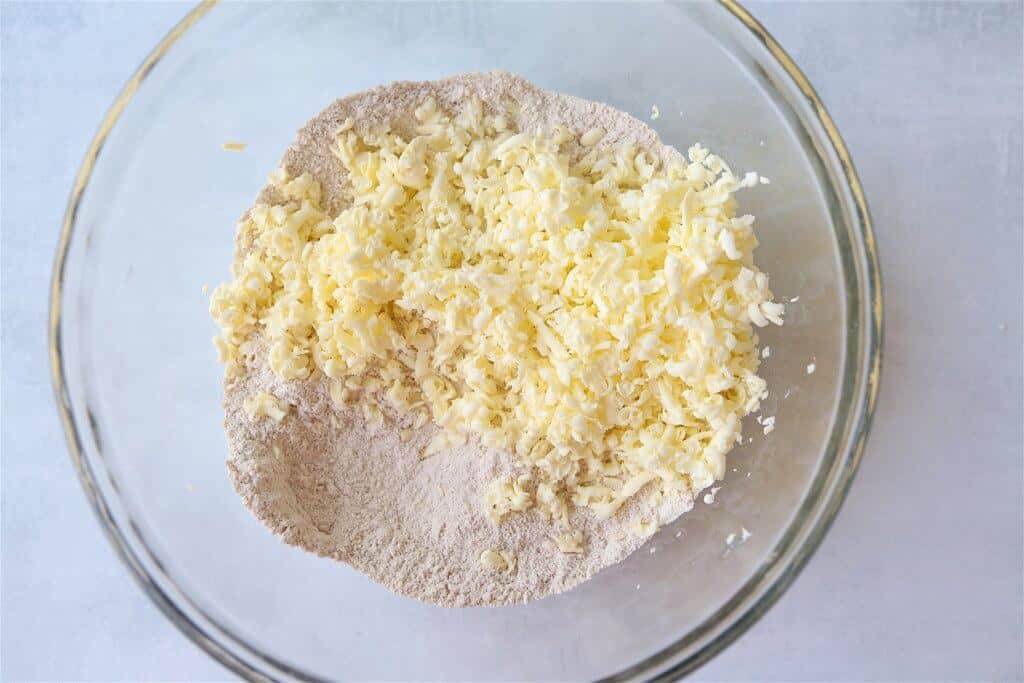 Use high quality flour.
It does make a difference when you are going for a superb result. I'm a serious baker so I notice small differences in ingredients. If buying a certain type best fits your budget though, I totally understand. You do you. Since this recipe is a whole wheat and all-purpose flour mixture, I think a good brand makes a difference, especially in the whole wheat flour. If the whole wheat flour is off, you may get scone hockey pucks instead of fluffy, airy, delicious triangular tender scones. My favorite whole wheat flour brand to bake with is this one.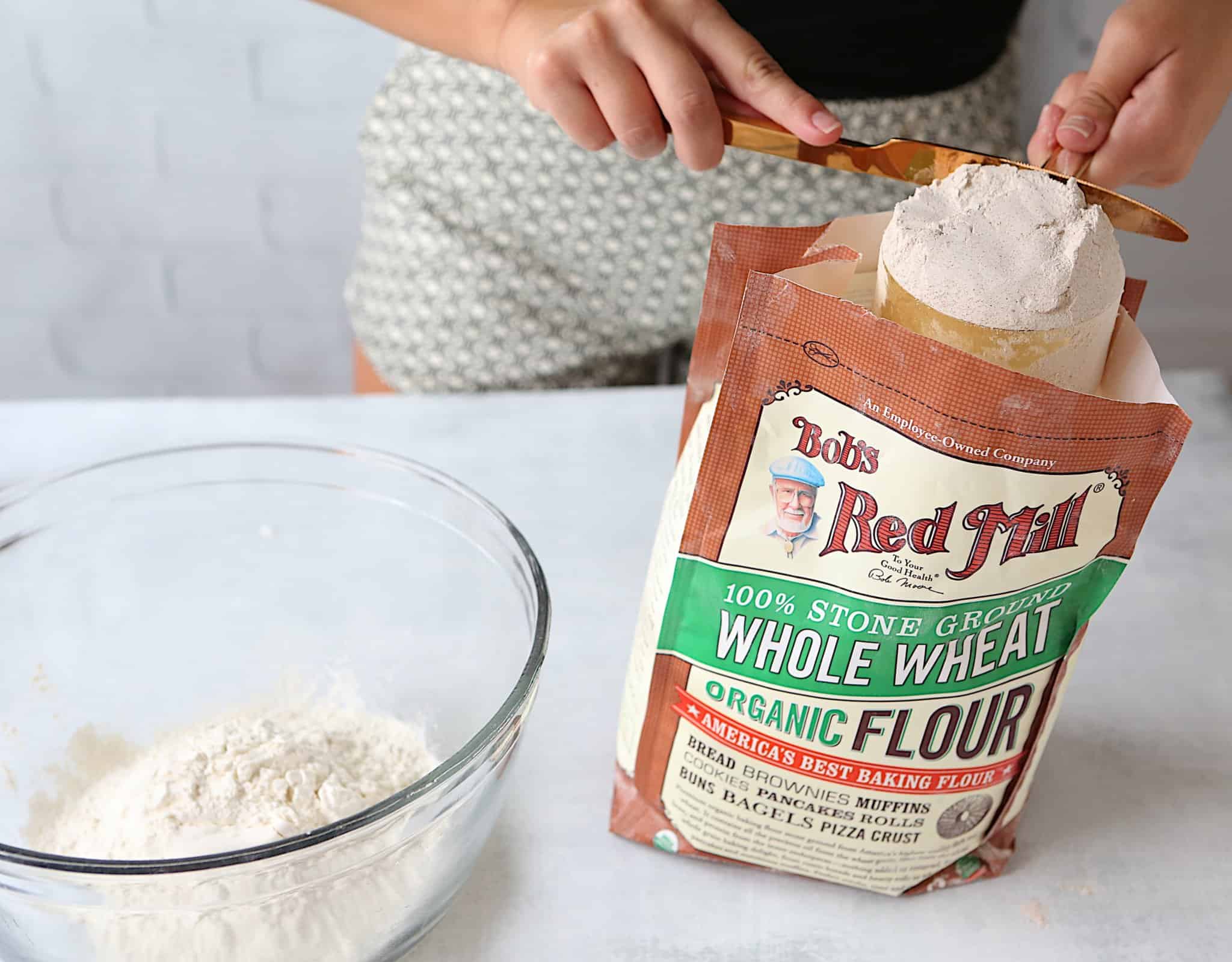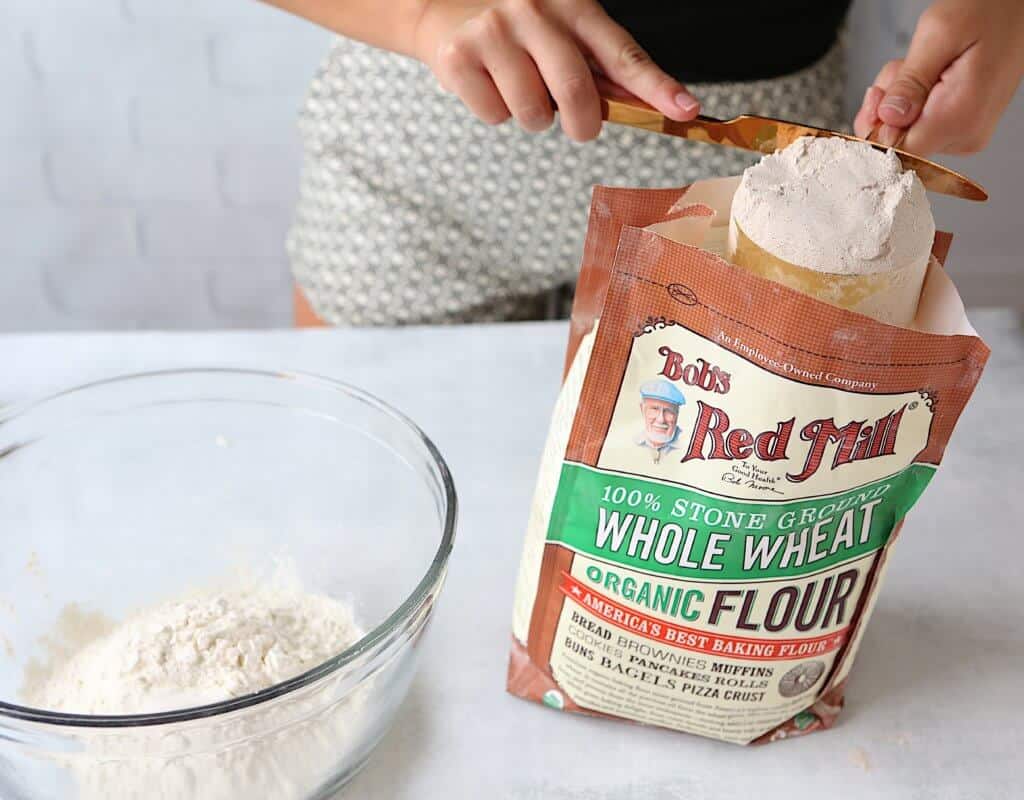 Whisk the dry and wet ingredients well.
Thoroughly mixing the dry and wet ingredients separately is important for this scone recipe because it ensures the spices, salt and baking powder, then egg, pumpkin and milk are evenly distributed. Once the butter and wet ingredients go in the flour, the goal is to stir and mix as little as possible so mix well at the start when they are separate.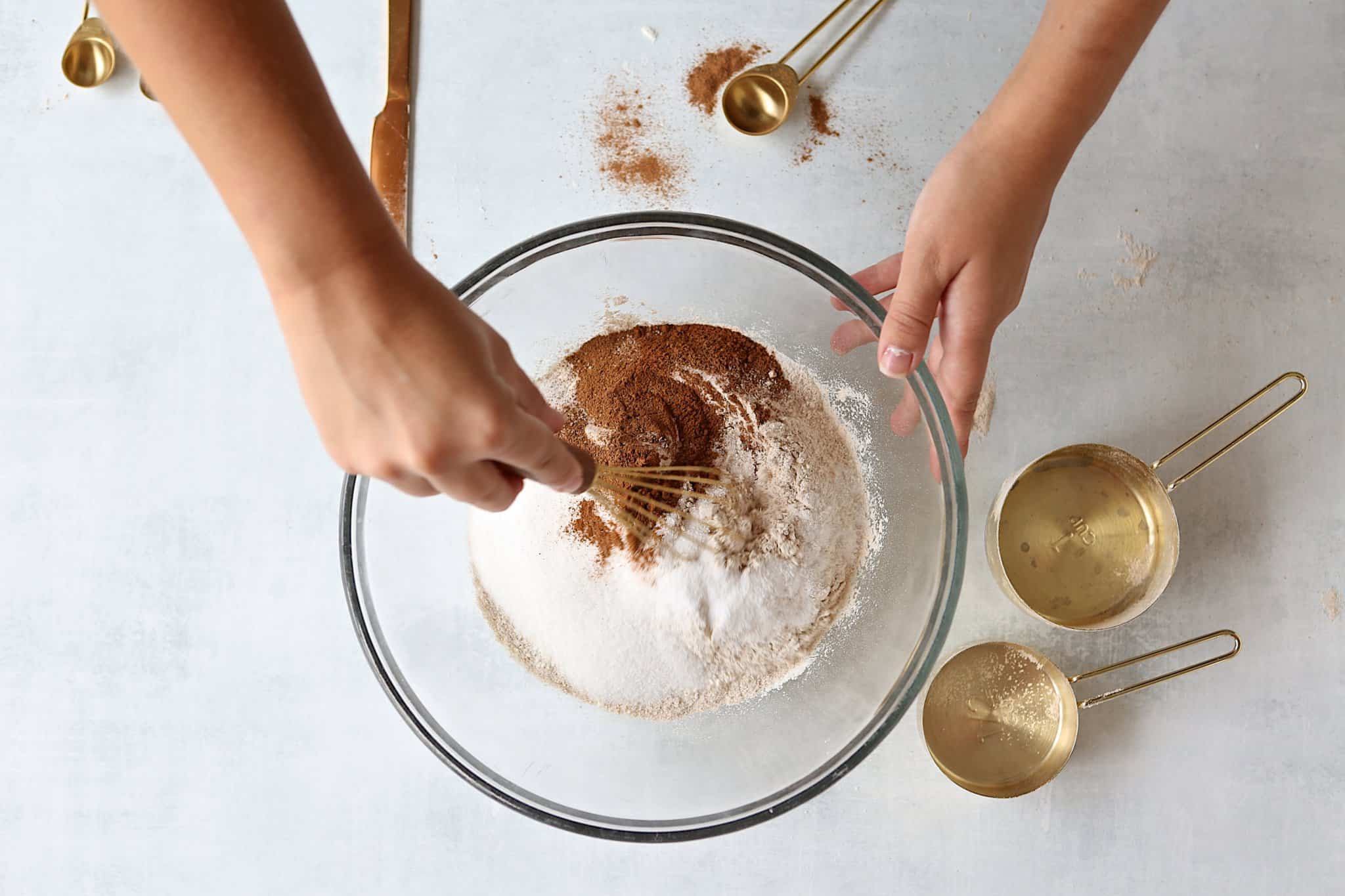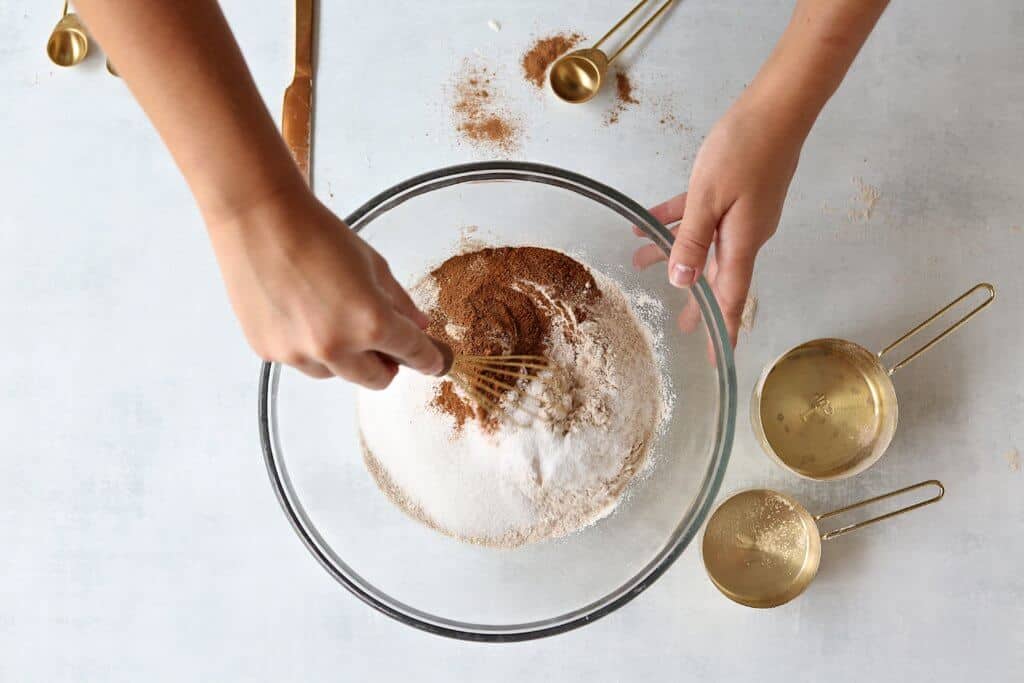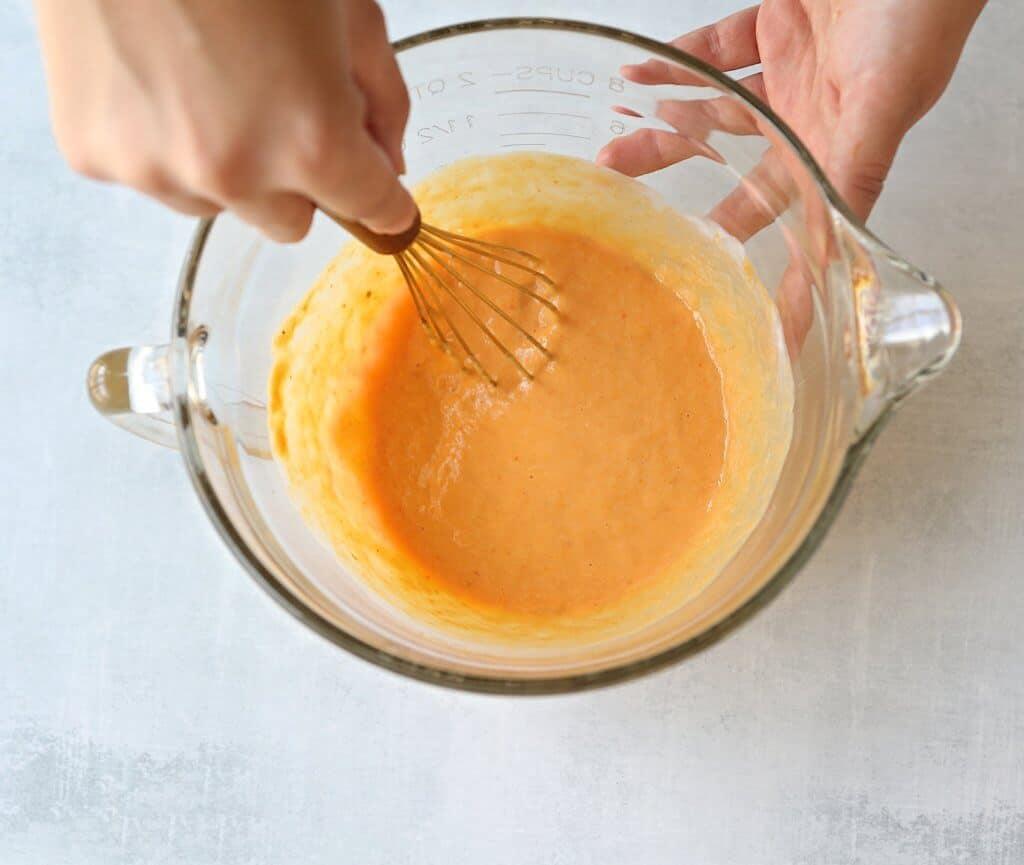 Do not overmix the batter.
It will be tempting to mix the hell out of this batter because it starts a little dry. BE PATIENT and slowly fold and mix until it all comes together, which it will. You can also stop mixing just before fully incorporated because it will come together more when you dump it out and form it into a rectangle.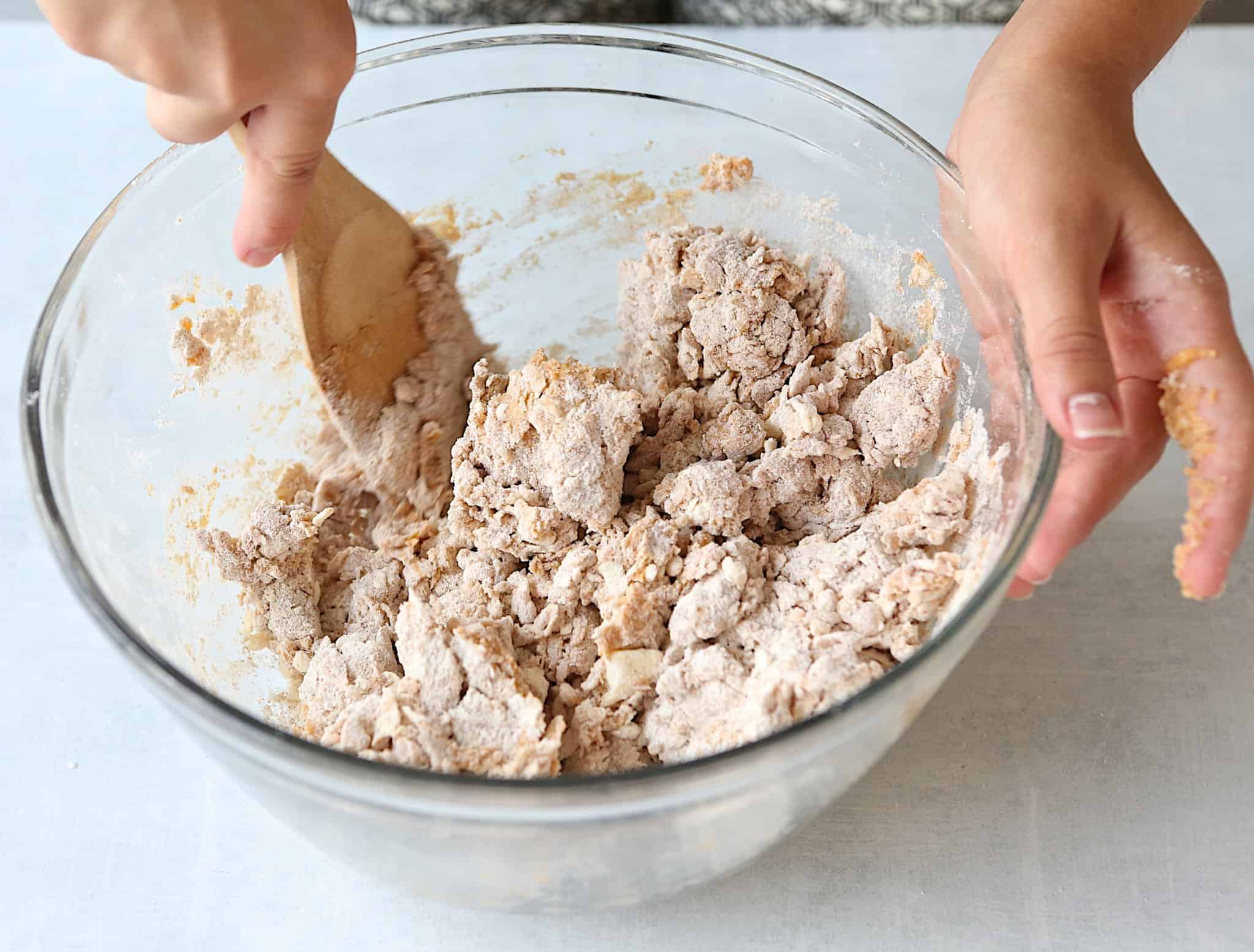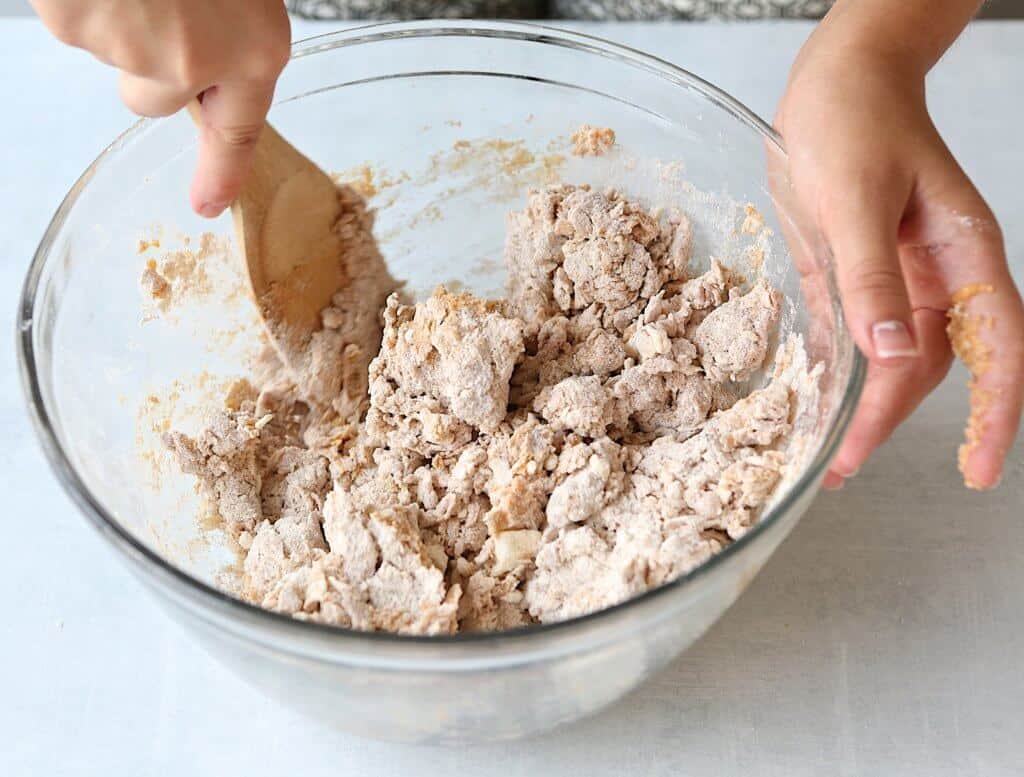 Choose the shape that you like best.
I have made these pumpkin scones as a rectangle shape and triangle shape. To be honest, the bars are easier to cut and get uniform, at least for me. The triangles are the iconic shape of a scone. Either works and I say go with what the dough leads you to do in the moment. Sometimes scone dough can be a dream to work with and some days it's ornery.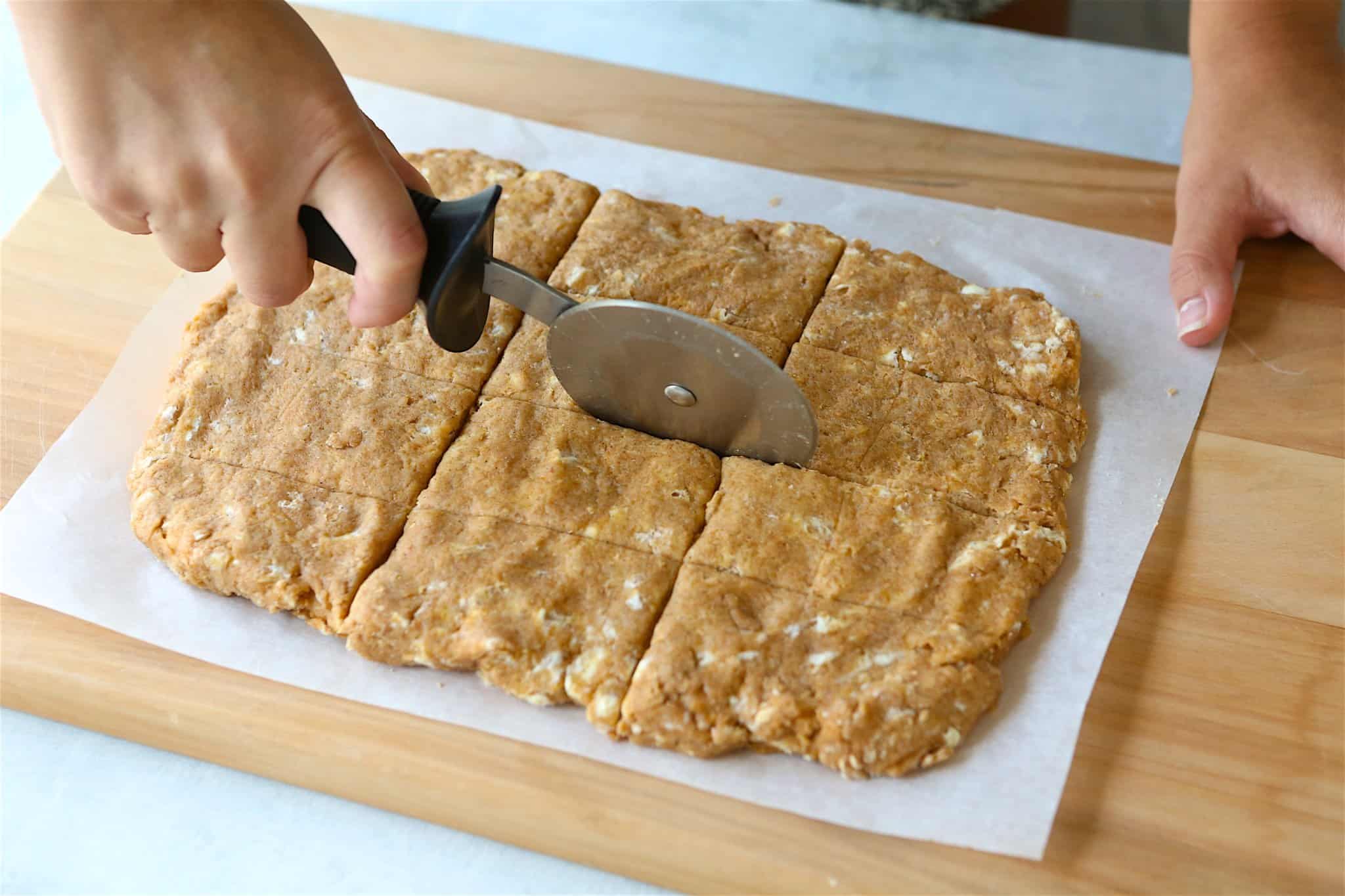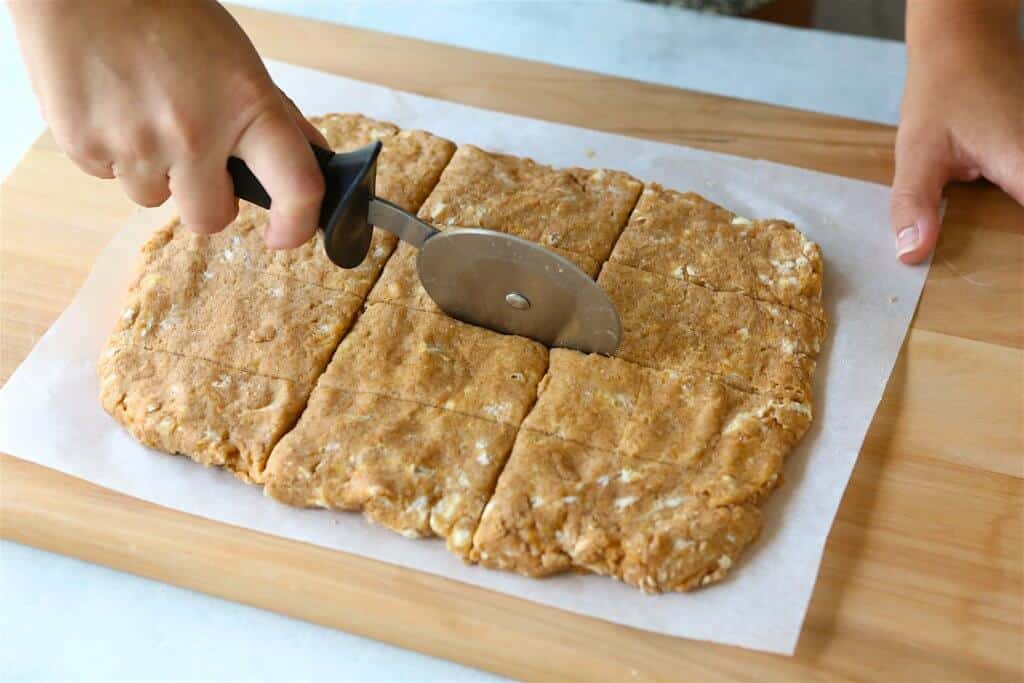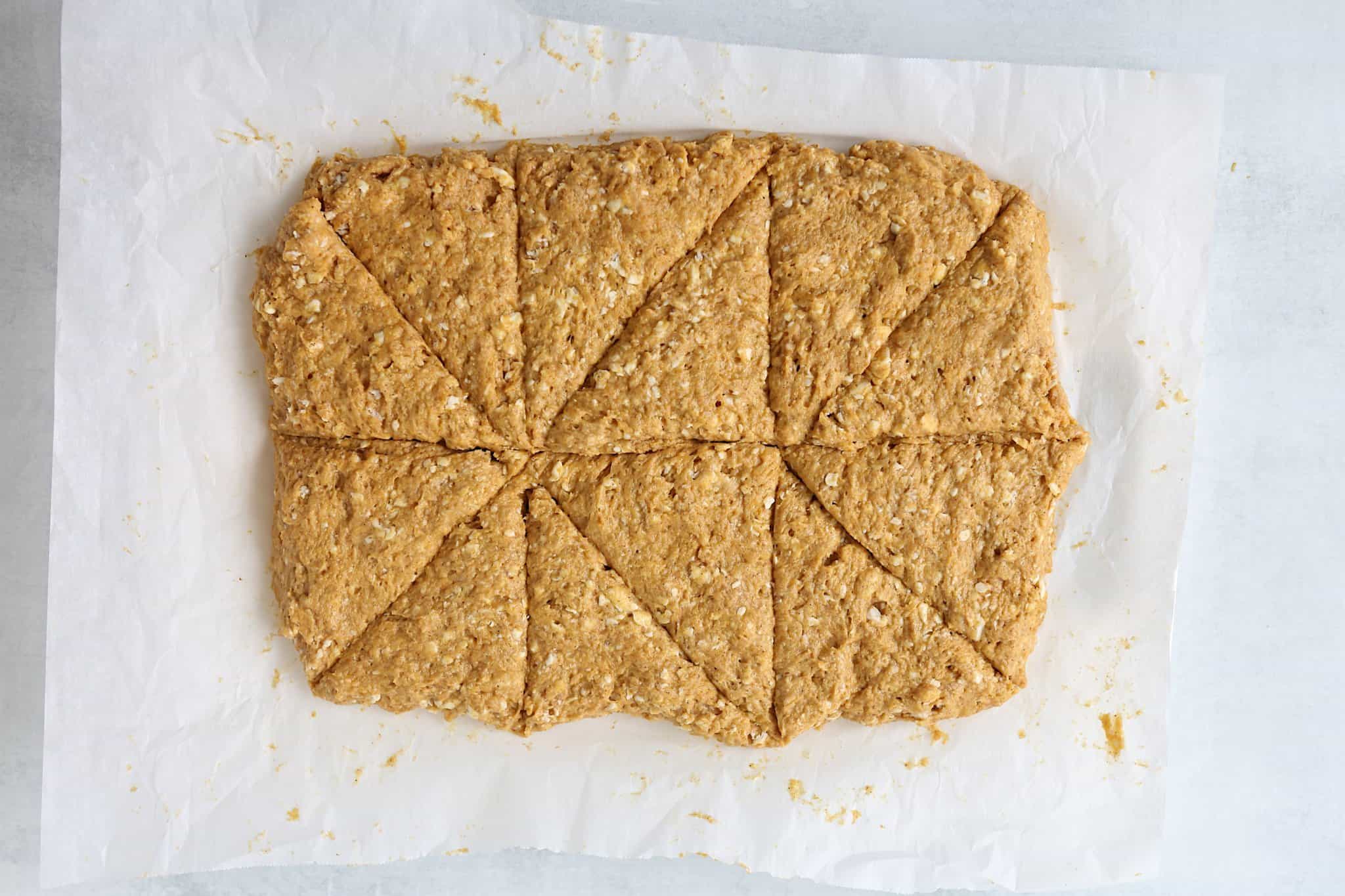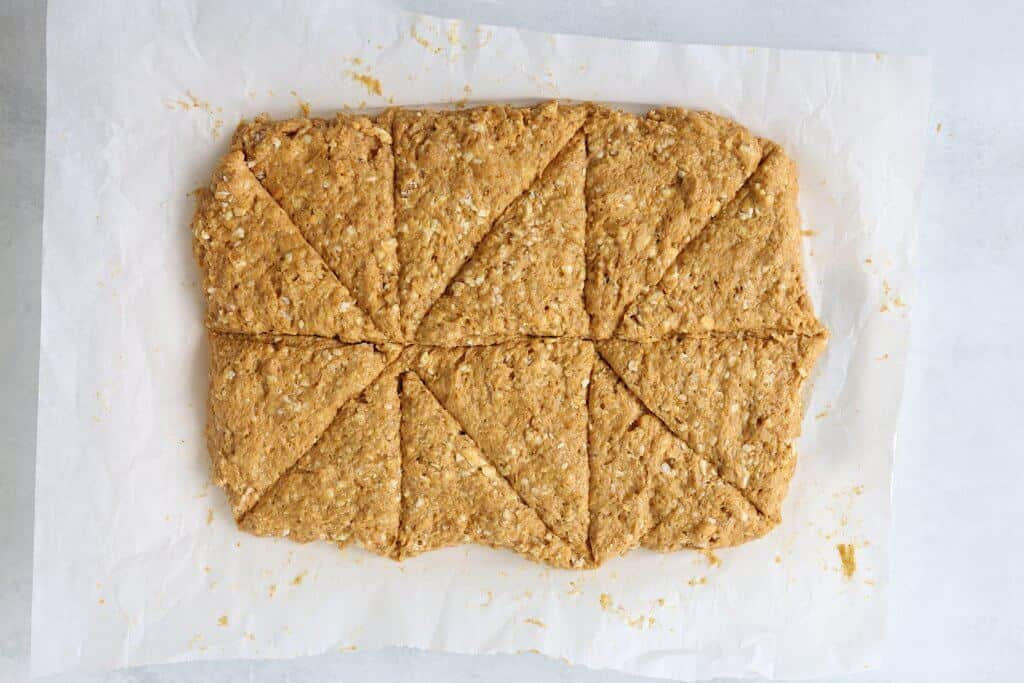 Now it's baking time, so here's how you make them.
Print
Recipe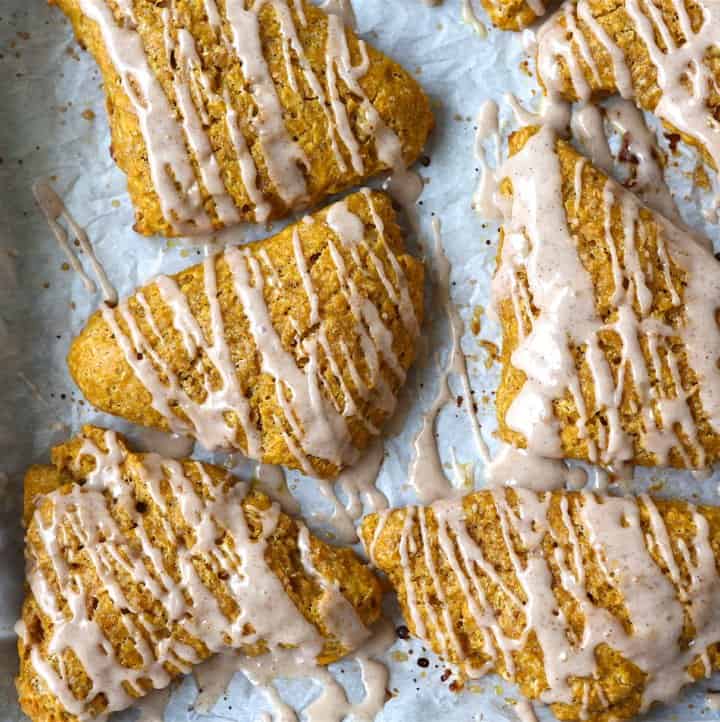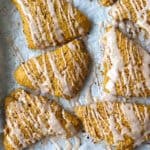 Pumpkin Spice Scones Recipe
---
Author:

Total Time:

54 minutes

Yield:

12

servings

1

x
Description
Pumpkin scones are the perfect complement to a cup of coffee and a good conversation. Enjoy this slightly sweet scone recipe made with whole wheat flour and a spice glaze any time of the year.
---
1

cup

whole wheat flour

1 ½

cups

all-purpose flour

½

cup

granulated sugar

2 ½ teaspoons

baking powder

1 teaspoon

pumpkin pie spice

½ teaspoon

cinnamon

¼ teaspoon

Kosher salt

½

cup

+

3

tablespoons

buttermilk, (divided)

¾

cup

canned pumpkin puree

1

large egg

1 teaspoon

vanilla extract

½

cup

(1 stick) unsalted butter, (frozen)

¼

cup

coarse sugar like turbinado (optional)
Spice Glaze
1

cup

powdered sugar

2 tablespoons

milk, (2% or whole)

½ teaspoon

pumpkin pie spice

¼ teaspoon

vanilla extract
---
Instructions
In a large bowl, stir together the flours, sugar, baking powder, spices, and salt.
In a different medium size bowl, whisk together 1 cup plus 2 tablespoons of buttermilk, pumpkin, egg and vanilla. 
Grate butter on the large holes of a box grater, grate the butter. Gently toss the grated butter in the flour mixture to combine. 
Pour the wet ingredients into the flour mixture and stir gently to incorporate. Batter may seem dry at first but continue to gently stir until it all comes together. 
Dump batter onto a small parchment lined baking sheet and shape into a rectangle 10" x 8". Refrigerate for at least 15 minutes. 
Remove dough from the fridge. Using a knife or pizza cutter, cut the dough in half long ways to create two long, skinny rectangles. Then, cut each rectangle into 6 bars for a bar shape. Or, cut each rectangle into 3 squares, then cut the squares diagonally to create 12 triangles. Leave the dough as is with cut marks (don't pull them apart) and put them in the freezer while the oven heats, at least 5 minutes. 
Preheat the oven to 400 F and put the baking rack in the center of the oven.
Remove dough from the freezer. Peel bars/triangles off the parchment and place on a large baking sheet lined with parchment paper, about 2" apart. (If the dough is very sticky, use a spatula to lift it from the parchment paper.) Brush the tops with the remaining 1 tablespoon of buttermilk and sprinkle with coarse sugar if using. 
Bake scones for 17-18 minutes, or until edges are golden brown. Remove from the baking sheet and cool on a cooling rack. 
When scones have mostly cooled (about 10-15 minutes), whisk together the glaze ingredients. Drizzle over tops of the scones and let dry. Enjoy! 
Notes
Scones are best enjoyed on the day they are made. 
Prep Time:

37 minutes

Cook Time:

17 minutes

Category:

Brunch

Method:

Oven

Cuisine:

Fall
Keywords: pumpkin recipe, pumpkin spice, scone
Special Equipment
You don't have to use a box grater to grate the butter, but I find it to be a helpful tool to have on hand for this recipe and many others.
Storage
Store in an airtight container for 1-2 days then move to the fridge if you are keeping them longer than that. They are best eaten the day of.
​The next time you're dreaming of the perfect scone recipe to have with your afternoon tea, I hope you'll make this one!
References
Comerford, K. B. (2015). Frequent Canned Food Use is Positively Associated with Nutrient-Dense Food Group Consumption and Higher Nutrient Intakes in US Children and Adults. Nutrients, 7(7), 5586–5600. http://doi.org/10.3390/nu7075240
Freedman MR, Fulgoni VL 3rd. Canned Vegetable and Fruit Consumption Is Associated with Changes in Nutrient Intake and Higher Diet Quality in Children and Adults: National Health and Nutrition Examination Survey 2001-2010. J Acad Nutr Diet. 2016 Jun;116(6):940-8. doi: 10.1016/j.jand.2015.10.013. Epub 2015 Nov 24. PubMed PMID: 26617186.