Many athletes can benefit from as evening snack. Find out why and get the recipe for Blueberry Nighttime Smoothie for Athletes.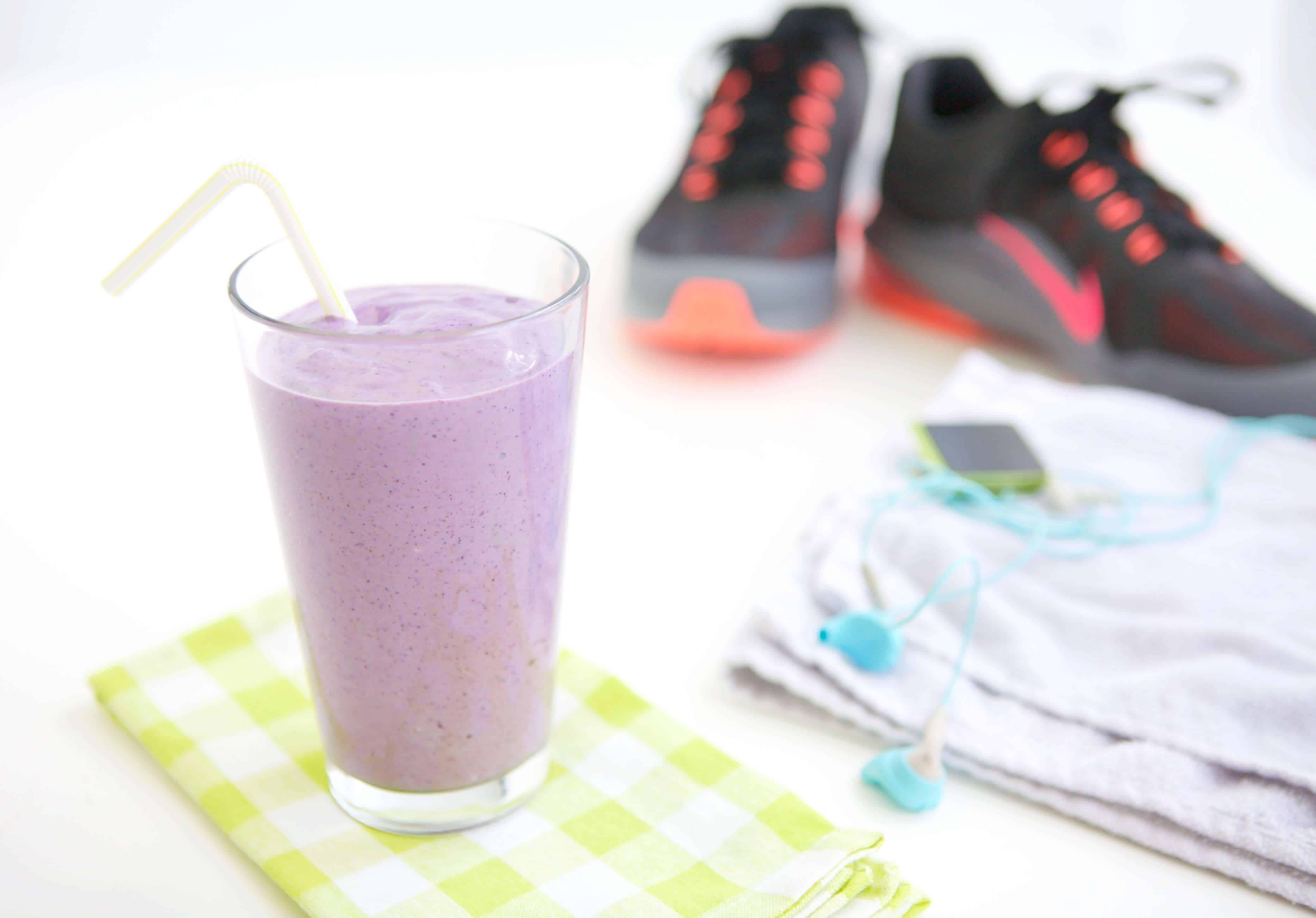 Jump to:
Which Athletes Benefit From a Nighttime Snack?
In my work with athletes, a very common question I get is:
Should I eat a bedtime snack, and if so, what should it be?
While the answer to this question is not universal, here is who I think can benefit from a nighttime snack:
Athletes looking to increase lean muscle mass and are training (at least) several times a week in the weight room to do so.
Athletes with an intense schedule including long days of school, workouts and practices which makes eating frequently a challenge.
Athletes who struggle to keep their weight up.
Endurance athletes, especially those who struggle with injuries like stress factors or pulled muscles.
Athletes who get sick very easily, especially with upper respiratory tract  infections.
Athletes with a weight loss goal looking to cut calories. (Yes, it's true.)
All of these scenarios could warrant a very good reason to end your day with a strong snack or mini meal full of healthy foods to give your body the boost of essential nutrients it needs to reach your fitness goals and maintain health.
What Happens While You Sleep
During sleep, you eventually run out of energy from your last meal to fuel the processes of your body. You will move to breakdown glycogen (stored glucose) and once that runs out you can also begin to break down protein (such as muscle or the immune system) in your body to make energy.
Why is this such a big deal?
In a nutshell, if you are trying to maintain performance and/or gain muscle, the LAST thing you want to happen while you sleep is muscle breakdown. You work WAY too hard building muscle to simply give up muscle for energy. Surely there's a solution.
The Importance of Casein
Enter: Casein
Because casein digests more slowly than whey, it can offer the athlete a slow-release trickle of energy and protein that could last them through the night, preventing unwanted muscle breakdown. YESSS!!!!
Whey Protein
Whey protein is more quickly digested than casein and plays a critical role in overnight muscle protein synthesis, especially post-workout. It can be helpful to consume whey in your nighttime smoothie because it will support muscle growth while you sleep.
Additional Benefits of a Nighttime Snack
For some athletes, having a snack before bed may help their sleep quality. Beyond just getting enough protein, a nighttime snack offers the athlete an opportunity to get more calories from nutrient rich foods. While simply eating enough quantity of food is important, so is the quality, and that can be a challenge for many athletes.
Don't worry though because I've made this easy for you by creating a nighttime smoothie for athletes that meets all nutritional needs requirements: Blueberry Nighttime Power Smoothie.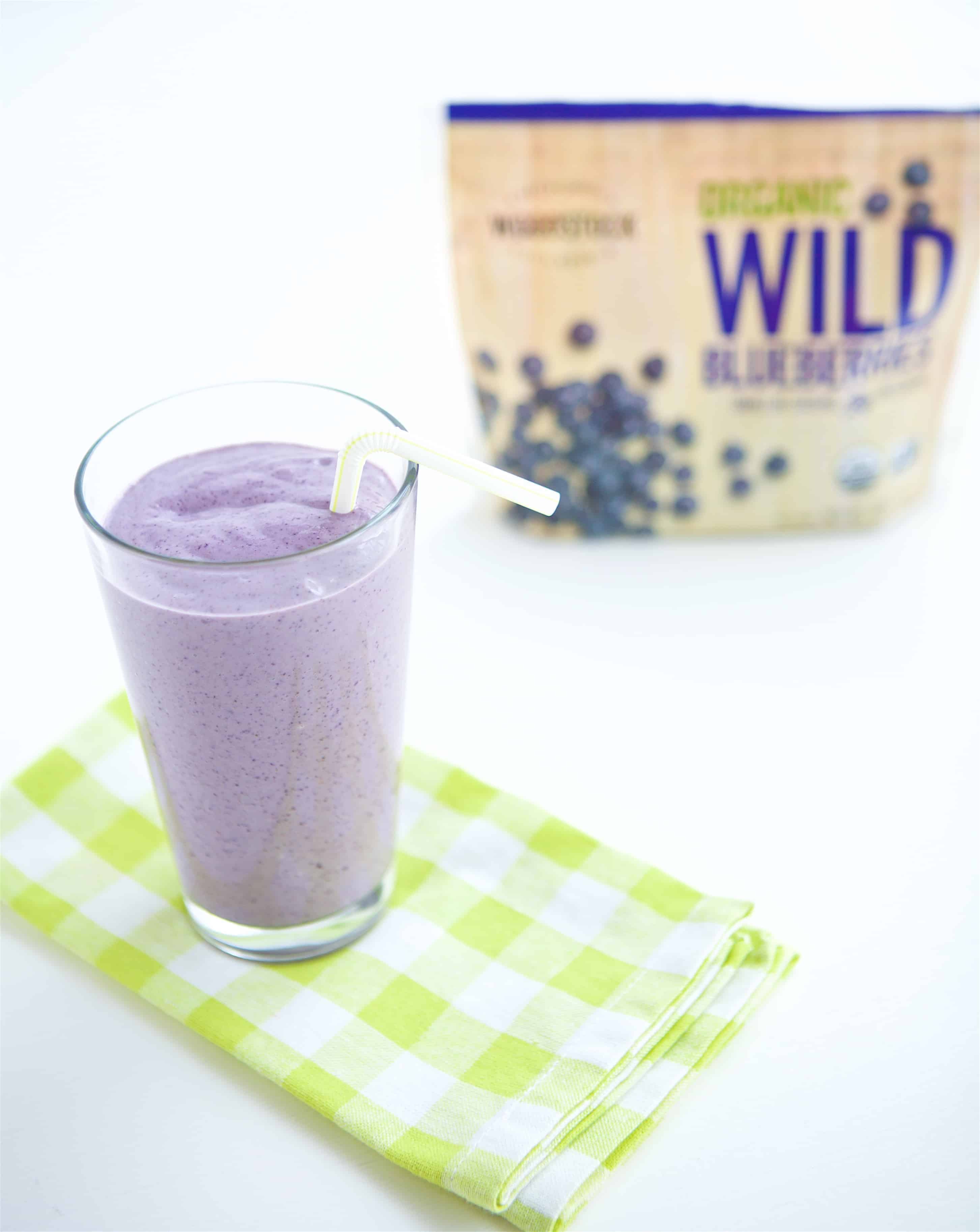 Ingredients
Let's breakdown what this smoothie has to offer: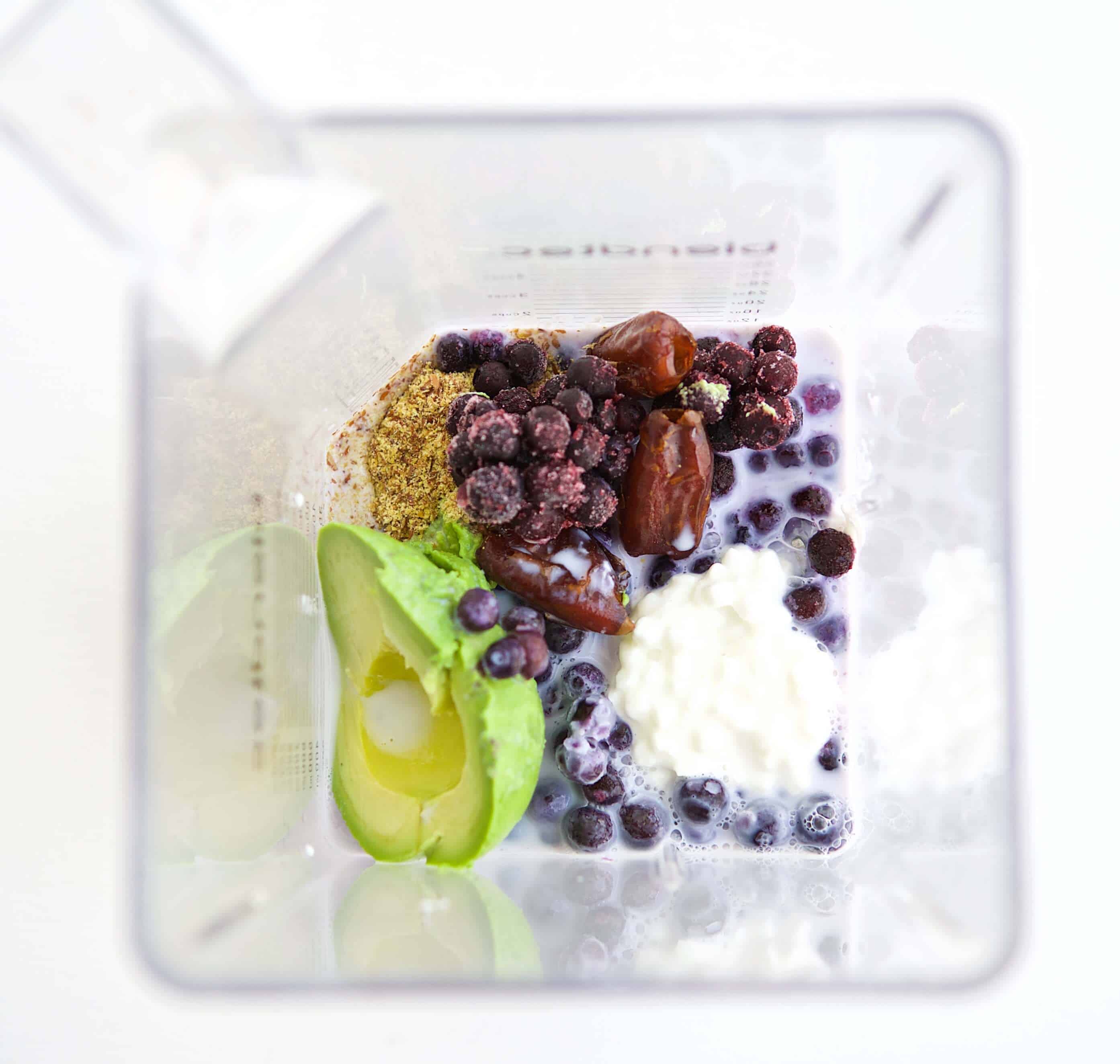 Wild Blueberries - The first important ingredient chosen for this smoothie is wild blueberries because they have, what I like to think of as, super powers. Wild Blueberries have twice (2x) the antioxidant capacity of larger, cultivated blueberries. A growing body of research shows the potential overall health benefits of Wild Blueberries including gut health, diabetes, cancer and brain health (direct quote from Wild Blueberries). And while these may not have as well known direct connections to performance, taking care of your body for the long term is very important! Plus, they are just so delicious.
Cottage Cheese - This might sound like a weird ingredient for a smoothie, but cottage cheese is a great source of casein protein, that much needed, slow-release protein we've already discussed. This will help your body preserve muscle tissue and can actually help ensure you build muscle in your sleep.
Milk - Milk is also added to this smoothie to provide some whey protein. Whey protein is a great source of the amino acid leucine which is well-known for its ability to promote muscle building and muscle repair. Plus, you need some liquid here to make a smoothie.
Avocado & Flax Seed - These two ingredients are inflammation-fighting foods. See, as an athlete you put your body through a lot of work that causes inflammation. Therefore, my belief is that athletes need to be very diligent about eating plant foods that are known to protect their body from the damage caused by inflammation. Both these foods help your body fight the good fight plus provide healthy fat, fiber and good calories. Avocados also help you get a really creamy consistency that mimics a great shake.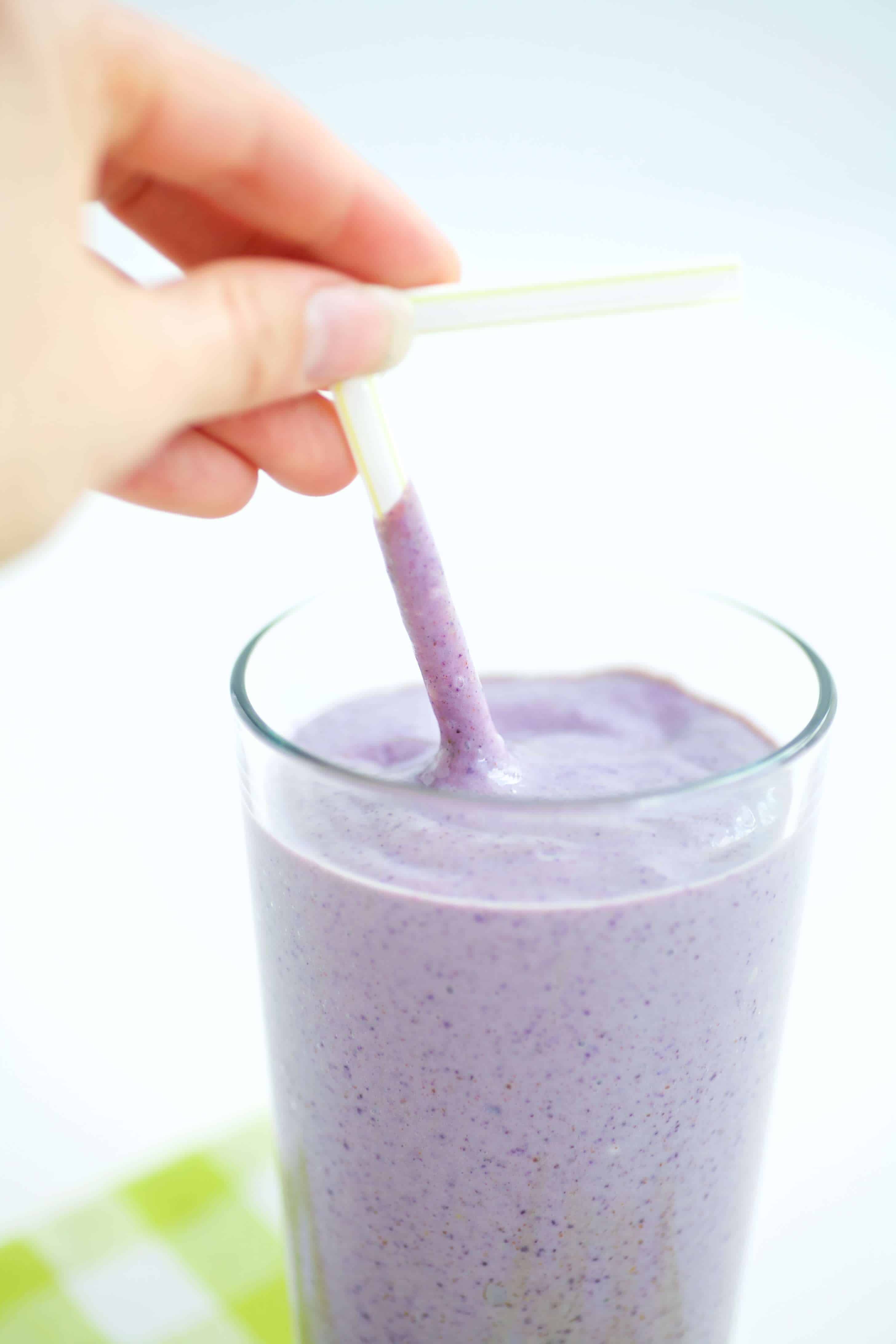 Dates - The dates are included in this smoothie to be a natural source of sweetness. It does provide a little fiber too. If you don't have dates, you can use honey as an alternative, or leave it out altogether.
Cinnamon - I included cinnamon because blueberries and cinnamon pair really well together and it gives this nighttime smoothie for athletes a really delicious flavor. Beyond flavor, cinnamon is known to have many health benefits on your blood, energy systems and even your brain. Boom!
Substitutions
Wild Blueberries - If you can't find frozen wild blueberries, regular blueberries will work just fine. They also have a great antioxidant content.
Avocado - You do not taste the avocado in this delicious smoothie recipe, but if you are very anti-avocado, you could substitute ½ frozen banana (or ½ cup).
Flaxseed - You can leave this out if you don't have it or substitute in hemp seeds.
Dates - You can substitute in 1-2 tablespoons of honey or maple syrup for dates.
Whey Protein Powder - You can increase the protein content by adding an additional scoop of protein powder to this nighttime smoothie for athletes. Here is my recommendation for a high-quality protein powder:
Plant-Based Protein Powders- You could substitute the cottage cheese for a plant based yogurt and add a scoop of plant-based protein powder. Most plant-based yogurts do not have many grams of protein, but the yogurt will help keep the texture and flavor you want for this smoothie. Here is my recommendation for a plant-based protein powder:
Print
Recipe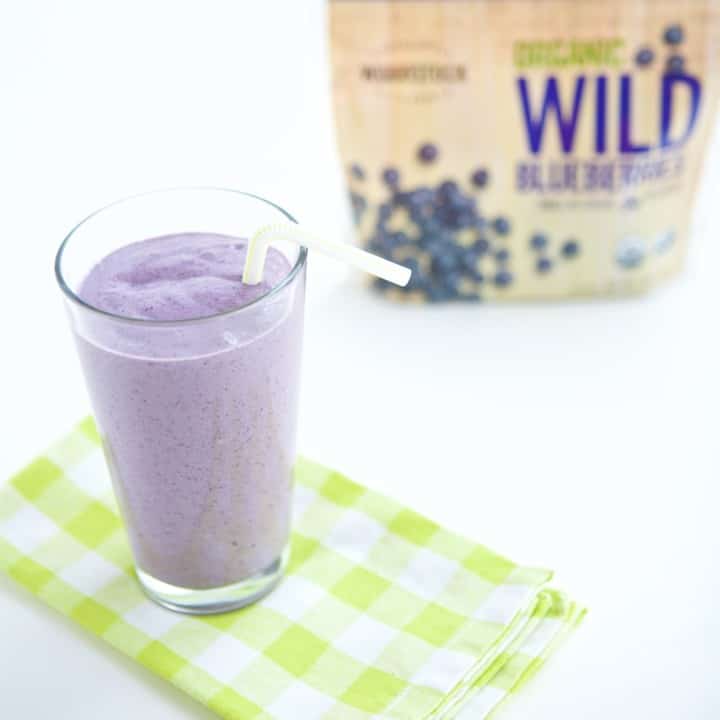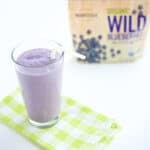 Wild Blueberry Nighttime Power Smoothie
---
Author:

Total Time:

6 minutes

Yield:

1

1

x
Description
Many athletes can benefit from as evening snack. Find out why and get the recipe for Blueberry Nighttime Smoothie for Athletes.
---
¾

cup

frozen, wild blueberries

½

cup

cottage cheese

1

cup

reduced fat milk

½

hass avocado

1 tablespoon

ground flax seed

4

pitted dried dates (roughly chopped)

⅛ teaspoon

ground cinnamon
---
Instructions
Put all ingredients into a high powered blender.
Blend until very smooth, about 45-60 seconds. Add more milk if needed to blend successfully.
Serve immediately.
Notes
If you prefer an "icier" smoothie, add a few cubes of ice to the blender.
Prep Time:

5 minutes

Cook Time:

1 minute

Category:

Smoothie
Keywords: smoothie, athletes, recovery smoothie
More Info for Athletes
As a sports dietitian I can help you build the best fueling plan to meet your needs. Visit my services page to learn more about sports nutrition coaching.
For more information and recipes just for athletes, check out these posts: