Feed your family a fast, nutritious & delicious meal with this quick Vegetarian Beans and Rice Dinner. It's sure to please everyone and is a great choice for the young athletes in your home.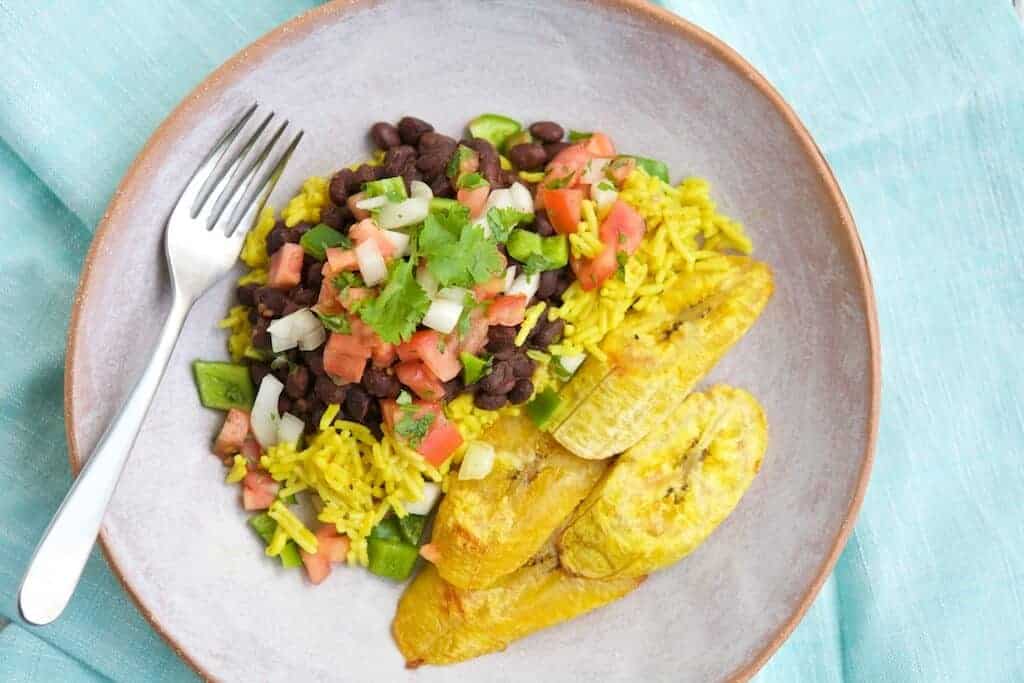 This post is sponsored by Unilever as a part of the 2017 Agents of Change program.
Jump to:
Recipe Video
Check out this video walking you through this recipe and the backstory:
Avoiding "Dinner Disasters"
Dinnertime can be such a disaster without a good plan.
At least this is the case in my life. Sometimes I literally can't think of something I want to make for dinner and I pray all day that inspiration will come by 5pm. It rarely happens and I end up "throwing something together" that, well, doesn't always go over well . The other worst-case scenario is that because I don't have a dinner plan, eating out seems like the inevitable choice to ensure we actually eat something other than cereal (not that there's anything necessarily wrong with cereal for dinner). Both situations make me feel hurried and pressured around dinner instead of relaxed and enjoyable, which is what I want to be.
In my now 6 years of experience as a mom, and 5 years as a busy head coach's wife, I can see a "dinner disaster" coming a mile away (AKA by 9 am). I don't like to admit it, but I am fully aware of the situation and wonder why I didn't just take the few minutes to plan ahead.
I can only imagine that many other families, especially those who have athletes in the mix, experience some of these same challenges around dinner. In my counseling practice, I often hear things like:
I just don't have time to cook between school and practice.
Everyone likes different things for dinner.
My teen athlete needs so much food. It's expensive.
I am so hungry by dinnertime.
I totally get it and I want to help us all.
This year I am one of Unilever's Agents of Change, a program where they partner with dietitians doing unique work. I am so honored to be a part of this group of dietitians who are making a difference.
From the start of our partnership, I knew I wanted to focus on sports nutrition. More specifically, I wanted to develop solutions for teen athletes and their parents to make nutritious eating easier because of everything I shared above. Everyone could agree this is an important area of focus and can make a real difference. And thus, our partnership, and this Vegetarian Beans and Rice Dinner recipe, was born.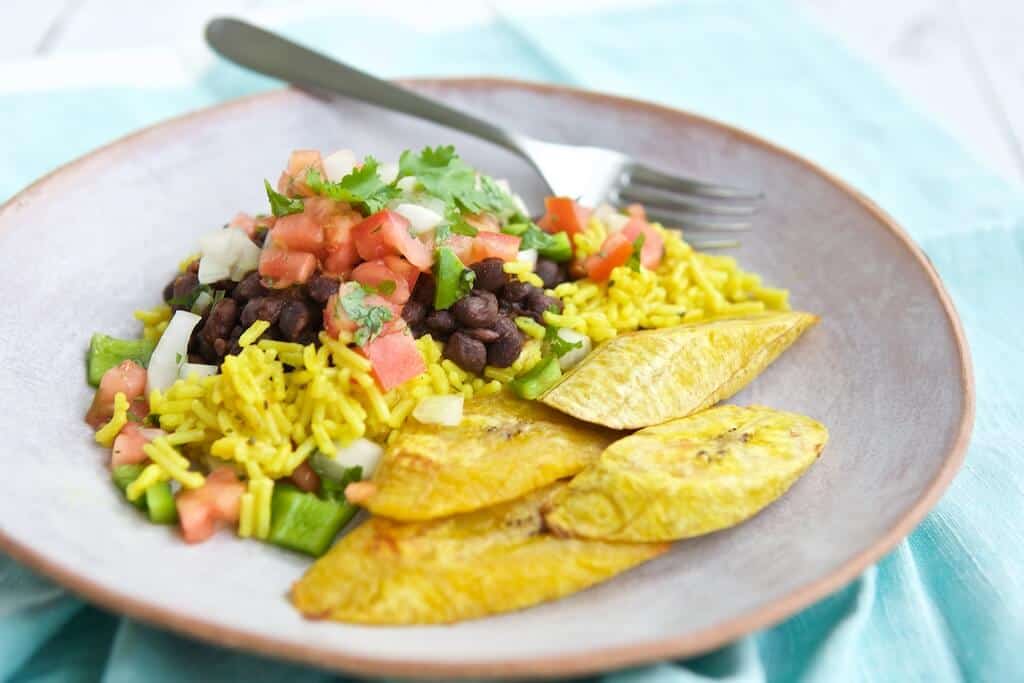 Easy Dinner Formula
I've decided Knorr® Sides can be a true lifesaver for preventing dinner disasters. It's always in your pantry ready to go, it's affordable, totally delicious and easily becomes a part of a balanced meal. It can provide a good source of protein and at least ½ cup vegetables per servings, which can provide nutrients such as vitamin C, vitamin A, potassium and fiber.
The Knorr® meal technique is brilliant and so easy to make happen in just three simple steps: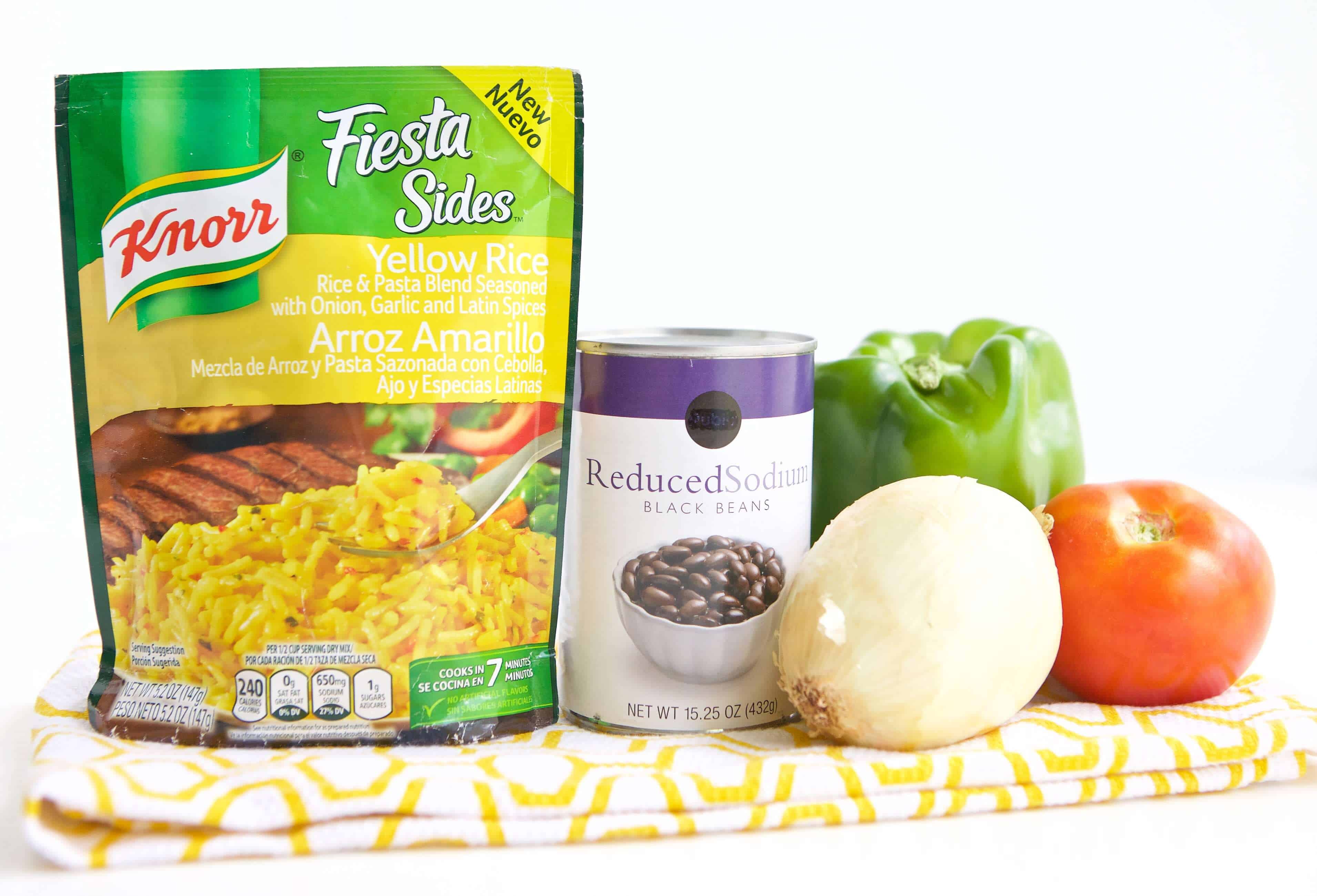 Knorr® Sides + Lean Protein + Fresh Veggies = Main Meal
I also really like how Knorr® Sides have all the seasonings already added in. You know your meal is going to taste good, which for most teens, is the most important factor. For the record, if you don't have the garlic, tomato paste or stock on hand to use in the beans, you are going to be OK because the yellow rice has so much flavor built in. That's a time and stress saver if you are really in a pinch.
Baked Plantains
And let's talk about plantains real quick. Plantains are perhaps becoming one of my favorite foods on the planet. They are so delicious and fortunately nutritious too. I like how they add a serving fruit to this meal and also help with the fullness factor, something many teen athletes need from dinner.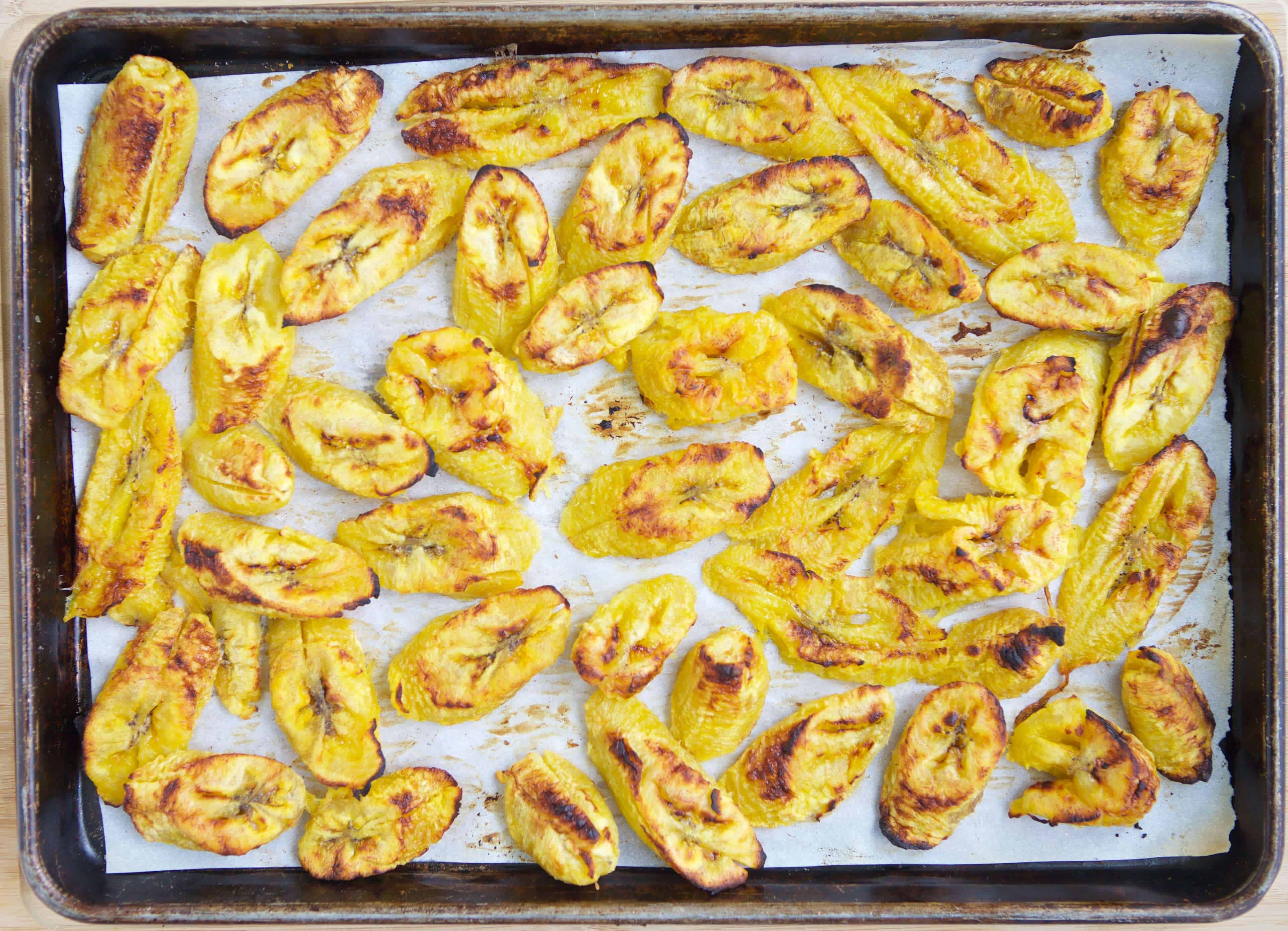 Sweet plantains, or maduros, are often fried to give them their delicious flavor. Baked plantains are a great way to enjoy them on a regular basis at home, especially on busy nights. It's a great addition to make this Vegetarian Rice and Beans Dinner hearty and satisfying.
You'll likely find plantains on the green side in the grocery store. Buy them and store them on the counter until they turn yellow with brown spots. Yes, unlike bananas, you want plantains to be brown to get them sweet.
Print
Recipe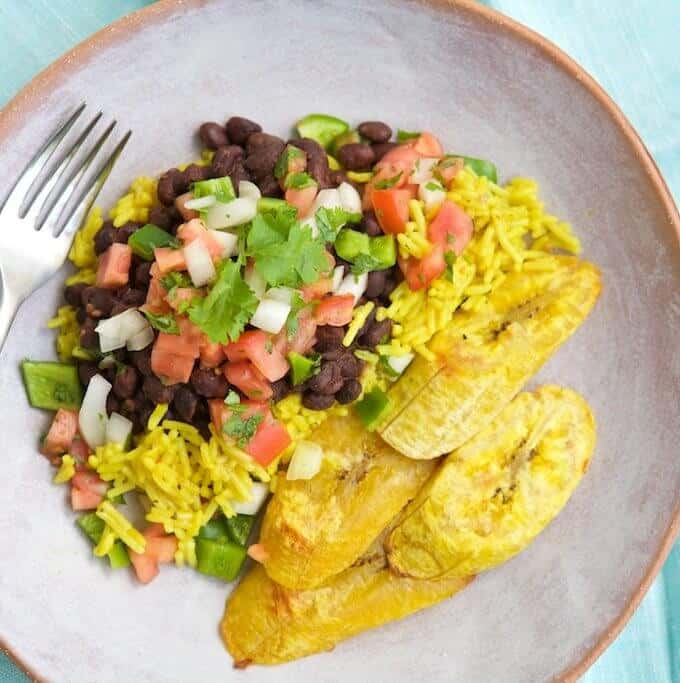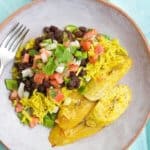 Vegetarian Beans and Rice Dinner
---
Author:

Total Time:

40 minutes

Yield:

4

servings

1

x
Description
This quick, plant based meal is full of flavor and great nutrition. It's a perfect meal for a busy night to feed your family, including teen athletes.
---
1

package Knorr® Fiesta Sides - Yellow Rice

5

very ripe, yellow plantains ((see notes))

1 tablespoon

coconut oil ((or oil of your choice))

2

cans low sodium black beans (drained and rinsed)

½

cup

low or reduced sodium vegetable stock

2 teaspoon

tomato paste

2 teaspoon

dried oregano

2

cloves garlic (minced)

1

large tomato (small diced)

1

green bell pepper (small diced)

½

yellow onion (small diced)

¼

cup

loosely packed cilantro (minced)

1 tablespoon

extra-virgin olive oil

1

lime (juiced)
---
Instructions
Preheat oven to 350 degrees. Prepare a large, rimmed baking sheet with a piece of parchment paper to cover.
Peel plantains and slice at an angle into ½" thick pieces. Toss cut plantains with coconut oil (or oil of your choice) and arrange on baking sheet in single layer. Do not overcrowd the pan. Bake for about 20-25 minutes, until plantains are soft and edges become golden brown. Turn on the broiler and broil plantains for 1 minute directly under heat to complete cooking. Let cool.
Meanwhile, in a saucepan, add black beans, low or reduced sodium vegetable stock, tomato paste, oregano, and garlic. Stir together and bring to a simmer over medium heat. Reduce heat to a low simmer and cook for at least 10 minutes, but can continue simmering until all of dinner is ready.
In a mixing bowl, combine tomato, bell pepper, onion, cilantro, olive oil, and lime juice. Toss to combine.
In a second saucepan, make the Knorr® Fiesta Sides - Yellow Rice according to the directions. When cooking is complete, remove from heat and set aside.
Assemble dinner by dishing rice with beans on top. Then top beans with at least ½ cup pico. Place 4-6 plantain slices on plate. Serve and enjoy.
Notes
Choose very yellow plantains with brown spots. It is good for plantains to be brown and soft.
Prep Time:

15 minutes

Cook Time:

25 minutes

Category:

Entree, Vegetarian

Cuisine:

Latin
Keywords: beans and rice, plantains, quick dinner ideas, vegetarian casserole
This recipe has really become a lifesaver for me in preventing "dinnertime disaster." It is also a huge hit in our family, giving it the coveted honor of: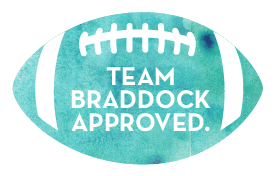 I hope this easy Vegetarian Rice and Beans Dinner also helps you feed your family a delicious, nutritious meal that everyone enjoys.