February is Heart Month in the United States, and to celebrate I want to bring to light some foods that may not be the typical ones talked about in a heart healthy diet. Hopefully most of us know that high fiber, fruits and veggies, the right fats and low salt are all important in overall health (it's OK if you didn't), but the food still has to taste good, right?!
Fortunately, many herbs, spices and flavoring agents are packed with flavor and potential to boost heart health. Check out these recommendations for the use of herbs and spices to promote heart health.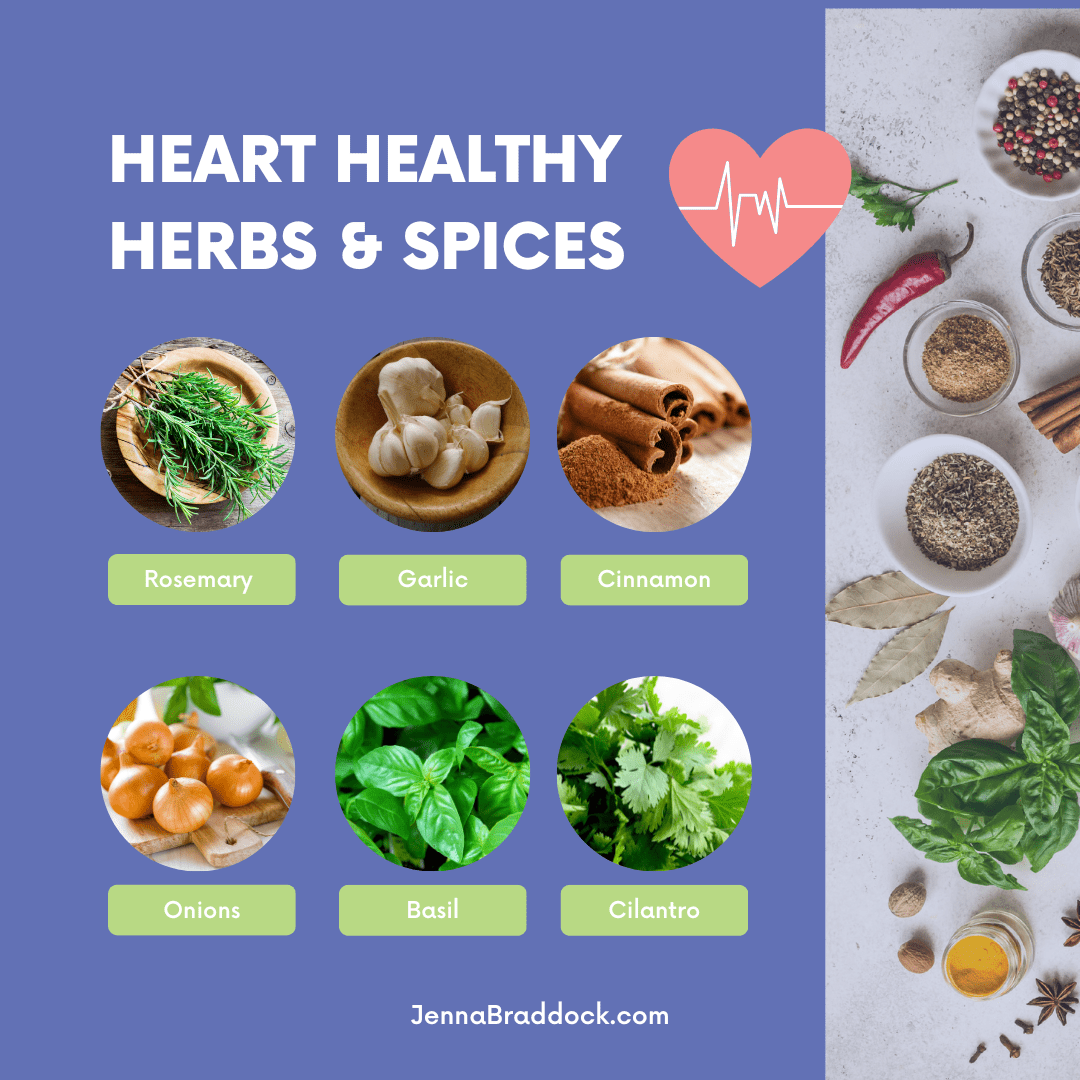 Ginger
Ginger contains very potent anti-inflammatory compounds called

gingerols

.

Health benefits: natural anti-inflammatory.
Linked to lowering blood glucose, LDL cholesterol, and triglycerides
Onions
Contains the flavonoid quercetin, which helps protect the inner lining of blood vessels.
May help lower blood pressure and lower cholesterol levels.
Enjoy thinly sliced on sandwiches and salads. Add to any dish you can to add flavor and benefits like my Grilled Veggie Pizza.
Garlic
Research suggests that garlic could help lower high blood pressure when eaten regularly.
Raw garlic is ideal as cooking deactivates one of its active compounds.
Use a clove of garlic in dips like hummus, guacamole and beyond.
It's still good to enjoy garlic cooked, in olive oil for instance, because it adds flavor and other benefits.
A 2023 study showed that taking garlic extract supplements improved a number of cardiovascular disease markers in adults with coronary artery disease.
Basil
Source of vitamin A and magnesium, both which promote a healthy heart.
It is anti-inflammatory, offering potential protection against the physiological impact of chronic stress.
Enjoy as a garnish on salad or cooked meats or in my Instant Pot Tomato Soup.
Cilantro
Rosemary
May benefit circulation and has anti-inflammatory properties.
Marinate meats with chopped rosemary or toss roasted vegetables with it.
Hot Peppers
Chili peppers and cayenne may reduce high cholesterol including triglycerides.
Add peppers to dishes that could benefit from some heat or sprinkle in cayenne pepper.
Cinnamon
Did this give you some new ideas of how to add herbs and spices to your daily routine to improve your heart health? Fill your spice racks with these foods that can be powerful forces on your blood circulation / blood flow, blood pressure, cardiovascular health, blood vessel health, and even stress levels.
Regular physical activity is also important for a healthy heart, so be sure to check out my At Home Workout Schedule for Women.
To your heart and a healthy life,