I truly love to grill. There's just something exciting about preparing a meal over fire. Plus it makes food delicious. Plus it makes clean up a breeze. (That third reason may actually be my #1 reason.)
When I make meals on the grill I looks for ways to blend classic favorites with tasty fruits and vegetables. This is how I ensure all members of Team Braddock are happy campers. =) This Grilled Steak and Mozzarella Flatbread is the PERFECT recipe to complete that mission.
Thank you to the Florida Beef Council for sponsoring this blog post and compensating my time. All opinions are my own.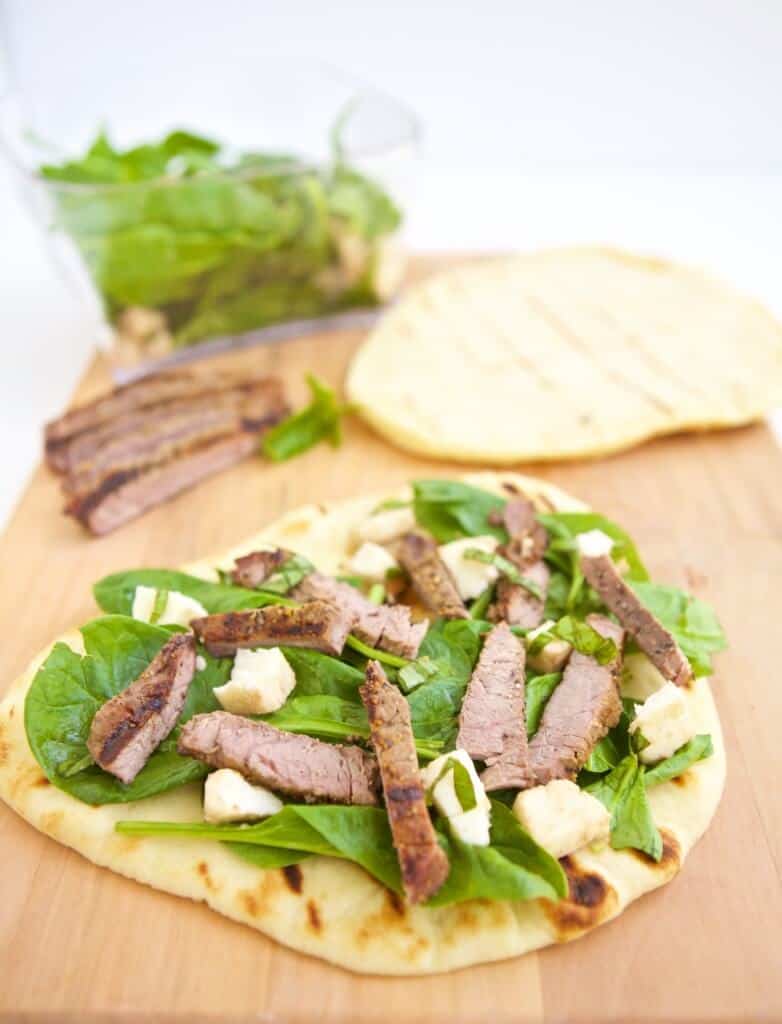 May is Florida Beef month and I am happy to partner with my friends at the Florida Beef Council to bring you this awesome recipe. It is SO easy to make, delicious and full of great nutrition.
I choose to include lean beef in my Make Healthy Easy way of eating because it is a nutrition powerhouse food. When I was pregnant, I dealt with low iron levels for the first time in my life. Including lean beef into my diet then helped improve my iron levels and made me feel so much better.
Beyond it's well-known iron benefits, lean beef has a lot more to offer our bodies too. A 3 oz serving of lean beef contains 10 essential nutrients all for about 150 calories. There are times when I know my body needs a good dose of protein but my appetite is pretty moderate. One stat that really sold me on lean beef is that it takes two to three times the calories to get the same amount of protein from plant-based protein sources. I still enjoy plant-based protein on a regular basis, but if I want to get a good dose of high quality protein in a reasonable portion size, lean beef is a great solution.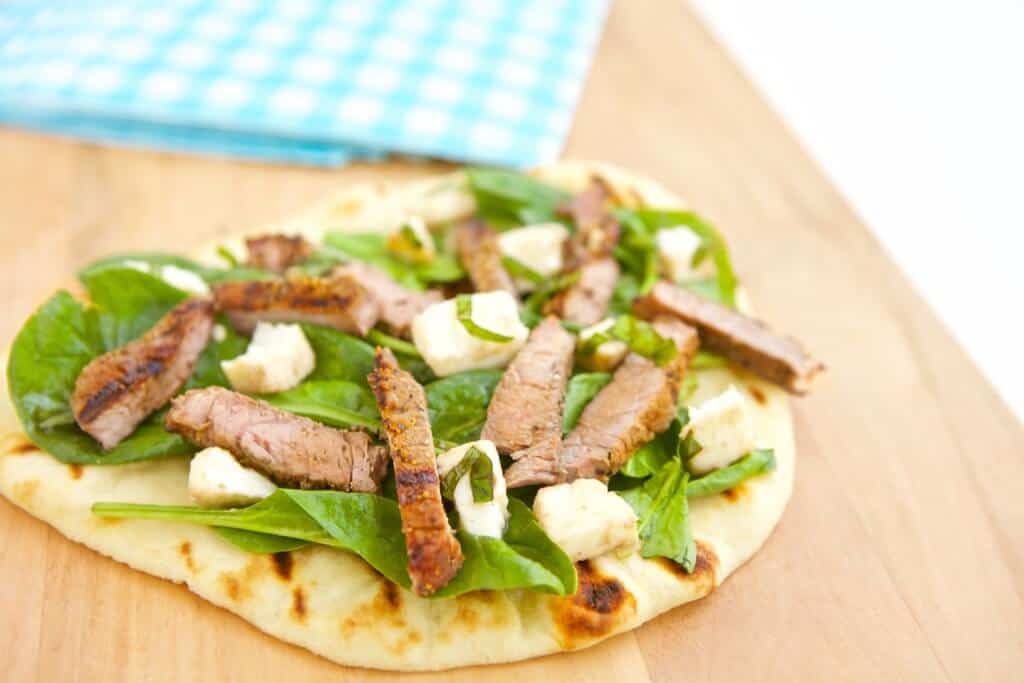 Now let's get back to this recipe-- This flatbread recipe should definitely make it into your summer meal rotation because it's quick and easy to throw together. All your cooking is done on the grill. In fact, you can cook up the steak on the weekend then throw it together for a meal during the week.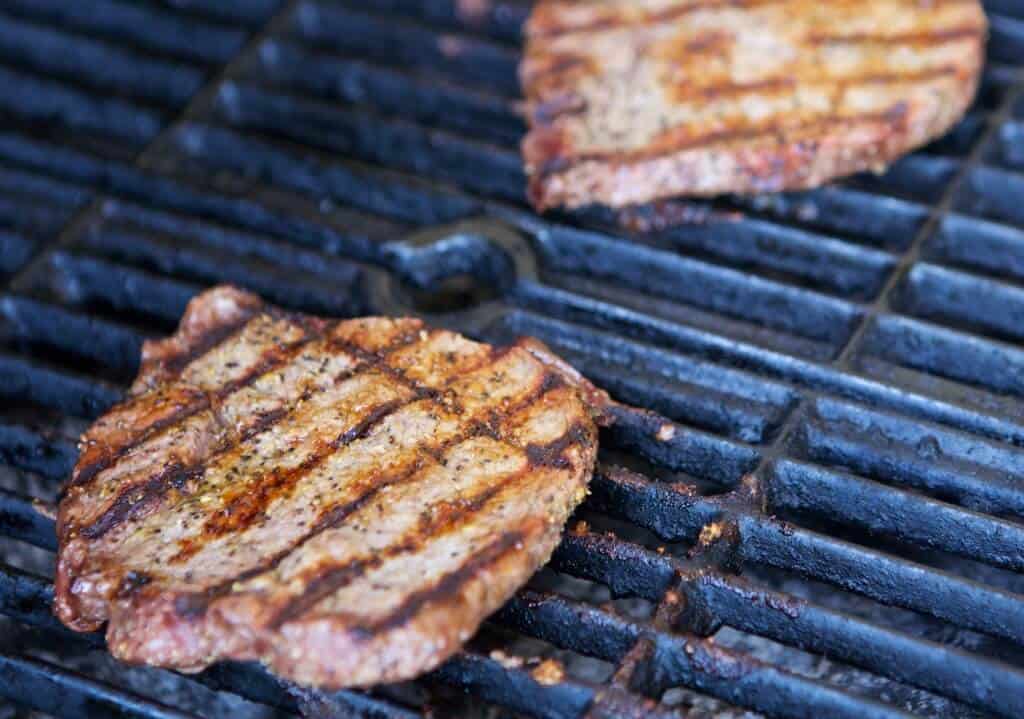 You can also add any of your favorite veggies to this flatbread . I added fresh tomato slices when I made it for Coach but you could also add grilled bell pepper or onion slices. Mmm mmm. The naan bread suggested in the recipe is definitely delicious but it can be higher in calories. If you are being mindful of your calories, I would suggest going the whole grain pita route. Both work well.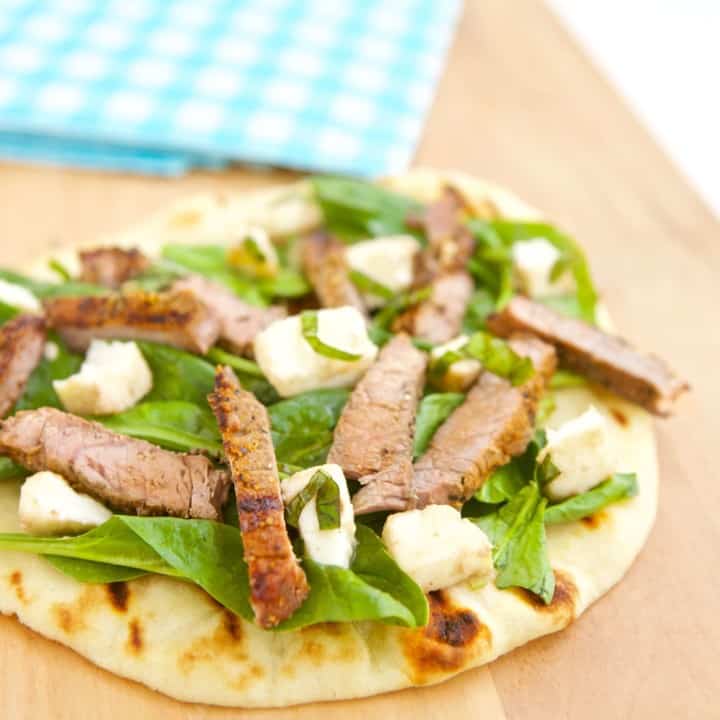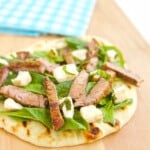 Print Recipe
Grilled Steak and Mozzarella Flatbread
Steak meet salad. Salad meet pizza. A tasty introduction has been made.
Ingredients
1 to 1-¼

pounds

beef Top Sirloin Steaks

1 ½

teaspoons

lemon pepper seasoning

2

cups

packed fresh baby spinach

½

pound

fresh mozzarella cheese

cut into ½" pieces (about ¾ cup)

2

tablespoons

fresh basil

chopped

1 ½

teaspoons

balsamic vinegar

4

naan breads

Indian flatbread or whole grain pita breads
Instructions
Preheat grill.

Prepared steaks by sprinkling with lemon pepper on both sides. Grill, covered, for about 5-6 minutes per side. Steak is done when internal temperature reaches 145 °F (medium rare) or 160 degrees (medium). It is not recommended to cook the steak past medium doneness. Remove steak from grill, set aside and allow to rest for about 5-10 minutes.

Place naan or pita bread on grill and grill for 1-2 minutes per side, until lightly browned.

Toss spinach, mozzarella cubes, and fresh basil with balsamic vinegar. (This step can be done with steak is cooking.)

Carve steaks into thin slices.

Layer grilled naan with spinach mix and place steak slices on top. Serve immediately.
Notes
This recipe is used with permission from The Beef Checkoff.
The Florida Beef Council has created a video series to help guide you through making this recipe, as well as 3 other tasty beef recipes. Click to view to the videos HERE.
Lastly, for kicks and giggles, check out my Facebook post of me grilling for this post... at 2pm on a Thursday. It's what us food bloggers do. And it's all for YOU!!
I truly hope you make this Grilled Steak and Mozzarella Flatbread and enjoy it with your loved ones this summer. It just screams SUMMER to me!
I'm just a girl that loves to grill,
Jenna