There's no need to be intimidated by lamb! This Grilled Lamb Chops recipe with veggies and chimichurri is so easy and so so good.
This grilled lamb chops recipe post is sponsored by lamb producers from the United States, Australia, and New Zealand. I am happy to partner with them to share this delicious recipe with you.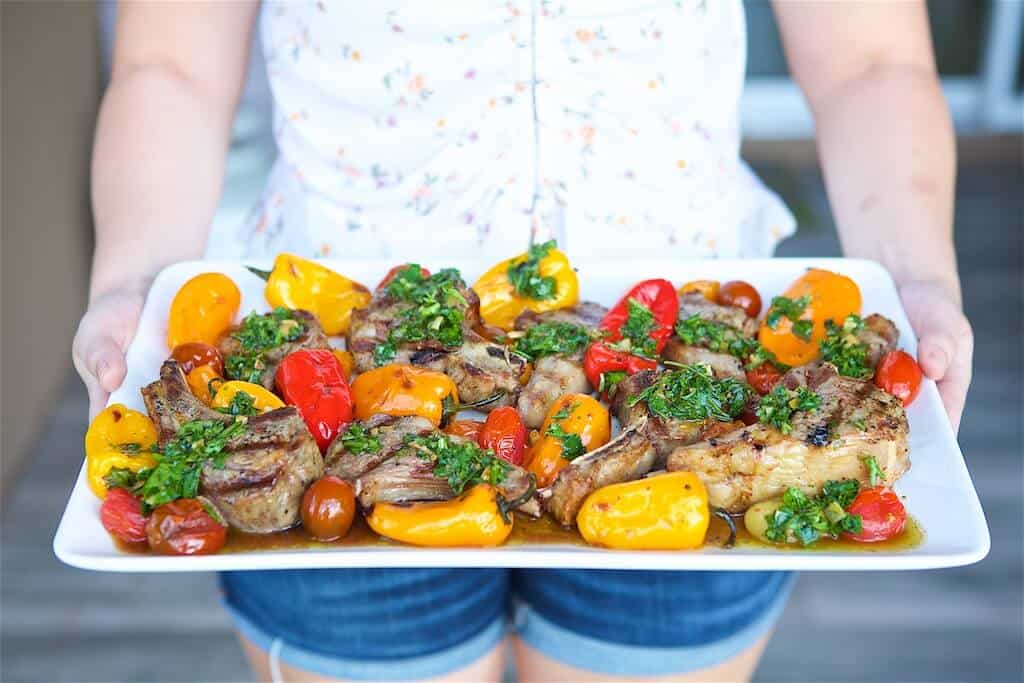 Jump to:
Lamb? Really?
Up until a year or so ago, I would pass right on by the lamb in the meat section of my grocery store without even thinking. "Who really cooks that anyways?" was my common thought, if I even had one. Honestly, I think this response comes from a lack of knowledge and experience with lamb more than anything else. I never ate it growing it up and for some reason, I thought it was a super complicated meat to work with.
What about you? What do you think about lamb?
In the past year, however, my attitude toward lamb has completely changed. This is largely in part to a sponsored trip I took to New Orleans last year with The Tri-Lamb Group to learn all about lamb at the Goldring Center for Culinary Medicine. It was an incredible experience learning how lamb is raised, the different ways to cook it and the many flavor options. Here's some pictures from my experience: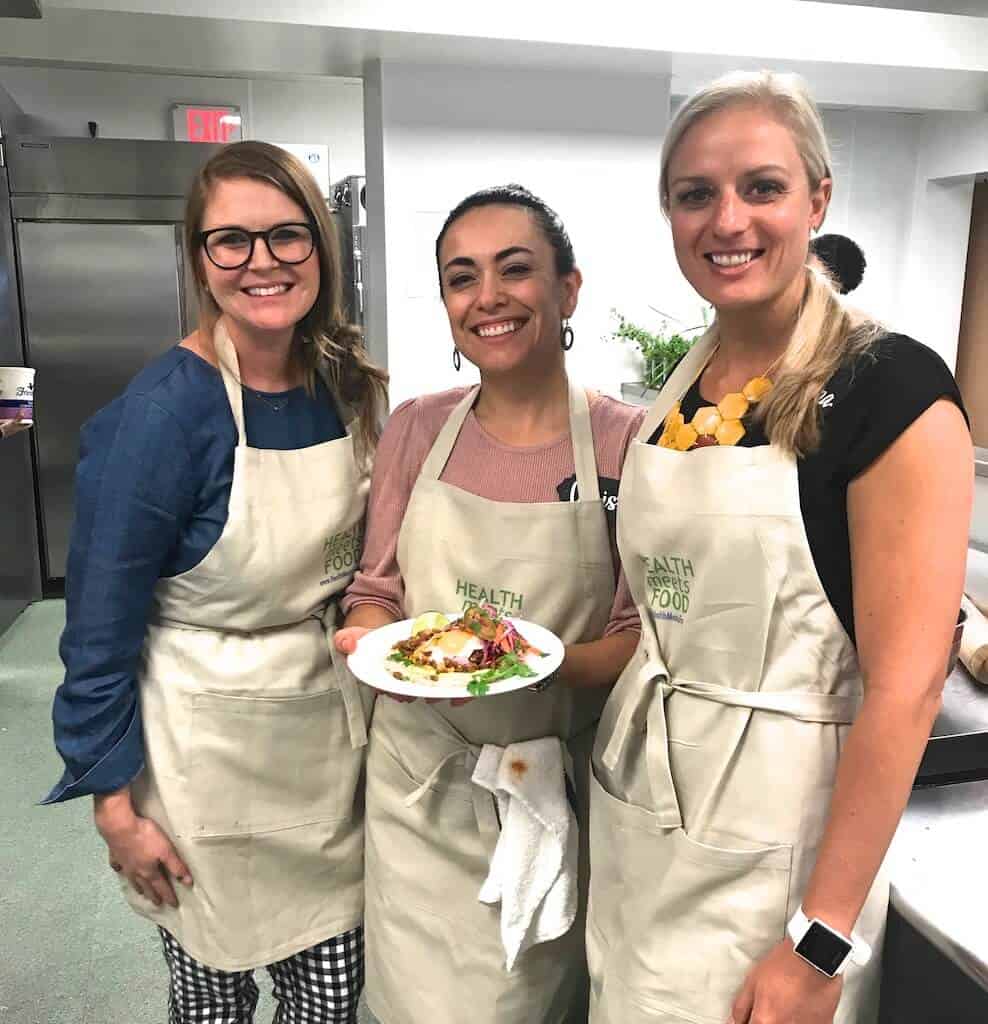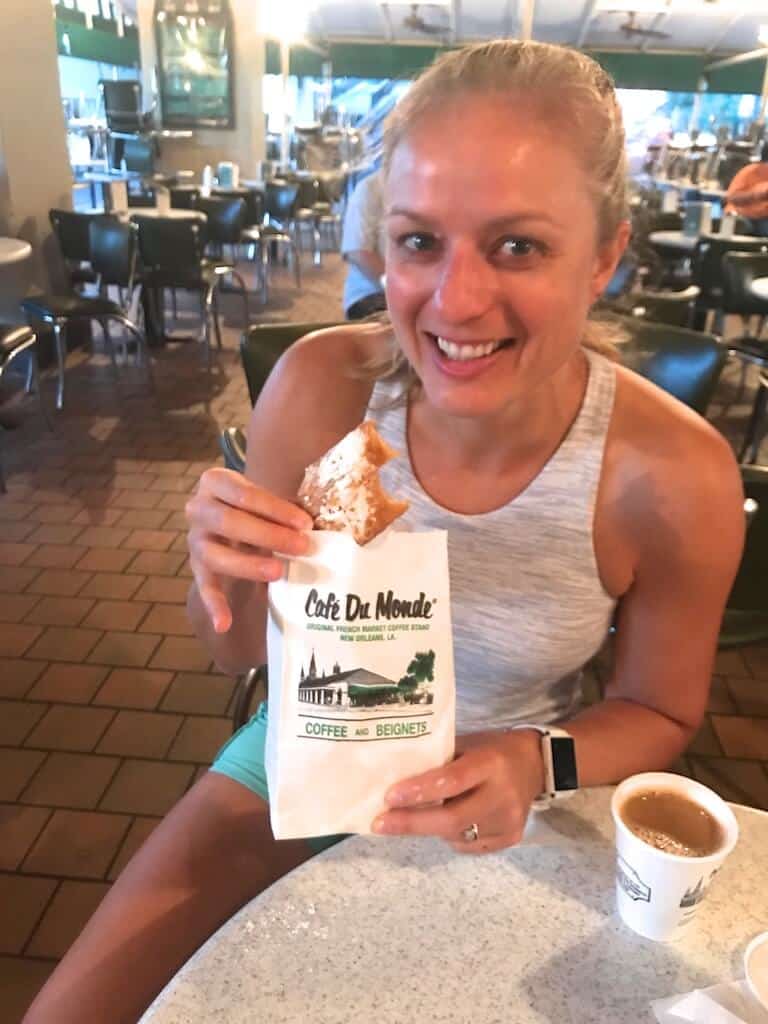 So now, I am authentically a lamb fan, and it makes me very happy to present to you this Grilled Lamb Chops with Chimichurri recipe. Take a look:
Lamb Nutrition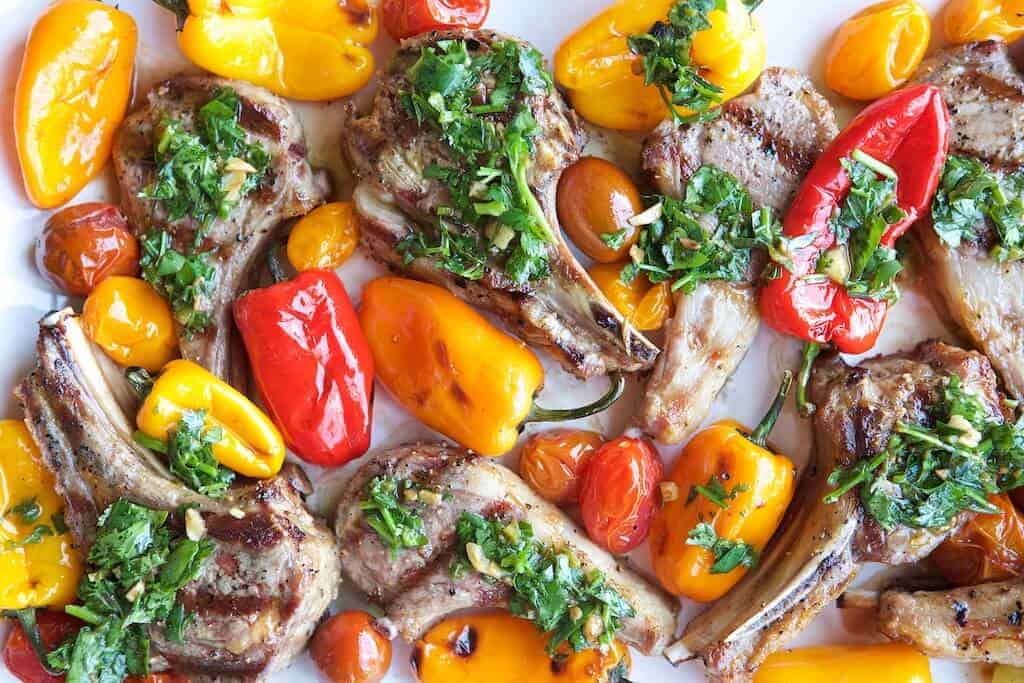 Being who I am (a registered dietitian), and this website being what it is (Make Healthy Easy), there has to be some nutrition angle about lamb to get me excited enough to share it with you. So here's the good news.
While it's often not even brought up in the "healthy protein" conversation, lamb can hold its own as a great choice in a healthy diet. It's actually got a lot going for it that I was surprised to learn myself.
On average, a 3 oz serving of lamb is considered a lean protein and has about 150 calories. This perfect portion (which happens to be the size of most rib and loin chops) is also an excellent source of protein. In addition, lamb provides a wide array of nutrients needed for a healthy body like 34% of the Daily Value of niacin,14.61% of selenium (making it an good source), 79.16% of vitamin B12 and 25.18% of zinc. The type of fat found in lamb is also noteworthy as 40% of the total fatty acid content comes from healthy monounsaturated fat. That's pretty significant.
Lastly, I think it's very interesting to briefly talk about how lamb is raised. While some lamb are finished on grain, they spend most of their time grazing on pastures. Lambs are cared for by shepherds that are committed to practices that foster animal well-being and are intimately involved in their day to day life. The lamb we enjoy in the US comes from our country as well as Australia and New Zealand.
How to Buy and Cook Lamb
You may be passing right on by the lamb at your grocery store too. When I stopped to look, I realized my store carries lamb nearly year round. The most common cuts I have found regularly stocked are ground, chops, loin and leg/shoulder.
Ground lamb can be used like any ground meat. Cook to an internal temperature of well done at 170 degrees F. I think this Mediterranean Style Lamb Burger is a tasty place to start.
Single Rib Chops are perfect for searing and grilling. Cook to medium rare at 145 degrees F. Keep scrolling my a DELICIOUS recipe.
Loin chops can be grilled or seared indoors. This Mediterranean Lamb Loin Chops with Quinoa Salad is a great place to start.
Legs and shoulders are the right choice for braising low and slow until an internal temperature of medium at 160 degrees F to well done at 170 degrees F. Try this Slow Cooker Moroccan Lamb Stew using shoulder chops.
Don't be afraid to ask the butcher at your store to cut up one of the pieces of meat to make it work for a recipe. You can also order a certain cut of meat ahead of time if it's not usually carried in your store. My store can usually get me a certain cut in 1-2 days.
Grilling Lamb Chops
This Grilled Lamb Chops recipe with Chimichurri and grilled peppers and tomatoes seriously knocked my socks off (as well as a few other people) and convinced me that grilled lamb needs to happen much more often in my life. It's seriously so easy to grill, just like any other meat, but it's quick because lamb chops are the perfect, individual portion size.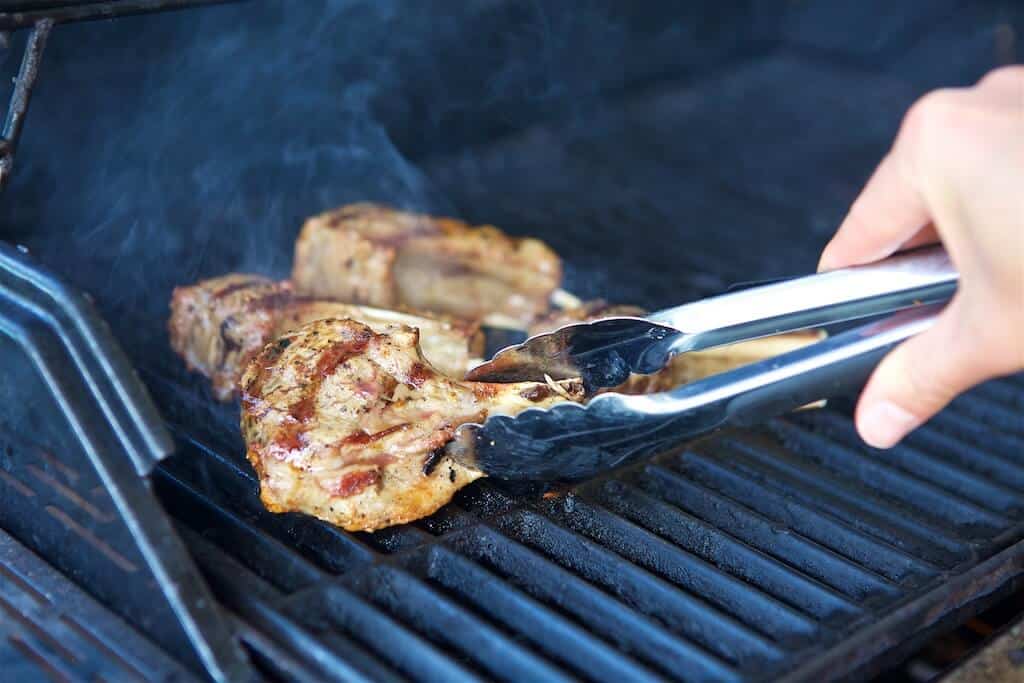 The flavor of lamb is so rich (in a good way) that it needs little help to taste delicious. This recipe couldn't be easier, but it tastes like you slaved all day! As I mentioned in the video, it is perfect for casual al fresco dinners any time of the year. Here's how you make it.
Print
Recipe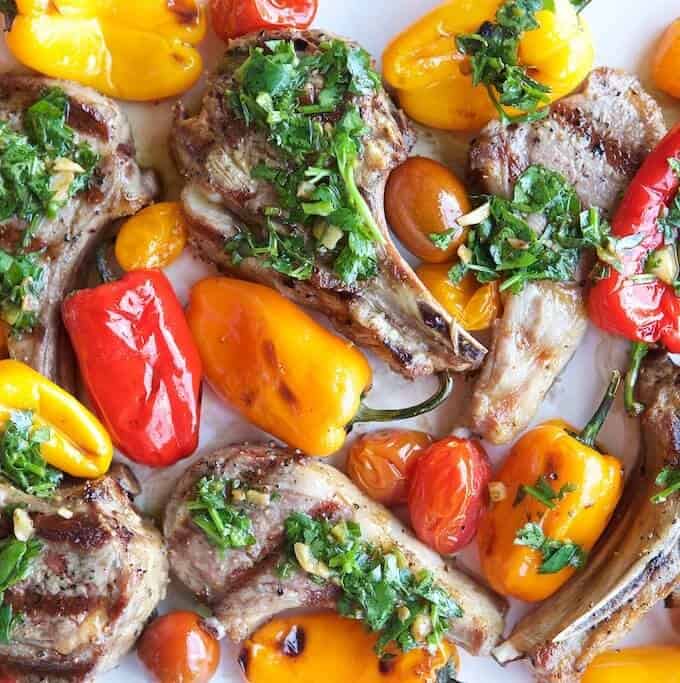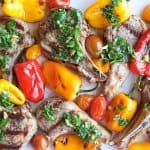 Grilled Lamb Chops Recipe
---
Author:

Total Time:

40 minutes

Yield:

8

1

x
Description
There's no need to be intimidated by lamb! This Grilled Lamb Chops recipe with veggies and chimichurri is so easy and so so good.
---
Chimichurri Sauce
¼

cup

olive oil

4

garlic cloves (minced)

1 tsp

kosher salt

1

small jalapeno (seeds removed, finely chopped (less if desired))

¼

cup

fresh lime juice

1

cup

fresh cilantro (chopped)

1

cup

fresh Italian parsley (chopped)
Grilled Lamb Chops and Veggies
Roasted Tri-colored Mini Sweet Peppers and Cherry Tomato Medley

1

lb bag tri-colored mini sweet peppers (rinsed and dried)

12

oz

multi-colored cherry tomato medley (rinsed and dried)

1

tbs olive oil

½ tsp

kosher salt

¼

tps black pepper
Grilled Lamb Loin Chop

8

each lamb loin chop (

4

-

5

oz each bone-in)

1 tsp

olive oil

½ tsp

kosher salt

¼ tsp

black pepper
---
Instructions
For the Chimichurri Sauce, heat the olive oil in a small pan over medium heat. Add the minced garlic and remove from heat; let stand for a few minutes, allowing to cool. Stir in the salt and jalapeno.
In a small bowl, combine the cilantro, parsley, lime juice, and garlic oil mixture; set aside.
Preheat the grill over high heat.
In a medium bowl, combine the sweet peppers and cherry tomatoes; toss with the olive oil, salt, and pepper.
Cook the vegetables on the grill for about 5-10 minutes, turning the vegetables a few times to prevent burning and allowing to cook on all sides.
Remove the vegetables from the grill and place them on a platter.
Preheat grill over high heat.
Lightly brush olive oil on grill grates.
Pat lamb dry with paper towels. Rub both sides of chops with salt and pepper.
Grill lamb chops about 4-5 minutes per side or until cooked to 145°F for medium rare.
Transfer the lamb chops to the serving platter with the grilled vegetables.
Top the platter with the reserved Cilantro Parsley Chimichurri Sauce and serve.
Prep Time:

20 minutes

Cook Time:

20 minutes

Category:

Entree

Cuisine:

Grilling
Nutrition
Calories:

320

Fat:

25

Saturated Fat:

8

Protein:

18

Cholesterol:

70
Keywords: grilled lamb, lamb chops, lamb recipes
I hope you give this grilled lamb chops recipe a try the next time you have friends coming over for dinner. I'm pretty sure you will win the night with it.
Cheers!