It's that time of year for blessing the ones we love with gifts for the holidays. To help you out with some creative ideas, here's my list of 2016 gift ideas.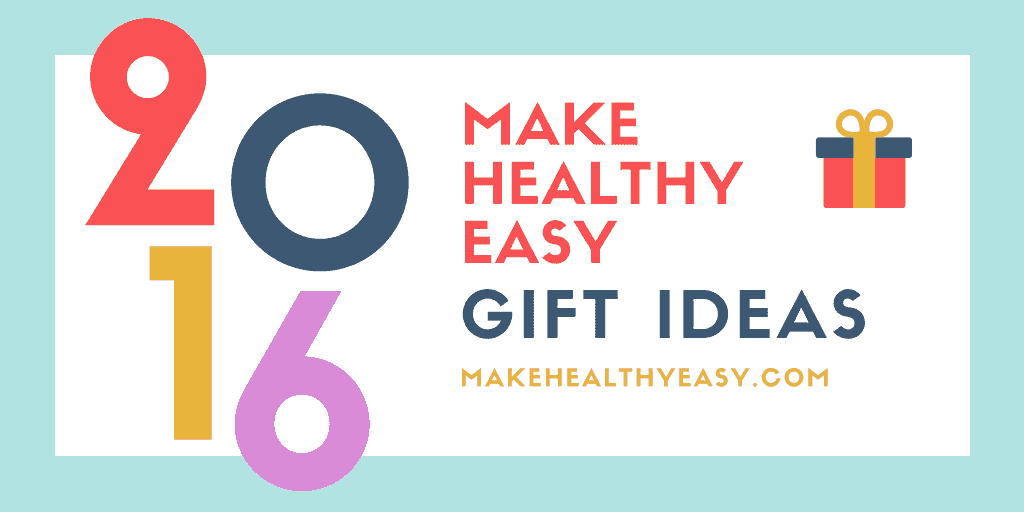 I'm just going to jump right into this list and cut out all the fluff. In a nutshell, these are all the products that I have used this year and love, have been recently exposed to and think would make a great gift, or I myself have them on my wish list. I hope this gives you some new ideas and makes shopping a wee bit easier this year.
Click each of the headings for the direct link.
This post contains affiliate links and is in part sponsored by World Vision.
This year I have been craving a new fitness tracker watch. My heart rate monitor bit the dust in 2015 and I just couldn't decide which new option I wanted to try. I finally bit the bullet and got this Garmin vivoactive based on recommendations from many people. I love it! It tracks steps, heart rate, multiple types of fitness, sleep length and quality, and has bluetooth connection to my phone. I also really like the design and color options as it's comfortable, lightweight and on the stylish side.
This year I've had the pleasure of partnering with World Vision. While I've always been familiar with WV, I didn't realize that a lot has changed in what they offer. World Vision provides assistance to people in nearly 100 countries. The World Vision Gift Catalog is one of many programs designed to help eradicate poverty and provide hope around the world. More than 30 gifts in the catalog are $35 or less, including items like chickens, job training or school supplies. You can also purchase actual goods and gifts that were  crafted by artisans around the world. Consider giving a gift in honor of someone that makes an impact way beyond just December 25th. 
Come back to MHE the first week of December because I am giving away World Vision goods in my Favorite Things prize pack!!
This football season I have needed serious H-E-L-P in the dinner department. Meal delivery services like Hello Fresh have been wonderful. You have all the ingredients for 3 meals delivered straight to your door. So first of all, this could help you out by staying sane this holiday season, but it also makes a GREAT gift for someone. Gift cards are available to send to anyone. I bought this as a baby present for a family member out of state and they loved it. So think outside the box, and inside a meal delivery box, for an always welcomed gift-- dinner! Use my referral code ULVEWX to get $40 off your first box at checkout.
I just recently learned about this super cool foodie subscription. Each month you are sent 3 hand crushed and blended spice mixes and corresponding recipes. It is a great option for adventurous foodies or friends who love to cook. You also can't beat the price with a 3-month subscription costing only $26 and longer duration subscriptions available. I don't want to be too specific, but some of my family member's and co-workers will be getting this awesome gift!
Come back to MHE the first week of December because I am giving away a 3 month subscription in my Favorite Things prize pack!!
Sending beautiful flowers is a timeless gift for really any occasion. As I have gotten older, I have a much deeper appreciation for fresh flowers and foliage and often find myself looking longingly at flower arrangements in the store or online. I came across Bouqs this past year and love their concept. It is a straightforward ordering system with no hidden fees and responsibly sourced. It's easy to pick what you want and stay in your budget. I also love that have a concierge service that will remind you order throughout the year for important dates. Their arrangements are always incredible and I'm planning to order one for our holiday table as well as some family members.
I started traveling more this year and it included a long international flight and a red eye flight. In an effort to have the best possible quality of sleep on an airplane, I've searched out the best travel pillow. I read reviews for probably way too long and decided on this pillow. The verdict: I love it! It's inflatable which means you control the fullness of the pillow AND it deflates for easy packing. I find the "prongs" of the pillow helpful for keeping my neck from falling. The best part is if they have fantastic customer service. I had a hole in my mine and they immediately sent me a free replacement. This is the perfect gift for the traveler in your life.
This may fall into the category of a little gift for yourself...Just sayin. Rocksbox is a monthly jewelry rental service and it is AWESOME! For $19/month you get 3 pieces of designer jewelry shipped to your door. You can return them and get 3 new pieces as often as you want. The website allows you to keep an extensive "wish list" so your stylist knows what you want to receive. You can also easily purchase any of the pieces at a discount. I have loved using Rocksbox this year because I wanted to update my jewelry collection without a massive investment of money. I have purchased a few pieces that I found myself wearing a lot and enjoy returning pieces that were fun to wear but didn't need to keep. Just trust me on this one and try it for yourself or buy a subscription for the lady in your life. You can even try a free box with my referral code: JENNABBFF255
Looking for a cookbook to give your favorite foodie? Try this new, beautiful cookbook by fellow dietitian Alex Caspero Lenz. She takes traditional Italian food and makes it plant based. It includes 100 vegetarian Italian dishes and I promise you can trust she delivers on flavor too!
This past year I went on a quest for a better bed and better sheets, basically anything that could help with a good night of sleep. I came across Brooklinen sheets and on a whim, decided to try them. They claim they are luxury sheets at an affordable price and they have the coolest pin stripe pattern. Well, after about 2 washes, these did become some pretty amazing sheets. They are soft, cool and well made. I particularly like the fact that they have tags on the fitted sheets to tell you which side is the short side and which side is the long side. Genius!! These sheets make a great gift for the person who has everything, just moved into a new place, or for those who are still sleeping on their sheets from college. They arrive beautifully packaged so it won't look weird that you got someone sheets. 😉
So there you have it folks! Does anything peak your interest? Let me know in a comment.
I still love my 2015 Gift Guide so check that out too if you still need more ideas.
To always being merry & bright,