Moderation is a commonly used word in the dieting world. It's a very important concept but it's crucial to understand what it means for you personally. Here's my take on what does it mean to eat in moderation.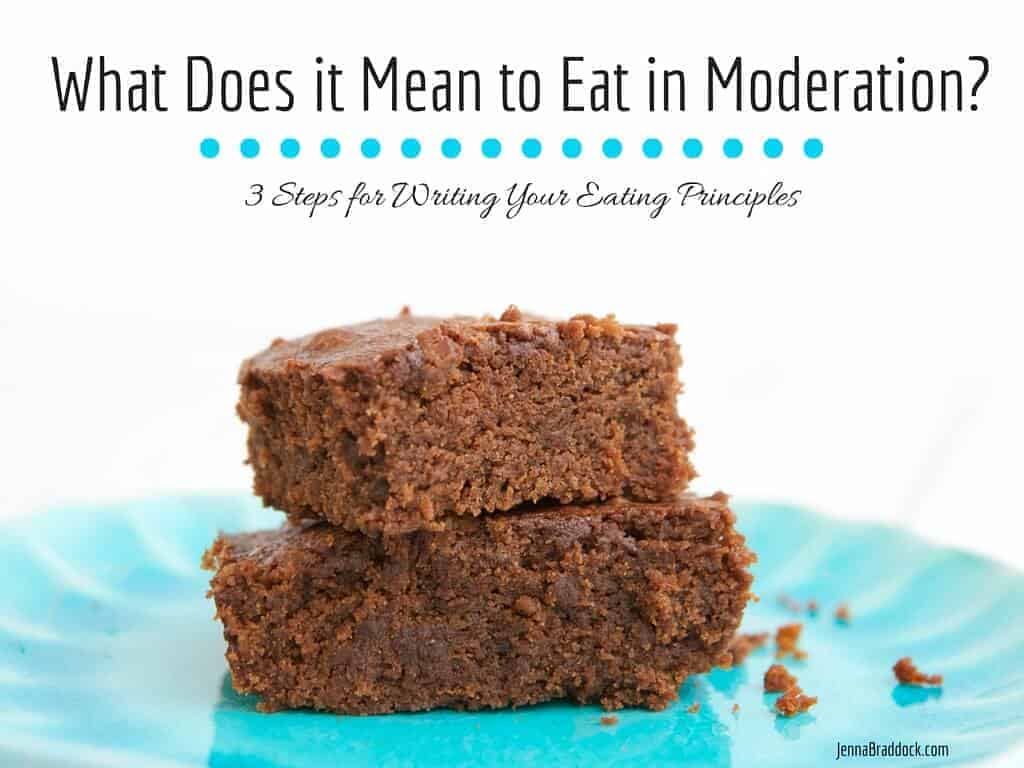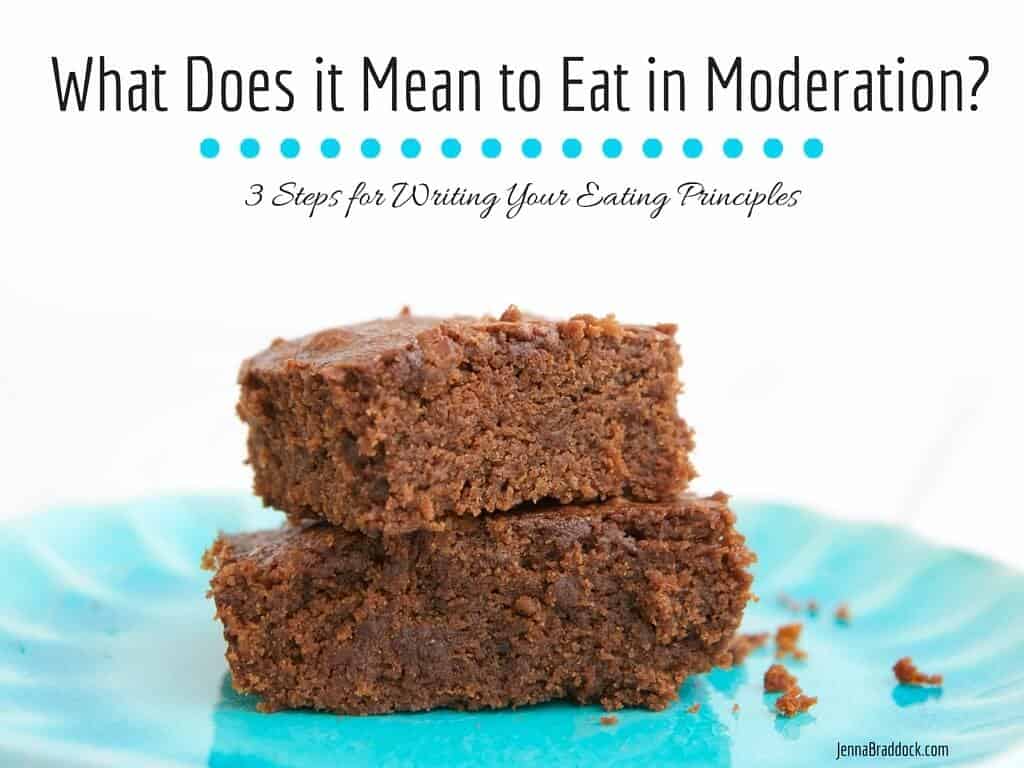 It's January, which happens to be one of my favorite months of the year. (October is #2, if you're curious.) Selfishly, it's my birthday month and all my family knows I love to celebrate my birthday for the whole month, if I can get away with it. The other reason I love January is because it's a fresh start month and it gets us all thinking about ways to we might need to freshen up our lifestyle.
To get caught up with me on what I think about New Year's Resolutions, read my post How to Make New Year's Resolutions that Work.
The D Word
Perhaps you've contemplated some ways you could eat a little healthier this year?? Or maybe I should just get it out and say you are considering dieting...
Ugh. I hate the word D-I-E-T.
At least I hate in the way most Americans think about it.
Diet = Restrict
Boo Restriction! No one wants to be "restricted" in their eating choices.
Moderation is a much a better word for guiding eating choices. Do you agree?
But what does it mean to eat in moderation? 
There are a lot of common dieting strategies for defining what "moderation" means. The "80/20 Rule" is one way of defining "eating in moderation". The idea is you make healthy choices 80% of the time and 20% of the time you can choose "fun" foods or indulgences. It is an eating principle that gives you freedom to indulge occasionally while still eating nutritiously most of the time.
If you do the technical math based on 21 meals a week (3 meals a day), 80% = 16.8 meals and 20% = 4.2, or about 17 and 3-4. It's a pretty good idea and can certainly help you reign in some of the over-the-top holiday eating I  you we may have been doing.
Will the 80/20 Rule help you maintain a balanced diet and keep a healthy weight?
Sure it could. But it's not the only way to define eating in moderation.
Define Your Own Eating Principles
I believe every person needs some sort of eating principles to help guide their eating. With the opportunity to access high calorie food everywhere no matter the time of year, you need a guide to help you make reasonable decisions that's individualized to YOU. The reason I called them principles instead of rules is because life is constantly changing, forcing you to be flexible, and therefore, so should your eating.
Rules are rigid and unforgiving. Principles are flexible and gracious.
Through many years of nutrition counseling, I have discovered that your personality and lifestyle really play an important role in what kind of eating principles you should follow. What works and guides one person may not work for someone else. That's OK.
How to Write Your Own Eating Principles
Step 1: To determine what kind of eating principles will best work for you, write down your favorite food or food events that you regularly encounter. Examples could be: eating lunch out with an important client once a week, drinks with friends after work, eating out on the weekend, watching football on Saturdays or Sundays, a pastry from your favorite bakery, family meals, someone's special mac and cheese...you get the idea.
Step 2: Next, think about the kinds of indulgences you face on a regular basis that aren't really worth it to YOU. Things that come to my mind are: office birthday parties, lunch out with clients, coffee drinks at meetings, pastries, one type of alcoholic drink versus another, or food at church meetings.
Step 3: Now, compare your two lists and PRIORITIZE these foods or experiences into "most important" and "least important". From these two lists  develop your personal eating principles based on what foods are most enjoyable to you.
Here are some examples of potential eating principles:
I like donuts, but I

love

danish. I'll pass on donuts when I encounter them so I can enjoy a danish when I get the chance.

If I eat out 5 times a week for business meetings, I'll make sure I get a balanced meal (fruits, veggies, lean protein, watch fat, etc) at 4 of those meals.

I can live without pumpkin spice (insert whatever flavor) lattes so I'll get a skinny latte or cup of coffee instead, most of the time.

I LOVE watching football on Sundays with friends and eating whatever I want. Therefore, if I eat out on Saturday, I'll be more mindful of my choices.

I enjoy getting drinks with friends but don't love cocktails. I'll stick to light beer in this situation.

Grandma makes THE best mac and cheese. I want to enjoy that whenever I get the chance so I will skip other sub-par mac and cheese that I encounter.

I will prepare for big food events (where I plan to eat a lot) by exercising beforehand.
So while the 80/20 rule is a great principle to follow, it's not the only possibility and there are many ways to apply it. It's important to be intentional though and actually plan out what that 20% looks like. Look at your schedule and plan those 3 meals for the week. Or as I said above, write out those eating principles that will now help guide your decisions.
Also, you may find that 3 "splurge" meals a week prevents you from achieving the health you desire. Therefore, you may need to cut it back to 2 splurge meals a week. Or, another possibility is to increase your activity level. This is all again dependent you personally, what's important to you and how YOUR body works.
The 20% is just as important as the 80%
I really want to stress that the 20% part of this principle is not the "bad" part. It is not a bad thing to enjoy a food purely for enjoyment sake. In fact, when the 80% of your eating is happening, the 20% becomes a VERY healthy component of your diet. This mindset is what I think really brings home the balance to "eating in moderation". Do not be afraid to ENJOY food. 
The Balance
So yes, enjoy every bite of your favorite dessert or fried chicken dinner, if that feels good to you. BUT, and there is a but, you just can't do that everyday.
Don't settle for sub-par food people! Hold out for the really good stuff.
No, I don't mean super expensive. I mean food that is your home-run, lick the plate, last meal before the electric chair kind of food.
(For me this is like Mellow Mushroom pizza verses Domino's pizza. If you've had Mellow pizza, you know there is pretty much nothing better.)
Then, while you're eating it, s-l-o-w-d-o-w-n and actually taste the food and enjoy it. That's where the eating mindfully part comes in, but we will talk about that another day.
Your Homework
Now it's your turn! Go through the 3 steps listed above and craft your own eating principles to help guide you in moderate eating. When I do this with my nutrition counseling clients I tell them to close their eyes and imagine a white board in their mind with all their current rules, "shoulds", or definitions of healthy eating. Then imagine taking an eraser and wiping them all away.
You get to start fresh with new guiding principles. I don't care what your neighbor or coworker or mom is doing to "eat healthy". This is about YOU making principles that work for YOU! Take out a pen and write them down.
Got it?
I would love to know what some of your eating principles are. Would you please share one with me in the comments? This will also give folks some ideas on how to write their own.
Oh, and please share this post with someone you care about. This post is truly my heart beat for healthy eating and I would love for more people to be equipped with this simple process.
To having our favorite cake and eating it too,
Jenna